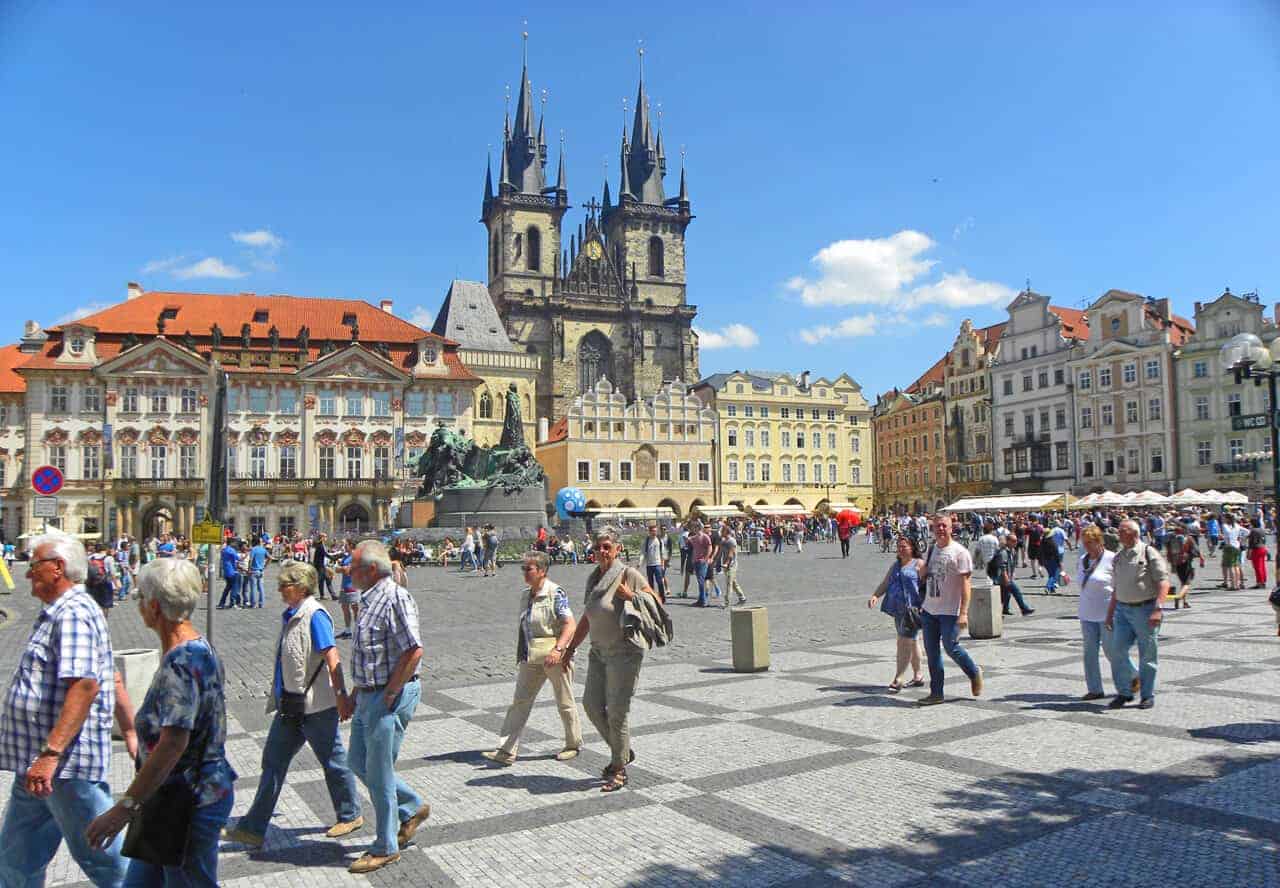 Things to consider when choosing a guide in Prague
If you google "walking tours in Prague" you'll get a lot of options, including a lot of "free" walking tours. These are very popular for obvious reasons. In our case we decided to opt for a free tour because we didn't want to commit to anything up front. We chose the most popular free walking tour on Trip Advisor (the one featuring the red-shirted guides) and showed up at the meeting point.
It didn't take long to realize that the tour wasn't for us. Circled around the red-shirted guide were about 20 (loud) kids in the 17 to 20 age bracket. The guide wasn't much older. Totally not our demographic. I wondered how much we'd appreciate the tour.
Anna saved us. 10 feet away, a contrast with her green shirt and umbrella, she also offers "free" walking tours. Unlike the other company, she was standing there by herself. We actually ended up being the only people on her tour.
We had an excellent tour that lasted about 3 ½ hours and learned a lot about Prague and Czechs in general. We also got a lot of juicy insights and historical tidbits. I'll get into that in a minute. But before I do I just wanted to clear this up; 1) guides for the larger free walking tour companies are generally not licensed, 2) they are not employees of the companies, they are free-lance guides, often hired because they can speak the language, 3) they are generally not Czech.
Anna is both a licensed guide and a Czech, and it was actually her insights on Czech culture and as well as all the juicy little stories that made this tour much more than just a "walking" or "historical" tour.
---
---
We love Europe because of its varied history and culture. Where else in the world, in such a small geographic space, do you have such a history of wars, plagues, alliances, changing borders, regional conflicts, and religious persecution? It's a diverse continent with complicated and ever-changing relationships. I find it fascinating. One of the first things I had noticed when chatting with our taxi driver upon our arrival was his indifference when I mentioned Germany reaching the final of the World Cup. I had sensed that Czechs may not be such great lovers of their neighbors. It was the first thing I asked Anna and what I received was a very honest account of how most Czechs feel about their place in Europe and the countries surrounding them.
.
---
---
Juicy insights and historical tidbits:
– Despite Nazi history, the Germans are not the most despised of the Czech Republic's neighbors. That belongs to Russia. And again, surprisingly, that is not so much to do with Russian control of Czechoslovakia after the war but rather the Russian intrusion into Czech affairs today. Anna mentioned that the Russians are involved in everything economic and control many of the stores. You'll see many of the stores in Prague run by Russians and she told me to note all the Russian Matryoshka dolls on the shelves. The Russian mob is very much involved in Czech affairs. I found that interesting because I had just read that the popular Czech Spa town of Karlovy Vary (less than 2 hours away from Prague) is overrun by Russian tourists and, supposedly, Russian mafia money. The perception of the Russians is that they throw their money around and treat the Czechs like dirt. They're not well liked.
– Czech history and identity is shaped by the old Kingdom of Bohemia which included the Czech Republic at its center along with eastern Germany, western Poland, and northern Austria. Czechs feel more of a kinship to these people than the Slavs further to the east.
– The country of Czechoslovakia was an odd pairing, a coupling of two very different peoples. I mention the Czech identity above – Slovak identity and history is more closely aligned to Hungary. The unified country lasted for 76 years, from 1918 to its peaceful dissolution in 1993. The way Anna described it was like a marriage that should have never happened. I didn't sense huge animosity in the relationship, it sounded more like low-level bickering and poking fun of each other. The Czech Republic's national anthem's first verse translates to " Where is my homeland, where is my homeland" – Slovaks make fun it this, saying the Czechs drink too much beer and are perpetually stumbling around drunk trying to get home. Anna recounted the story with a chuckle. Obviously Czechs can laugh at themselves.
– the least religious country on the planet? 20% of Czechs consider themselves religious. They're evenly split between Protestants and Catholics. Anna said probably more Czechs believe in Star Wars than religion. On that note, the character Jabba the Hutt was supposedly named on the basis on the Czech translations for "toad" and "snake".
.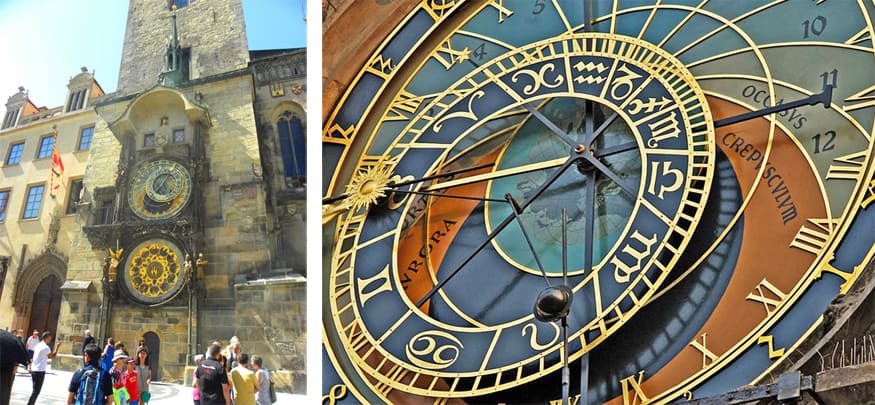 ---
---
Anna showed us around the Old Town Square, which has been a market square since the 11th century. What few know is that it actually specialized in the slave trade, the town being a conduit between east and west Europe. She pointed out the Old Town Hall with the famous Astronomical clock on one side (this post describes it much better than I ever could). In front of the building you'll see 27 crosses marked on the sidewalk. They identify the spots where 27 prominent Czech participants of the Czech revolt against the Habsburgs were beheaded on June 21, 1621. The Old Town Hall is actually much smaller than when it was built – the building was burned down by the Nazis in the last days of WWII because it is where they kept their important documents. Most of it was not rebuilt, a park stands where the rest of the building used to be. Prague actually had little damage during most of the war, Hitler loved the city (but hated the people). In fact, the worst damage of the war was caused by the US Air Force. How and why you ask? They confused Prague for Dresden (Germany), an hour and a half away. Hard to believe.
.
---
---
There was a lot of interesting information along the tour, a route that led us from the Old Town Square to the Church of St. James, up to Powder Tower (located right next to the impressive Municipal House), down Na Příkopě and past the Museum of Communism (which I'm told is really worth a visit), and up to Wenceslas Square in the New Town. From there we continued what is essentially a circle around the Old Town Square, passing the Klementium (Eastern Europe's largest library) and going into Prague's Jewish Quarter. Along the way Anna included descriptions of the different architectural styles used and the architects and history behind some of the buildings. I won't go through every sight we saw on the tour, it would make this post too long. I'll let the photos, and some of the captions below them, do the talking.
.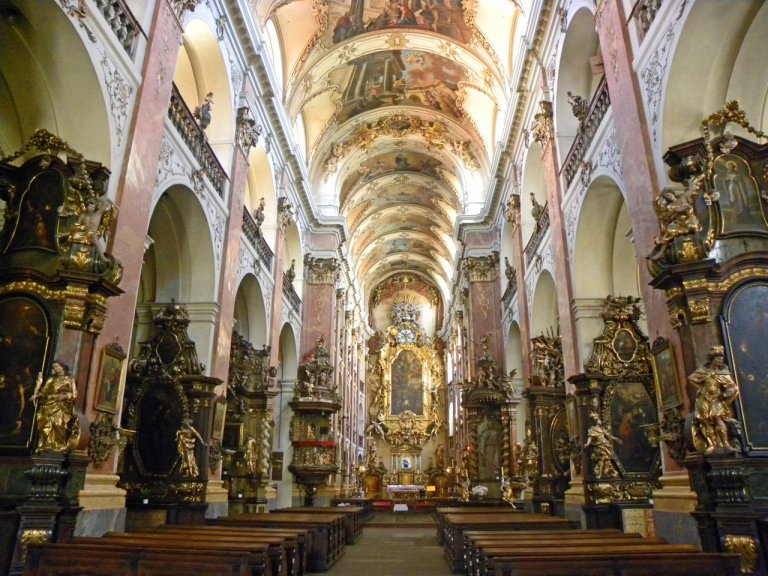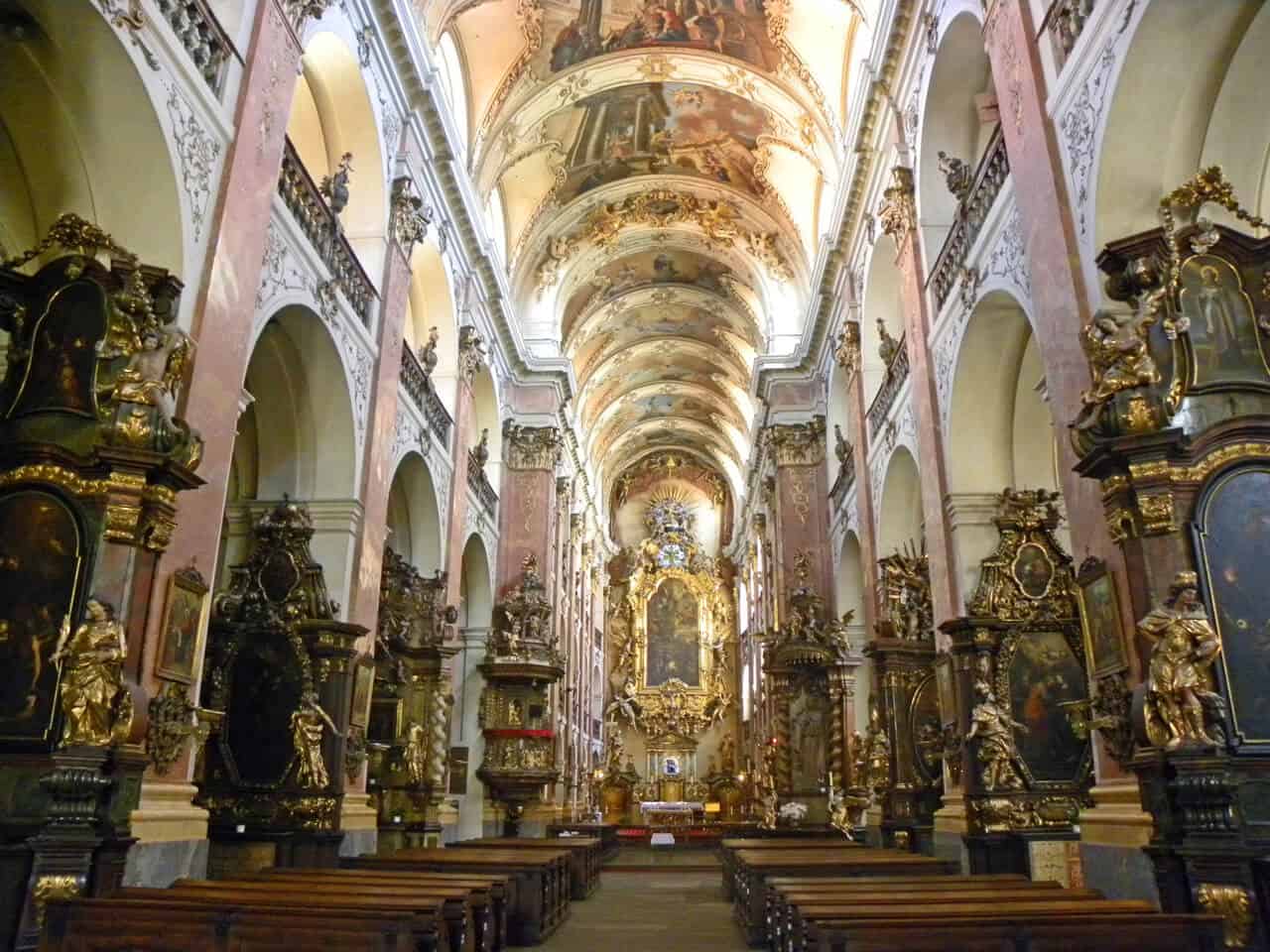 .
.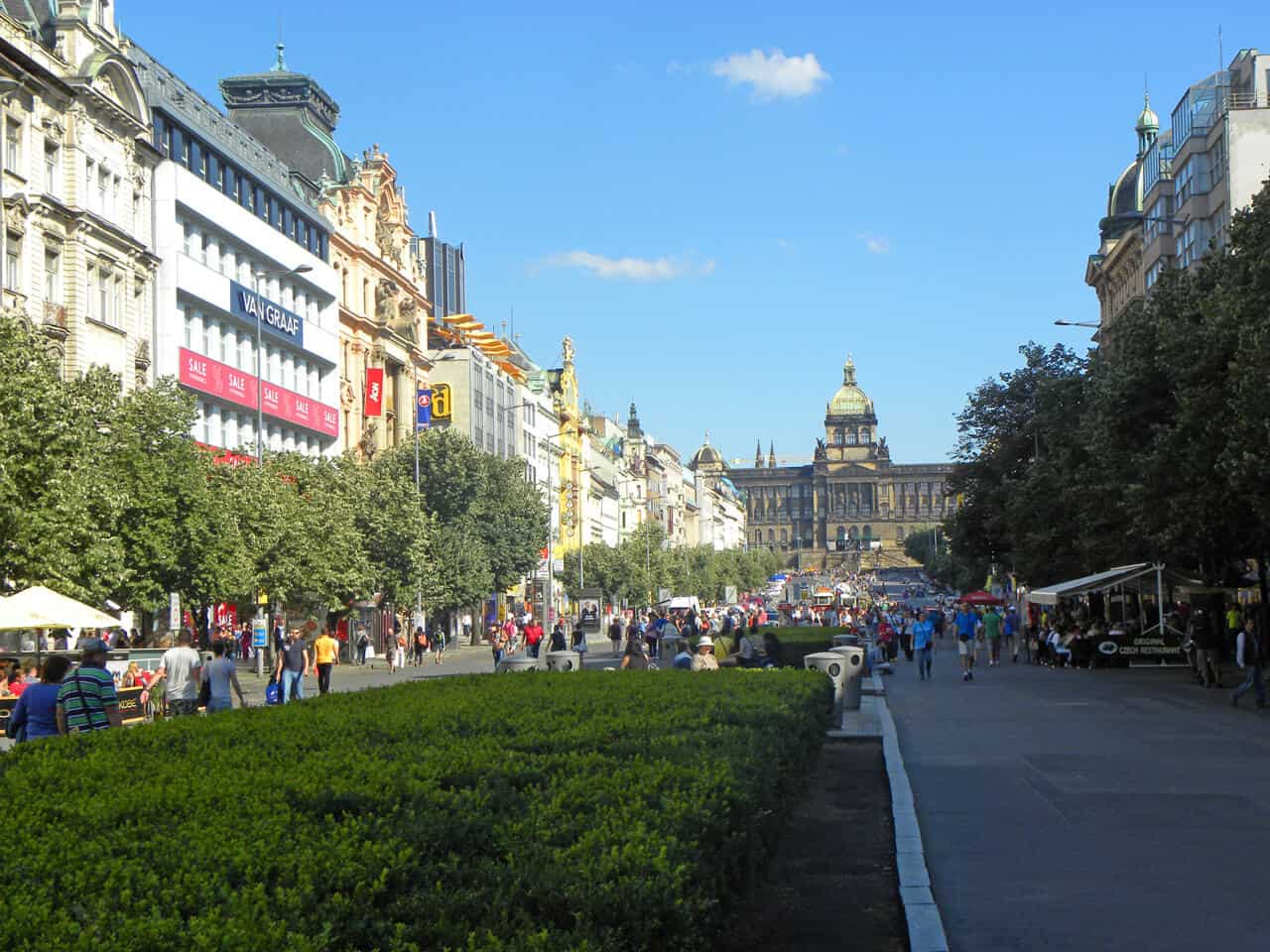 Overall it was an excellent tour and we would highly recommend Anna because of her thorough knowledge of history and architecture. This tour was for us an introduction to both Prague and the Czech Republic and we felt we learned a lot. We were lucky to have Anna to ourselves – my favorite part of the tour was questioning her on how Czechs feel about their place in Europe and their relationships with their neighbors. I find that kind of cultural stuff fascinating. Disappointments? I would have liked seeing the Charles Bridge and the views of the river. I would recommend that Anna make a small detour in the area of the Klementium, just to show clients a glimpse of the bridge and the castle on the other side. It would also give her the perfect opportunity to try to upsell her other tour, the "Castle Tour". That's my marketing tip 😉 . Overall we give this tour a 4 out of 5.
* Note that although this is a "free" walking tour you are expected to tip. Between the two of us, we gave her 1000 Kč, the equivalent of about $55 Canadian ($51 US). That's the price of many paid walking tours (they go for about 500 Kč/person). We also took into account that we were the sole participants, it was essentially a private tour.
Update: Anna no longer does these tours. I recommend taking this 3 hr tour, it'll cover all the highlights that I feature in this post plus the castle (which we did not visit with Anna).
---
---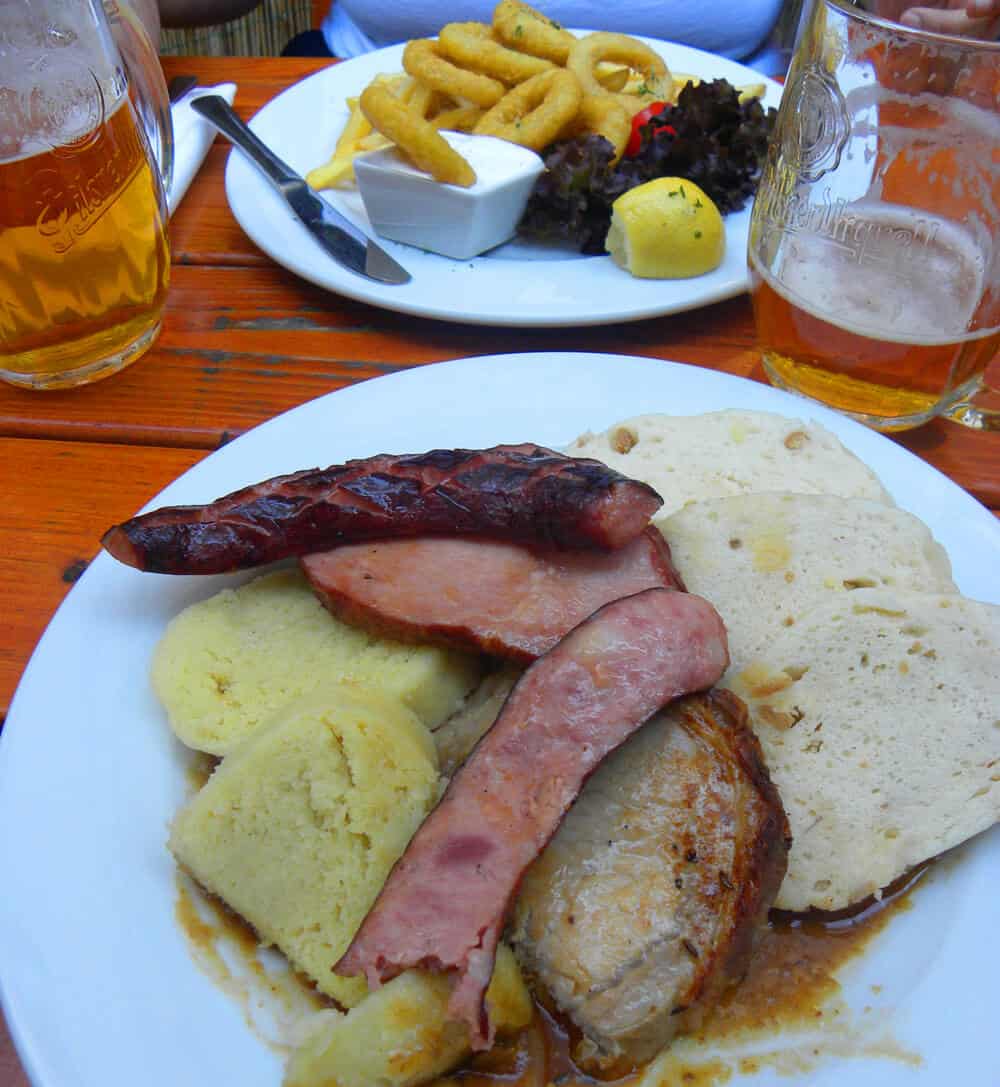 Note: We've been back to Prague many times since this initial visit. See our Czech Republic page for lots of detailed posts on Prague.
Ps. If you find our blog helpful, please consider using our links to book your flights, hotels, tours, and car rentals. Have a look at our Travel Resources page.