50 Things to do in Prague
We've spent almost 3 months in Prague. Tomorrow we leave with a heavy heart. The city has grown on us. When we first arrived we were a bit overwhelmed by the language barrier, the logistics of getting things done, and number of tourists in the city center. With time we discoveredmany of Prague's hidden treasures, some quiet retreats, and some lesser-known attractions that actually ended up being highlights for us. Besides being a stupendously beautiful city, it is an easy city to live in; full of pretty cafes, lively bars, peaceful parks, and a wonderful transportation system. We also found Prague to be incredibly efficient when it comes to dealing with those day to day things that at first seemed a challenge. We'll definitely be back one day.
.
Our list of the 50 things to do in Prague:
.
1. See the Old Town Square
Týn Church, the Old Town Hall, Jan Hus Memorial, and the Church of St. Nicolas. Every building on that square is gorgeous. Lots of tourists and street performers – you might feel overwhelmed by all the action going on. But you can't see Prague without a visit to this square.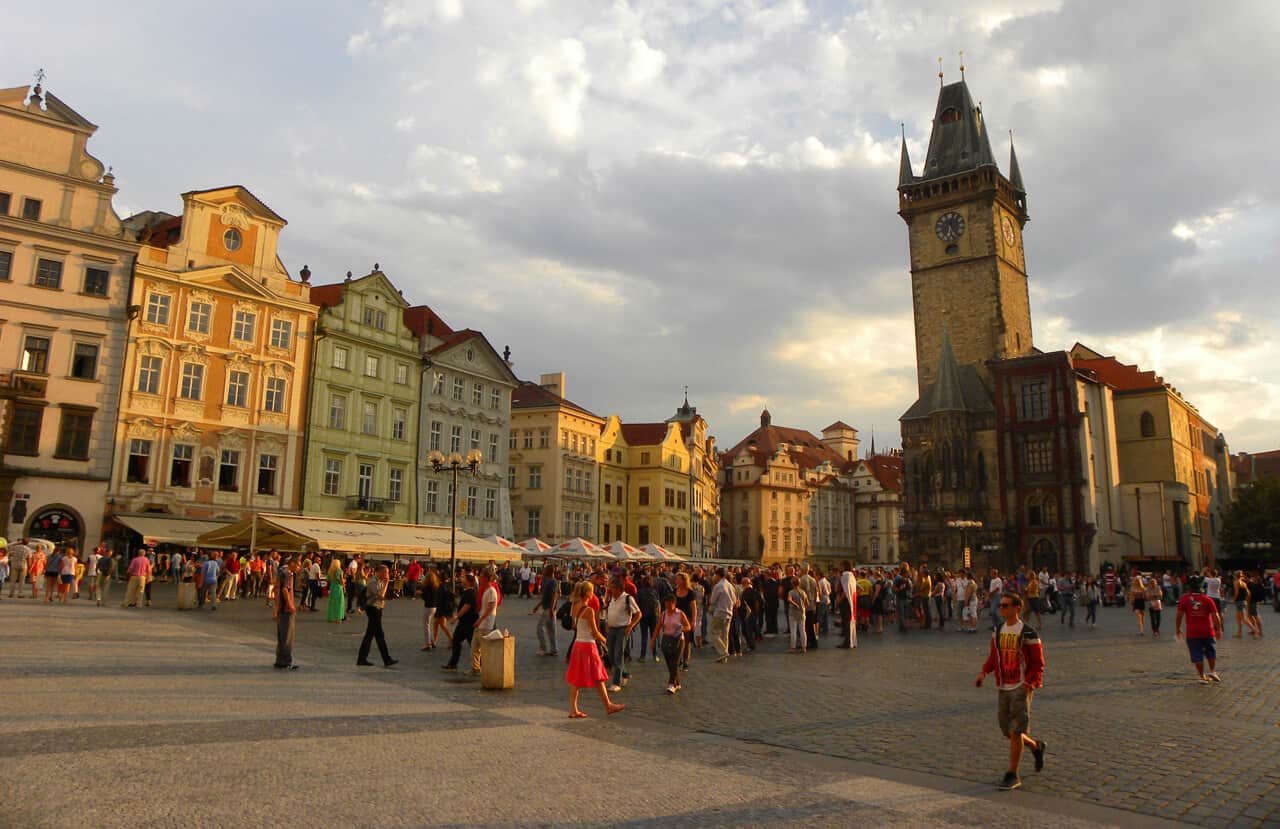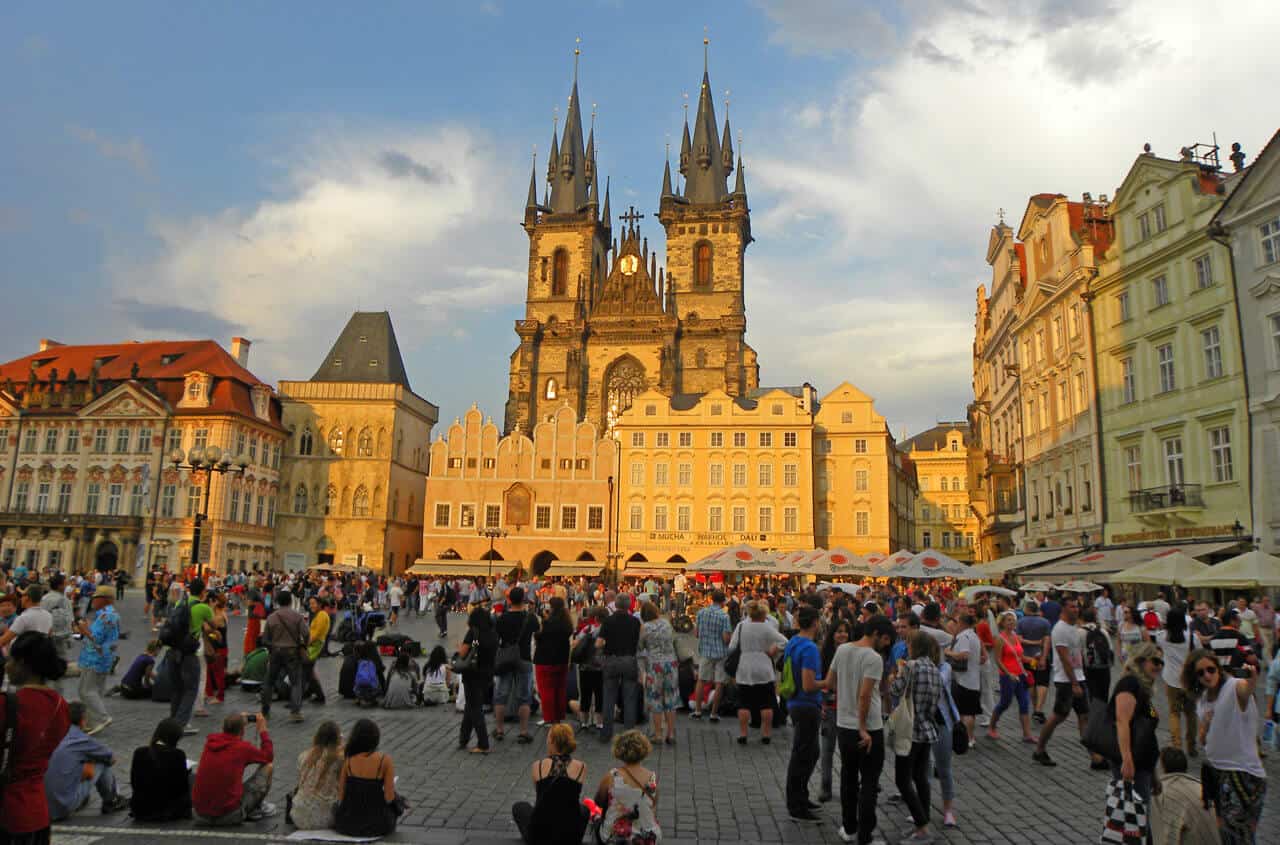 .
2. Look up at the Astronomical clock
Just off the Old Town Square, this tower is one of the city's most famous attractions. Visit it when it chimes on the hour and keep an eye on your valuables – this is the favorite spot of Prague's pickpockets.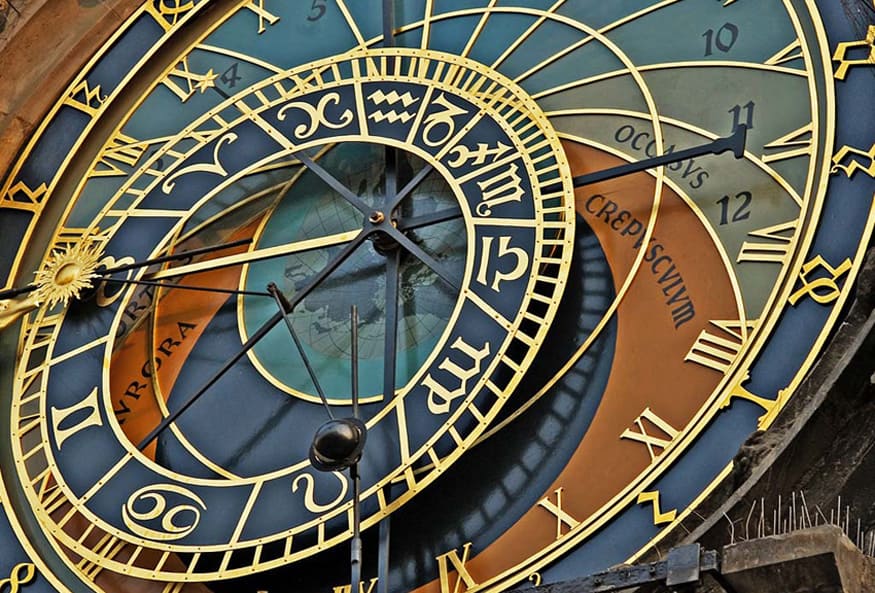 .
.


3. Cross the Charles Bridge.
More people per square foot than anywhere else in Prague. But it is loaded with history and has fantastic views over both sides of the bridge.
.
4. Tour Prague Castle
Highlights include St. Vitus Cathedral, the Golden Lane, and the Garden Ramparts. Its very touristy and the tours on offer at the Information office are, in our opinion, a tourist trap. Enter St. Vitus, walk the Golden Lane, stroll through the Gardens for great views of the city. Then walk outside the Castle Gates and explore Castle Square. You can actually keep yourself busy up here all day without taking one of their tours. Booking a tour at Prague Castle is a mess. Instead pre-book this 2.5 hr tour of the castle and save yourself the hassle.
.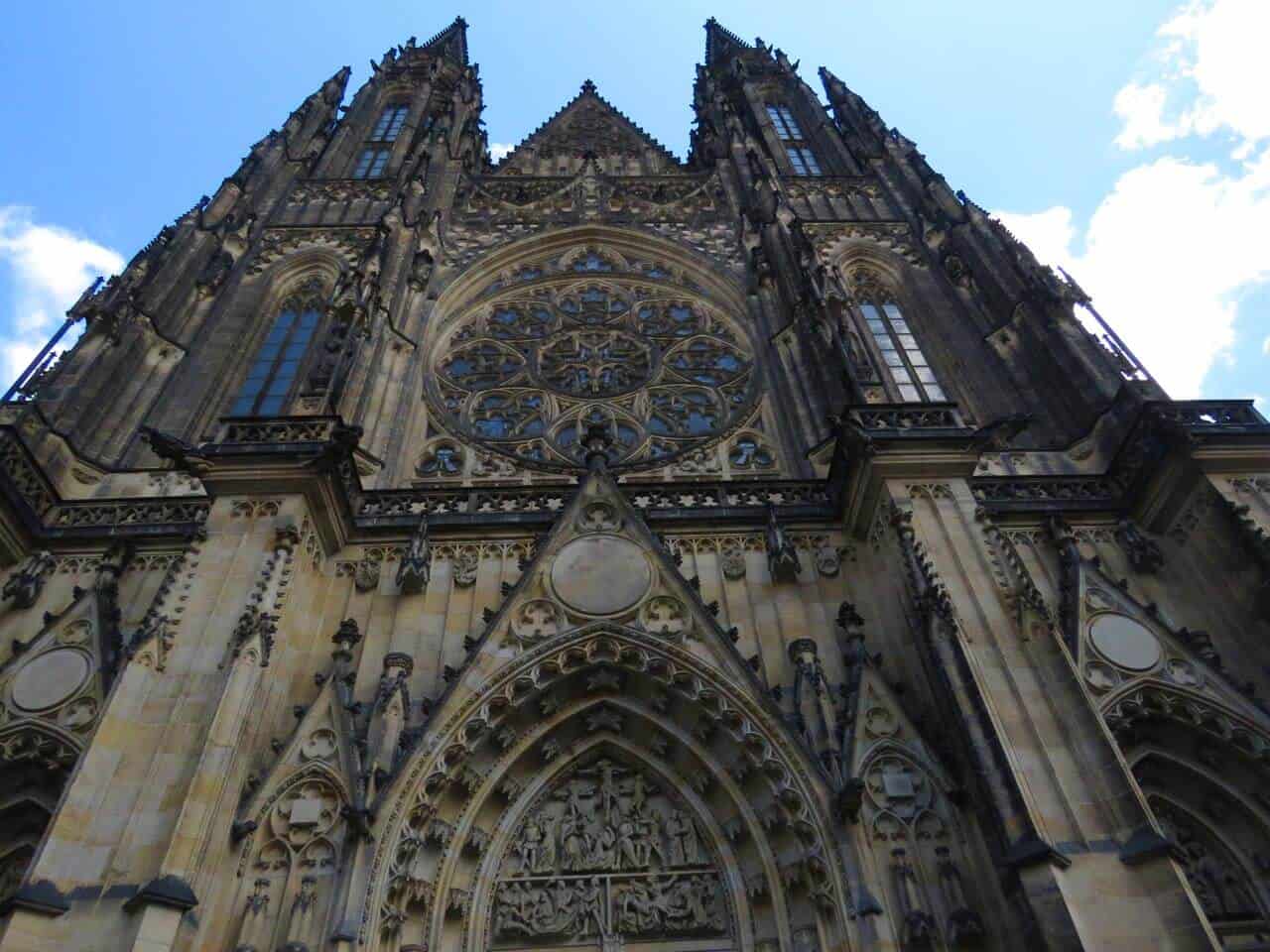 .
.


5. Get a Thai Massage
The highlights I've mentioned above are the 4 most popular tourist spots in Prague. You'll be tired of following the crowds and will have sore feet from walking all the cobblestone streets. Get a foot massage. We've never seen as many Thai massage parlors (outside Thailand) as in Prague and now understand why they are so popular.
.
.
.


6. Eat at Klášterní pivovar Strahov (Strahov Monastery)
Have a meal at the Strahov Monastery Brewery. Touristy; but good Czech food, great beer (they make their own), and you might be sharing the table with some interesting people. Lots of fun here.

.
.


7. See the views from the Strahov monastery
Great views of the city, especially in the early evening.

.
.


8. Walk along the Vltava River
See some great Art nouveau architecture along the river in the area between the National Theatre and the Dancing House. Besides the buildings, you get great views of the river and the castle beyond.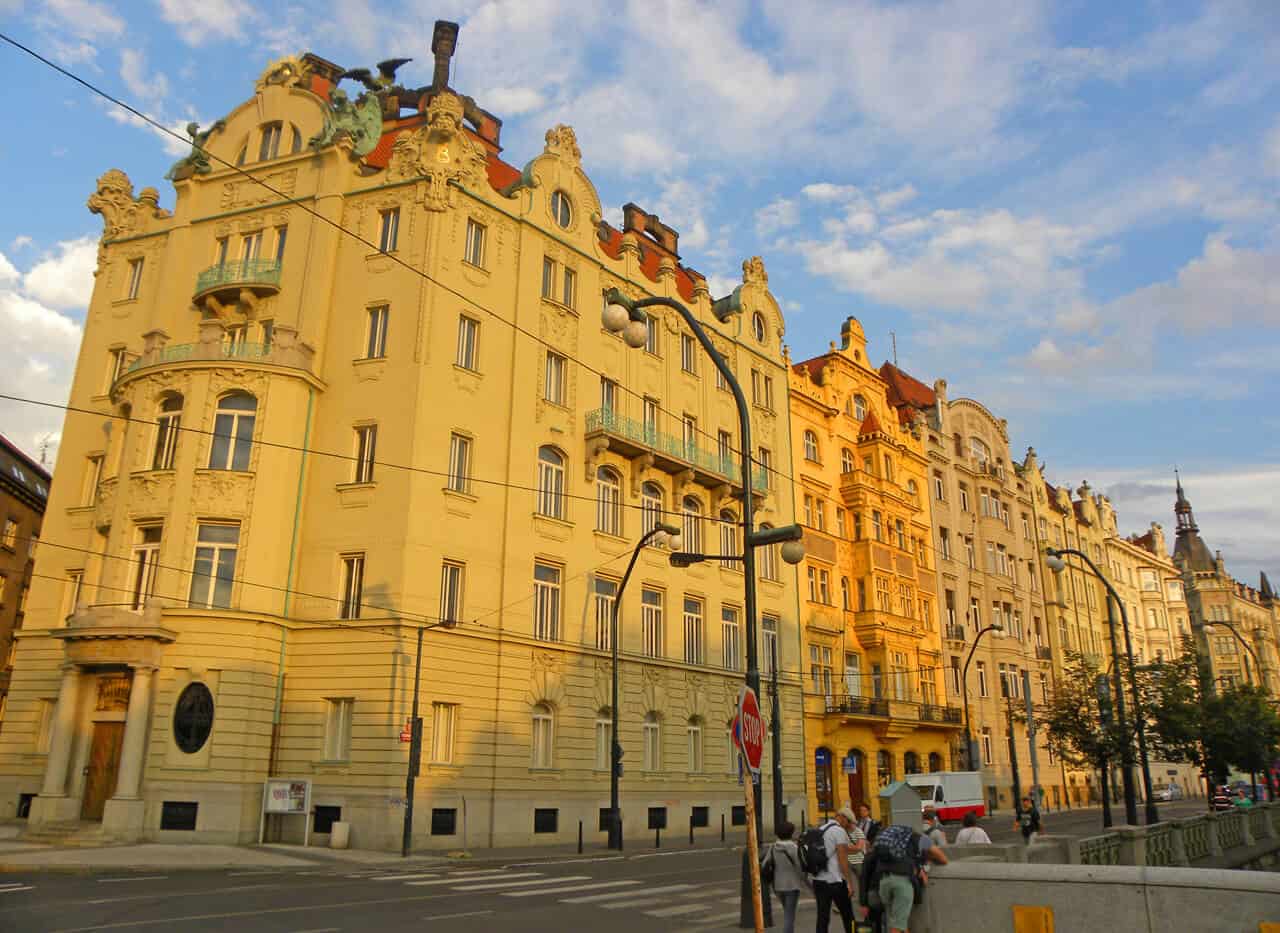 .
.


9. Take the elevator to the rooftop of the Dancing House
For fans of architecture; this building is the work of Frank Gehry who also designed the Guggenheim Museum in Bilbao. There's a fancy VIP restaurant at the top – try to sneak upstairs for views. You'll see a provocative painting on the way up to the rooftop 😉 .
.
.


10.

Walk around Wenceslas Square
This huge boulevard is the site of most of the major historical events to have occurred in Prague. Many beautiful buildings, the National Museum (closed until 2016) and statue of St. Wenceslas on his horse.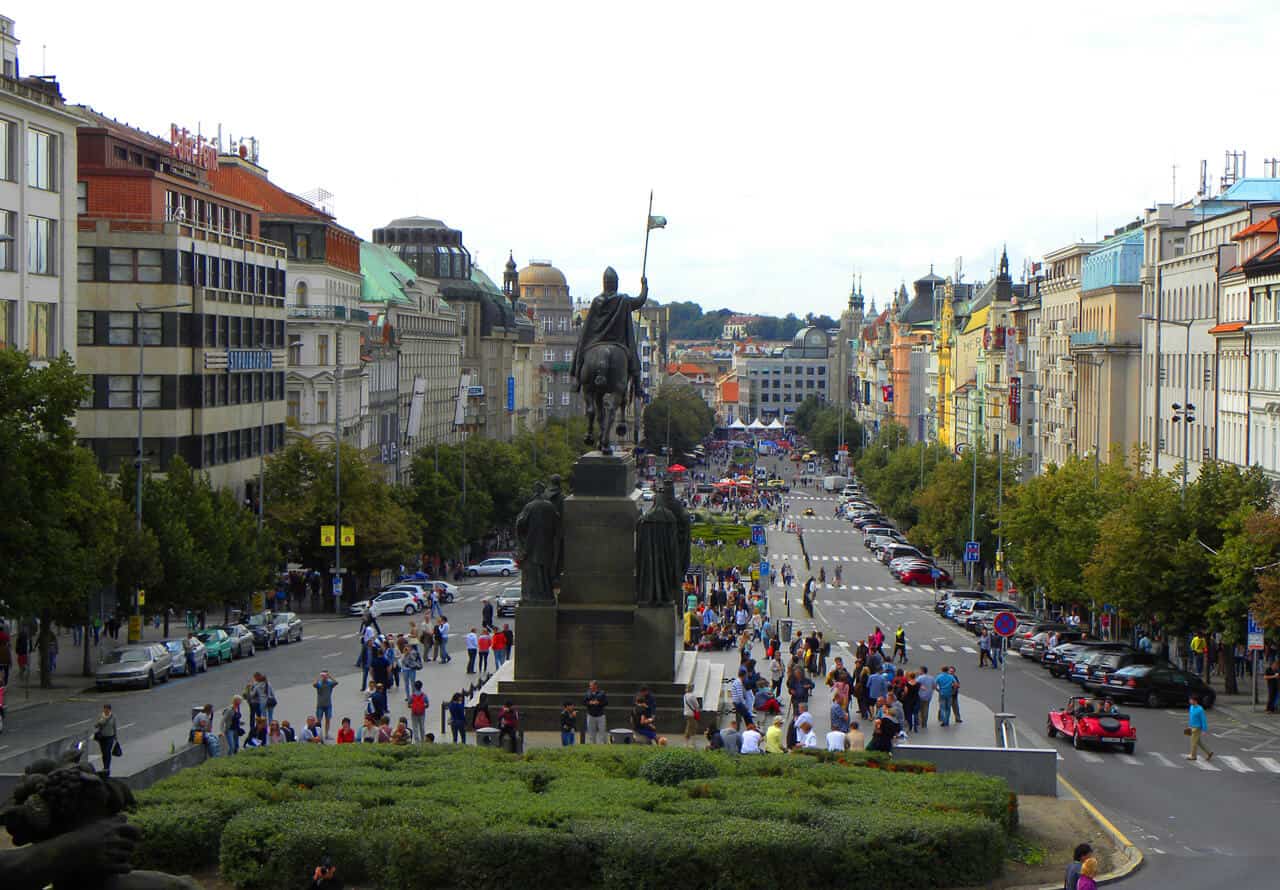 .




.


11. See the Statue of St.

Wenceslas riding a dead horse
After you've seen the famous statue of St. Wenceslas riding his horse (# 10 above), go see the mocking version of the statue in the nearby Lucerna Palace. It is created by famous Czech artist David Černý (you'll see some of his statues all over town, including another couple further below).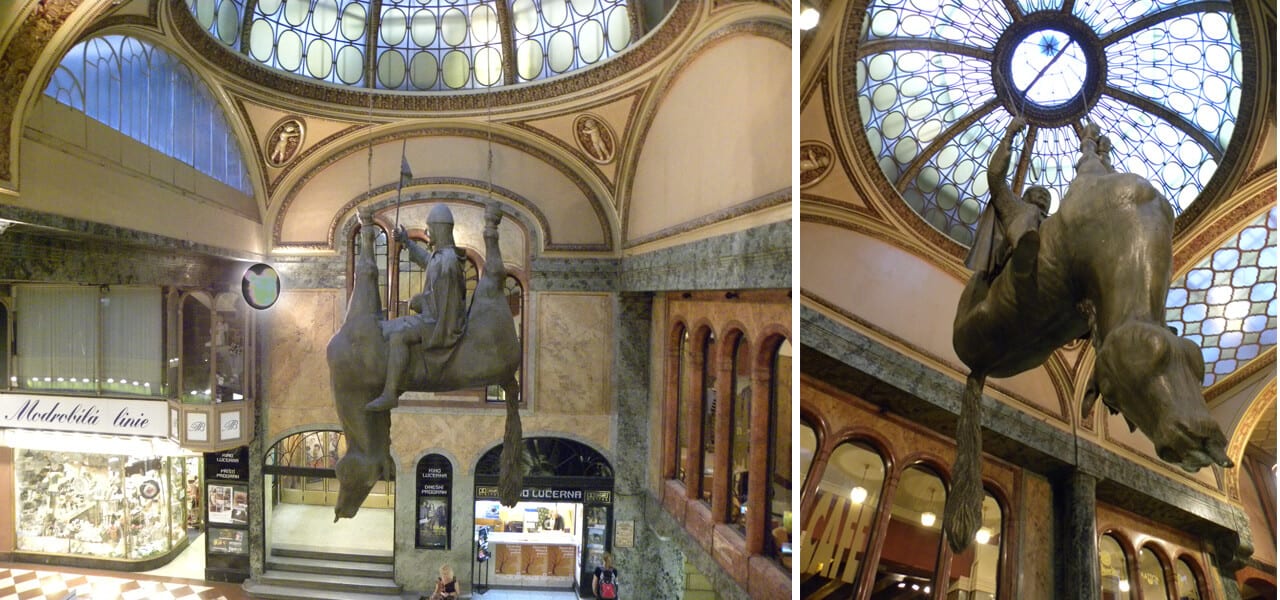 .
.


12. Visit the Museum of Communism
A history lesson on the years of Communism in what was then Czechoslovakia. Interesting memorabilia. Bring your reading glasses.

.
.


13. Paint a brick
The Beneficial Brick Initiative is a charity fundraiser created to help mentally handicapped people better integrate into society. For a donation of 150 Kč (about $8 US) you can paint a brick with your choice of colors and add it anywhere you want on the pile of stacked bricks. More.
.
.


14. Drink beer
The Czech Republic drinks more beer than any other country. Its good and, in most cases, cheaper than any water you may see on the menu.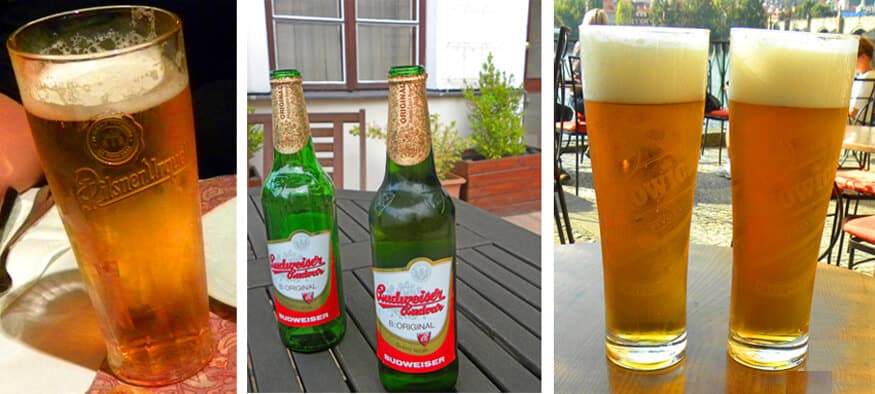 15. Eat a big sausage with hot mustard
Or, if you're vegetarian like Spanky, eat fried cheese (the other dish in the Photo). Fried cheese is the typical 'vegetarian' option on a Czech menu. All my favorite things in one photo…
.
16. Go up the Petřín Observation Tower
The Petřín Observation Tower was built in 1891 and was inspired by the Eiffel tower in Paris. The only thing I can compare it to are the views from a plane when coming in for a landing. The best time is as the sun comes down. More.

.
.




.


17. Take a Walking Tour of the Old Town
Lots of companies offer 'free' walking tours, most starting in the Old Town Square. Be careful choosing, you might find yourself in a group of kids who have no interest in anything the guide has to say. We recommend this half day tour.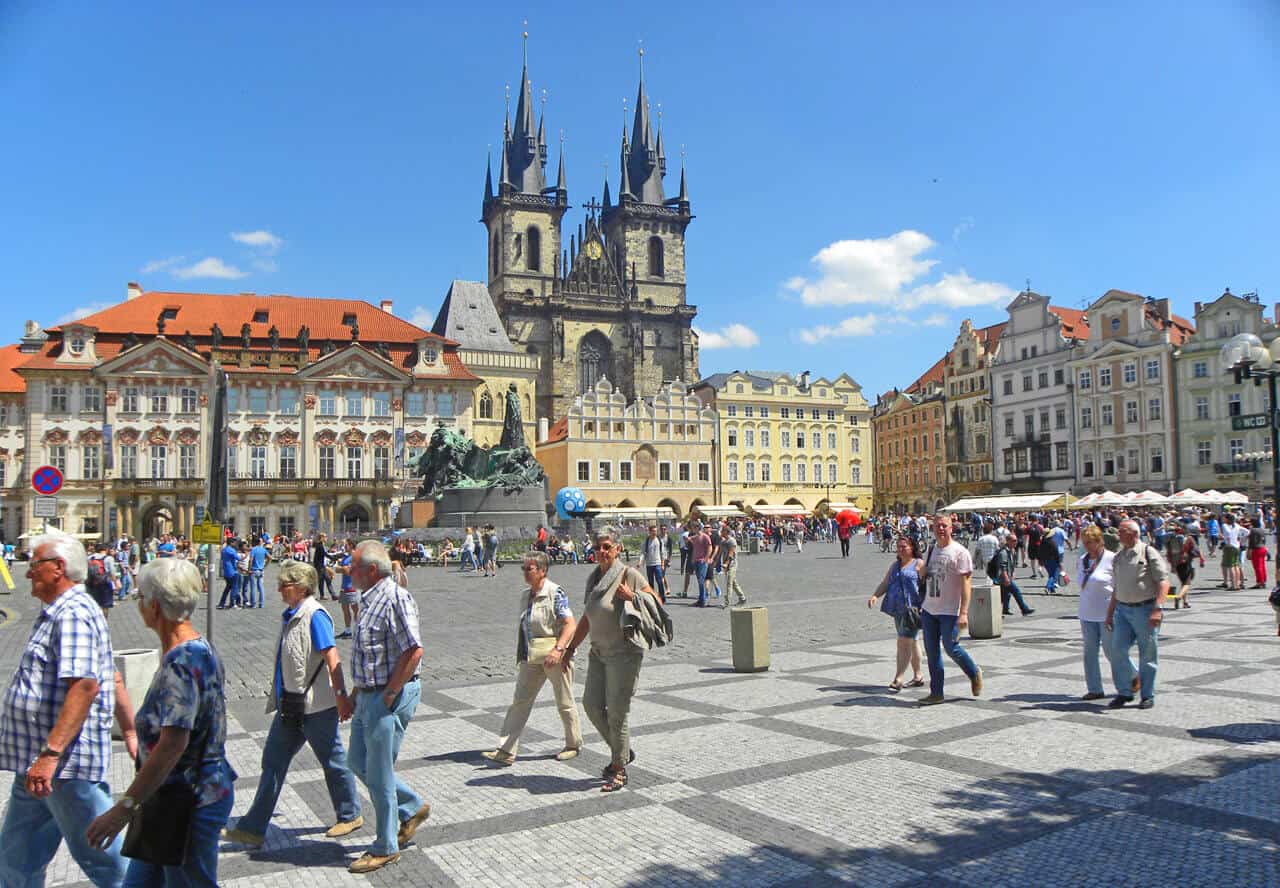 .


18. See the views from Old Town Hall Tower
One of the best views in town and an easy ride up in an elevator.
.
.


19. Rent a boat
Go on the river (rent a rowboat or paddleboat at Slovansky ostrov island). Make sure to wear a sailor shirt and say "ahoy" to anyone you see – it's one of the favorite things Czechs like to do.



.


20. Take a tram
If you like, get a 110 Kc ticket (about $6) and spend a whole day seeing the city by tram. Recommendations: the 12, 14 or 20 trams from Andel metro to Barrandov. Tram 17 from Strossmayerovo namesti towards Modrani offers great riverside views. We've fallen in love with the trams in Prague. See my video on the trams of Prague here.

.
Looking for accommodation in Prague? A couple of suggestions in the mid-range category: The Blue Oak. It has a perfect location on the castle side of the river. Another very nice hotel at a good price is Dolce Vita Suites on the Old Town side of the river. Both are excellent. A great Budget choice is the Czech Inn Hostel. For the hottest deals right now, see below:
21. See the Peeing Statue
Check out the Peeing statue at the Franz Kafka museum (and see the museum only if you're a big fan of Kafka). This is another statue created by David Černý.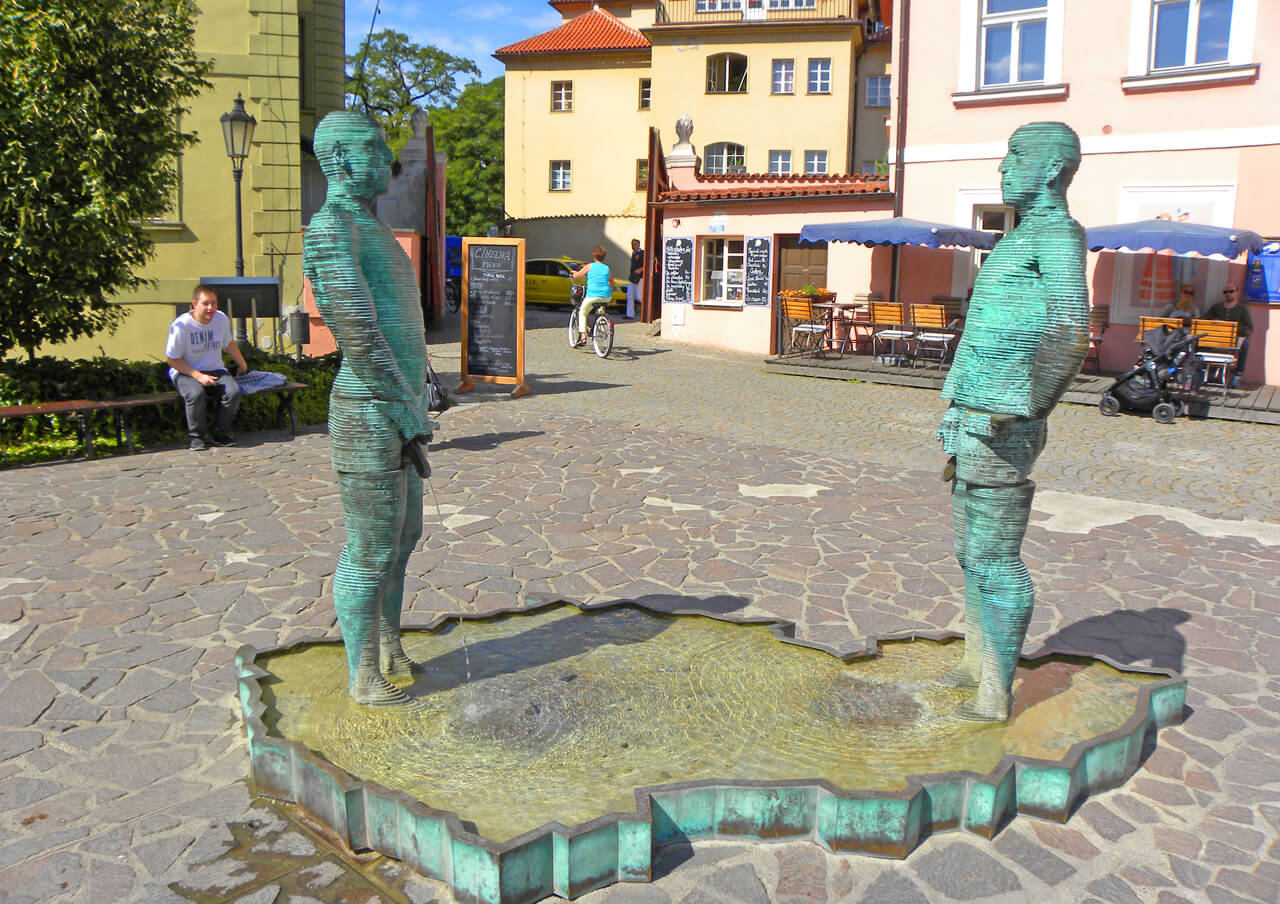 .


22. Listen to classical music at the Municipal House
One of Prague's most beautiful buildings and a great spot to listen to classical orchestras.


.
.


23. Make friends with a Czech!
Czechs are generally quite reserved. It took us a while but we made some good friends here.

Above: Photo credit Europeword.com
.




.


24. Have an evening out at a strip joint.
You can't mention Prague without including strip joints because it is the reason many young 'stag party' tourists come here. You can work on #23 at the same time…We went to strip joint. It was one of the more unusual things we did in Prague.
25. Beer and views at Letna Park
Go to the beer garden at Letna park and have a beer while enjoying great views of the city.

.


26. Have coffee and cake in the garden at Alchymista
There are a lot of nice cafes in Prague. But this one, close to the beer garden in Letna Park, is our favorite in the whole city.
.




.


27. The most scenic walk in Prague
Walk this route in the hills across the river from the Old Town. It is the nicest stroll, with the greatest views, in Prague. One of our absolute highlights.

.
.


28. Climb some towers.
There are some great towers in the Old Town, you can even buy a "Towers of Prague" ticket which will give you access to 5 of the best towers in town. Highly recommended are the Old Town Bridge Tower and the Powder Tower. All the towers are detailed here.



.
29. Take a Vintage car tour
A cool way to see Prague. It's not cheap but Prague is a special place to drive around in a vintage car. Recommended tour.
.




.


30. Take a Horse and carriage tour
Another fun tour idea. A tour will usually last 20 minutes and cost between 800 – 1000 Kc ($45 – $55).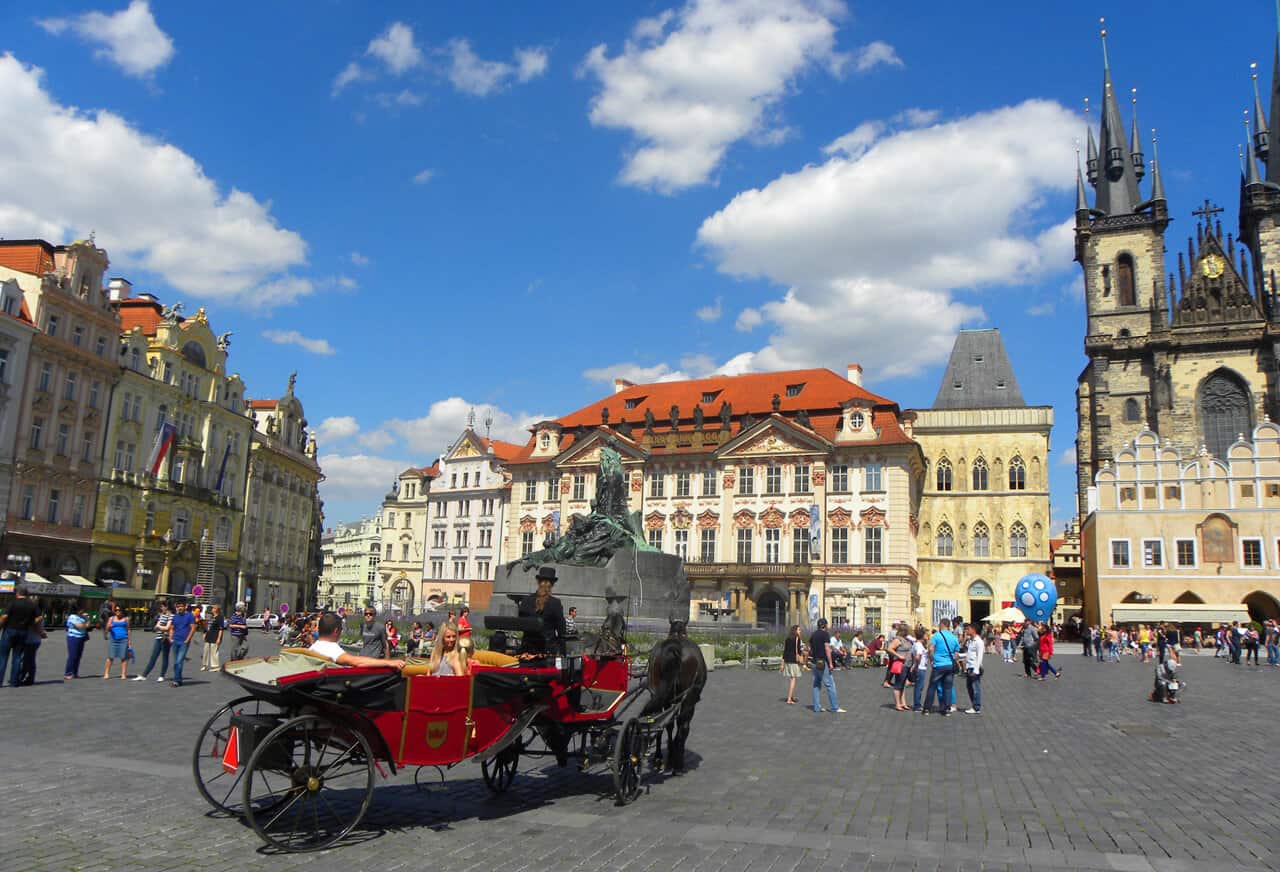 .




.


31. Cross Mánesův most bridge
Cross this bridge, one bridge up from the Charles Bridge, for great views of the Castle, the Charles Bridge, and the river.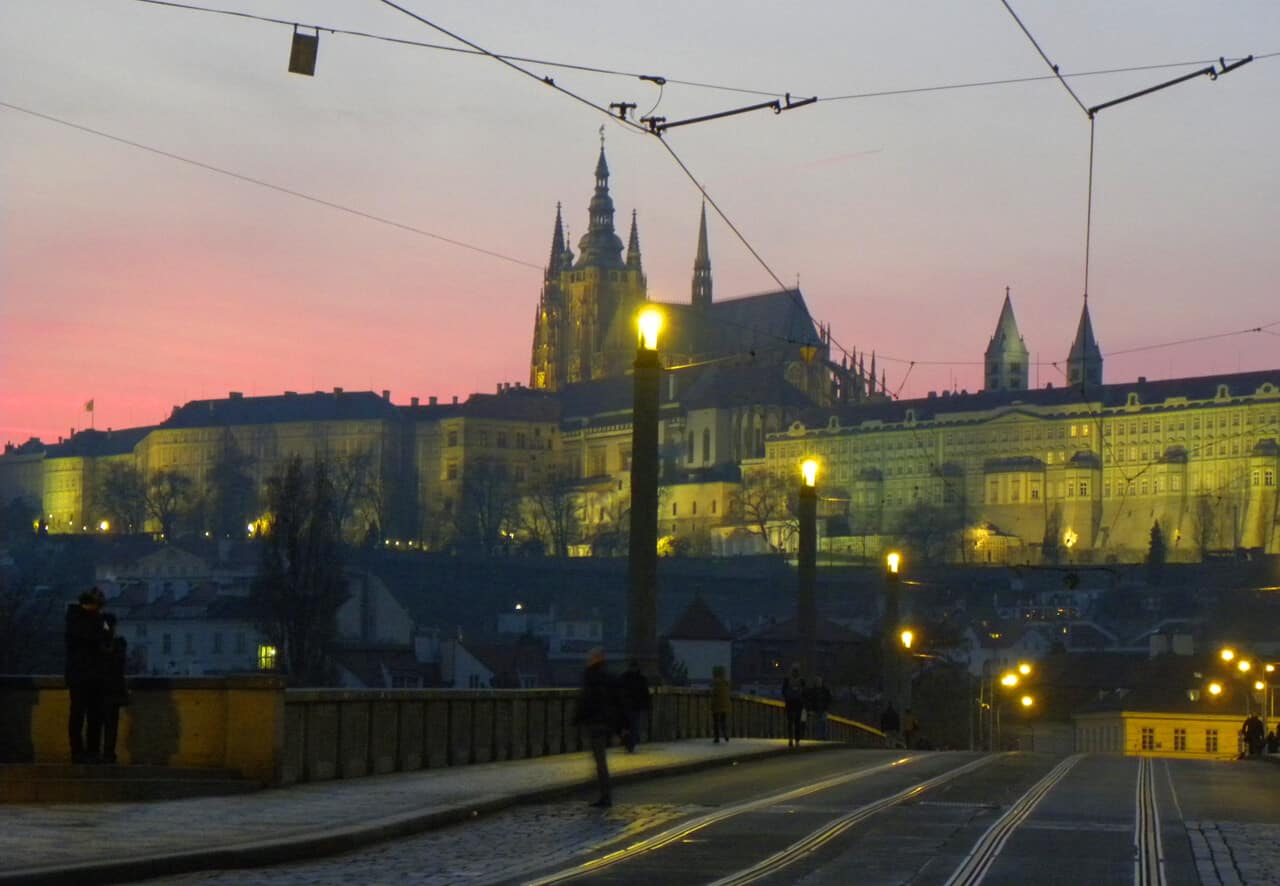 .
32. Go to the Lesser Quarter Square (Malostranské náměstí)
We love this square – beautiful buildings and a great spot to take some photos of trams.
.
33. Take the kids to Prague Zoo
This zoo is one of Europe's best. You can even take a boat from the Old Town to get there. More.
.




.


34. Have a coffee or beer at Klub Lavka
This restaurant/bar is one of the nicest spots to enjoy the views over the river. Try to avoid the food.

.
.
35. See the historical fort of Vyšehrad
The location of the first settlement in Prague, this fort is often overlooked by tourists. We loved it – it houses a beautiful cemetery containing the remains of some of the most important people in Czech history, a beautiful church (Basilica of St Peter and St Paul), and a scenic location on the river. Make sure to come here.
.
36. Check out the Narodni Trida metro station
Prague has a great metro system and some nice stations. But see Narodni Trida – very cool.



.


37. Visit the John Lennon wall.
In 1988 young Czechs would write their words of protest on this wall which led to clashes between students and the security police. The movement these students followed was described as 'Lennonism'. Today, the wall represents a symbol of global ideals such as love and peace.
.
38. Watch a football game.
AC Sparta plays in Generali Arena (also known as Letna Stadium – easily accessible from the Old Town). One of the most successful teams in Central Europe.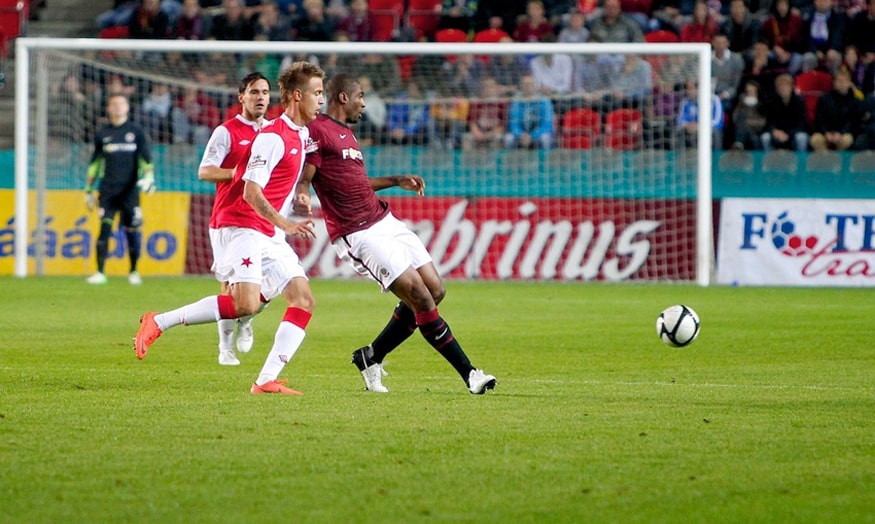 Above: photo credit ondrahanus.cz
.




.


39. Take a Ghost Tour
Want to get scared? This tour is creepy but fun. More.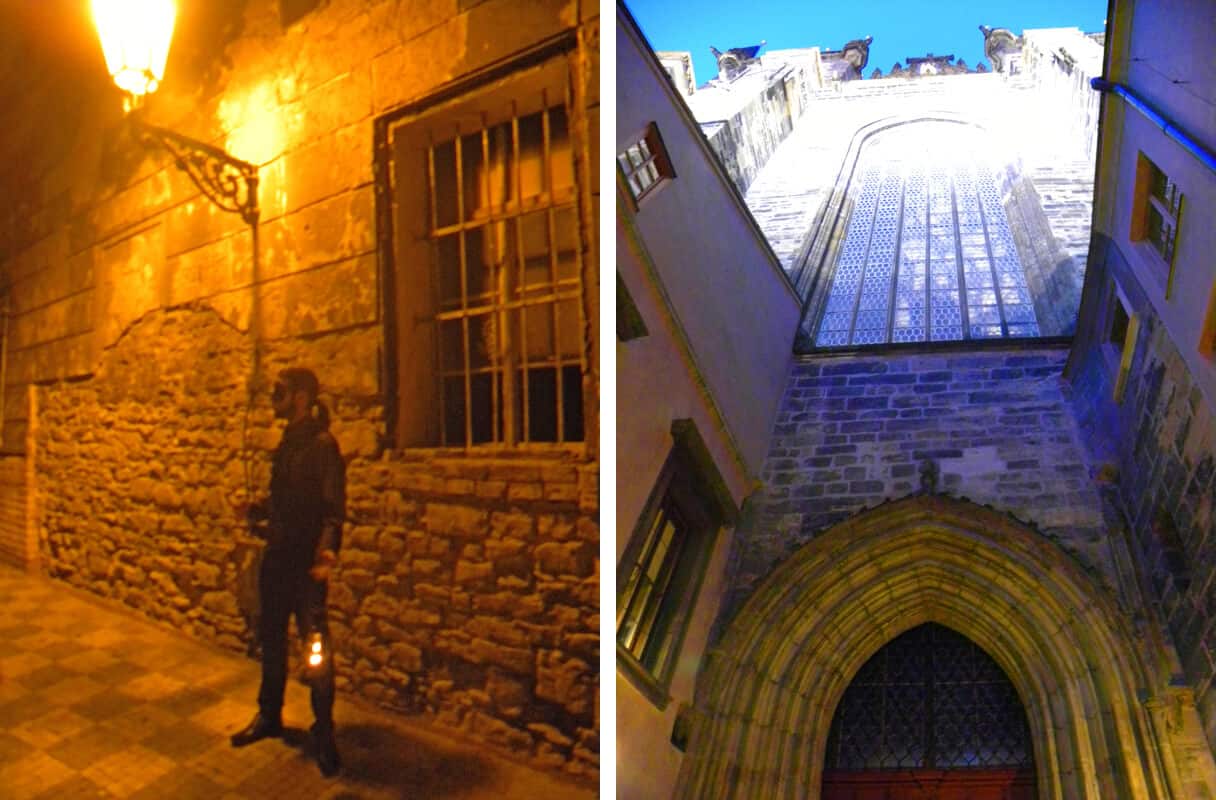 .
40.
Have a coffee at Grand Café Orient
This is the House of the Black Madonna, the first and probably most celebrated example of cubist architecture in Prague. It contains one of Prague's best cafes. Note the 'lightbulb' stairwell when you go in.

.
.




.


41. See the Prague Public Transport Museum
A lesser known museum, this museum has a collection of trams and buses from Prague's history, some dating back to the 1800's. Interesting photographs through the ages, including WWII. This museum was great fun and would only be better if they could include signage in English.
. .
.


42. Ride Tram 91
Tram 91 is the famous Historical Tram that starts at the Transport Museum ( # 41 above) and goes through downtown to Holešovice. The Tram runs every weekend and is operated by retired tram operators who are happy to give you information on the trams and share stories. Great fun and only 35 Kc for the 35 minute ride.
.
.


43. Tour the Jewish "Museum'
Prague has the most interesting collection of Jewish sights in Europe. You can buy a ticket to "The Museum" which will cover 6 of the 7 main highlights of the Jewish Quarter, including the Old Jewish Cemetery (it looks small – but it has 12 layers of bodies buried under the visible tombstones. Experts guess there are 100,000 bodies here) and the Pinkas Synagogue (memorial to the victims of the Nazis). This excellent tour is recommended.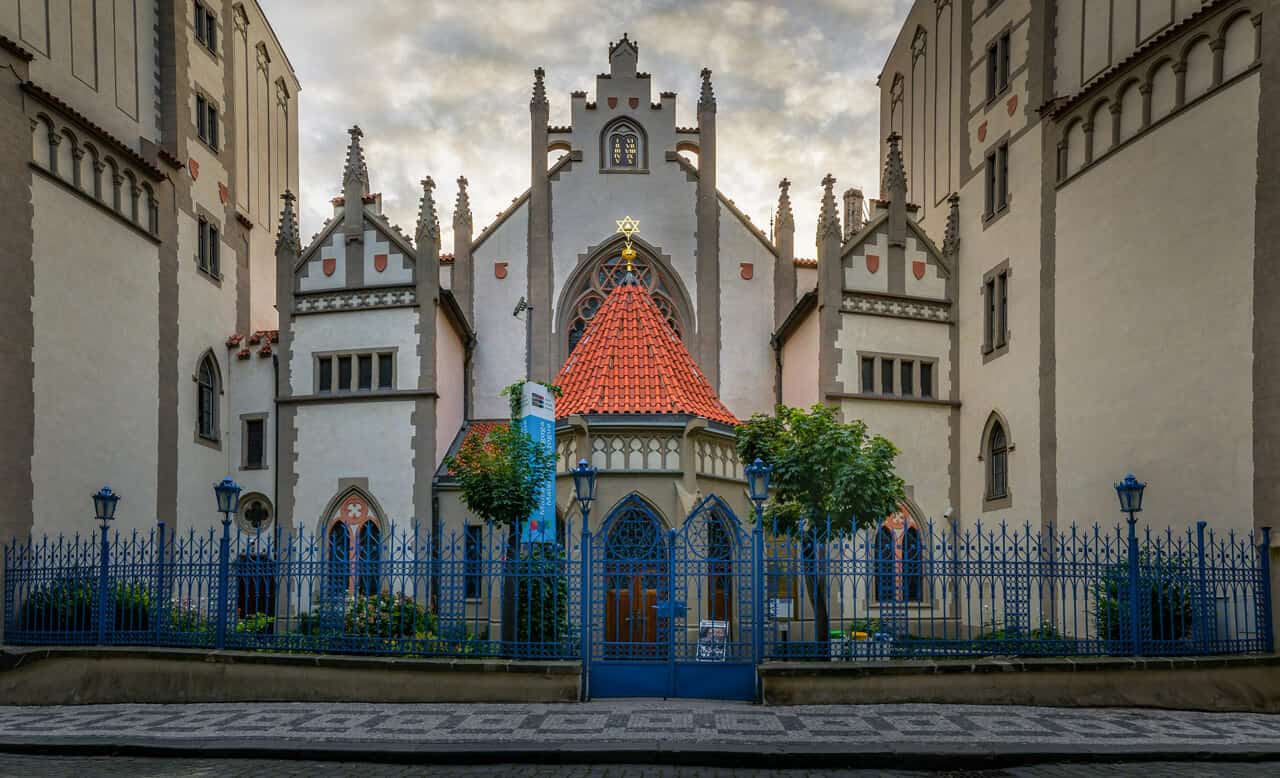 .


44. Be one of those annoying Segway riders
You'll see them weaving in and out of the crowds and ruining your photo opportunities. But it's a popular activity among tourists and actually looks like fun…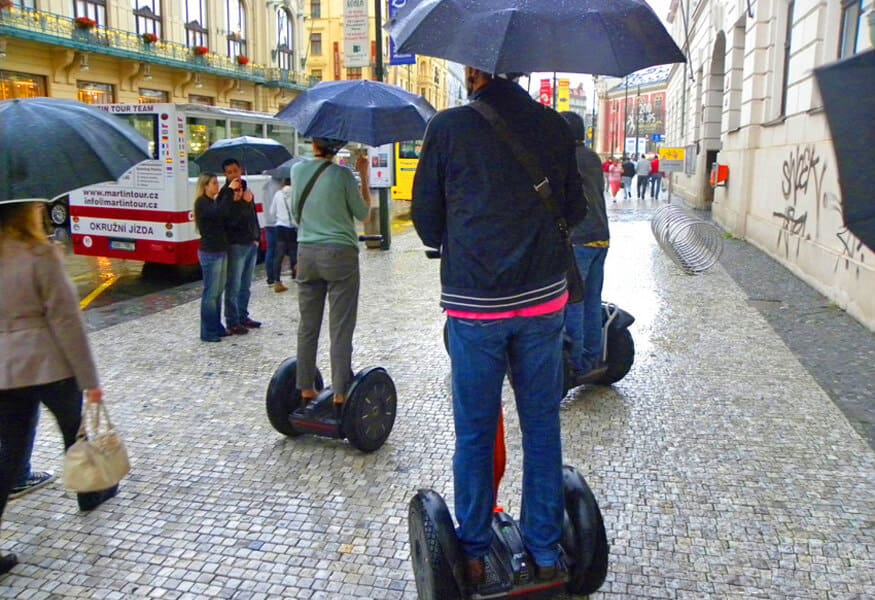 .
.


45. Take a river tour
A great way to see the sites while relaxing with a beer. Note: there are many river tours and they're quite inexpensive. This cruise, in a small boat, is a favorite.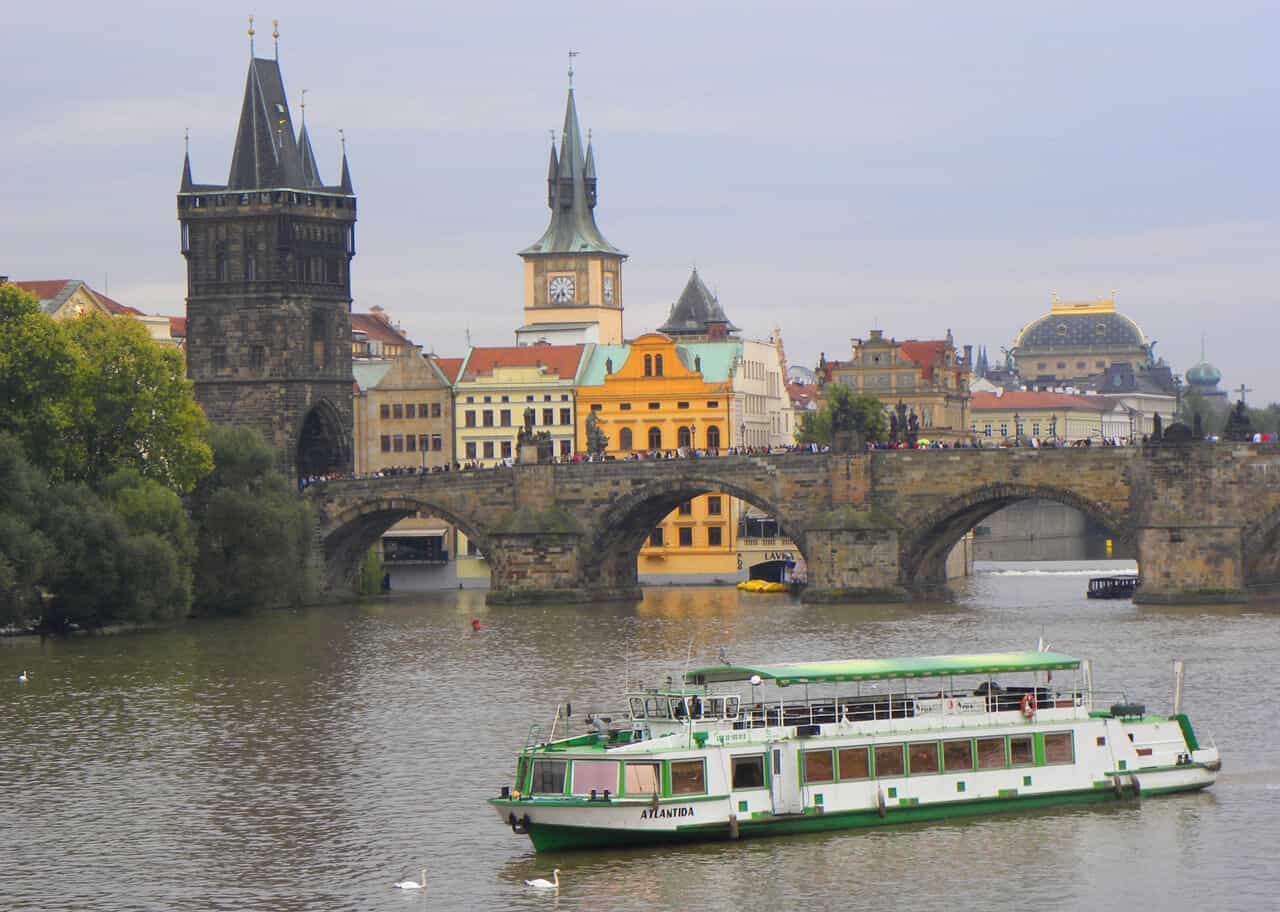 .
.


46. Check out the Church of St. James in the Old Town
Considered the most beautiful church in the Old Town. Look at the black, shriveled-up arm (400 years old) hanging from a hook.
.
47. Have coffee or lunch at Café Slavia
This is one of Prague's oldest coffee houses and has by far the classiest atmosphere of any café we visited. It has a beautiful art deco interior, very good food, nice river views – and with piano playing in the background it transports you back in time. We love it (no matter what Rick Steves' says).
.
48. Hang out with Sigmund Freud.
Another strange David Černý statue, this one located on pretty Husova street, depicts psychoanalyst Sigmund Freud hanging by a hand and pondering whether to hold on or let go.
.



.
49. See Baroque Library Hall at the Klementium
The Klementinum is the largest and most historic complex of buildings in the Old Town. Originally a Jesuit college, it was transformed into a library in the early 1700s. Highlights of a tour include the Baroque Library Hall, an astronomical Tower (180 degree views over the Old Town), and the mirror Chapel.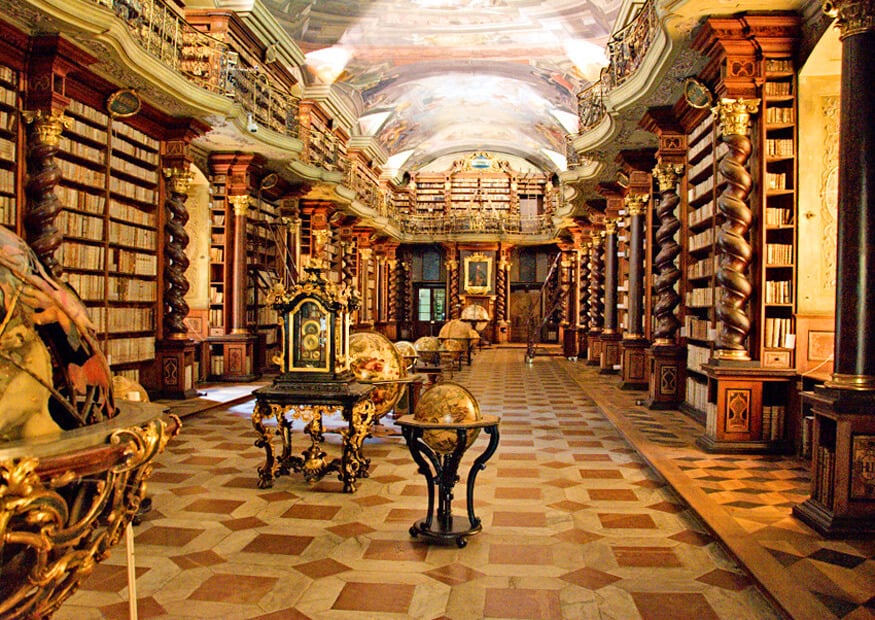 .




.


50. See more Statues
I've highlighted some statues above. But fans of statues can find more. A few examples: 1) Ghost from Mozart's Don Giovanni (by Anna Chromy) located outside the Estates Theatre, 2) David Černý's babies crawling up the Žižkov Television Tower, 3) Franz Kafka Statue by Jaroslav Rola in Jewish Quarter. Some websites for people who can't get enough of statues here and here.
.
***
.
I've limited the above to our Top 50. But there are more things that pop to mind; 51) The Grand Hall at the main train station, 52) the food markets that move around the city (great way to interact with farmers and locals), 53) Vegan food at a branch of Loving Hut – even for a non-vegetarian like me it was fantastic, 54) Church of Our Lady of the Snows near Wenceslas Square. Gorgeous interior. Any other suggestions?
Even more suggestions on this post: Guns, Strippers – and other Unusual things to See and Do in Prague.
.
PS. Looking to book flights, hotels, tours, or rent a car? Have a look at our Travel Resources page.