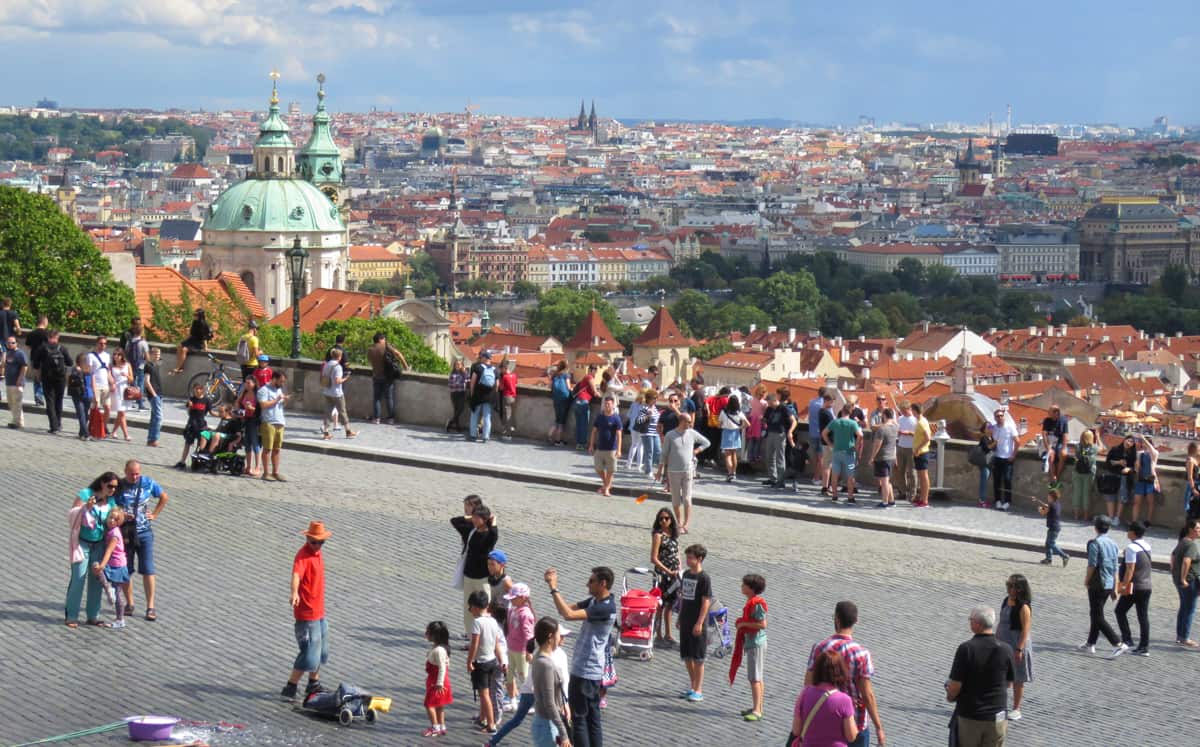 The Best views in Prague
One of the great things about Prague are the views. There are hills, towers and gardens all around the city that have great views over the historic center. We've walked or climbed them all, including on our most recent visit when we added a few more incredible view points to our list. Here is where to find the best views in Prague.
Our list of the Best Views in Prague
1. Hanavsky Pavilon, Letna Park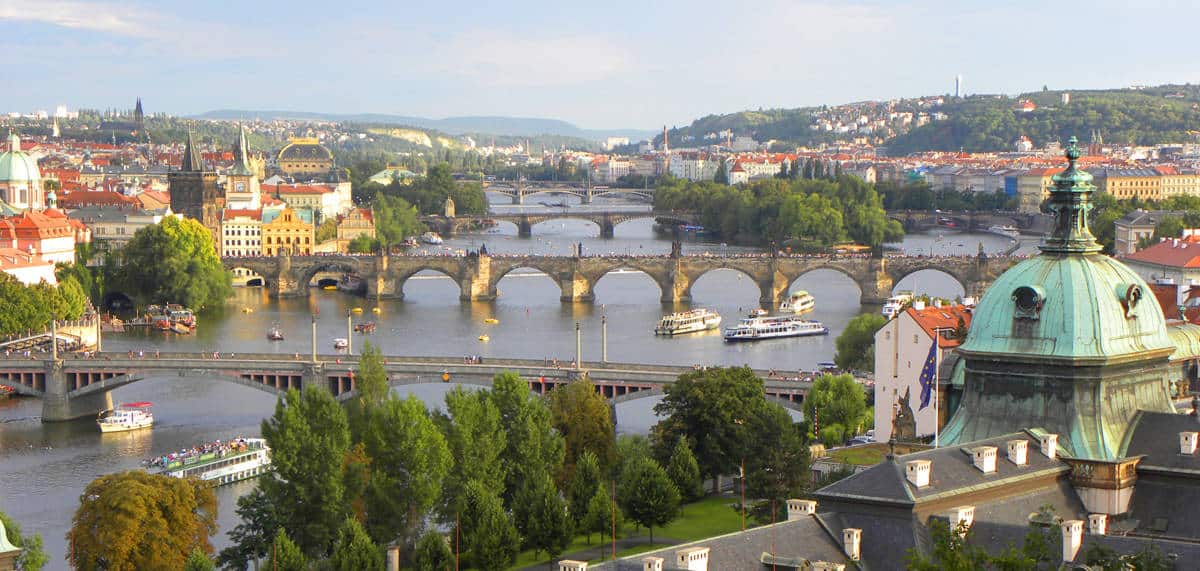 The most classic and most photographed views of Prague are taken from this viewpoint on the hill opposite from the Old Town. In fact the whole stretch from the Letna beer garden to Prague Castle is full of differing views of the city. More here on Prague's most scenic walk.
---
---
2. Prague Castle
Lots of great views at the castle. Here are a few special spots.
A) From the Gardens below the castle. You can see the entire whole town and river from here.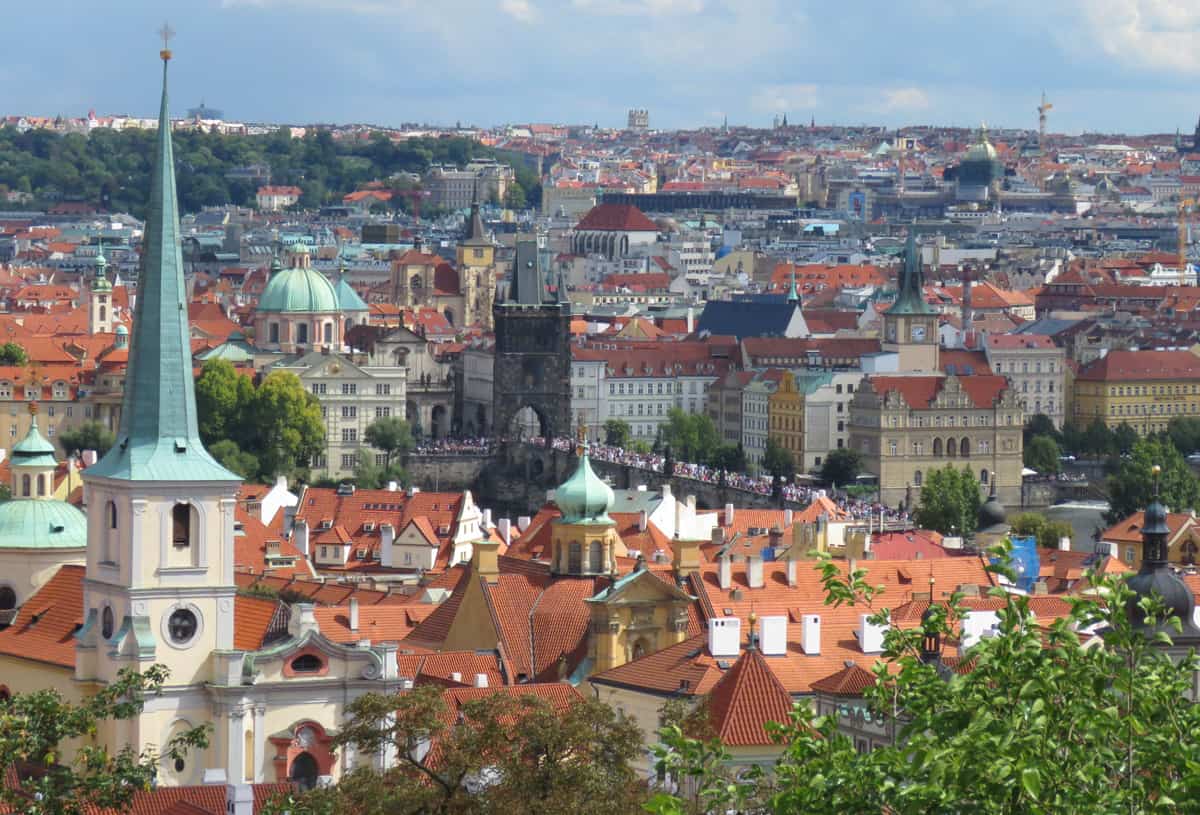 B) Along the wall by the Castle Gates (some call it the Starbucks viewpoint because there's a Starbucks there).
C. Just a little bit up from the Castle, just below the Strahov Monastery, you'll have views of all of the old town as well as the castle to the left. A 2 minute walk will bring you up to the Mary in Exile statue (it's covered in this post).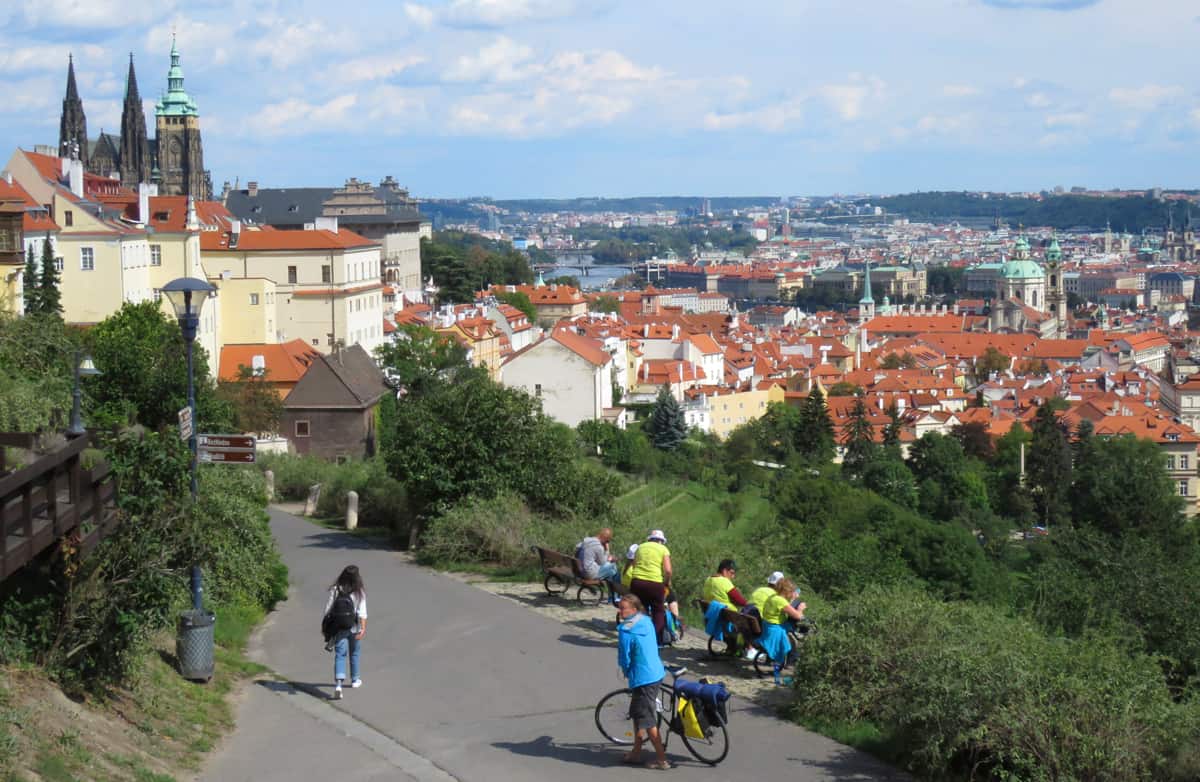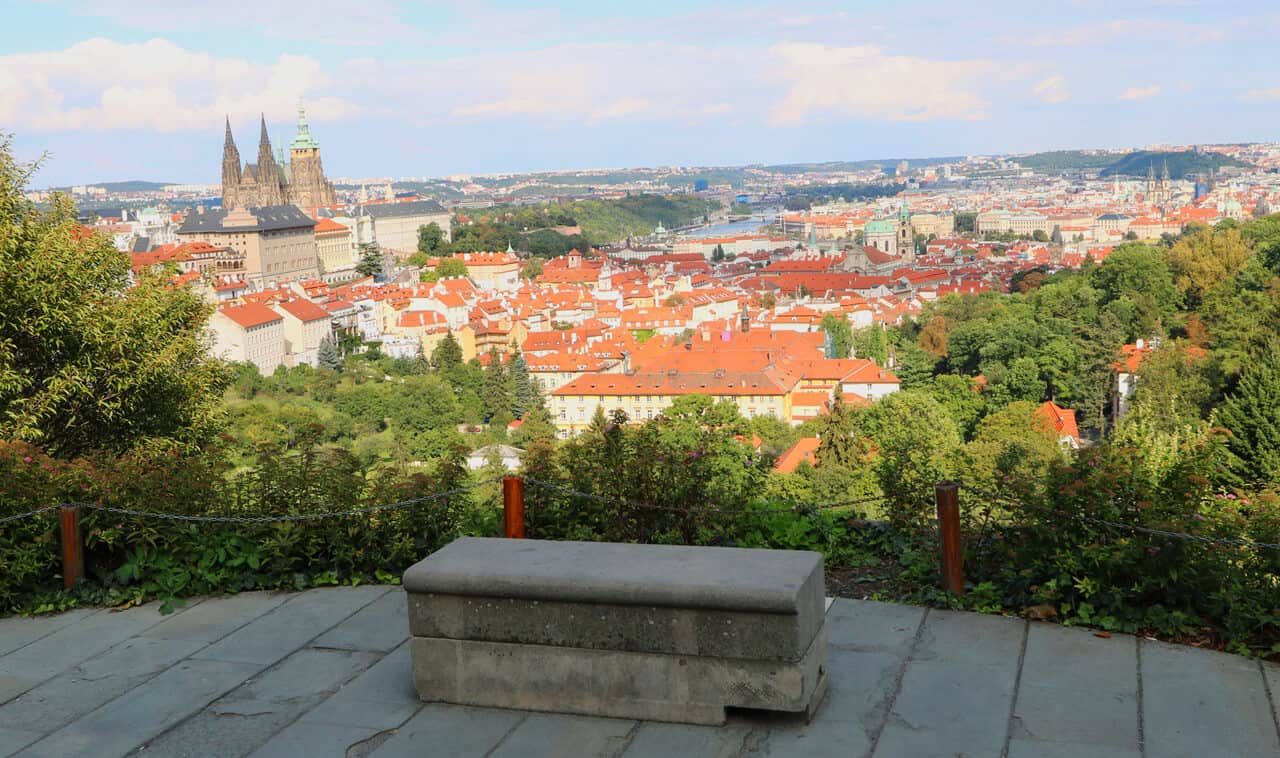 ---
---
3. Vrtba Gardens
We finally saw the Vrtba Gardens this month on our latest visit to Prague. The gardens are made up of several terraces that climb the hill, offering spectacular views of the Castle and the rooftops of the old town.

Note: in the 2nd photo below, look at the large monument in the background. That's Vitkov Hill which is the next spot on this list.
4. Vitkov Hill
Little visited by tourists, this is another viewpoint that we saw on this latest visit. Atop Vitkov Hill is the huge National Monument along with the Tomb of the Unknown Soldier. It is today an expression of thanks to soldiers who died fighting for the independence of what was at the time Czechoslovakia.
Many people come here to jog and walk their dogs. And it has great – and very different views – of downtown Prague.
---
---
There are lots of towers in the Old Town that can be climbed and almost all have great views. I wrote a post about them here. But here are the BEST ones.
5. Old Town Hall Tower
A MUST in Prague. It's the only tower where you have 360 views looking right down at the Old Town Square. You can take the elevator up, so it's the easiest of all the towers to ascend.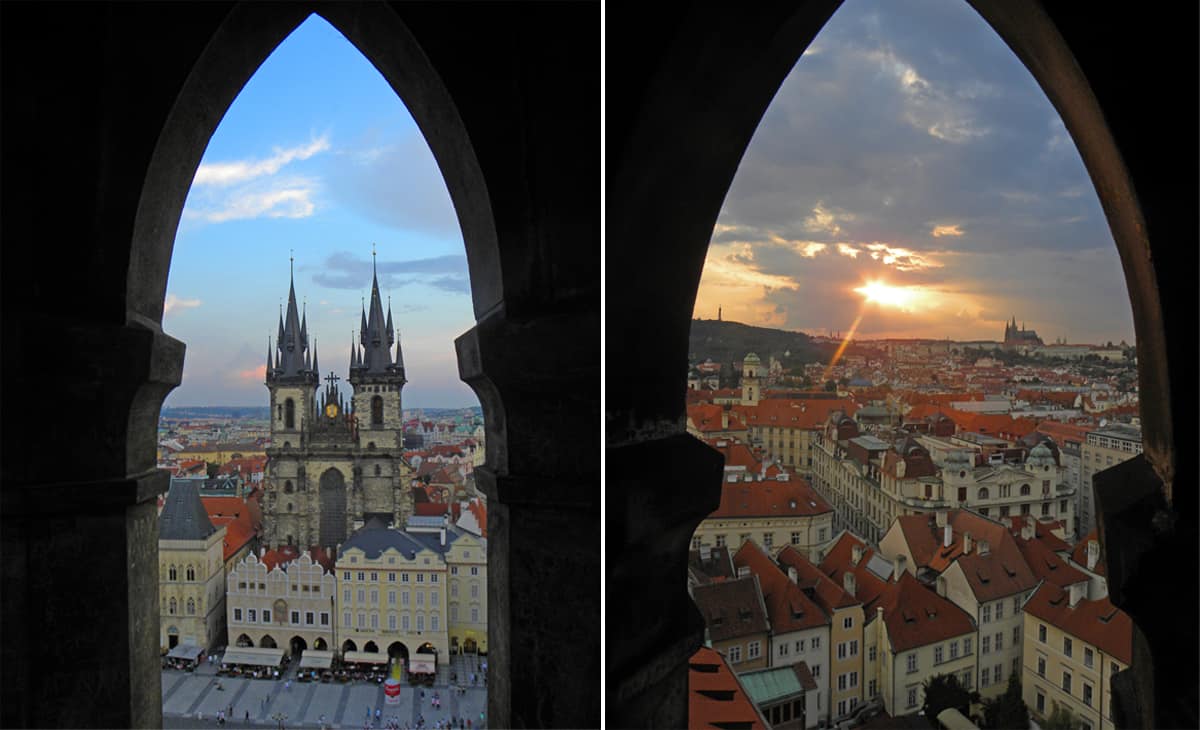 6. Old Town Bridge Tower
This is a great tower because on one side you're looking straight down at the Charles Bridge and the castle district, on the other side you have views of all the rooftops of the old town.
---
---

7. Powder Tower
At the entrance to the Old Town (right next to the Municipal House), this tower gives a great perspective on the whole of the Old Town and the Castle district further beyond.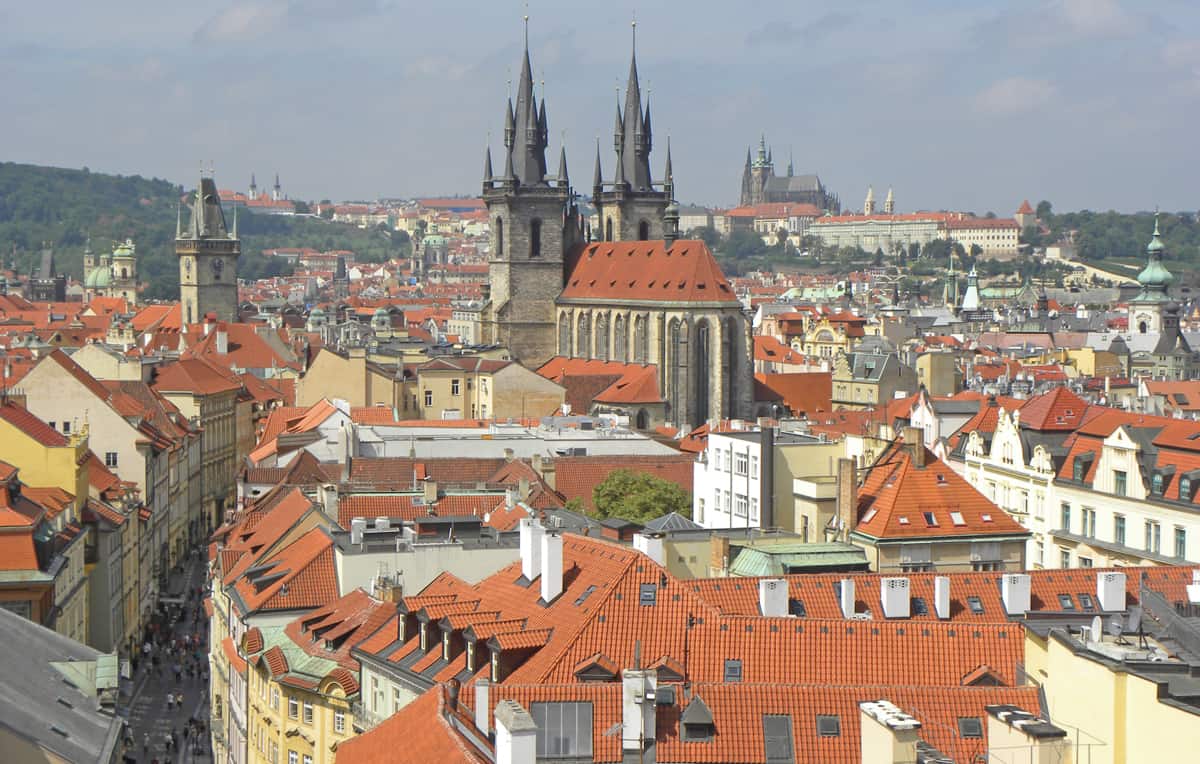 8. Vyšehrad Castle
A beautiful area with vineyards, a church, and a historic cemetery, it also has great views looking down the river towards Prague Castle that's different from other views.
The thing is there are great views everywhere in Prague. Stroll along the Vlatava river on either side, cross the bridges, walk the small islands. Prague really is one of the most scenic cities anywhere.
Below: some more great views. From top left: Petrin tower, path near Charles Bridge on Castle side, Dancing House, steps leading to castle from Malostranská metro, Manesuv most bridge, riverbank on Old Town side of the Charles Bridge, St. Nicolas Church, Lesser Town Bridge Tower.
---
---
On another month spent in Prague
This was our 6th time in Prague. In total we've spent almost 7 months in Prague. As Lissette said during this trip "it feels like the closest thing to home".
One of the reasons we come to Prague is for our dental/medical check-ups. We find the quality of medical care here good and the price inexpensive compared to anything we would pay in North America. This time we also had to buy a couple of new computers and a new phone. So we use Prague as a base – it's a place where it's easy to find anything we need, it's easy to get around, and we can always find someone who speaks English
We've also felt more and more comfortable in Prague with every visit. Things have changed in Prague. It's become a much more international city. There are more expats settling in the city, more of a variety in cuisine, and (depending on which section of the city you're in) you'll hear more foreign languages. We like to stay in Vinohrady District. You'll find Korunni St, Francouzska St., Kodanska St, and Moskevska St in this area. All are all teeming with nice little cafés and restaurants. Last night for example, I went out to Bistro Javanka with our Airbnb host. It has excellent Indonesian cuisine. There's a Thai restaurant, a few Vietnamese restaurants, and an excellent Indian restaurant (Pind Restaurant). Vinohradsky brewery makes their own beer and serves good Czech food. Close by is Jen's café and the Corner Bakery, all very popular (both serve full breakfast). We discovered Oblak Coffee this week which opened a month ago and which is run by a Croatian couple. It's now our favorite café. It's a great neighbourhood and reminds us of the better days on the Plateau Mont-Royal neighbourhood where we lived in Montreal.
Accommodation in Vinohrady
Vinohrady is a great neighborhood to stay in. There are no big hotels in the area, mostly apartments. But it's cheaper than the center and an easy 10-15 minute tram ride…plus the neighborhood is really pretty and trendy. Recommendations: Boris' Apartments Jiriho z Podebrad, Wonderful apartment in Vinohrady.
Recommended Tour
If looking to do a tour, this 2.5 hour Panoramic and Prague Castle Bike Tour will let you see all the great views from Letna Park and the Castle area while also saving you time on the bike.
Prague is definitely changing. It's not the same Prague that we came to 4 years ago, it's become more cosmopolitan and (in our opinion) more friendly.
It's a very easy city to live in which is why we always come back to "get things done". But it is also still the most beautiful city we've seen anywhere. We're still always amazed by the beauty here.
I'll write a Guide on Prague sometime soon. I see too many comments on how touristy Prague is and how miserable the Czechs are. I think people coming here have to be a little more adventurous – there's a LOT to see outside the Old Town (and I'll be the first to say that the tourist hordes can be overwhelming).
All to say that Prague is a great city and we love it.
---
---
Ps. If you find our blog helpful, please consider using our links to book your flights, hotels, tours, and car rentals. Have a look at our Travel Resources page.