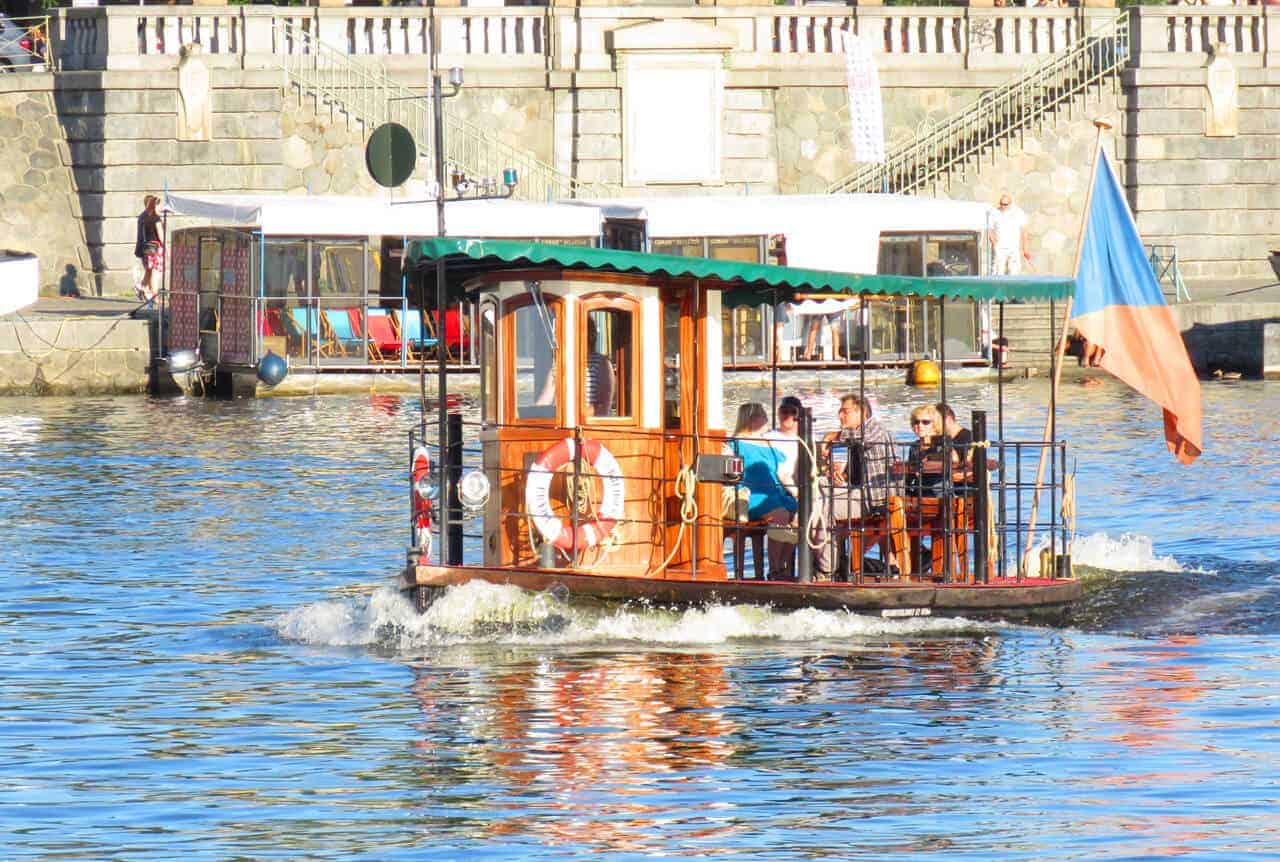 Unusual things to do in Prague
I always hear people complain that Prague is too touristy. There's some truth to that – but most of the "too touristy" problem in Prague is due to tourists going to all of the same (ie. usual) places.
See this post I wrote a few years ago on 50 Things to Do in Prague.
We spent August in Prague, our 4th time here (Prague is where we come to get our medical/dental stuff done). This time we decided that we'd explore more unusual things, with an emphasis on more 'doing' than 'seeing". The things we did below were inspired by things we knew existed in Prague but had never tried (shooting guns and going to a strip club), obscure recommendations from locals we met (the Czech Hockey Hall of Fame, the vineyard in the city, the "jumping elevator"), and from this book highlighting all kinds of off-the-beaten-track sights that even locals don't know about.
You'll find sights and activities in this post not covered by any traditional guidebook.
Related: Where to stay in Prague (including our favorite neighbourhood)
---
---
Some highlights of our month-long visit:
Shooting Guns
Neither of us had ever shot a gun in our lives. We knew Prague had 'gun tours' and after doing bit of searching online we contacted Outback Prague. We spent an hour with them shooting 10 different types of weapons including a glock pistol, a pump-action shotgun, a Scorpion submachinegun, and an AK47 Kalashnikov (all the weapons we tried are listed here). With each weapon you get between 10-15 shots at a target. IT WAS AWESOME. If you've never shot a gun you'll be surprised by the kickback, the flames that sometimes shoot out of the gun, the smell of gunpowder, and the spent shells flying all over the place. Shooting is a lot messier then you see in the movies.
We'll probably never shoot a gun again in our lives – but it have to admit we really enjoyed the experience.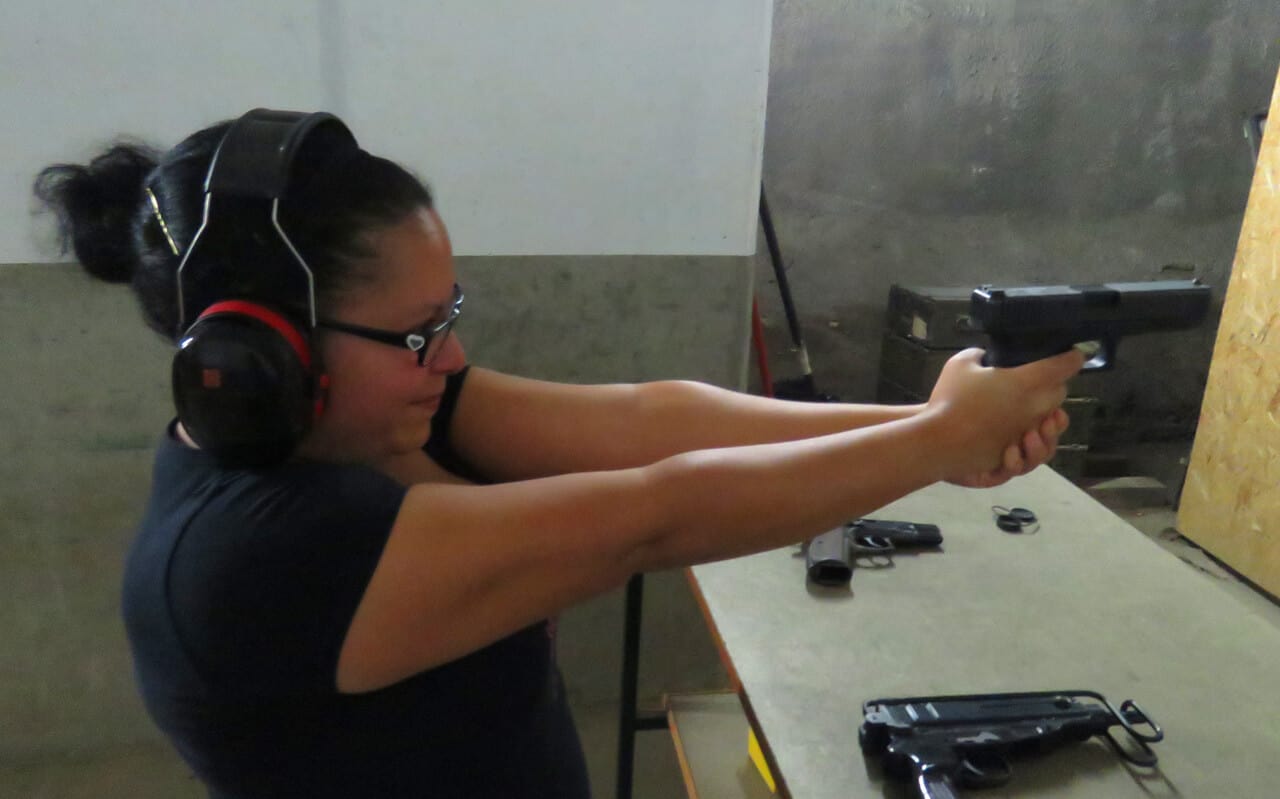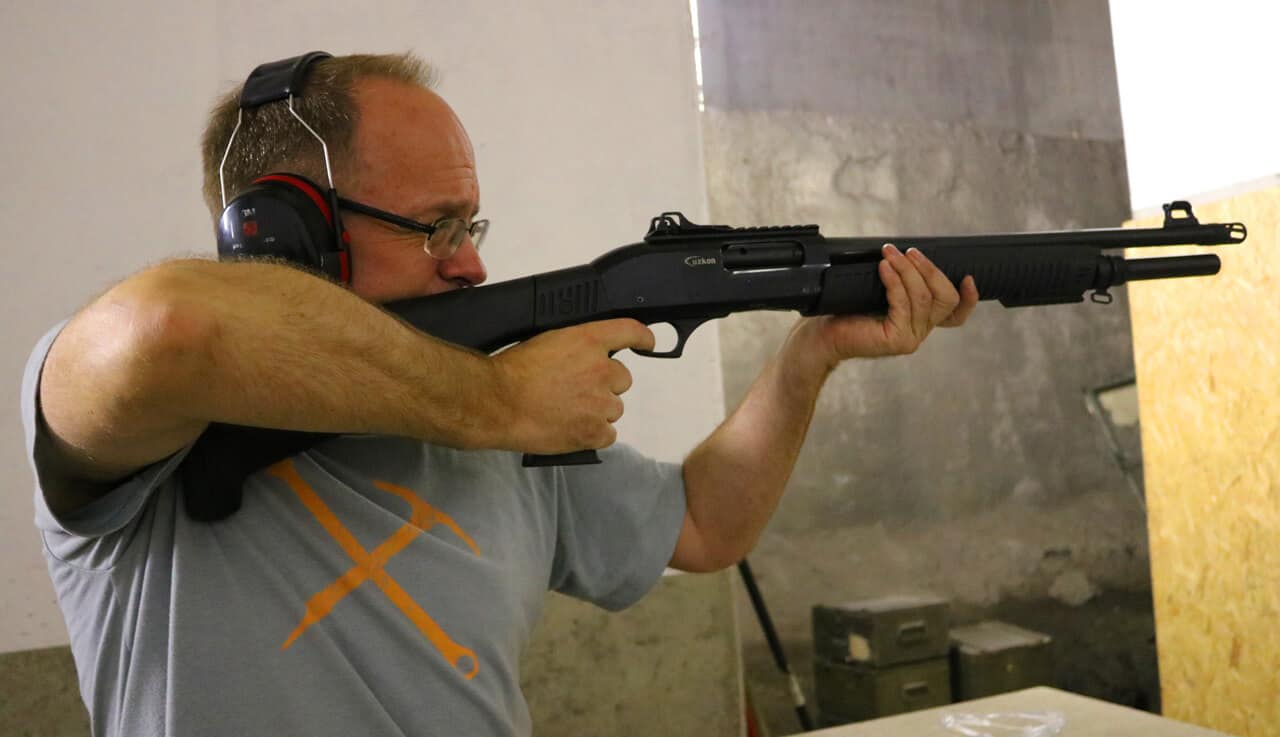 * Outback Prague gave us a discount as bloggers. It doesn't change anything – it was an awesome experience. The owner, Vitek, picks you up at your apartment or hotel and brings you to the shooting range. Very well organized (have a look at their Trip Advisor reviews if you don't believe me).
---
---
.
Going to a Strip Club
When I turned 50 a few months ago we were in Tokyo where Lissette had suggested we go to a strip club to celebrate my birthday. Tokyo's popular red light district was unfriendly and unwelcoming and we had ditched the idea and gone to eat sushi instead.
Coming to Prague we decided we'd make up for that experience. Researching which strip club to go to in Prague I read a bunch of reviews which suggested maybe it wasn't a great idea: 1) most appeal to single guys or groups coming for stag parties, 2) many are 'sex clubs' where you'll be pressured for more (not what we were looking for), 3) some strip clubs are sketchy and I didn't feel like being shaken down by some big guy named Igor.
I wrote Darling Cabaret, the most famous of strip clubs in Prague and told them we would be coming to Prague. "Are couples welcome to your club?" I asked. "They certainly are!" Darling responded.

In fact, Darling Cabaret is one of the friendliest partners we've ever worked with as bloggers. We were warmly welcomed in the club, given VIP seats right next to the stage, and offered free drinks. Sweet.
I've read that Darling offers some of the same 'services' as other Prague strip joints. Upstairs are private rooms where you can get lap dances or any variety of services you might want (we didn't do any of that). So you'd think maybe it's a 'sketchy' kind of club. It isn't. In fact, Darling Cabaret is the most upscale strip club we've ever been to *. It's a beautiful, big club with a large stage on the ground floor with balconies looking down from above. What really sets Darling Cabaret apart are the shows – yes, you have the usual pole dances, but then you have some really over-the-top shows featuring girls dressed in Egyptian outfits (I counted 15 of them on the stage, dragging around some kind of Sarcophagus), a dancer doing an amazing light show with batons, a couple of gymnasts twirling high above the stage on ropes. As Lissette mentioned sometime during the course of the night, it was like Cirque de Soleil but with lots less clothing.
*not that we've been to many strip clubs. In fact we've been to 3 clubs over 12 years (Montreal, Bangkok and now Prague).
I know strip clubs are not for everyone. But Darling Cabaret was great and Lissette was made to feel very comfortable.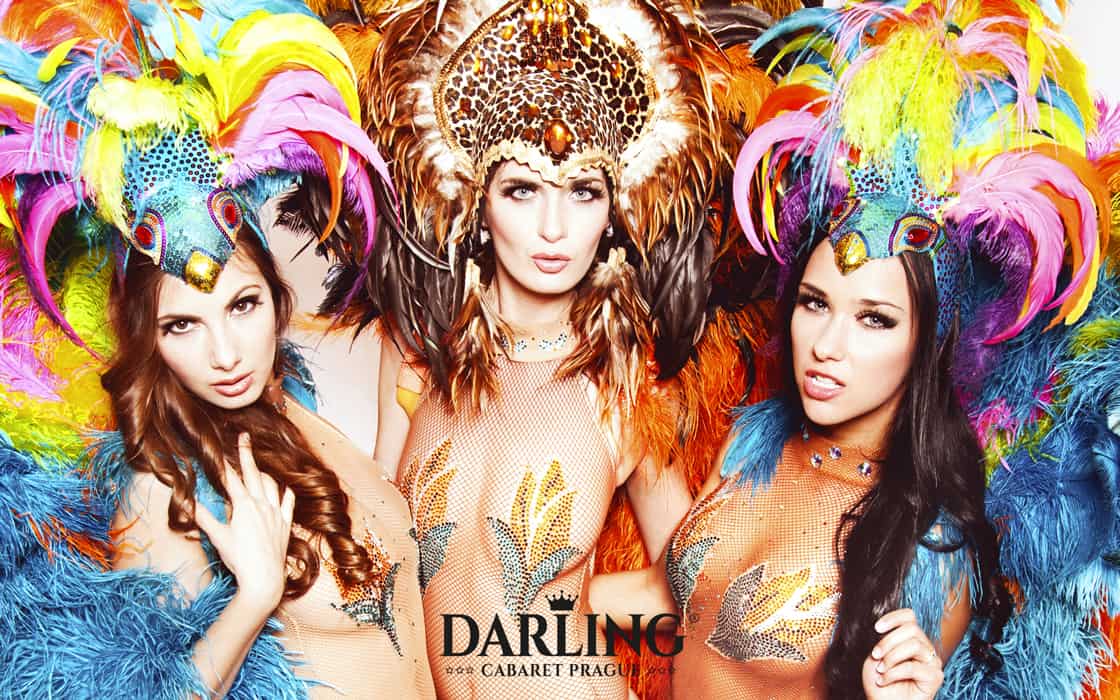 ---
---
Going to a Vineyard in the middle of the city
A Canadian expat living in Prague told us about this vineyard. A vineyard In the center of Prague? Yes. And it happens to be in Havlíčkovy Sady, one of the city's prettiest parks (and a 10 minute walk from our apartment in District 10).
You'll see the vineyard stretching up the hill in the park. Near the top, you'll see a wooden building. That's where you go. They don't speak much English but tell them you want to do some wine tasting – there are 2 whites and a red for tasting and you can tell them if you want a quarter liter or half liter. We ended up trying them all and they were pretty good. But the highlight is being in this weird wooden structure (which reminded us of the Jim Thompson house in Bangkok) with views over the vineyard and city.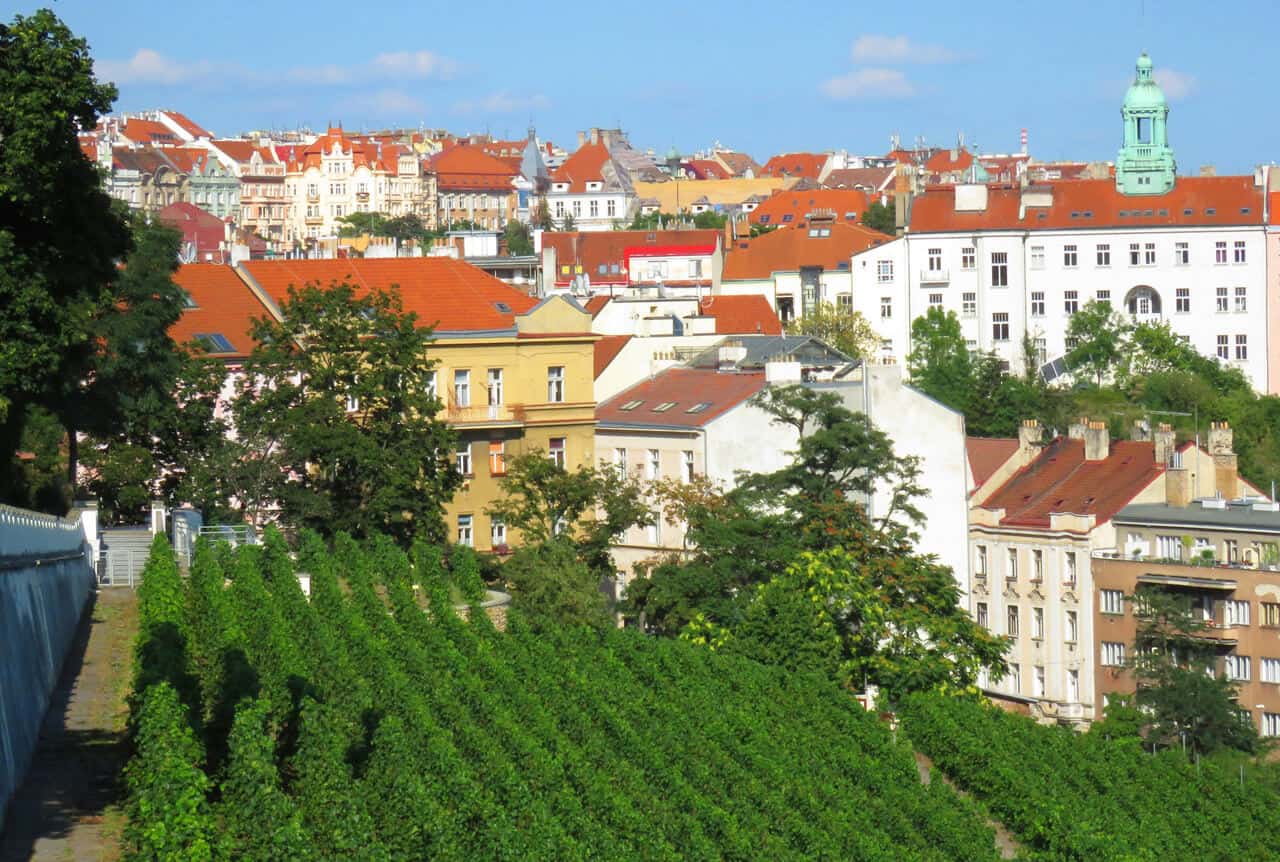 Visiting the Czech Hockey Hall of Fame
I had walked into a hockey equipment store and struck up a conversation with the owner. He recommended a visit to the Czech Hall of Fame in the Harfa Mall (right next to the O2 Arena). He said the interactive displays are a lot of fun.
We went. The Czech Hockey Hall of Fame itself was ok (English signage isn't great and the displays could have been made more exciting). BUT – the interactive displays ARE great. We had the place almost to ourselves and I spent a lot of time shooting on a dummy goalie (video further below). It was also a great spot to buy hockey t-shirts and other hockey memorabilia. It's not for everyone, but if you are a big hockey fan (which I am) or a kid you might enjoy it.
Update: currently closed, searching for new location.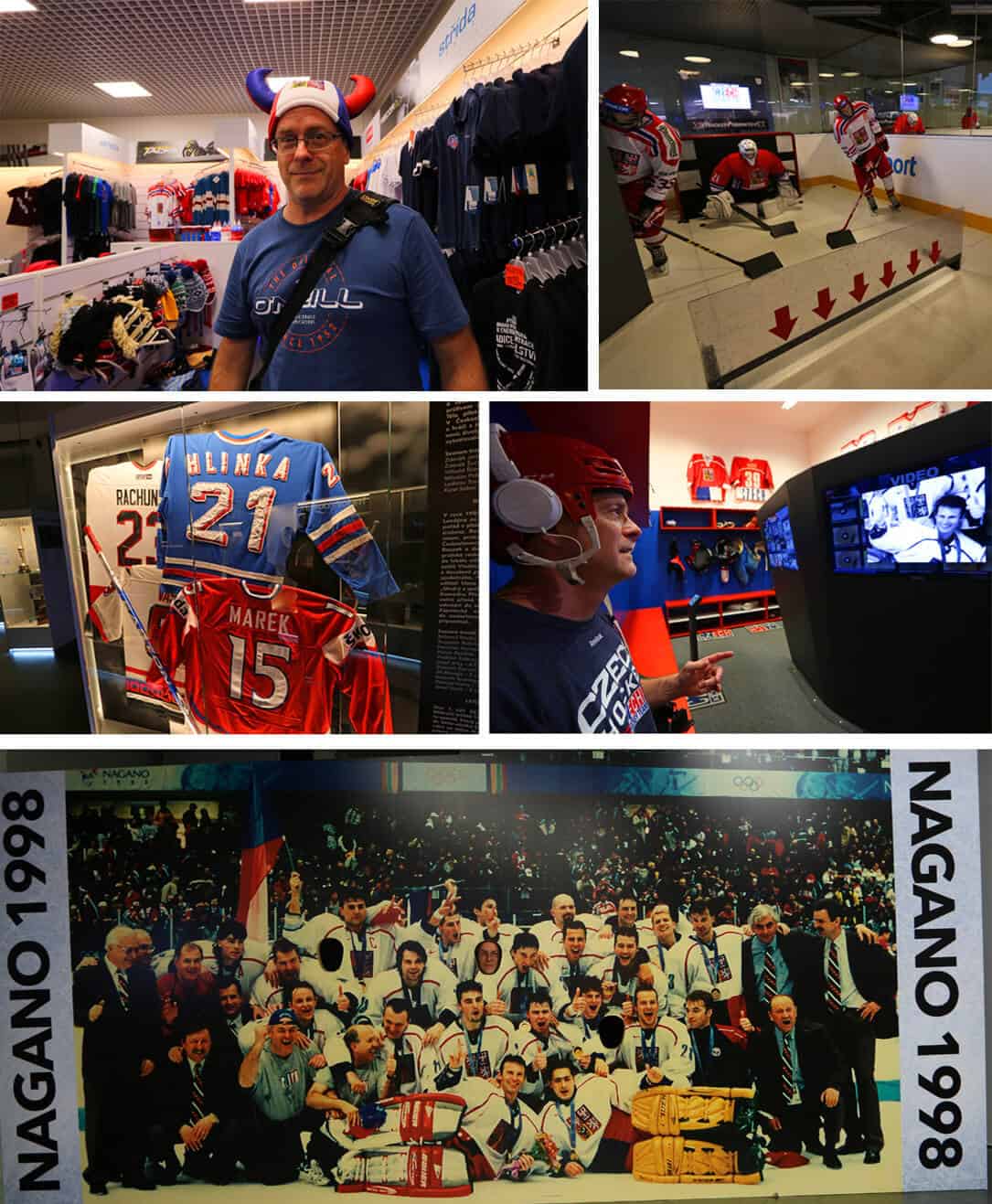 You might get a kick out of this video:
---
---
Weird modes of transport
Public transport in Prague is fantastic and I'm a huge fan of trams. But there are some other, more unusual, modes of transport as well:
.
Trams
Nothing weird or unusual here. But I love Prague's trams and made a video highlighting trams passing through some of the more scenic spots In Prague.
Note: if you want to experience more trams, go to the 1) Prague Public Transport Museum and 2) take the Historic Tram 91 (both were covered in this post).
Related: Some of our favorite Trams in Europe (Video)
Ferry
Many people don't know that they can take a small ferry across the Vltava river – AND it's included in your public transport ticket (it's part of the public transport system).
There are several ferry stops. We took the one on the river bank not far from Andel metro. Lots of fun – we just crossed the river (2 minutes) but other people that had gotten on with us continued on down the river.
---
---
.




.


Cable Car
Another finding from the book I mentioned containing all those off-the-beaten-track sights. The Cable Car at the NH Prague City Hotel (close to Andel metro) is weird and is a cross between an elevator and a funicular.
The cable car brings you from the bottom of the hotel to the top (which is up a hill). There's no driver – you press the 'elevator' button, you get in, and chances are you have the cable car all to yourself for the 1 minute ride to the top.
Update: The hotel has imposed some restrictions on non-guest usage.
Jumping Elevator
Jeff at Nofech café told us about "Jumping elevators". I had no idea what he was talking about.
Built in the 1860's a paternoster (or jumping elevator) were common in central Europe. They can be described as a non-stop elevator that does a loop. You just get in and get out, no buttons involved. They were used mostly in public buildings (like government buildings). Today you'll find the largest remaining number of paternosters in Germany and the Czech Republic. The EU doesn't permit the building of new ones because of safety concerns (a few people have fallen and been killed in them) and excessive energy consumption.
We visited the paternoster in City Hall, right across from the Klementinum. Another video:
Update: currently suspended
---
---
.

Soviet Memories
Soviet times were bad for the Czechs and you won't see too many Communist-era monuments remaining around Prague. But if you're curious and have a fascination for Soviet architecture here are a few things we saw that you might find interesting.
.
Anděl metro
Anděl metro was built between 1977 and 1985 and was originally named Moskevská metro, after the city of Moscow. It was a collaboration and dedicated to Czech-Soviet friendship: in return a metro station in Moscow was built and named Prazhskaya that same year.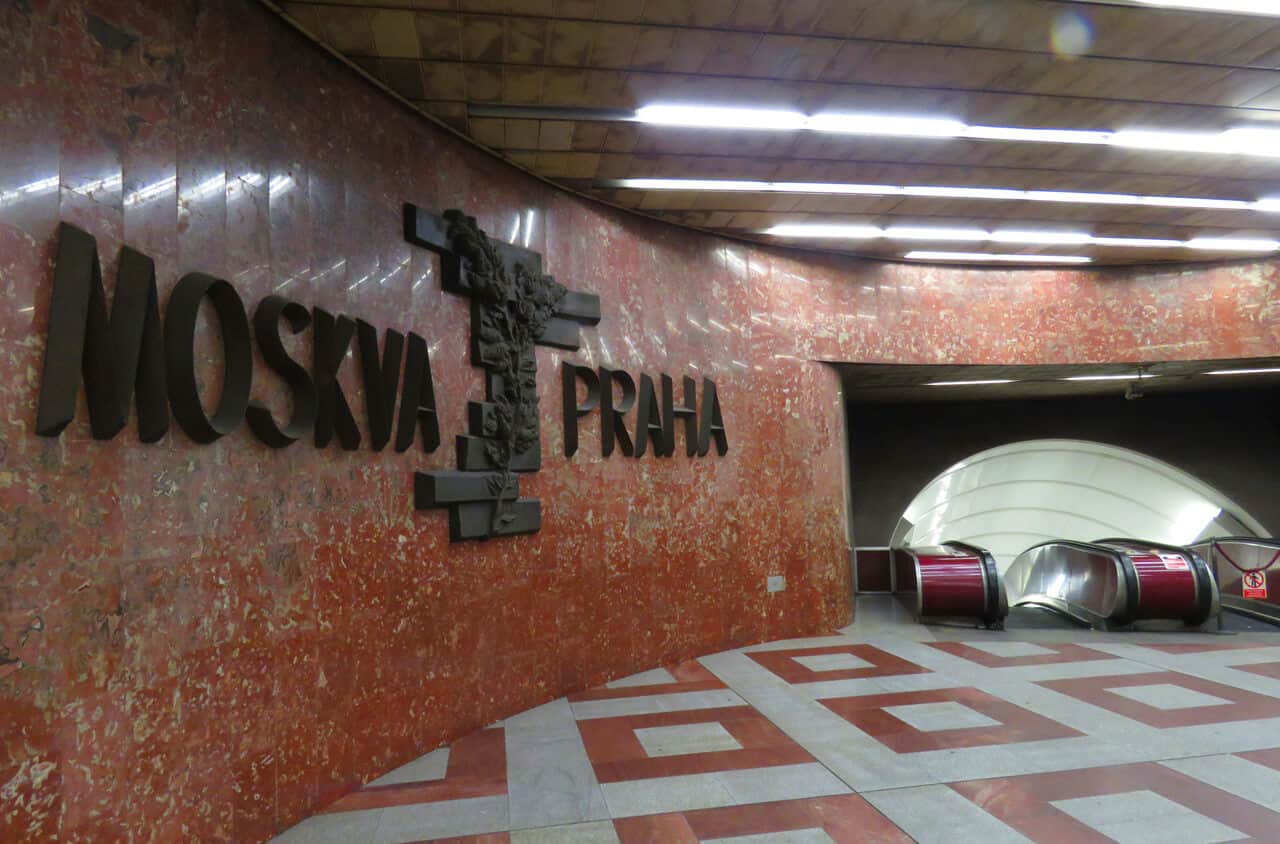 After Communism fell the plaques commemorating the friendship were removed. Then, at some point, they were put back in place. If you go now you'll see a large plaque at one of the entrances to the metro and, if you go down into the metro, you'll see a series of large bronze Communist-era plaques.

.
International Hotel
The International Hotel was built in the 1950's in Stalinist style, resembling many buildings found in Moscow. But it is the largest Stalinist style building in Prague.
Interesting fact – the star was glazed in ruby-red glass when constructed. After communism fell in 1989, Holiday Inn bought the hotel and painted the star green to mirror the color of the hotel chain (really, how tacky is that? Shame on you Holiday Inn). It was later sold and the star was repainted in gold.
It's a beautiful, old-style hotel with a very warm atmosphere – in complete contrast to its cold, austere outside appearance. There's a large ballroom that used to hold large annual balls for the political elite at the time. Near the bar is a wall tapestry depicting Prague, with (the since removed) statue of Stalin – it used to be the largest Stalin monument in the world (over 15 m tall).
Note: for more Communist in Prague, visit the Museum of Communism.
---
---
Viewpoints
I love viewpoints and Prague has some of the best viewpoints of any city (I previously wrote this post featuring the best tower views in Prague). We discovered a few other great viewpoints on this latest trip:
,
U Prince restaurant
This hotel/restaurant is directly on the Old Town Square and is known for its great views – some of the best in the city. We went up to the rooftop restaurant (just take the elevator to the 4th floor) and had a coffee. Some photos:
The New Town Hall Tower
A new tower to add to my list. This tower is most famous as the site of the First Defenestration of Prague in 1419 (defenestration is the fancy word for throwing people out of windows. Prague has a history of it). In this case, an angry mob of Hussites stormed the New Town Hall and threw government officials out of the building windows, killing them.
The New Town Hall Tower is located across the park from Karlovo náměstí metro station. It's a bit of a strenuous hike but the staircase is wide most of the way up. Nice views over the old town and the castle beyond.
Mary in Exile Statue
This marble statue of the Virgin Mary is a replica of the Virgin Mary statue that was on the Marian Column in the Old Town Square (which had been built to celebrate the conquest of Swedish invaders in 1648). In 1918 the original statue was broken by an excited crowd celebrating the creation of the new, independent Czechoslovakia. So in 1954 a replica was made in Rome (out of pure white marble). It was sanctified by the Czech Papal College and, after sitting for a long time in an abbey, was moved to the present spot right behind the Strahov Monastery.
We read about this statue (and its excellent viewpoint) in our book. But it wasn't easy to find, we spent almost 2 hours trying to find it. We finally found it. Here is how: just below the Strahov Monastery is a paved path. You'll see a sign pointing right towards the Petrin tower. Walk a bit on the path, you'll see green fields below and the Old Town in the distance. You don't have to walk far – they'll be a dirt path off to your right (looking up, you'll see the monastery above you). Follow that path. It's a bit of a loop but it will bring you up – and to the back – of the monastery. There you will find an opening with great views of the city as well as the marble statue of the Virgin Mary .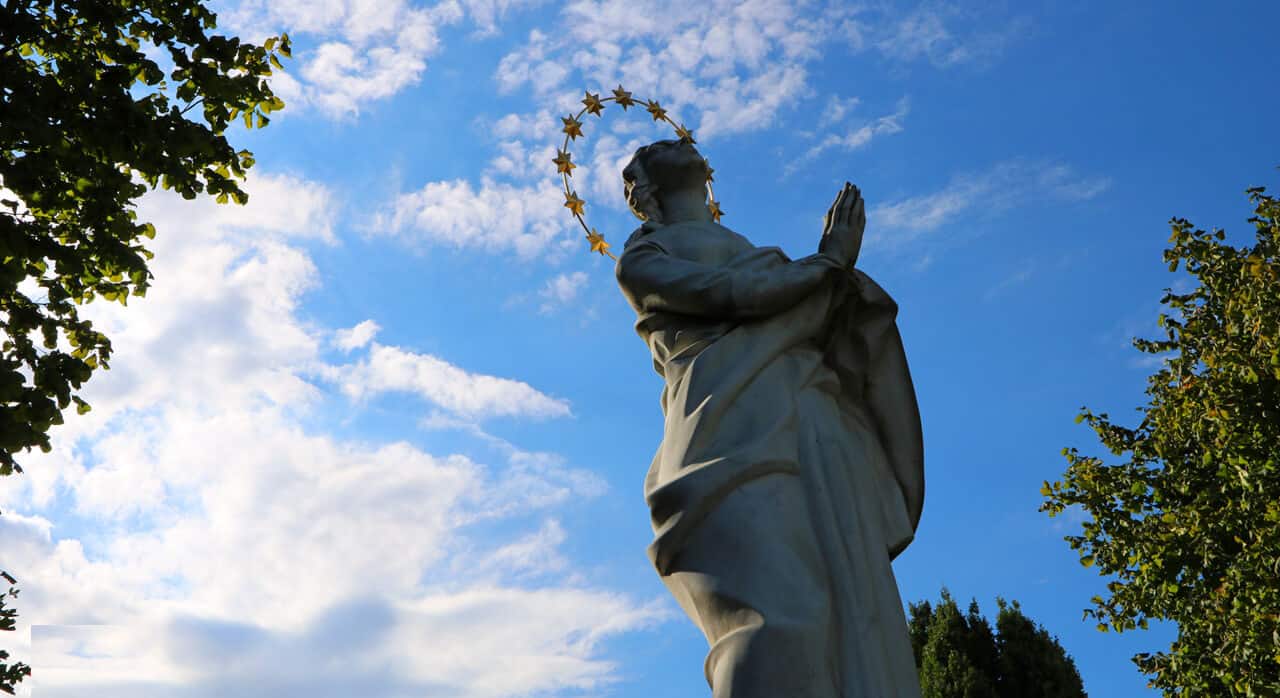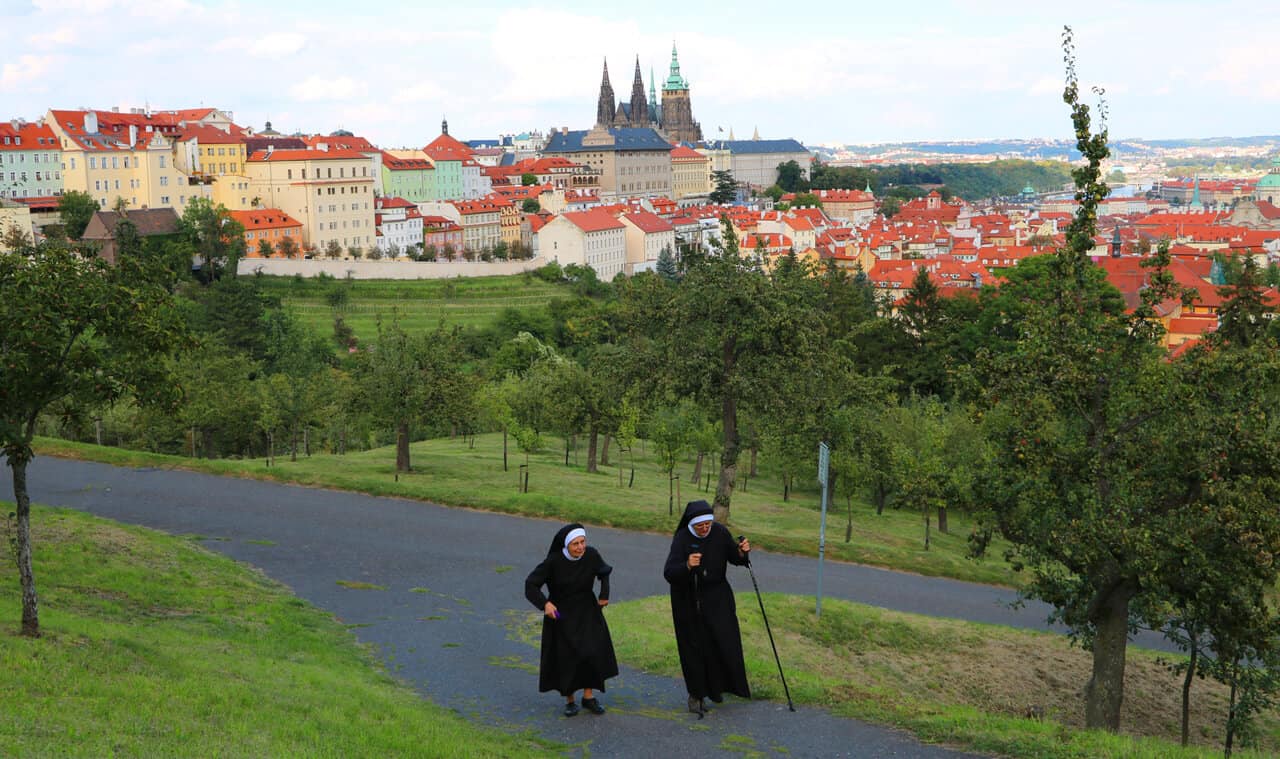 ---
---
Garden Café Taussig
This café was one of our most interesting finds. It is located just down the hill from the above Mary in Exile statue on a quiet lane. You're in the heart of Prague but could think yourself wandering around the countryside.
Walk in and you'll see a café serving drinks. No big deal. But walk further in and you're presented with a garden with tables and benches. There are trees and gardens all around. Its a huge space – before becoming a garden this piece of land on a hill was actually a vineyard. You can get your coffee, walk up a path, and find yourself a secluded spot with some of the best views of Prague castle in the city.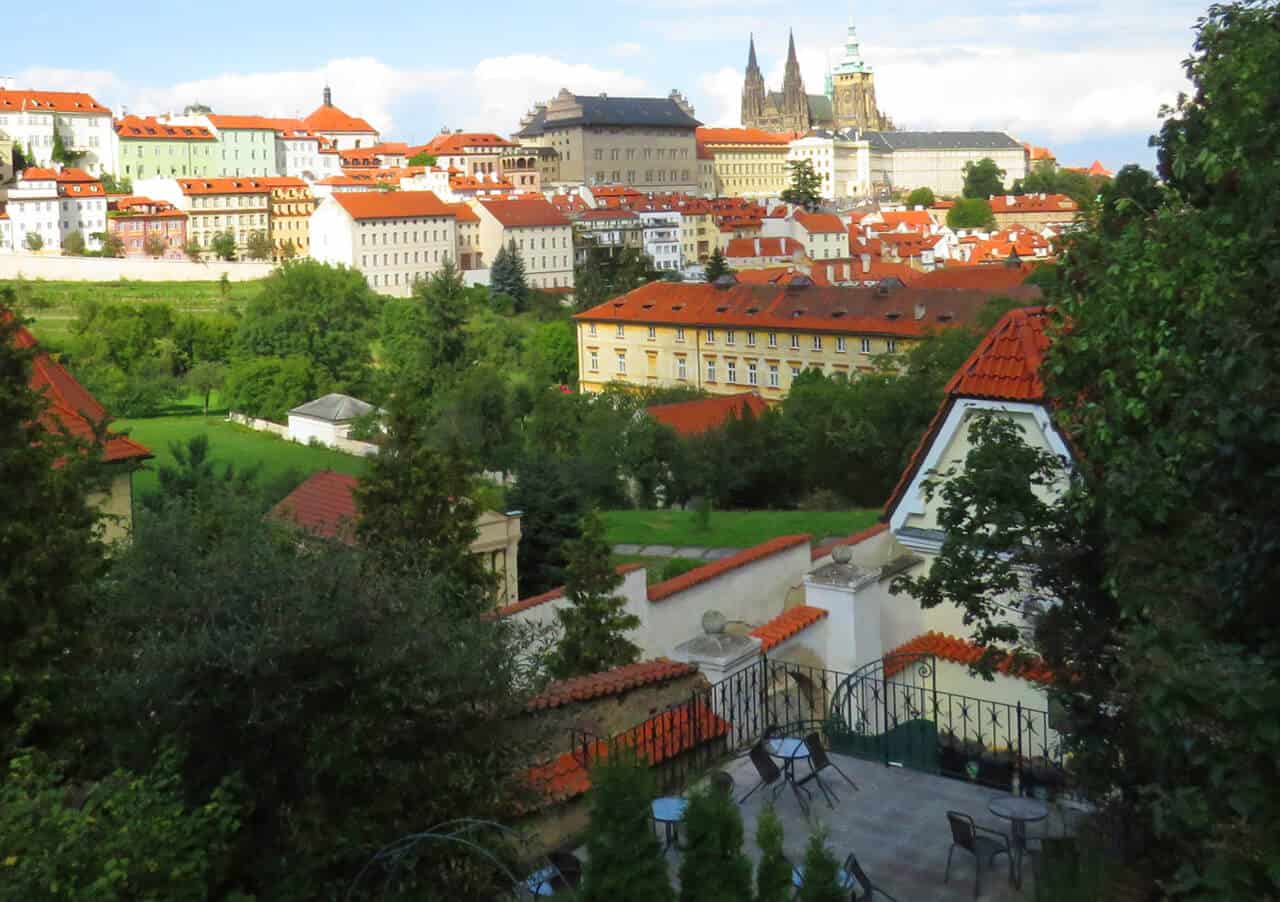 ---
---
Other Sites
We visited some lesser-known Prague attractions on this visit that many people are unfamiliar with:
,
The Ukrainian Orthodox Church
A small wooden Orthodox church brought to Prague from the Ukraine? Finding this place was another treasure hunt.
This Orthodox church (known as The Carpathian Church of St. Michael the Archangel ) was original built in Mukachevo in the Western Ukraine, 900 km away. In 1929 it was packed up and railed by train on 4 wagons to Prague where it was reassembled in Kinsky Garden (at the bottom end of Petrin Park). Why was it moved? It marked the 10th anniversary of the annexation of Carpathian Ruthenia (the Subcarpathian region) into Czechoslovakia after WWI. Today St. Michael's Church is used by the Orthodox Church of Bohemia and Slovakia and religious services are held twice weekly.
Update: The church burned down. It may be rebuilt in the near future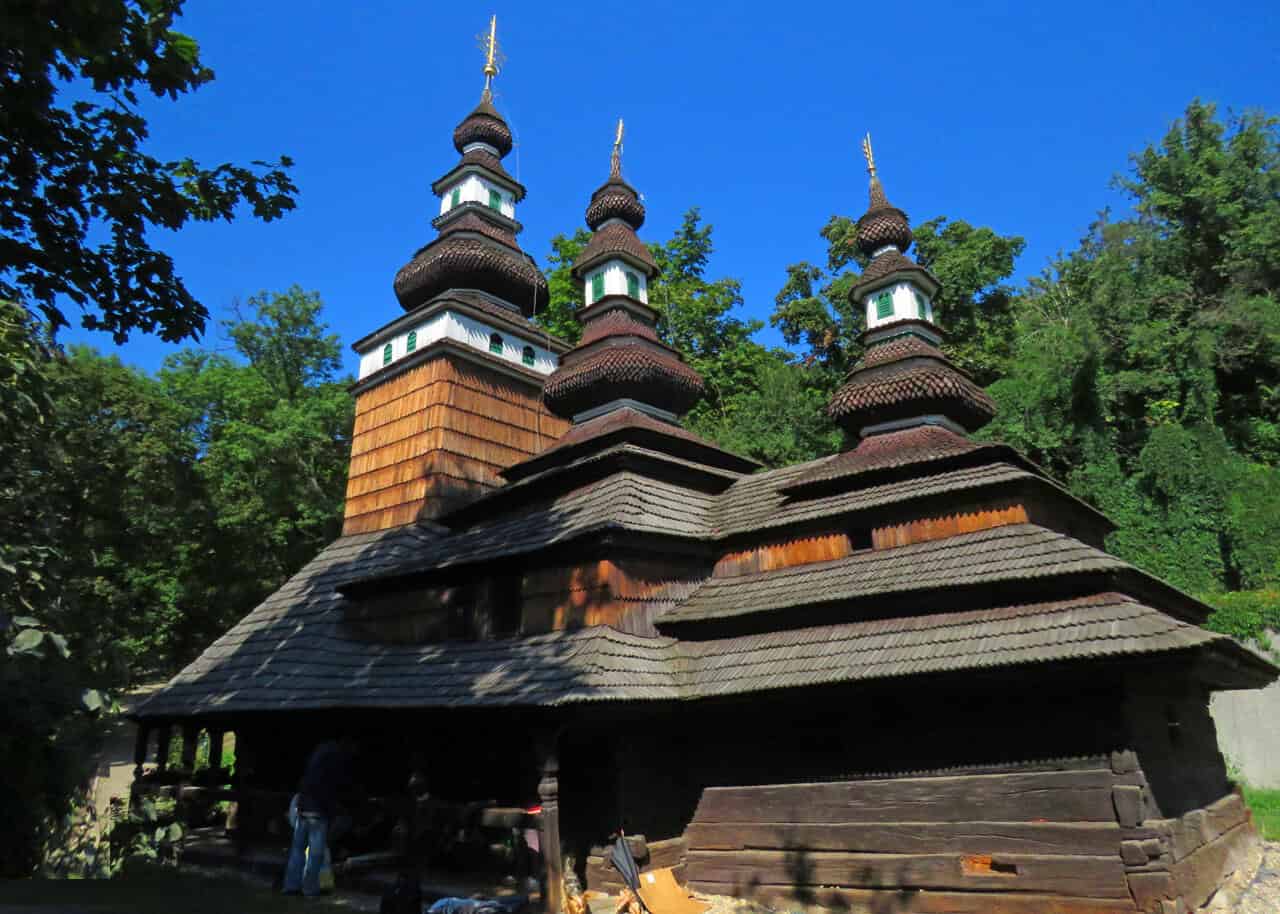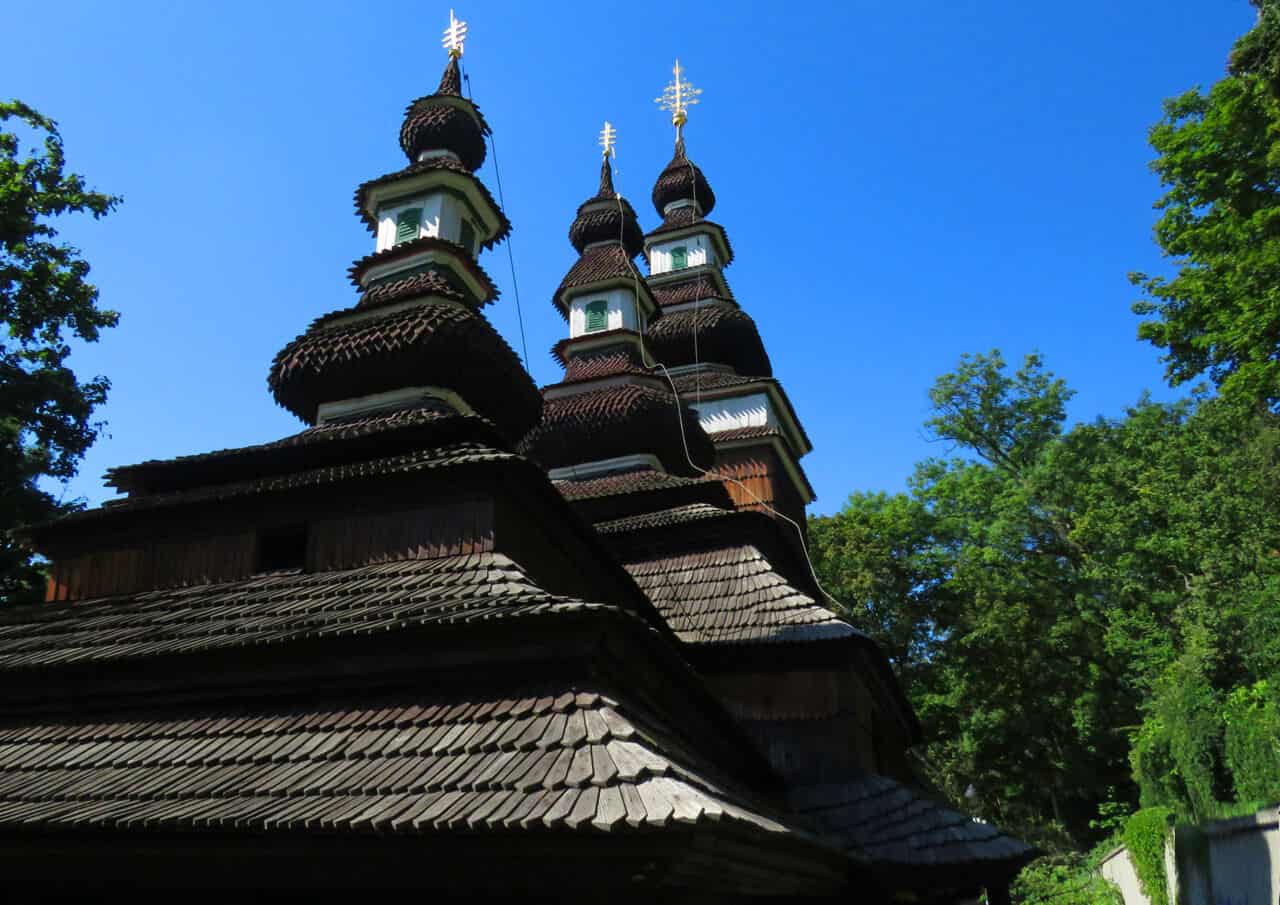 How to find it? Not easy to describe but I'll try my best. Enter Kinsky Garden on Holečkova street and follow the path to your left. Continue about 10 minutes until the park ends at a big building that looks like a museum. Turn right, following a path up the hill. You'll get to a waterfall with a statue. You might see the spires of the church behind the trees. Go around and up on the left. You'll get to a path. Go left and up. It will take you to the church. You'll feel like you're in the Ukrainian forest somewhere, not in the heart of one of Europe's most popular cities.
Troja Palace
In any other city than Prague this palace would be a top attraction. Only because Prague is so spectacular is it almost unknown.
The palace was built between 1679 and 1691. It has pretty gardens, impressive baroque architecture, magnificent art in every room including in the Chinese chambers (everything Chinese was "in" at the time). But the highlight is the Grand Emperor's Hall which is covered in colourful paintings, the main theme being the celebration of the Holy Roman Empire's victory over the Turks in Vienna in 1683. It is an incredible room, one of the most impressive we've seen anywhere. This alone is reason to visit the palace.
Troja Palace is right across the street from the Prague Zoo (which we visited a few years ago, not knowing about the palace). Very much recommended.
---
---
.
Česká spořitelna (Czech Savings Bank)
Česká spořitelna is the largest Czech bank. But this branch, at the edge of the old town near Wenceslas Square (exact address: Rytířská 536/29) is one of the most beautiful banks you'll see in your life. For a long time (1732 to 1890) is was actually a theatre. In 1890 it was decided that it would be converted into a bank and was redesigned in neo-renaissance style. From the outside, it is just another beautiful Prague building. But the inside is incredible. You enter a lobby – impressive enough with statues and arched ceilings – and ascend a wide stairwell into a huge, opulent lobby with more arches, red granite pillars, statues, Parisian-style lamps…it is spectacular and it's hard to imagine that this is just a regular branch (Note: they have ATMs in there which is a good excuse to visit. The only thing you can't do is take photographs).
Tips, Recommendations and Resources




– Accommodation. Every time we come to Prague we stay in a different section of the city. This time we stayed in the Vinohrady District. You'll find Korunni St, Francouzska St., Kodanska St, and Moskevska St in this area. All are all teeming with nice little cafés and restaurants. It's a great neighborhood to stay in. There are no big hotels in the area, mostly apartments. But it's cheaper than the center and an easy 10-15 minute tram ride…plus the neighborhood is really pretty and trendy. Recommendations: Boris' Apartments Jiriho z Podebrad, Wonderful apartment in Vinohrady.
If you're only in Prague for a few days, then I recommend a hotel room in the center. A couple of suggestions in the mid-range category: The Blue Oak. It has a perfect location on the castle side of the river. Another very nice hotel at a good price is Dolce Vita Suites on the Old Town side of the river. Both are excellent. A great Budget choice is the Czech Inn Hostel.

– Flights . We wrote a detailed post on Prague Airport and how to get into the city. Prague's Airport is officially Václav Havel Airport Prague (code: PRG).
---
---
– Prague 10 has some great restaurants and cafes. Some of our favorites:
Nofech Patisserie. Israeli/Mediterranean food. We were introduced to Harissa and Schug (two spicy hot sauces), and came here regularly to pick up hummus and stuffed grape leaves. Amazing stuff and the friendliest owners – if you have a chance you should visit them (tell them Bbqboy and Spanky sent you).
Jen's café has excellent breakfast and is a popular café in Prague 10.
Buddha Café makes very good Thai food. Too expensive in the evening – but come here at lunch time and they have a much more affordable lunch menu.
Estrella restaurantis one of the best vegetarian restaurants we've gone to anywhere. They're not in Prague 10 though, they are situated near the Narodni Trida metro in the center.
---
---
– I've mentioned the book (111 Places in Prague that you shouldn't miss). Most of the places I've covered above were found through this book. I've only highlighted some of our favorites – the book guided us to some interesting fountains, lamps and weird buildings, all with interesting histories. It made discovering fun and we'll be using it again on our next visit. There's tons in there. Very much recommended.
– our Canadian Expat friend living in Prague told us about the Honest Guide: Prague. It's all on youtube. Some excellent content for anyone going to Prague and it's delivered in entertaining fashion.
My point with this post? Prague doesn't have to be touristy. We spent a month in Prague. Guess how many times we crossed the Charles bridge? Once. I'll never tell anyone that they shouldn't see the highlights…but when you get tired of walking with the crowds just know that there are a ton of interesting sites where you won't be shoulder to shoulder with the tourist hordes. That's the great thing about Prague – there's lots to see and there's something for everyone.
Thanks for reading!
Ps. If you find our blog helpful, please consider using our links to book your flights, hotels, tours, and car rentals. Have a look at our Travel Resources page.