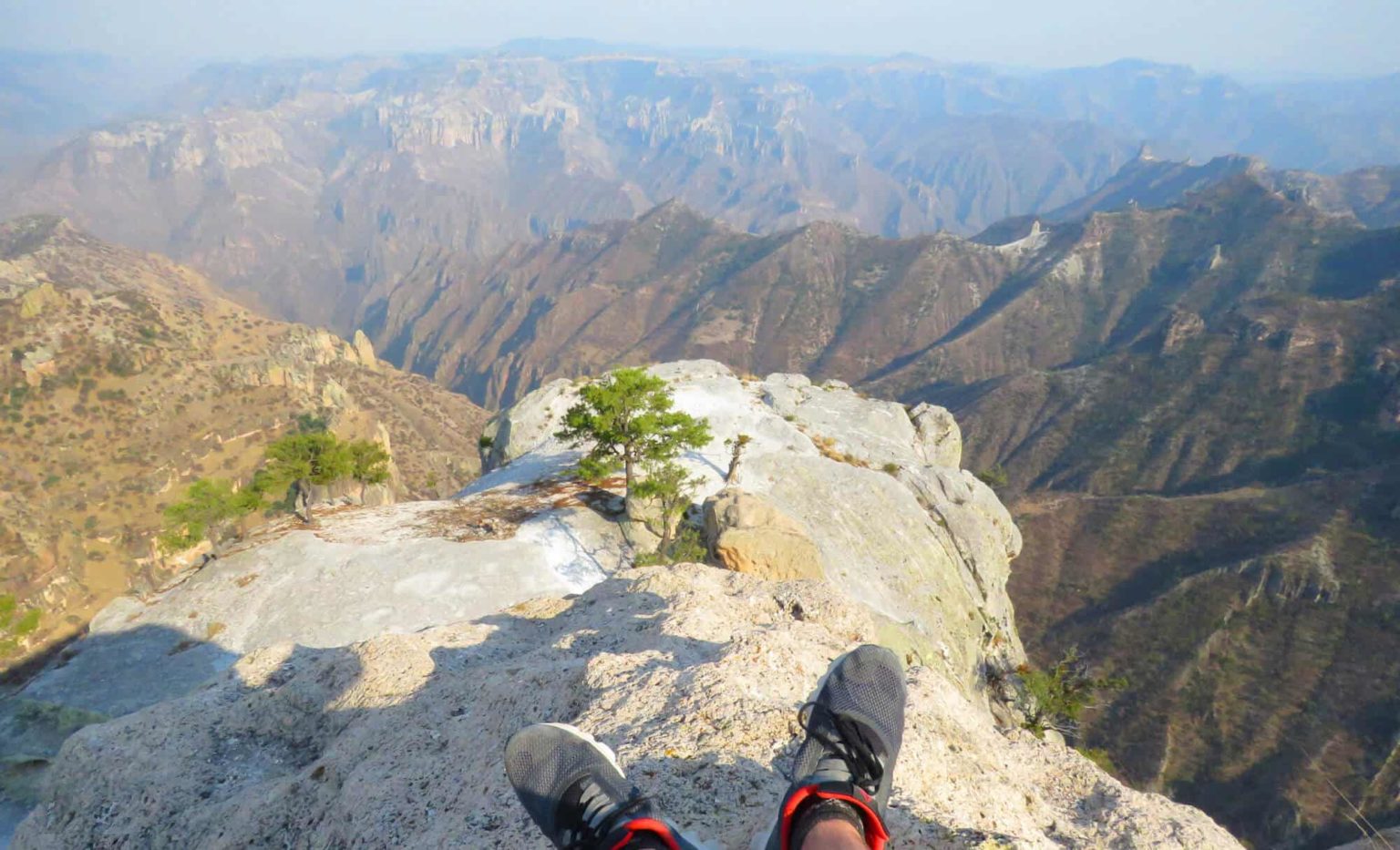 Our Top "Travel Experiences" over the last 10 years
More and more, people travel to places not just for sightseeing but to have 'a travel experience'. It can be wine tasting, swimming with sharks, doing meditation in an Indian ashram, volunteering at an animal sanctuary…there's no limits to "travel experiences".
Looking back over the last 10 years we've had a lot of travel experiences. I'm listing our most memorable below, maybe they'll inspire some of you to follow in our footsteps. I'd also love readers to tell us some of their favorite travel experiences. We're always looking for ideas.
Muay Thai in Thailand
In 2018 we spent a month in Chiang Mai, in Northern Thailand. One of our goals while there was to get in the best shape of our lives.
We checked out the best Muay Thai gyms when we arrived and went with the most authentic looking gym. It smelled of sweat, wet leather and of Tiger Balm. It wasn't particularly well kept. But the clients and trainers were serious. Most were there to get in shape and some to train to fight professionally.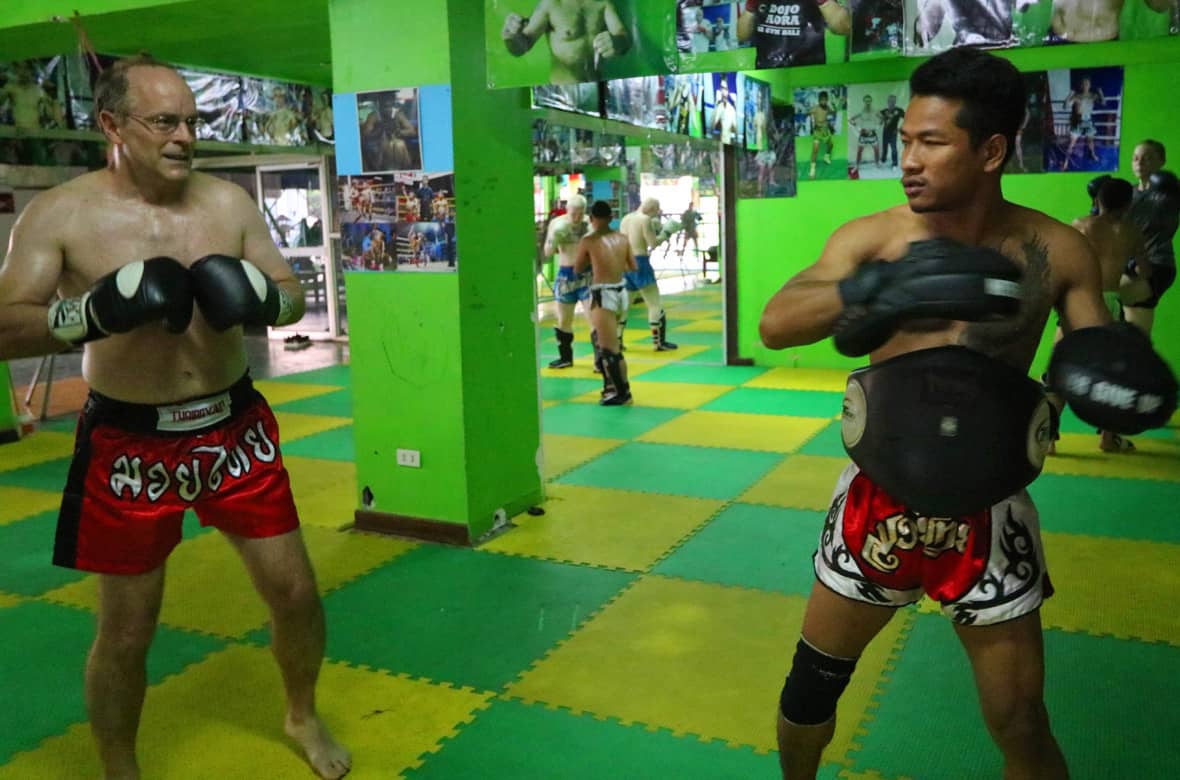 We loved it. Classes were 2 hours long and we would go 5 days of the week. It was a fantastic workout and there was a camaraderie among participants. We met people from all over the world, some who had taken a 6 month leave of absence from their 'ordinary lives' to come to Thailand to learn Muay Thai. When we left it was with regret – we wished it was something we had done earlier in our lives.
It's definitely one of our top travel experiences.
More here: Where to do Muay Thai in Chiang Mai
---
---
---
Paragliding in Cape Town (South Africa)…and dinner at a Game Lodge
We did a lot of adventure activities in South Africa including hiking Table Mountain and Lion's Head. Incredible. And Lissette bungeed the Bloukrans Bridge, the highest bungee from a bridge in the world.
But my highlight was paragliding from Signal Hill over Cape Town. It was my first time paragliding and it was spectacular – because Cape Town is one of the most beautiful spots on earth.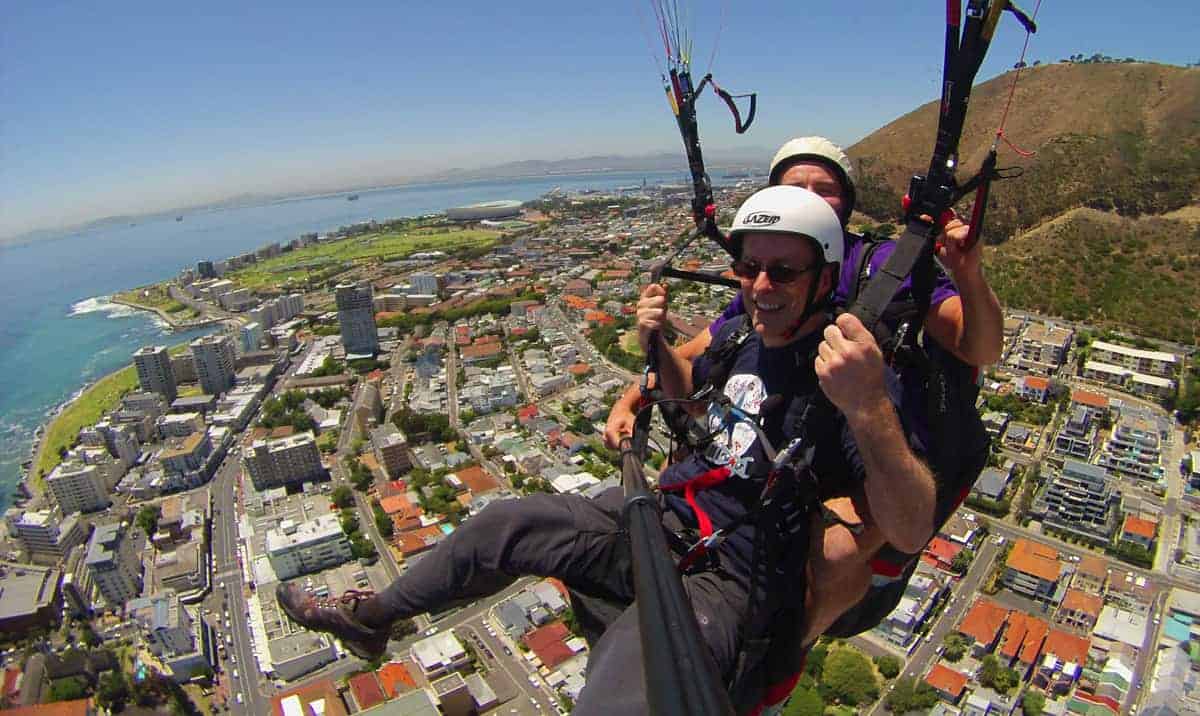 South Africa is my favorite place that we've visited over the last 10 years and if you like nature, geography and adventure activities I don't think any place can beat it.
More here: Paragliding over Cape Town
Another great experience in South Africa: if you make it to Oudtshoorn (which you should), have dinner at the Buffelsdrift Game Lodge. The lodge has a restaurant looking out over a lake and we saw hippos, giraffes, wilderbeest and nyala while having a great meal (they also have luxury accommodation and, having known that, we would have stayed there for a night).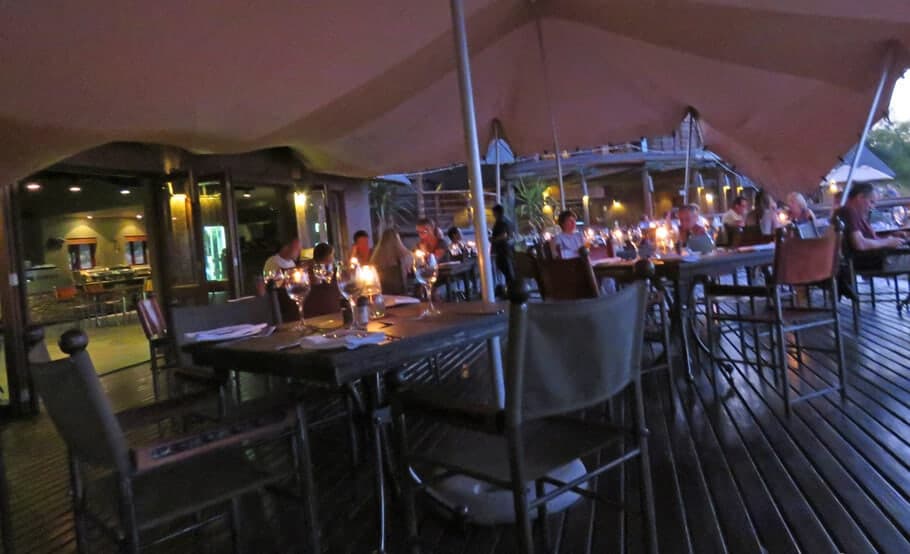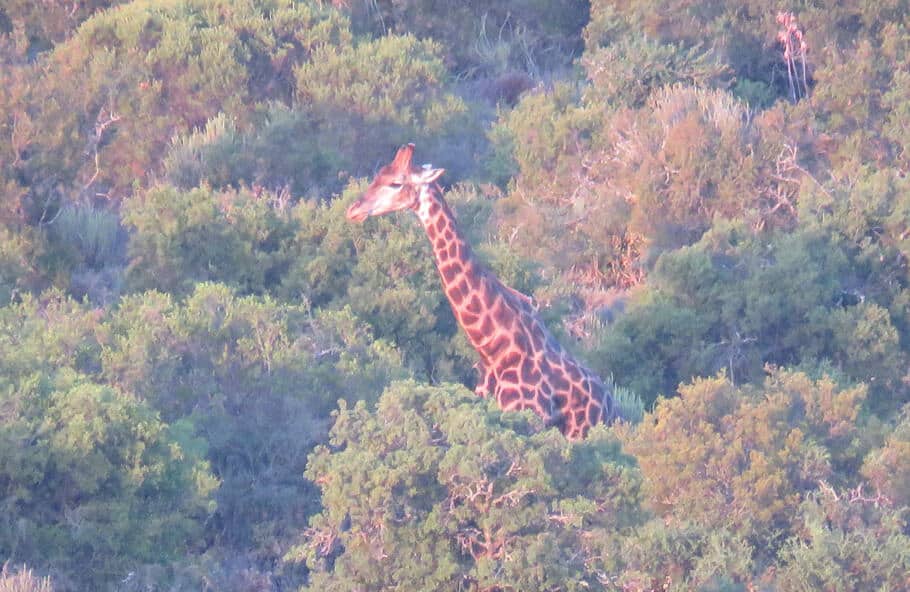 ---
---
---
One of the World's great train journeys through Copper Canyon (Mexico)
El Chepe is the nickname given one of the greatest train journeys in the world – that between Chihuahua in Central Mexico and Los Mochis on the Pacific Coast (a distance of 635 km, or 395 miles). It is usually done over several days with stops along the way.
None of those stops is as spectacular as that in Divisadero, at the heart of the Copper Canyon. Step out of the train here and you're looking into the abyss of the canyon. In Divisadero, the canyon is 1,879 m (6,200 feet) deep and approximately 4 km (2.5 miles) wide. It is incredible.
Divisadero has a hotel looking out at the Canyon (the Hotel Divisadero Barrancas) and which you can use as a base for some activities which should include a visit to Copper Canyon Adventure Park. There you can do the world's longest zipline (which I did), take a cable car across the canyon or do rappelling, ATV, or dirt biking. Or you can just have a beer and enjoy the views.
The whole experience – the train journey and a stop in Divisadero – is phenomenal and one of my all-time favorite travel experiences.
More here: Divisadero – the highlight of the Copper Canyon, Mexico
---
---
---
Great Driving Experiences in Croatia and South Africa
I've had a couple of driving experiences I'll never forget.
The town of Makarska has the most incredible coastal geography in Croatia (in my opinion). That's because the backdrop to Makarska is Mount Biokovo, the highest mountain in Dalmatia and the 3rd highest mountain in Croatia (at 1,762 meters).
What most people don't know is that you can drive to the very top of Mount Biokovo. It's the highest road in Croatia. I did that with my Croatian friends Vedran and Goran.
It's a 23 km drive through Biokovo Nature Park and there are spectacular viewpoints and trails along the drive. There's a restaurant and even a little area where you can see cows and donkeys. So it's a Nature Park that the whole family can enjoy.
The thing is that most travellers coming to Croatia have never heard of Biokovo Nature Park.
More here: Driving Spectacular Mt. Biokovo, Croatia
The other spectacular driving experience Lissette and I had was driving the Swartberg Pass in South Africa, the (scary) pass over the mountains that separate The Little Karoo from the Great Karoo (both are semi-desert regions in South Africa's interior).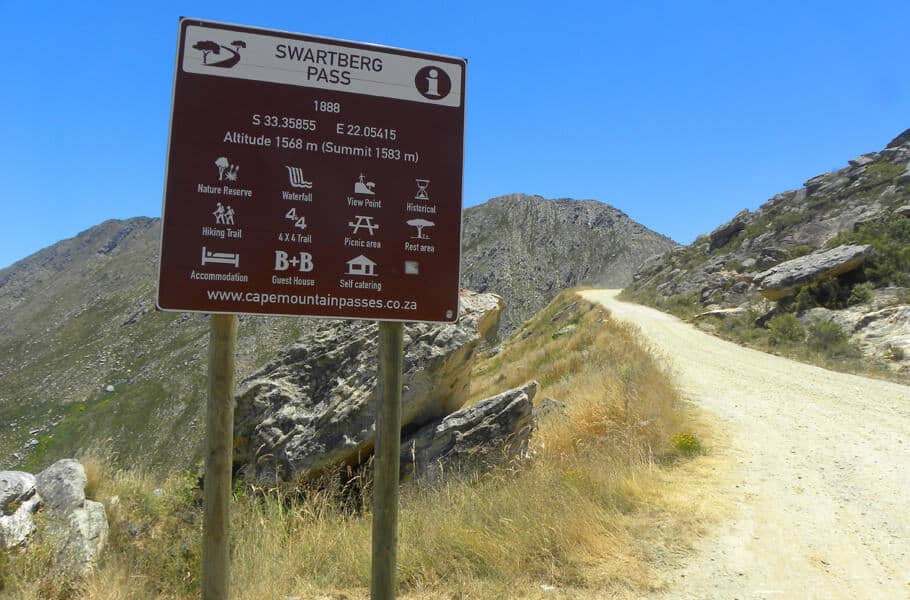 The pass was an engineering feat when it was built in the late 1880's by convict labour. Its 27 km skirt the mountains. There are few (if any) barriers in place and there are lots of hairpin bends where you'll be looking right over the edge. But the views are incredible just as is the geology of the mountains.
---
---
---
Yoga Retreat in Costa Rica
Costa Rica was among the most disappointing of our trips. But there was one highlight that we'll never forget and it was staying in a yoga retreat in Santa Teresa (a small town on the Nicoya Peninsula).
I had arranged this stay for Lissette because she's always done yoga. I knew she'd love being in a place where she could practice yoga for a week. On the other hand, I had never done yoga and I was worried that I'd be stuck eating salads and talking to tree-hugging yogis. It wasn't anything like that.
The "retreat" was actually a hotel – the Horizon Ocean View Hotel and Yoga Center – beautifully situated on a hill looking over Santa Teresa. The rooms were small but fashionable (built with bamboo). The whole property was full of tropical trees. Upon arrival in our room, we peered up through our sky roof to see a huge iguana resting on one of our bungalow's beams.
The setting was beautiful and peaceful.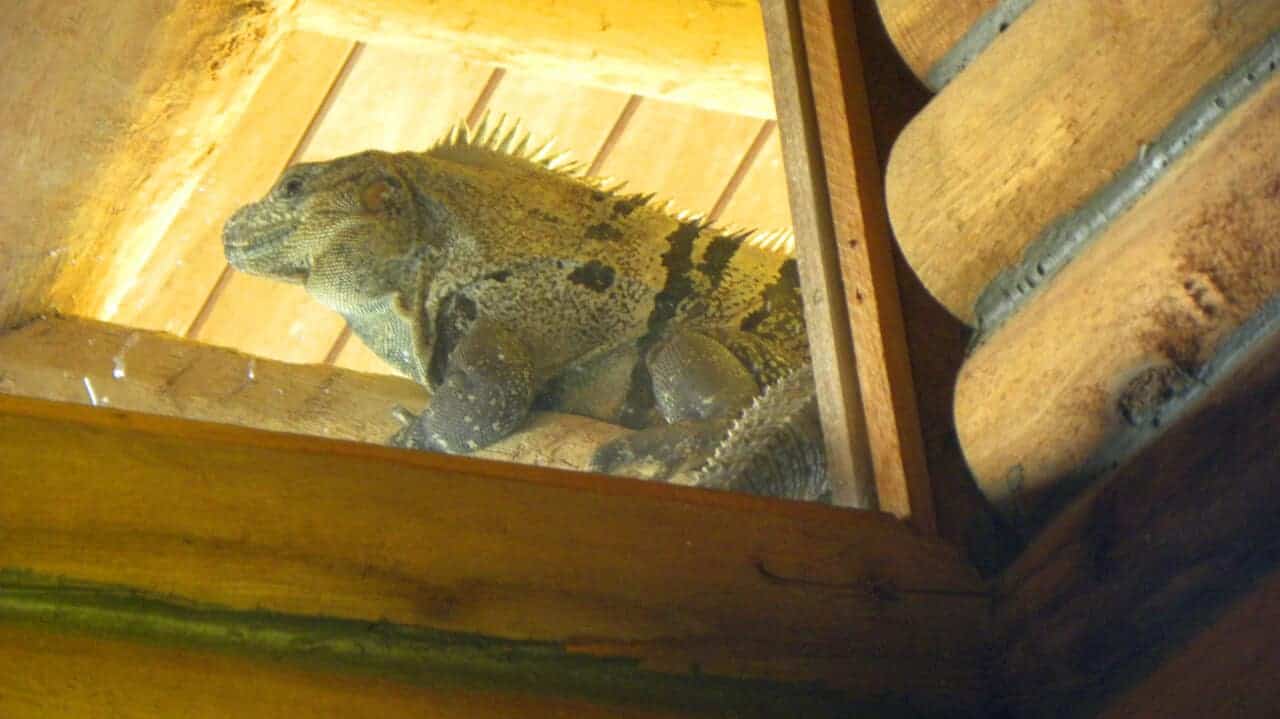 Our usual day consisted of a 1 ½ hour yoga class at 9 am. After that we'd have an amazing breakfast at the restaurant. It would usually be omelettes or cereal with the most amazing coffee and smoothies we've had in our lives (being a yoga place everything of course was vegetarian).
The rest of the day was ours. The hotel was next to town and not far from the beach so we'd go for walks. They also arranged tours for you at affordable prices. There was also an option of afternoon yoga classes for those who were yoga fanatics (once a day was enough for me). We spoke to a lot of people while sitting in the restaurant area and they were an international mix and not the dreadlock yoga types I feared we'd meet. Most were professional people who just came here to relax and do yoga.
And that's what we did for a week. It was one of the most relaxing, peaceful places we've been and after 3 weeks of kind of hating Costa Rica, I actually called up our airline to see if we could delay our return flight. That's how much we enjoyed this travel experience.
More on that here: An Incredible Yoga Retreat in Santa Teresa (Costa Rica)
---
---
---
Hiking in Morocco
In December of 2019 I spent 5 weeks in Morocco. The natural beauty is amazing and while there were many highlights there were two hikes that stayed with me.
The first was in the Imlil area, 1 ½ hours south of Marrakesh in the Atlas Mountains. The highlight here in Mount Toubkal, the 2nd highest mountain in Africa at 4,167 meters.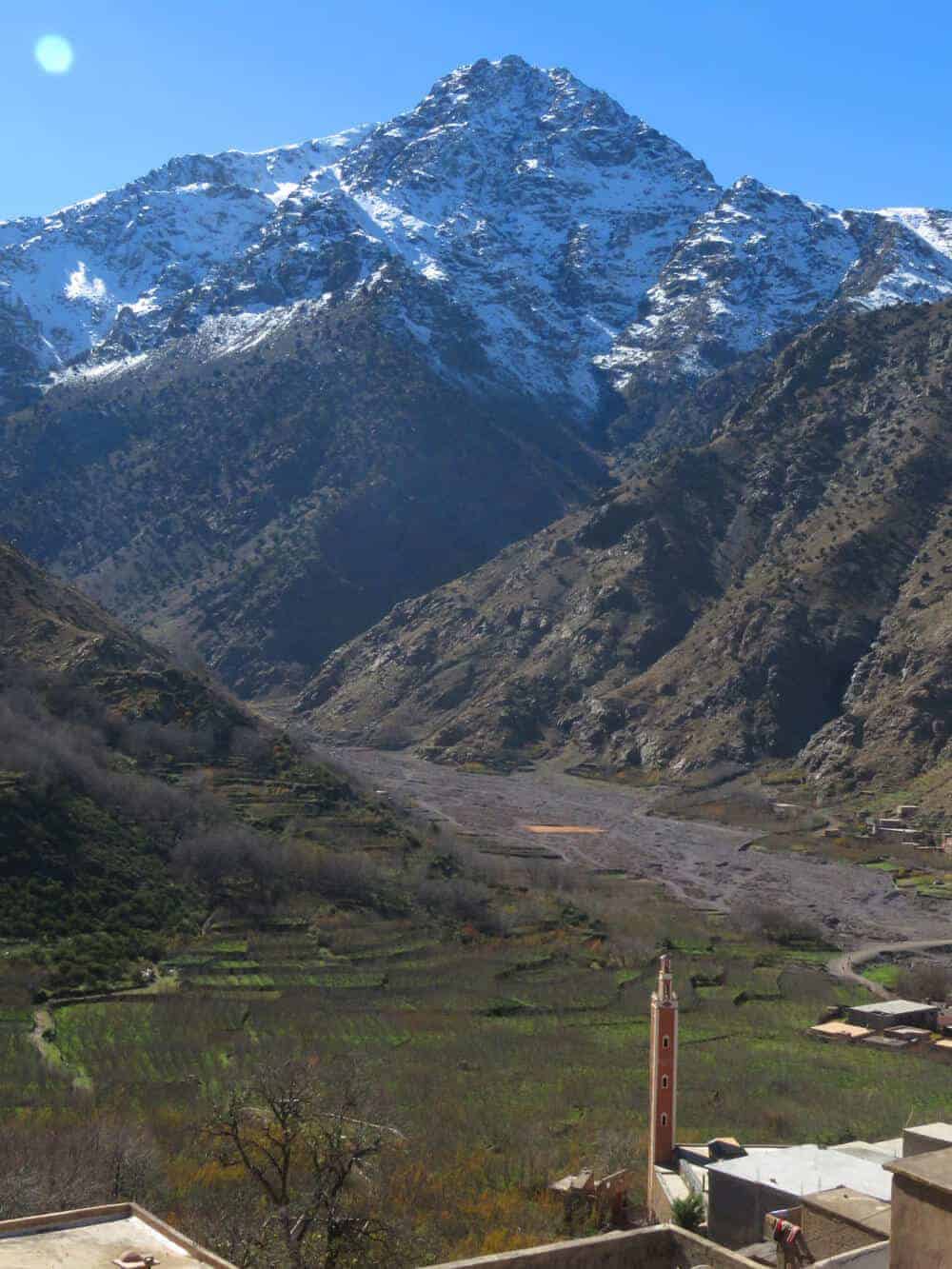 While I didn't hike to the top of Mount Toubkal, I did plenty of hiking during my 3 days there. It was spectacular, some of the most beautiful mountain scenery I've seen.
More here: 3 days in Aroumd, Imlil, and Toubkal National Park
The other hike was completely different.
I was in Merzouga, at the edge of the Sahara desert, where the dunes are the highest in Morocco.
While I did many activities there including riding an ATV and a camel (at sunset. Another great experience) my highlight was walking out in the desert on my own and hiking through the dunes for a couple of hours. It was my very first time in the desert and I was amazed by the beauty and the peacefulness of it. I actually walked about 5 km out to the very end of the dunes where I found myself looking out over the Algerian border and the "black desert" that lay beyond (I never realized that the Sahara was not just sand dunes).
A fantastic experience.
More here: Merzouga and why it is one of the highlights of my 5 week Morocco trip
---
---
---
The above were all epic experiences and might be a bit off the beaten path or require too much planning for many people. But we had other great travel experiences over the last 10 years that are more accessible.
In Kyoto (Japan). I did a Ninja training class, Lissette dressed as a Geisha, and we did Karaoke in a Karaoke bar.

In Praque (Czech Republic). We shot guns (including submachine guns) in an old underground tunnel, I practiced my hockey skills at the Czech Hockey Hall of Fame, and we searched out the weird and unusual (it was our 4th time in the city and we were looking for things 'to do' as opposed to things 'to see'). See this post on Unusual things to Do in Prague for that and a whole bunch of other ideas.
In Florence (Italy). Lissette still talks about our Florence Food Tour which included wine, olive oil, and gelato. We had tastings of pasta, cheeses and meats and learned a lot in the process.
In Split (Croatia). While I was away in Mexico, Lissette did an "Airbnb Experiences" (people may have noticed that Airbnb has now gotten into the 'Tours' and 'Experiences' game). This was a "painting and wine" experience at a local studio where she got a paint lesson combined with services of Croatian wine. Most of the people attending the class were Croatians and she had a great time.
We've done many other experiences including wine tasting, escape rooms, and cooking classes. But it was the experiences that I list above that rank amongst our best ever "Travel Experiences".
What's your Best Travel Experience?
Ps. If you find our blog helpful, please consider using our links to book your flights, hotels, tours, and car rentals. Have a look at our Travel Resources page.