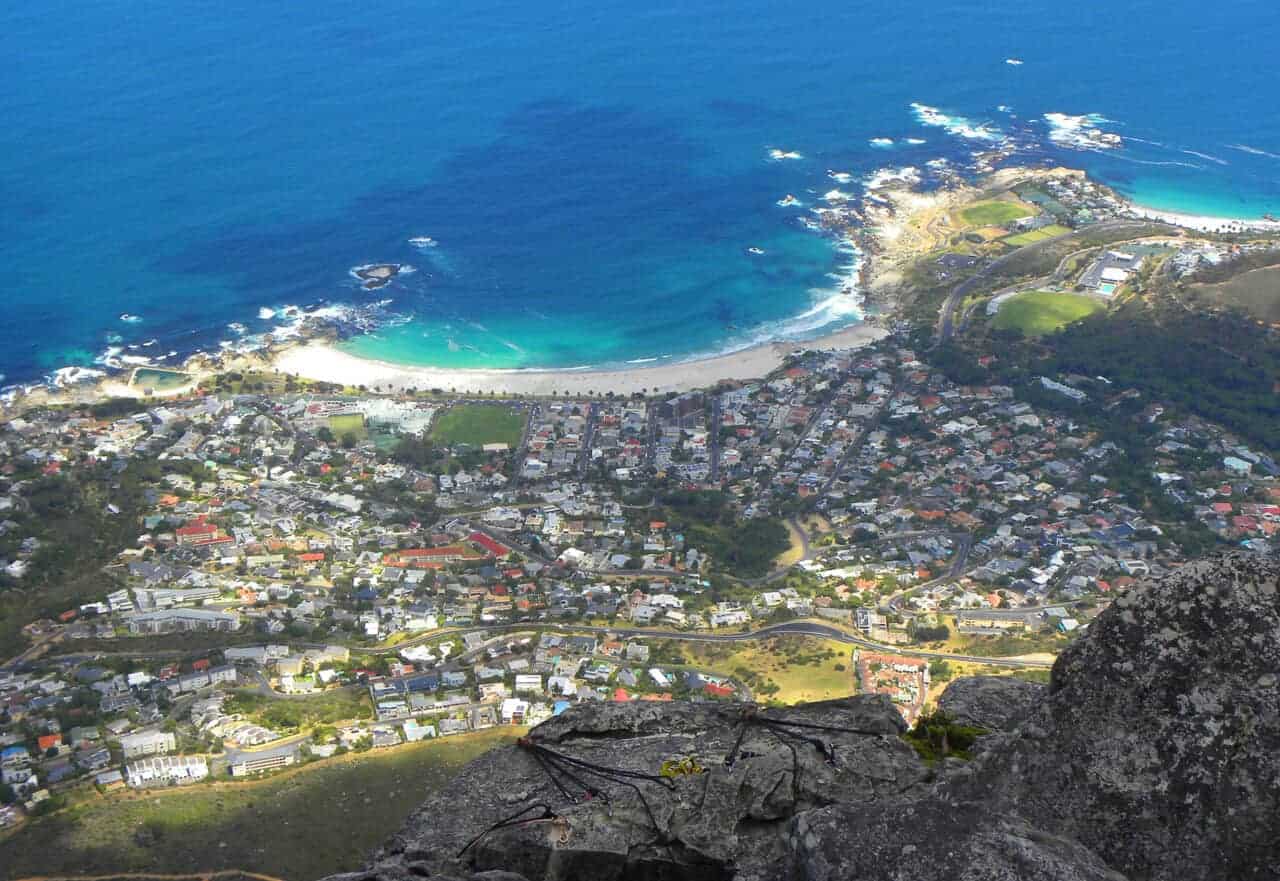 Hiking the India Venster Route up Table Mountain
I'm on a ledge 3 feet wide looking straight down over the edge of Table Mountain. I've just come up 10 feet from the last ledge, using metal rungs to pull myself up a sheer rock wall. I look up above and see another 15 feet or so of vertical rock, with a few more metal rungs and a chain at the top. I can feel my knees start to tremble and I know that if I wait too long to go up I might not be able to do it at all. What a shitty idea this was.
I'll start at the beginning.
India Venster is one of the most popular hikes in Cape Town. Reading about the hike I had some doubts. The hike requires 'scrambling', which is defined as "the basic use of arms, in addition to legs, to negotiate steep terrain". I might love hiking (and heights) but I sometimes, surprisingly, get sudden and incredible bouts of vertigo when faced with sheer drops. Further reading on the hike tells me that "scrambling will require the use of arms to pull up, sometimes in proximity of sheer drops". Exactly what I don't like. But I booked anyway.
---
---
The meetup was at 5:45 am at Table Mountain's lower cable car station. I had brought the required 1.5 L of water, snacks, a hat and sunscreen. We were 10 people, plus two guides. After a quick briefing we started up the path.
.
India Venster is a 3.5 hr hike (one way) to the top of Table Mountain. It is categorized as a Grade B hike, which requires some scrambling (Grade A hikes are walking only, Grade C hikes require 'demanding' scrambling, with the use of ropes).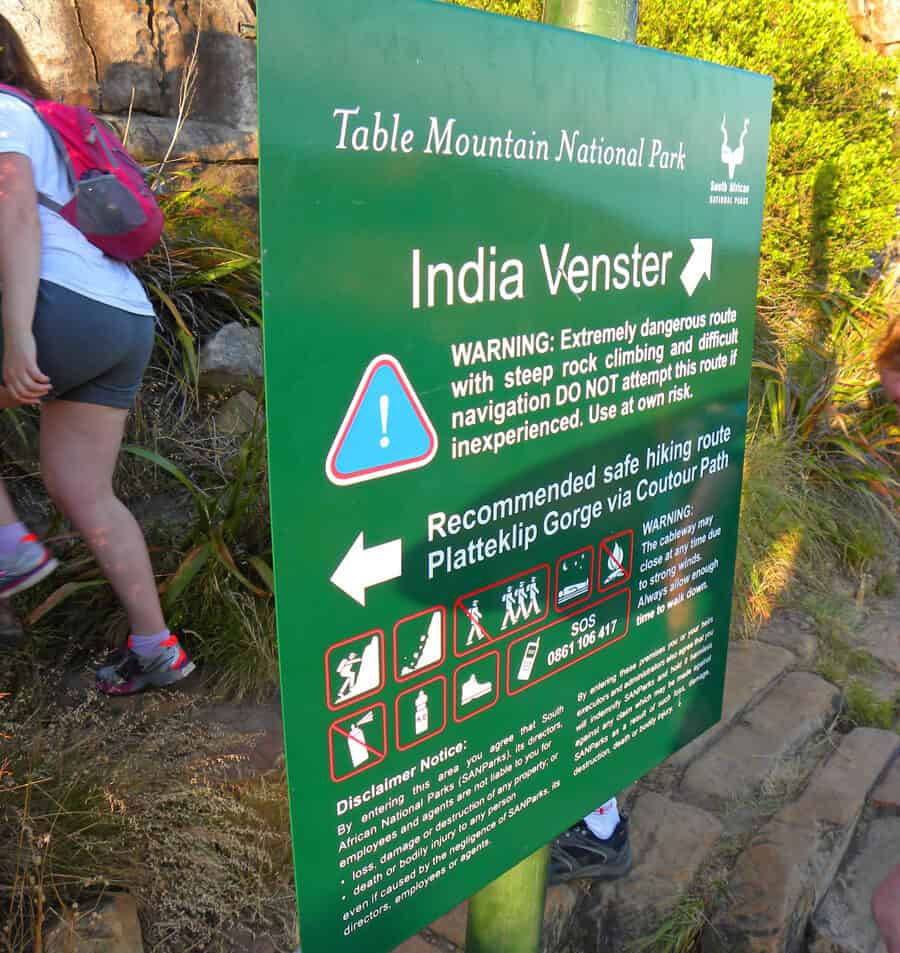 ---
---
.
At a certain point, which is basically when the photo below was taken, you realize that the next part will be more challenging. That's because all you see in front of you is a sheer wall of rock stretching from one side of the mountain to another.
---
---
.
Walking had been easy to this point. Now, faced with the wall of rock, came what would be the hardest part of the hike.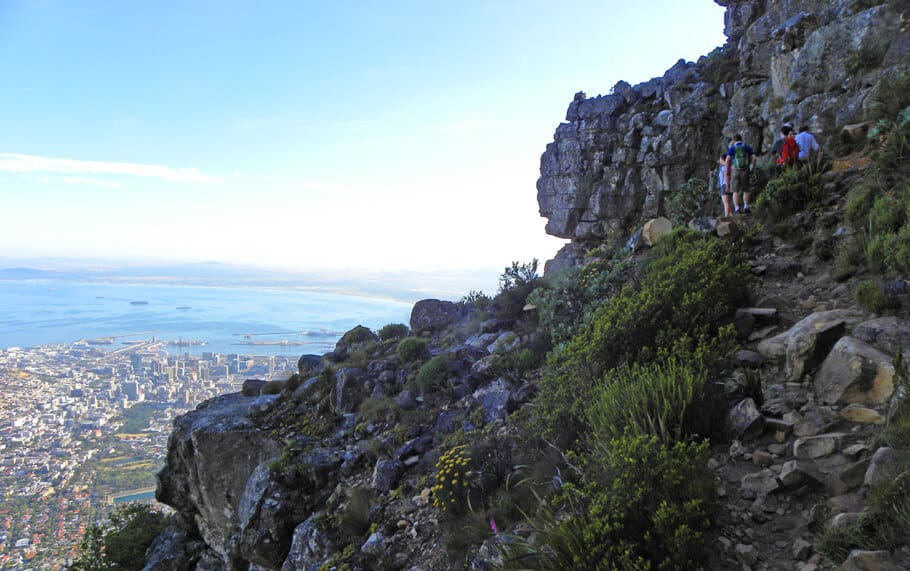 .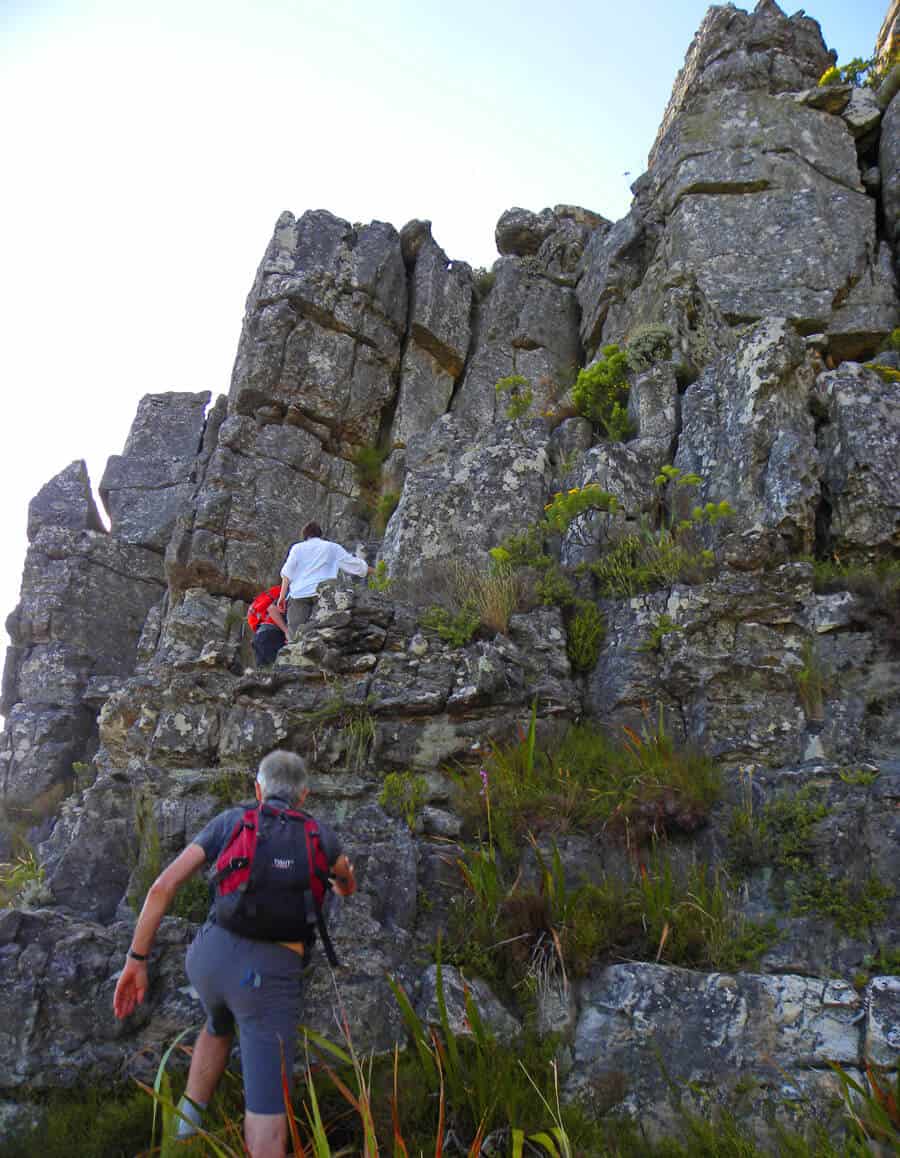 .
---
---
And then we get to the part where I started off this post: the sheer rock wall, the rungs, and the chain. See the photo below? (it's not mine – I wasn't pulling out my camera on a 3 foot ledge). There are a few rungs and they help you – but they'll only 'help' you in getting to a level where there are cracks and juts in the rock that you can grab on to to get higher. The rungs are in no way a ladder. This is when the guides showed their expertise: showing us where to step, where to hold, and how to hoist yourself up to the next level. For about 50 feet of rock, they guided us, step-by-step and handhold-by-handhold, up the rockface.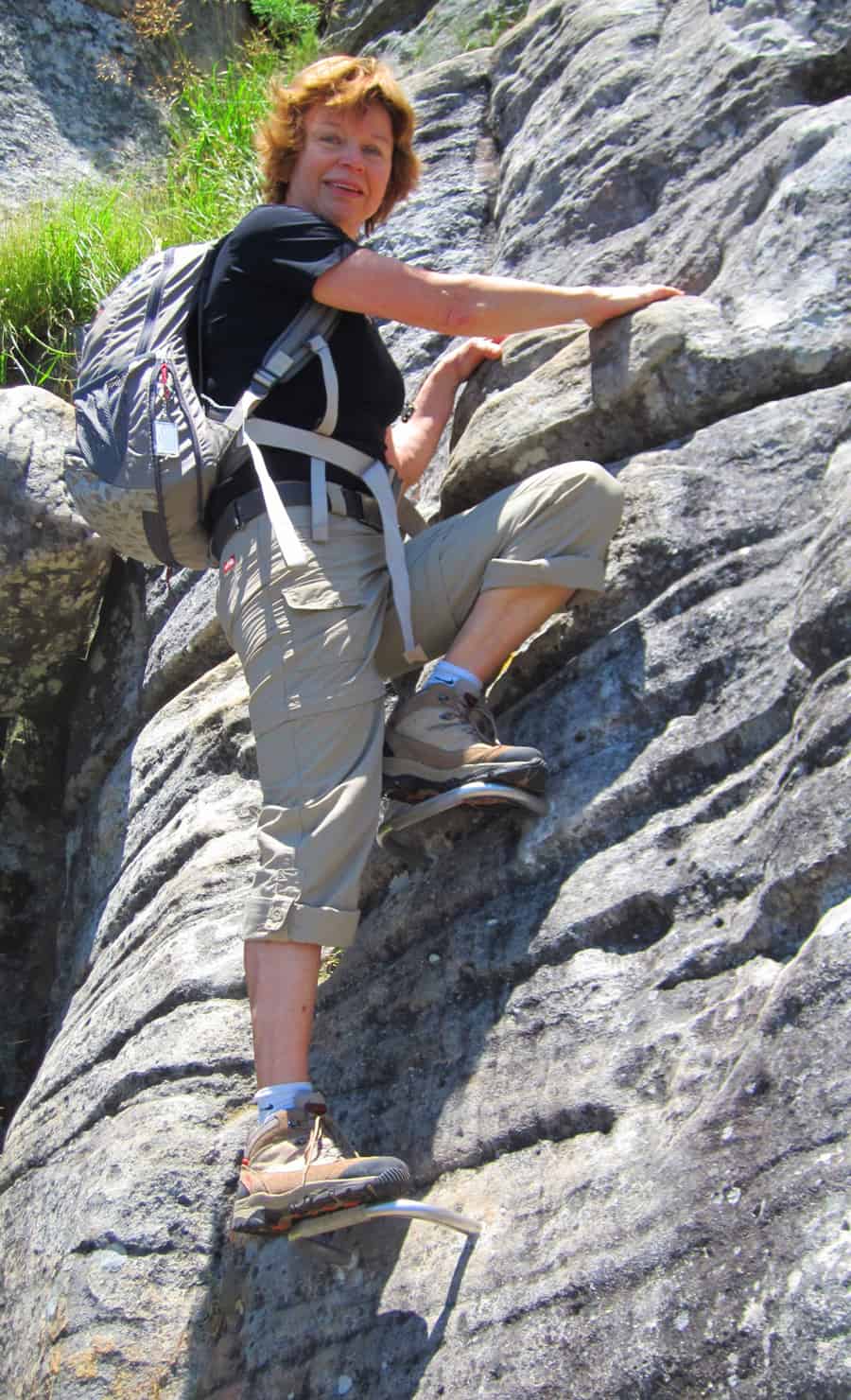 .
.
---
---
Having conquered the rocks (which although only about 50 feet took about 30 minutes) we arrived at the resting area in the photo below. That's when our guide told us about the rungs we had just climbed: they'd been put in place just a few years ago after 6 hikers had died in the same section in the span of less than a year. It's easily the hardest section of the India Venster route. He tells us of people he's brought up, from 5 year olds to a 79 year old lady, who've climbed it. He also told us a few stories of young, fit guys – with big booming voices and firm handshakes – who would have tears coming out of their eyes when faced with climbing the rocks. So you never know how different people will react.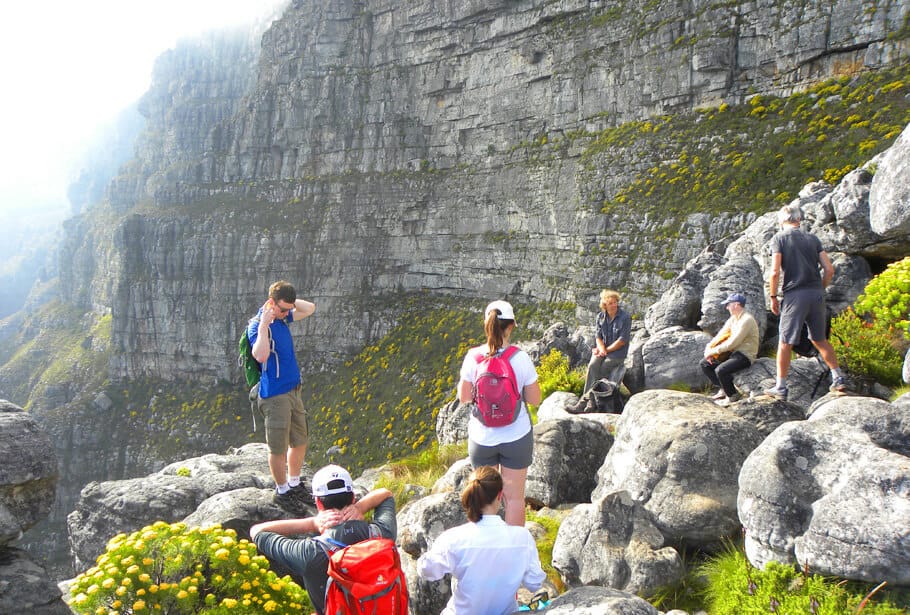 It might look from seeing the rock face in the photos above that more climbing was required. No, from this point on the route would follow a path around the side and to the back of the mountain. It would actually be the easiest – and most visually impressive – portion of the hike.
.
---
---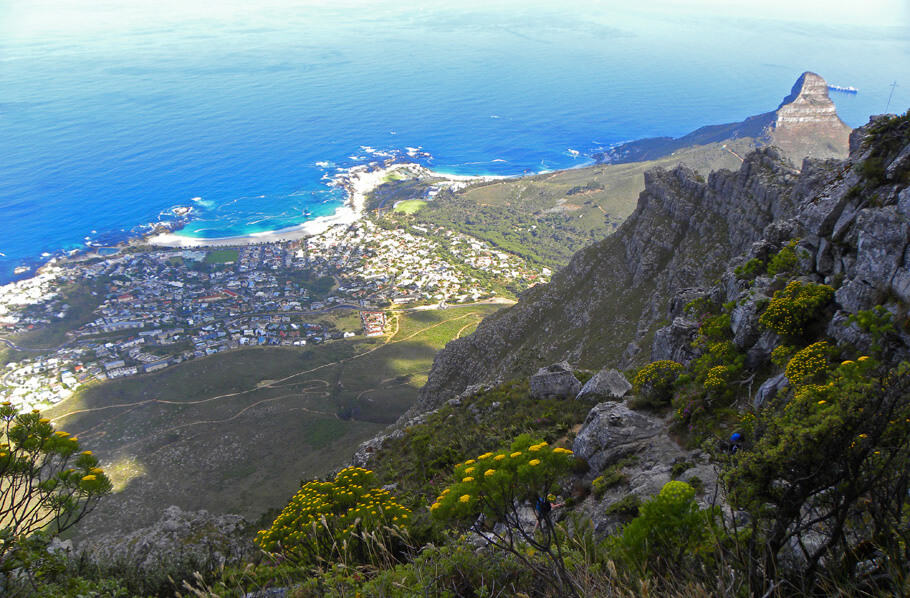 .
---
---
We arrived at the summit by 10 am. It's kind of weird: you climb for 4 hours in peace and quiet, enjoying the tranquil nature and beauty…then suddenly you take that last step onto the Table top and you see Japanese tourists in bright pastel colours and fat kids sucking on ice cream cones. And they look at you like you've just appeared from outer space.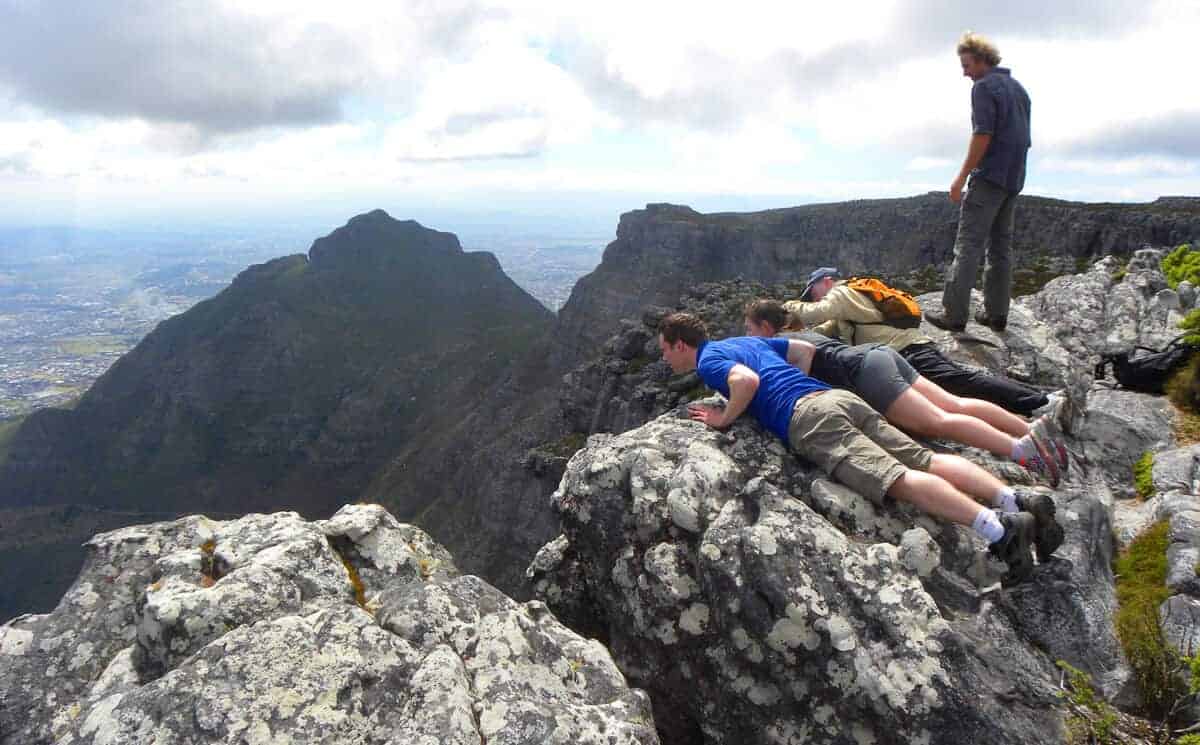 So did I get over my fear of 'scrambling over sheer drops'? No. But doing something that scares you gives you a sense of accomplishment. I walked around feeling pretty good the rest of the day. Did I enjoy the hike? I loved it. There are so many different hikes around Table Mountain, all with different vistas and sights along the way. Cape Town is hiking heaven and I think you have to do at least one hike up the mountain when here.
.
.
Top Hiking Tours to Experience in Cape Town

Note: You'll see the India Venster hike up above. You can book it there. Don't do it without a guide! The other recommended hike is the Lion's Head hike that is also up there. That one you can do without a guide. But if you're looking for someone to organize it for you then I would recommend booking up top. Both are great hikes.
So, would you do India Venster?
---
---
.
Ps. If you find our blog helpful, please consider using our links to book your flights, hotels, tours, and car rentals. Have a look at our Travel Resources page.