Highlights of the Cape Peninsula
Our guide's name was Steve Martin. "He better be damn funny" said Lissette. He wasn't that funny actually but he was a great guide, filling us with history, trivia, and occasionally quizzing us to ensure that we hadn't fallen asleep in the back seat.
Our tour consisted of the coastal attractions of the Cape Peninsula, the jut of land that sticks out into the two oceans that meet just south of Cape Town. It was a full day tour comprising of the sites highlighted in red on the map below. The sites in blue, which we visited on our own, should also be covered as part of a Cape Peninsula tour (which, if you start very early, can be done in a full day).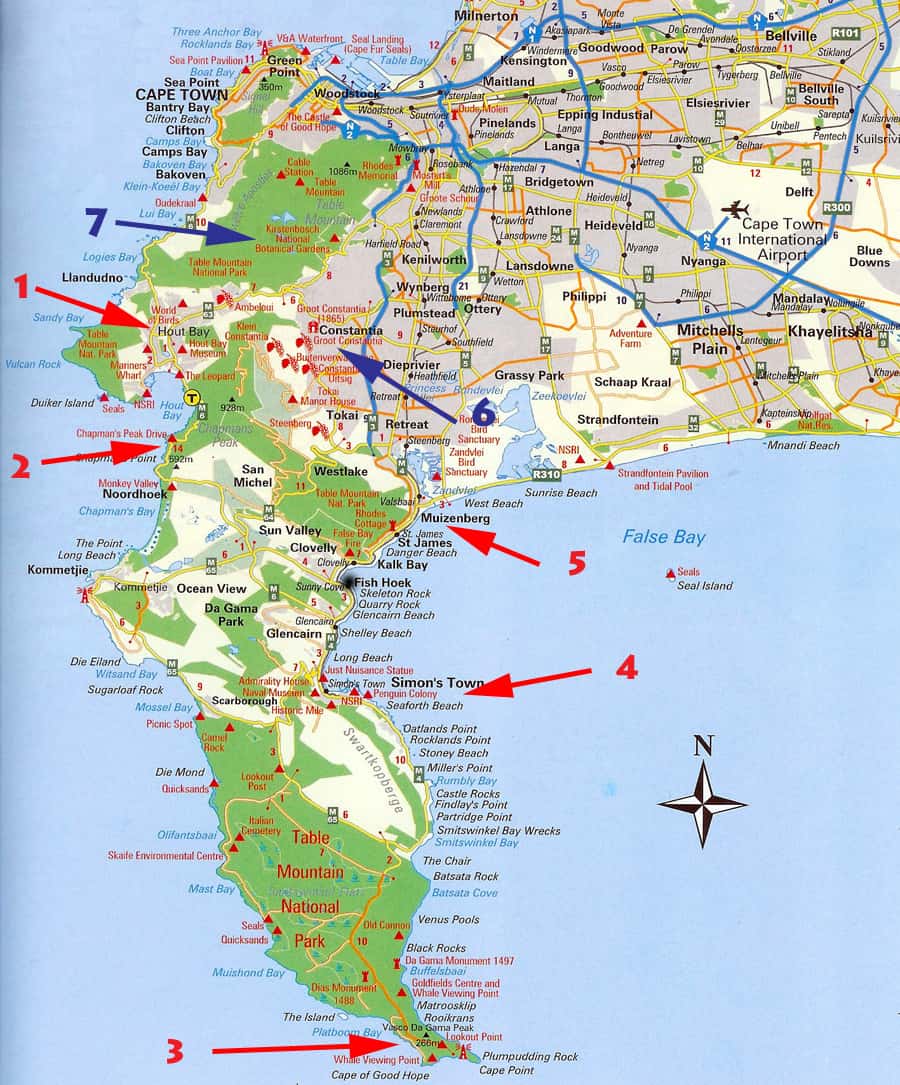 I'll let the photos do most of the talking on this post.
---
---
.
1. Hout Bay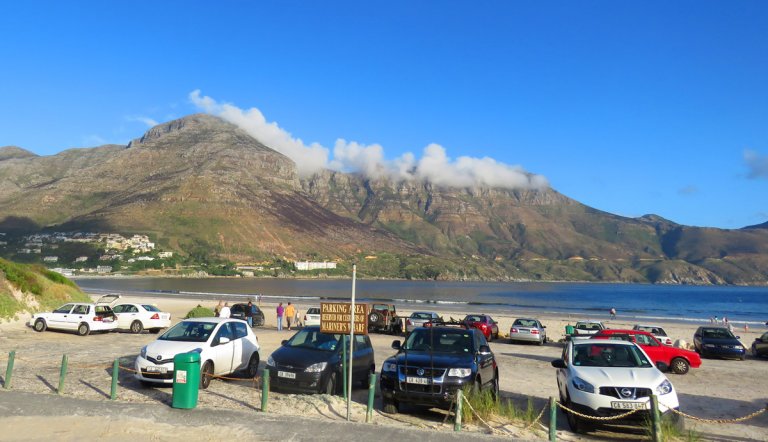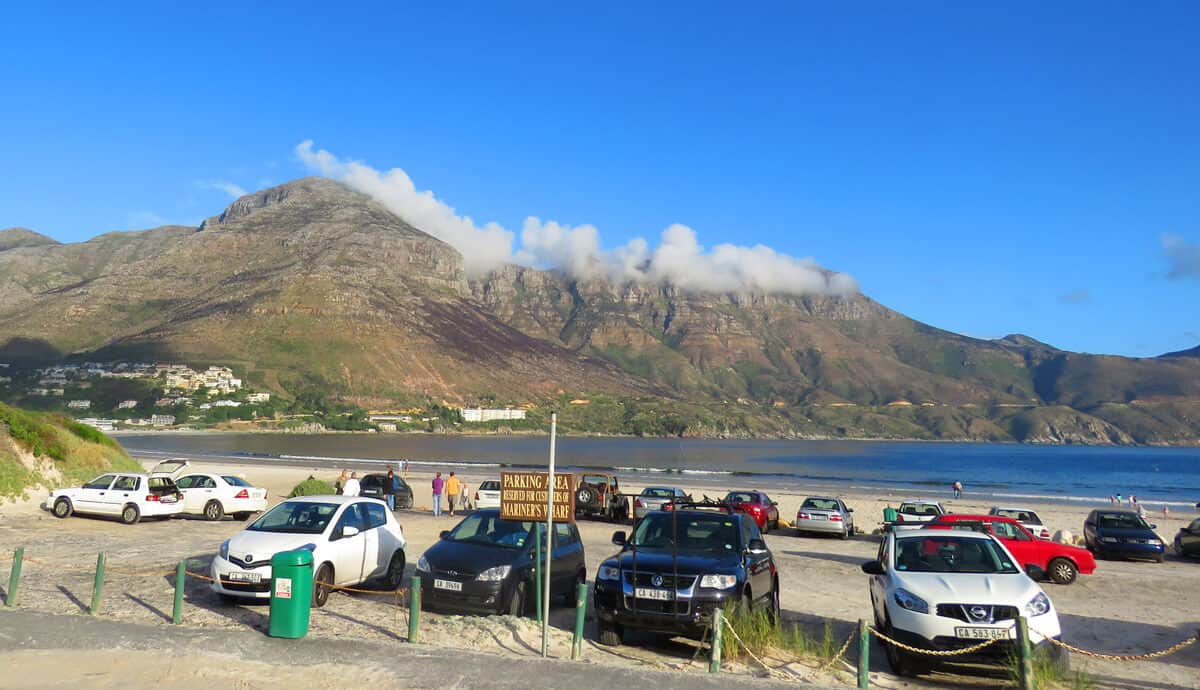 Hout Bay was our first stop with Steve Martin. I'll be referring to him as "Steve Martin" and not "Steve" in this post because it is how Lissette would address him (example: "So Steve Martin, have you lived in Cape Town your whole life?"). I guess if you have a name like Steve Martin you have to be reminded it every moment of every frigin day.
Hout Bay has a beautiful spot on a bay (Hout Bay) and is a popular spot among 1) tourists taking boat trips to nearby Duiker Island (home of a huge colony of seals) and 2) locals coming here for supper and drinks at a few restaurants along the waterfront ('Dunes' is a great spot for drinks while watching the sunset according to Steve Martin). We actually previously passed through Hout Bay when taking the Blue Peninsula tour with Citysightseeing (which I'll mention again at the bottom of this post because their double decker buses will take you to a couple of the sights highlighted below). I'll say this – Hout Bay is beautiful and tranquil and you'd never know that you are just 30 minutes away from downtown Cape Town.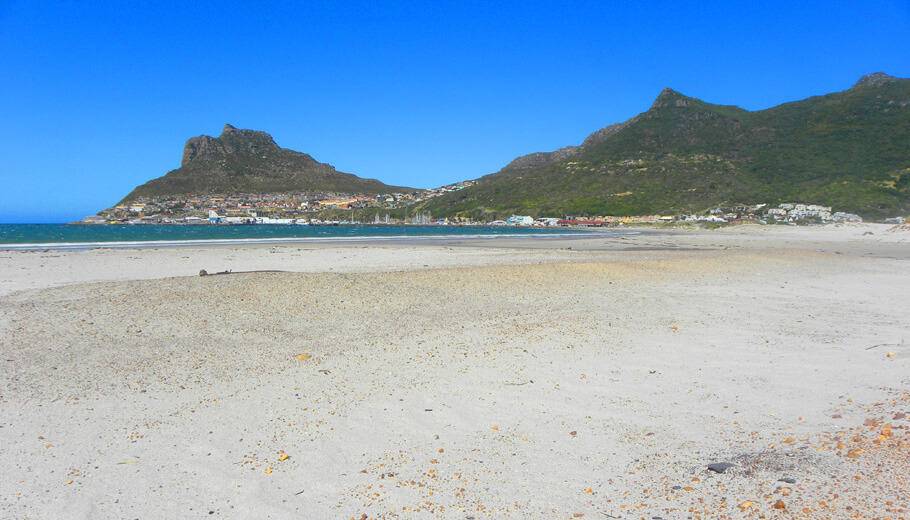 ---
2. Chapman's Peak Drive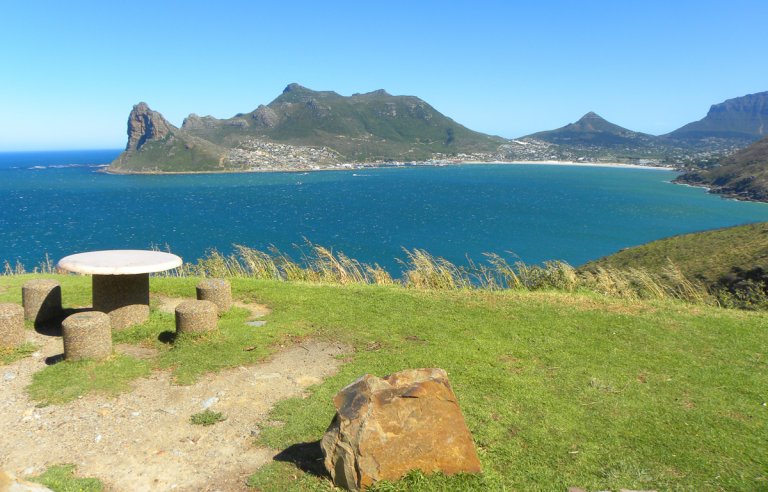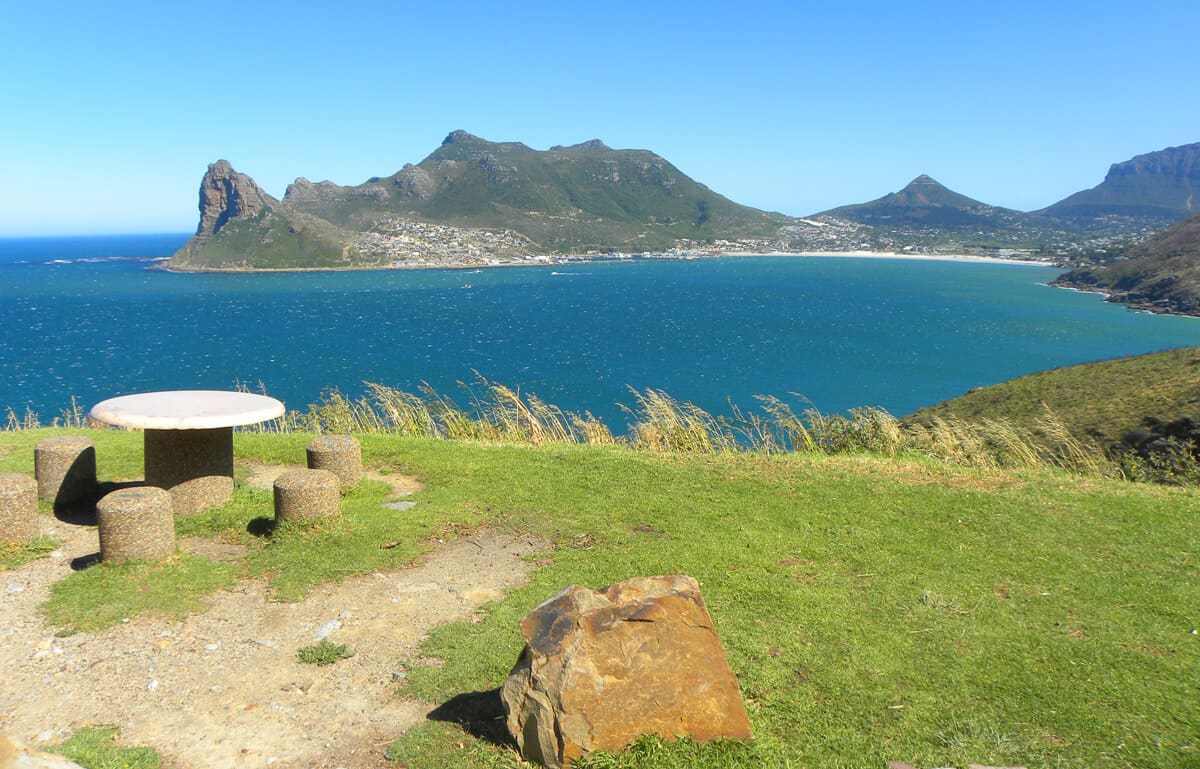 Chapman's Peak Drive starts just south of Hout Bay. It is one of the most famous drives of the entire world, a privately owned road (you have to pay a toll), that is featured in car commercials around the globe. The road is carved out of a mountain and extends for 9 km and 114 curves. Look down and you'll see the surf crashing against cliffs below. It is quite spectacular. The drive around Chapman's peak finishes at a viewpoint overlooking Noordhoek Beach on Chapman's Bay.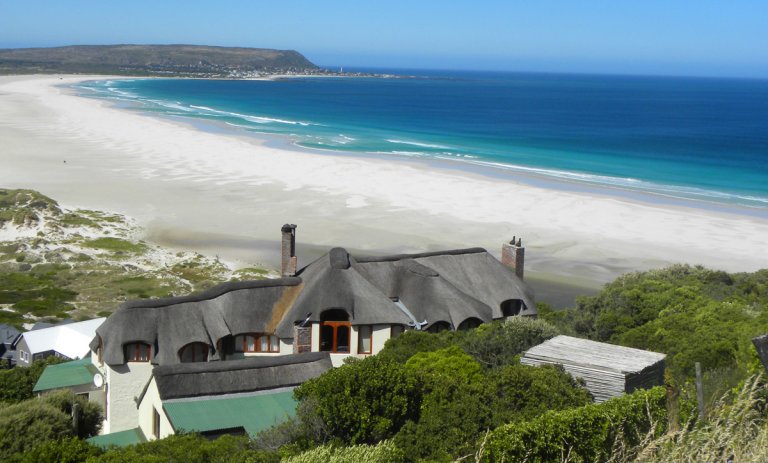 ---
---
3. Cape of Good Hope Nature Reserve (and Cape Point)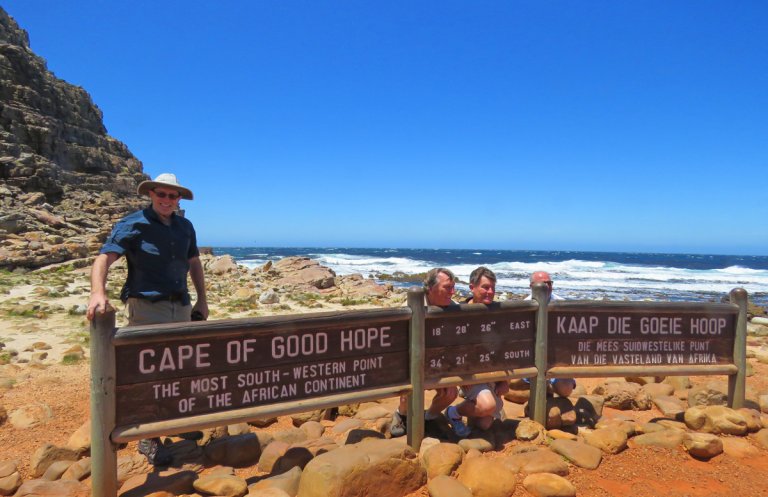 The Cape of Good Hope Nature Reserve is part of Table Mountain National Park (which extends all the way from Signal Hill in Cape Town to the tip of the peninsula). It, along with Table Mountain itself, are the two 'must see' highlights in the park. Most people think Cape Point, the tip of the Cape of Good Hope, is the southern most spot in Africa. It's not, the southern most point is actually Cape Agulhas a bit further east. So, as the sign above says, the Cape of Good Hope is "The Most South – Western Point of the African Continent".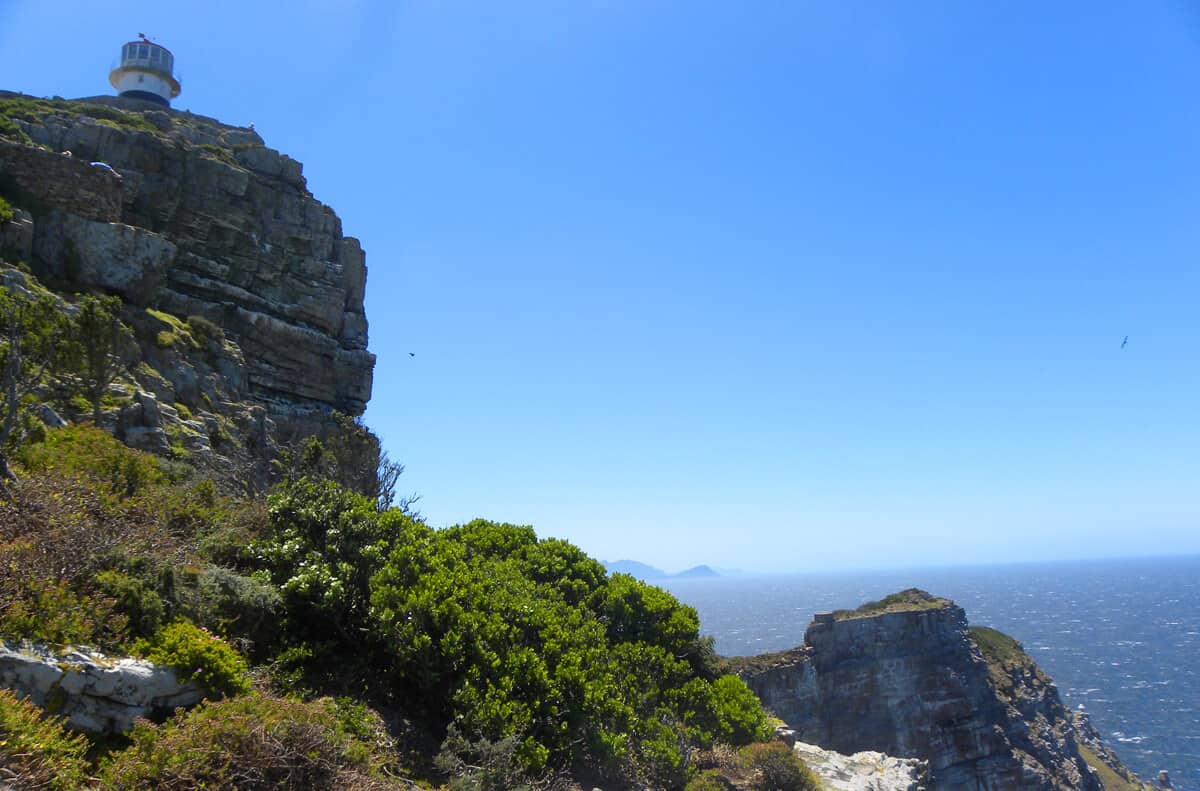 Cape of Good Hope is famous for a few other things though. 1) it is at the confluence of both the Indian and Atlantic Oceans (although, again, Cape Algulhas is the official geographical divide) and 2) it is infamous as the "Graveyard of Ships". The reason for this? It is officially the windiest place in Africa. Imagine being out at sea in a wooden boat, facing gale force winds, competing currents (warm currents from the Indian and cold currents of the Atlantic meet here), and seeing the huge cliffs looming in front of you. I have the greatest respect for the early explorers who had to circumvent the southern tip of Africa in their search for a route to South Asia.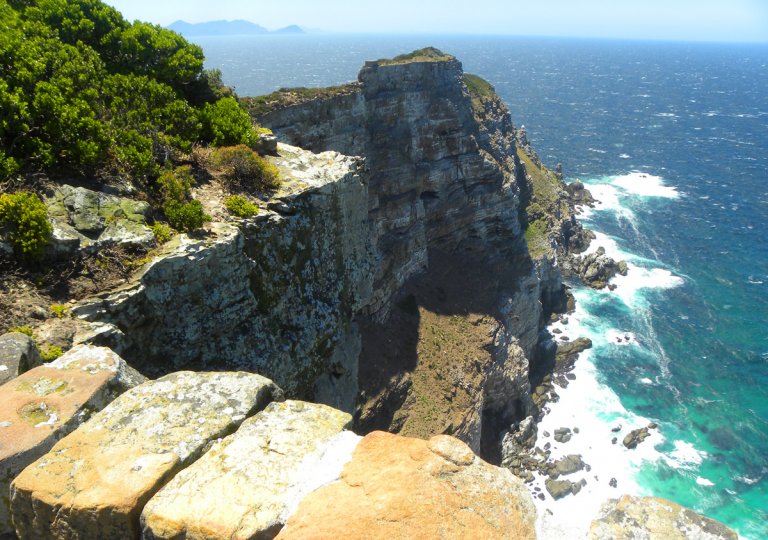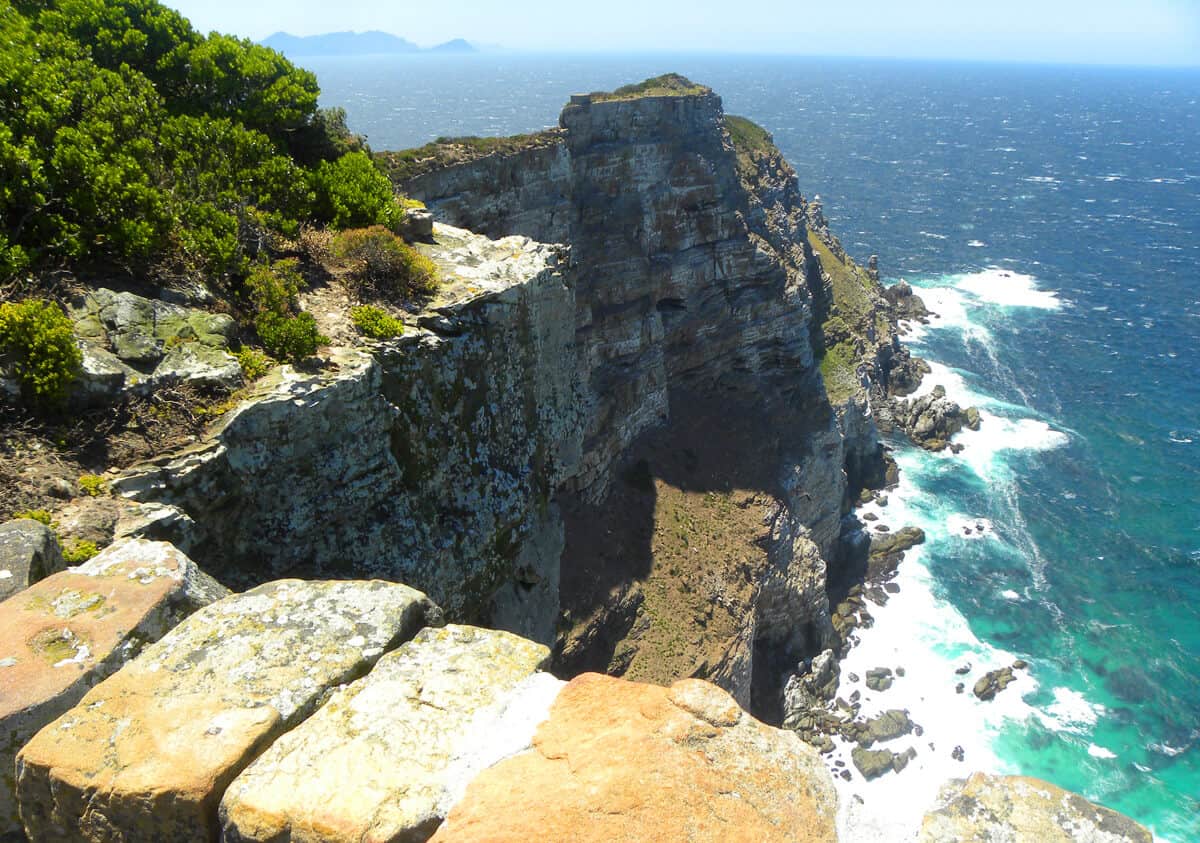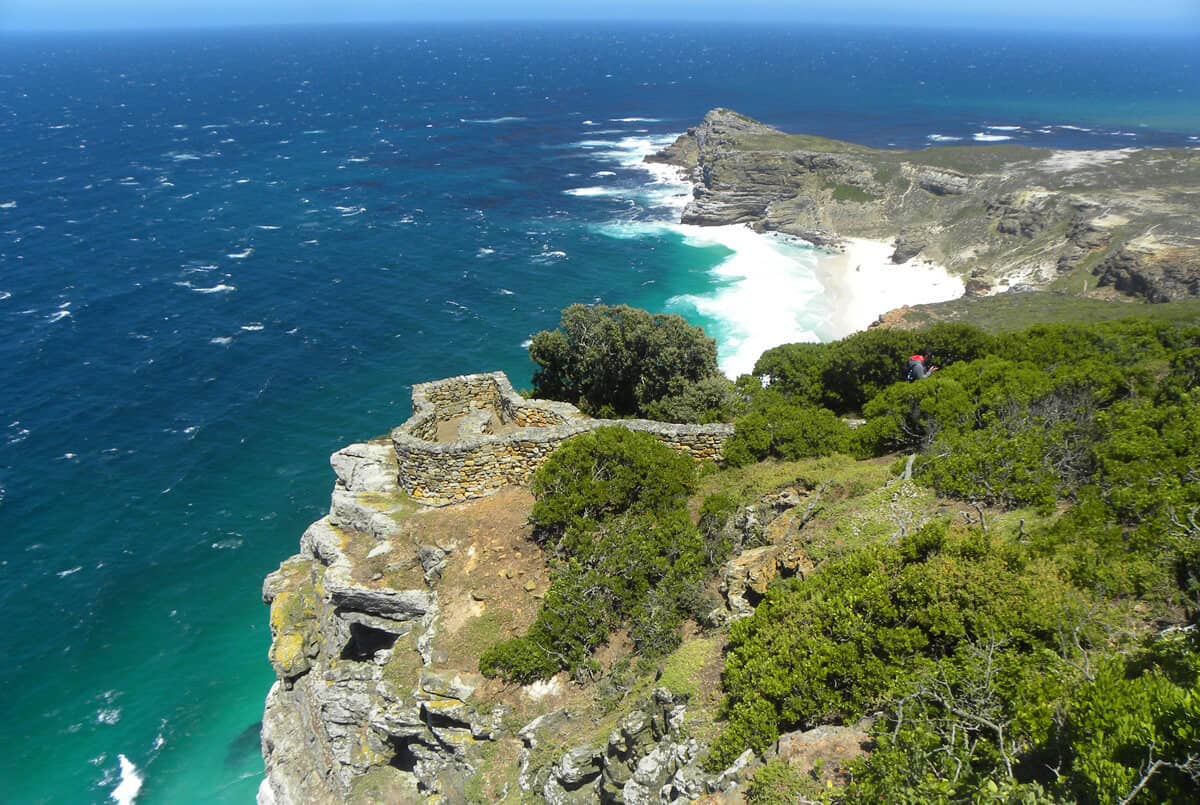 .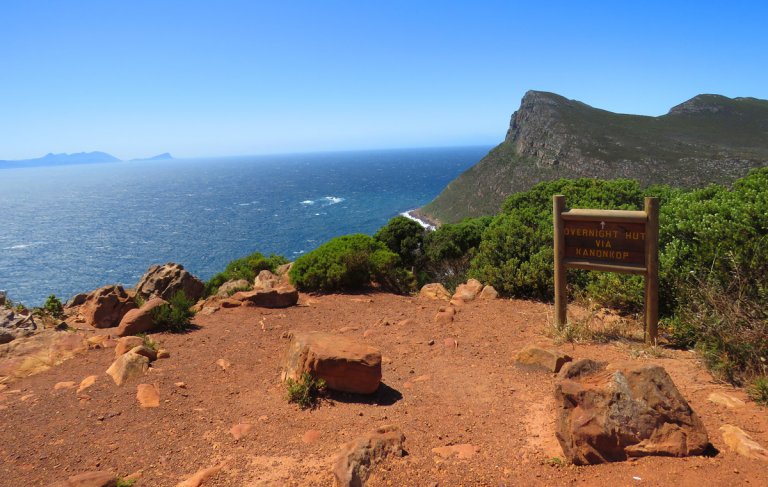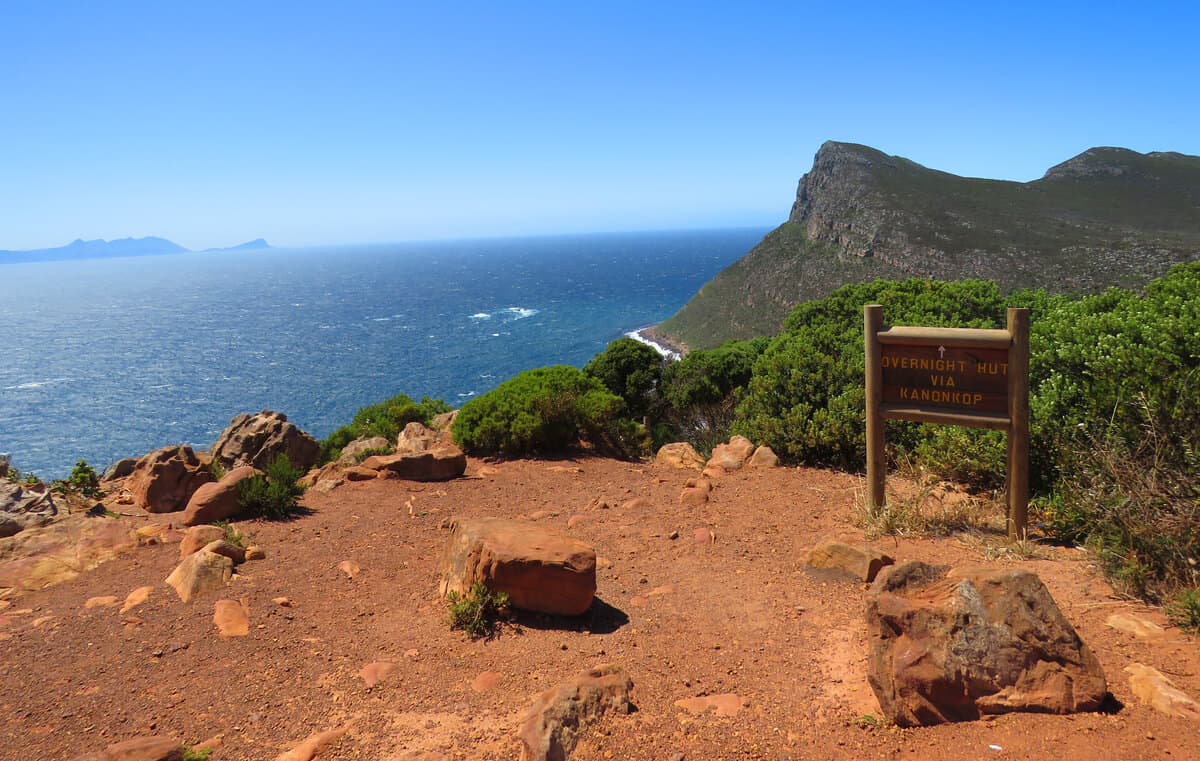 .
.
There's lots of wildlife to be found in the Cape Hope Natural Reserve, the most notorious being the Chacma Baboon. We didn't see any however, despite Steve Martin driving through some of the less visited spots in the park looking for them. No luck. We did however see antelopes (below) as well as a huge snake: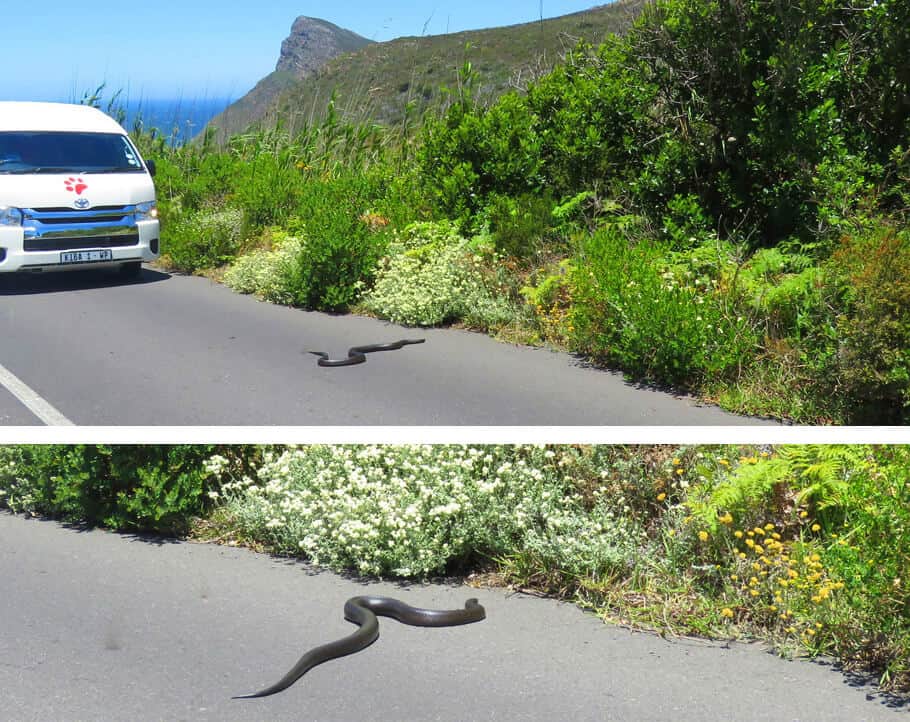 ---
---
4. Boulder's Beach (penguin colony)
After a short stop for lunch in Simon's Town, Steve Martin took us to Boulder's Beach, known for its colony of African Penguins (previously referred to as Jackass Penguins which was changed when deemed non-PC). We were suddenly surrounded by hordes of tourists disembarking from tour buses, all racing and jostling to take their selfies. Boulder's Beach is one of the most touristy venues in the whole Cape Town region. Still, a pretty stop, especially if you like penguins.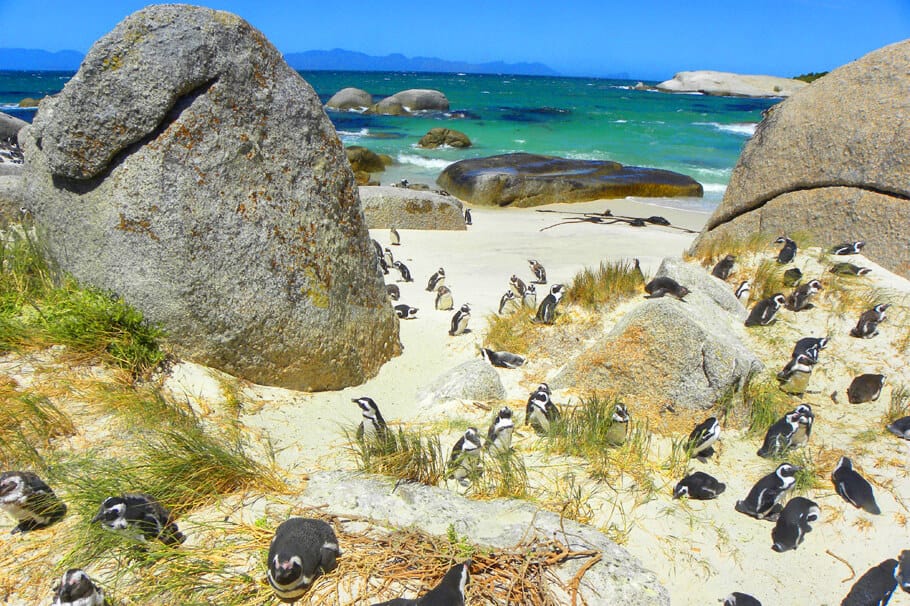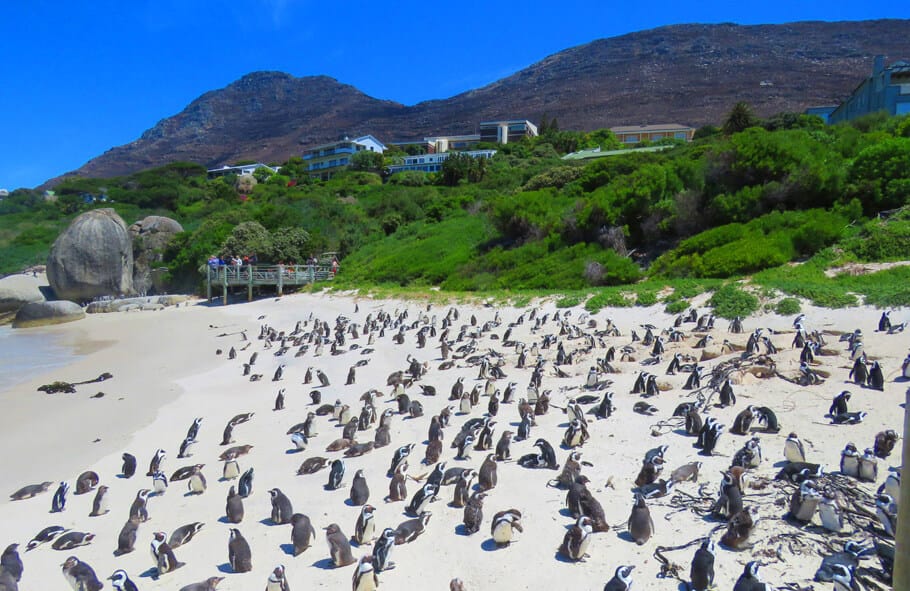 Below: 'McDonald' who we bought this wooden turtle from. This Dude Rocks. We've met many incredibly friendly and open Africans in Cape Town, many with unusual names. A sampling of names from a month here: Patience, Learnmore, Onenisome, Alfonce, Archiford, Lucky, Relief, Abide, Anyway. We will often ask them about their names and they'll just laugh.
---
---
5. Muizenberg Beach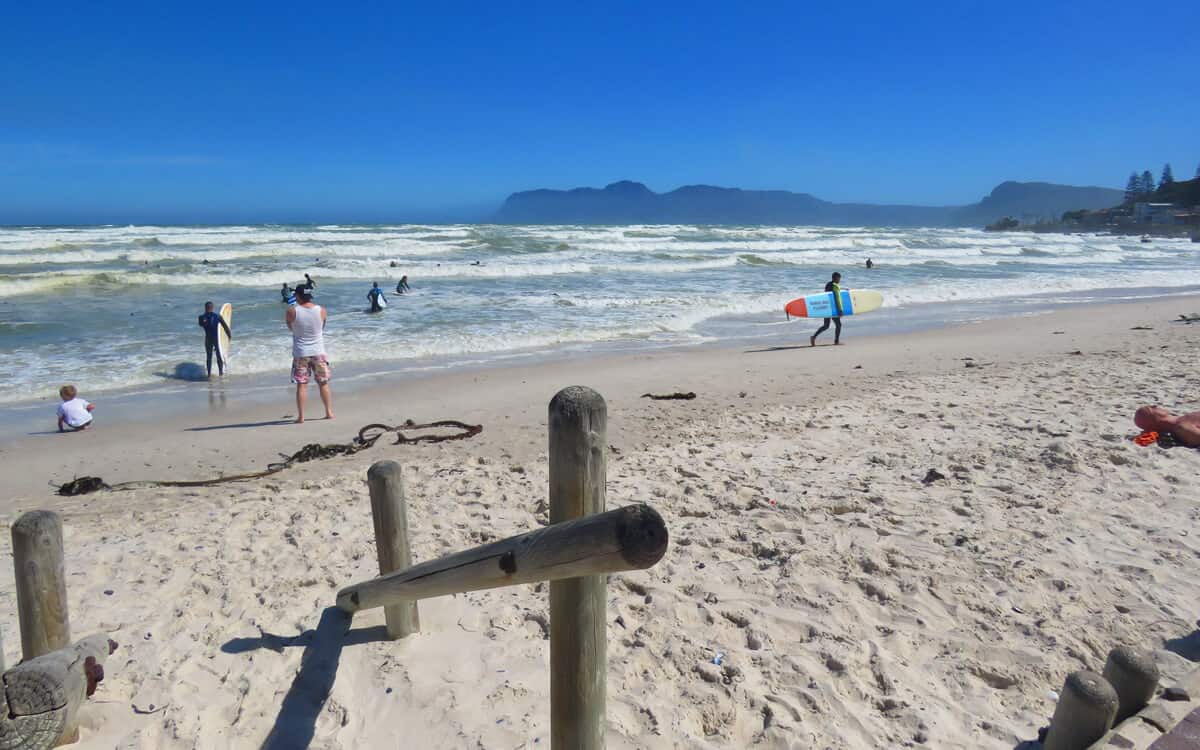 Coming back up the peninsula, our last stop with Steve Martin was Muizenberg.
Muizenberg is known for it's long beach, Great White Sharks (see the shark flag below), and for surfing. There are a lot of surf shops and surfing schools along the beach. Muizenberg also has these pretty cabanas where you can change into your bathing suit..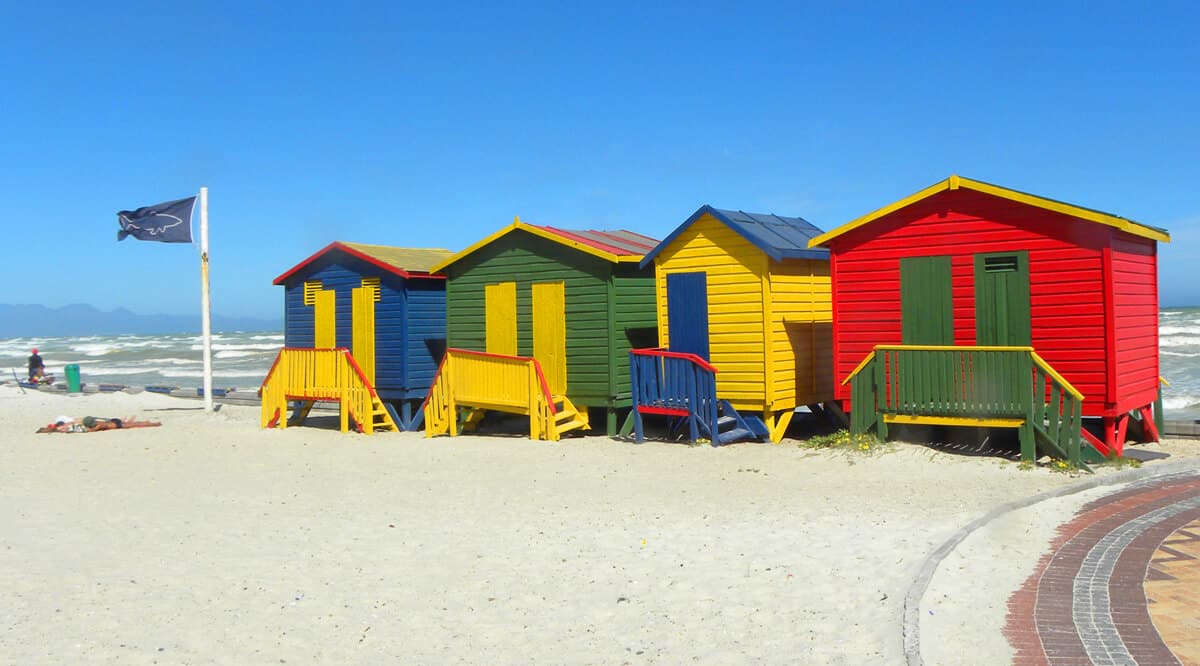 Muizenberg was our last stop with Steve Martin. We had started out at 8:30 am and by the time we got back into downtown Cape Town it was 4:30.
But there are a few other spots on the Cape Peninsula that

have

to be visited.
---

6. Groot Constantia

Groot Constantia is the oldest wine estate in South Africa and is also the easiest to visit. If you can't make it to the vineyards of Stellenbosch and Franschhoek, then it is an absolute must. Why? 1) the setting is gorgeous, 2) the wines are great and you can do different wine tastings 3) Groot Constantia has a Cape Dutch-style manor house which is one of the best example's of Dutch colonial architecture (now a museum) 4) the Jonkershuis restaurant on the premises is fantastic. Great place for lunch and a couple of glasses of wine.
We visited Groot Constantia on our own using Citysightseeing's Purple Tour (Citysightseeing runs the Hop On, Hop Off buses). We had only intended to spend a few hours but ended up there the whole afternoon, drinking wine and just enjoying the setting. Lots of fun.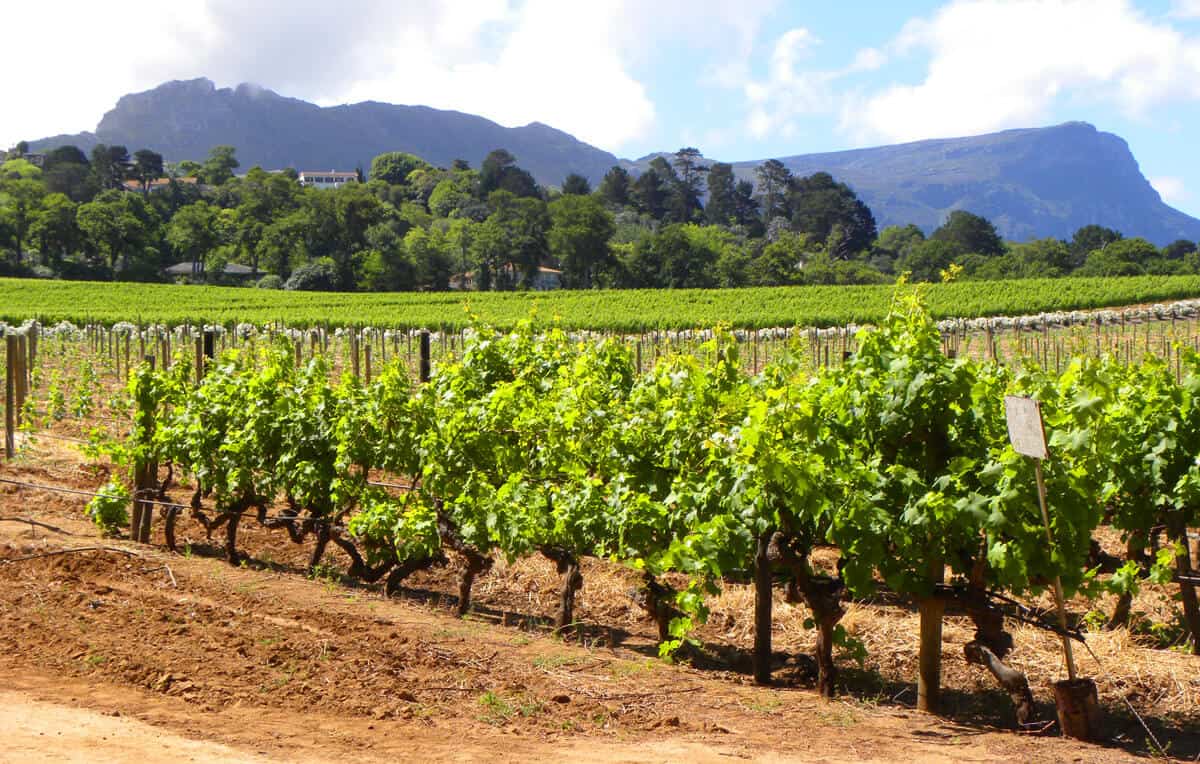 ---
---
7. Kirstenbosch Botanical Gardens

The Kirstenbosch Botanical Gardens usually makes it on any 'Cape Peninsula' tour and we would have come here with Steve Martin if we hadn't already done it one our own.
It is one of the most beautiful botanical gardens in the world and one of Cape Town's highlights. It is also easy to get to, either through Citysightseeing's Blue Tour or by taxi/uber from downtown. Read here for our post on Kirstenbosch Botanical Gardens.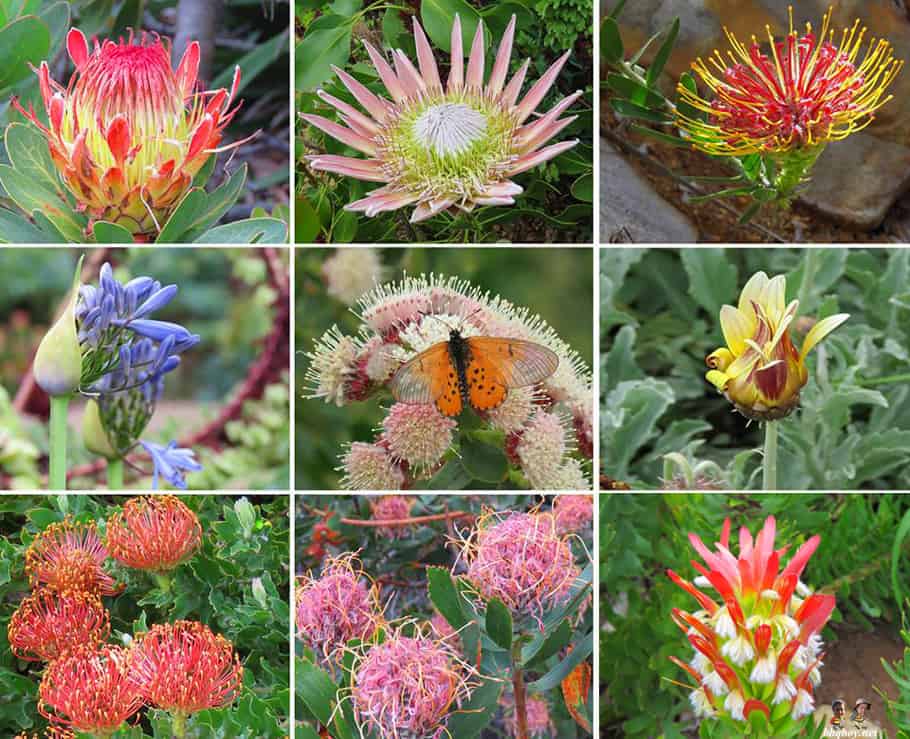 Practical Information
– You can book a Cape Peninsula tour here. It includes all of the above as well as the beaches of Clifton and Camps Bay (which I covered in this post). You'll see some of the most amazing geography on earth.
– Citysightseeing (click on that orange link to buy tickets) can be used to visit 3 of the stops above. The Blue Tour takes you to Kirstenbosch and Hout Bay and also connects to the Purple Tour which will take you to Groot Constantia. We spent 2 days on the buses (on 4 different circuits) and loved it – it's perfectly suited to the geography in the Cape Town region and the best way to see everything.
---
---
Ps. If you find our blog helpful, please consider using our links to book your flights, hotels, tours, and car rentals. Have a look at our Travel Resources page.