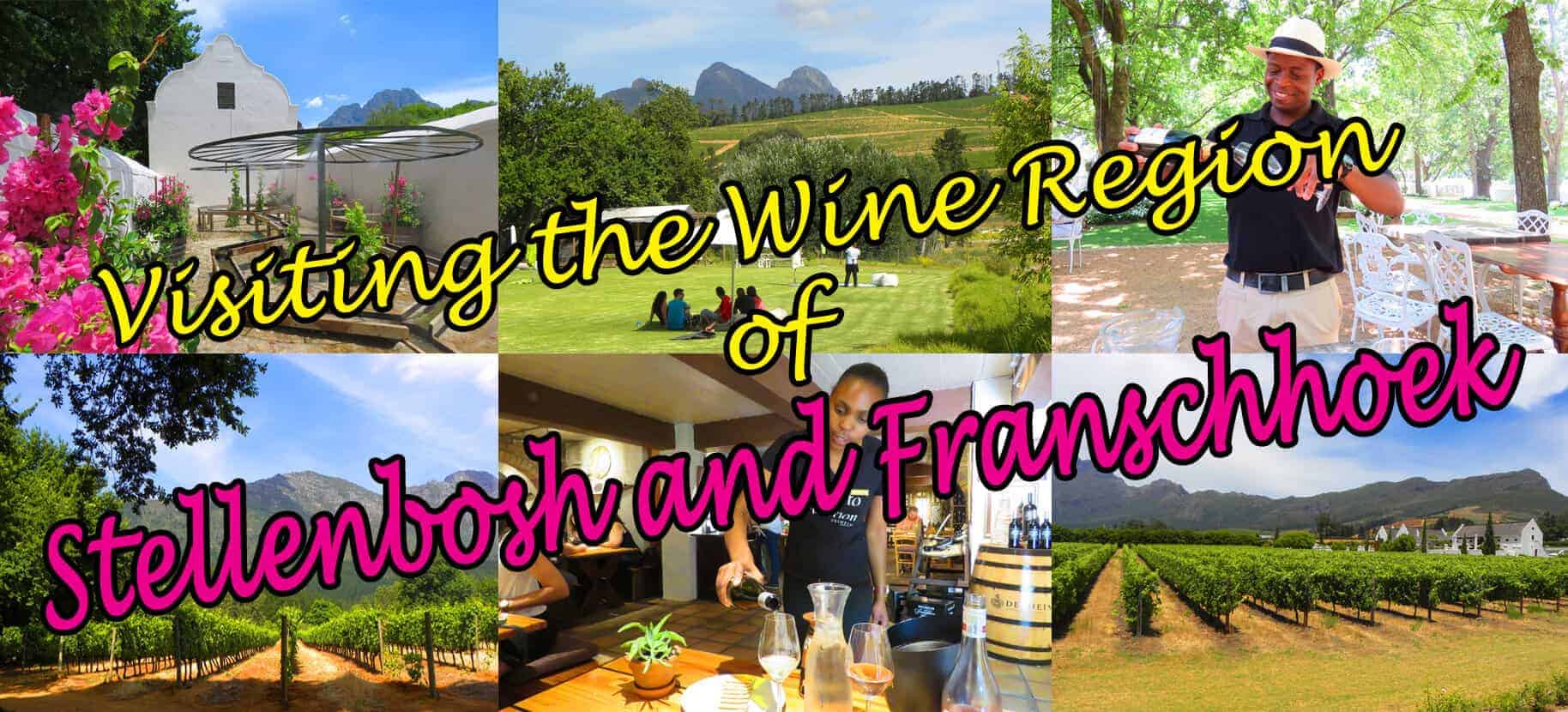 A guide to the best wineries of Stellenbosch and Franschhoek
Everyone tells you that no visit to the Cape Town area is complete without a visit to the wine regions of Stellenbosch and Franschhoek. The area is exceptionally beautiful and the quality of wine and food in the wine estates of both valleys is stupendous. But where to start? There are an approximate 160 wineries in the Stellenbosch area alone. Which ones should you visit and where should you base yourself?
Where to base yourself? Stellenbosch was recommended to us by our South African friend Tony. Although Franschhoek's location (in a gorgeous valley flanked by high gorges) is more spectacular, it is very small (essentially a 1-street town) and hotels and restaurants are more high-end, upmarket affairs (boutique hotels and 5 star restaurants).
Stellenbosch has more of a small town feel (it is South Africa's 2nd oldest town) and you can walk in the 3-4 blocks of the city center enjoying restaurants, bars, as well as art galleries and museums. It's a university town and there's a bit more going on. So, for us, Stellenbosch was the more ideal base for a weekend*.
*Our friend Heather has a different opinion on that which I'll cover further below in the Franschhoek section of this post.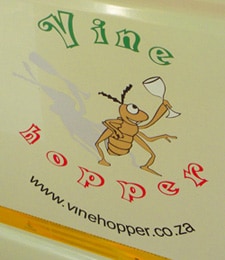 The best ways to explore the Wine Estates around Stellenbosch
It took us about 45 minutes to drive to Stellenbosch from Cape Town airport and find our hotel (the De Hoek Manor). First order of business: drinking some wine and having lunch.
The best way to see the different vineyards in the Stellenbosch area is with the Vine Hopper wine tour. It is basically a hop on/hop off shuttle bus that does 3 different routes in the Stellenbosch area: the Northern wineries, the Southern wineries and the Eastern wineries. On each route they stop off at 5 or 6 wineries. They pick up/drop off every hour at the different estates. If you want to drink and not have to worry about driving it is ideal.
---
---
DAY 1 – Vineyards of the Northern Route


.
On this day we decided to do a tour of the wineries on the Northern Route (the 3 we cover below are some of the top ranked wineries in the Stellenbosch area)
.
We chose this estate as our first stop because of the simple fact that it has a restaurant, one of the best you'll find anywhere in the area.
Some photos: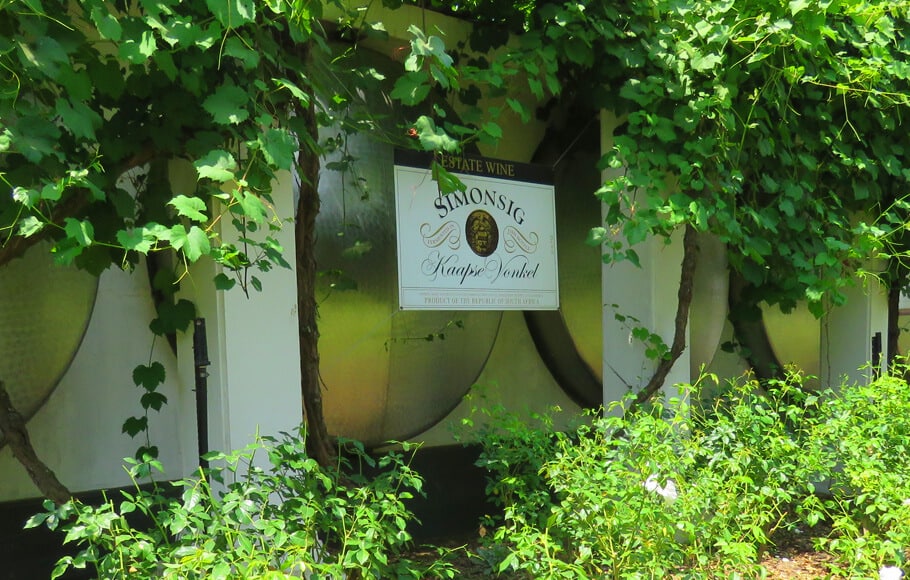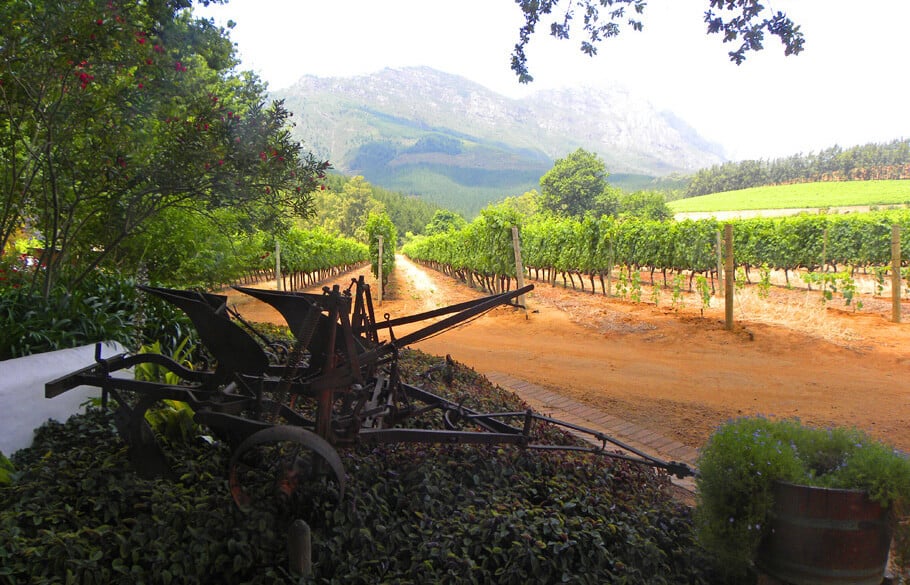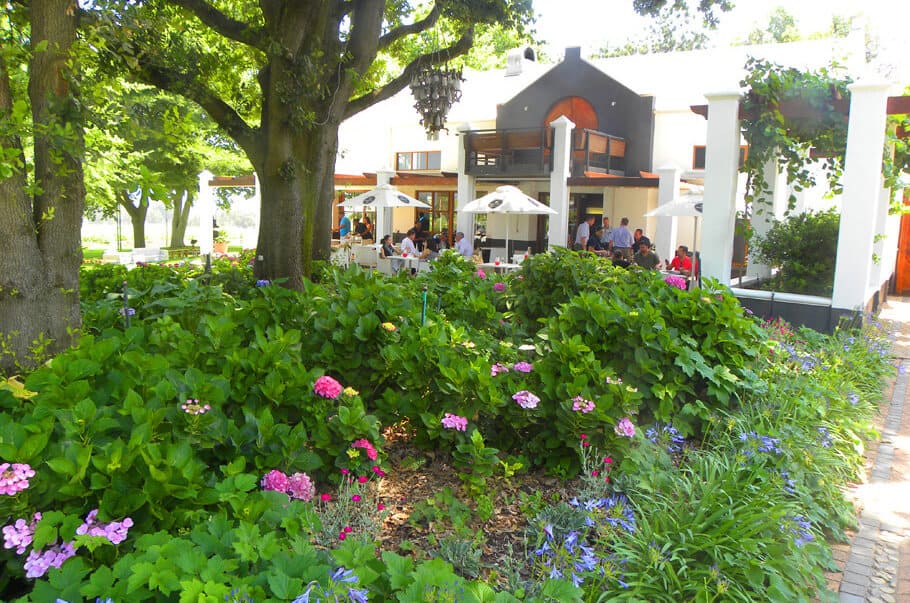 .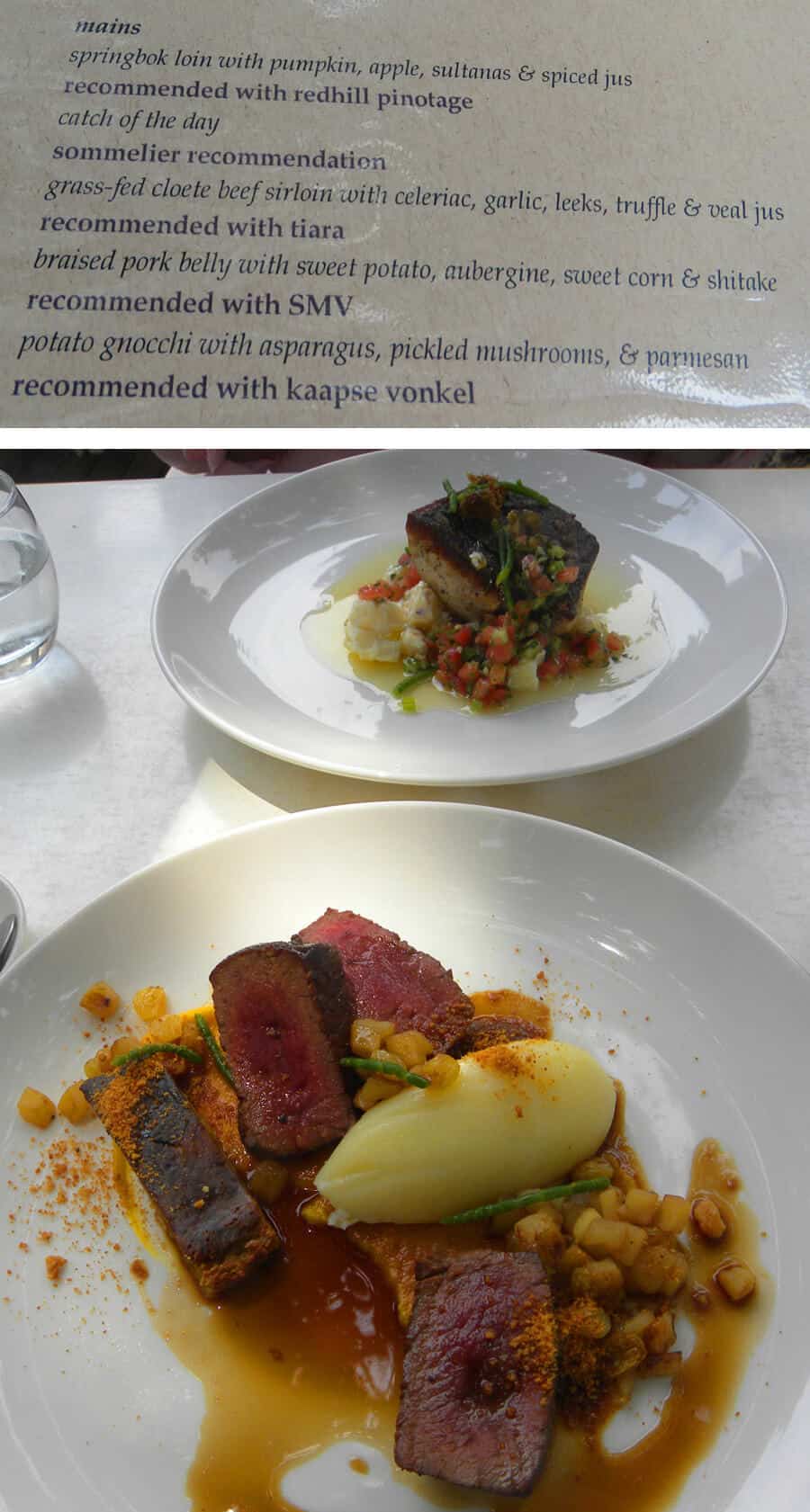 The food was incredible and the wines that accompanied each course were excellent. We finished just in time for the Vine Hopper shuttle to come and pick us up.
---
---
.
The next stop, Delheim, also has one of the best restaurants in the area (see this link for the best restaurants in the winelands). It has beautiful grounds with the obligatory mountain views as well as a comfortable cellar for wine tasting (which is what we did here).
Photos: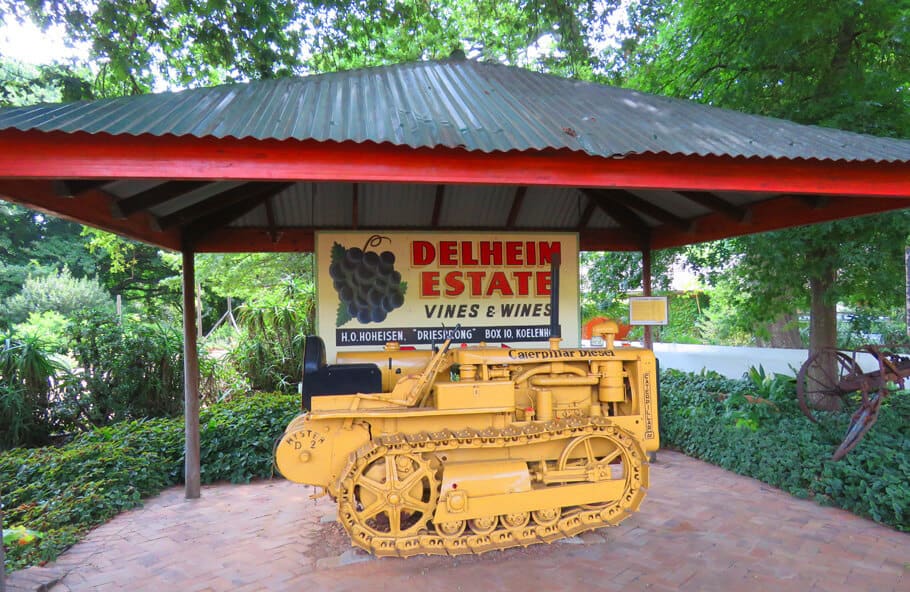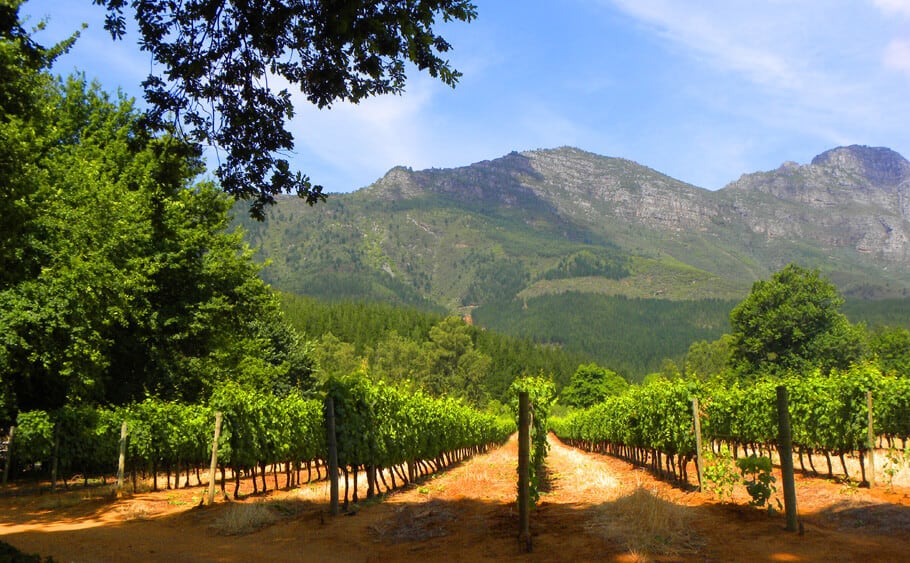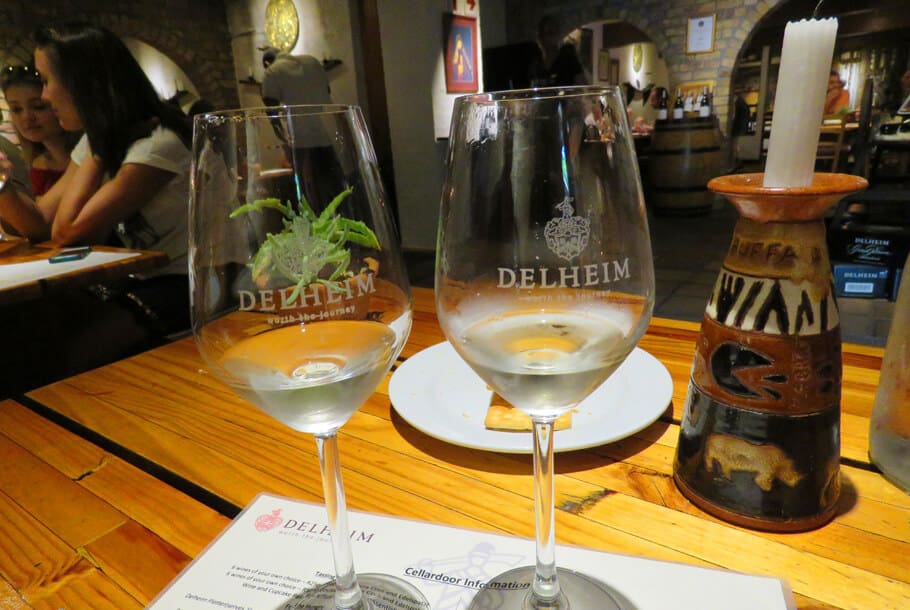 What we thought of Delheim: absolutely beautiful grounds, good wines (nothing jumped out at us as spectacular though).
---
---
Warwick is one of the top rated wineries in the region on Trip Advisor and it is easy to see why: the grounds and the views are fantastic. You can even spread out a blanket and have a 'gourmet' picnic lunch (prepared by Warwick's restaurant) on the grounds.
Photos from around the winery: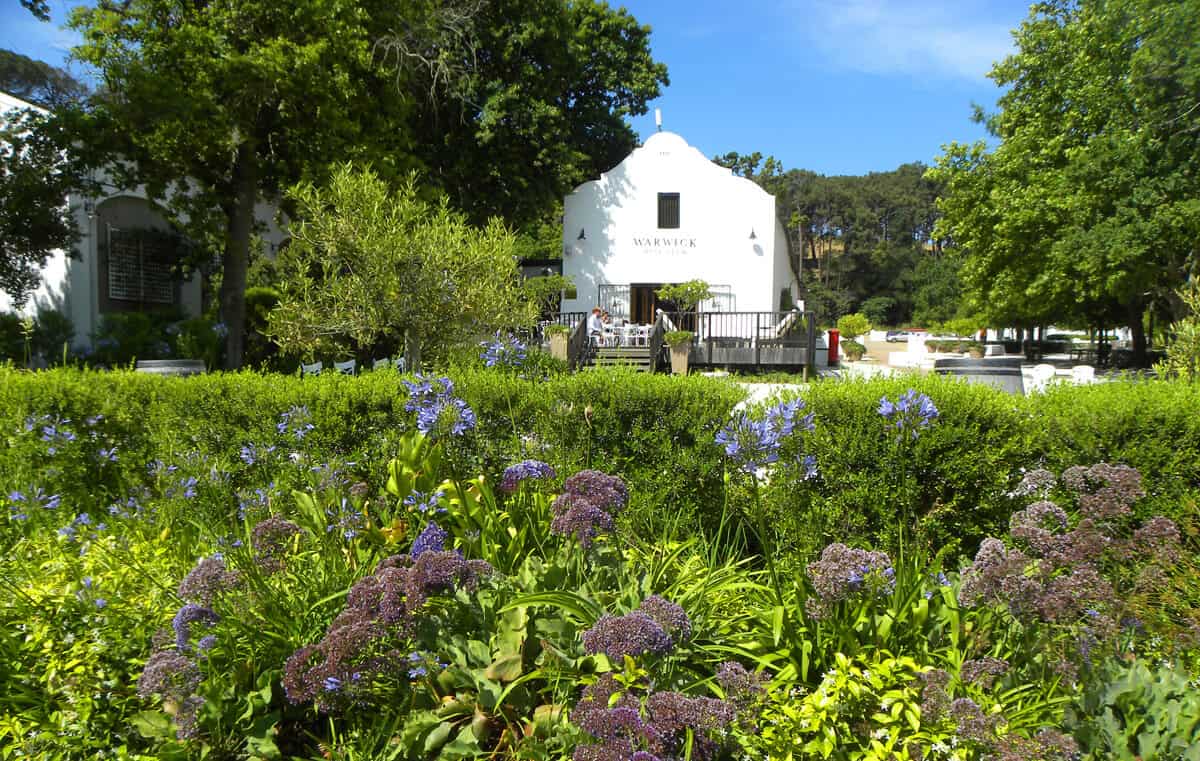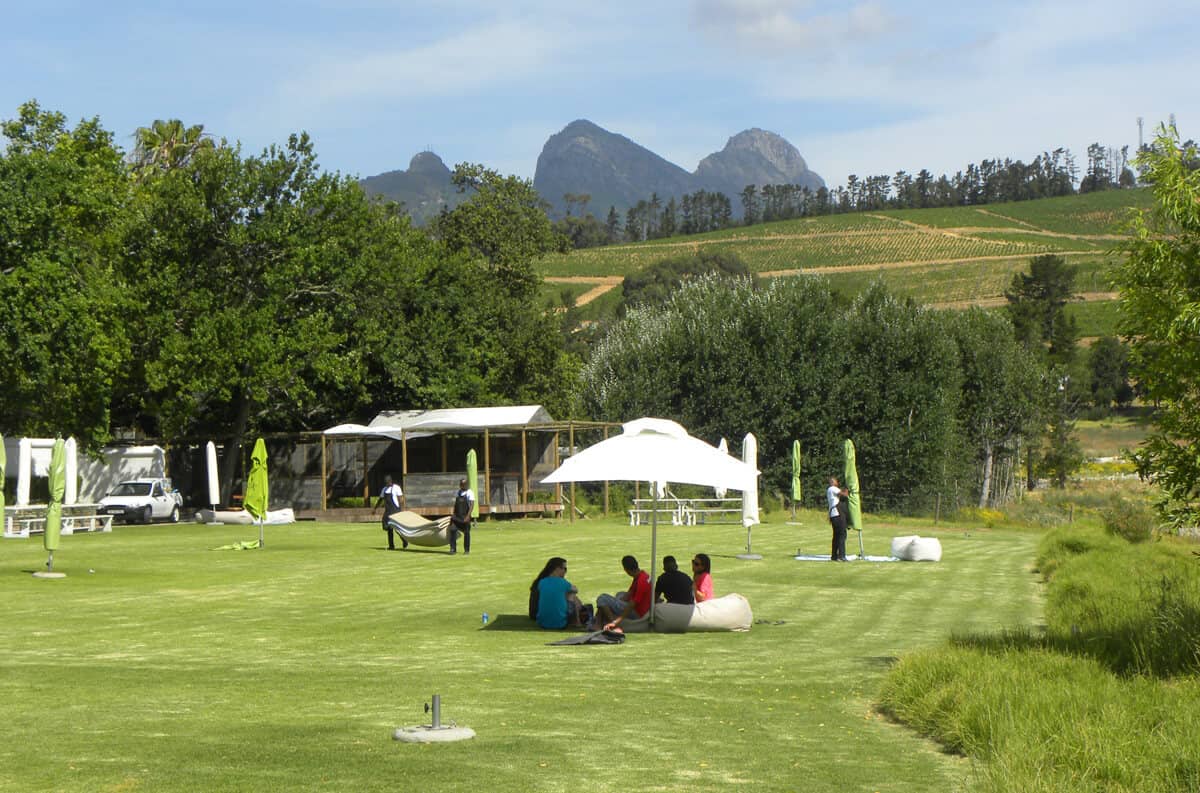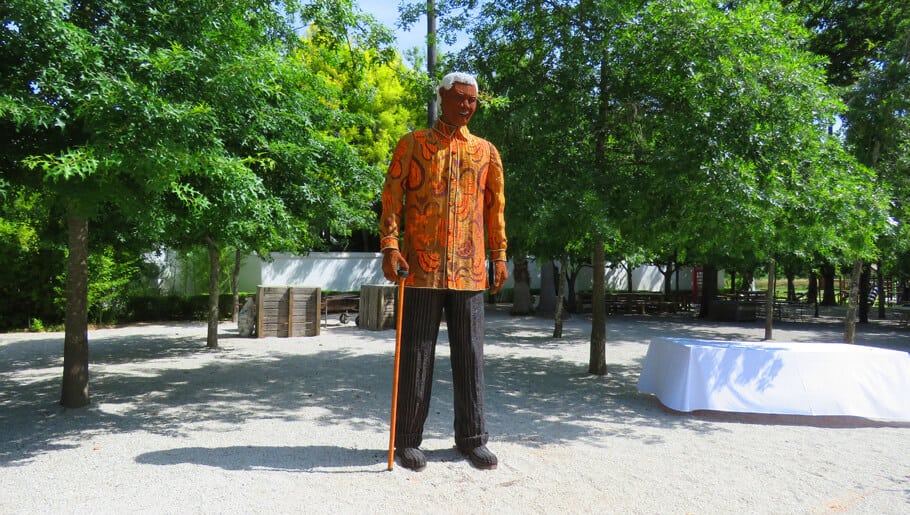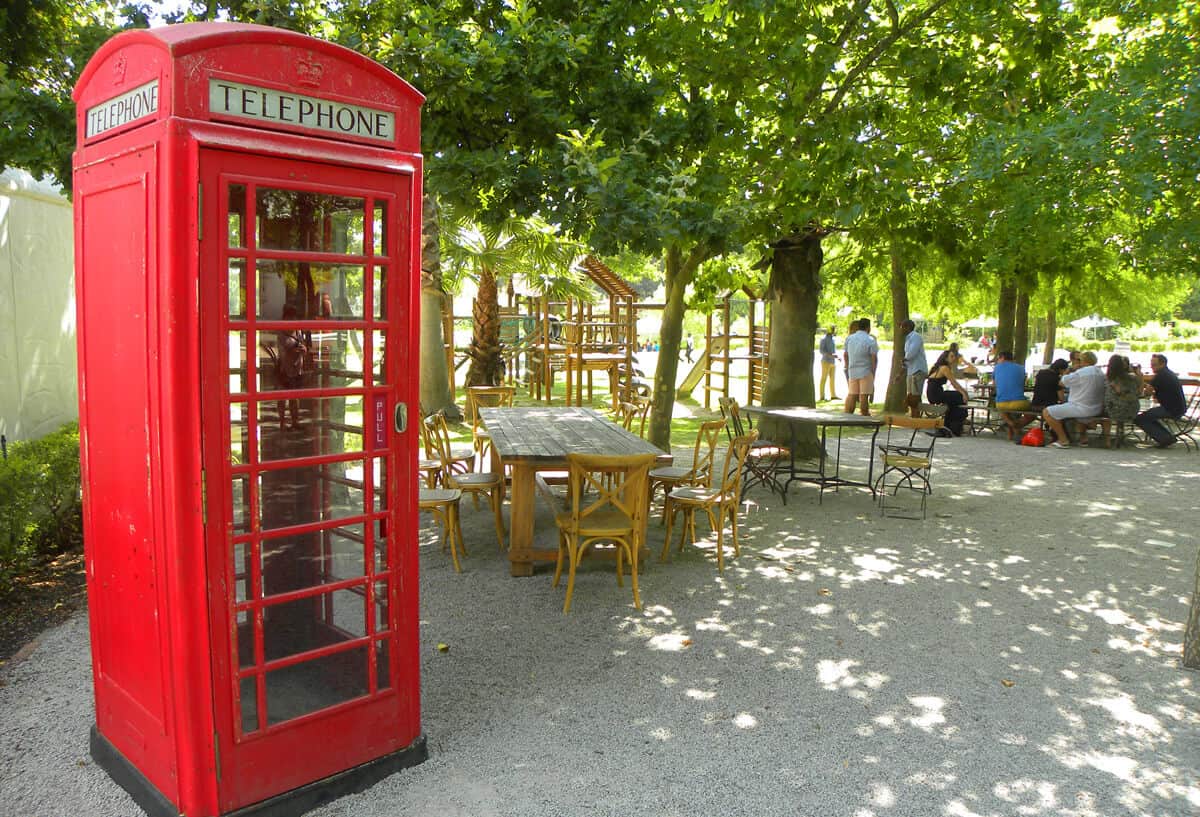 .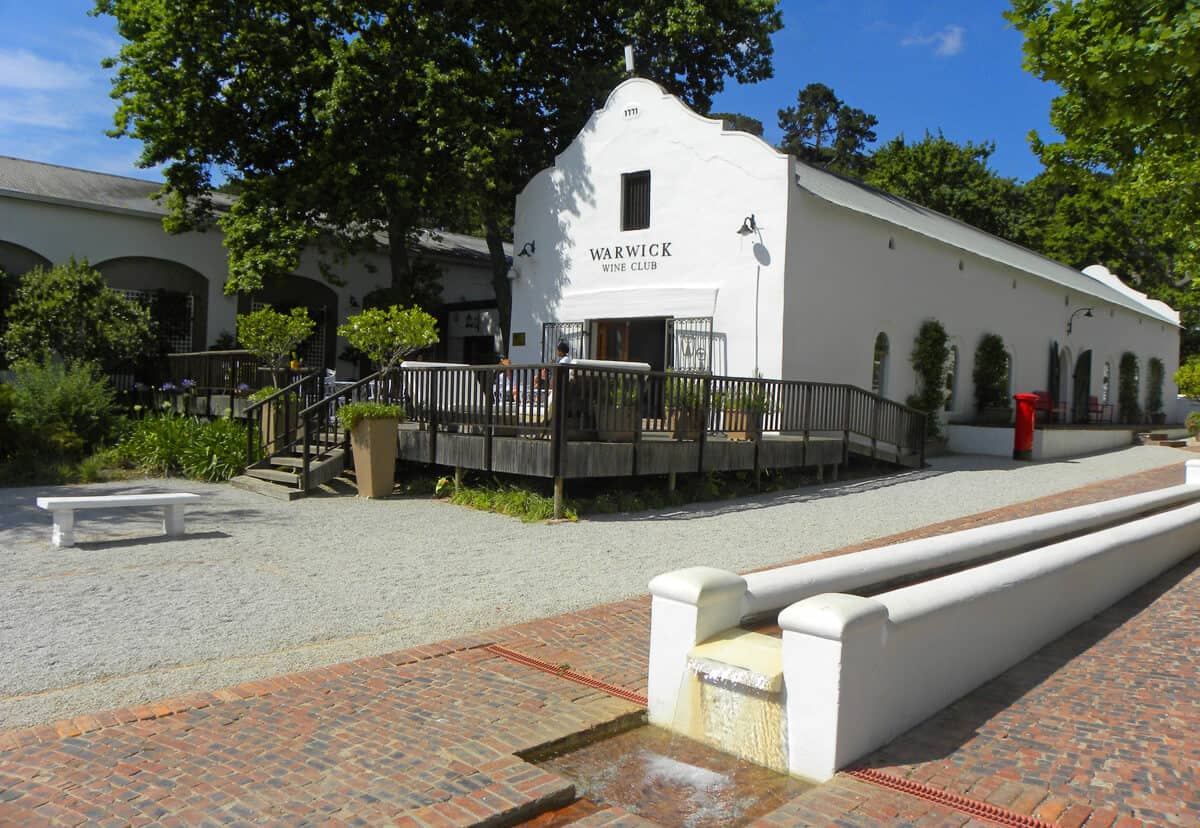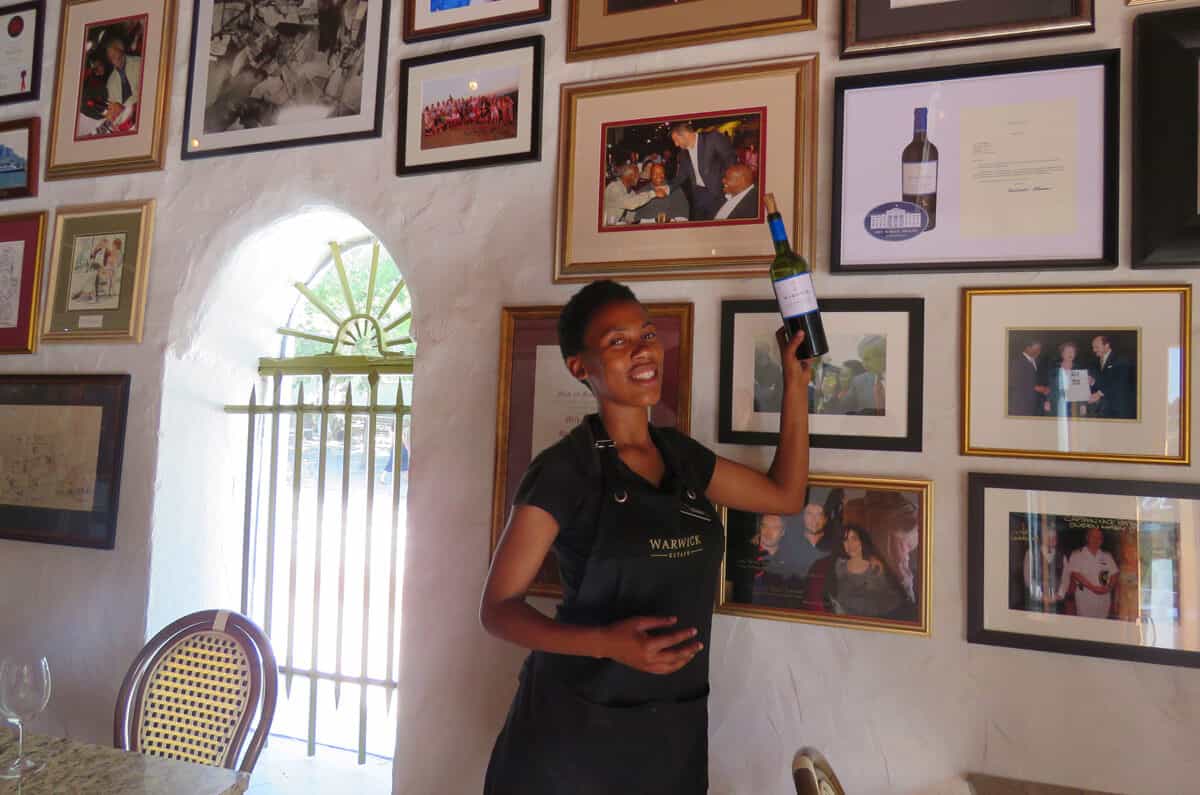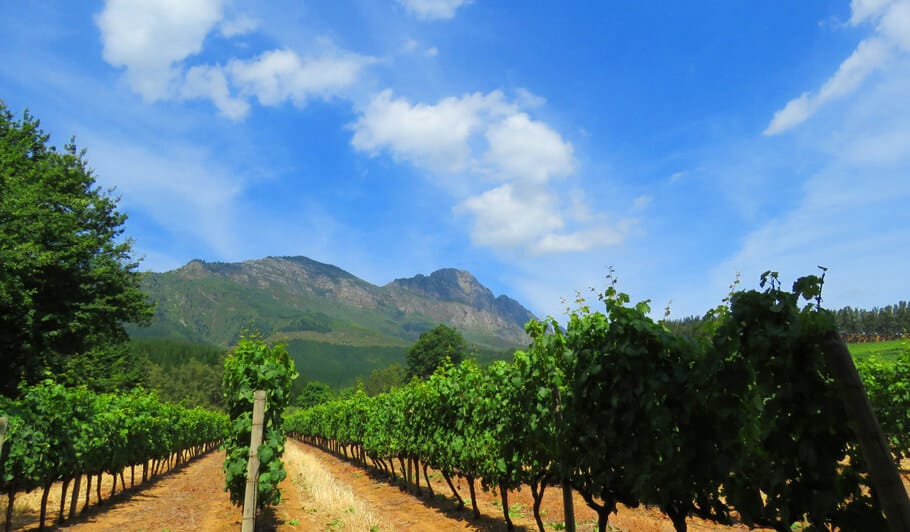 Summary: Warwick is exceptionally beautiful and should be visited. Like Delheim, we weren't blown away by the wines. Maybe we were drunk at this point? Or maybe we've just had too many exceptional bottles of wine so far in South Africa?
.
That was it for Day 1 of Vineyard Visiting/Wine Drinking. We were saving the best for day 2.
---
---
---
DAY 2 – selected Vineyards of the Eastern Route


.
On day 1, driving in the shuttle bus, I had asked the driver/tour guide a question: "If you could take your girlfriend to any vineyard in the region, which one would it be?'
He took a bit of time before answering "For the atmosphere and views, Zorgvliet or Boschendal on the Eastern Route".
So we went off to discover these wineries on our own the 2nd day (me driving, Lissette drinking).
.
Both Zorgvliet and Boschendal are on the route between Stellenbosch and Franschhoek within just a few minutes of each other. Technically Zorgvliet is considered to be in Stellenbosch and Boschendal in Franschhoek but both can be visited on the Vine Hopper's Eastern route. But on this day we were visiting them independently in the car.
We were driving towards Franschhoek, the geography the prettiest we had seen so far, when we came upon the turn for Zorgvliet.
Photos: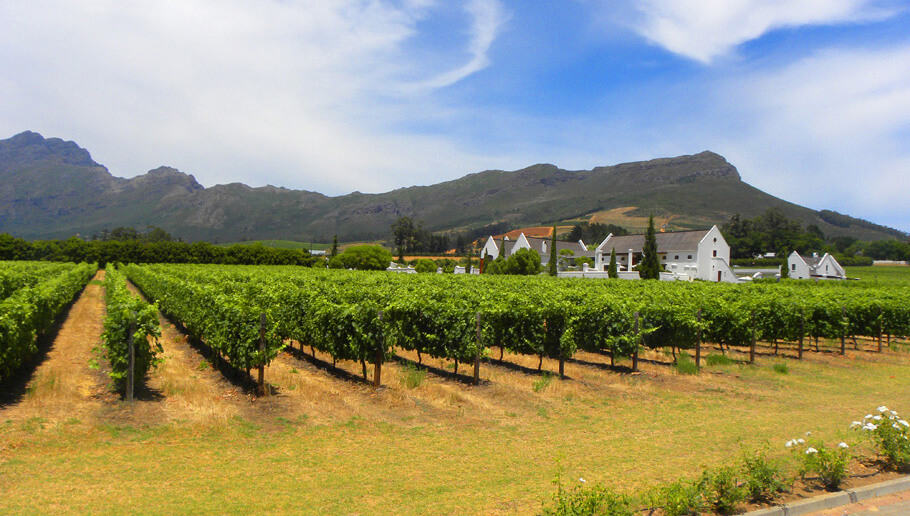 Unfortunately, despite the sign on the highway saying that the winery was open to wine tasting everything was closed. So we never got to try Zorgvliet's wines.
.
So we got back in the car and drove 5 minutes further to Boschendal.
---
---
Boschendal would be the most impressive wine estate that we visited over the 2 days. We ended up spending most of the afternoon here eating, drinking, and enjoying the incredible scenery and grounds.
Photos: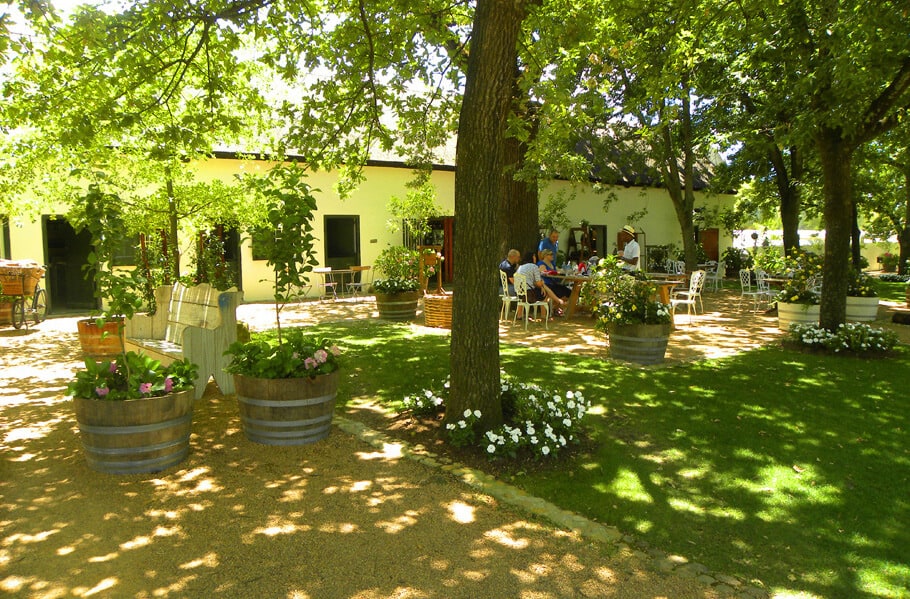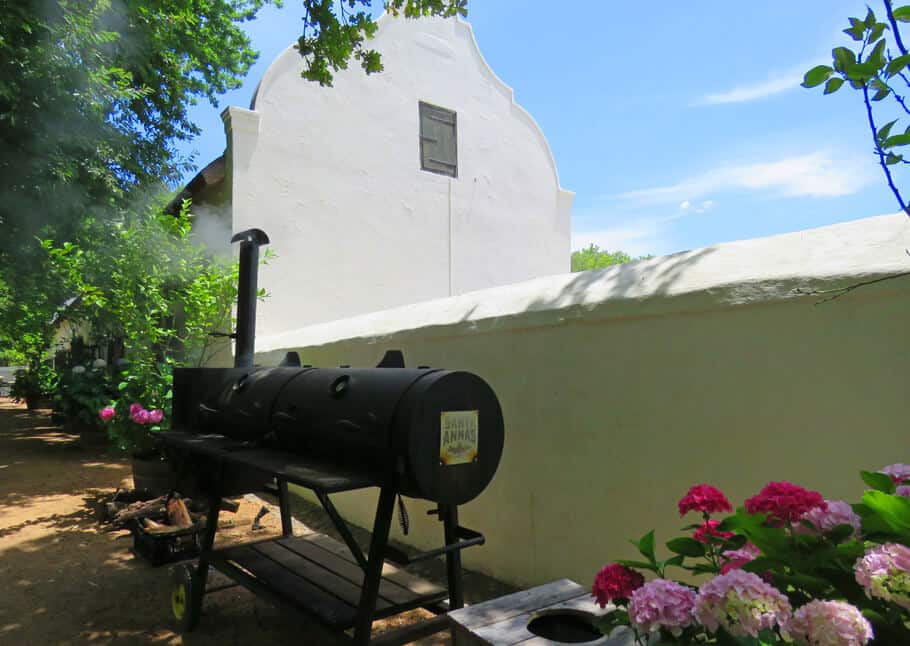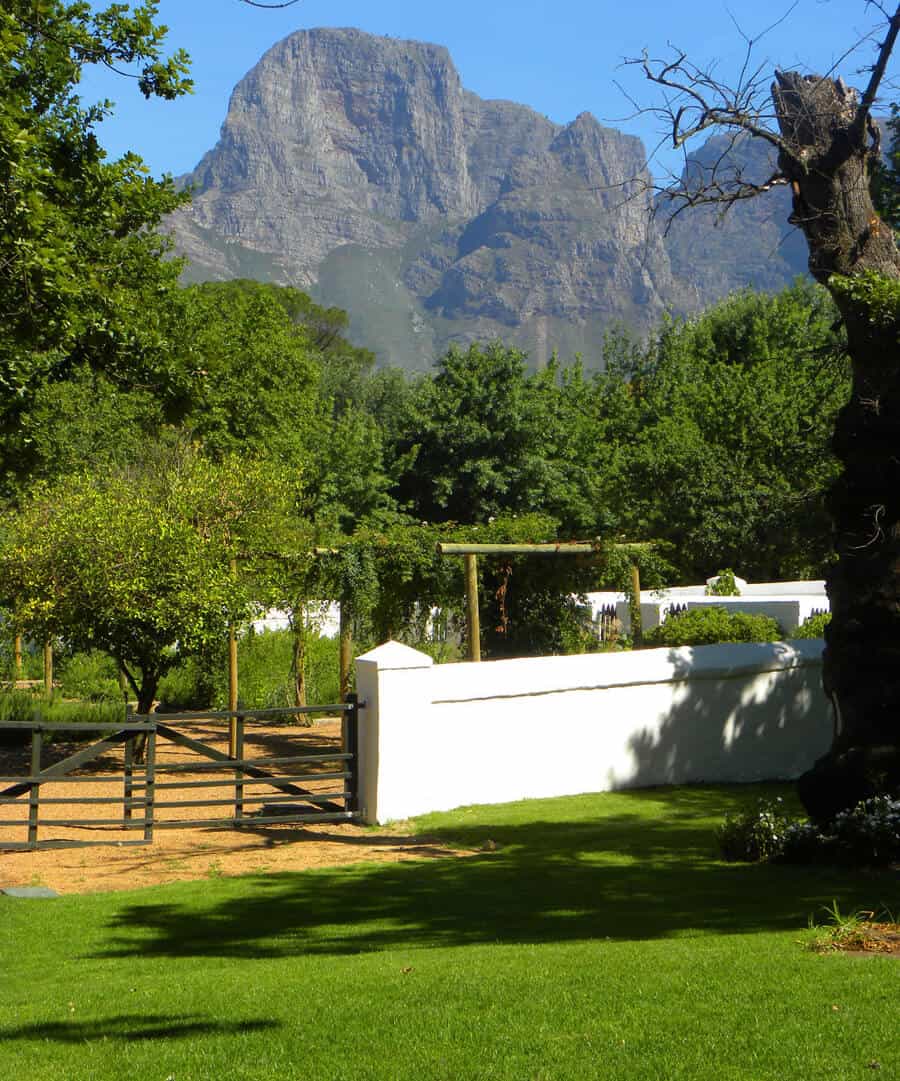 .
Boschendal has one of the few restored Cape Dutch manors in the region. Built in 1812, the farm belonged to the de Villiers family, one of the richest Huguenot families at the time.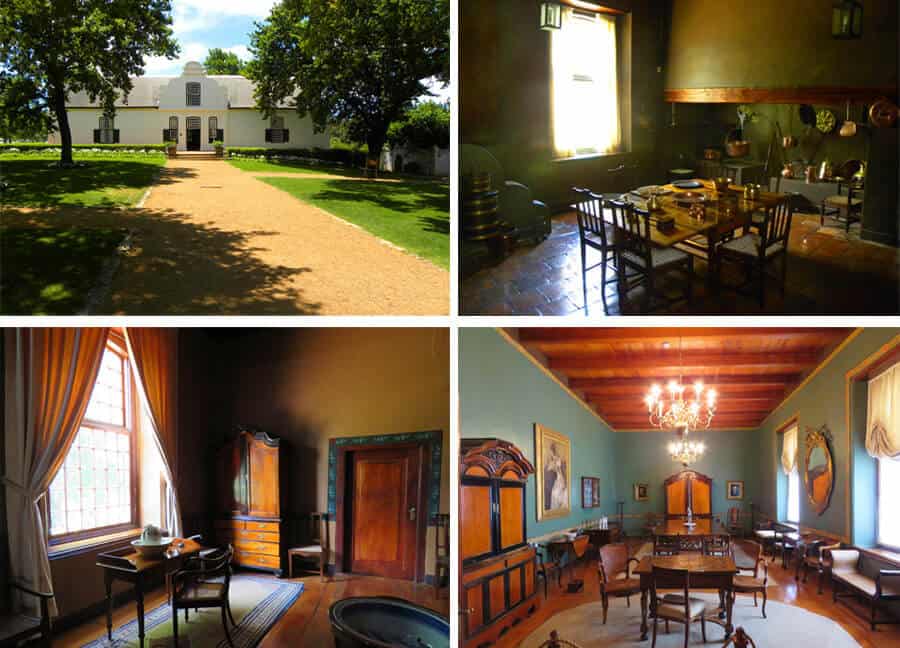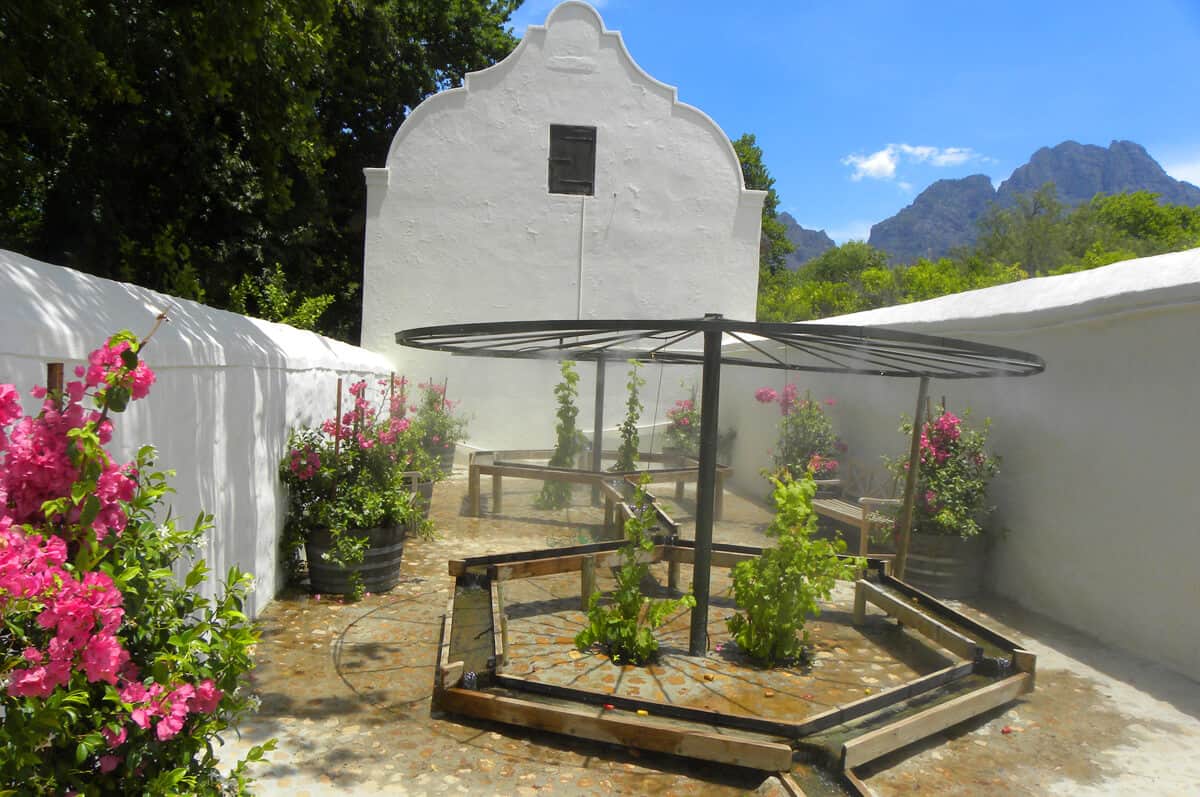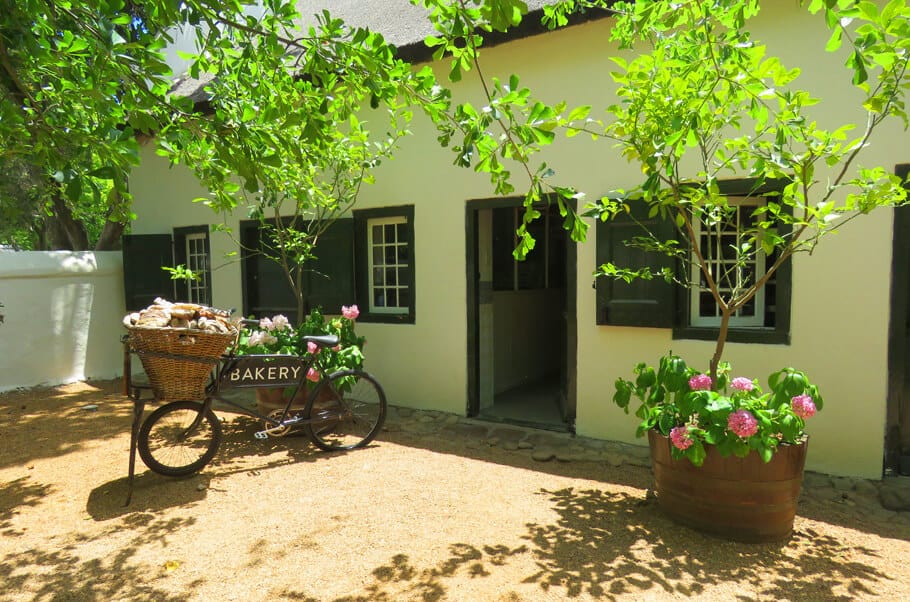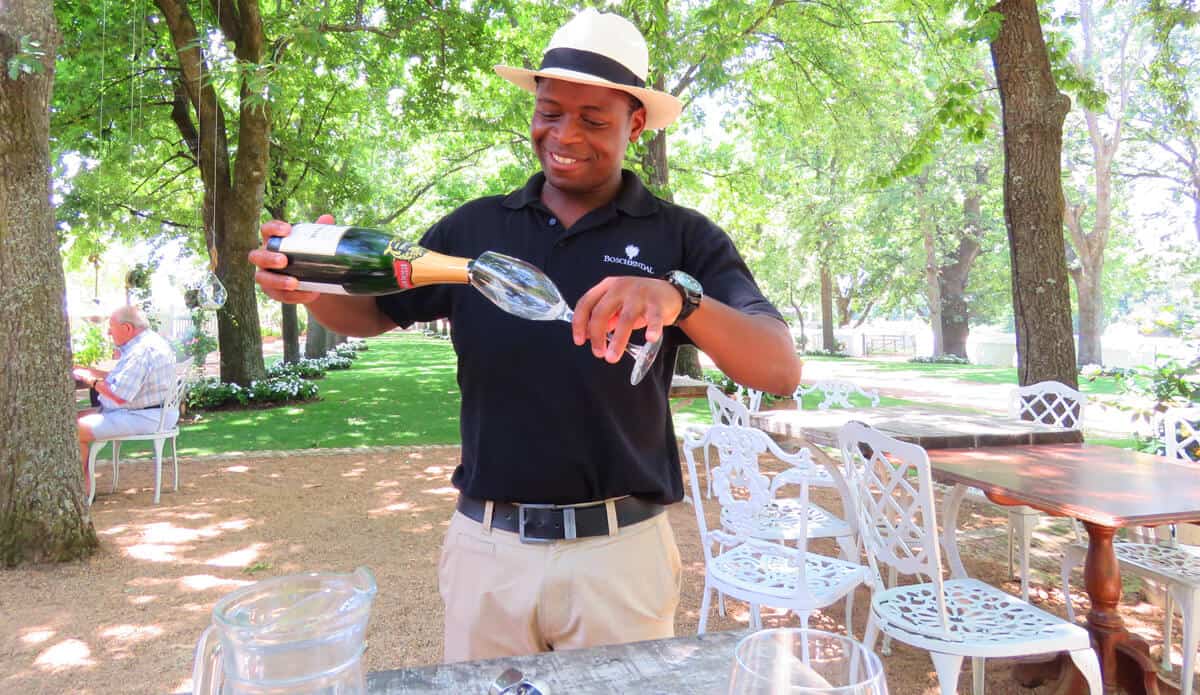 ---
---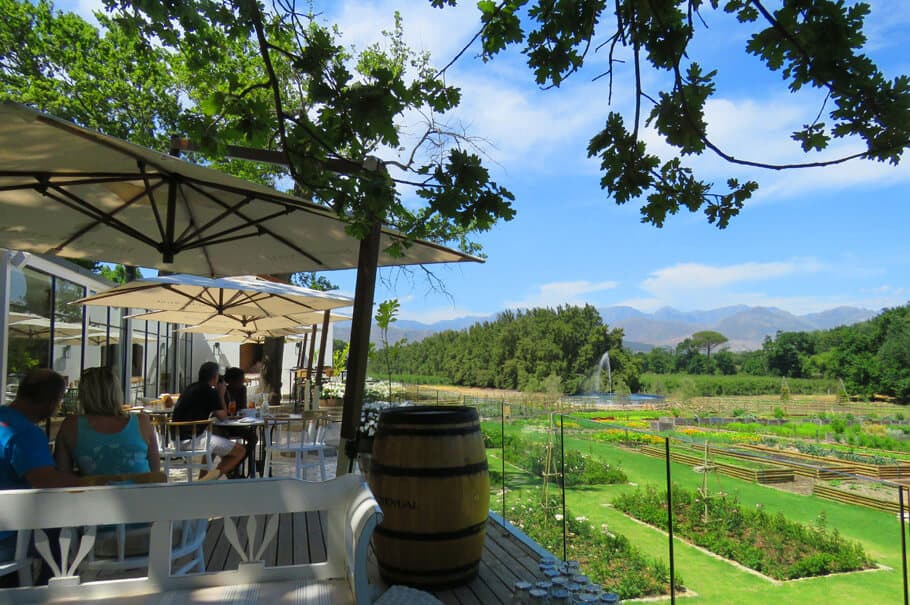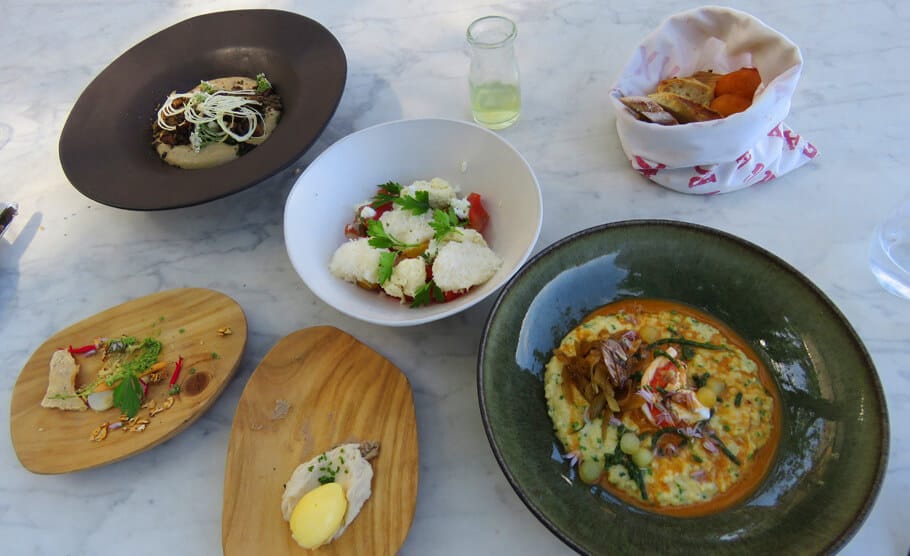 In short: Boschendal was pretty much perfect. The relaxed atmosphere, the beautiful grounds and views, the food and wine (we bought a couple of bottles). They even have residences on the grounds should you want to come here for a weekend and not go anywhere else.
.
---
---
Driving in the Stellenbosch/Franschhoek region
The rest of the afternoon was spent driving, first through Franschhoek and then climbing through the incredible Franschhoek Pass for great views of the valley below (see this link if interested in the views along this drive). Note that this route (indicated in red below) takes more time than a map indicates. If you want to get back to Cape Town in a rush from Franschhoek backtrack on the R310, back through Stellenbosch and to the N2.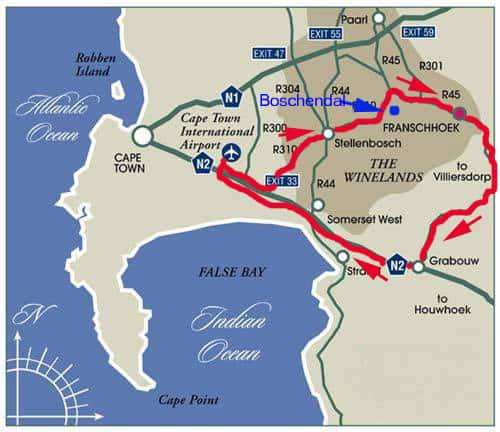 ---
---
Stellenbosch
I mentioned the small town of Stellenbosch which we used as a base. It's a pretty sleepy place. A few photos:
Accommodation
We stayed at the very fancy De Hoek Manor while in Stellenbosch. Excellent. We don't usually splurge so it was an experience. Other recommendations: The Stellenbosch Hotel and the Eendracht Hotel (both less expensive than De Hoek but also excellent).
.
Alternative: Using Franschhoek as a base for Wine Tasting
I've detailed why Stellenbosch makes an ideal base. I've also touched upon which vineyards to include on a visit and how to see them without having to drive.
Our friend Heather from Conversant Traveller did the opposite – staying in Franschhoek and exploring vineyards closer to home. Just like Stellenbosch it has excellent wineries and some unique touring options (like train trams and trolleys). See her excellent post here.
.
---
---
.
Travelling in Luxury in South Africa
Readers of our blog are no doubt getting sick of all the great wines and food we're having in South Africa. Probably thinking "that BBqboy is getting so damn bourgeois I'd like to punch him in that face". I'll say this: I haven't seen the kind of quality, value and service when it comes to eating that we've seen in South Africa anywhere else. You don't have to look hard or pay a lot. The meal at the top, with Springbok and Yellowtail along with accompanying wine? 350 Rand, that's about $35 CAD (or about $24 US) for 2 people. Wine tasting, which usually includes 5 or 6 wines: from 35 to 50 Rand ($2.30 US – $3.30 US) per person. Service is impeccable. Really, we've never been anywhere where we've eaten or drunk so well at such good value.
So for those complaining that we're becoming a snooty luxury blog: don't worry, we'll be back in Eastern Europe eating crappy fried cheese and goulash sooner than we like 🙁 .
If you've been in the region – do you have a favorite Winery?
.PS. Looking to book flights, hotels, tours, or rent a car? Have a look at our Travel Resources page.