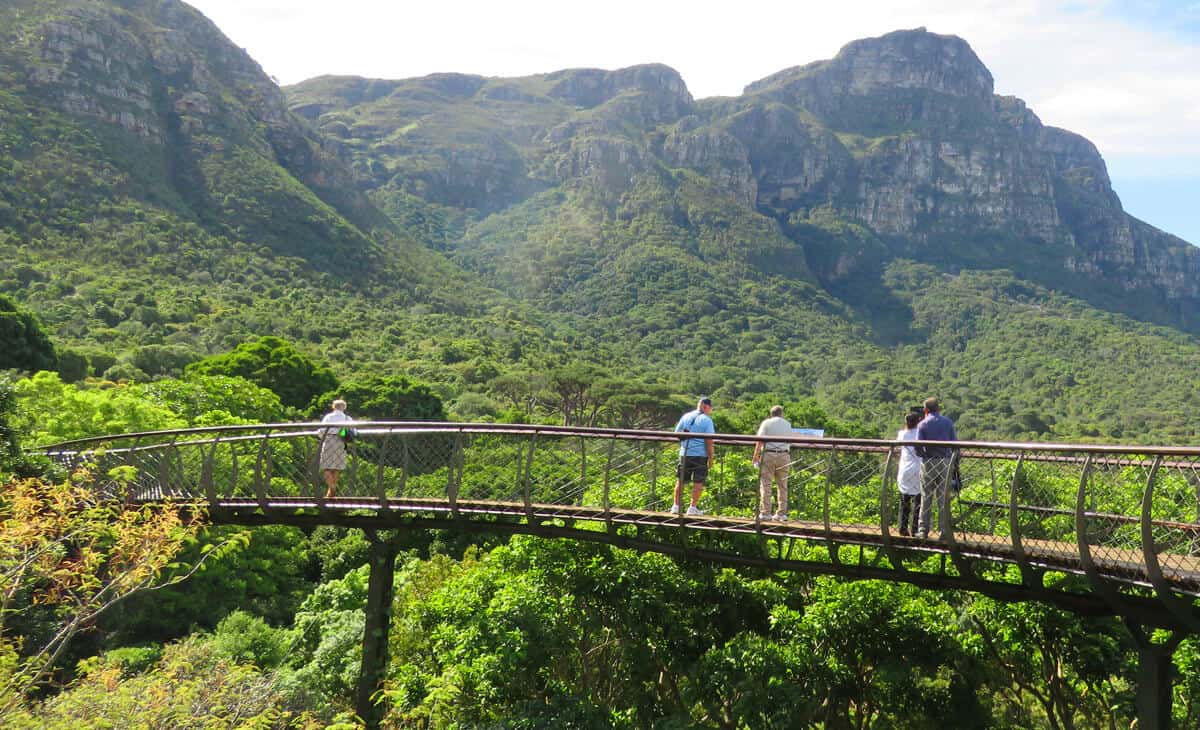 A visit to Kirstenbosch Botanical Gardens
Kirstenbosch Botanical Gardens is considered one of the top 5 Botanical Gardens in the world. But it's not just about big trees and beautiful flowers. Kirstenbosch also has an incredible geographic location on the slopes of Table Mountain. Add to that an incredible variety of birdlife – you'll see species of birds here that you won't see anywhere else in the world.
Lots of photos in this post. I also have a little history as well as tips on tours and events at Kirstenbosh.
.
---
---
A bit of history: Cape Town can thank Cecil John Rhodes, one of Africa's most famous personalities, for the botanical gardens. Ironically he had no interest in the land, letting it go to ruin after purchasing it in 1895. He allowed herds of pigs to feed and wallow in the pools. Luckily he died in 1902, upon which event he bequeathed Kirstenbosch to the people of the Cape as part of his Groot Schuur estate.
The person who turned the land into a botanical garden was Professor H Pearson, a botanist from Cambridge University who came to South Africa in 1903. He thought a botanical garden on this spot would be a great idea and in 1913 made it his mission to clean up the overgrown estate. He died in 1916, before the gardens were completed. He is buried in the Garden, his epitaph reading, 'If ye seek his monument, look around'. What a great epitaph.
The gardens were completed and have expanded and improved with time. Just last year they completed the incredible "Boomslang" Canopy walkway over the forest floor. Kirstenbosch has become one of Cape Town's most popular tourist attractions in recent years and is definitely a 'must see' while in the area.
.
---
---
A good introduction to the gardens is a golf cart tour. Every hour, on the hour (until 3pm), a guide drives you around the property on a golf cart and points out some of the highlights along the way. It last 45 minutes. We did this tour, had a snack, then spent 3 hours walking much of the same route on foot.

Below: more flowers.
.
---
---
One of the most spectacular aspects of Kirstenbosch is it's location. Looking out over the gardens, you see the Cape Flats and the mountains beyond (where the wineyards of Stellenbosch and Franschhoek are located) while behind the gardens are the slopes of Table Mountain. Want to do some hiking? There are several hikes up Table Mountain from the gardens.
.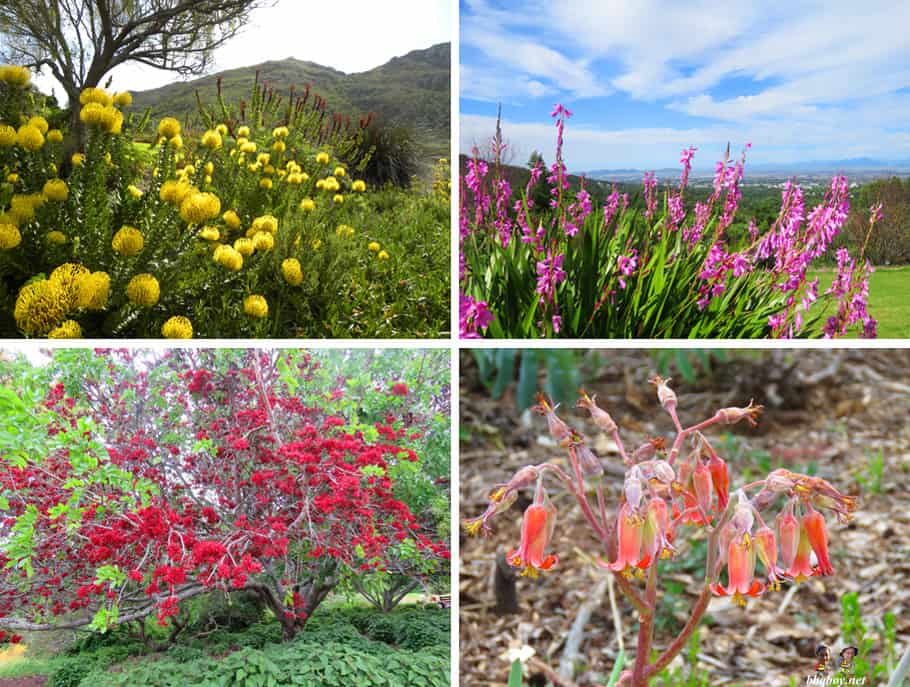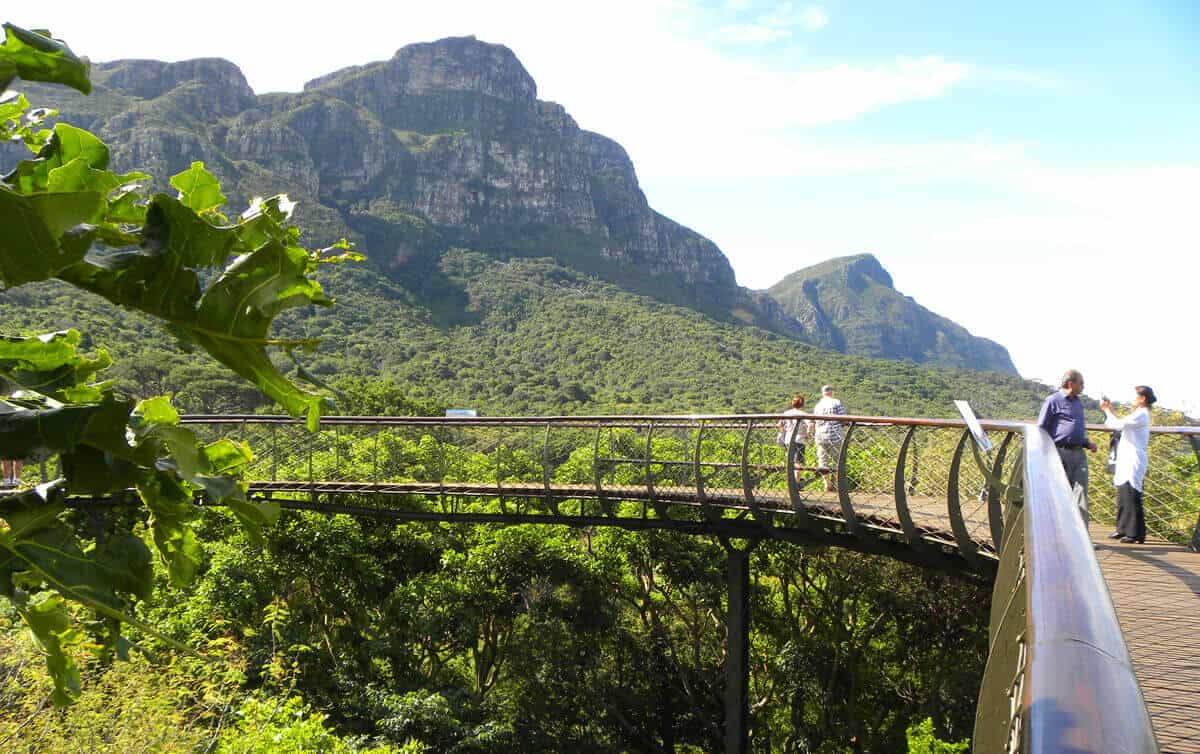 ---
---

It was our first weekend in South Africa and one of the highlights for us was seeing the local wildlife, mostly birds, in the gardens.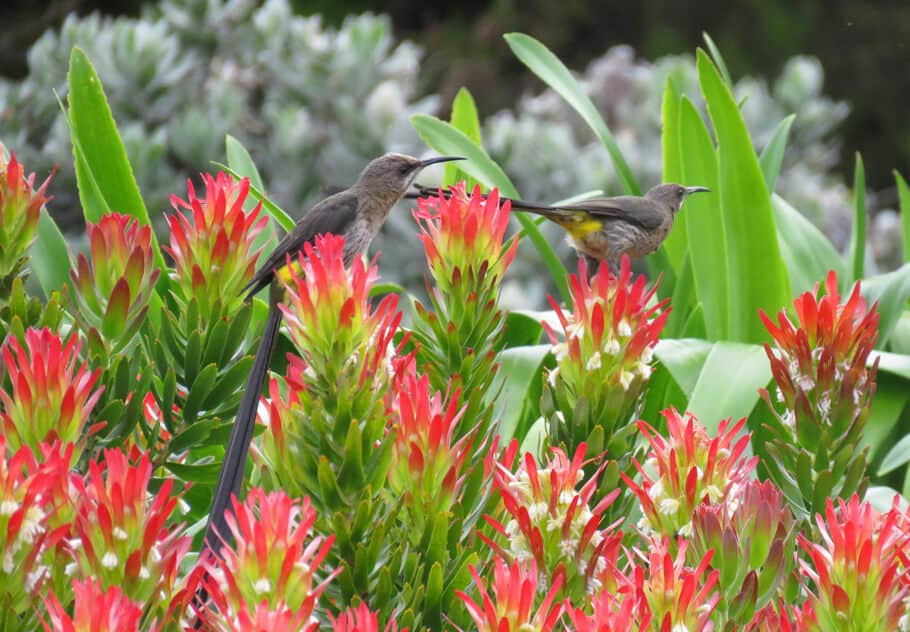 ---
---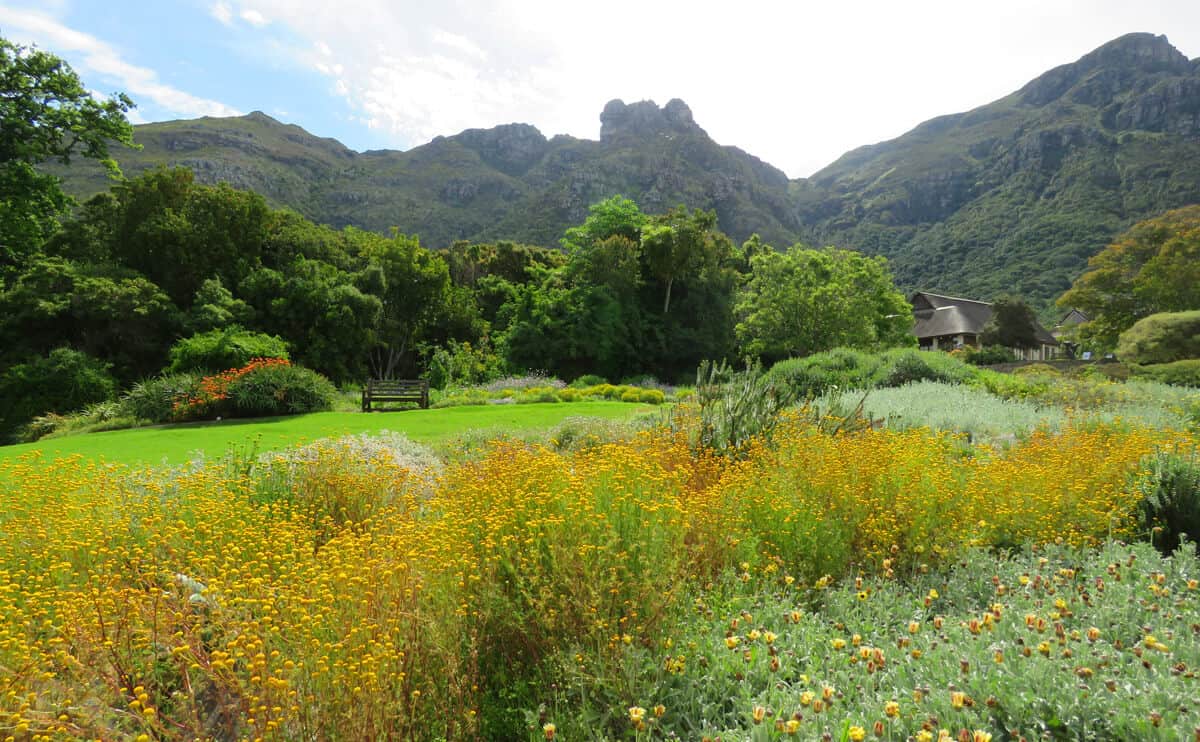 ---
---
.
A few tips and resources
– The Official website of Kirstenbosch Botanical Gardens.
– Getting there: You can take aTaxi or Uber from downtown (the 20 minute ride cost us less than 100 Rand with Uber). Citysightseeing (the hop on/hop off bus) has the Blue Mini Peninsula Tour which passes through Kirstenbosch every 15 minutes. It is the most convenient way of getting there. Book your City Sightseeing ticket here.
– Time to visit: I'd give it 3 – 4 hours, depending on how much you like botanical gardens and the amount of time you have in Cape Town. Note that if you take the Blue mini Peninsula Tour you should start off very early because there are lots of great attractions on that route (the Blue tour is the best of the 4 tours in our opinion. The Hop On Hop off really is great in Cape Town, it's a city built for it).
– Tours around the Gardens: see here. Note: they refer to the Golf cart tour that I mentioned above as the 'shuttle car' tour.
– Concerts: In summer they have concerts on the lawns. See here. Bring your own wine and a picnic.
– Hiking. I mentioned hiking further up and included a link. If you're feeling adventurous you can hike up Table Mountain to the top, coming back down another route or taking the cable car.
Whatever you do, don't miss Kirstenbosch on your next visit to Cape Town.
---
---
Ps. If you find our blog helpful, please consider using our links to book your flights, hotels, tours, and car rentals. Have a look at our Travel Resources page.