Where to do Muay Thai training in Chiang Mai
It was Lissette's idea. She came to Chiang Mai wanting to do some Muay Thai training. It ended up being the highlight of our month in Chiang Mai, not only for the training but for the people and experiences we ended up having because of it.
I wrote a few emails before coming to Chiang Mai. Then we scouted around when we arrived, trying to find a 'real' Muay Thai gym (and avoiding the places that just catered to tourists).
The best place to train in Chiang Mai is the Sit Thaharnaek Gym*. We could see it walking in: the well-worn gloves and pads hung on hooks, the mats on the floor, the heavy duty fans. In the air is the smell of tiger balm used for warming up/soothing muscles. I have to admit that we felt a bit intimidated that first time: as people came in we could see that many were regulars, mostly Westerners in the late 20's – early 30s. They were in shape and most had their own bandaging (to wrap the hands), boxing gloves and Muay shorts. We had come with the main purpose being to get a good workout, but it was obvious that some came here to actually master Muay Thai. We would see a few of the people we trained with over the next few weeks actually step into the ring for a real pro fight. I'll get to that later.
* note. We get absolutely no compensation or rebate for this mention.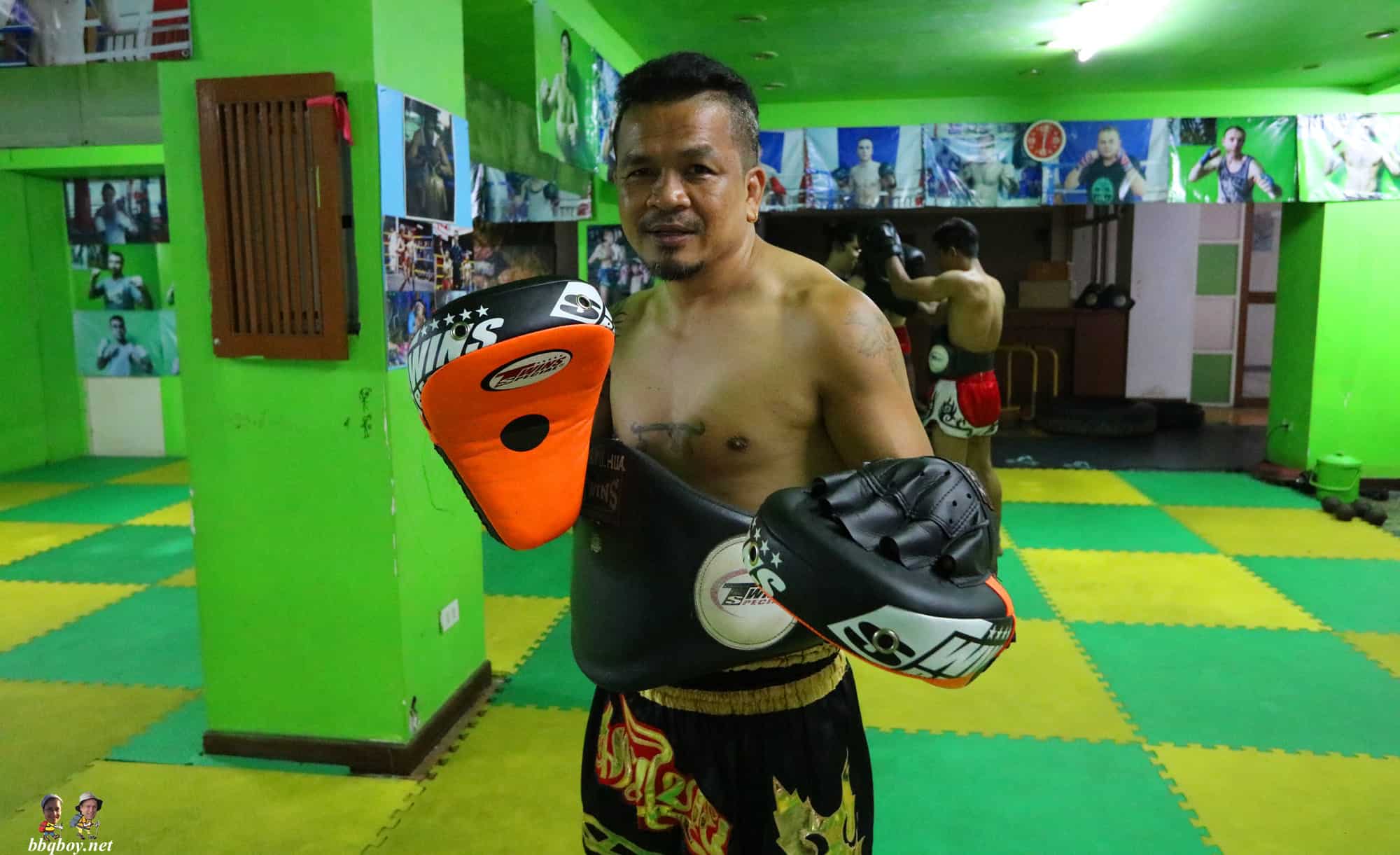 ---
---
.
Ok, so what is the training session like at Thaharnaek Gym? (each session lasts 2 hours)
– You'll start off with about 15 minutes of skipping with a jump rope. That's your warm up (after the 1st session I couldn't walk properly for 3 days. Skipping rope for 15 minutes is hard).
– The trainer then puts everyone through stretching exercises for the next 10-15 minutes.
– Time to put on the bandages. The trainers will tape up your hands and wrists. It usually takes 5 – 10 minutes for everyone to get bandaged up.
– If you're new, the trainer will at this point bring you to the side and show you basic moves: the boxing posture, throwing a jab, punch, how to hit with your elbows and knees, and how to kick. If it's not your first class you warm up doing some shadow boxing, kicking and can practice against the punching bags. This will take 10-15 minutes.
– Time to put on your boxing gloves.
– You'll now do "rounds" against a punching bag. You'll be paired up, one person on one side of the bag, another on the other side. You do 3 one minute rounds, constantly punching the bags and in between the rounds have another minute where you have to do sit ups and push ups. You'll be sweating hard by the time you're finished.
– The next part is the highlight of every session: actually working one-on-one with the trainer. You'll be doing 3 rounds, each round lasting 4 minutes. The trainer puts on the pads and you basically follow his instructions "Jab! Punch! 1-2! Kick! Right elbow! Left elbow! Kick, kick, kick!". It is non-stop action for 4 minutes. You get one minute between rounds. When you've done your 3 rounds you'll be wiped out. It's a very strenuous workout.
– By the time we had finished our one-on-one training with the trainer we had usually completed 90 minutes. The last 30 minutes are up to you (the trainers are doing their one-on-one with other people during this time) and we would usually continue punching and kicking against the punching bags. Some of the regulars would spar with the younger Thai fighters who help out in the gym.
---
---
When you're finished you'll feel great, although maybe a little sore.
.
What we really enjoyed was the inclusiveness you feel at the gym. The Thai family running the place made us feel like part of the family and the customers, almost all regulars, never made us feel like outsiders. They were an interesting bunch: Kai from California who is a hardcore Muay Thai enthousiast (he's done a bunch of pro fights), Ray from Toronto who was the first to chat with us and make us feel at home, Filippa the Swedish girl who trains every day and who fought in her 2nd pro fight on our last night in Chiang Mai (I'll get to that further below). We met other people as well: a couple of Frenchmen, an Australian couple, and a friendly Thai nurse with an infectious smile. A few photos.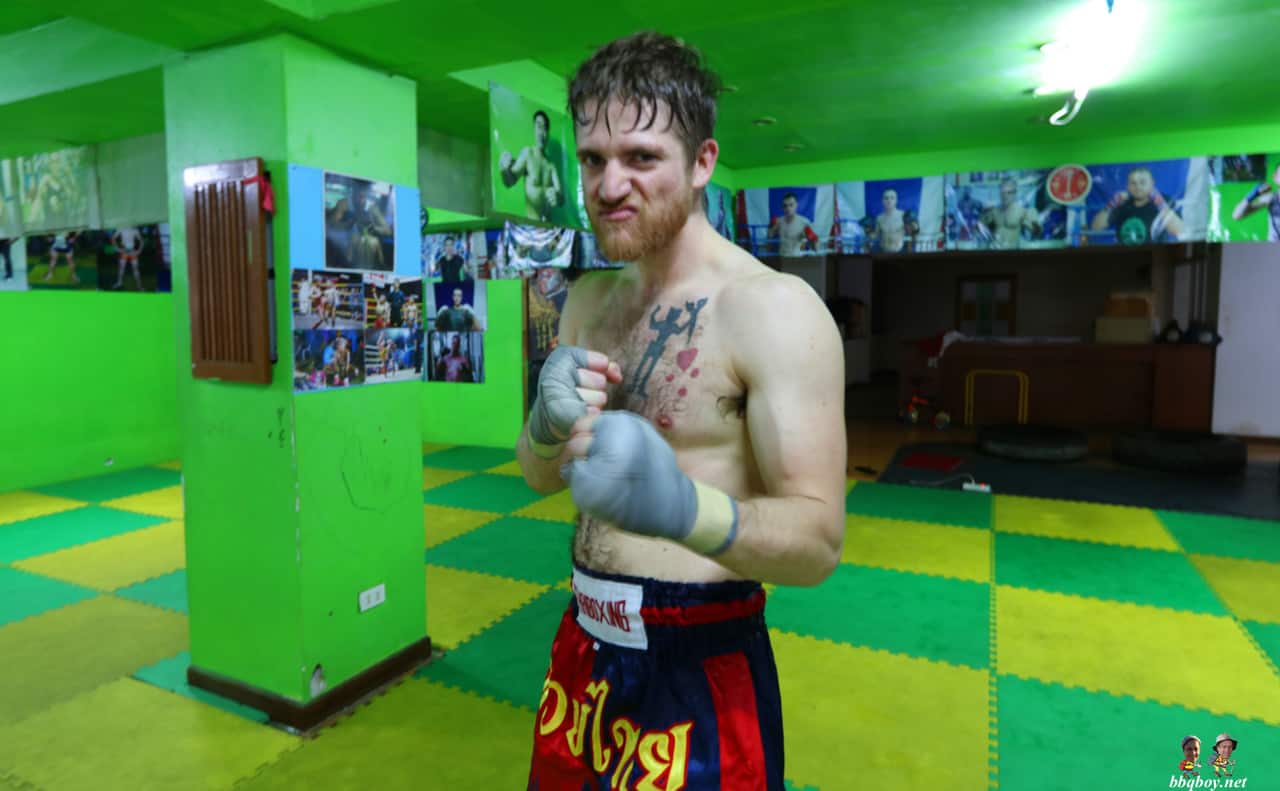 ---
---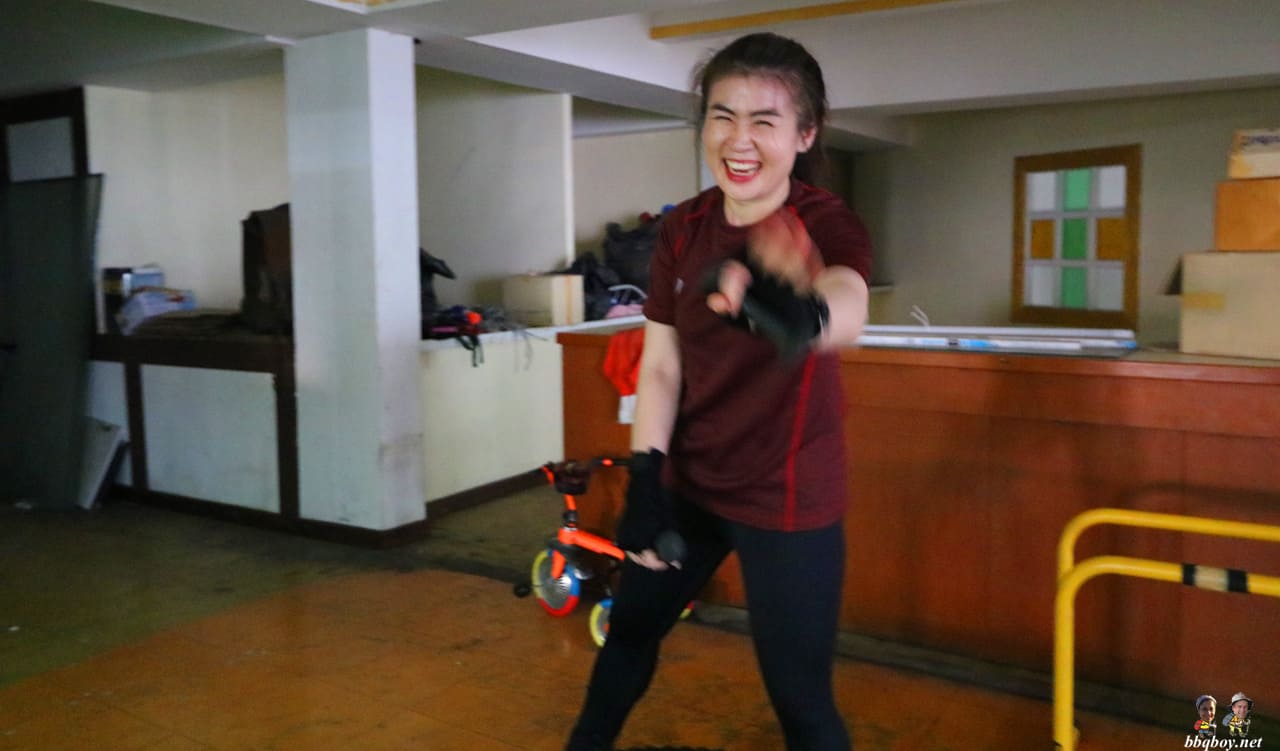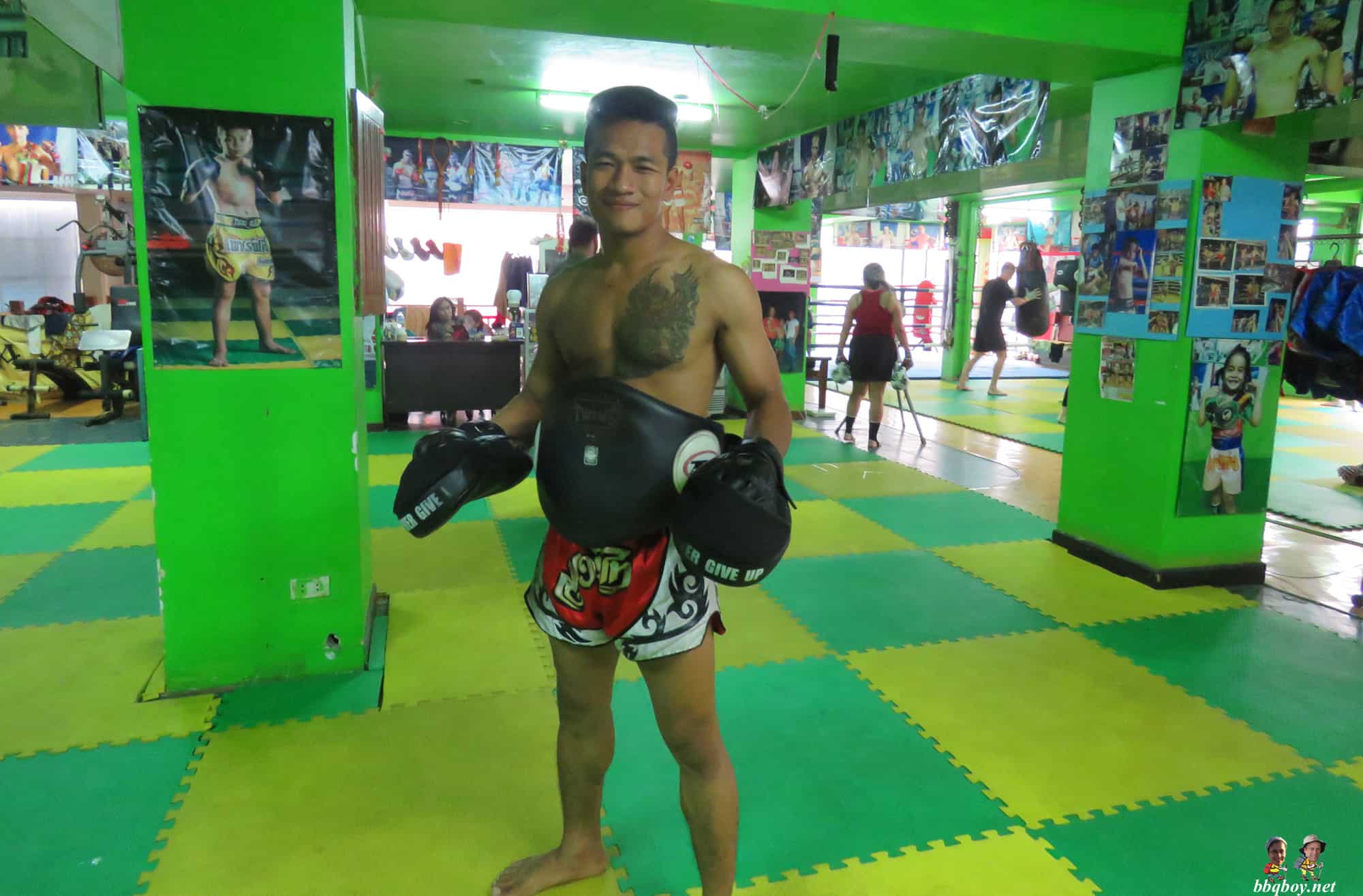 .
When you go to a Muay Thai boxing stadium anywhere in Thailand you'll see that each fighter is represented by the gym where he/she trains. It's a big deal for both the fighter and the gym.
We got to see all this is action on our last day in Chiang Mai. Sit Thaharnaek Gym had 2 of their fighters fighting that night at the Loi Kroh Boxing stadium. The whole Thai working crew from the gym showed up that night (about 10 of them) along with 15 or so of us students. We had a very loud corner cheering on the fighters: the first an Australian girl who easily beat her Thai opponent, the second watching Filippa the Swedish girl winning against a much more competitive opponent. A few days before I had asked her about the fight asking if she was nervous – she was, but mostly she felt the pressure to do well. She didn't want to embarrass the gym. She was all smiles after the fight and you could feel the joy among the Thai crew. Both their fighters had won that night. For them it was a big deal. What really touched us was the gratitude and warmth that they showed all of us who had come to watch and support the gym. It made us feel like part of their Muay Thai family and made us sad to be leaving.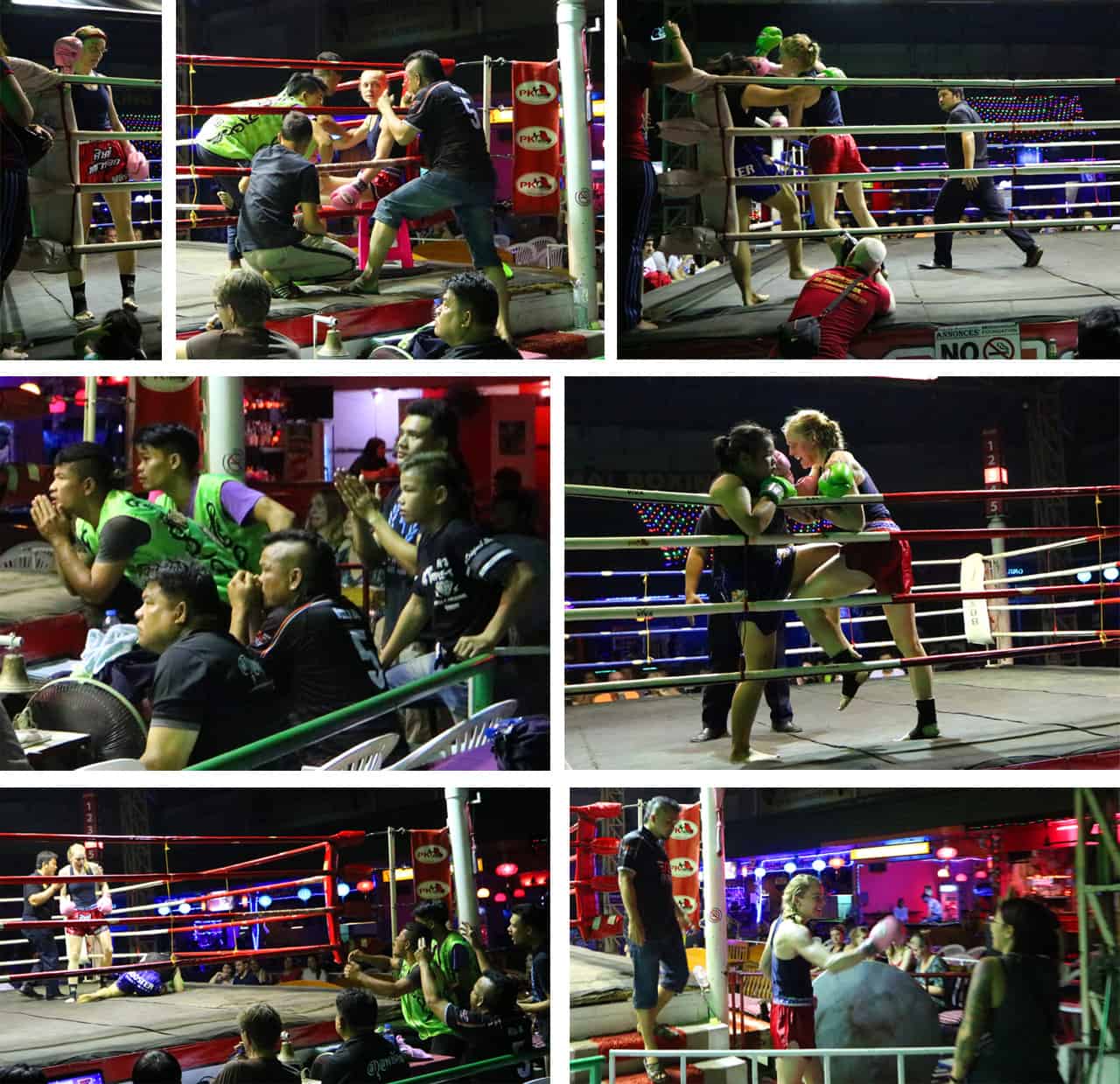 ---
---
.
Practical Information
– the gym has classes twice a day: 9-11 am, 4-6 pm. Open every day except Sunday. Prices are 400 baht per person per class.
– all levels are accepted, they'll never make you feel uncomfortable and will adapt to your level and your goals (our goal was never about being Muay Thai masters. It was about having a good workout). And you won't get punched in the face – I mention that because it was the first question I asked 🙂
– location: the 2nd floor of a hotel called the Night Bazaare Place. It is just minutes away from the Meridian hotel on Loi Kroh road. We would get there from our place next to the Chiang Mai by Uber (which has since been replaced by Grab) and it would cost us about 50 baht.
– note: a few of the regulars have been training for 3-6 months. Some come to Chiang Mai with this goal specifically in mind. It was really interesting speaking to a few of them about what they do, how they support their lifestyles, and why they decided to dedicate so much time and effort to doing Muay Thai. For those looking to do the same, the gym has monthly rates, they also offer cheap lodging at a nearby hotel.
.
Summary: Fantastic experience with very nice people. Very much recommended.
---
---
Ps. If you find our blog helpful, please consider using our links to book your flights, hotels, tours, and car rentals. Have a look at our Travel Resources page.
.