Many people have never heard of Slovenia (for many North Americans the only Slovenian they may be familiar with is hockey player Anze Kopitar). This country may be small, but it is the only country in Europe that combines the Alps, the Mediterranean, the Pannonian Plain and the Karst. You can have one eye on the sea, then look in the other direction and be surrounded by high mountains. Nature is a major reason to visit Slovenia; besides the sea, mountains and Karstic caves, you'll see an abundance of lakes, waterfalls, rivers as well as many spectacular valleys.

Places to See
Ljubljana
With a population of 300,000, Ljubljana is Slovenia's largest and most cosmopolitan city by far but to the visitor it will feel more like a quaint provincial town than a capital. It has a beautiful hilltop castle (with great views), pretty cobbled streets, and an architectural mix of Renaissance, Baroque and Art Nouveau evident in some of the city's highlights: the National and University Library, Central Market, the elegant Tromostovje (Triple Bridge), the Church of the Annunciation and Tivoli Park. The city also has a handful of museums, art galleries, festivals, and a theatre.
Our post on Ljubljana: A Visit to the pretty City of Ljubljana

Hotels. Hotel Emonec has a great location right next to the bridges and is excellent value. City Hotel Ljubljana is also very nice, centrally located, and good value for the money.
Tours worth taking. This 2.5 hour Walking tour of Ljubljana (which includes the castle
---
---
.
Lake Bled
Slovenia's most popular tourist destination, famous for the church located on tiny Bled Island (Church of the Assumption – site of many weddings) and the large Bled Castle, situated on a hilltop overlooking the lake. The area is beautiful and there are many outdoor attractions around Bled and the nearby Triglav National Park (see further below). One of the most popular hikes is up Mala Osojnica, a 685m peak which offers the best and most famous views of Lake Bled. You can go to Iglica Waterfall for great views and rock climbing and also visit Babji Zob (Hag's Tooth) Caves where you can go through a 300m cave system. There is swimming (Grajsko kopalisce – just below the castle) as well of golf, skydiving/paragliding, and Spas & wellness centers.

Recommended Hotels: Čarman Guest House, Penzion Vila Prešeren
Tours: Many people prefer to book a tour to Lake Bled from Ljubljana. If so this one is recommended.
.
Lake Bohinj
25 km from Bled, through the mist-laden Sava Bohinjka Valley, is Lake Bohinj. In appearance and character Lake Bohinj is very different from Bled: the lake extends like a narrow finger under the wild mountains and evergreen woods slope gently down to the water. There are much less visitors than at Bled and a lazy stillness hangs over everything. Most people stay at the lakeside town of Ribcev Laz or at nearby Stara Fuzina. Activities: Walk around the lake (a 12 km walk that can be done in 4-5 hours), take a boat excursion, swim and fish (they have trout in the lake).
Recommended Hotels/Apartments: Hotel Jezero (beautiful!), Apartments Brina
Tours: This very affordable tour lets you see both Lake Bled and Lake Bohinj in a 10 hr Day Trip from Ljubljana.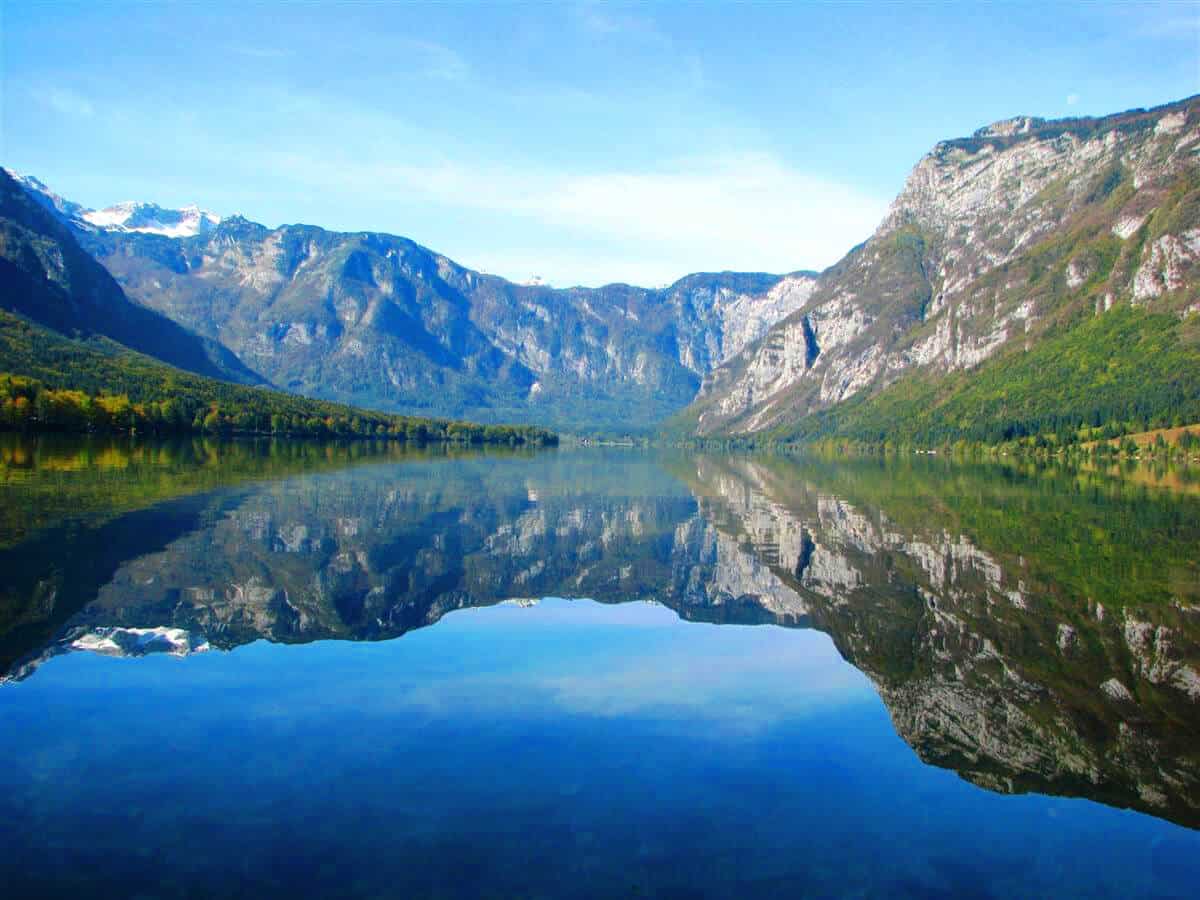 .

---
---
Triglav National Park
This park covers a major portion on the Julian Alps including Mount Triglav (the highest mountain in Slovenia at 2864 m). It is a picturesque landscape of snow-capped mountains, deeply carved glacial valleys, crystal clear streams and lakes and waterfalls. Highlights include the Vintgar Gorge, the Savica Waterfall, and hiking and climbing: the adventurous can climb Mount Triglav, the less adventurous can hike the Soča trail or follow the road through the Vrsic Pass, the highest mountain pass in Slovenia. Easily accessed from both Lake Bled and Lake Bohinj.
Tours: This great tour from Lake Bled takes you to all the highlights of Triglav National Park.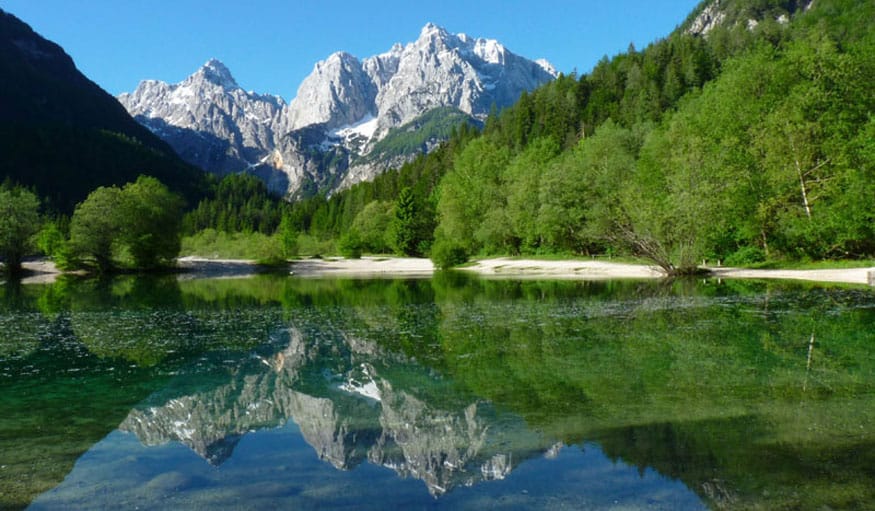 .
Soča Valley
On the other side of the mountains from Bohinj, the brilliantly turquoise River Soča cuts through the western spur of the Julian Alps, running parallel with the Italian border. The valley is a major centre for activity-based tourism, with the river providing ideal rafting and kayaking conditions throughout the spring and summer, and the mountain slopes perfect for skiing and snowboarding in winter. The main tourist centers are Kobarid and Bovec, both small towns boasting a range of walking possibilities.


.
Postojna
65km from Ljubljana is Postojna, famous for its karstic caves (take the bus to get here – the walk to the caves is shorter from the bus stop than from the train). Once in the town, signs direct you to the caves. Inside, a train whizzes you through spectacular preliminary systems before the guided 1.5km walking tour starts. The vast and fantastic jungles of rock formations are breathtaking. Bring a jacket, it can get chilly. Note: There's a debate of which are better, the caves at Postojna or the Skocjan caves. You really can't go wrong, they both have their pros and cons: Postojna caves are closer to Ljubljana, the travel time less. They're very impressive plus Predjama castle is about 10km away. The Skocjan caves are a Unesco heritage site and are, by most counts, more impressive (the highest cave hall in all of Europe). But they are about 90 minutes away from Ljubljana.
Tours: This 7 hour day trip from Ljubljana takes you to both Postojna and Predjama castle.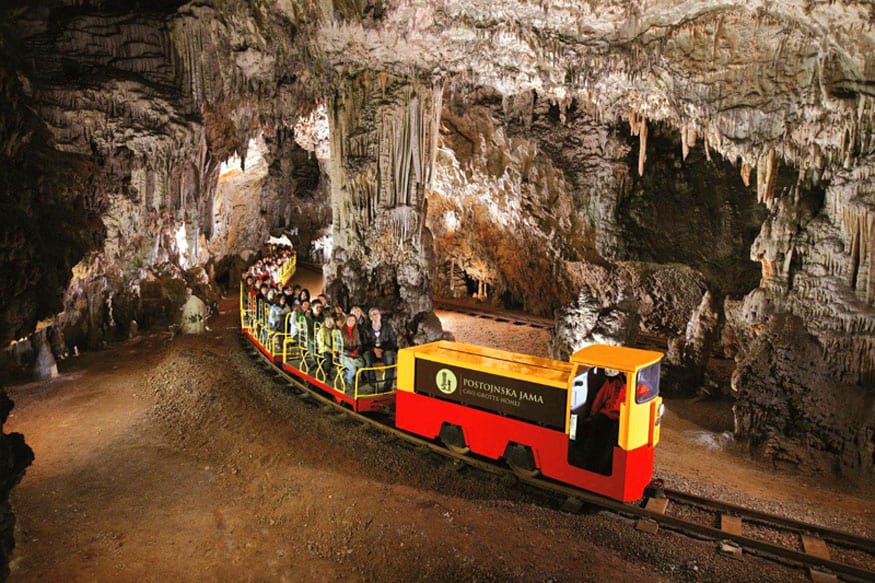 ---
---
.
Piran
Piran is Slovenia's coastal jewel; full of Venetian architecture (Venice is not far away), waterfront seafood restaurants, and a huge hilltop church. Climb the top of the city walls for great views of the peninsula and see some of the highlights: Tartinijev trg. the beautiful oval-shaped main square, Venetian House (the red building on Tartinijev trg, is a fantastic example of gothic Venetian architecture and the oldest building on the square), the Sergej Mašera Maritime Museum and Church of St. George where you get a nice view of the city and harbor from the bell tower.
Our post: A Visit to Piran, Slovenia's Coastal Jewel

Hotels. Hotel Piran is right in the center. Excellent hotel and can't beat the location. Art Hotel Tartini is right on Tartini Square. Funky, with large modern rooms. Good value.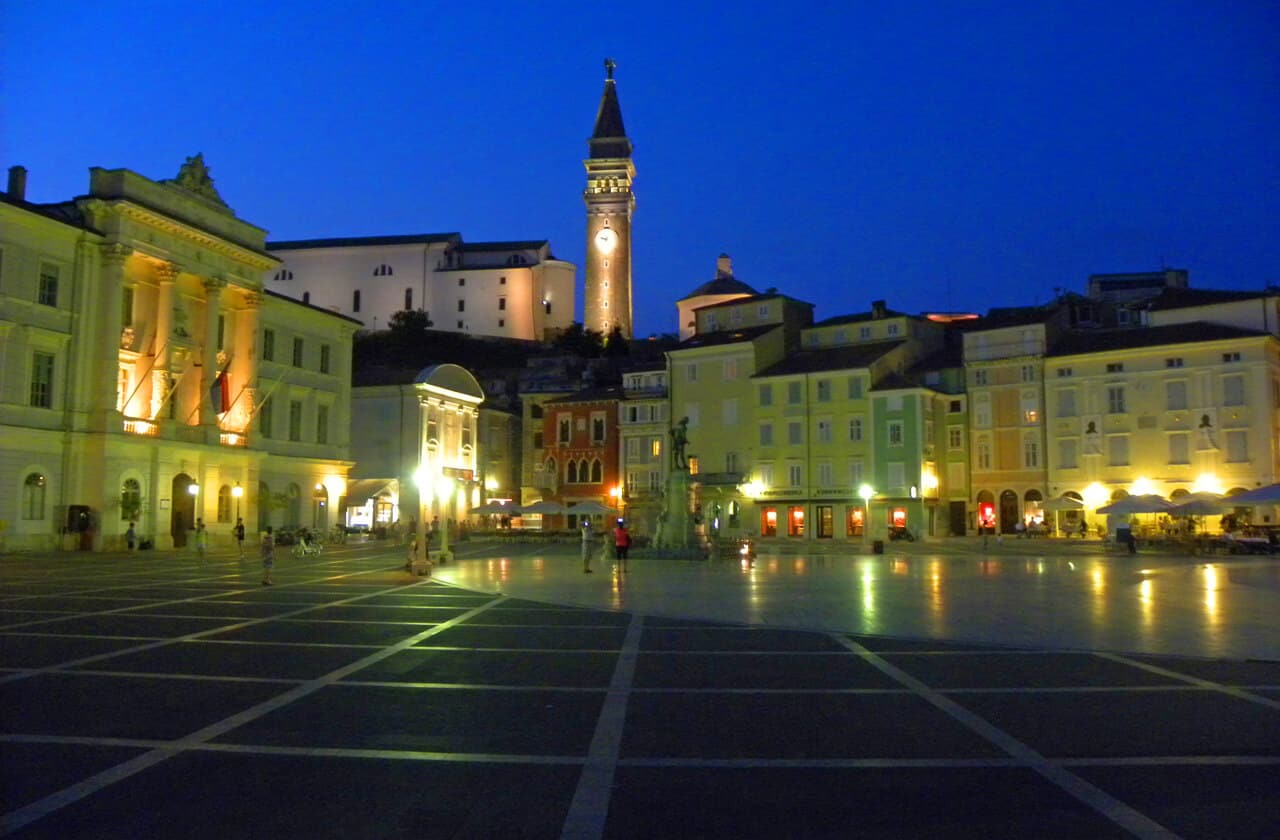 .



Portoroz
Only 3 km from Piran, Portoroz is a major Slovenian tourist center due to its long beaches, hotels, restaurants, casinos and health resorts. A good base to visit Piran and the rest of Slovenia's Adriatic coast.
Apartments/Hotel: Apartment Sol Mar (a great vacation apartment for an extended stay), Mind Hotel Slovenija – Terme & Wellness LifeClass (for a fancy stay with spa and anything you could wish for).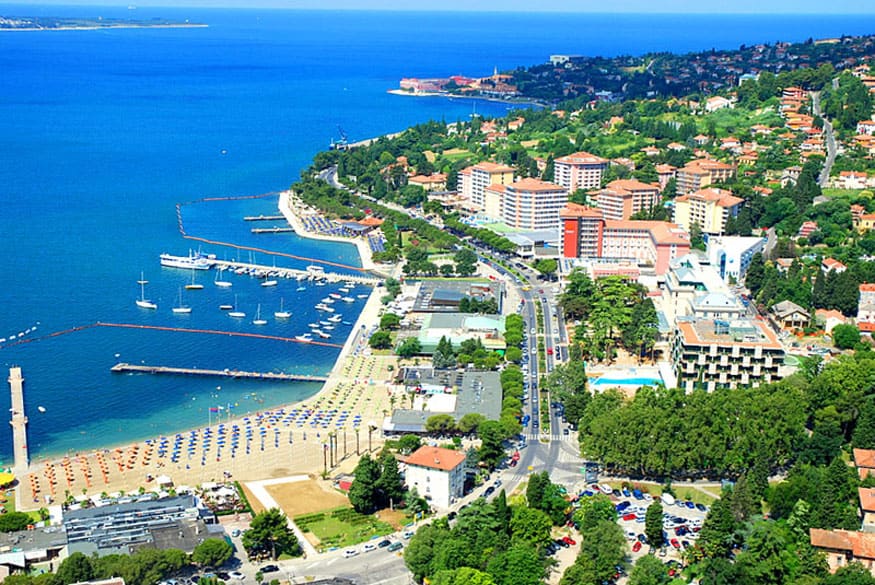 .
Ptuj
It is arguably Slovenia's most attractive town, rising up from the Drava valley in a flutter of red roofs, and topped by a charming castle. Ptuj's main street is Prešernova ulica, an atmospheric thoroughfare which snakes along the base of the castle-topped hill. At its eastern end is Slovenski Trg, home to a fine-looking sixteenth-century bell tower and the Church of St George, dating from the twelfth century, with an interior distinguished by some spectacular frescoes. From here Prešernova leads to the Archeological Museum, housed in what was a Dominican monastery until the eighteenth century. Its likeably dishevelled cloisters now display medieval and modern stone carvings. At either end of Prešernova, cobbled paths wind up to the castle – featuring an agglomeration of architectural styles from the fourteenth to the eighteenth centuries – which now houses the carefully presented collections of the Ptuj Regional Museum.
Accommodation recommendations: Muzikafe Bed & Breakfast, Hotel Pomaranča
.
---
---

Skofja Loka
One of the oldest settlements in Slovenia, Skofja Loka (Slovene for Bishop's Meadow) is a picture-perfect medieval town that is one of the prettiest and most rewarding day trips from Ljubljana. There is an enormous castle on a hill and an incredibly well-preserved old town set among a pretty backdrop of hills and mountains.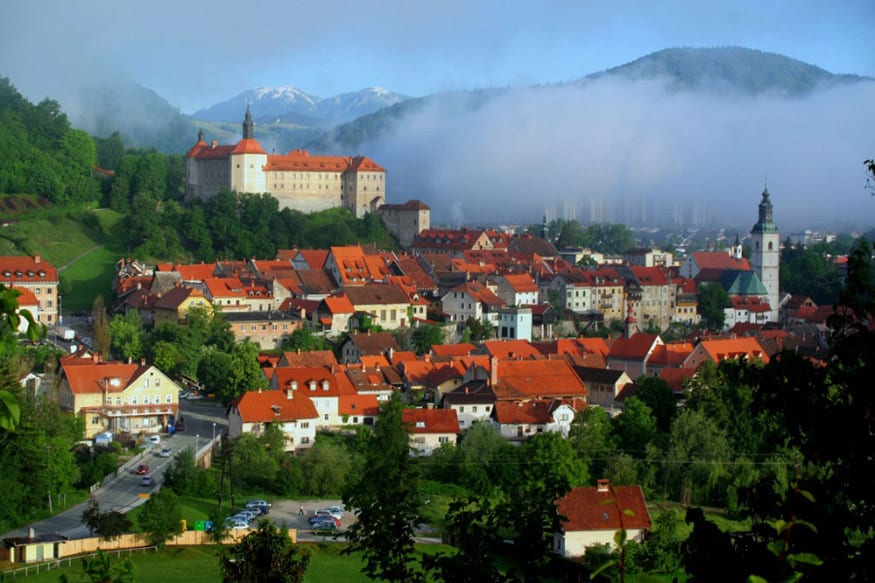 .
Maribor
Located 122km northeast of Ljubljana, Maribor is perched on the Drava River between hillside vineyards and the Pohorje mountain range. The old town's beautiful architecture preserves myriad historical and cultural influences, and the nightlife is unrivalled outside of Ljubljana. Maribor's main attractions are condensed in a pedestrianized centre. Looming over Trg Svobode is the imposing, St Mary's Franciscan church. Opposite the church, Maribor Castle houses the regional museum. Nearby are the labyrinth of underground catacombs that make up the Vinag Wine Cellar( you can stop to sample some of the vintages). On the western fringe of the pedestrianized zone sits the photogenic Slomškov trg, a serene, leafy opening surrounded by a few landmarks, including the university building and the elegant Slovene National Theatre. Opposite the university, in distinct yellow, is the sixteenth-century Gothic Cathedral Church, with a bell tower that offers fantastic views to the edges of the city and beyond. Another charming square, Glavni trg, has interesting architecture. Its centerpiece is the Baroque Plague Memorial, erected after the deadly disease wiped out a third of the town's population in the seventeenth century.
Hotel: Hotel City Maribor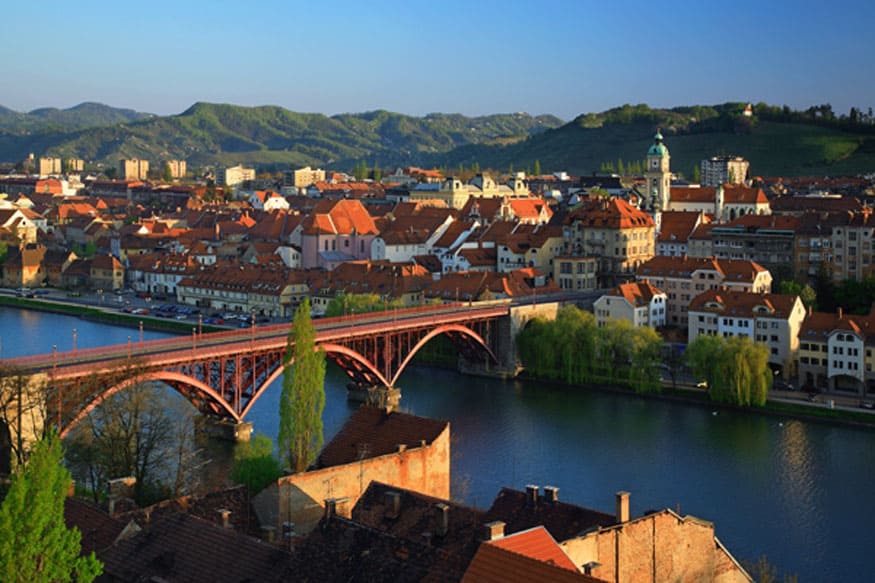 .
Skocjan caves
Ranking among the most important caves in the world, Škocjan Caves represents the most significant underground phenomena in both the Karst region and Slovenia. A UNESCO World Heritage site, the caves, together with the underground stream of the Reka River (which disappears underground into the caves), represent one of the longest karst underground wetlands in Europe with a length of 6,200 meters. The underground channel is approximately 3.5 km long, 10 to 60 m wide and over 140 m high. At some points, it expands into huge underground chambers. The largest of these is Martel's Chamber, considered the largest discovered underground chamber in Europe and one of the largest in the world. A 'must-see' site when visiting Slovenia.
Organized Tours: This tour takes you to both the Skocjan caves and the Lipica stud farm.
.
---
---
Costs
Accomodation: Accommodation is universally clean and good quality. Hostels are growing in number, and there are basic student dorms (dijaški dom) that significantly boost capacity during the summer. Expect to pay about €15–25 per person per night (€10 in student dorms). Campsites are numerous and generally have good facilities, restaurants and shops; two people travelling with a tent can expect to pay €20–30, and the majority of campsites are open from April or May to September.
In the capital, double rooms at a two-star hotel start around €55. Family-run pensions and tourist farms in rural areas, especially the mountains, offer many of the same facilities as hotels but usually at a lower price. Private rooms (zasebne sobe) are available throughout Slovenia, with bookings often made by the local tourist office or travel agents like Kompas. Rooms are pretty good value at about €35–50 for a double, although stays of three nights or less can be subject to a surcharge in peak season. Self-catering apartments (apartmaji) are also plentiful in the mountains and on the coast.
Car Rental. Slovenia is one of those countries where it really helps having your own wheels. Have a look at our rentalcar.com link, you won't find cheaper prices or a better selection anywhere else.
Food: Slovene foods are generally heavy and meaty. A typical three-course meal starts with a soup (often made of beef or chicken) broth with egg noodles, after which a meat dish is served with potatoes and salad with vinegar. Bread is often served on the side. Common mains include cutlets, a sausage and goulash, all usually prepared from pork, lamb and game, and there is also a large choice of fish and other seafood both along the coast and points inland (Soca trout is tasty and popular). Example of costs: Meal in an inexpensive restaurant: 7 Euros, 3 course meal for 2 in a Mid-range restaurant 30 Euros.
Flights: Ljubljana Jože Pučnik Airport, also known by its previous name Brnik Airport, is the international airport of Ljubljana. Airport code LJU.
---
---
Related: Bbqboy's Guide to Croatia
Related: A Local's Travel Guide to Italy
Related: Our Top "Travel Experiences" over the last 10 years
Ps. If you find our blog helpful, please consider using our links to book your flights, hotels, tours, and car rentals. Have a look at our Travel Resources page.