Why Piran (Slovenia) is worth visiting
Like Ljubljana, Piran is small. All of Slovenia's towns and cities seem to be small. But damn is it pretty!
You can see the Italian influence in Piran. The town was part of the Venetian Empire from the 13th century to the end of the 18th century. It was part of Italy from 1918 to 1947 (today the Italian border is 30km away). On top of that, the municipality of Piran is bilingual – you are as likely to hear Italian spoken as you are to hear Slovenian.
*Interesting fact: Piran has a black mayor. Peter Bossman (good name for a mayor) was born in Ghana and moved to Yugoslavia in 1977. He was voted Piran's mayor in 2010 (making him Eastern Europe's first black mayor) and re-elected in 2014.
For such a small town there are some impressive sights. Tartini square (Tartinijev Trg) is known as the most impressive square in all of Slovenia. It is large and has many impressive buildings: the town hall, St.Peter's Church, and some Venetian-era buildings. It's the place to go to have drink, especially in the early evening when locals sit around the square while their kids go crazy running around on their bikes, roller blades etc…Tartini square is the place to be.
---
---
A little walk up the hill (up a street behind Tartini Square) brings you to St. George's Parish Church. The views here over the town are fantastic and become even more fantastic if you climb up the bell tower (an easy climb for those nervous about bell towers).
---
---
Even better for views are the town walls. Piran is built on a peninsula in a 'V' shape. The walls protected the town from land attack and from the top of the walls you can look out over the whole town as well as over the Adriatic. It's the place to come for sunset views.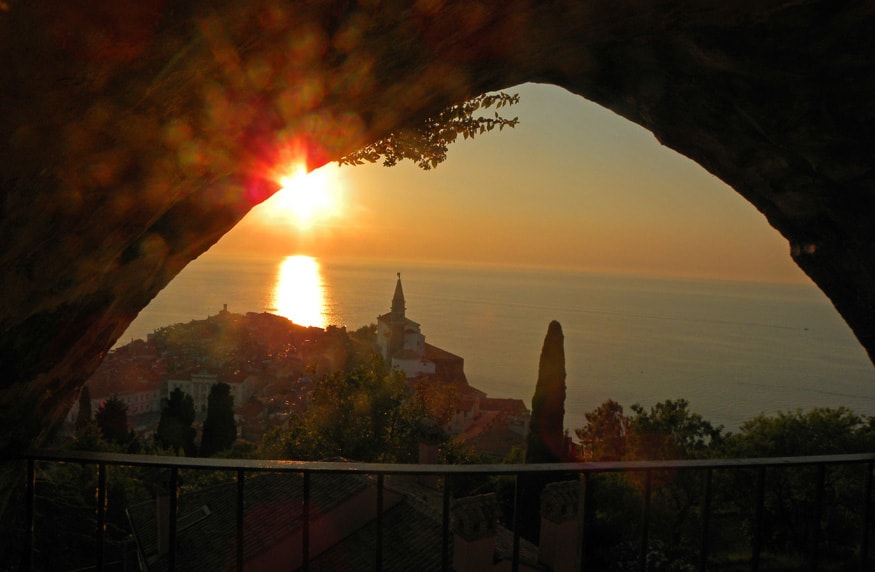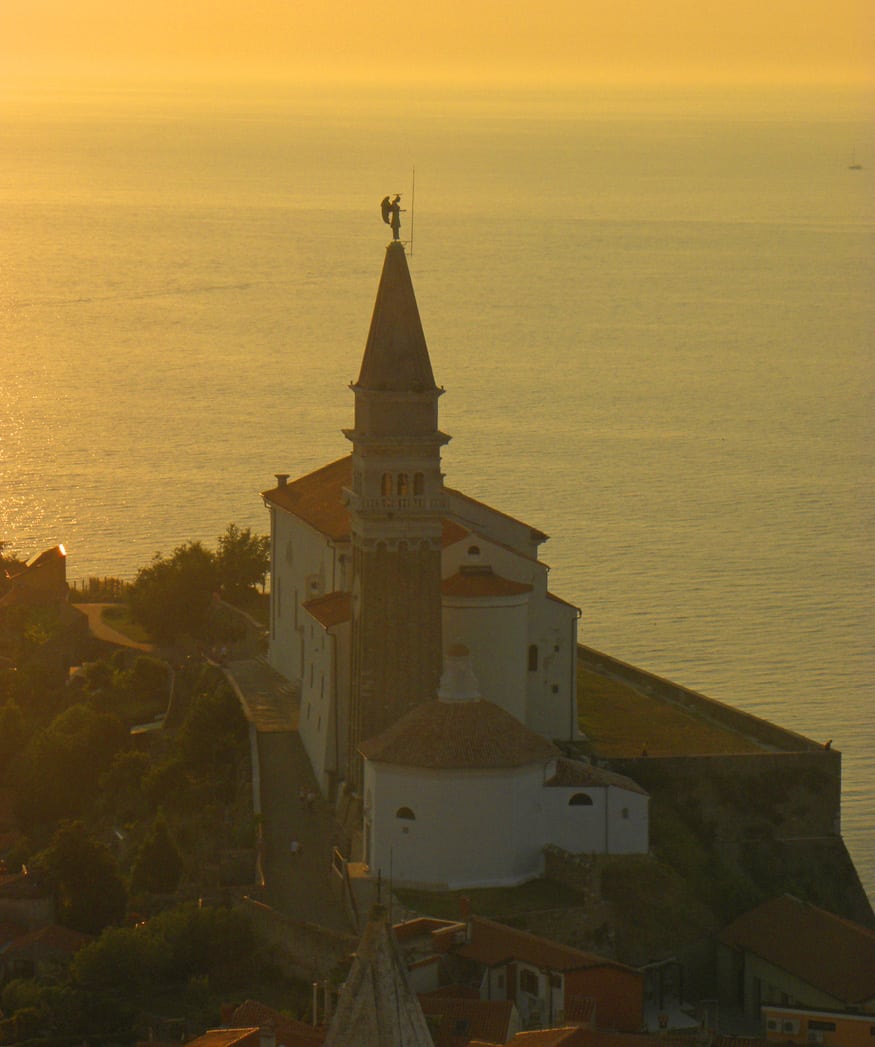 The town's streets are a bit of a maze but you can't get too lost because you'll eventually end up either at Tartini Square or along the water somewhere. You'll find lots of restaurants and see locals walking around in their bathing suits to take a dip in the water. Piran doesn't feel touristy (at least it didn't in mid-June – might be different in July or August) and has a very relaxed vibe. It is also hot – we felt a humidity here that we hadn't encountered further down the coast in Croatia.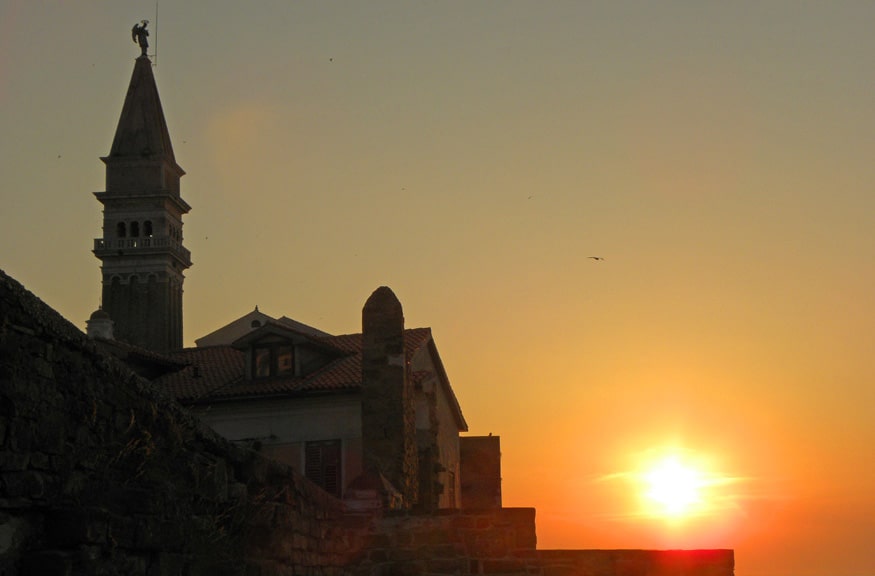 ---
---
Personally, Piran was a break for us. For 10 days we'd been dragging our luggage around, making our way from Split, through northern Croatia and Slovenia, to Venice (about 3 hours away from Piran) where we would be flying back to Montreal. At this point of the trip I had had enough and I sometimes felt stares as I unconsciously grumbled and swore at our bags under my breath. Staying in beautiful and relaxing Piran for 3 days was a good thing. It's a very relaxed kind of place.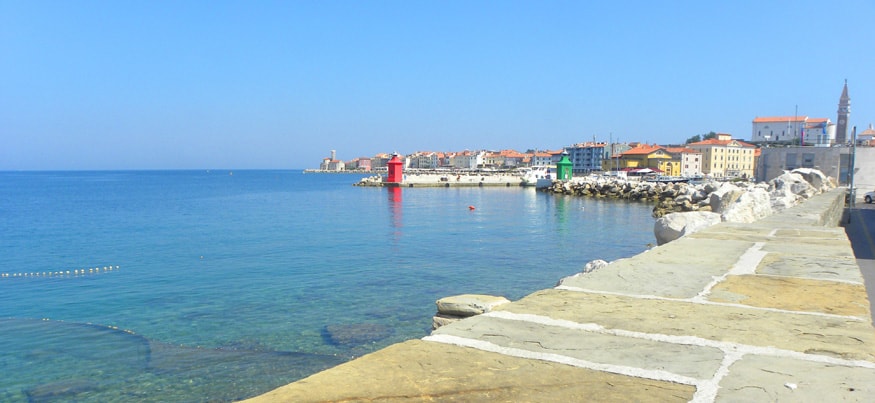 Practical information
– Direct bus from Ljubljana to Piran took 3 hours. The bus station is a 10 minute walk from Tartini Square (or about 3 minutes on the free shuttle bus that does the route back and forth all day long).
– You can also take the train from Ljubljana to Piran. The train actually goes to to Koper (the main town in the area) which is 18km away from Piran. You can take a bus or taxi the rest of the way.
– Piran is about 30km away from Trieste in Italy (where you can take a direct train to Venice). You can take a taxi to Trieste but it's expensive, anywhere between 70 and 100 Euros I'm told. We took the bus: Piran to Koper, then Koper to Trieste. It took us 1 ½ hrs (not the greatest connections between Slovenia and Italy).
– Accommodation. Hotel Piran is right in the center, Excellent hotel and can't beat the location. Art Hotel Tartini is right on Tartini Square. Funky, with large modern rooms. Good value.
– Just behind the tourist office on Tartini square you'll find a little fruit/vegetable market as well as a supermarket (Mercator).
– Piran doesn't have beaches (except for a cemented area with showers that they refer to as the beach). But you have access to the water anywhere in town. If you want real beaches, go to nearby Portoroz. It is a beach resort about 10 minutes away. It doesn't have the charm of Piran however.
– Tours worth taking. A half day tour of Postojna Cave and Predjama Castle, two of Slovenia's highlights.
– Car. Want to see things by yourself? You'll need a car because public transportation is awful throughout the Balkans. We use Rentalcar.com for all our car rentals.
---
---
Ps. If you find our blog helpful, please consider using our links to book your flights, hotels, tours, and car rentals. Have a look at our Travel Resources page.