Exploring the highlights of Croatian Istria
A few years ago we spent 5 weeks exploring Istria. It's a region different than any other part of the country, in fact you might think yourself in Italy. Here you'll see signs in both Croatian and Italian, find hill towns similar to those in Tuscany, and discover romantic Venetian-style coastal villages. And while Istria doesn't have the stunning mountain ranges of Dalmatia, it has sandy beaches, the best cycling trails in Croatia, and the friendliest people in the country.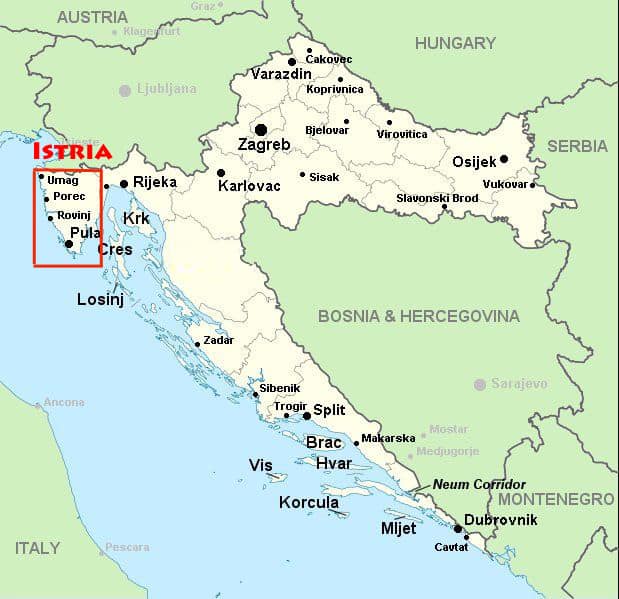 Tourism is nothing new to the region. European tourists have been coming here for decades. Most base themselves in small coastal towns like Rovinj, Porec, Pula or Novigrad. By day they enjoy the beaches, cycle, and visit the hilltowns of the interior. By night they'll frequent the lively bars and restaurants, sampling Croatia's best wines and enjoying seafood, wild asparagus, and Istrian pasta (all often topped with truffles – it's what Istria is famous for).
This post explores the highlights of Croatian Istria.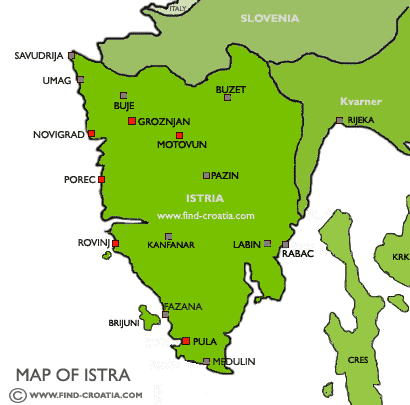 Rovinj
Rovinj was our base for our 5 weeks in Istria. It is the prettiest town in the region and makes for a good base because of its centralized location.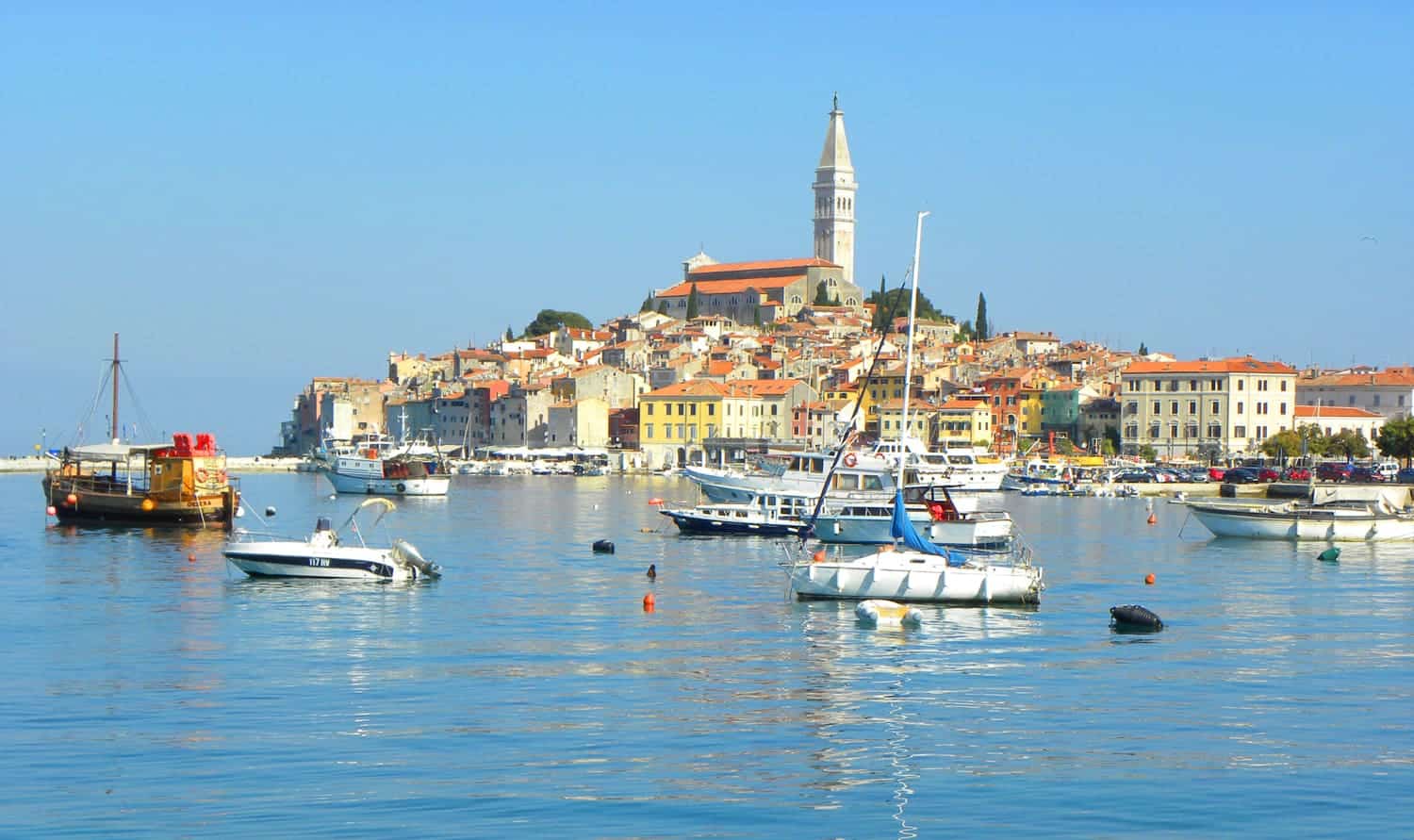 It is a small town that sticks out into the sea (it used to be an island). In the middle of town, on a hill, is the Church of St. Euphemia. Its bell tower is prominent and can be seen miles away. Rovinj is just about the prettiest place you'll see anywhere, with pastel-coloured buildings, windy alleys, and fishing boats in the harbour. It's also known for its glorious sunsets.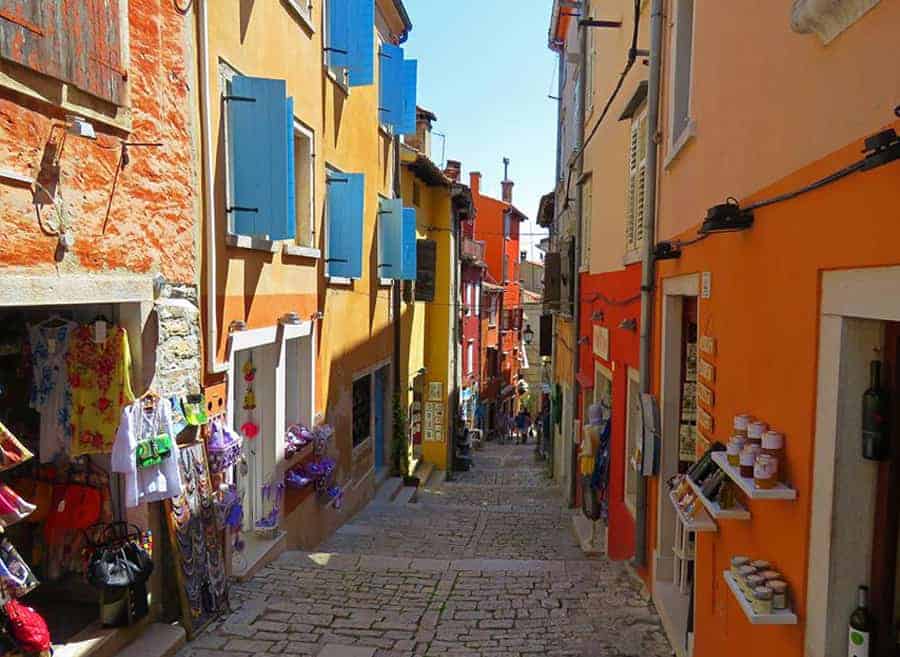 Honestly, if you're on a sightseeing mission then 1 day is enough to explore Rovinj. It's not a big place. But the town attracts a lot of longer-stay tourists (as does much of Istria), the type who rent an apartment and stay the summer. That's because there's a lot of things to do and is well-suited for a family vacation – you'll find beaches and cycling trails close to town and there' s lots to see in the region (which I cover below). And while the town is touristy it is also a "real" town – every few days I would take my bike to center to shop at the local farmers market.
Accommodation: High end: Hotel Angelo d'Oro (beautiful hotel right in the center of the old town), Luxury Apartment Fabris (beautiful apartment just a couple of minutes outside the old town). Mid-range: Guest house Sotto I Volti (right in the center, perfect for a few days), Apartments Palma (perfect for a longer stay, close to both the town and the beach).
Related: Reasons to Visit Rovinj
---
---
Pula
Pula has some great historical attractions, the most famous being it's Amphitheatre (ie. Roman arena). Built in the 1st century AD, it is the 6th largest surviving Roman theatre in the world and is Croatia's best preserved Roman monument. It is still used for theatre and different festivals today. You have to visit the Amphitheatre if coming to Istria.

Pula has a few other Roman monuments worth seeing including the Temple of Augustus and the Arco dei Sergie.
Note: make sure to visit Pula but don't make it your base. It's not a very attractive town. Half a day is enough to see everything of interest.
Porec
Porec is a pretty and relaxed town with the only UNESCO site in Istria – the Euphrasian Basilica. It's known as the best preserved early Christian cathedral complex in the world. It is stunning, famous for its use of mosaics. All about the Euphrasian Basilica.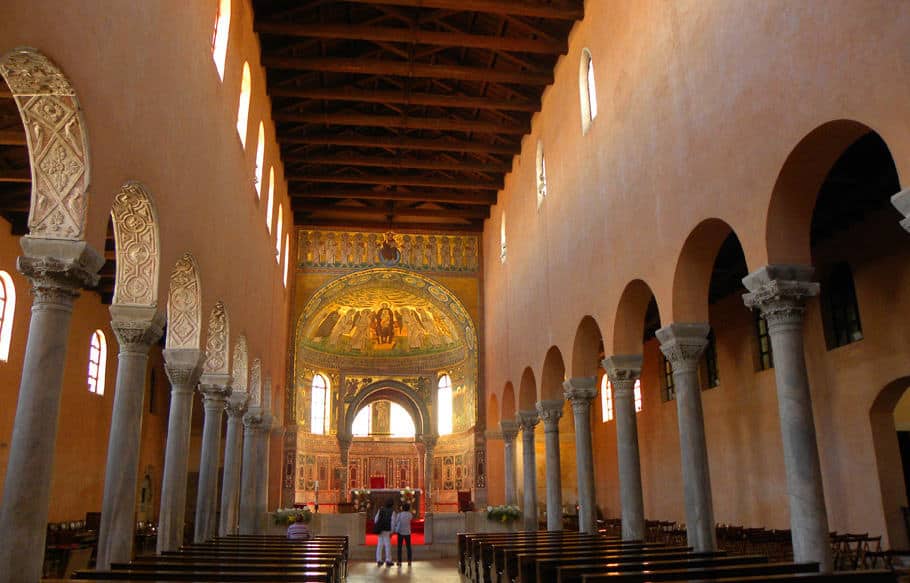 I've mentioned that Rovinj is a great base but Porec is also a good place to base yourself. The town is pretty and there are lots of beaches everywhere. There are also many bars and restaurants so it makes Porec a good holiday town.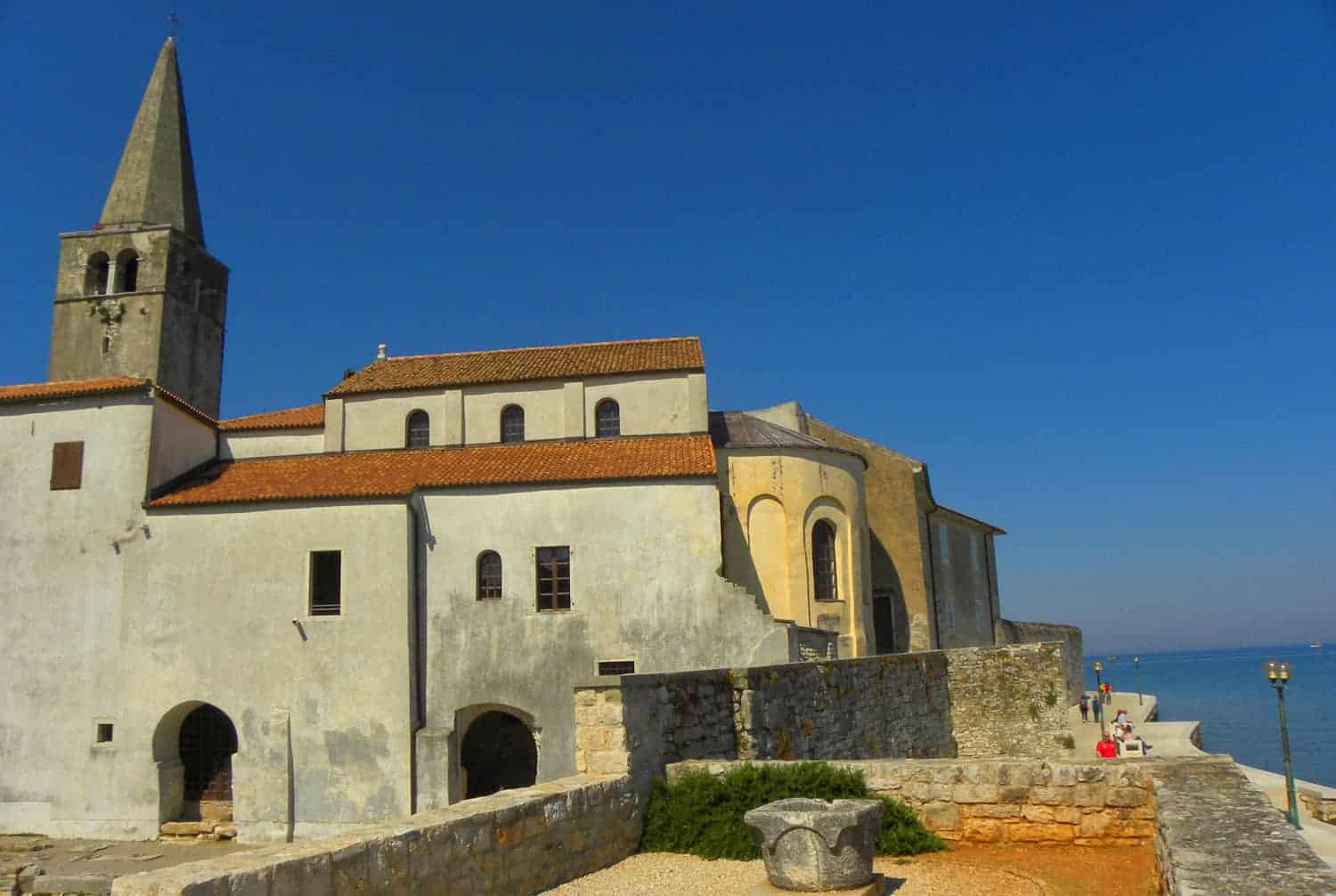 Accommodation. Valamar Riviera Hotel & Residence (right in the center, very nice, good value), Apartman Kika (old town, good value, very nice apartment). If you've got a large family and looking for a great place for a longer term stay Boutique Apartman Villa Mediteran is fantastic.
Note: if you're limited for time and want to see the highlights of Istria on a day trip, I recommend this full-day trip from Zagreb. You'll see the highlights of the 3 towns covered above (Rovinj, Pula and Porec).
---
---
Novigrad (Cittanova)
Novigrad (also known as Cittanova) is the kind of place where people come for the summer and never leave. It's not as famous as Rovinj or have the historical highlights of Pula or Porec but it has a pretty old town surrounded by medieval fortifications. Beaches are all around which, along with its very relaxed vibe, makes Novigrad a popular family vacation spot.

Novigrad is also the best situated town if you want to visit the Istrian Hilltowns (I'll cover the best hilltowns below). They're all less than 30 km away.
---
---
The Istrian Hilltowns
A highlight of Istria is renting a car and exploring the different hilltowns. The towns are all relatively close to each other and they're all unique in their own way – plus you'll see some stunning geography along the way.
Related: Car Rental in Croatia (and some of Croatia's Most Scenic Drives)
Motovun
Motovun is the most famous and popular of the Istrian hilltowns. It dates back to the 9th century but the fortress walls that it's known for were built in the 12th century when the town was under Venetian rule.

The highlights include walking the walls around town. There are fantastic views in every direction. Walking around town you'll see historic buildings, arches, and churches. It's all very pretty. It's also very happening – there are lots of bars and restaurants. Motovun has a film festival in the summer. If you can, I recommend you spend a night in Motovun to really appreciate what a pretty town it is.
Accommodation: The very nice Boutique Hotel Kaštel which sits right in the middle of town.
---

Grožnjan
Grožnjan is the 2nd most visited town after Motovun. It is known as an artists village – you'll see a lot of galleries, cafes and restaurants. It's a hip, happening place and in the summer it has a jazz festival. The views are great and it's a very pretty town with all its cobbled streets.

As I mention above, all the hilltowns are in a compact area. There are other worth seeing if you have the time including Oprtalj, Završje and Hum (I explore all of them in the post below).
Have you been to Istria?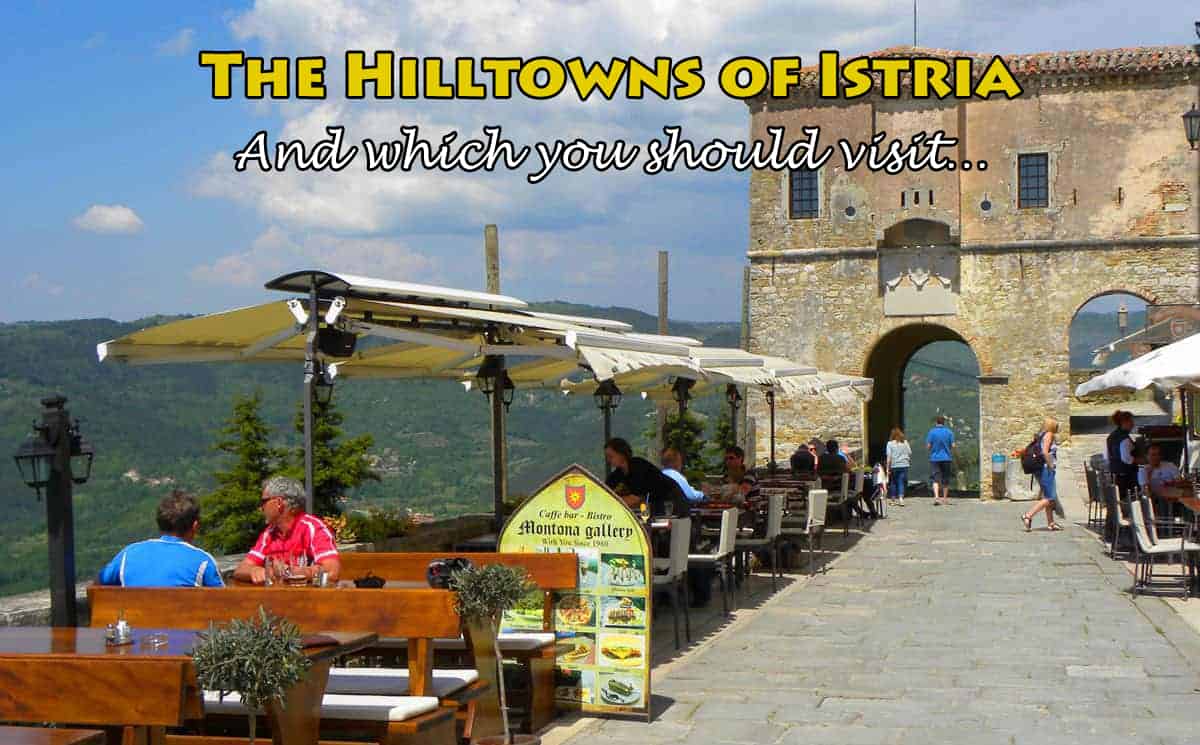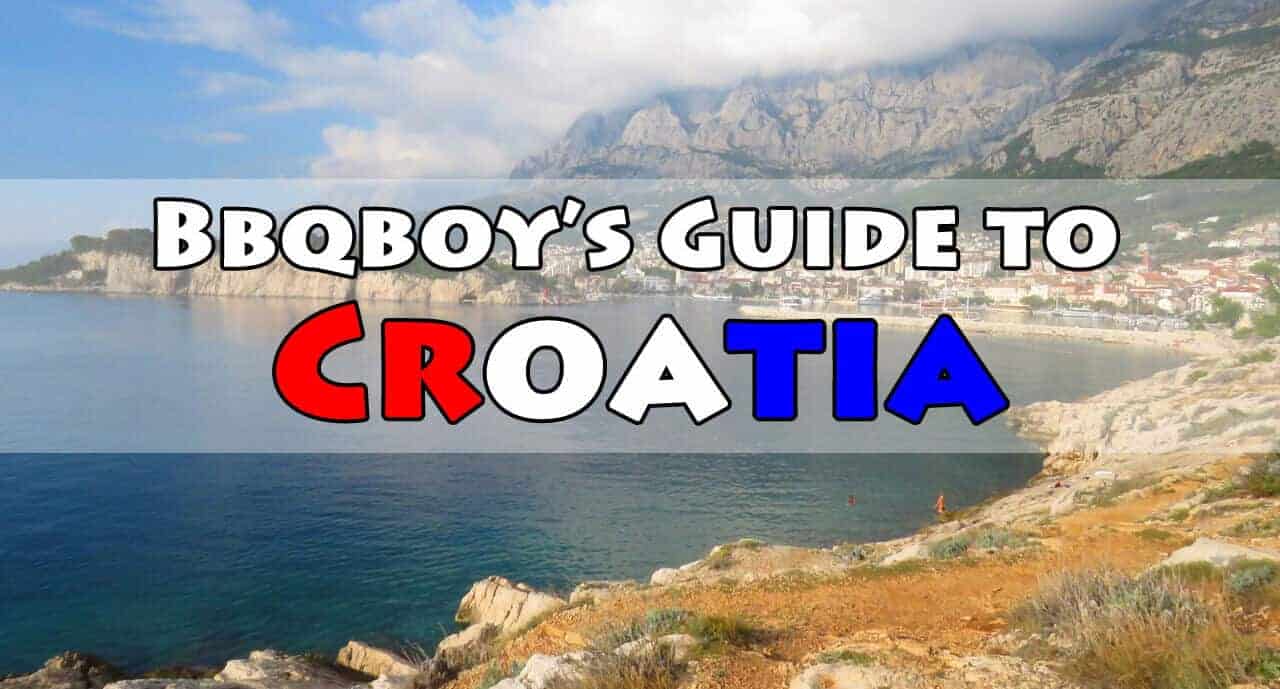 PS. Looking to book flights, hotels, tours, or rent a car? Have a look at our Travel Resources page.