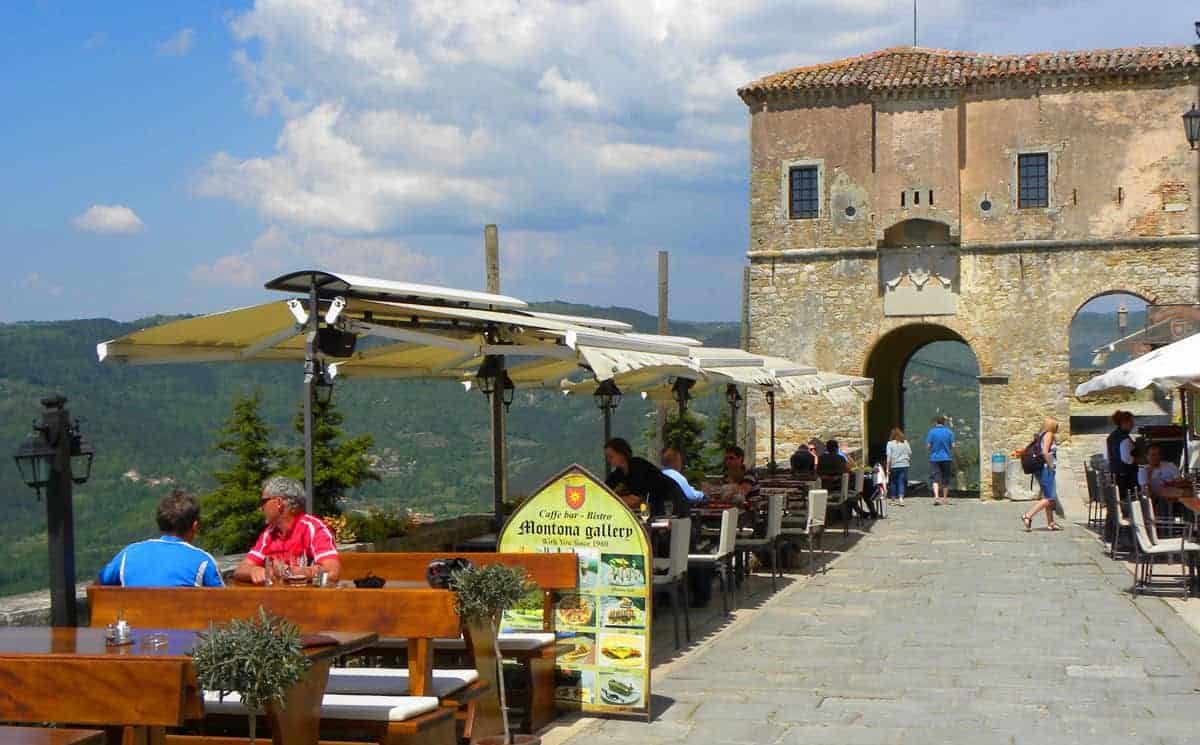 The Hilltowns of Istria
Many people think that Croatia is all rugged coastline and sea. The Istrian peninsula is an exception to that generalization, an region of green rolling hills that will remind many visitors of Tuscany (in Italy). One of the highlights of visiting the region is discovering some of its medieval hilltowns. This post covers 8 different hilltowns that we visited – all unique in different ways – with our recommendations on which to prioritize (I'll give you our Top 5 at the bottom of the post).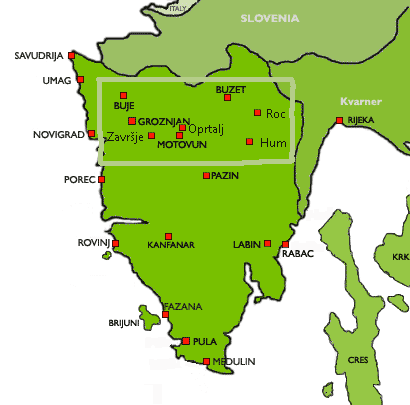 Below, in order of our visit:
Motovun
Motovun is the most famous and popular of the Istrian hilltowns. It is situated prominently on a hill 270 m above sea level. You can see the town from many of the other towns I'll cover below. It dates back to the 9th century but the fortress walls that it is known for were built in the 12th century when the town was under Venetian rule (as were all the towns in the region). Highlights: walking the walls around town, fantastic viewpoints, well-maintained buildings. Lots of bars and restaurants, there's even a very fancy hotel at the top of the town. Motovun has a film festival in the summer.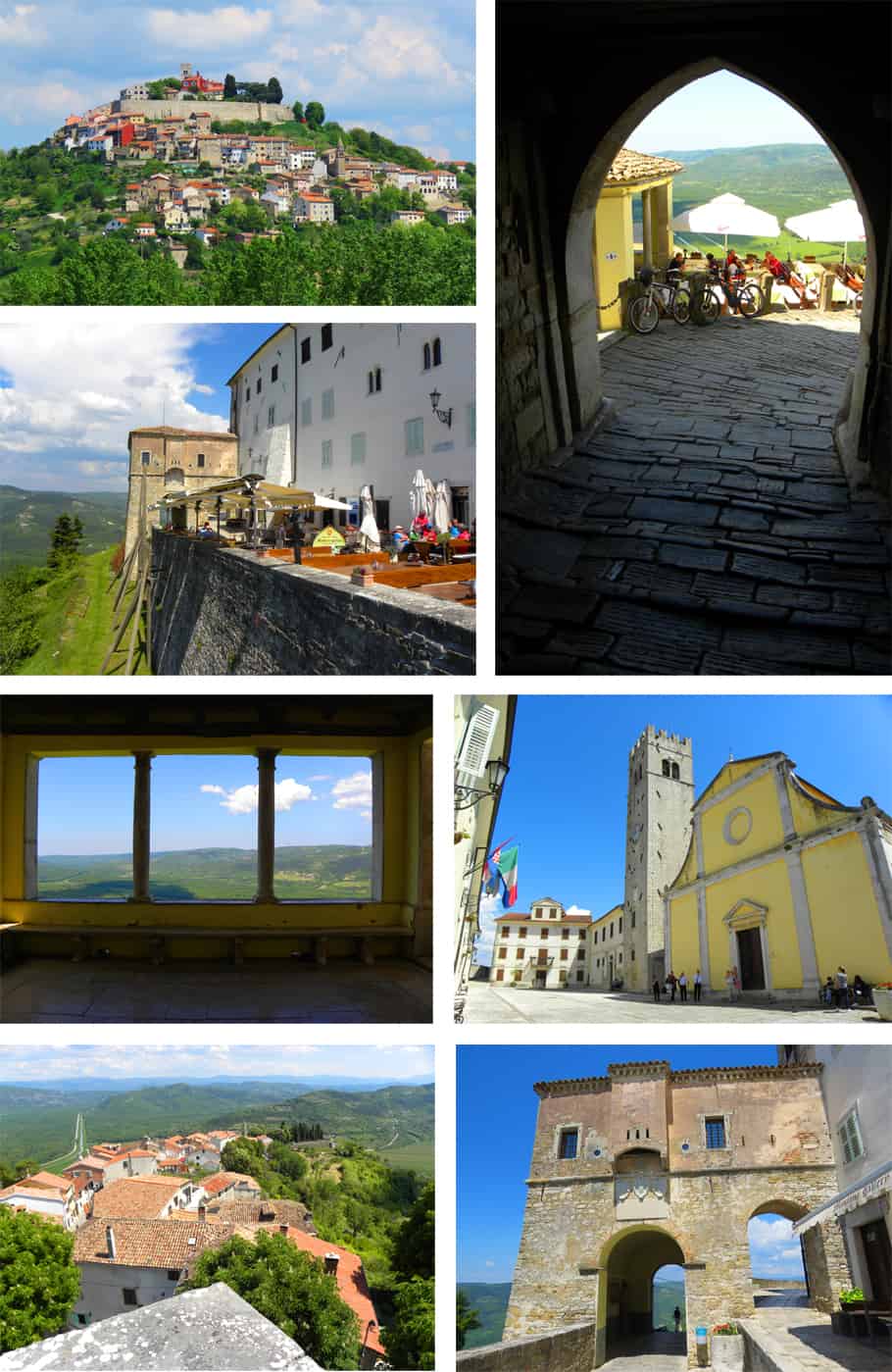 ---
---
Oprtalj
Oprtalj is right across the valley from Montovun. It couldn't be more different.
This small town is practically uninhabited. You'll see a lot of ruined buildings with collapsed roofs and much of the pavement is crooked and crumbly. Highlights: Many of the buildings have been painted in vibrant colors. The main square is very pretty. You may find yourself the only people in town (as we did) which was a bit eerie having just come from popular Motovun.
Grožnjan
Grožnjan is the 2nd most visited town after Motovun. It is known as an artists village and unlike some of the other towns it feels vibrant and lived in. You'll see a lot of galleries,cafes and restaurants. It's a hip, happening place and in the summer it has a jazz festival.
Highlights: great views, pretty cobbled streets, colorful, a nice place to stop for lunch or a coffee.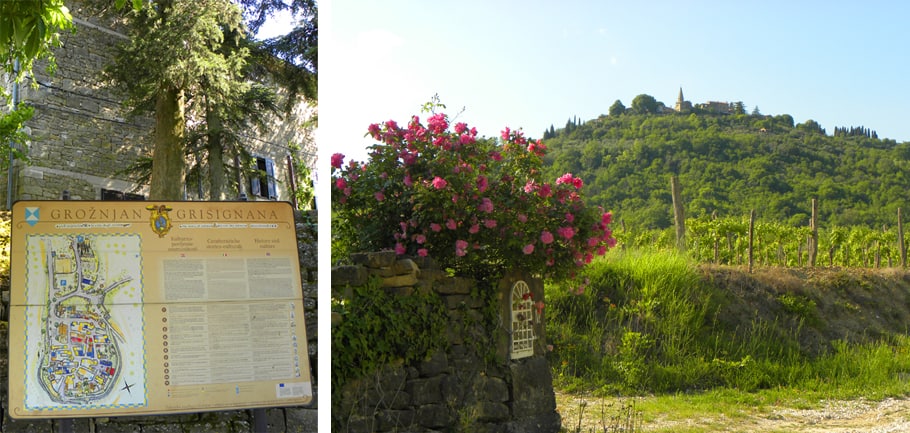 ---
---
Završje
Save for a couple of houses that seem to have inhabitants, Završje is an abandoned town of broken buildings covered in ivy. It is in fact a little creepy. Like Oprtalj, you'll most likely have the whole town to yourself. Highlights: lots and lots of ruins and ivy, rustic cobbled streets and walls. A hilltown unlike any other on this list.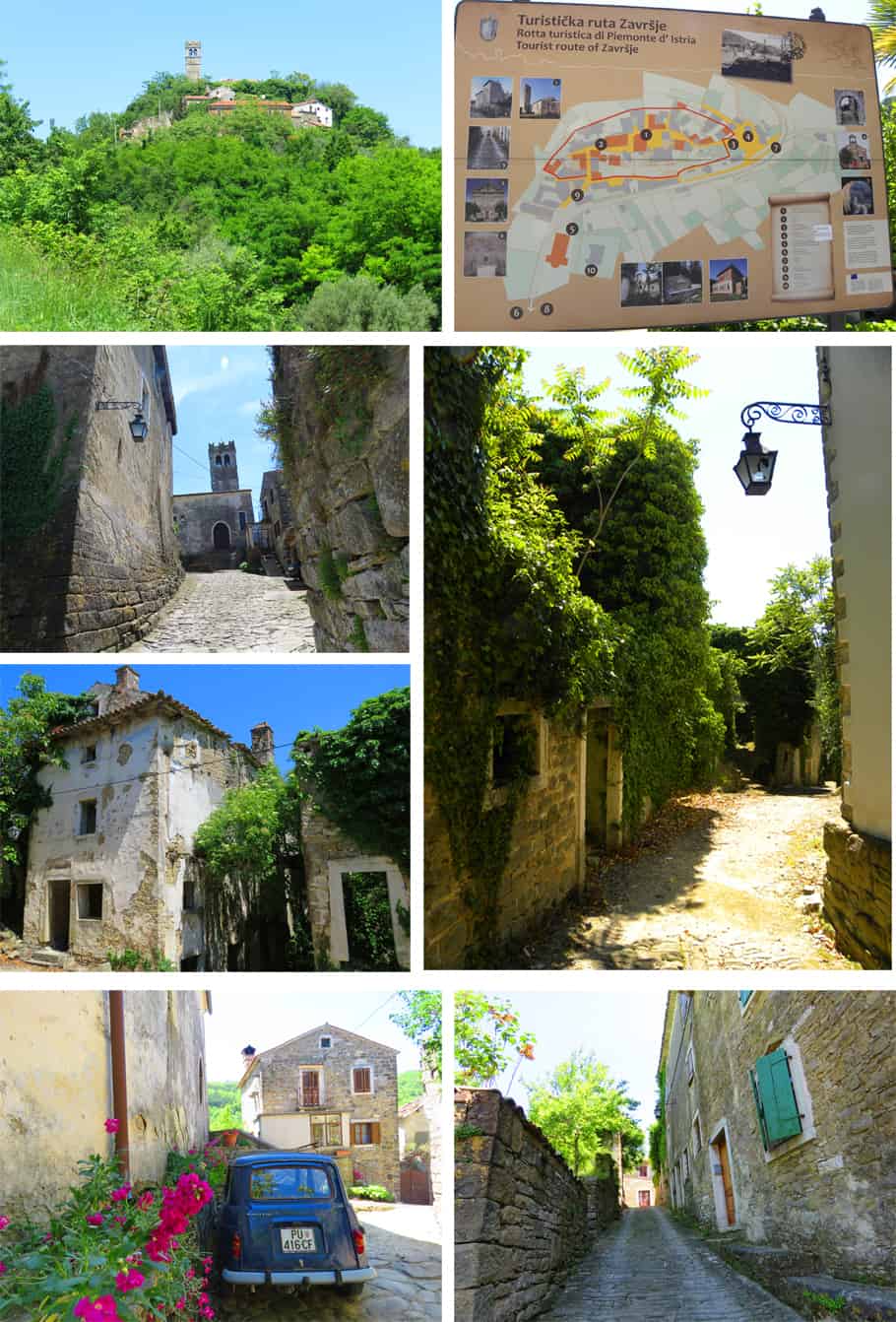 Buje
The northernmost of the towns we visited, Buje is a regional center and larger than the other towns covered in this post. The highlight is the church of St. Servolo, dating back to the 16th century. It was the most impressive church we would see among the hilltowns and the square had a unique, un-touristy vibe.
You'll need a car to visit the Hilltowns. Read this post, then check out prices on Rentalcars.com
---
---
Buzet
Buzet is known as the "City of Truffles". We had planned on coming here for lunch but all restaurants were closed and we were recommended a pizza place outside the old town center. Maybe we were there too early in the season (it was mid-May). The town is very pretty and has local life. Views are fantastic as is the geography – Buzet is backed by a chain of high mountains unlike the rolling hills that dominate much of Istria.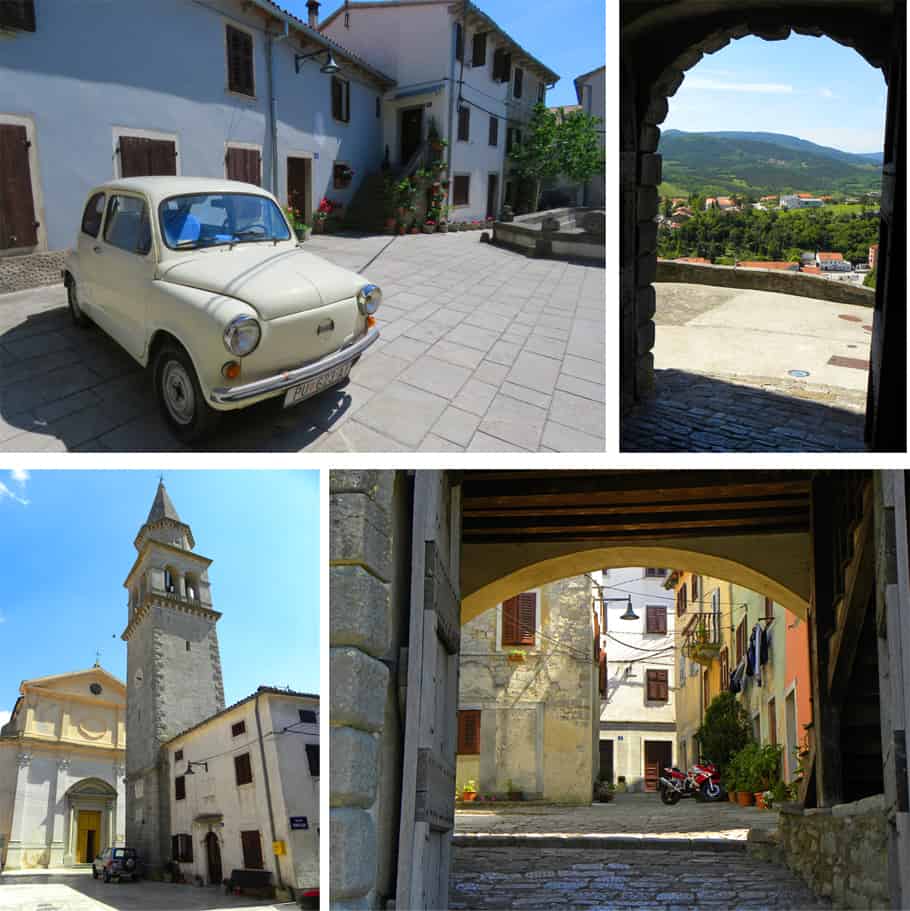 Roč
Roč is tiny – but we'll always remember it as the place that saved us when we had tummy problems (blame it on the pizza from the above mentioned Buzet). Many thanks to the nice lady at Rocka Konoba !! (a very atmospheric restaurant that gets great reviews). Pretty town, very quiet, with impressive stone buildings and fortifications.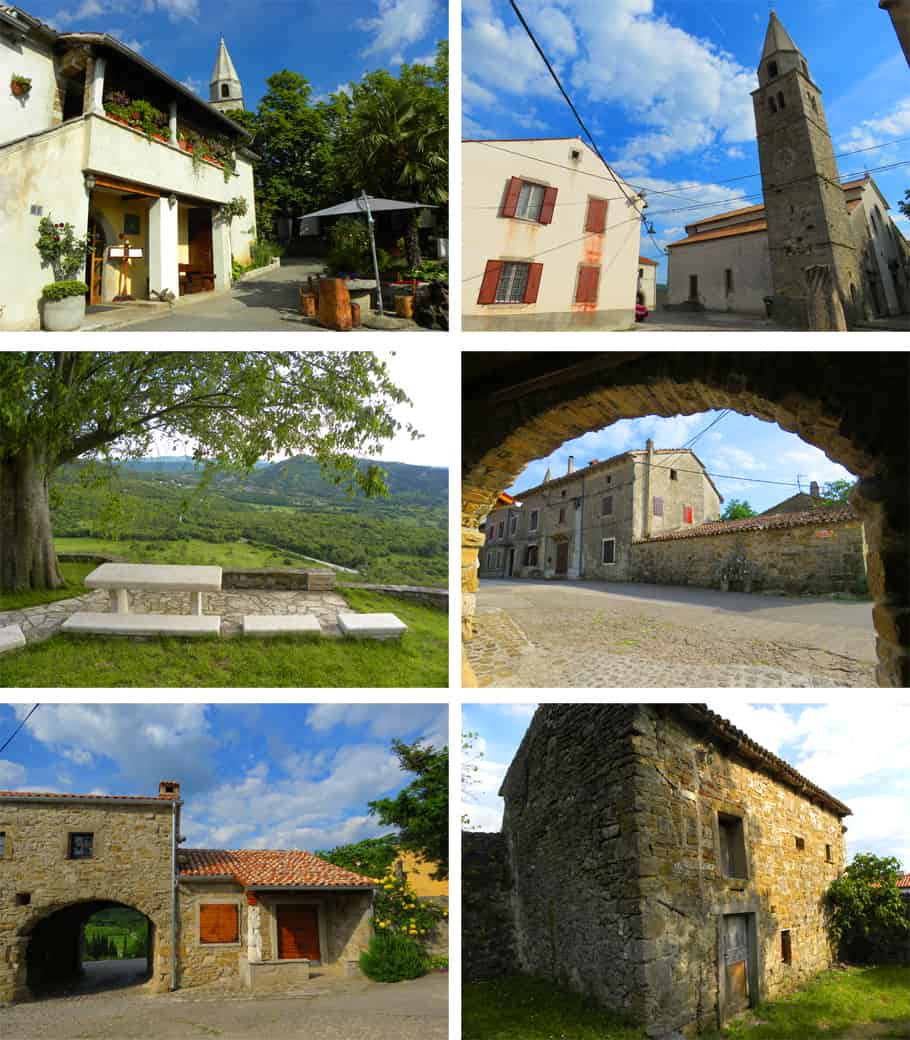 ---
---
Hum
Hum is supposedly "The smallest town in the world" according to the Guiness Book of World Records. Searching the internet I found no direct references to that and, having seen smaller towns, I think the claim is a bit dubious.
Based on the above I didn't know if we would like the town. And after arriving and seeing 1) a paid parking lot and 2) quite a lot of tourists I thought it might all be a bit of a tourist trap. But we were pleasantly surprised. Hum is very pretty, has some impressive medieval buildings and great views. Yes, it's a bit touristy – there are a few guesthouses, a restaurant and bars, and some souvenir stores. But the atmosphere (in mid-May) was pleasant and the townspeople friendly. We really liked the town.
So, based on the above, which should you visit?
If we had to chose 5, we recommend (in no order): Motovun, Oprtalj, Grožnjan, Završje and Hum. Each are unique, from touristy to abandoned, from well-kept to decrepit.
Note: We stayed a month in Rovinj, using as a base in the area. Read about the pretty town of Rovinj here. We loved our time in Istria.
Have you visited an Istrian Hilltown? If so which was your favorite?
Ps. If you find our blog helpful, please consider using our links to book your flights, hotels, tours, and car rentals. Have a look at our Travel Resources page.