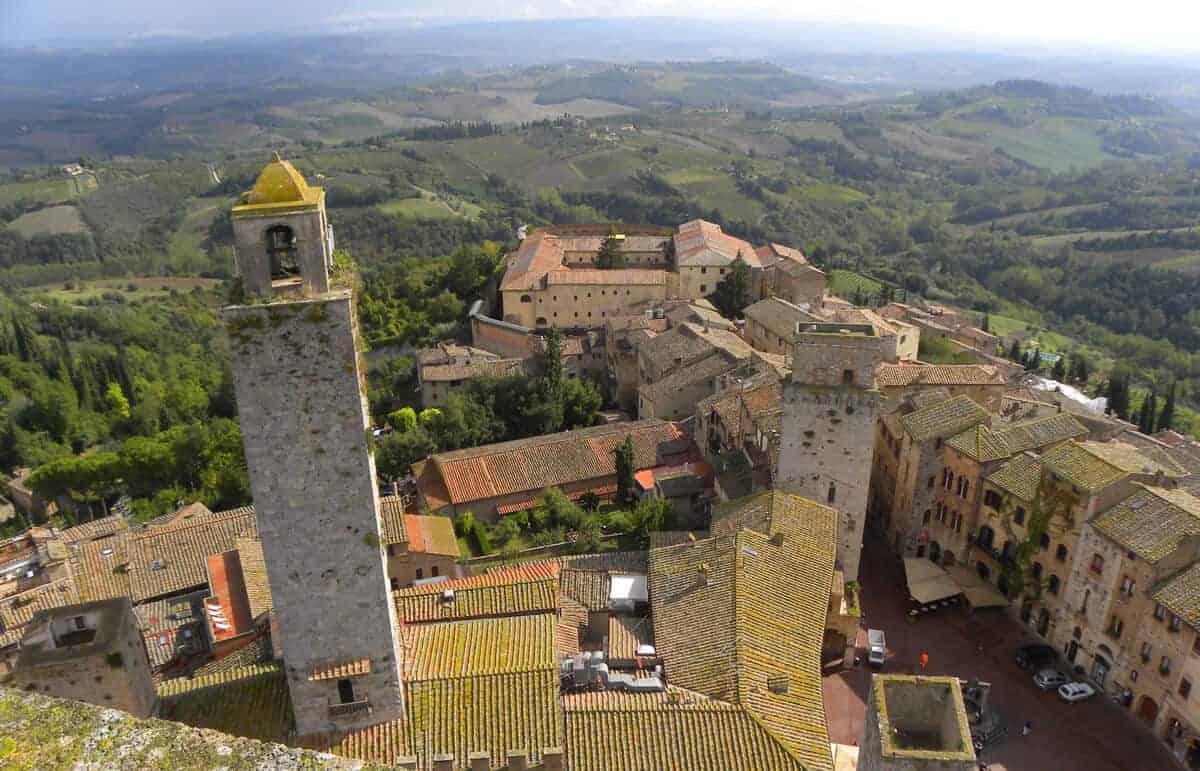 Highlights of the Hill Towns of Tuscany

The hilltowns of Tuscany cover some of the most beautiful towns (and geography) you'll see in all of Italy. We cover a few different places in this post starting with Siena (where we stayed a few days), San Gimignano, the towns of Chianti and Cortona. We include a few special stops along the way.
---
Siena
Siena is a hilly, pretty city with one of the most beautiful piazzas in Italy (Piazza del campo), the 2nd highest tower in Italy (Torre del Mangia), and the most impressive Duomo (cathedral) I've ever seen. The interior of the Duomo is absolutely jaw dropping. It is a city full of churches, museums, and great views over the surrounding countryside.
The Duomo di Siena (below) is absolutely stupendous. The interior is like a museum with its black and white marble pillars, intricate marble floor panels, beautiful renaissances frescos, a huge bronze dome, a sculpture of St. Peter by Michelangelo. What awed me most are the 170-odd busts of popes lining the cathedral, all looking down at you in an almost menacing manner. The whole cathedral was painted, sculpted, and decorated by the most celebrated Italian artists of that time. It is just amazing and I'm afraid these words and photos just don't give it justice.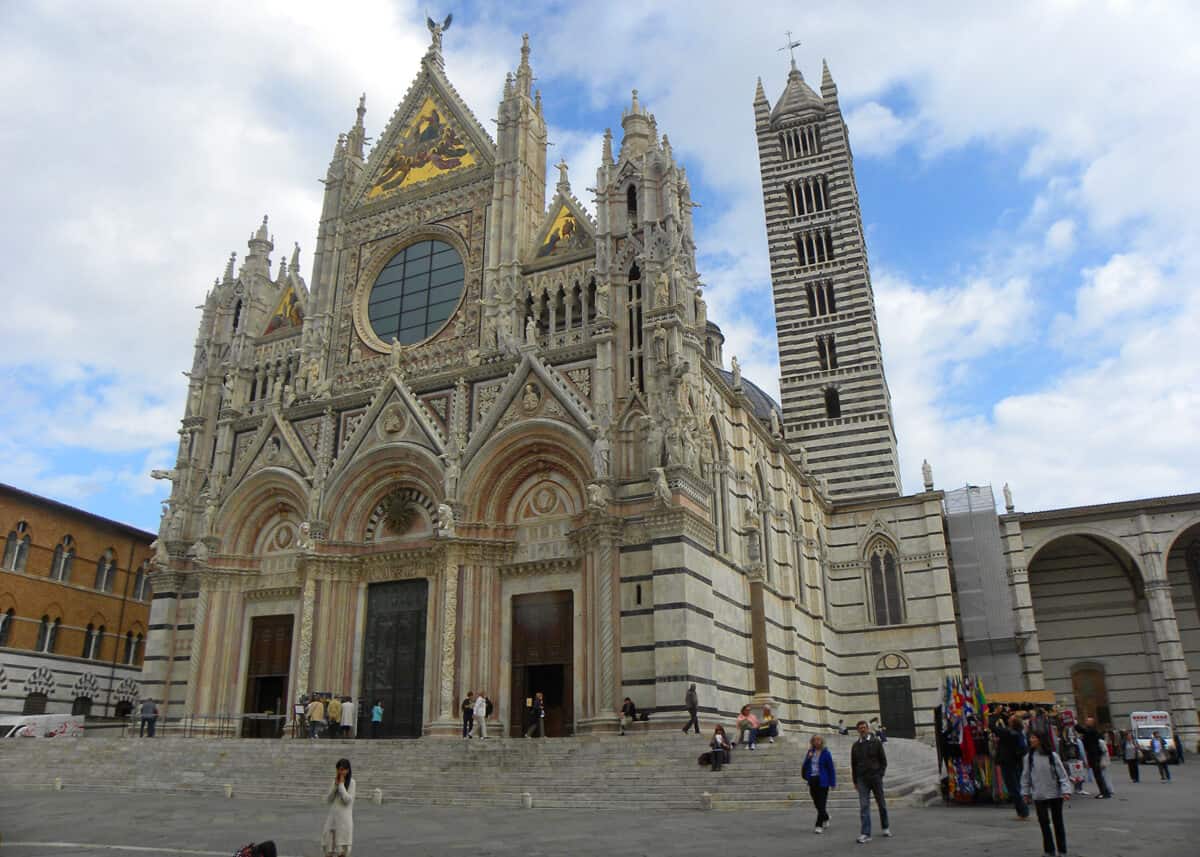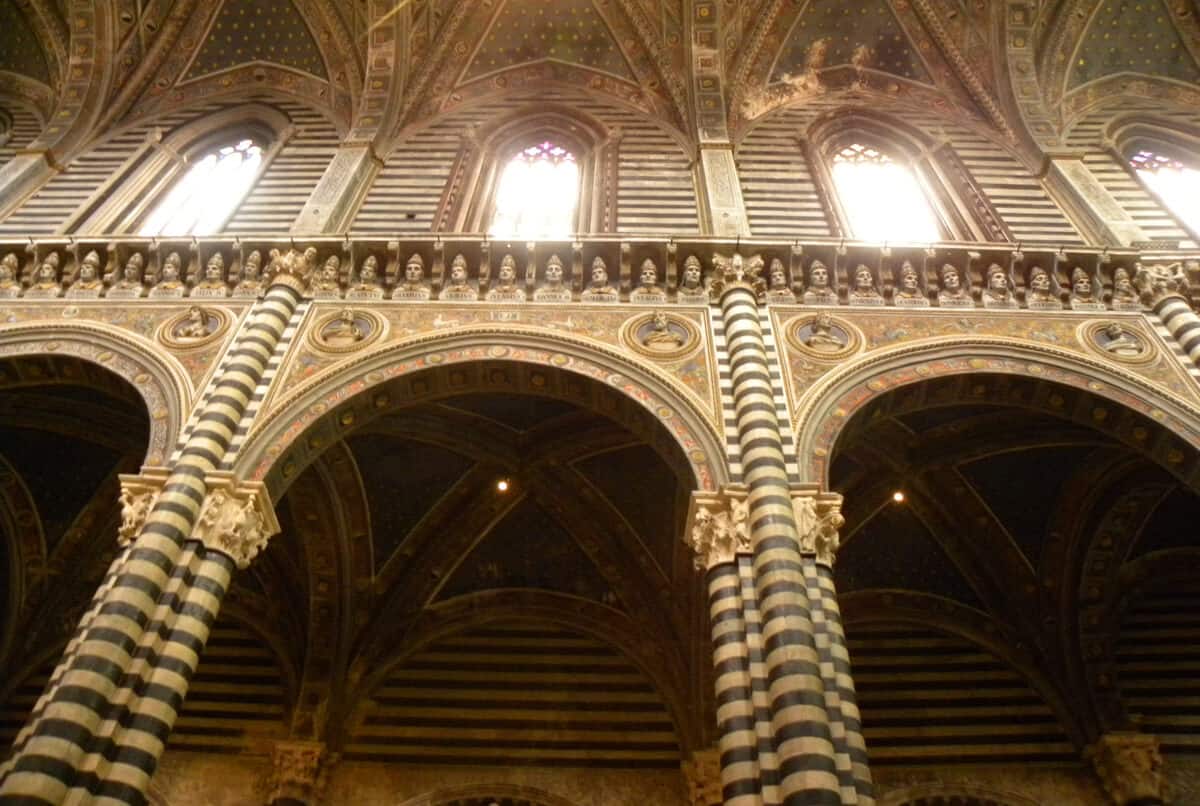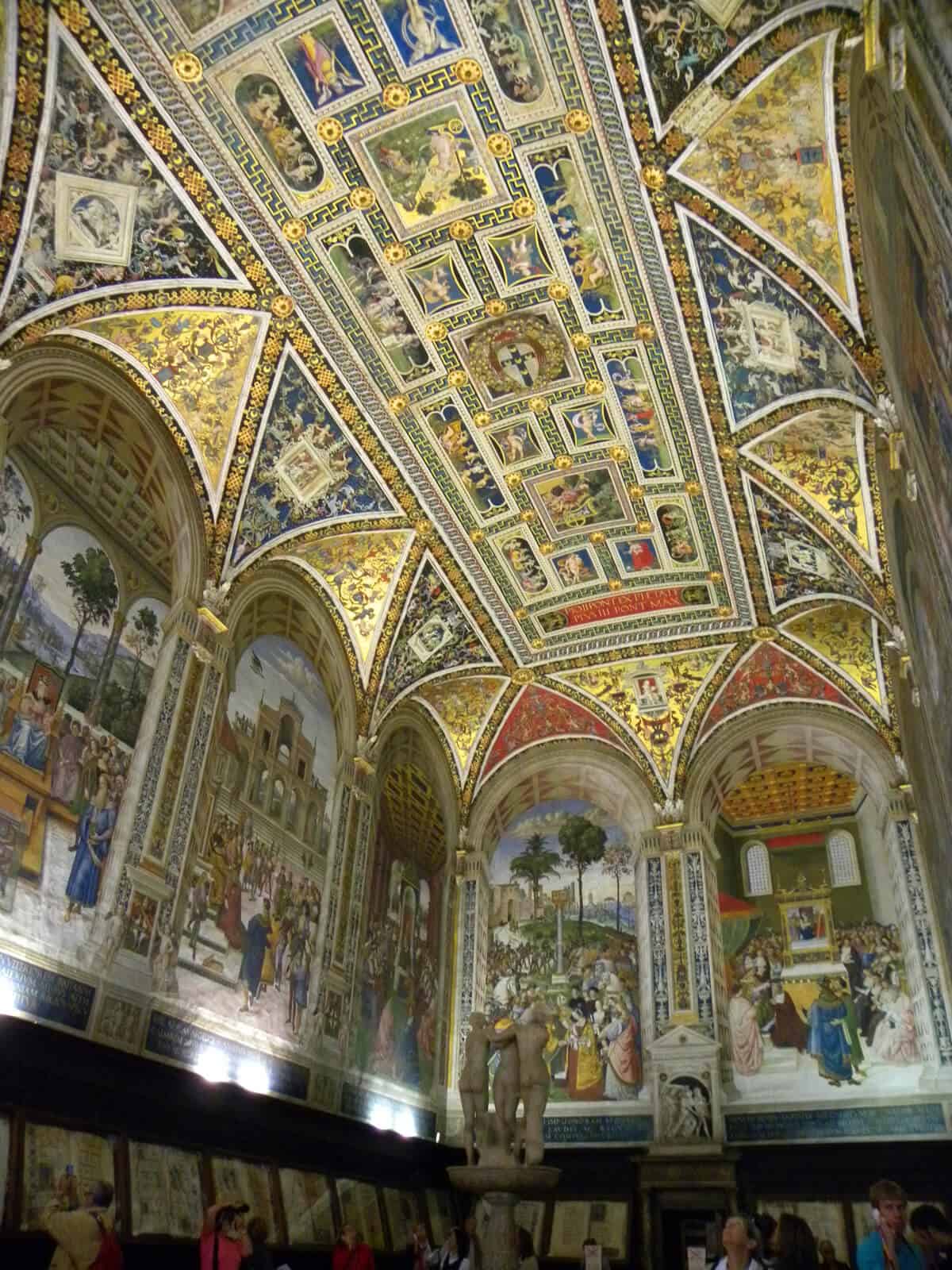 The Piazza del Campo (below) is a huge and beautiful square. It is most famous for the Palio, a horse race run twice a year. These races pit the 17 different neighborhoods of Siena against each other.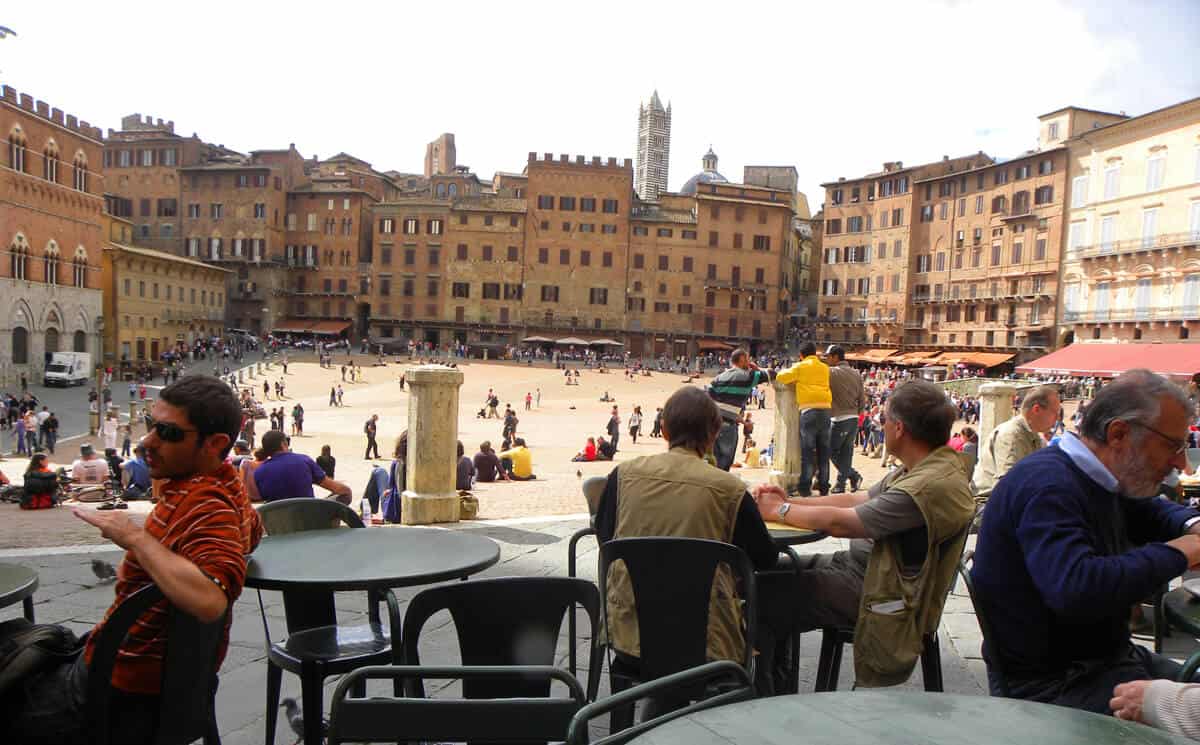 We climbed the Torre del Mangia, Italy's 2nd highest tower. It has amazing views over the countryside.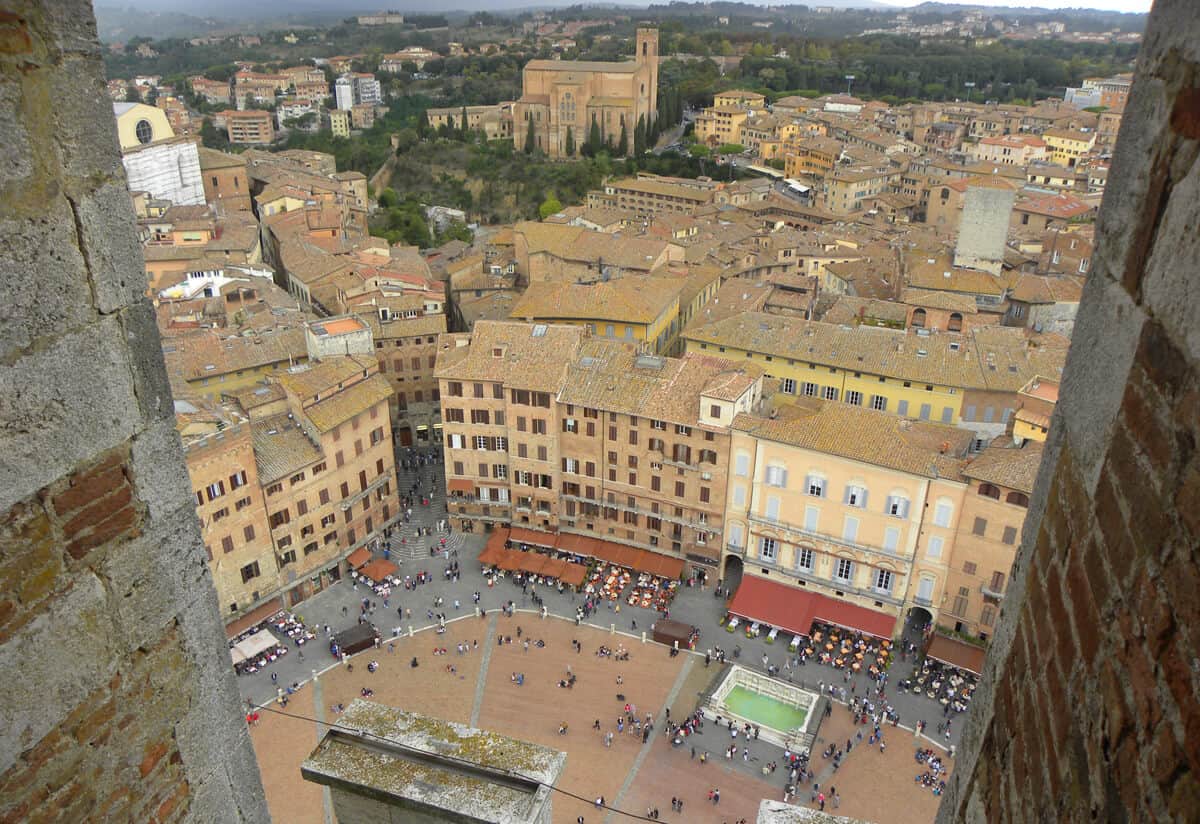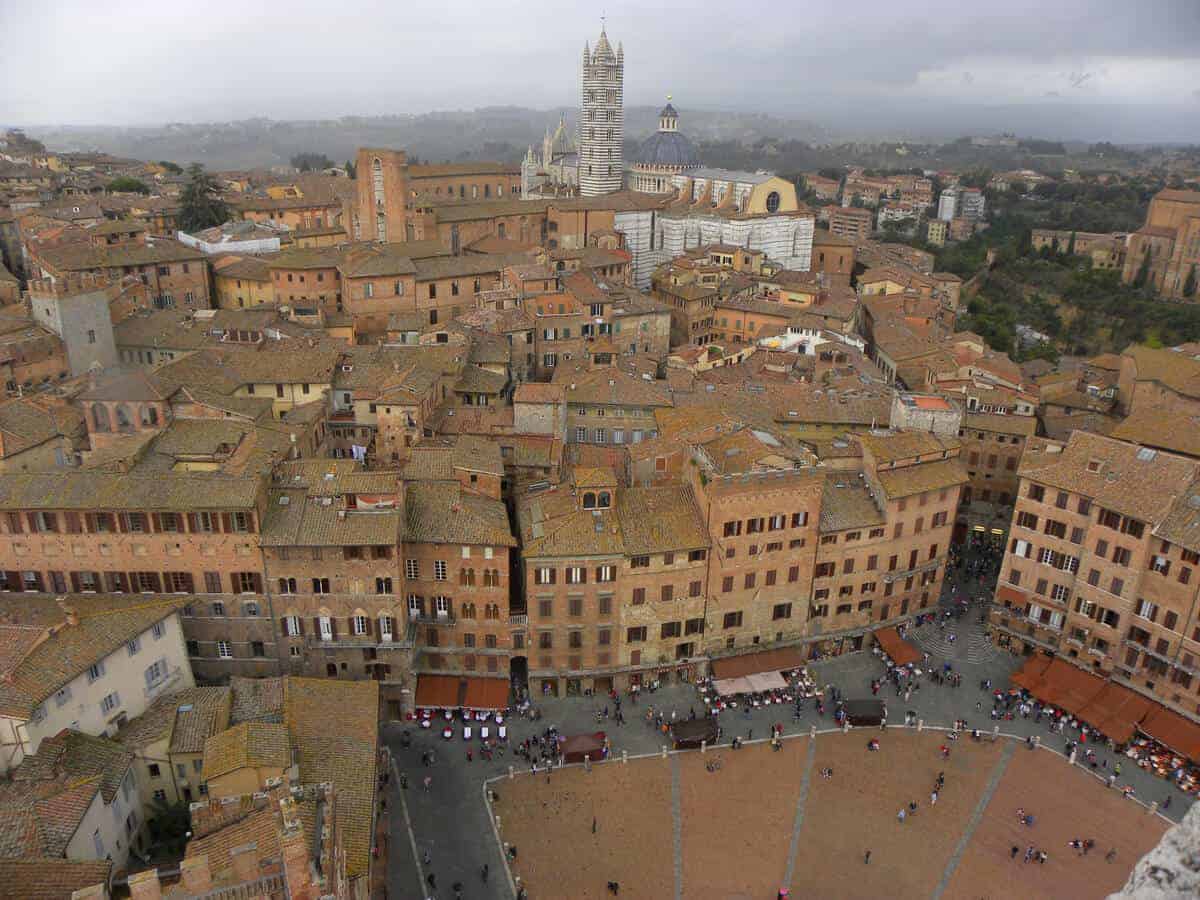 Below: A more images around Siena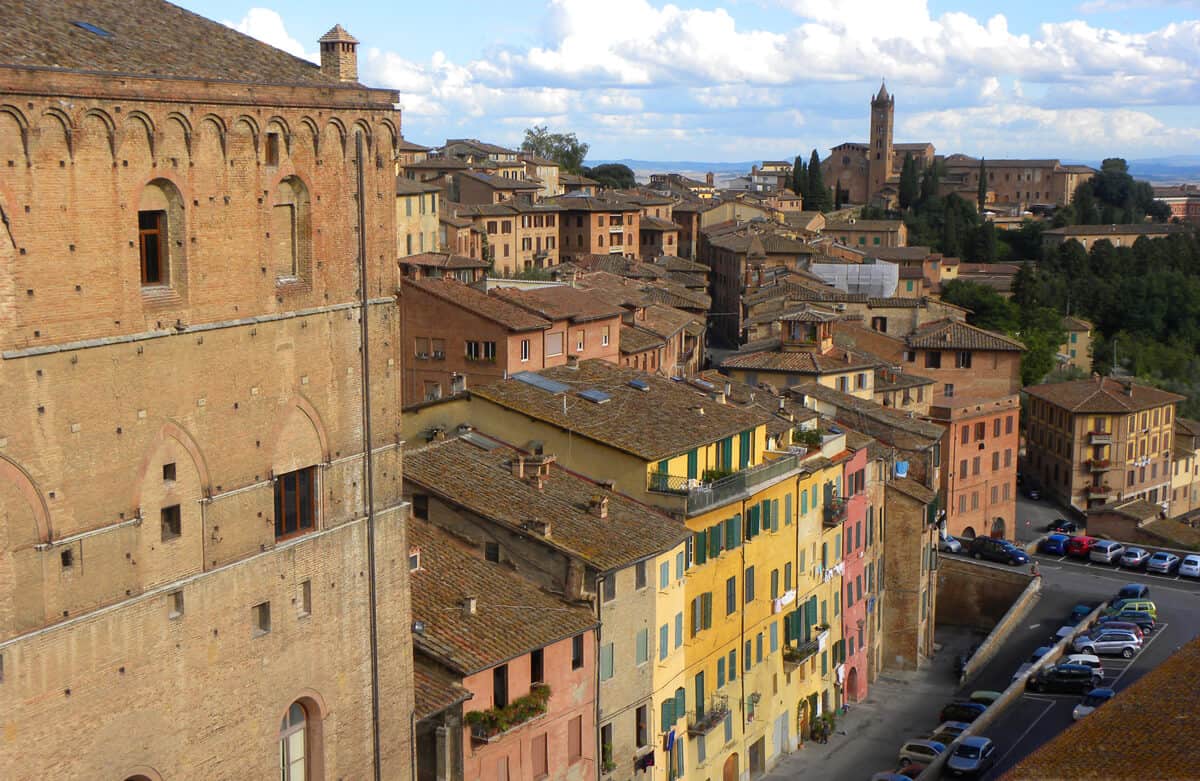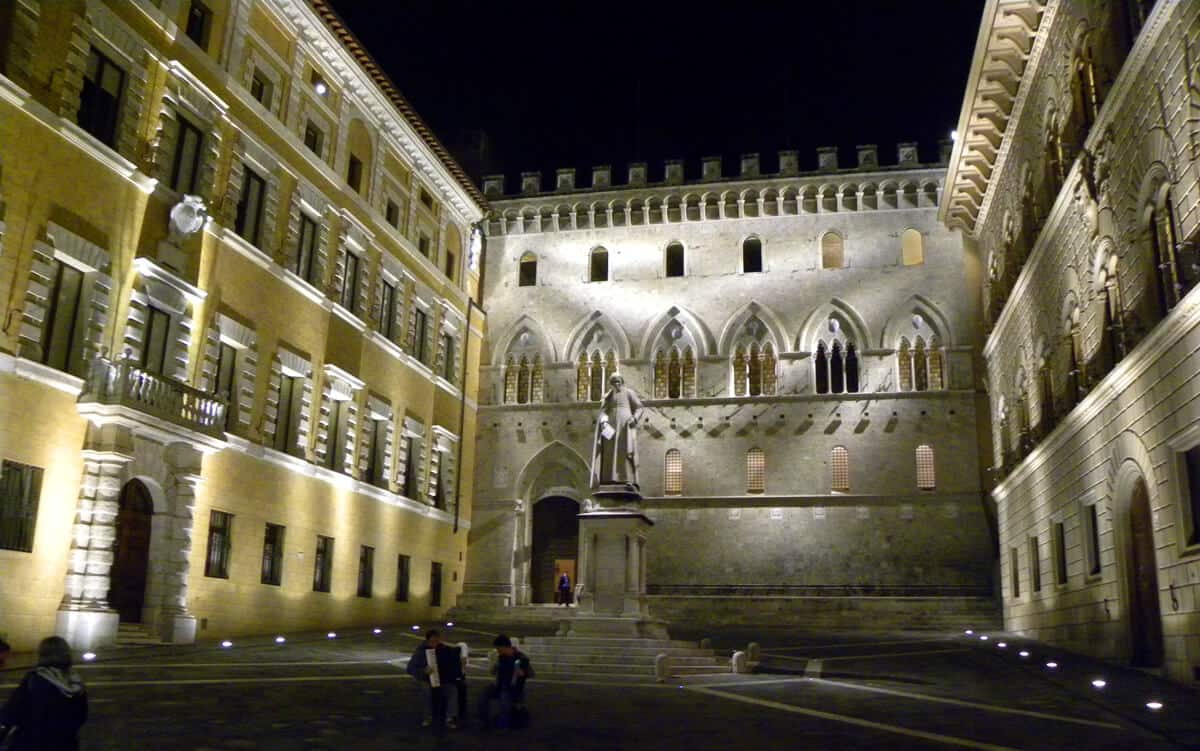 Siena's historic town is a UNESCO World Heritage Site. Somehow it still falls under the radar for many visitors to Italy. We loved it, it is full of sights but at the same time feels like a big-sized small town (for lack of a better description). There is so much beauty in Tuscany – but Siena managed to be one of our favorite places.
Recommended: Take a 2 hr Walking Tour . It includes the Duomo as well as all the other highlights of Siena. If you're in Florence and want to see Siena, take this tour – it includes Siena, San Gimignano, as well as wine tasting in Chianti.
Accommodation: We stay at Hotel Duomo which was comfortable, clean, perfectly located and good value. Recommended.
---
---
San Gimignano
Leaving Siena, our first stop was the beautiful town of San Gimignano. The town is famous for the towers built by its wealthiest citizens as symbols of their power. There used to be 72 towers in the town, only 14 are still standing which is nevertheless amazing considering the small size of the place. In the Middle ages San Gimignano was a stop for pilgrims on the Via Francigena, the ancient road that linked France to Rome and the Vatican.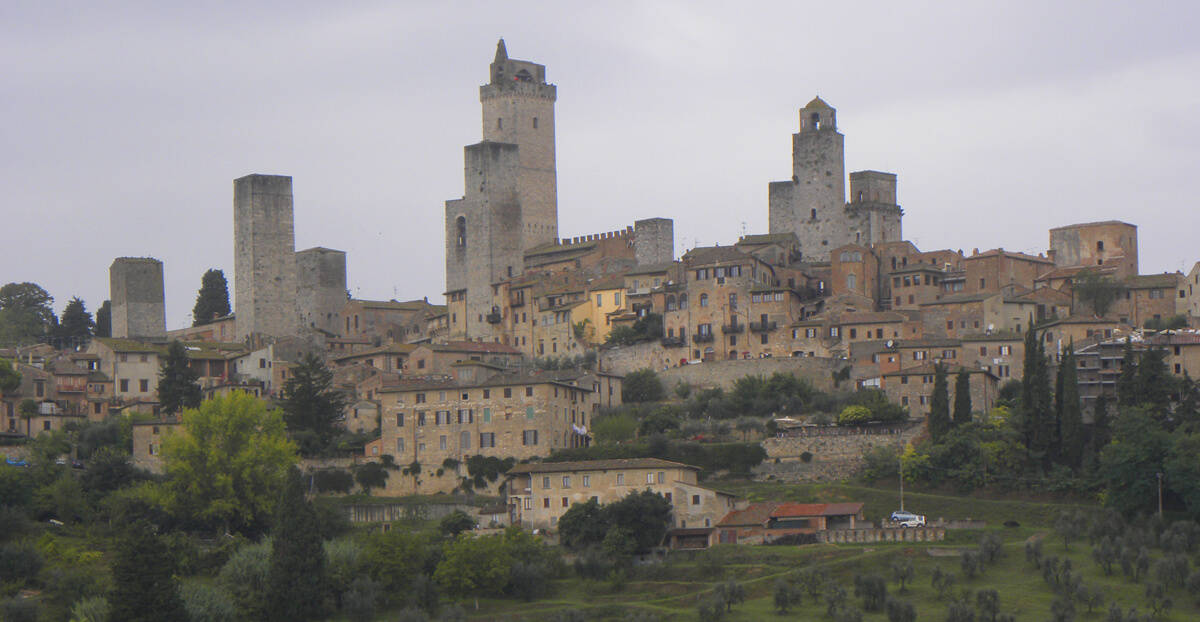 One of the many things I love about Italy are all the towers, every town seems to have one. The most famous one in San Gimignano is the Torre Grossa. The tower is actually kind of deceiving from the bottom. Looking up from the piazza, it doesn't look like much. But climb up and you'll find the views extraordinary. It is a highlight of San Gimignano and climbing it is a must.
---
---
The Towns of Chianti
After San Gimignano, we drove into the Chianti hills, the heart of the Chianti region. We stopped in a few of the small towns; Castellina in Chianti and Radda in Chianti, medieval little towns with more towers and old buildings. Only wines from this area can have the Chianti Classico label (the black rooster). It is a beautiful area that is popular with cyclists, wine enthusiasts, as well as those wishing to visit the region's castles.
Our recommendation? Radda in Chianti which is known for its medieval old town and the ancient walls that protect it.
Driving up higher into the hills, we toured the Casamonte farm for some wine tasting. It is a beautiful estate where they not only produce their own Chianti Classico wines, but also Olive Oil and pork (from Sinta Senese pigs, rare pigs that they breed). I fully recommend coming here for a tour and fell in love with Casamonte's Super Tuscan wines (Sangiovese grapes mixed with Cabernet Sauvignon and Merlot in varying degrees). Fantastic.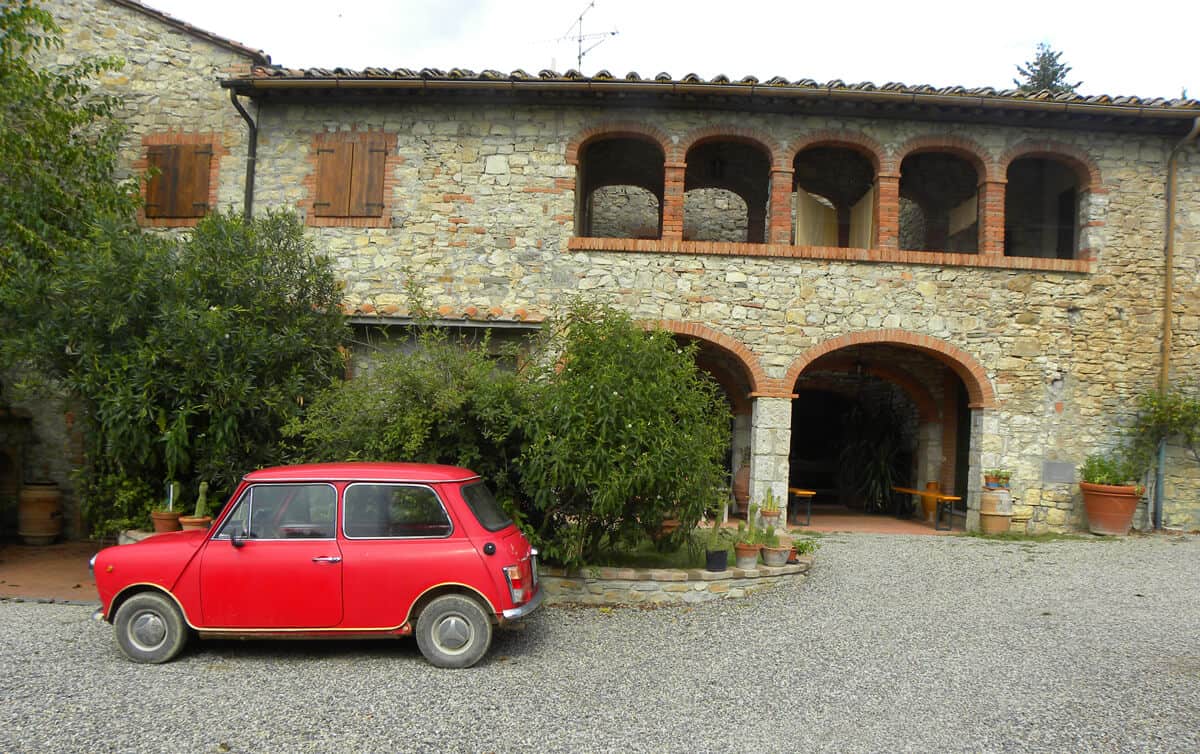 ---
---
Castello di Meleto

After Casamonte, we visited Castello di Meleto (click on that link if you want to stay there) a large castle close to the town of Gaiole in Chianti. Besides having it's own winery, the castle provides accommodation. I'd love to come back and stay here. We were given a tour, seeing underground tunnels and a small theatre dating from the 18th century (photos below). The castle is another great stop in the region.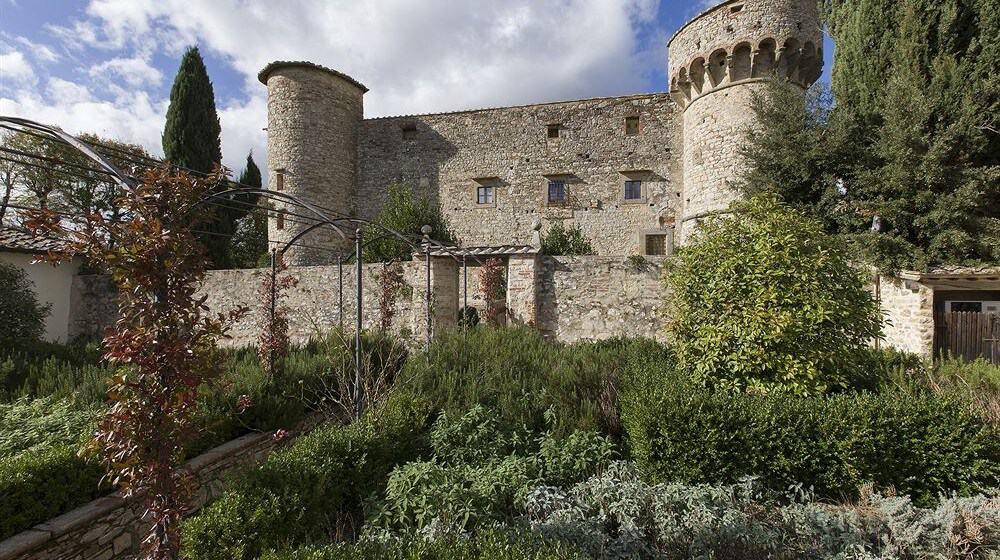 ---
---
To Cortona
We finished off in Cortona.
A beautiful, very hilly town full of churches with an old fort at the top where you have incredible views of the countryside including of Lake Trasimene.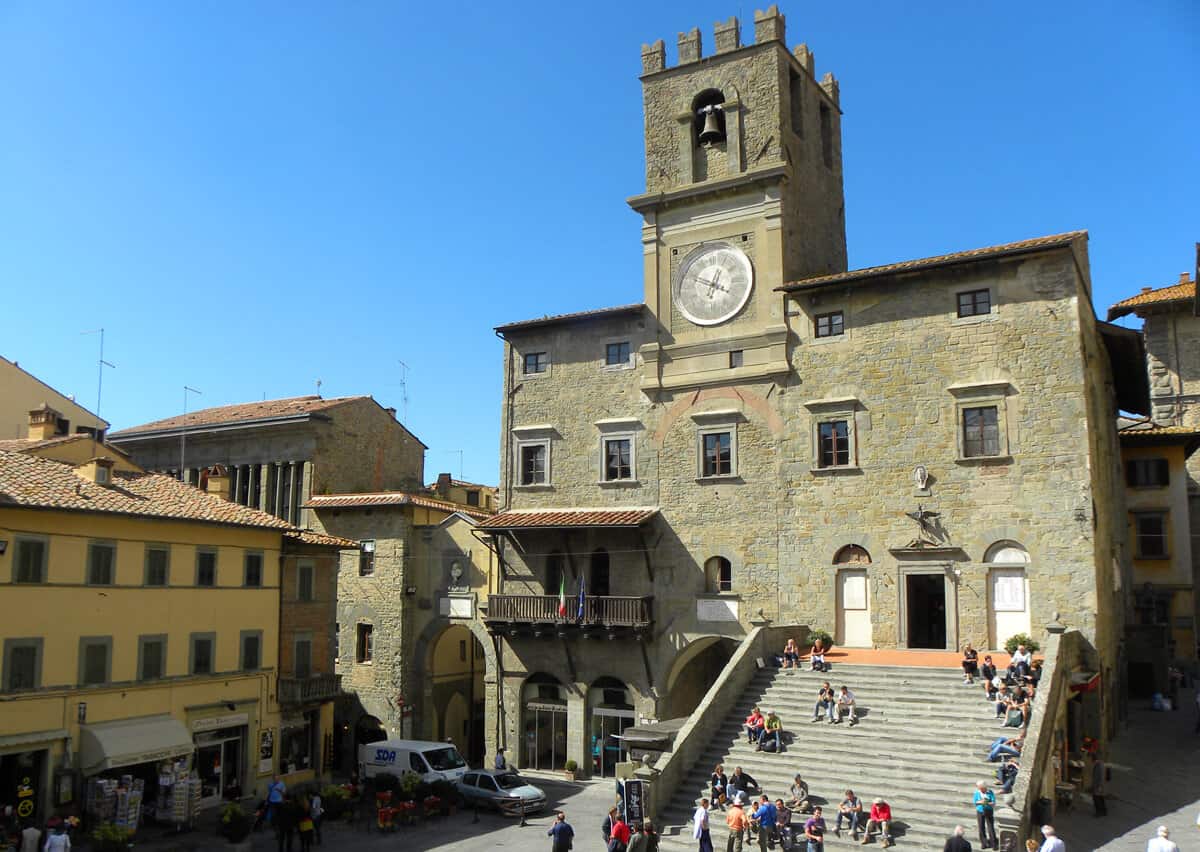 While Siena might be our favorite city in the region, Cortona was our favorite town (click on the link if you want to read more on Cortona)
Accommodation: We stayed at Hotel Italia Cortona which we loved. Lots of charm, perfectly located in the center, good value.
---

Organized Tours of the region
From Florence, you can take this Full-Day tour . You'll see San Gimignano, Siena and go to a wine estate in Chianti for wine and lunch. Recommended.
From Siena, you can take this Full-Day tour. It will take you to San Gimignano as well as to the beautiful walled town of Volterra.
This is a stunning region.
---
---

Have you been to this area? Do you have a favorite town?

Ps. If you find our blog helpful, please consider using our links to book your flights, hotels, tours, and car rentals. Have a look at our Travel Resources page.