Where to stay in Prague.
I've said it many times – Prague is our favorite city in the world. It's where we started our full-time travels in 2014. Since then we've been back every year, staying months at a time. It's the place that feels most like home to us, a place where we recharge and catchup with stuff (going to the doctor, dentist, getting new computers, upgrading our cameras etc). Besides being an incredibly beautiful city, it is an exciting city with great restaurants and pubs as well as a wonderful transport system.
Note: For all those who call Prague "touristy": yes it can be, especially for the 1st time traveller coming here to see the highlights that Prague is famous for. But there is so much more to be seen and experienced. I'll include a link at the bottom of this post.
The question a lot of people struggle with is "Where to stay in Prague?".
That depends on what you want to do and how long you're staying in Prague.
I break it down for you below. I also describe the different neighbourhoods in greater depth.
---
---
Where to stay in Prague as a 1st time visitor staying a short time
If you fit into this category you're most likely a tourist who's staying for a few days and who wants to see the major highlights of Prague. In this case, you're best off in the Old Town (centered on the Old Town Square) or in Mala Strana (on the other side of the river below Prague castle). Either way, everything is in walking distance.
In most cases you'll want to stay in a hotel while in this area. This area is more touristy and prices higher – but you're in the middle of the action and the sights.
Where to stay in Prague as a someone staying longer /wanting something quieter
If you're not in a rush and don't mind taking public transport to get places (and I'm talking 15 to 20 minutes) then Vinohrady and Vršovice are an alternative. You'll be staying in real neighbourhoods full of parks and with local restaurants and pubs. Parts of these neighbourhoods are absolutely beautiful and you'll get a whole different perspective on Prague. In addition to locals, many expats live in these areas.
These two areas are obviously not for someone on a weekend trip to Prague. They're for people (like us) who have more time on their hands. They'll want an apartment. I'll have a few recommendations below as I discuss these neighbourhoods in greater depth.
Nightlife, fancy hotels, better deals
Novo Mesto (New Town) has lots of hotels and apartments that are better value than those in either the Old Town or Mala Strana. And you're often just a few minutes from the old town. The only thing is that parts of Novo Mesto are a bit gritty (many of Prague's strip joint are right off Wenceslas Square). If that doesn't bother you then you'll have the luxury of being near the center of things while paying a bit less.
Prague's neighbourhoods in depth
Note: the hotel and apartment prices below can vary. That's why I've highlighted several options, all being excellent.
Old Town (Stare Mesto)
The center of what I think is the most beautiful city on earth. Highlights such as the Old Town Square, Týn Church, the astronomical clock, the Church of St. Nicolas, tons of towers you can climb, the Klementium, the Charles Bridge, the Jewish Quarter, the Rudolfinum…
Walk, stop for a beer, enjoy the beautiful views of the Castle across the river. It's all exquisite.
Where to stay in the Old town?
All the hotels and apartments below have a rating above 9 on Booking.com. It's an expensive neighbourhood – the most expensive in Prague – but nothing beats its convenience.
Myo Hotel Mysterius (4 stars, 175 euros)
Four Seasons Prague (5 stars, 565 euros)
Hotel CUBE Prague (4 stars, 145 euros)
The Julius Prague (5 stars, 153 euros)
Apartment in the heart of Prague (4 star, multi-room apartment, 218 euros)
---
---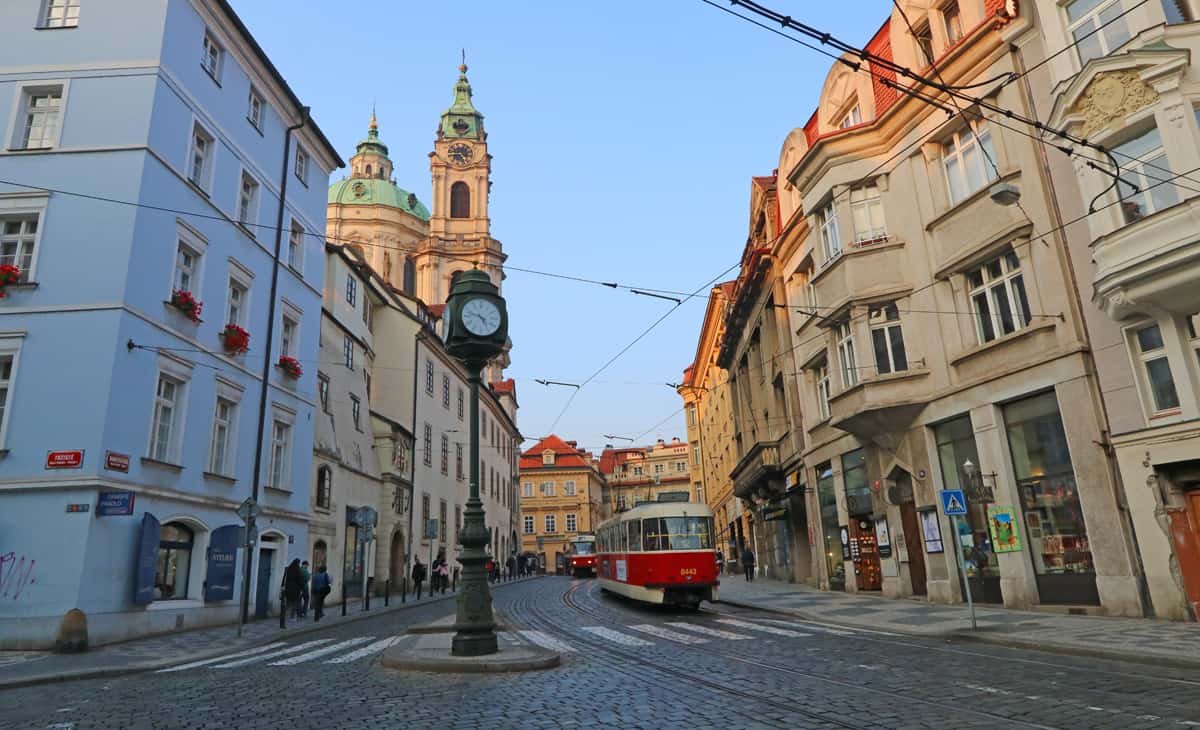 Mala Strana
Across the river from the old town, Mala Strana is hillier and full of little streets. It's quaint and parts of it look like it came out of a fairytale. It is a beautiful area to explore on foot. Have a look at Lesser Quarter Square (Malostranské náměstí), St. Nicolas Church, Wallenstein Gardens, the John Lennon Wall, Vrtba Garden, Kampa Park, see the swans in the Vlatava river…
And the Mala Strana is the jumping off point to Prague castle (and the castle district) which is just up the steps…
Where to stay in the Mala Strana?
Again, these hotels (and apartment) all have a rating above 9 on Booking.com. And prices are more affordable than those across the river.
Hotel Pod Věží (4 stars, 100 euros)
Hotel Ikona (3 stars, 90 euros)
Golden Star hotel (4 stars, 80 euros)
Three Golden Crowns Apartments (3 stars, 90 euros)
---
---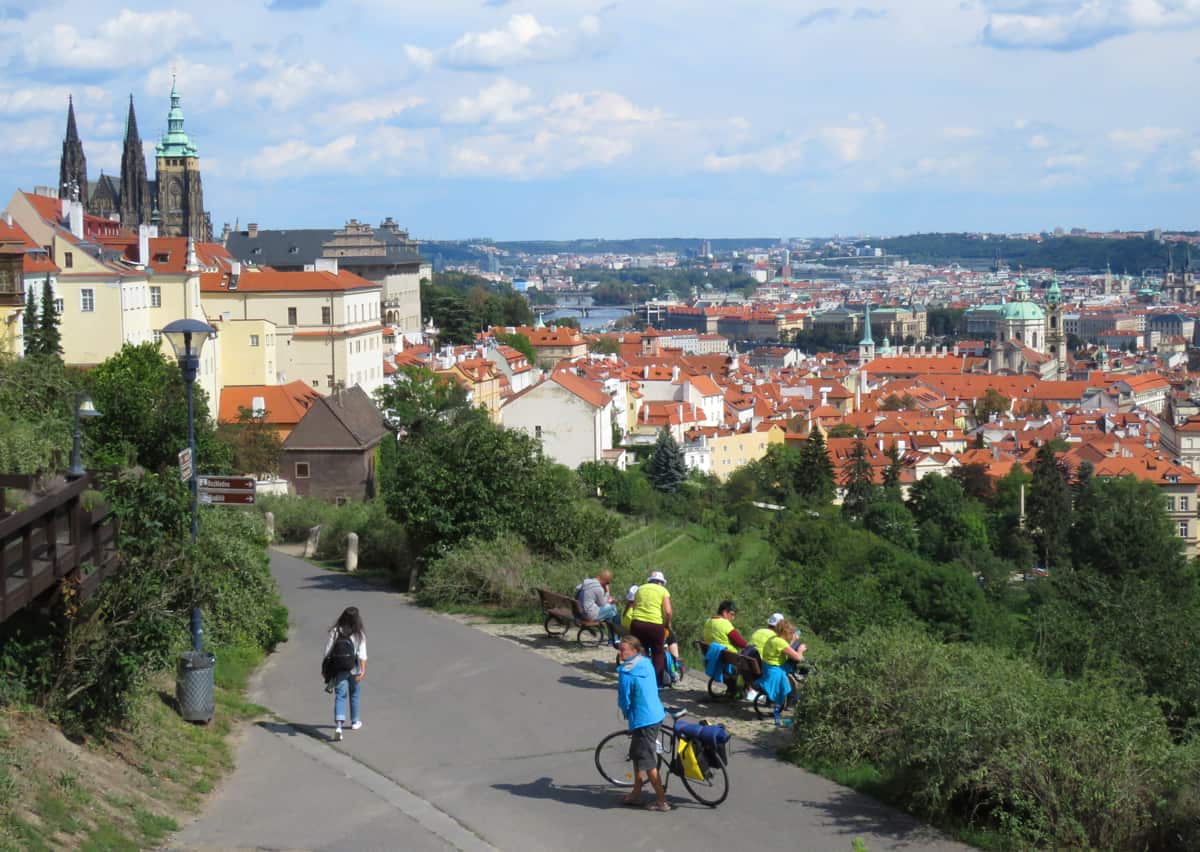 Castle district
Besides Prague castle (the highlights of which are St. Vitus Cathedral, the Royal Gardens, and Golden Lane) you have Loreta Church, the Strahov Monastery and Petrin Tower. You get great views of the entirety of the city. A lot of green spaces and large squares and it gets quiet later in the day. It's not an obvious area to stay because you're a bit out of the center (a 10-15 minute walk into Mala Strana). Maybe that's why you don't have many hotels up here. But if you like quiet and a beautiful spot then you might consider it…and you can eat/drink at the Strahov Monastery brewery which is always a fun time.
Where to stay in the Castle District?
Questenberg Hotel (4 stars, 120 euros). Beautiful traditional hotel, a 9+ rating on booking.com. And it's on the edge of the castle district, an easy 10 minute walk down the hill into Mala Strana.
---
---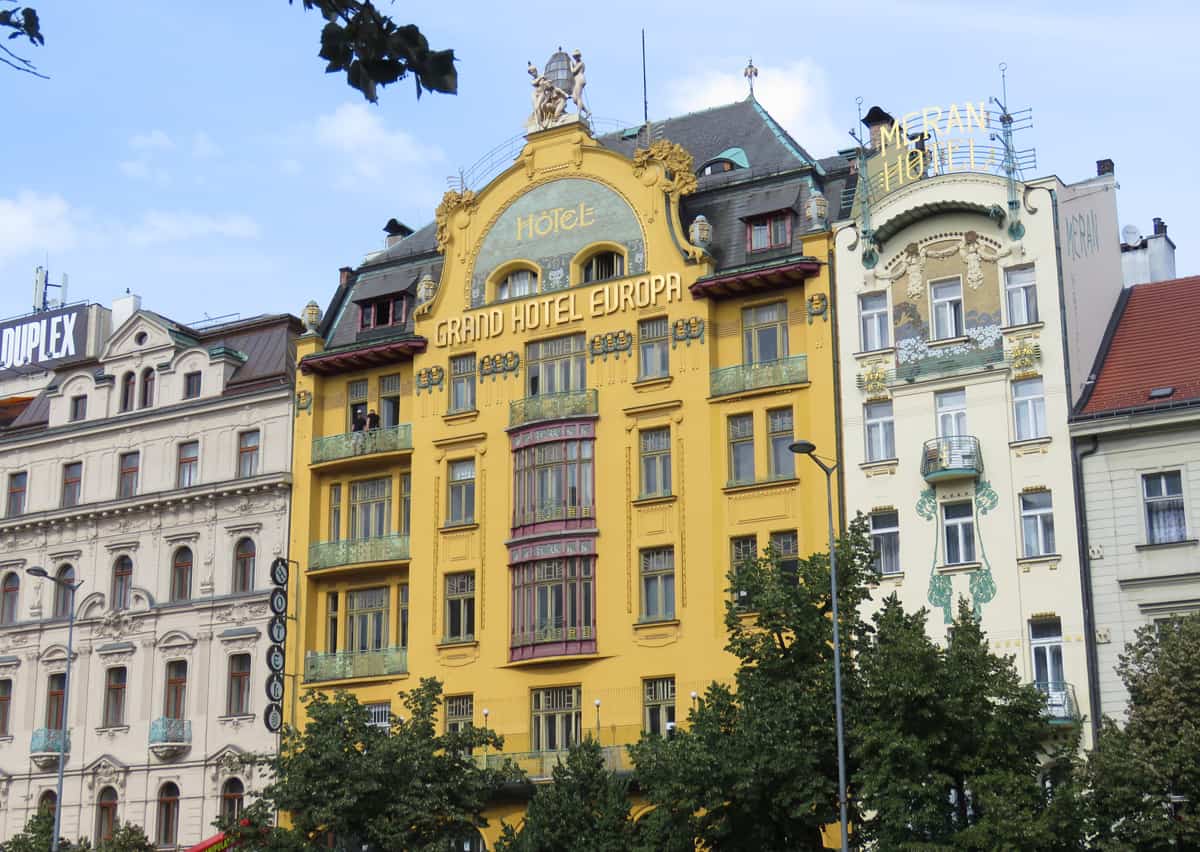 New Town (Nove Mesto)
The New Town is divided from the Old Town by Na Příkopě, one of Prague's big shopping streets. It's a happening area with plenty of sights: The National Museum, Wenceslas square, Church of Our Lady of the Snows. Along the river you have the Dancing House, the National Theatre, and lots of incredible architecture. I mentioned that parts of the New Town can be gritty but that's mostly centered on a few blocks near Wenceslas square where Prague's naughty nightlife is located.
Still, it's a great alternative to the Old Town and you'll get much better value for your money.
Where to stay in the New Town?
Again, all these hotels and apartments rank 9+ on booking.com. All excellent places to stay.
Wenceslas Square Hotel (4 stars, 156 euros)
Boutique Hotel Seven Days (4 stars, 70 euros)
numa I Flow Rooms & Apartments (4 stars, 55 euros)
Unesco Prague Apartments (5 star, multi-room apartments, 181 euros)
Apartment Josef (3 stars, 77 euros)
---
---
Below: neighbourhoods more suitable for people staying longer than the standard 2-4 day visit
Vinohrady
It's our absolutely favorite place to base ourselves in Prague when we are here for an extended period. It is a neighbourhood full of pretty parks, gorgeous architecture, and some really nice restaurants including some trendy Asian, Indian and vegetarian places.
Vinohrady is a big neighboorhood and some pockets are nicer than others. The square at Náměstí Míru (also the name of a metro station) is beautiful. You have the Church of St. Ludmila there, the Vinohrady Theatre, and lots of nice restaurants. Further into Vinohrady we love Korunní street which is very cosmopolitan with some great pubs and restaurants (Vinohradský Pivovar is here, a great place for beer and a local meal). The area around Jiřího z Poděbrad is also very nice and vibrant. There's a Farmer's market on weekends where you can have local food and wine. Finally, we like Ruská street which is on the southern dividing line between Vinohrady and Vršovice. Ruská has also become upmarket the last few years and has nice local restaurants and cafes. Nearby you have Havlíčkovy sady park which has a vineyard in the park as well as a weird grotto/cave.
We just really love Vinohrady.
Where to stay in Vinohrady
I'm going to stick to apartments because I'm assuming anyone choosing Vinohrady will prefer an apartment over a hotel for a longer stay. Pickings are a little scarce:
Near Náměstí Míru – Eight Secrets Boutique Residence (4 stars, 90 Euros, 9.2/10)
Near Náměstí Míru – Royal Apartments Prague by Michal& Friends (3 stars, reduced rate for longer stays which come out to about 90 Euros/night, 9.0/10)
Near both Jiřího z Poděbrad and Korunní – Perunova Apartments (4 stars, 140 euros night for apartment with multiple bedrooms, 8.8/10)
I would also recommend you check out Airbnb for apartments. They tend to come out cheaper for longer stays.
---
---
Vršovice
Bordering Vinohrady, this area is in many ways an extension of Vinohrady. I mentioned Ruská street above which delineates the two neighbourhoods…going into into Vršovice you'll be downhill, seeing pretty side streets with beautiful residencial buildings, little stores and lots of green spaces. We particularly like Moskevská street which is a pretty residential street with neighborhood stores, cafes and bars with outdoor terraces. Trams run along it which bring you to the center in about 15 minutes (you can actually take the 22 tram here which will take you to the center and then on to Mala Strana and to the Castle district).
A great neighbourhood that's only getting more popular.
Where to stay in Vršovice
Like Vinohrady, there aren't a ton of options here. But here are a few:
Bob's Apartments – 3 bedrooms with King size beds (3 stars, huge place for a number of people, 200 Euros/night)
The Loft Prague – another large apartment with 3 bedrooms (4 stars, 110 euros/nt)
Beautiful Apartments in Prague – smaller apartment (3 stars, 125 euros/nt)
As with Vinohrady, I'd recommend looking at Airbnb for other options if you aren't happy with the above.
---
---
Zizkov
Zizkov transitions from middle class and pretty (around where the Zizkov TV tower is) to downright rough as you head toward the National Memorial on Vítkov Hill. So I recommend you stay in the southern end of the area. Again, good transport connections downtown.
Where to stay in Zizkov
Apartment Sense of Zizkov (apartment, 54 Euros, 9.4 rating). And next to the Zizkov TV tower.
Baranova Apartments (great apartments, 600 euros for 4 night stay). Also next to TV tower.
---
---
There are other neighbourhoods where you can stay. Our first time ever in Prague we stayed for 3 months in an apartment in Prague 8 (a working class neighbourhood on the outskirts of Prague). We had to take the bus and metro to get to the center – but with Prague's wonderful transport system it would take under 30 minutes. And the apartment cost less than $500 US/month (it was through a mutual friend. You won't find a price like that any other way). But my point is that it is easy to get around Prague and you shouldn't be afraid to look at all options.
Some Resources on Prague
50 Things to do in Prague (the highlights for the 1st or 2nd time visitor)
Unusual things to see and do in Prague (for people on their 3rd, 4th or 5th visits…)
3 Days in Prague (my itinerary for 3 days in Prague)
The Best views in Prague (the very best viewpoints. There are a lot in Prague)
The Best Towers in Prague (if you love climbing medieval towers you'll love this post)
Prague's most scenic walk (highlighting our favorite walk in Prague)
Around Prague Airport…and getting to the city center