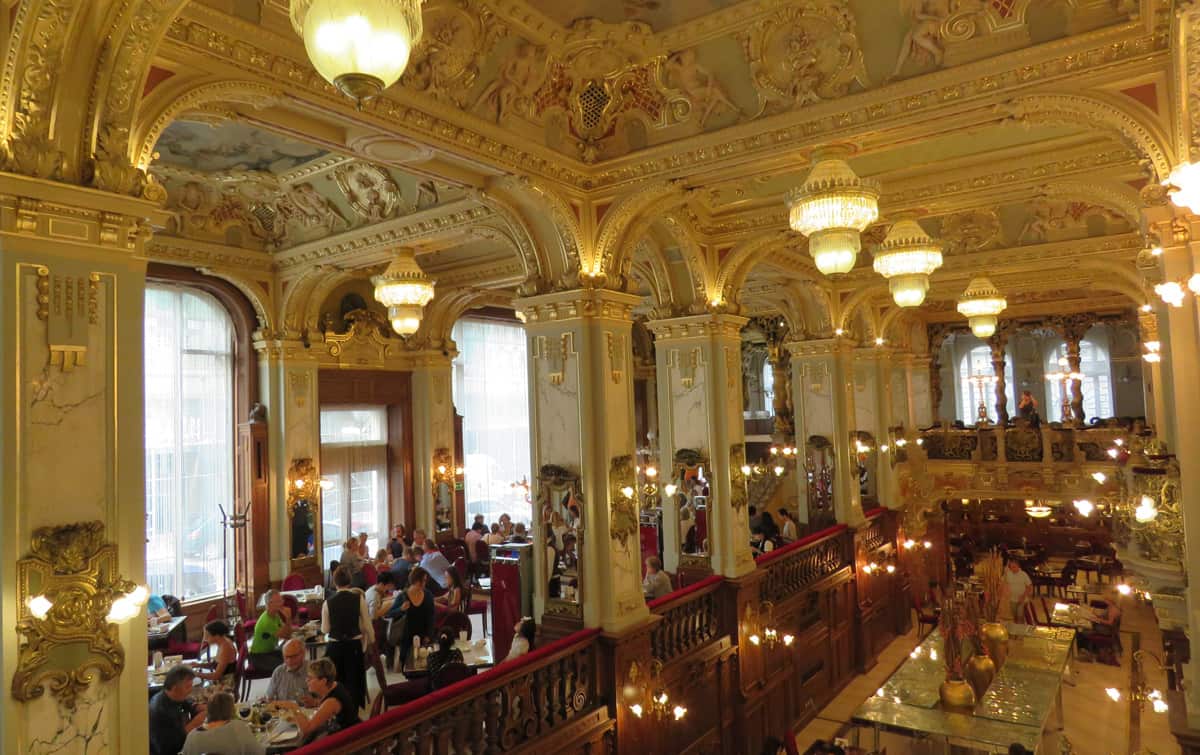 The Most Beautiful Cafés in Budapest
Budapest has some of the most beautiful, opulent coffee houses we've seen anywhere. The reason for that was a thriving coffee culture that started around 1910 and continued until the 1930's. Cafés were where writers, poets and artists would meet. During this period there were about 500 scattered around the city. That ended during World War II when many were destroyed. In the Communist period that came after, coffee houses were shut down as they were considered meeting places for subversives. The end of communism in 1989 meant the slow re-emergence of Budapest's coffee culture. While you may have a hard time finding a great cup of coffee (we were surprised by how much bad coffee we were served in Hungary) you'll find many beautiful coffee houses. And the good thing about all the places that I'm about to list is that we had good coffee in each one 😉 .
---
---
.
The Alexandra Bookstore Café.
This café has a fascinating history. Built in 1884 on beautiful Andrassy Boulevard (Budapest's most prestigious street) it was first a casino, then a department store. It fell into disrepair during Communist rule and it wasn't until a French real estate group bought it in 2005 that it was restored and renovated. In 2010 the building was reopened and rented by the Alexandra Bookstore. Today it serves as their café (more on it's history here).
I'll say it right off the top: this is our favorite café in Budapest. It is absolutely stunning, really comfortable (nice leather chairs),and reasonably priced. Actually it may be the least expensive café on this list.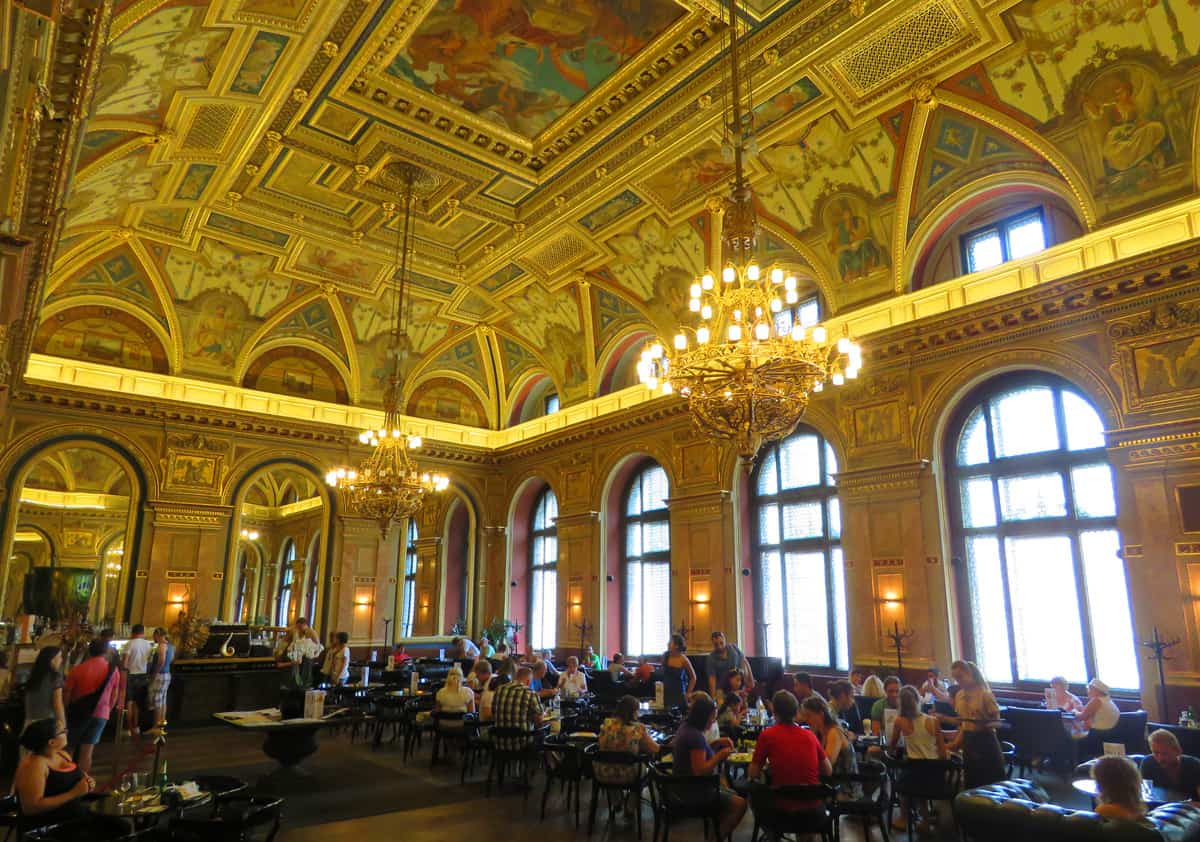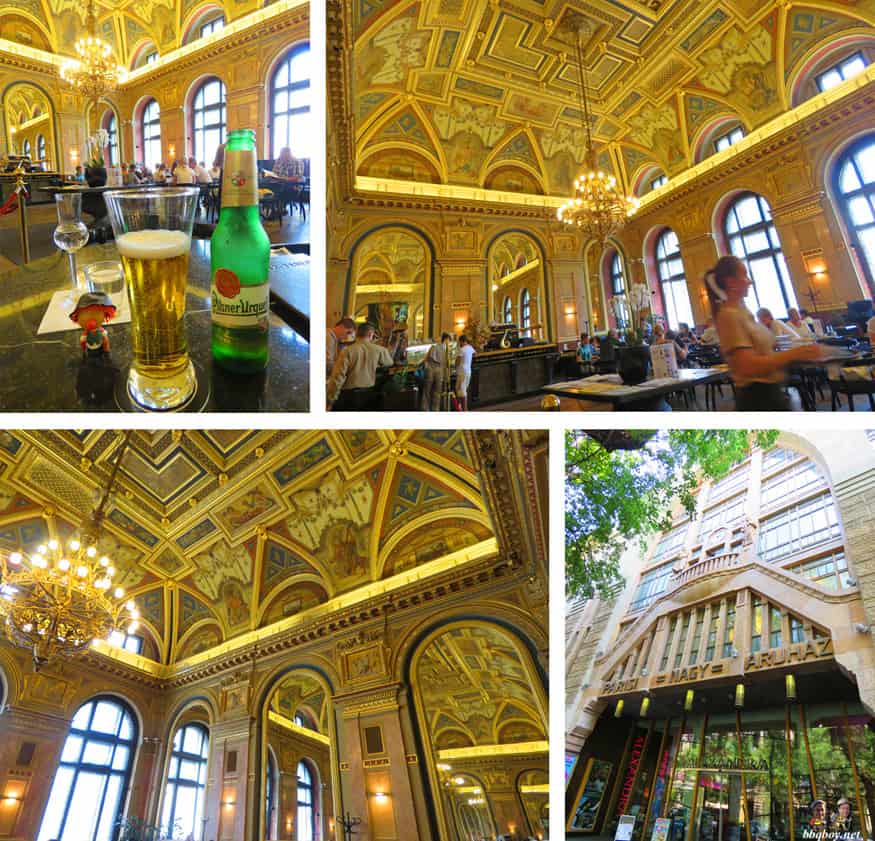 ---
---
.
Gerbeaud
This coffee house is one of the most famous in all of Europe. The café was established in 1858 and in 1884 sold to Swiss confectioner Emile Gerbeaud. He expanded the café and decorated it with marble, bronze, fine wood as well as crystal chandeliers. Today the beautiful building, situated on one of Budapest's most famous squares (Vörösmarty Square), houses a restaurant, a bistro, as well as a confectionary (café).
Everyone had told us that Gerbeaud is an essential Budapest experience. I'll be honest; it didn't bowl us over. The café itself is no that big (most of the building houses the Bistro and Onyx Restaurant) and the furnishings not as lavish as we would see elsewhere. It is beautiful, but also both very touristy and over-priced. The building from the outside however is arresting, the most beautiful building on the square.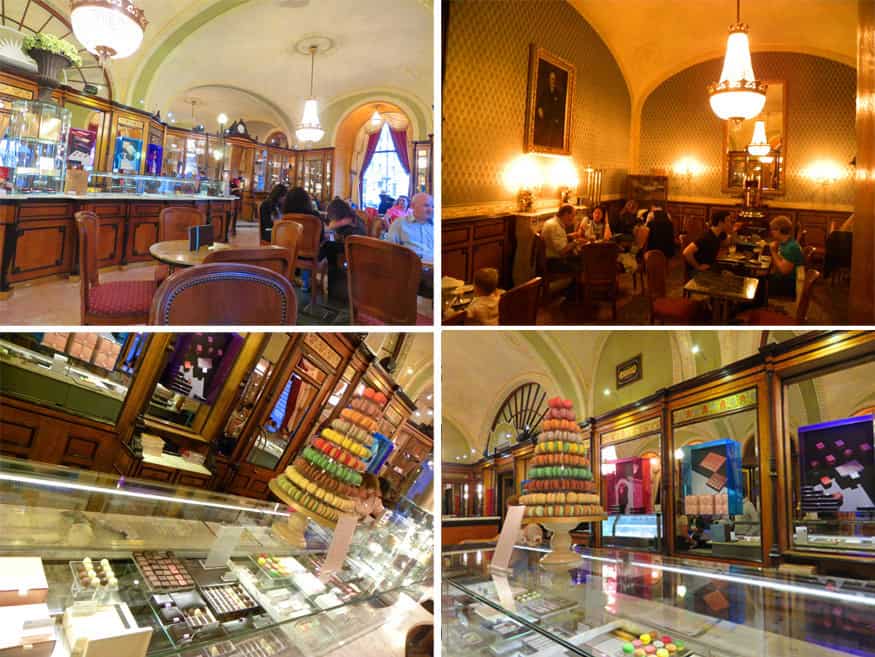 .
---
---
Café Central
This café was established in 1887 and was one of the most popular coffee houses for artists and writers. In 1949, during the Communist period, it was closed down and was turned into a diner for construction workers. In the 1960's it became a club for ELTE University (situated next door) and in the 1990's an amusement arcade. In 1999 it once again became a coffee house and has been restored to its former glory.
Different in style than the other cafés on this list, Cafe Central is described as a 'Vienna-style coffee house'. For us it evokes "Mad Men" times, you can imagine Don Draper here drinking shots of scotch while chain-smoking. A beautiful café with reasonable prices and situated on one of our favorite squares (Ferenciek tere) looking across at the ELTE library.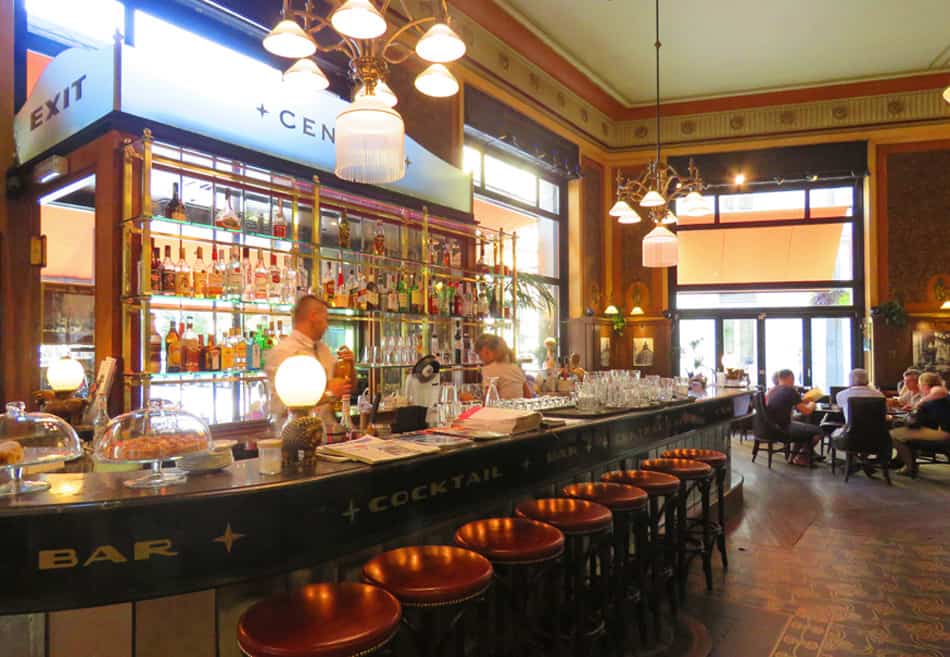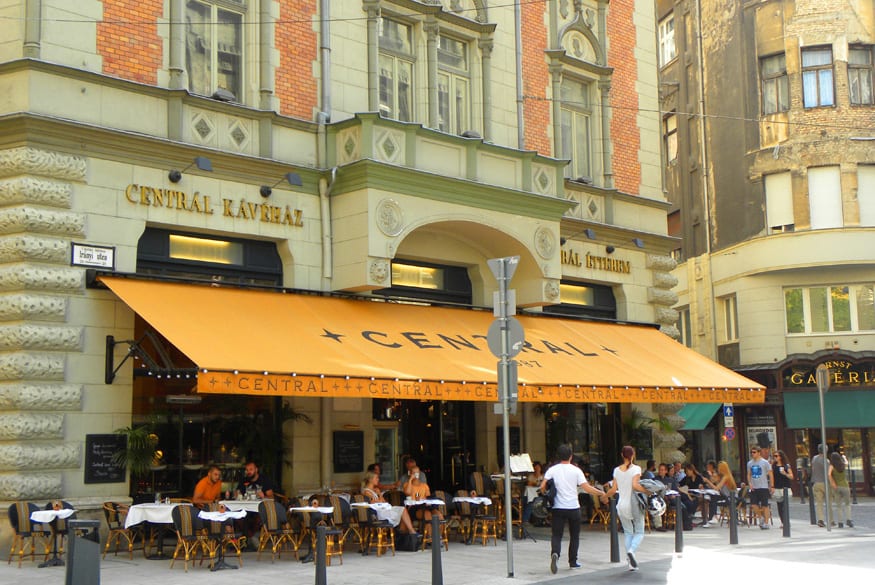 ---
---
New York Café
Along with Gerbeaud, this café is cited as a 'must see' coffee house. The café is part of a 4 story building that was built by the New York Life Insurance Company in Italian renaissance style. The café was built on the ground floor and was the most exclusive of Budapest coffee house . It was also a favorite among Hungarian writers. World War II and Communism left the building in ruins until Italian hotel chain Boscolo Hotels bought the building and restored it (to the cost of 80 million Euro) into a 5 star hotel that opened in 2007.
Touristy and expensive – but incredibly impressive. And although it cost us the equivalent of $40 US for 2 cakes and 2 coffees, everything was top notch.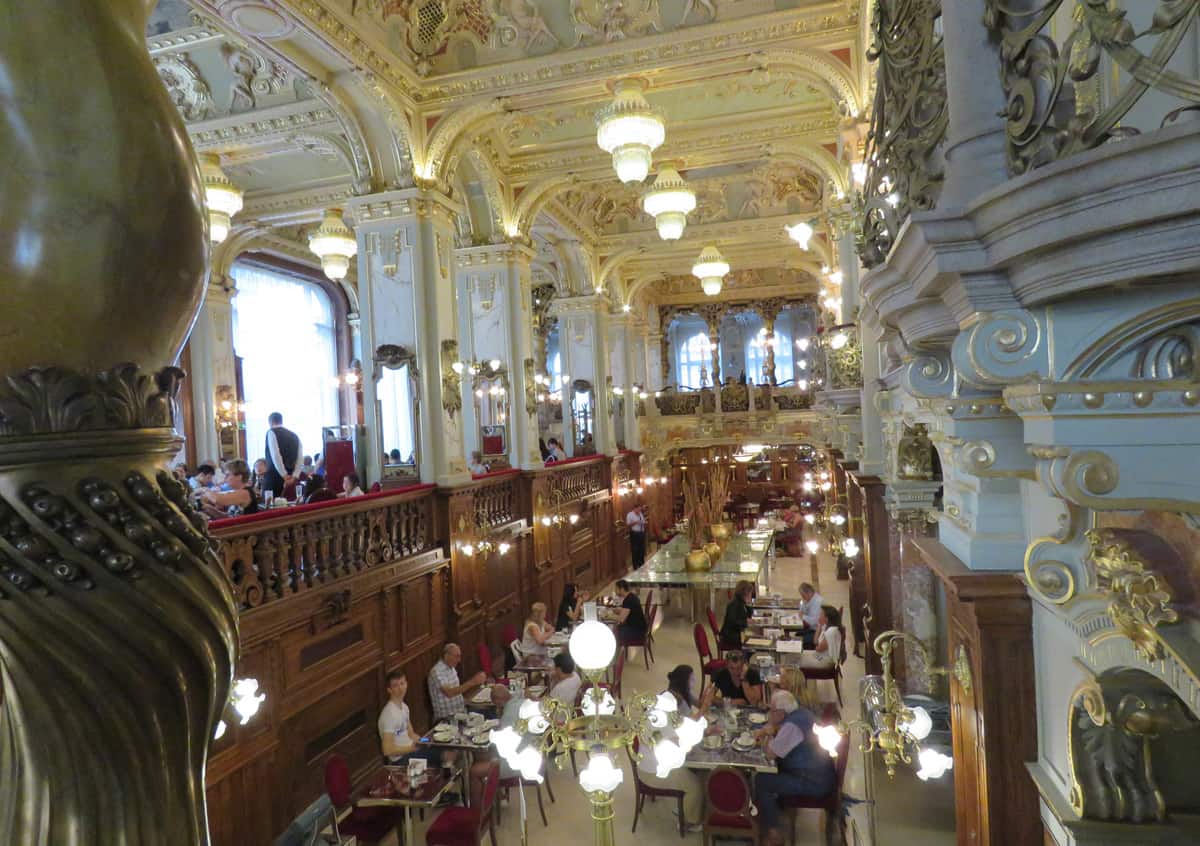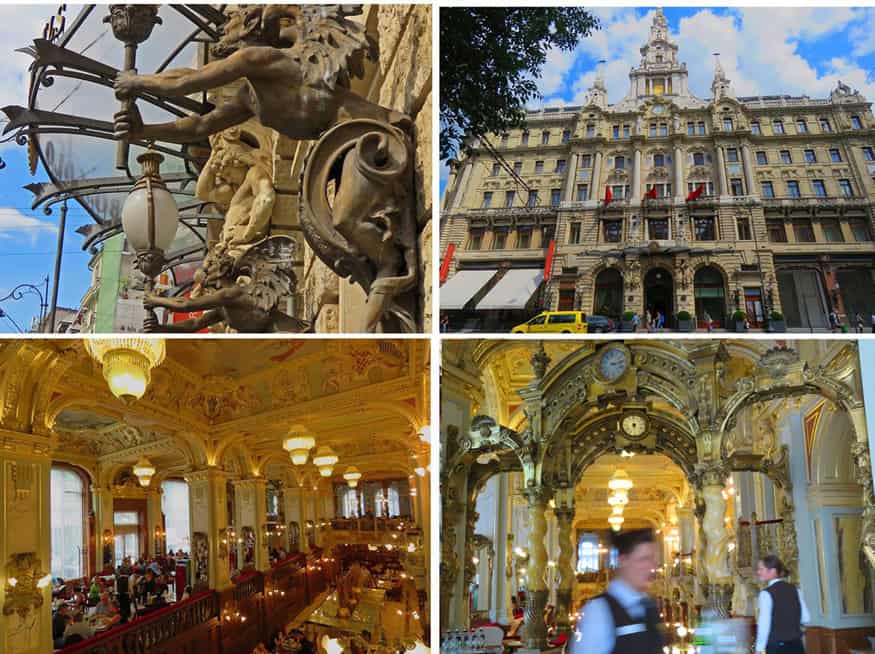 .
---
---
Auguszt Confectionery
After Gerbeaud, Auguszt is the 2nd oldest confectionery in Budapest (it has 3 outlets in Budapest but the one near Astoria metro dates back to 1870). Highlights include a huge crystal chandelier and a large courtyard in the back. Auguszt also serves the 'cake of the year' chosen every year on St. Stephen's Day (August 20th).
We came here about a week after St Stephen's Day to taste the cake of the year (detailed on this post). Auguszt is not as impressive as some of the other cafés on this list – but what you get is friendly service, few tourists, and very good cake and coffee.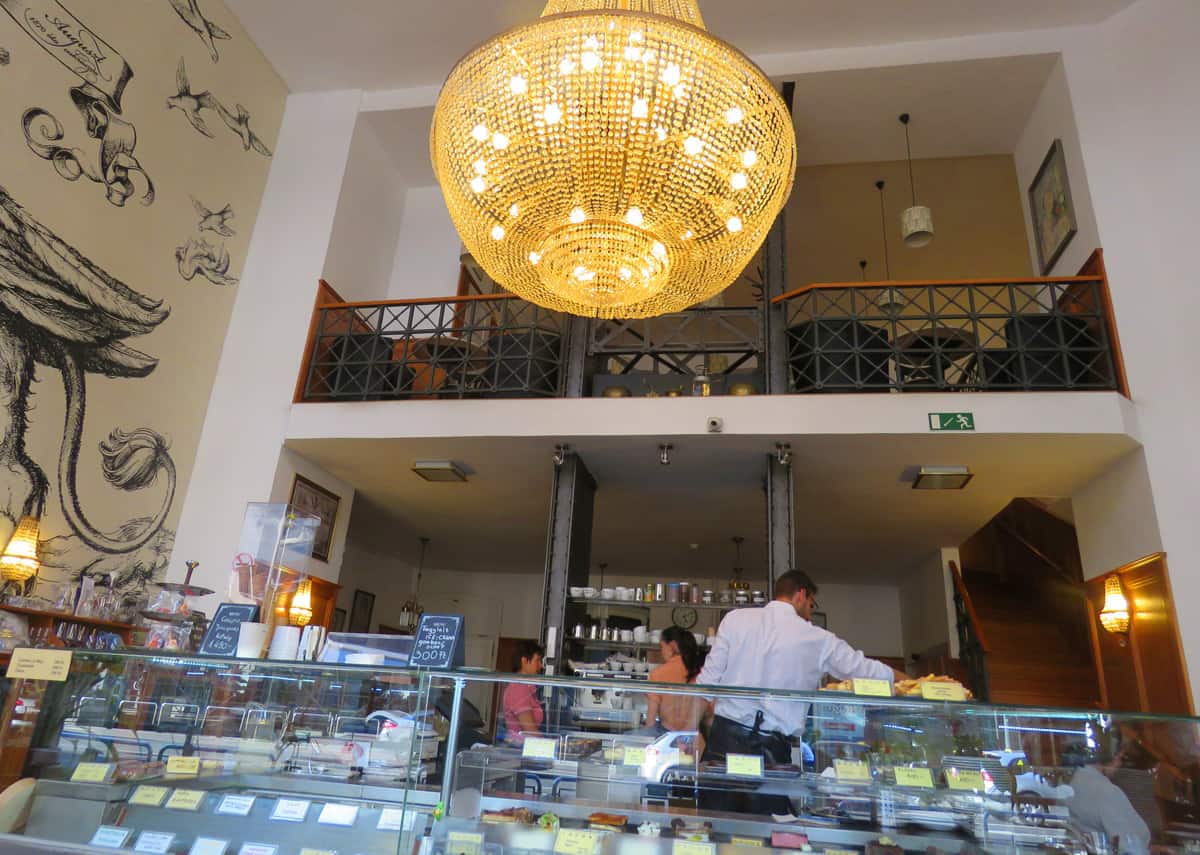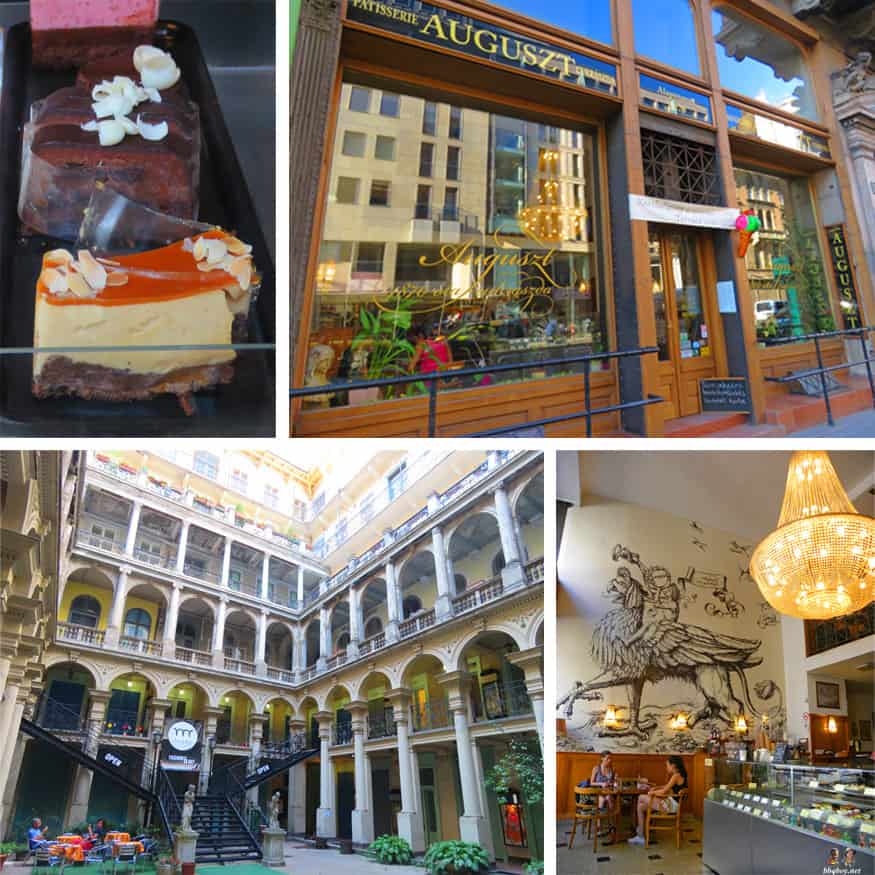 Note: Budapest is one of the few places I know where you can take a Café Tour. It covers most of the cafes above plus a few more.

Our Top 3? If you have limited time, visit the Alexandria Book Store Café and the New York Café. If you have a a bit more time, also include Café Central.
What's you favorite Budapest Café?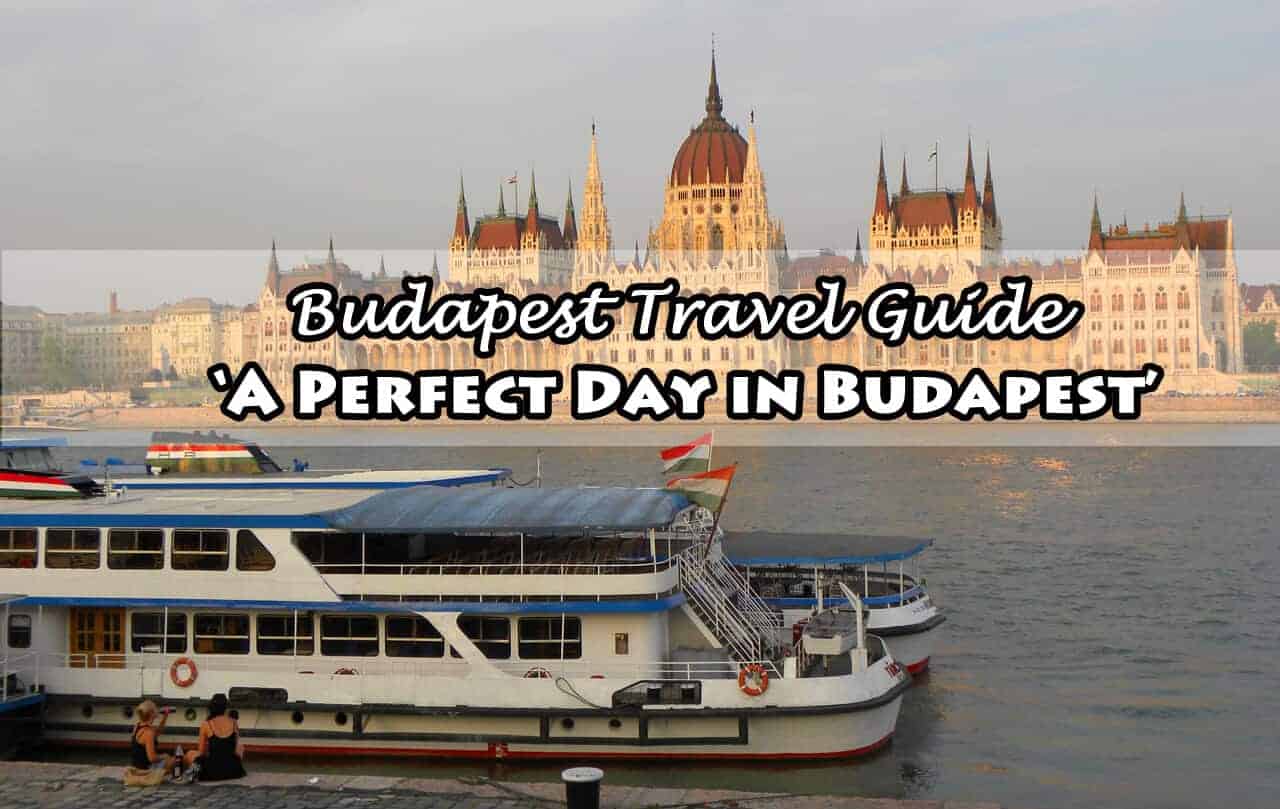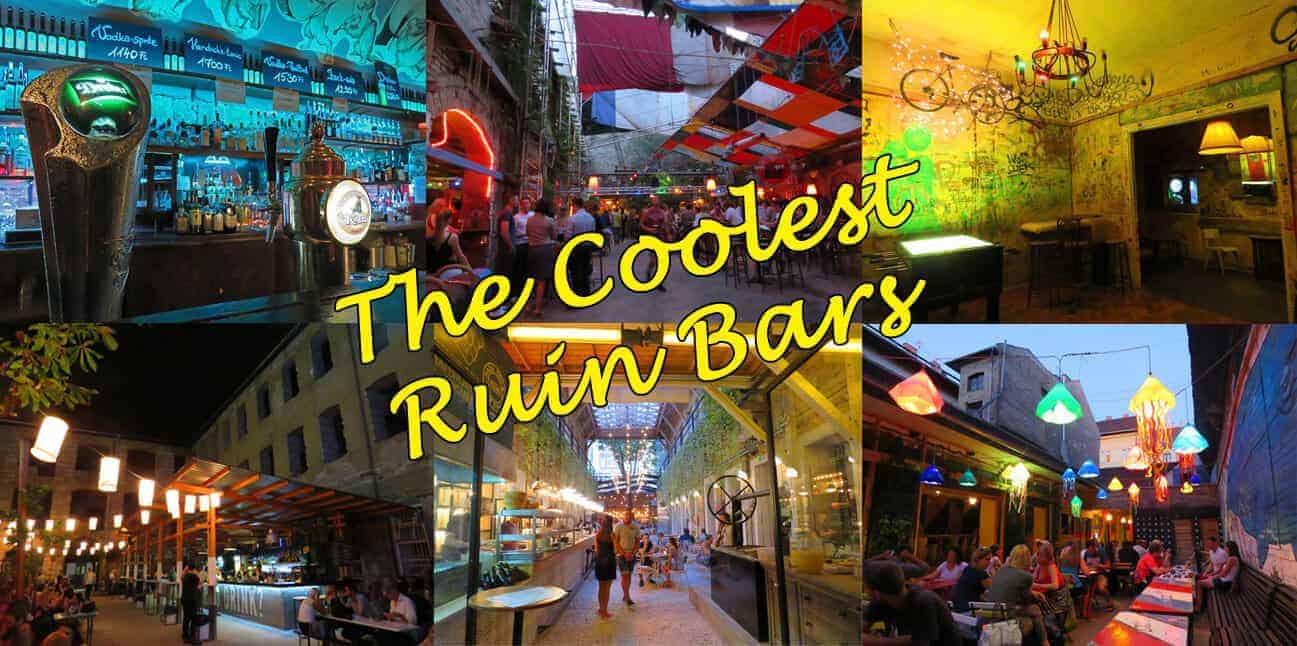 Ps. If you find our blog helpful, please consider using our links to book your flights, hotels, tours, and car rentals. Have a look at our Travel Resources page.