The Coolest Ruin bars in Budapest.
Lissette and I aren't the types to hang around in bars. But we fell in love with something unique to Budapest – ruin bars. What's a ruin bar? Typically it is an old, often abandoned, building that someone has decided to turn into a bar. They decorate it with old forgotten things (things you'd see in flea markets or garage sales), put in cool lights and build a bar and serve drinks. Our favorite ruin bars look like a re-creation of the 1970s. Ruin bars usually run late into the night (until morning) and oftentimes have live bands and attract mostly young people. Many actually have a hostel on their premises. Where are ruin bars located? The majority are in Pest's Jewish District.
Over the last 2 months we've spent a lot of time exploring ruin bars. You'll see them all below. There are all kinds of ruin bars catering to different crowds.
---
---
In order of visit (I'll rate them at the bottom):
Szimpla Kert
Just down the street from the Orthodox Synagogue, the whole ruin bar movement started in 2001 with Szimpla Kert. Unlike most ruin bars, Szimpla Kert is a mix of different bars within the compound. Take your drink with you and walk around. The whole place is an weird mix of old furniture and relics from the 70's. "Funky" is the best way to describe it. Make sure to go upstairs where you'll see a bunch of rooms where you can lounge around, play foosball, order a cappuccino or just sit on a bar stool watching the courtyard full of people below. It was our first ruin bar experience and we were really quite blown away. Most of the people you'll see are foreigners – the place is popular especially as it gets later in the evening. On Sundays they have a farmer's market on the premises along with live music. Lots of fun.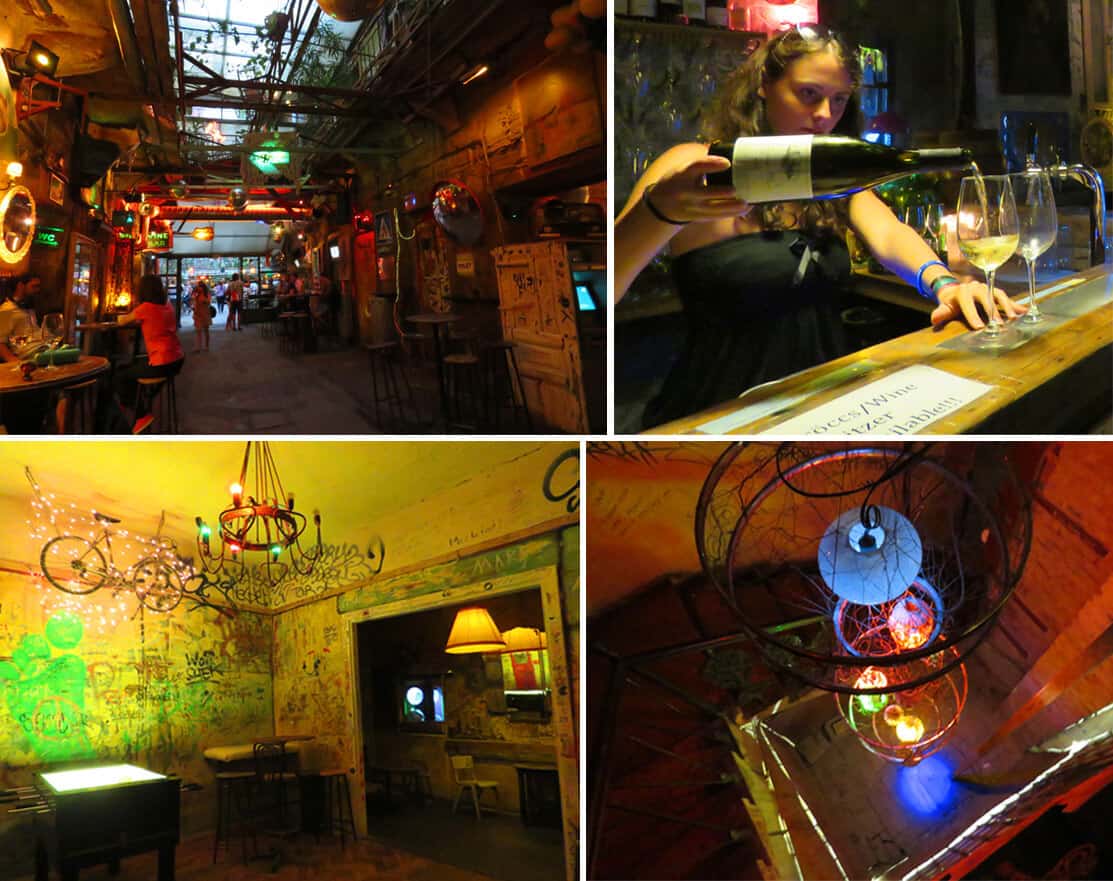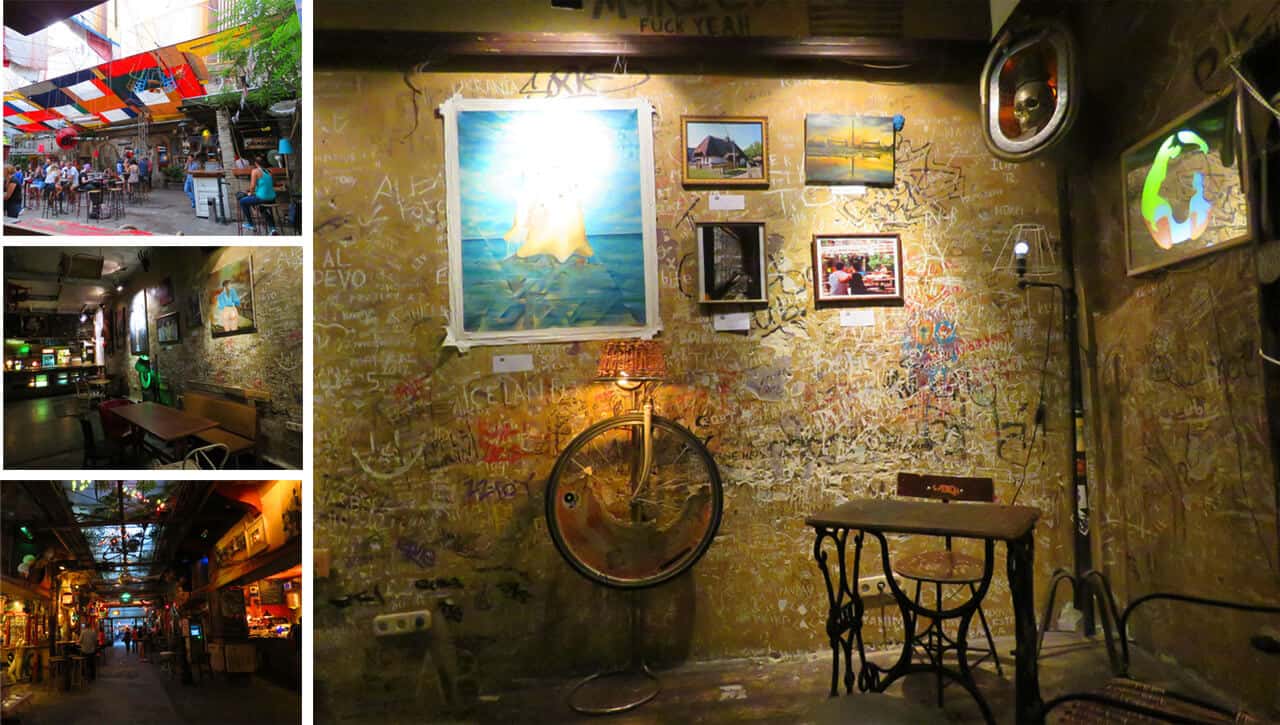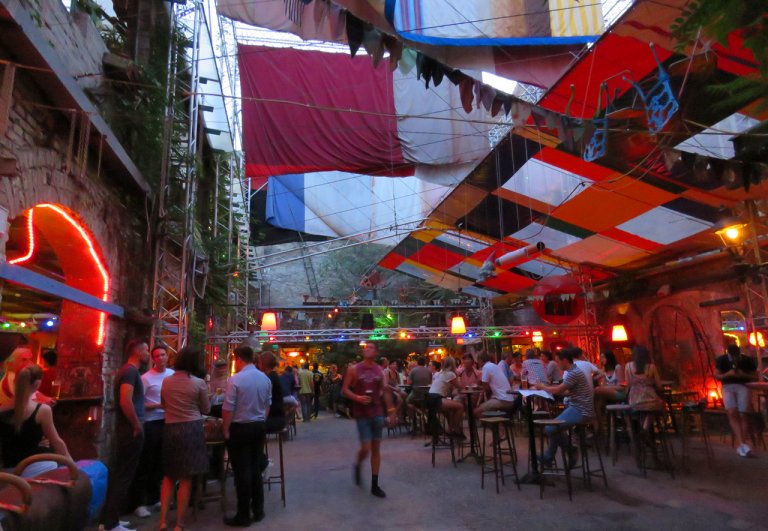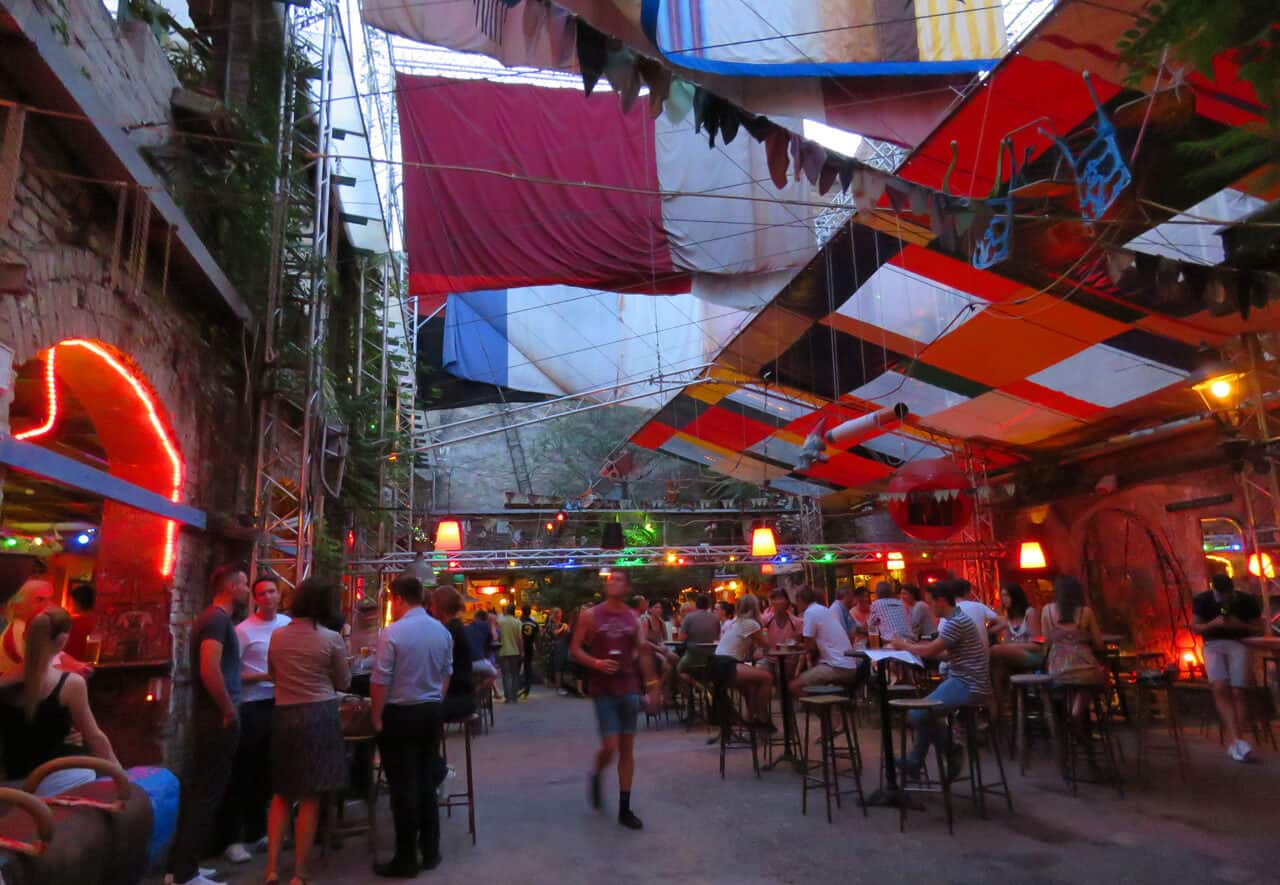 Mazel Tov
A totally different kind of ruin bar, Mazel Tov is upscale and attracts a different crowd. This ruin bar is operated by the same people who own the Humus Bar and you'll have similar, but more sophisticated, variations of their food here. Nice place to come for lunch or a snack. I have a hard time calling it a 'ruin bar' because it is just so different from most of the ruin bars that we were to visit. Very stylish.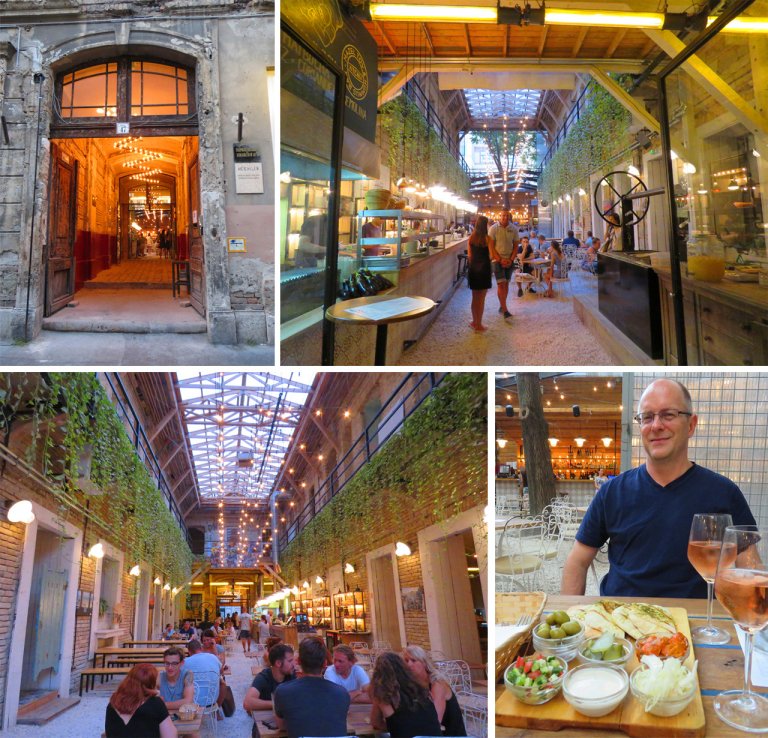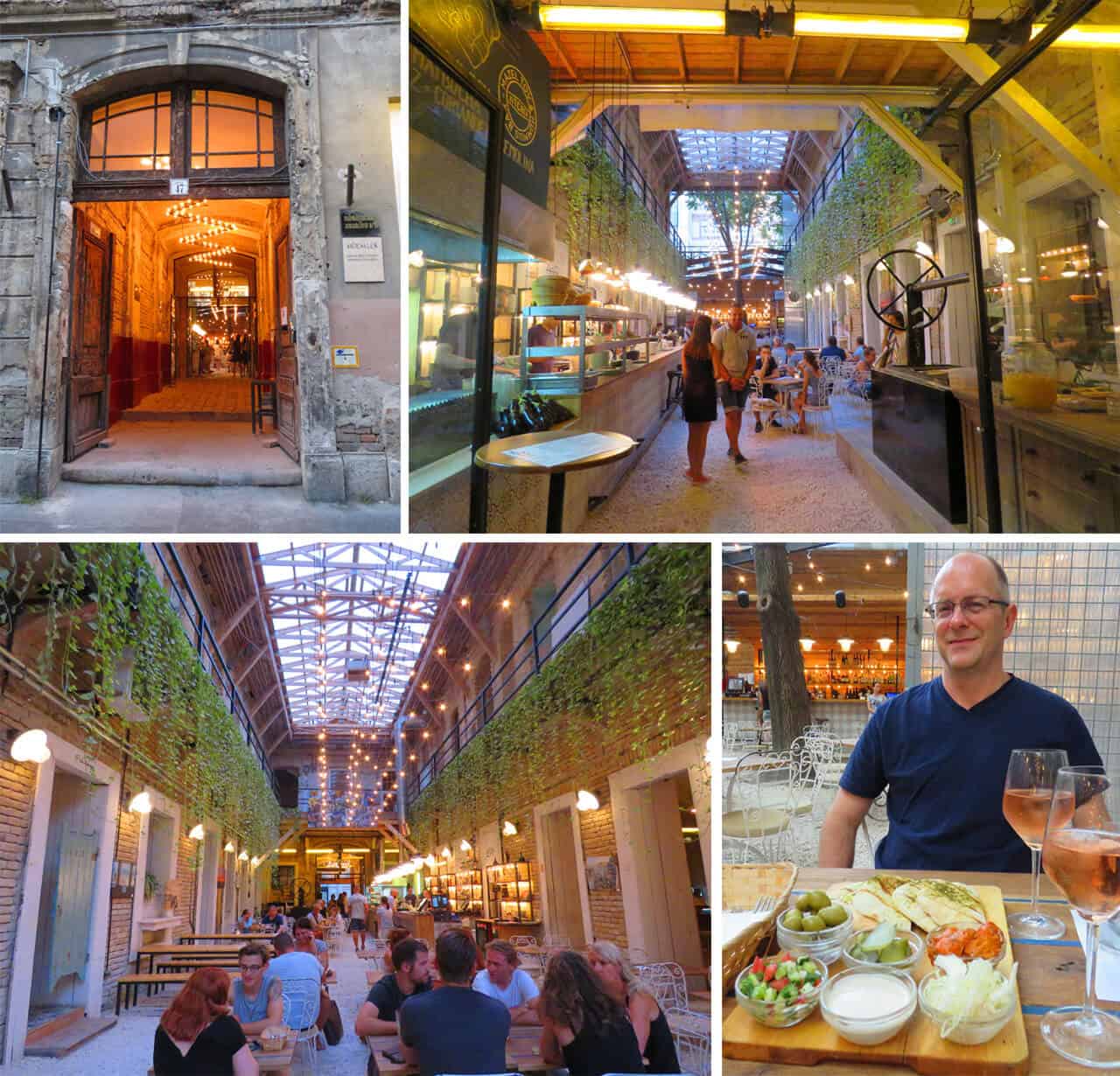 ---
---
>


Kuplung
Kuplung is much smaller than most of the ruin bars we were to visit and is also much less touristy, attracting mostly a local clientele. The beers are cheap and the ambiance nice, mostly because of the weird lighting and interesting murals. Nice place to have a drink on a hot summer day.
.


AnKert
Ankert is a stylish kind of ruin bar with a clean, minimalist design. The building surrounding the large courtyard is an empty shell with thick walls and you can't help but be impressed. At the back of the courtyard is an interior courtyard with another bar and a little place that cooks up food. Refined. The clientele is eclectic and I think largely gay. Nice place.
.
---
---
Corvintető
Another different kind of ruin bar, Corvintető is also listed as one of the best bars 'with a view' in Budapest (there aren't many). It is built on an old shopping center. Getting up to the top means climbing a stairwell that looks like the kind of place hookers and addicts would hang out. Once at the top you can see the views of the square down below (Blaha Lujza Square) and far, across the river, the Liberty Staue on Gellert Hill. On the evening we were there they were premiering short films for a film festival (see first photo below). Nice breezes and cold beer on a hot summer night.
.


Instant
We love this place, it is totally, totally bizarro. Instant is full of little rooms, all with their own particularities but with the same weird animal motifs. Lots of passageways, you can walk around a corner and suddenly find a little bar. There's a room where you can play foosball as well as a table hockey game. We met a strange English couple here and spent a few hours talking to them in a little room with disco lights bouncing over our heads. This place is like a drugged-out, perverto Disney movie.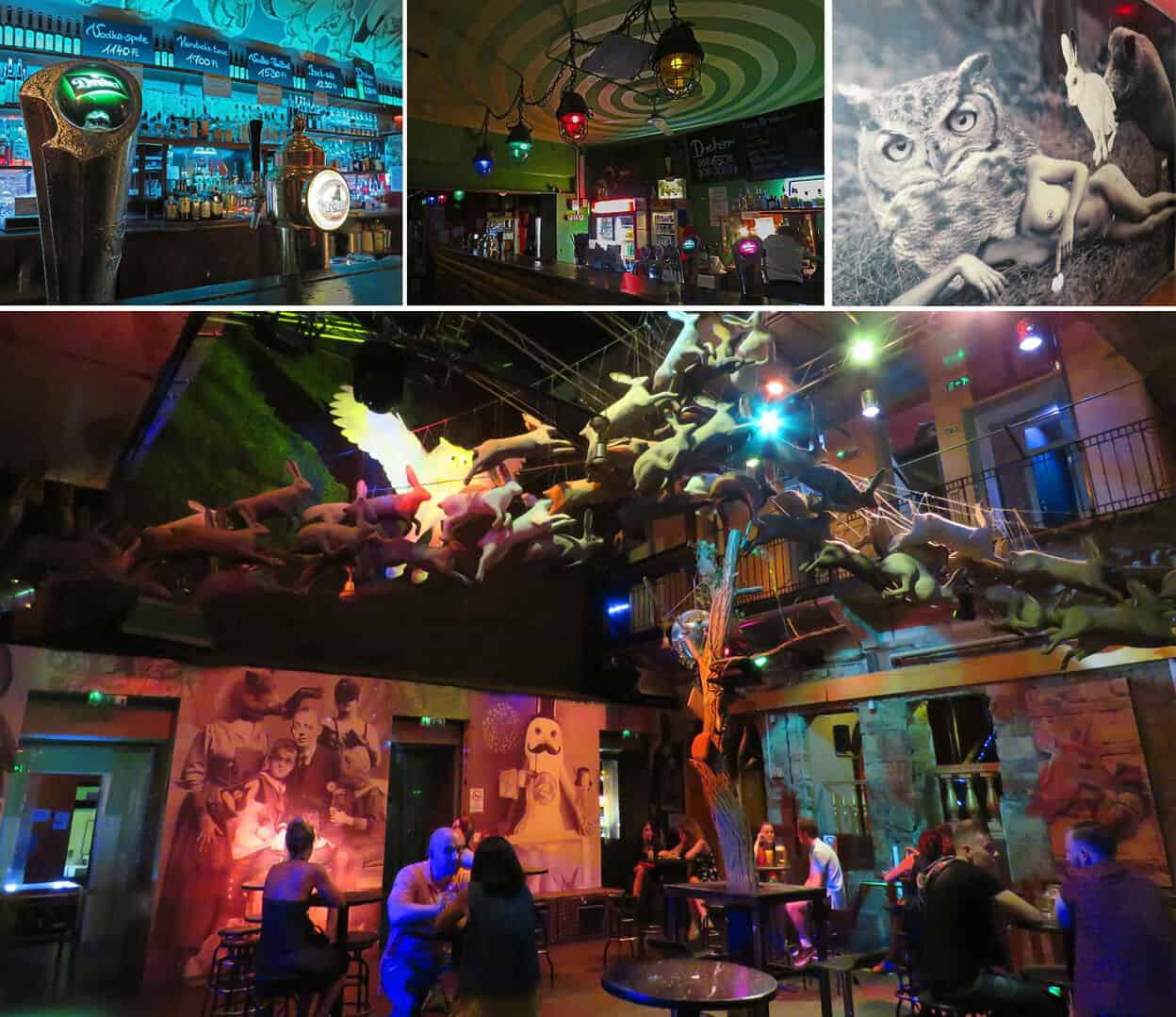 .
---
---
Fogasház
Fogasház (or Fogas Haz) is one of the more popular ruin bars. We honestly were a little confused and lost finding it, although the banner with the teeth outside should have given it away. It also owns Liebling next door with its own bar and roof top. On the day we went it was very quiet and only Liebling (more refined, upscale) and the courtyard of Fogasház (younger) was open. I think we'd have to go back because we just didn't get a sense of the place.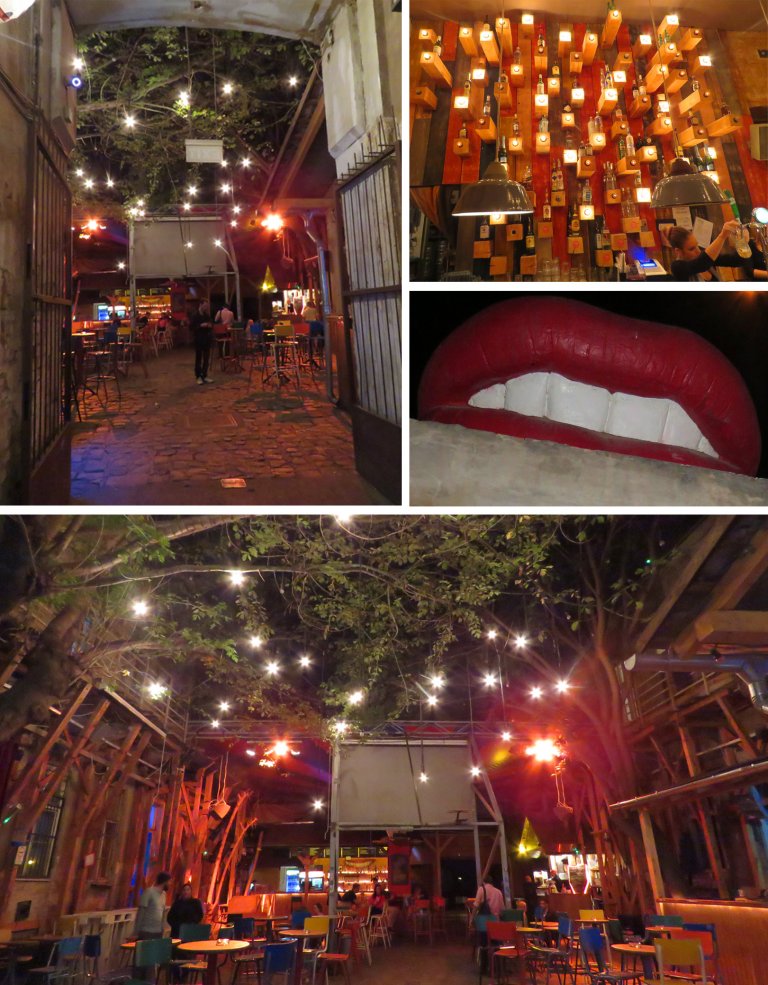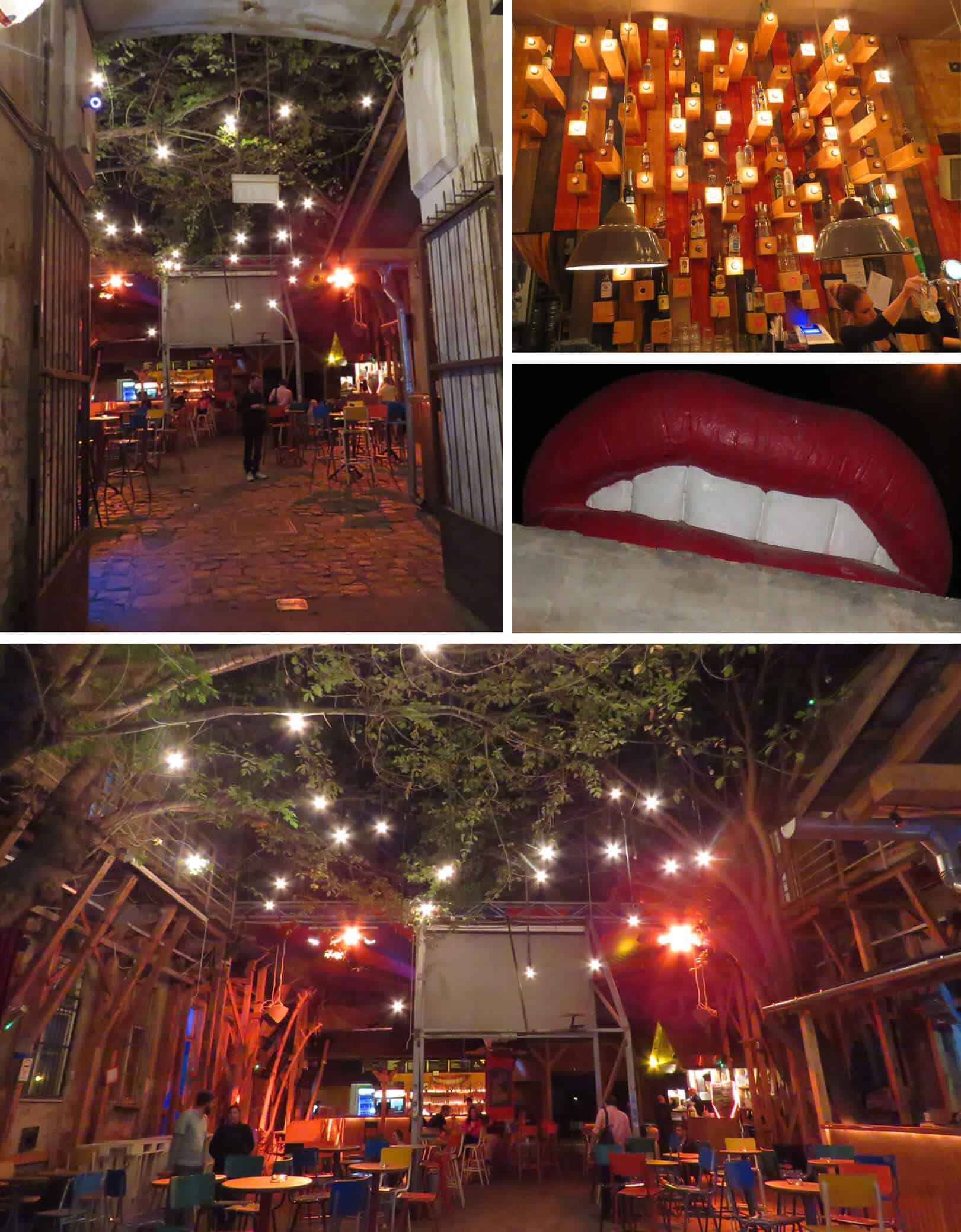 .




Ellátó Kert
Coming here we felt some of the 'authentic' ruin bar experience that we had felt at Szimpla Kert and Instant. Ellátó Kert has old relics (a piano that has seen better days for example), Mexican banners (they serve Mexican food), and happy-coloured tables and chairs. They serve a really good home brewed beer. Most of the clientele was local. The only downside was smoking which everyone in the courtyard seemed to be doing.
---
---
.


Grandio
Grandio's best feature is a huge courtyard full of trees with chairs and tables where you can lounge around and drink and eat. Grandio has a hostel on the grounds and many of the clientele seem to be the younger backpacker types. It's the one place where we felt a bit old. Nice site and inexpensive though!
.
.
---
---
So those are the ruin bars that we visited. They seem to consistently make it on the sites of which ruin bars to visit.
So which ones were our favorites?
.
.
Our Top 3 Ruin Bars
Lissette and I easily agreed on the top 2 ruin bars but had a harder time on the 3rd.
3. Lissette chose Mazel Tov because of it's stylishness. I chose Ellátó Kert because of it's home brewed beer.
2. Instant. It was actually very tough to decide the winner between Instant and Szimpla Kert. Instant has a vibe that makes you want to go crazy. You'll find yourself looking for an animal to eat or screw, depending on your mood. You have to visit this ruin bar.
1. Szimpla Kert. There's a reason why it's the most popular ruin bar in Budapest. It just has so much to see and venues where you can drink. Come early before it gets crowded and enjoy all the rooms and stuff on the walls, it will bring you back to another time.
If you want to experience Ruin bars with others, you can take this tour.
Looking for accommodation in Budapest? My preferred area is around the Astoria area (you're centrally located and in walking distance to the Old Town sights as well as the ruin bars). An excellent budget suggestion is K9 Residence. Two great Mid-range options are City Centrum Apartman and Roombach Hotel Budapest Center.
Flights. Budapest Airport is officially called Ferenc Liszt International Airport (airport code: BUD).
Do you have a favorite ruin bar?
---
---

PS. Looking to book flights, hotels, tours, or rent a car? Have a look at our Travel Resources page.