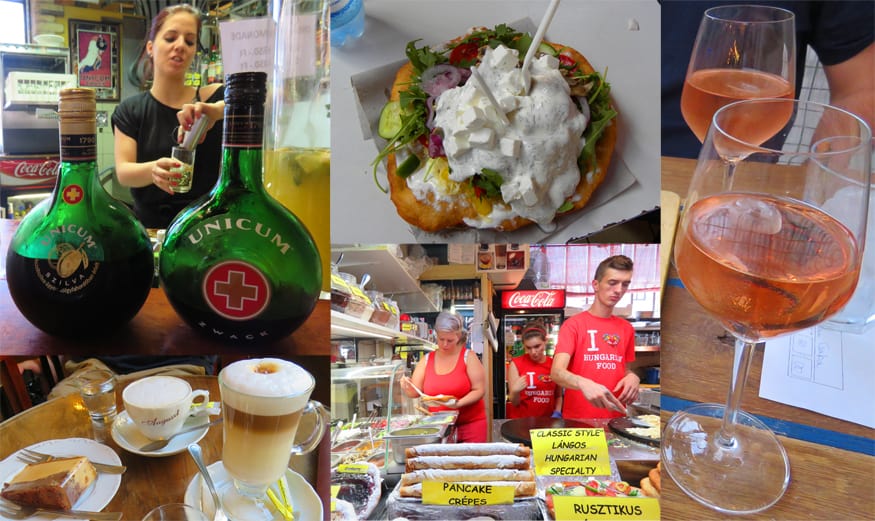 Our Taste Hungary inspired Budapest Food Tour
Taste Hungary is the best known food tour operator in Budapest. They get great reviews. But their tours cost $90 USD per person for a 4 hour tour. That's $180 USD for the two of us. If you're on a vacation rushing through Budapest you might be able to justify that. As slow travellers it's a ridiculous expense. No way were we going to pay that much money.
But if you do a bit of research you can figure out exactly what is on the Taste Hungary itinerary and do it yourself. That's what we did.
Here is a summary of how we turned the Taste Hungary itinerary into an enjoyable full-day food tour at a fraction of the price.
.
---
---
The starting point of the tour is the Central Market Hall along the river in Pest. It is the largest market in Budapest with an equal mix of tourists and locals. On the ground floor as you come in you'll see stalls selling meats and vegetables while upstairs are food and souvenir stalls.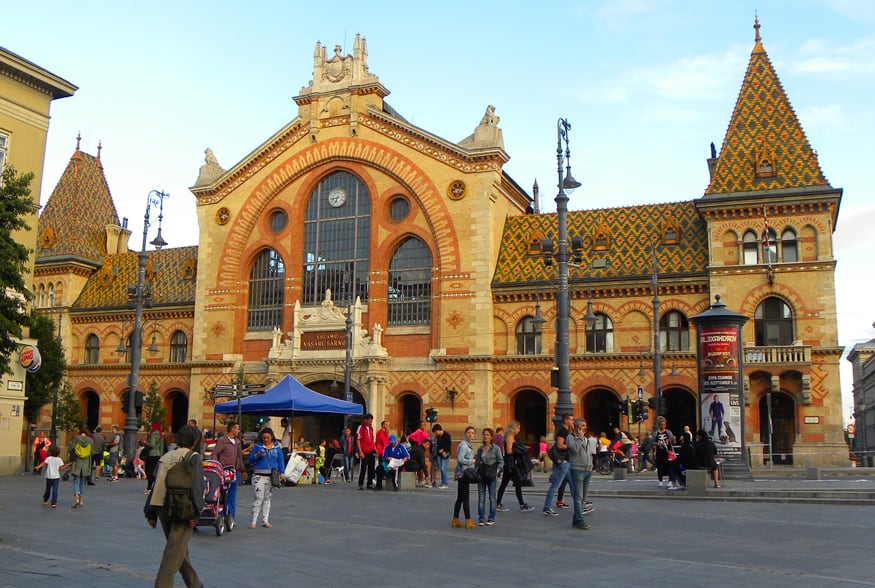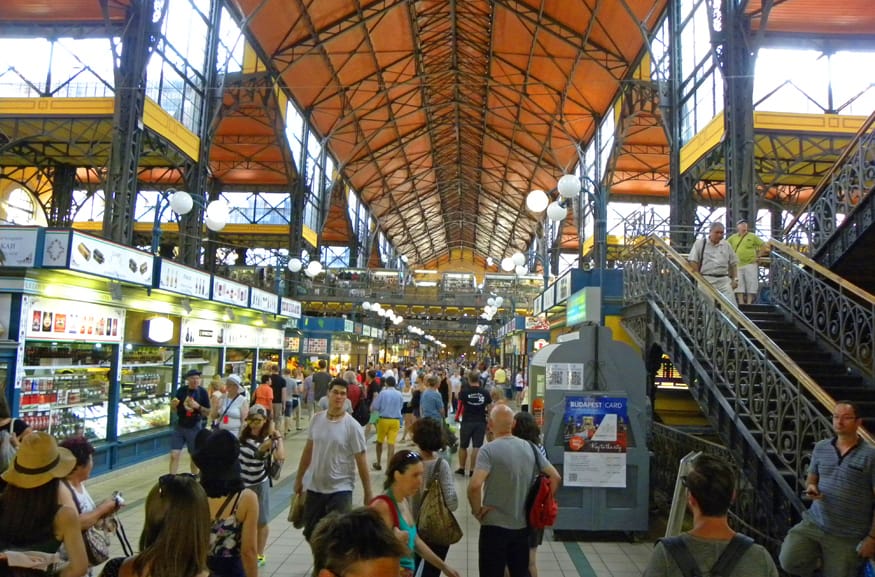 When you enter the Central Market Hall, turn to your right. You'll see an escalator. Go up.
.
You'll arrive at the bar below. It's Taste Hungary's first stop on the food tour. Go to the bartender and ask for a couple of shots of Unicum. Better yet, get a shot of regular Unicum (the one with the orange cross on the red background) and one of the Plum-flavoured Unicum (the one with the yellow insignia). And ask for the double shot, what you see in the photos below, instead of the single shot. In the Taste Hungary tour you get a single shot. BBQboy tours always double up on the alcohol 🙂 .
Unicum is a national drink in Hungary. First produced in 1790, it has 40 different herbs and spices in the formula and an alcohol content of 40%. If the regular Unicum tastes nasty it's because it was created by a doctor as a remedy for indigestion. It somehow caught on and now you'll sometimes see Hungarians downing a shot of Unicum between pints of beer. The Plum Unicum actually tastes pretty good.
Cost for 2 double shots: 1600 Forint which is 5.75 USD or 7.60 CAD.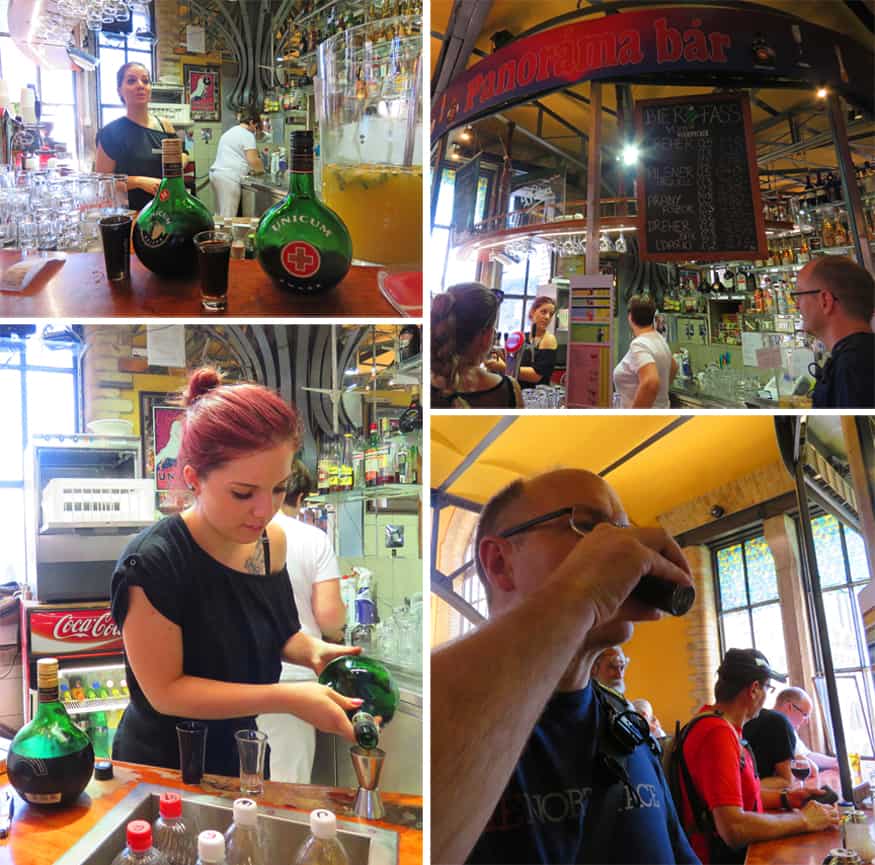 .
It was early morning and the shots warmed up our bellies for some food.
---
---
Walk up the food aisle right in front of the bar, you can't miss it. See the big Langos sign below? Stop there. That's the second stop on the Taste Hungary tour.
Langos is a deep fried bread made out of dough. You can have it will all kinds of toppings as you see below. We went full out for the 'Traditional' topping served at this stall: cheese, sour cream, vegetables, garlic and arugula, topped with feta cheese and more sour cream. Wow. It was fabulous. One big Langos like this will fill you up for the rest of the day.
Cost: 2900 Forint for this version of the Langos and a bottle of water (that's 10.75 US or 13.75 CAD). If you take the Taste Hungary tour you'll get a simplier Langos with sour cream, cheese and garlic. Excellent either way.
.
---
---
We took a little break from the eating and drinking for some shopping. There are tons of souvenir stalls on the 2nd floor of the market. Be warned: there are lots of tourists.
.
Back to the food tour. Go downstairs. You'll see lots of locals buying their meat, vegetables, desserts and even wine here. The Taste Hungary tour has a few stops, trying out some of the sliced meats, pickled vegetables, as well as sampling a slice of cherry strudel. We never found the cherry strudel place (that can be the downside of doing your own tour) but we did go around sampling meats and vegetables at the different stalls (free as most have little sampling plates on the counter).
.
A few of the other stalls on the ground floor of the Central Market Hall.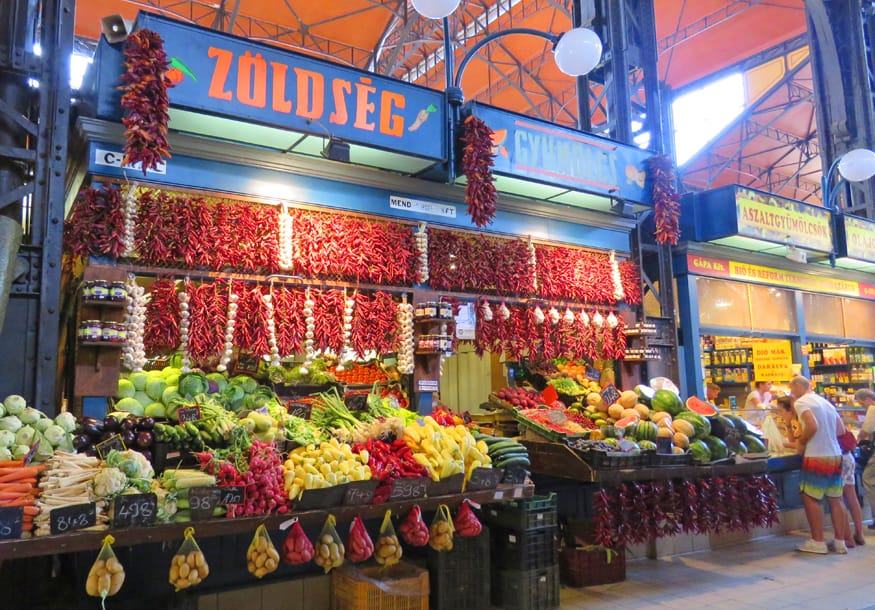 .
---
---
We left the Central Market Hall and walked for 10 minutes, past Egyetem Square (one of our favorite squares in Budapest). Next was the lunchtime stop on Taste Hungary's tour: Belvárosi Disznótoros ( translated as "Downtown Pig Slaughter"). It gives you an idea of the food served.
It was the one place on the tour that disappointed me. The staff were unfriendly, unhelpful and didn't speak a word of English. I explained that I wanted exactly the same dish that was served on the food tour that passes through here. They didn't understand. One of the staff muttered something about tourists under her breath. I ended up choosing some of the food items that I know had been sampled on the tour: blood sausage, horse sausage, and some regular pig sausage. With a side order of potatoes and a couple of beers.Cost. 5900 Forint or 21 USD (28 CAD) for the plate below. They totally screwed me over. I wouldn't come back here.
.
---
---
The next stop at the Auguszt cukrászda (Café) made up for the unpleasant lunch experience. Auguszt is one of Budapest's traditional old-world cafés: beautiful, classy, with elegant staff. One of the peculiarities in Hungary is that every year a country-wide competition is held in which the cake of the year is chosen. This is done August 20th, St. Stephen's day (just a little over a week ago as I write this post). The chosen cake is then featured and served in cafes throughout the country. So we got to try out the 2015 Cake of the Year. Fantastic. Full description here.
Cost: 2500 Forint for 2 coffees and a cake (9 USD or about 12 CAD).
.
---
---
Nap Time. It was mid-afternoon by then and I was full of pig meat and alcohol. Our apartment is right around the corner from the café. We went home and took a 2 hour nap. That's another advantage to doing your own tour: you can do it at your own pace. All the above is honestly too much eating for a 4-hour period.
.
We were refreshed when we decided to continue the remaining part of our tour around 6 pm.
The last stop on Taste Hungary's 4-hour tour is for wine sampling at their offices. Obviously we couldn't do that. We did something much more fabulous that ended up being the highlight of our day.
Doblo Wine Bar is just up the street from our apartment. Beautiful bar with friendly staff, they offer wine tasting as well as Palinka tasting menus. We went for the 'Hungarian mini' which features 4 wines and was served with a platter of cheeses and pickled vegetables (we made an alteration to what is offered on the menu). The hostess explained the wines, their origins, and produced a map of Hungary's wine producing regions which described everything in detail. Excellent. By the time we had finished the sampling it was 8 pm and the bar was getting busy. We stayed and ordered a few more glasses of wine while listening to a live band playing some mellow Bossa Nova music. It was past 10 pm when we left.
Cost: 4 wine samplings for 2 including cheese plate, plus 2 more double glasses of Cabernet Sauvignon/Merlot = 11,235 Forint (40 USD or 53 CAD).
---
---
.
Summary
We took the 4-hour Taste Hungary tour and used it as inspiration for our own full-day (and evening) tour. Total cost 87 USD, or half of what it would have cost to take the official tour. I'm not putting Taste Hungary down; they get great reviews and if you're short on time and want the detailed information provided by the guide it is the way to go. However, if you want to do a tour at your leisure, make alterations (Lissette for example doesn't eat meat so much of the tour would have been wasted on her) while saving money – then doing your research and doing your own version of a food tour is the way to go.
With all the money you saved on food, you can take a really worthwhile tour. How about a river Cruise with drinks? Our a Hop On Hop Off tour? (absolutely required in Budapest).
---
---
.
Ps. If you find our blog helpful, please consider using our links to book your flights, hotels, tours, and car rentals. Have a look at our Travel Resources page.