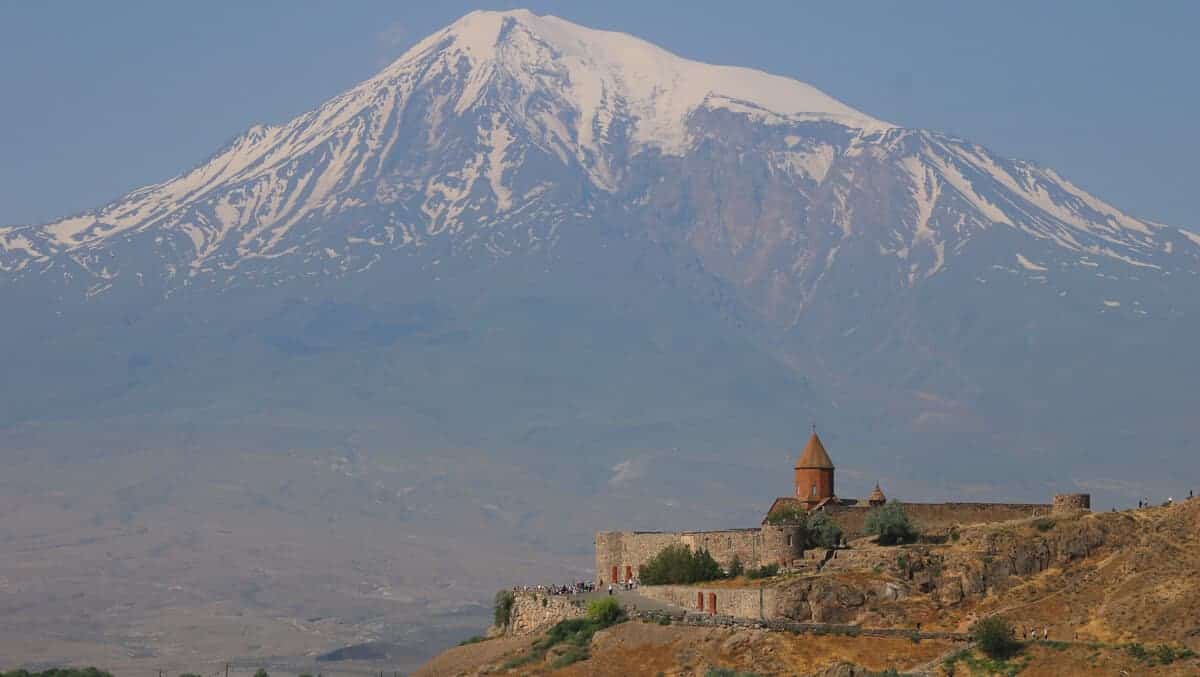 6 Must See Attractions in Armenia

During our month in Armenia we spent 4 days touring Yerevan and the countryside with Arara Tours. We covered a lot of ground, saw a lot of beautiful countryside, and visited some incredible historical sites.
So which sites in Armenia impressed us the most?
We count down our favorites here.
6. Garni Temple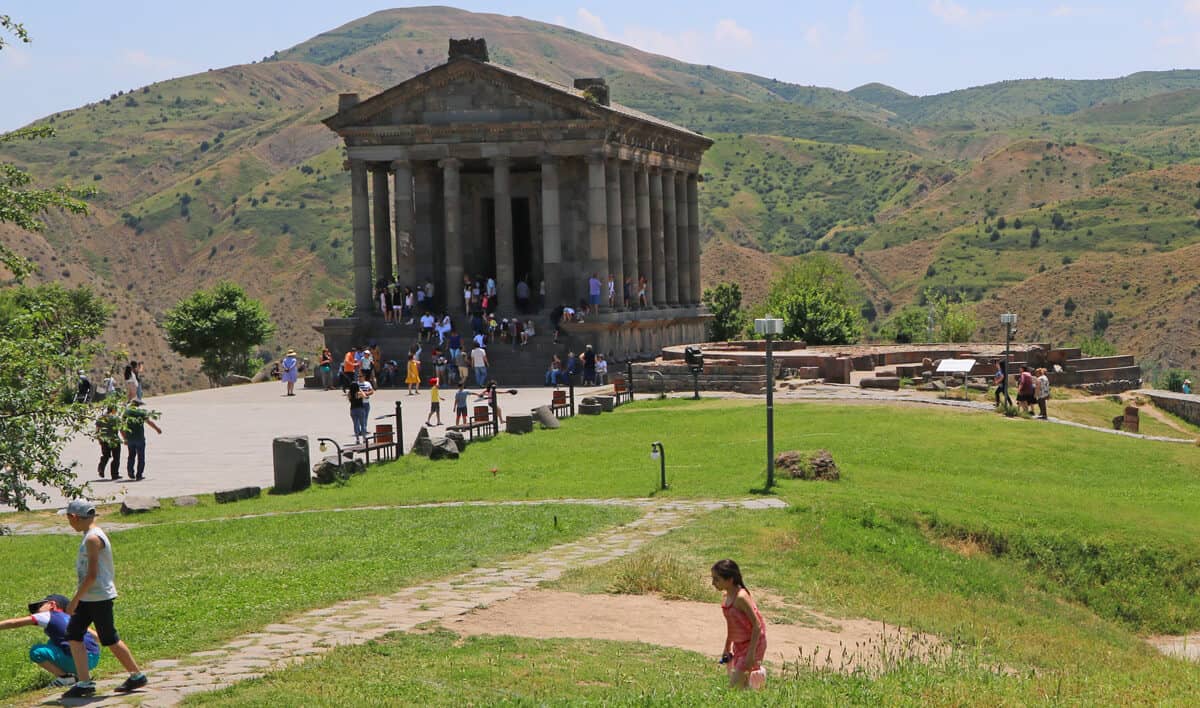 You might wonder about Garni Temple. It doesn't look like anything you'd ever expect to see in Armenia. It was actually built in the 1st century AD in typical Greek fashion (it is very similar to the Temple of Athena in Athens). What makes Garni stand out is that it is the only remaining pagan temple in all of Armenia.
So why is a temple built in Greek style in Armenia? The King of Armenia at the time (King Tiridates I) had visited Rome and Naples to meet Roman Emperor Nero. Some say that he was a lover of all things Roman including Greek architecture (Italy is full of old Greek ruins) and that this was the reason for the Greek-style temple. Another explanation is that King Tiridates had a Greek mother, explaining his interest in Greco-Roman culture (he even spoke Greek fluently).
Unlike other pagan temples Garni temple was never demolished when Armenia adopted Christianity in the 3rd century. It was destroyed in the 17th century by an earthquake – what you see today has been reconstructed from the original stones.
More detail here on Garni Temple
5. Zvartnots Cathedral
The Cathedral that used to stand at Zvartnots was the oldest and largest aisled tetraconch church in historical Armenia. It represents architectural innovation and was the basis for the style of church you see all over Armenia today. It is a UNESCO World Heritage Site along with the nearby Cathedral and churches of Etchmiadzin (see #4 below).
The Cathedral was built between 643 – 652 AD. It was 49 meters tall and had no central supporting column. It was dedicated to Saint Gregory the Illuminator (257-331 AD), the patron saint and the first head of the Armenian Apostolic Church.
Around 930 AD, after 350 years, the Cathedral was destroyed by an earthquake.
Today you'll see mostly ruins, with interesting detail in the remaining columns and arches. In the background looms Mt. Ararat.
4. Etchmiadzin Cathedral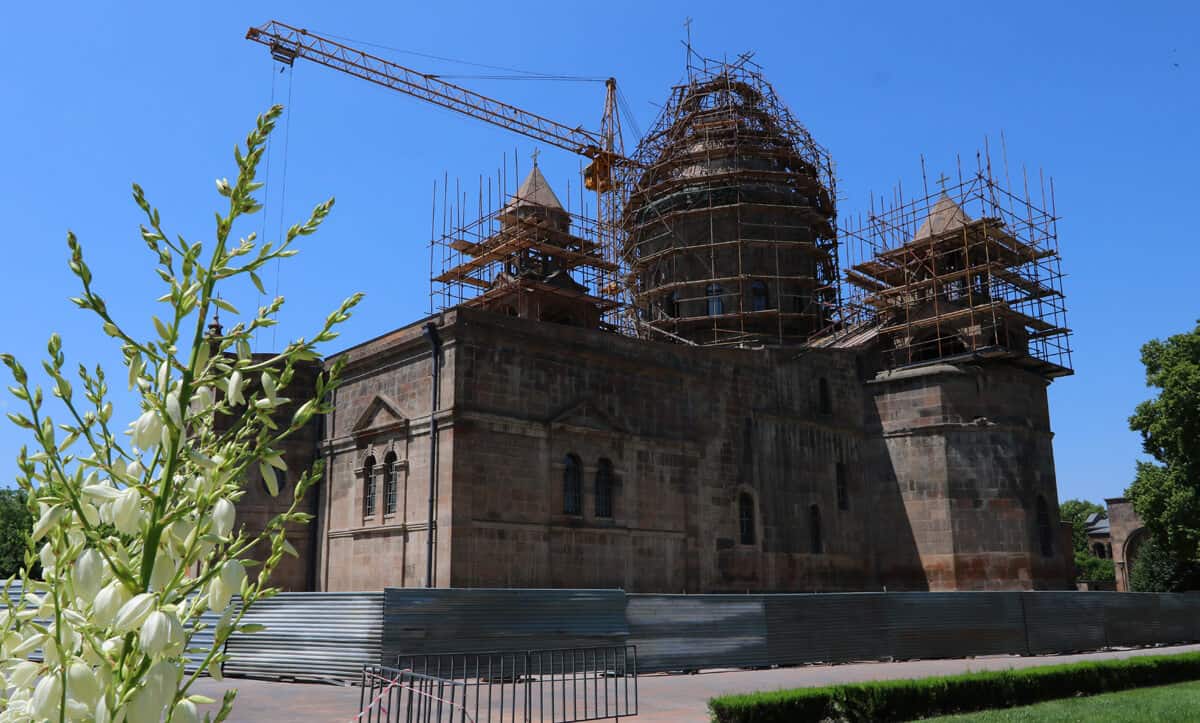 Armenia was the first country to adopt Christianity as the state religion (in 301 AD). Etchmiadzin is the equivalent of the Vatican to the Armenian Apostolic Church. Priest study here and it is a major pilgrimage site. It is also a UNESCO World Heritage Site along with nearby Zvartnots Cathedral.
The highlight in Etchmiadzin is the Etchmiadzin Cathedral. It was the first Cathedral in Armenia (built around 301 AD) and many say the oldest Cathedral in the World.
Note: when we came here in June of 2019 the Cathedral was closed to visitors due to restoration work. I'm told that work will continue for at least another year. But I'm including it here nonetheless for its historical significance. Besides being a beautiful Cathedral (so I'm told), it has rare and precious items on display such as the Holy Lance that pierced Jesus' side.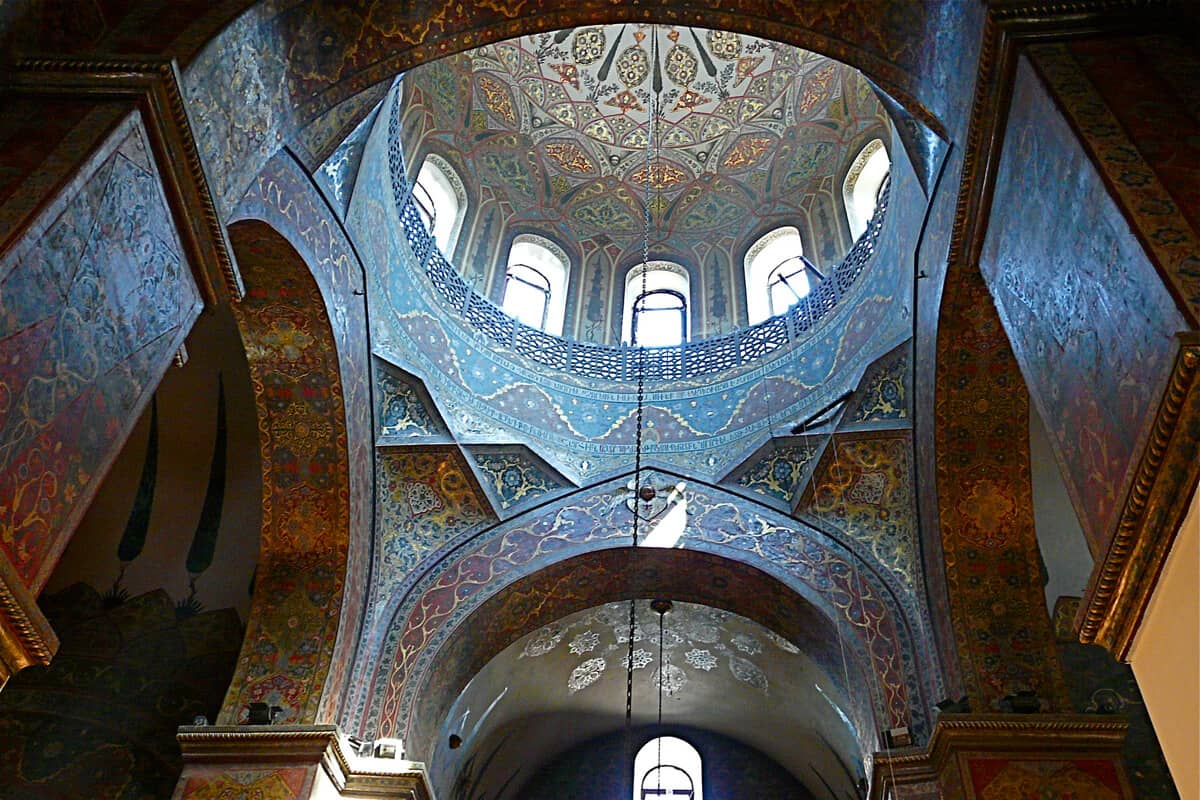 3. Noravank Monastery
Noravank Monastery should be on your "must-see" list not only because of the monastery itself, but also for its beautiful setting on a gorge. Sheer, red cliffs rise about the Monastery as well as across the river on the other side of the river. It is a stunning location.
The Monastery itself was built I the 13th century and is famous for its beautifully carved Khachkars (stone crosses). They hold special meaning for Armenians and are one of the reasons why Noravank is a pilgrimage site. It is also a UNESCO World Heritage Site.
There are 3 different buildings on the site, all worth exploring. You might also want to walk up one of the paths above the church, they afford some fantastic views over the monastery and the gorge.
2. Khor Virap
Khor Virap is famous for two things. It was here that Gregory the Illuminator was imprisoned for 14 years by King Tiridates III. In 297 Gregory was released and asked to help the King who was losing his sanity after having been betrayed by Roman Emperor Diocletian. In 301 Gregory baptised King Tiridates III and the country officially adopted Christianity.
Khor Virap is also famous for its incredible setting at the foot of Mount Ararat which is a national symbol of Armenia. Unfortunately the mountain is now part of Turkey – from the monastery you can actually see some of the guard towers along the border (the Armenian – Turkey border has been closed since 1993).
Make sure to climb the hill behind the Monastery. You'll have great views of both the monastery and Mount Ararat.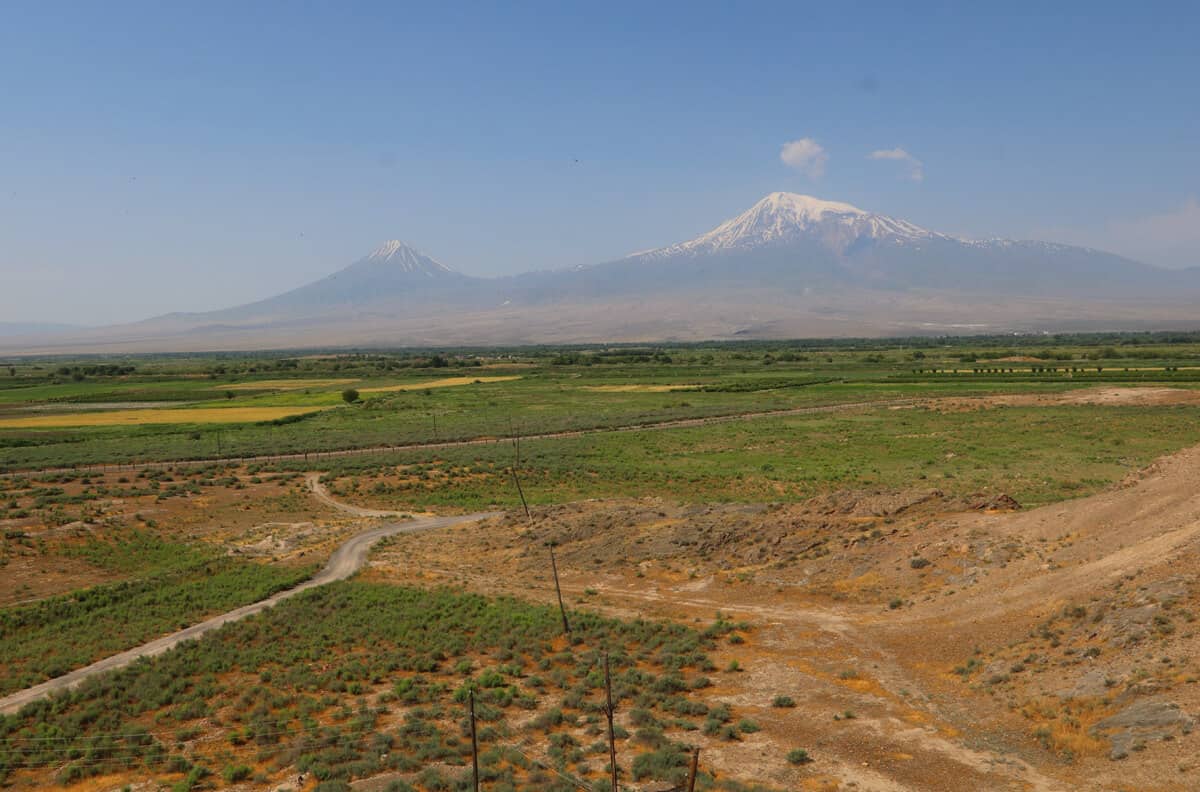 1. Geghard Monastery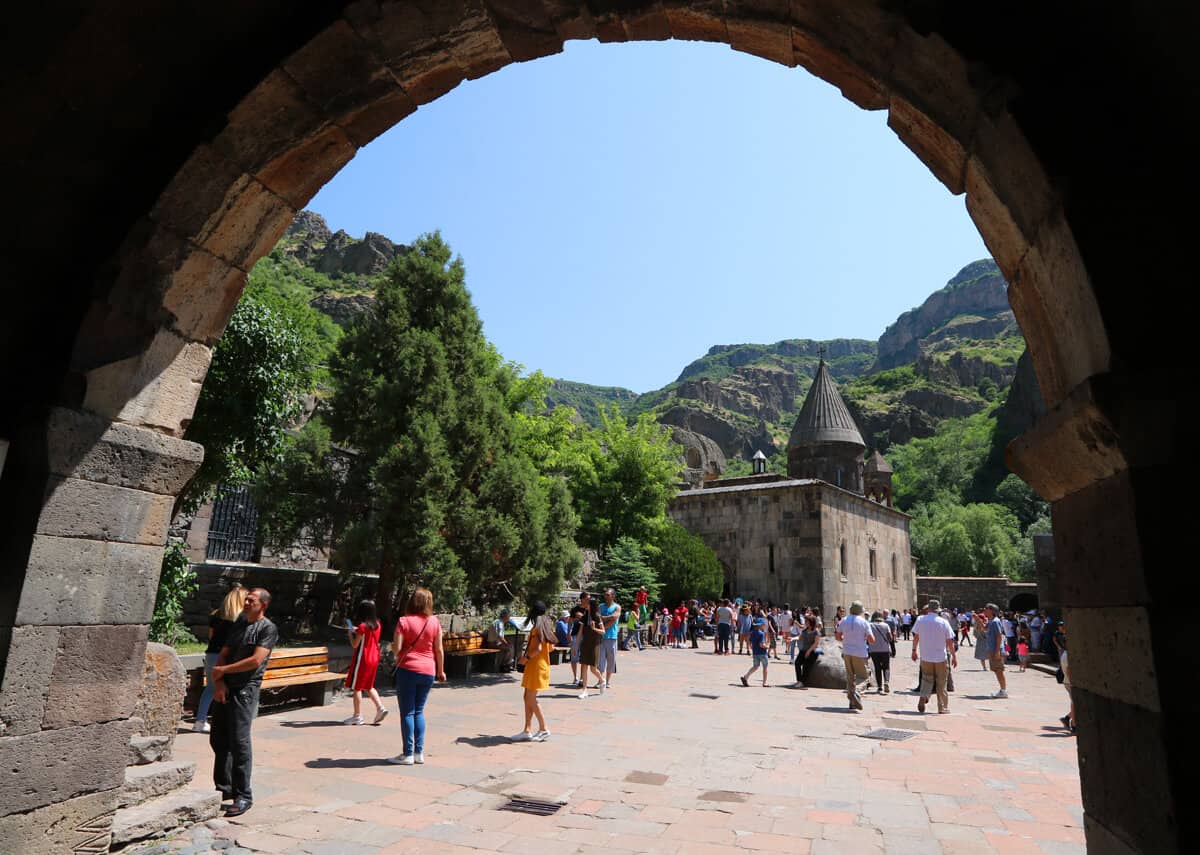 The Geghard Monastery was our #1 highlight in Armenia. First of all, the whole complex is on a hill, high above a river, and surrounded by huge cliffs. It is an impressive and beautiful location.
The monastery itself has sections that have been dug out of cliff rocks, so that some of the multiple chapels within the monastery are literally cave interiors. Other parts are free standing structures with walls. Together they make for an unusual combination and at times you feel like you are in an underground labyrinth. Decorations and engravings are elaborate and there are richly ornamented khachkars cut into rock surfaces and into the walls. Words cannot describe how awe-inspiring the site is.
While the main chapel was built in 1215, other parts of the complex were founded in the 4th century by Gregory the Illuminator. In the year 2000 the complex was named a UNESCO World Heritage Site, one of three UNESCO Sites in Armenia.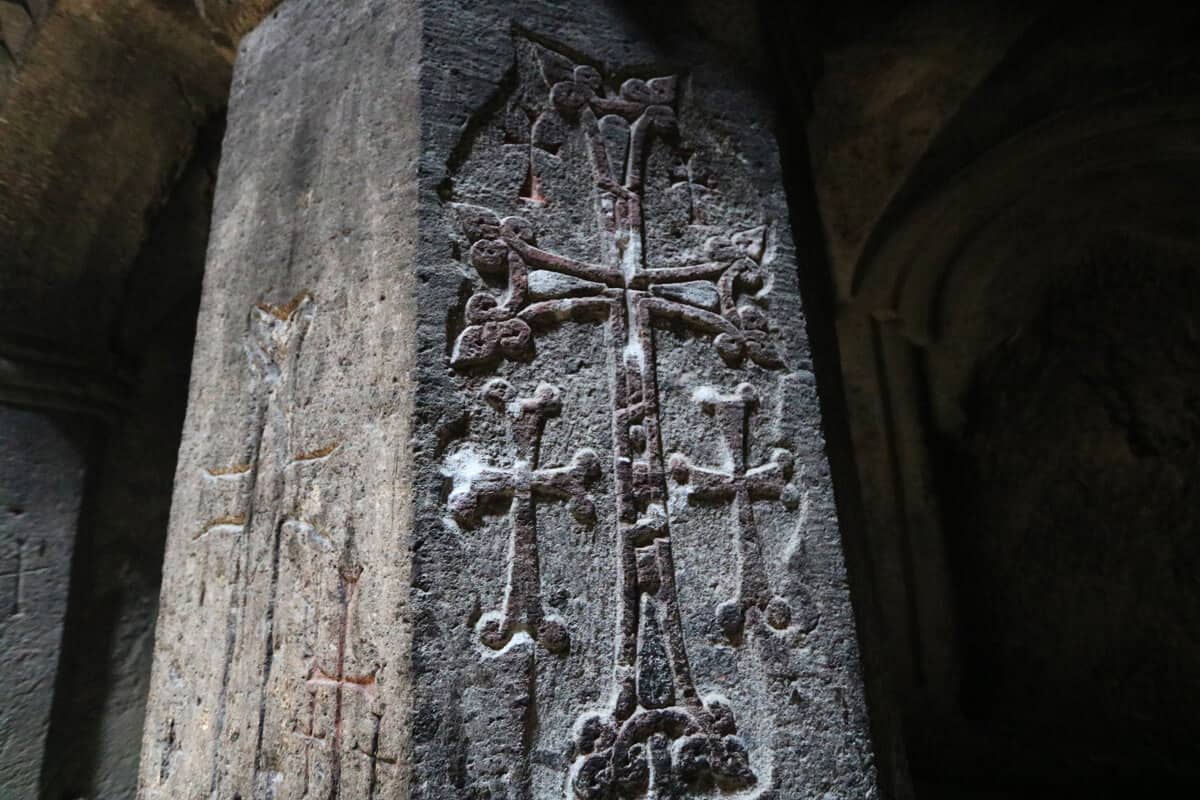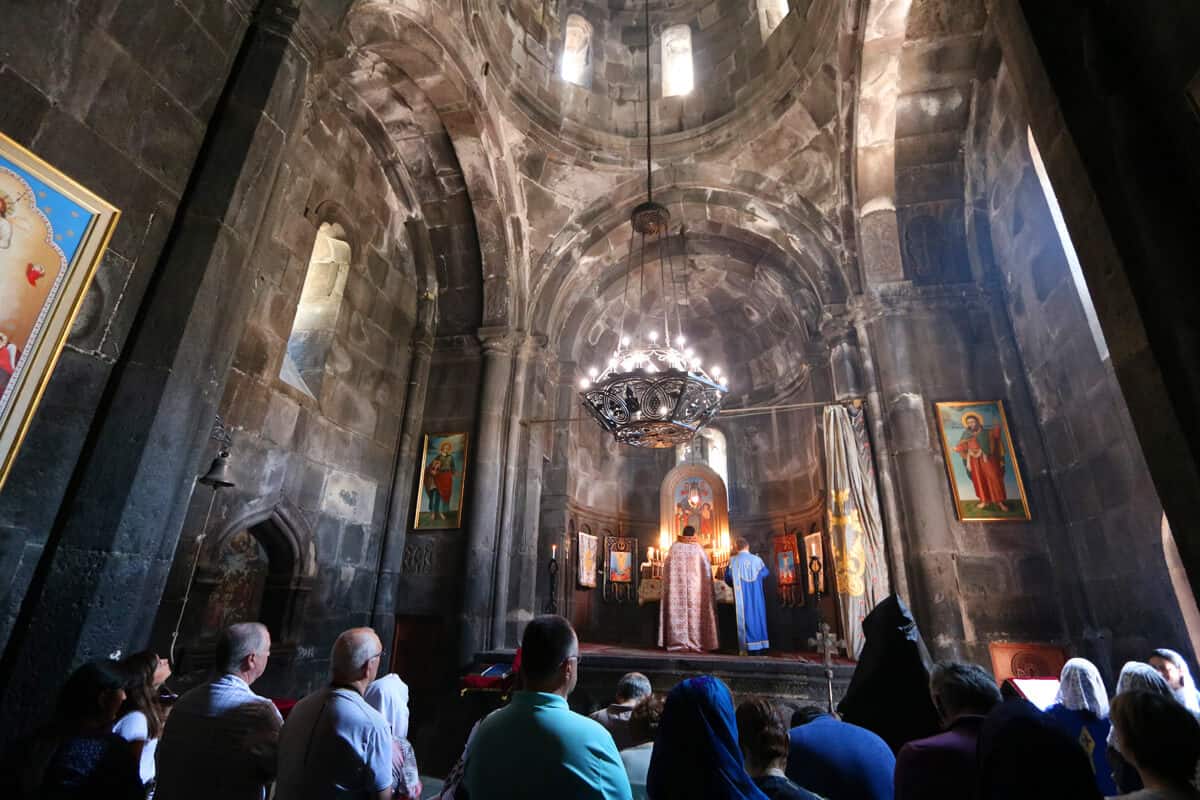 Worth a Special Mention:
Tatev Monastery
We didn't get to the Tatev Monastery, it is 250 km from Yerevan and takes about 4 hours to get to. But the site, perched on a plateau over a dramatic gorge, is one of those famous images you see of Armenia. Also unforgettable is the cable car ride that takes you from the bottom of the valley up to the Monastery – it takes 12 minutes and covers 5.6 kilometers, making it the longest reversible cableway in the world.
Also: Don't forget to save a few days to explore Yerevan, Armenia's capital city.
Have you been to Armenia? Do you have any favorite Attractions?
Like This Article? Pin it!
Ps. If you find our blog helpful, please consider using our links to book your flights, hotels, tours, and car rentals. Have a look at our Travel Resources page.