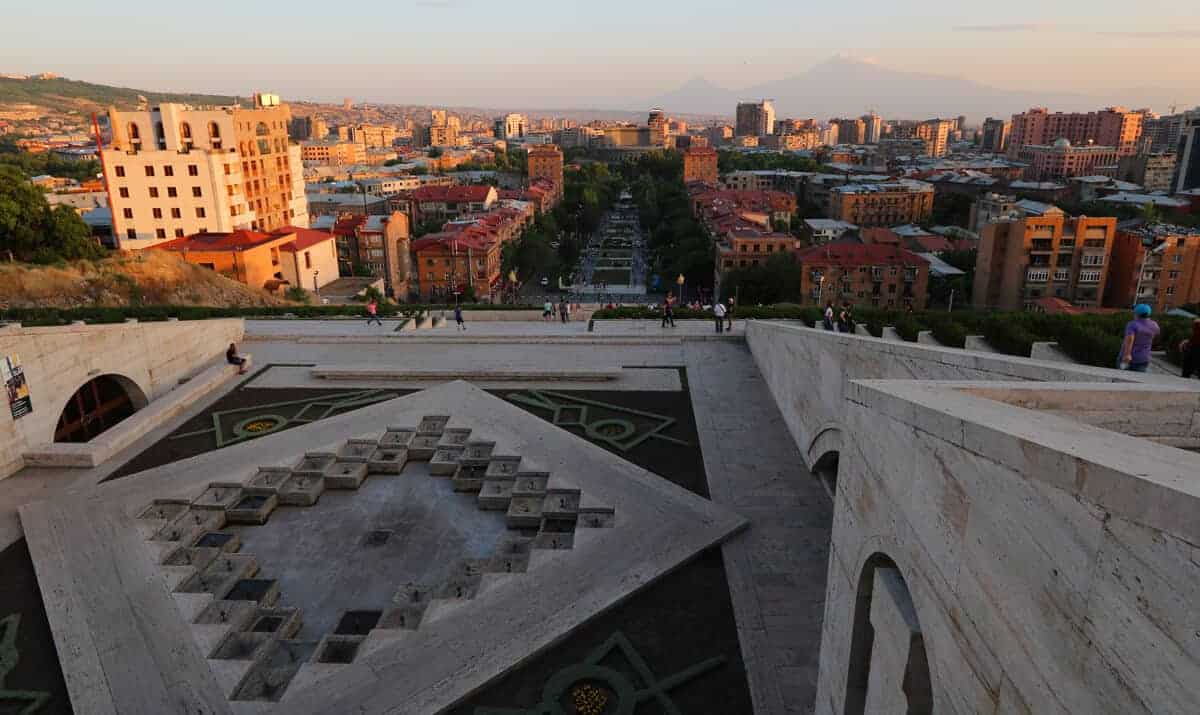 Why Visit Yerevan?
Updated March 2023
If we had listened to people we would have never gone to Yerevan. "Yerevan is like Tbilisi used to be. It's really backwards". "Yerevan is poor, like the rest of Armenia. There's not much to see". Bloggers we know questioned going to Armenia at all, "We've explored Georgia and I don't see Armenia being any different".
Of course all the above came from people (mostly Georgian) who had never actually been to Armenia.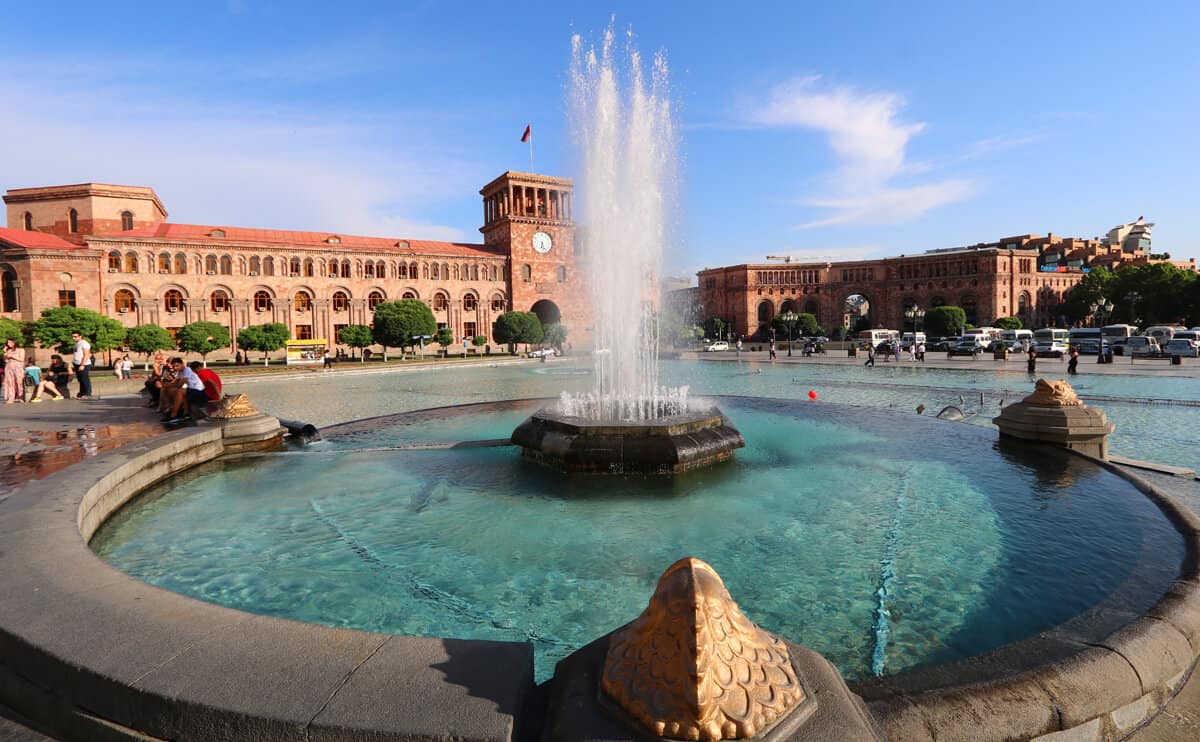 ---
---

Having spent a month in Yerevan and visiting much of Armenia (after a month spent in Georgia), we're happy that we saw Yerevan. I'm not going to tell you that it's an incredible, "must-see" city. But it surprised us. We found it an attractive, very liveable city with wide, tree-lined boulevards. The city center is full of parks, fountains and cafés. We found excellent, upscale restaurants which surpassed anything we experienced in Tbilisi. We were also surprised by all the boutique stores in the city center. People were well-dressed and attractive. We half expected carts pulled by donkeys after some of the things we were told. Yerevan was nothing like that and it actually feels "richer" than Tbilisi (and you won't see all the stray dogs you see in Tbilisi). You'll also see a lot of Soviet buildings and monuments around in Yerevan – something you won't see in most ex-Soviet republics (where most have been torn down). Interestingly, Yerevan is known as the "Pink City" because all the buildings are built using the same pink rock.
But besides being pleasantly surprised by the city, the history and culture in Armenia is different from Georgia's. A few things that struck us and that might interest you:
While Georgia is pro-West and anti-Russian, Armenia has close ties with Russia. Russia has a military base north of Yerevan where 6,000 Russian troops are stationed. Both countries are part of the Collective Security Treaty Organization.

Armenia's close military relationship with Russian is partly historical (being a former Soviet state) but mostly due to its bad relations with Turkey and Azerbaijan (see further below).

In Georgia English is widely spoken. In Armenia you'll find less English and more Russian spoken – and that includes among young people.
We were surprised to hear about the close historical relationship between Armenia and France. France helped the Armenians during the Armenian genocide, sending boats and welcoming Armenians to settle in France. It was the first country to recognize the Armenian genocide. Armenia is actually a member of the International Organization of la Francophonie. Charles Aznavour, the renown singer, was born of Armenian parents and is one of the most famous Armenians of all time (there's a museum dedicated to him in Yerevan). Surprise: The French "merci" is used to say thank you (for a foreigner it's much easier than the official Armenian thank you of "schnorrhakalutsjun"). Also: Armenia has fantastic brandy and is the only country in the world (outside of France) which is allowed to label their brandy as "cognac".
We knew a lot about the Armenian genocide at the hands of the Turks but it was interesting to learn about the complicated current history that Armenia has with both Turkey and Azerbaijan. Armenia's borders with both countries have been closed since 1993. They have a good relationship with Iran though and many of the tourists you'll see in Yerevan are from Iran.
In short, there are a lot of differences between Armenia and Georgia and they can't be lumped together as "the same".
---
---
Why Visit Yerevan? The "Must-See" Highlights
Yerevan Cascade
By far the most touristy site in Yerevan, this is a giant stairwell made of limestone. It is a center of art and you'll see contemporary sculptures on the outside stairs, in the interior of the complex (where you'll see escalators that you can take to the top), and in the gardens at the base (you'll see a few Botero statues for example). You'll see gardens, fountains, and when you reach the top you'll have sweeping views of the city with Mount Ararat in the background (which is actually right across the border in Turkey). It is quite the fantastic site.
At the base are a series of gardens with more art, fountains, and cafés and restaurants which always seem to be full.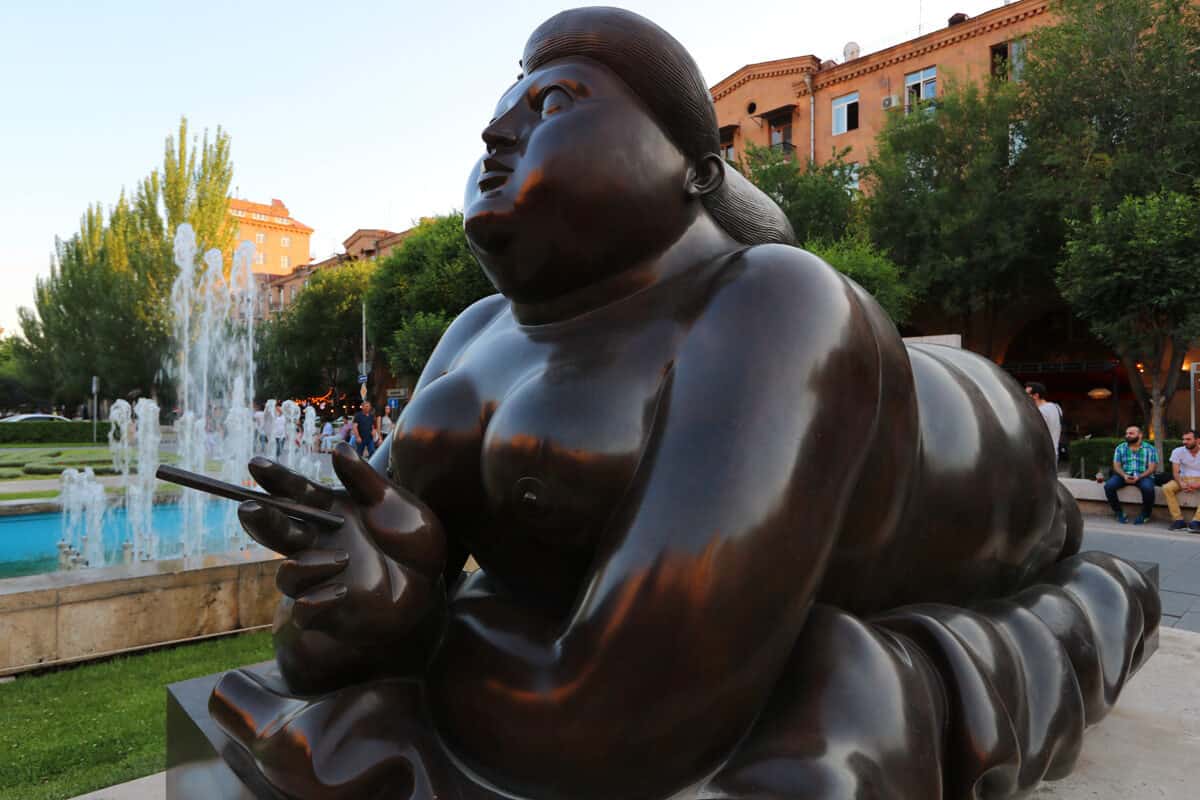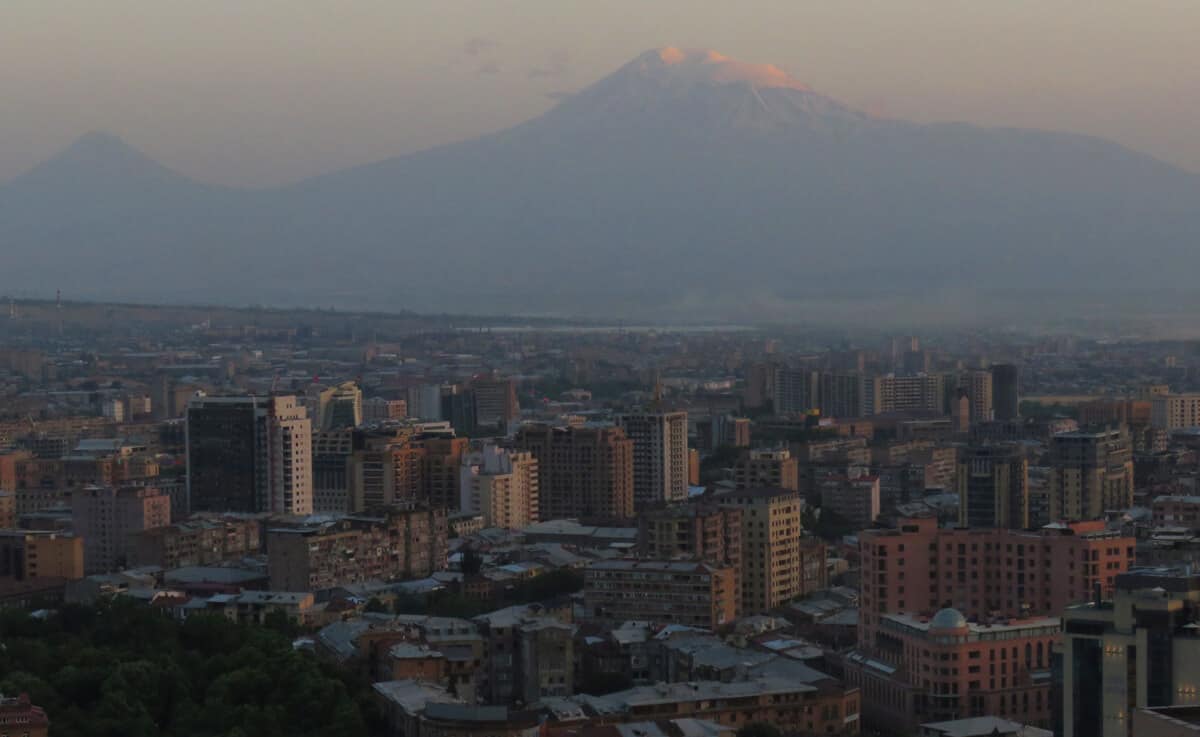 Mother Armenia Monument
The Mother Armenia Monument represents the Soviet victory in World War II while commemorating the Armenians who lost their lives in the war. It replaced (in 1967) a huge statue of Joseph Stalin. It also houses a military museum which is worth a visit (closed on Mondays).
You can walk to the Mother Armenia Monument from the top of the Yerevan Cascade Complex: just walk up the large street leading away from the Cascade. You'll see an underpass leading to the park on the other side of the street. A 10 minute walk through the park will lead you to the Mother Armenia Monument.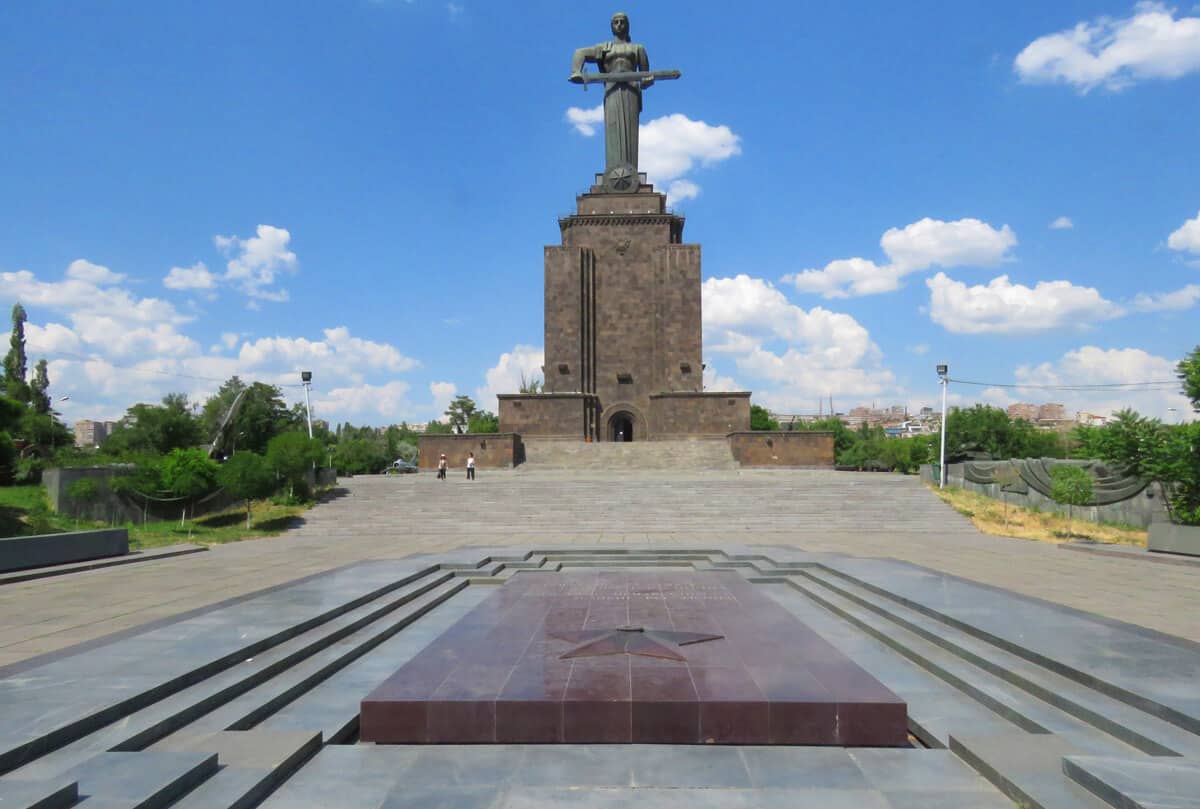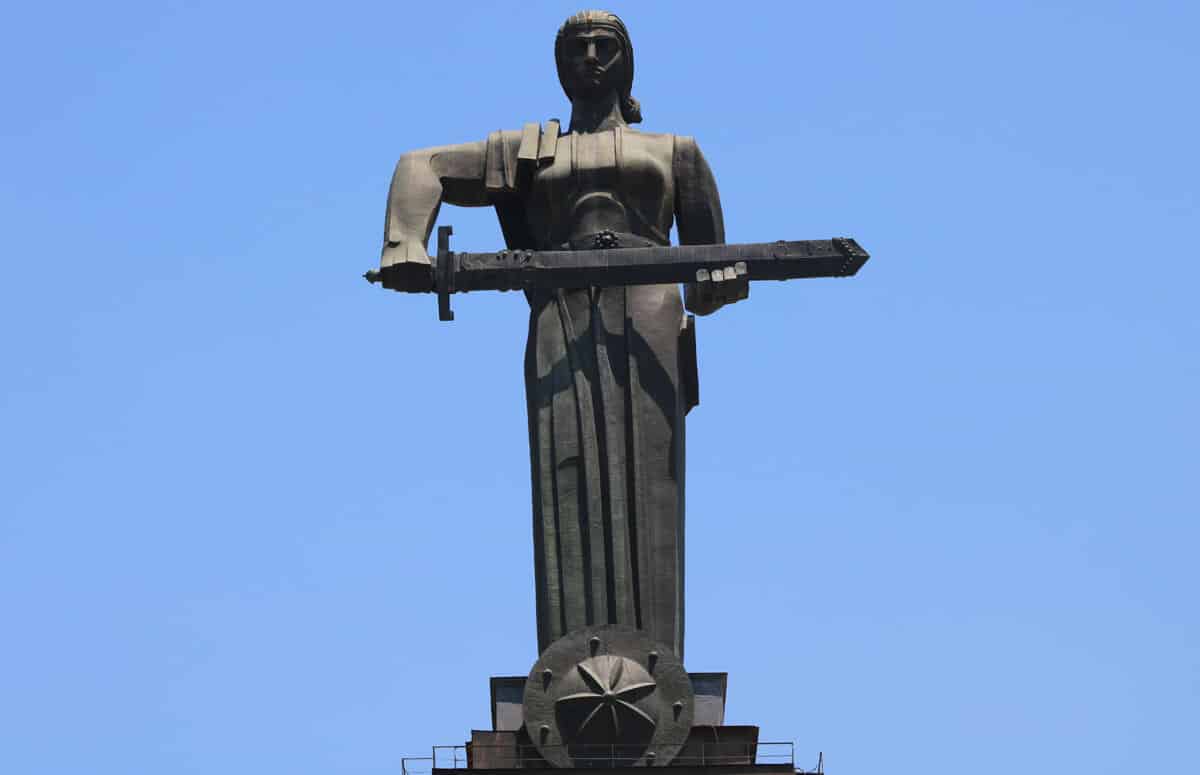 ---
---
Republic Square
The City's main square and is surrounded by pink buildings and fountains. Come here in the evening and it will be filled with people, music and you'll see dancing fountains in the giant pool that stands in front of the History Museum.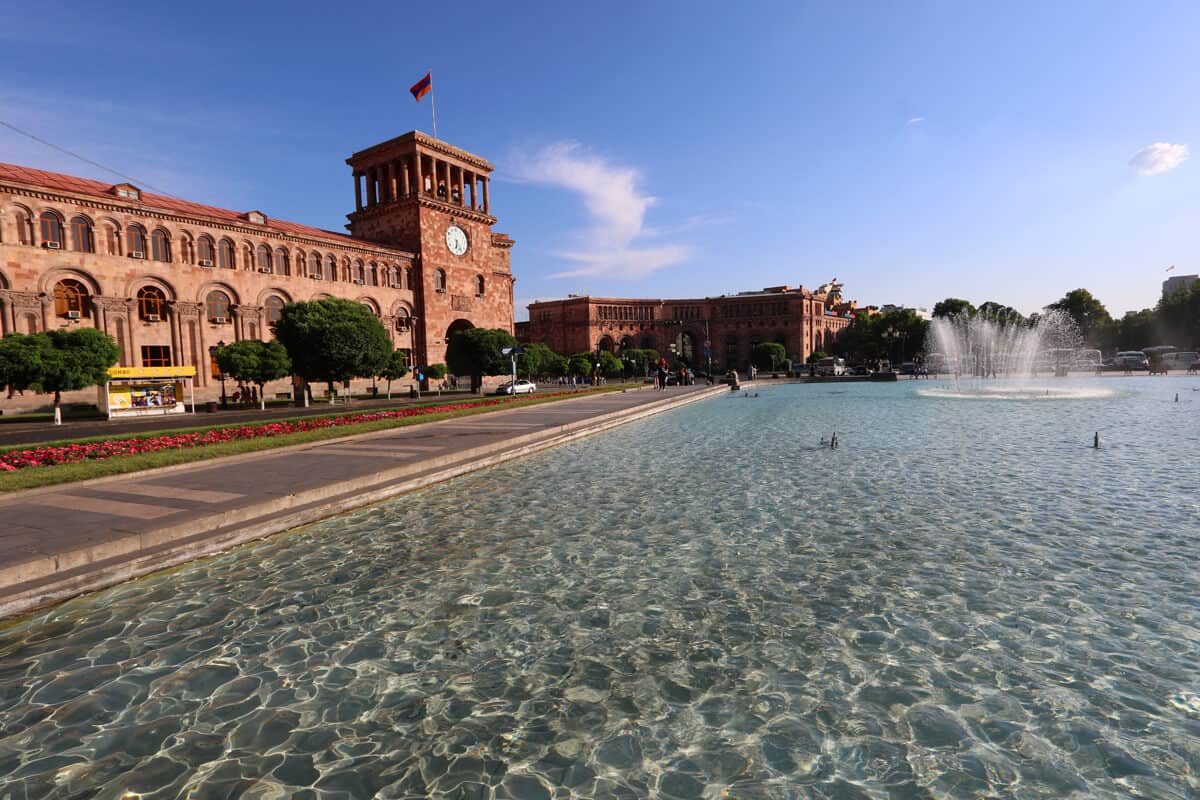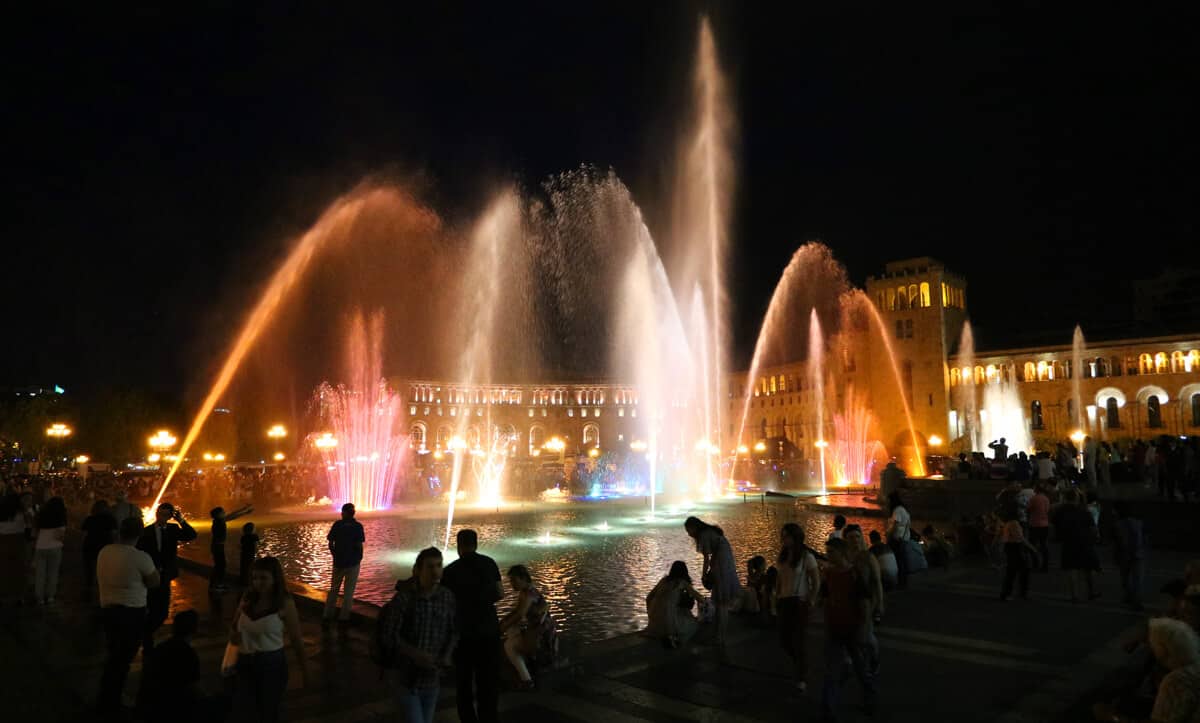 During our month's stay in Yerevan we toured with Arara Tours for 4 days. One of those days included a Yerevan city tour which covered a few must-see Museums which I cover below. Museums generally can be hit-or-miss – but the museums below were excellent and visiting them we really gained an appreciation for Armenia and its history.
---
---
Must-see Museums in Yerevan
Armenian Genocide Museum
On a hill outside of the city is this memorial dedicated to the people who were killed in the Armenian genocide which started in 1915. You'll see external structures: 12 giant slabs representing the 12 Armenian provinces that were lost during the war, an eternal flame dedicated to the 1.5 million Armenians killed, a large wall with the names of cities where massacres took place, and a sharp 44-meter stele (like a spike) soaring into the sky. It represents the rebirth of Armenia. Underground you'll find the museum which recounts, in quite bold language, the atrocities committed by the Turks against Armenians in the centuries leading up to (and during) the genocide.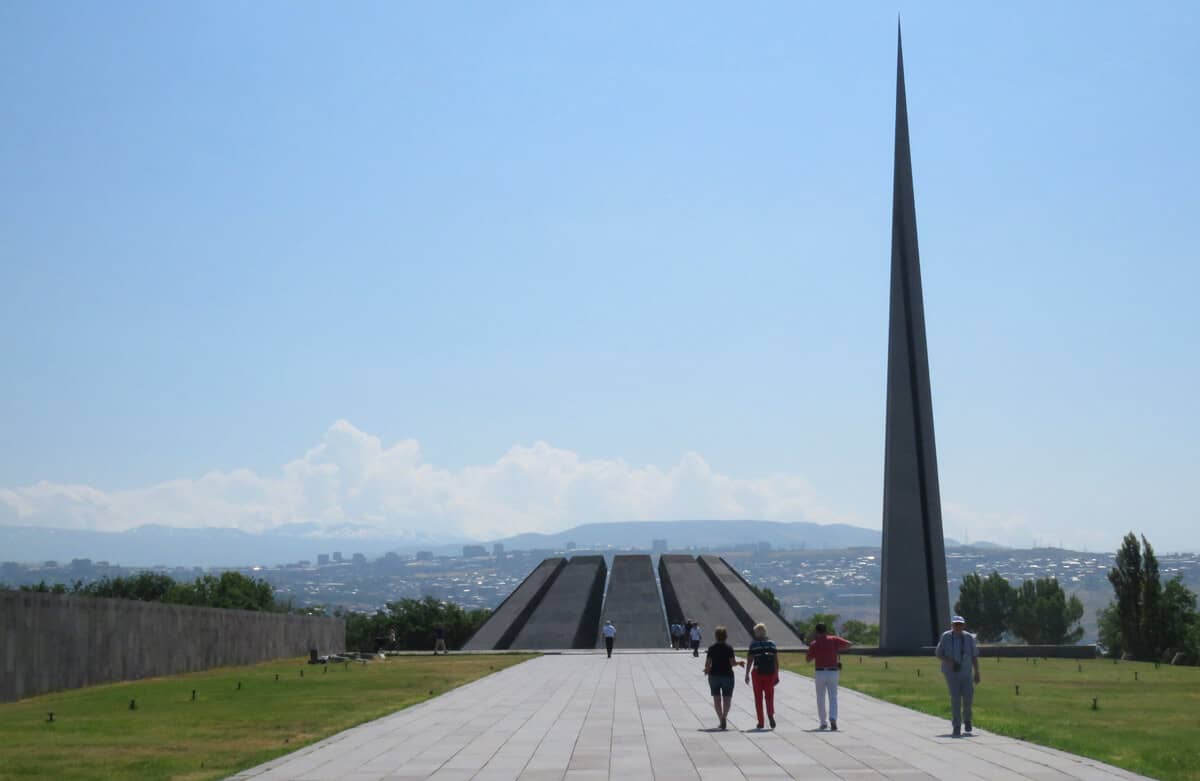 Matenadaran (book depository)
The Matenadaran is officially the Mesrop Mashtots Institute of Ancient Manuscripts. A museum dedicated to ancient manuscripts sounds really boring but we had an excellent guide (arranged by Arara Tours) who made it exciting. The manuscripts cover religion, science, history, geography and other subjects and you get to see ancient books, some dating back to the 6th century. During the many wars with the Ottomans many manuscripts were intentionally destroyed and these ones survived, often by being hidden in caves or being sent elsewhere for safekeeping. These documents represent the oldest surviving remnants of Armenia's written culture .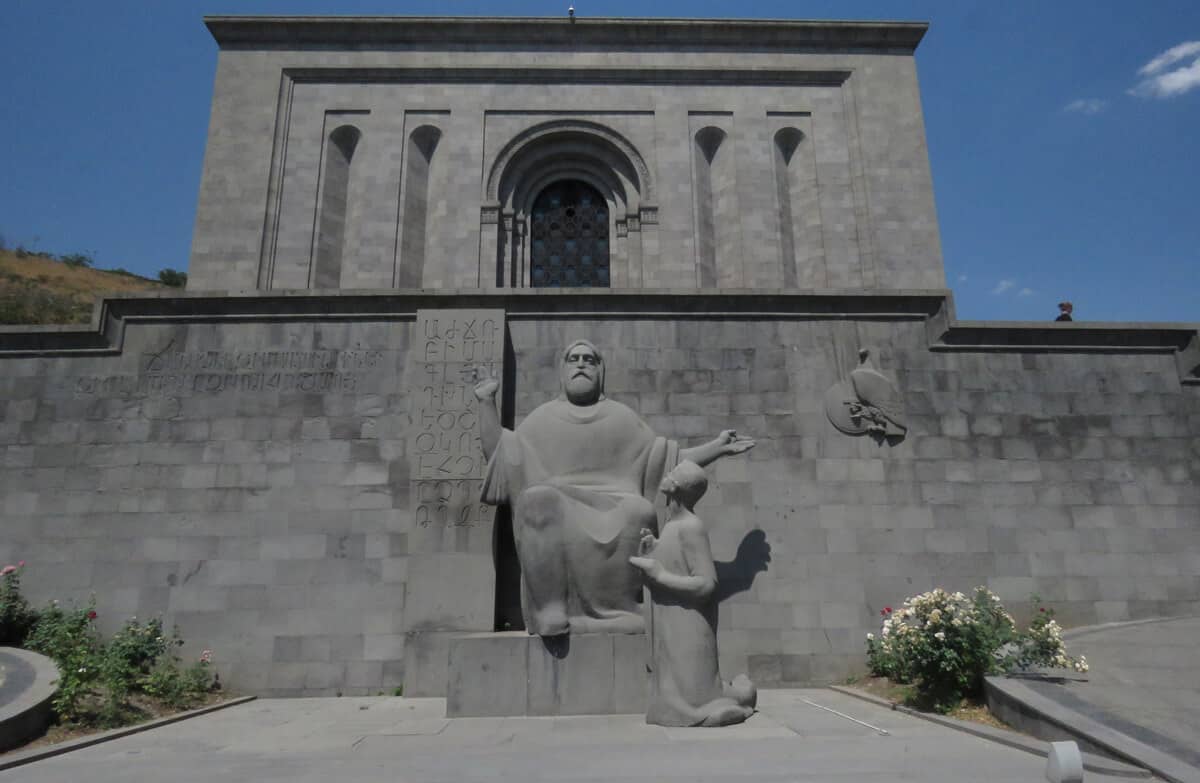 History Museum of Armenia
Right on Republic Square this museum covers the history of Armenia from the 3rd Century BC to the modern. You'll see a bit of everything, including some Khachkars (Armenian "headstones"), clothing, prehistoric bowls, as well as the world's oldest shoe. All the above doesn't sound so exciting but it was actually very well covered by our excellent guide.
---
---
---
---
Other Highlights
The Blue Mosque
The only Mosque in Yerevan is this Persian mosque which is administered by the Iranian government. It's a beautiful mosque with pretty gardens – if you've never been to Iran it is a slice of Iran in Armenia.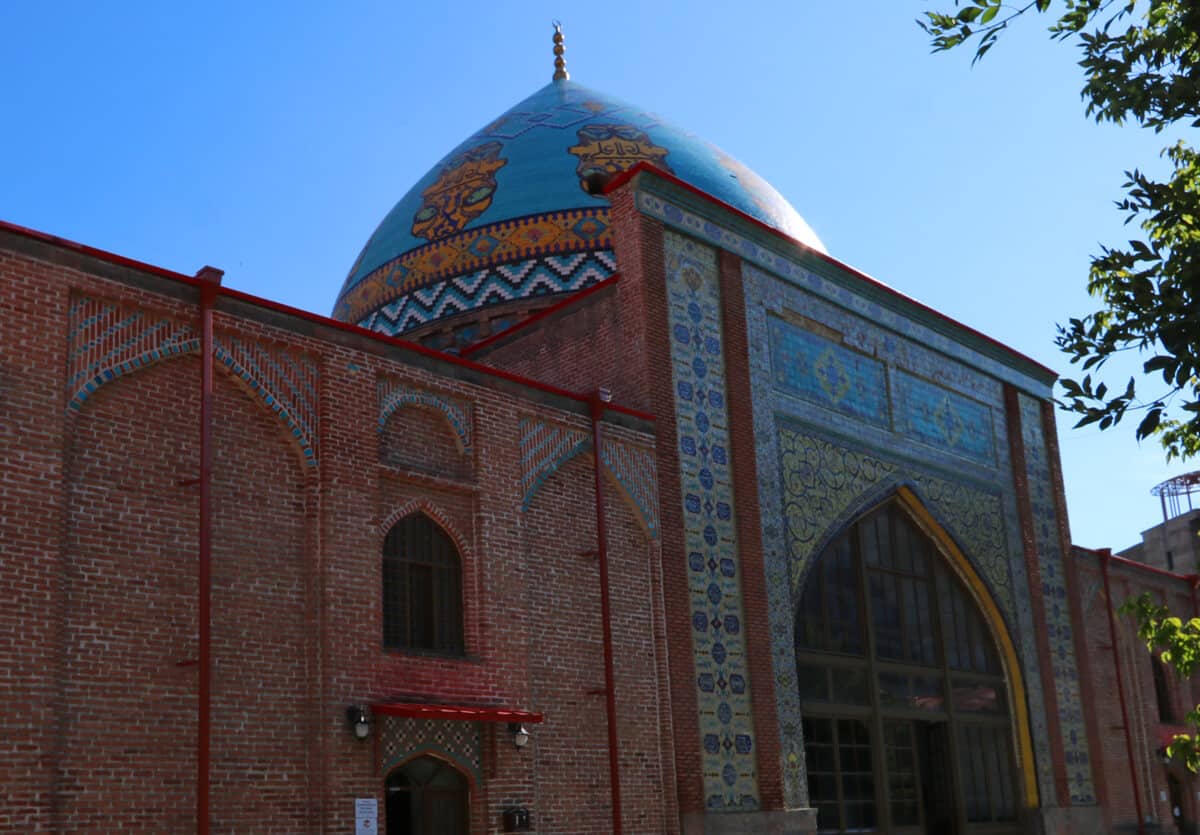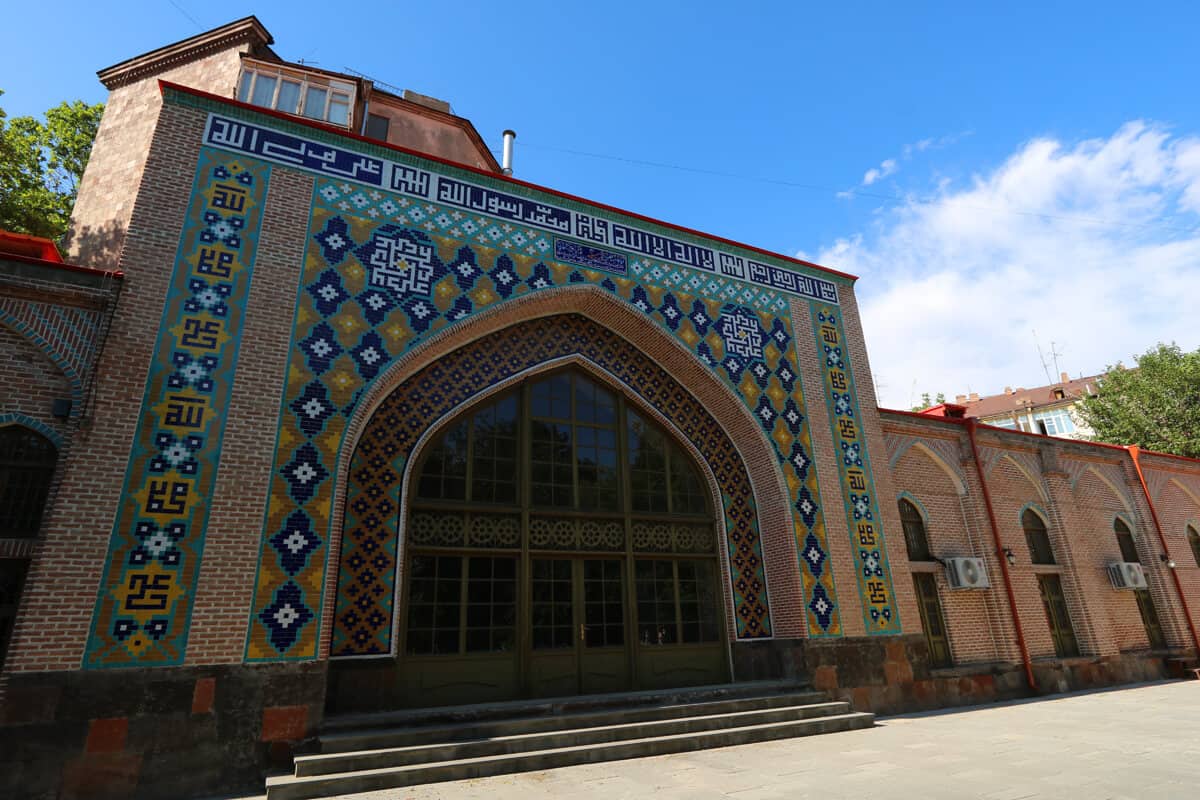 Yerevan Opera Theatre
A beautiful Soviet-era building, it is located near the foot of the Cascade Complex in an area of gardens and fountains.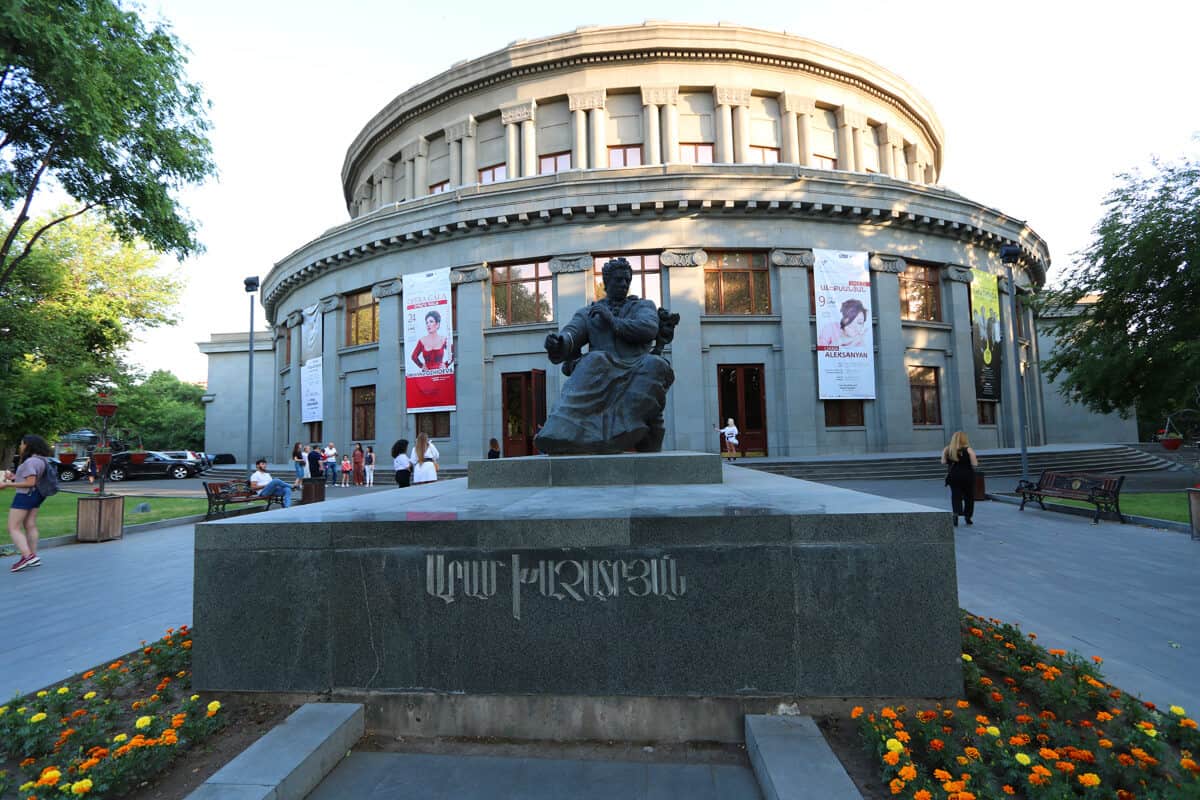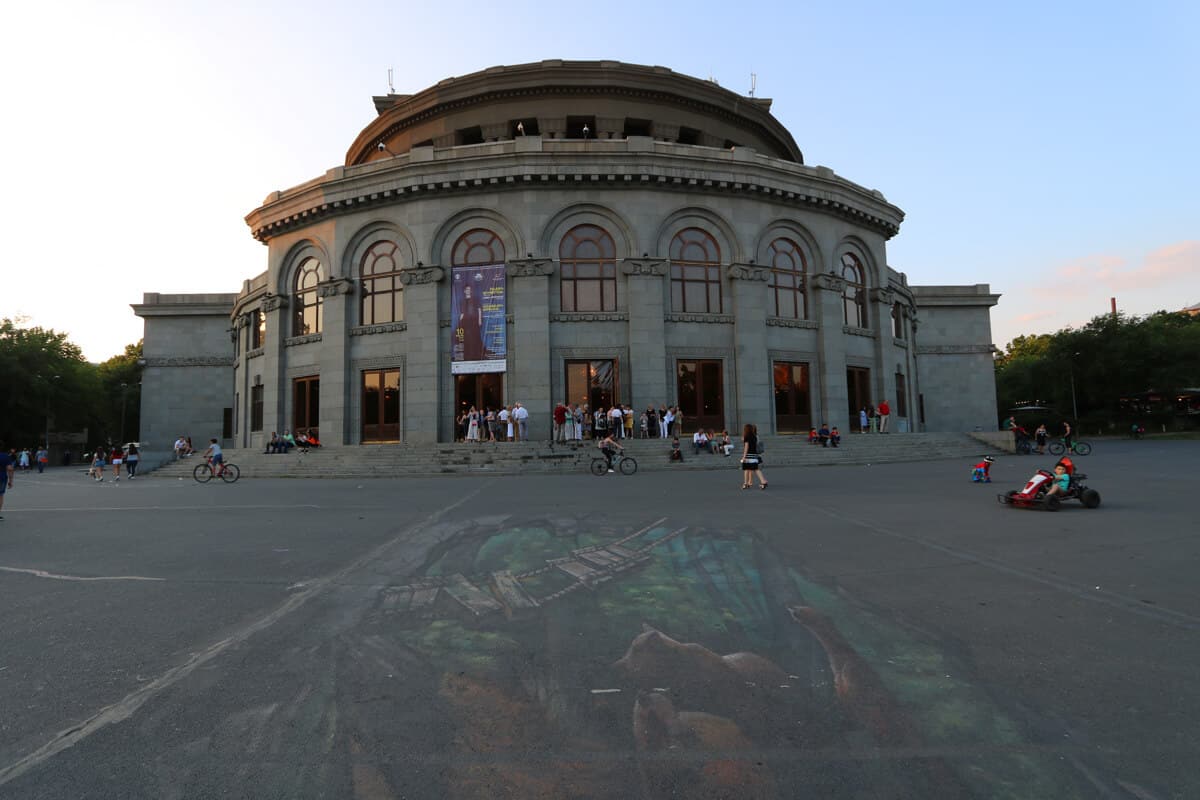 Moscow theatre/Charles Aznavour square
Another Soviet-era building (completed in 1936) located in the city center. An international film festival is held here every year. The building is on Charles Aznavour Square, named after the famous French Armenian singer (as I say up top, probably the most famous Armenian of all time).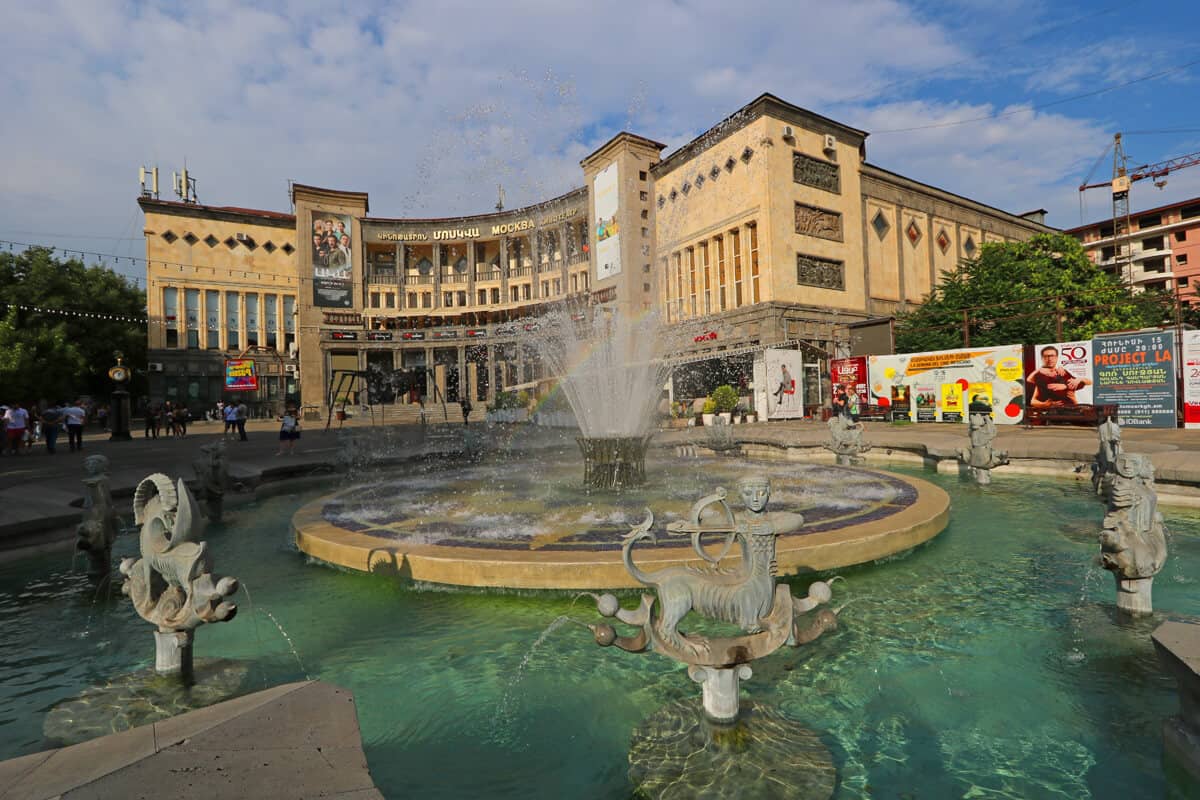 ---
---
Northern Avenue
A pedestrian-only street where you'll see street vendors and brand stores. But a pleasant place to walk. If you're coming from Republic Square walk towards Northern Avenue – it'll lead to the Opera House and, a little further on, to the Cascades complex.
The Railway Station
The Soviet authorities wanted to make Yerevan a major train hub in the region so they built this big, beautiful train station in 1956. Take the metro to get there, it is only 2 metro stops from Republic Square. I wrote about how we took the train from Tbilisi to Yerevan here.
Just walk around the city center….
Parks radiate out from the city center. Lots of trees, fountains, statues and monuments, places to sit…and lots of life. I think it's this, more than anything else, that makes Yerevan an attractive, liveable city. Some photos: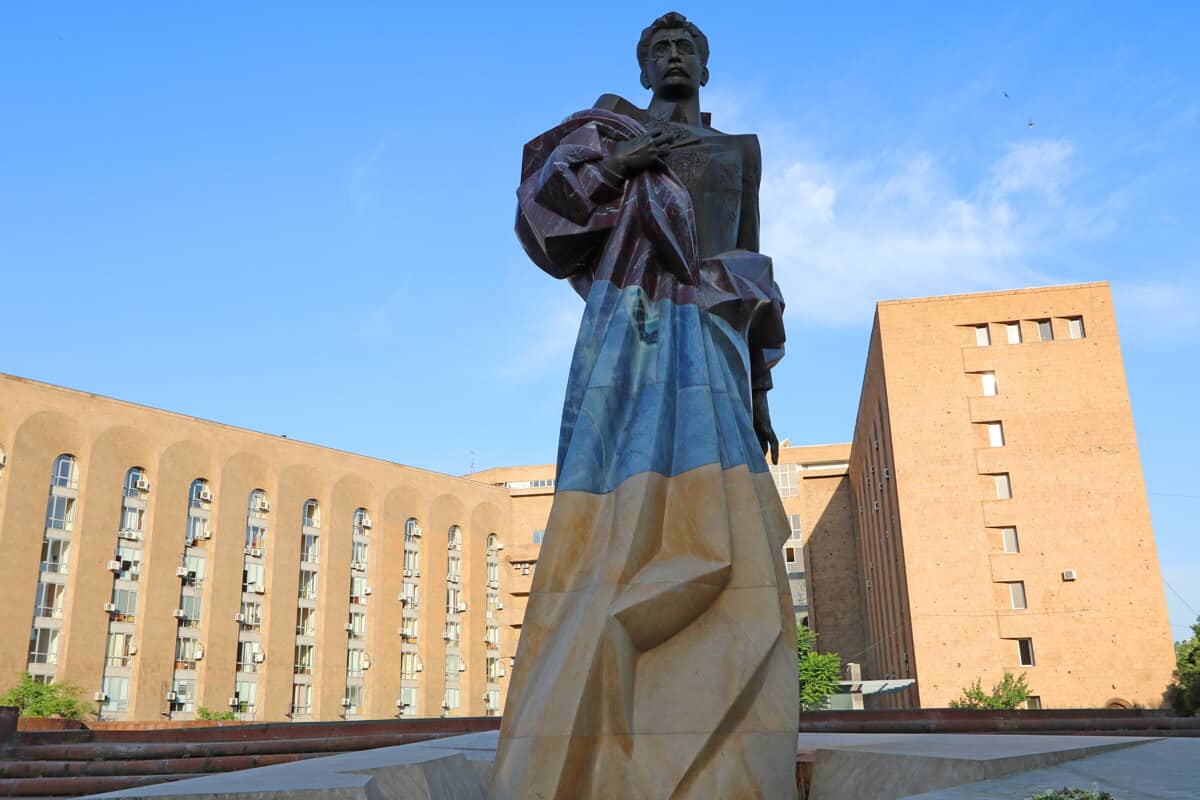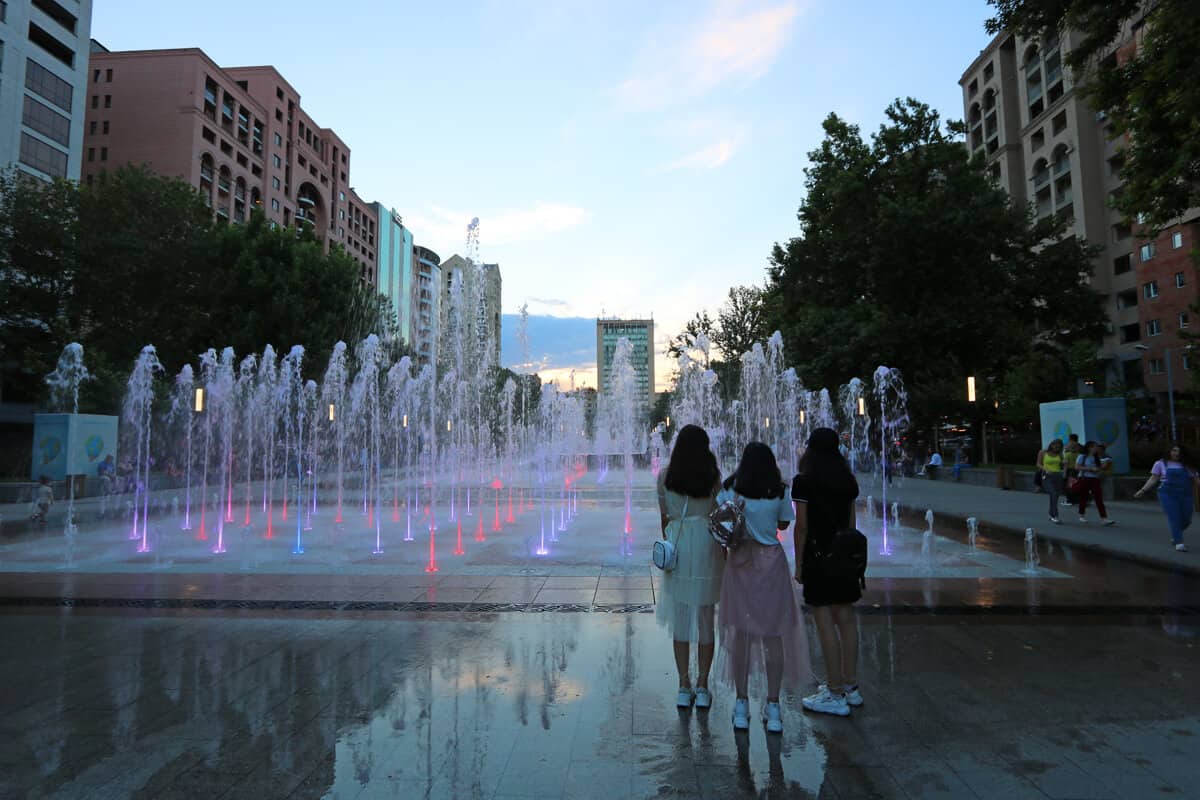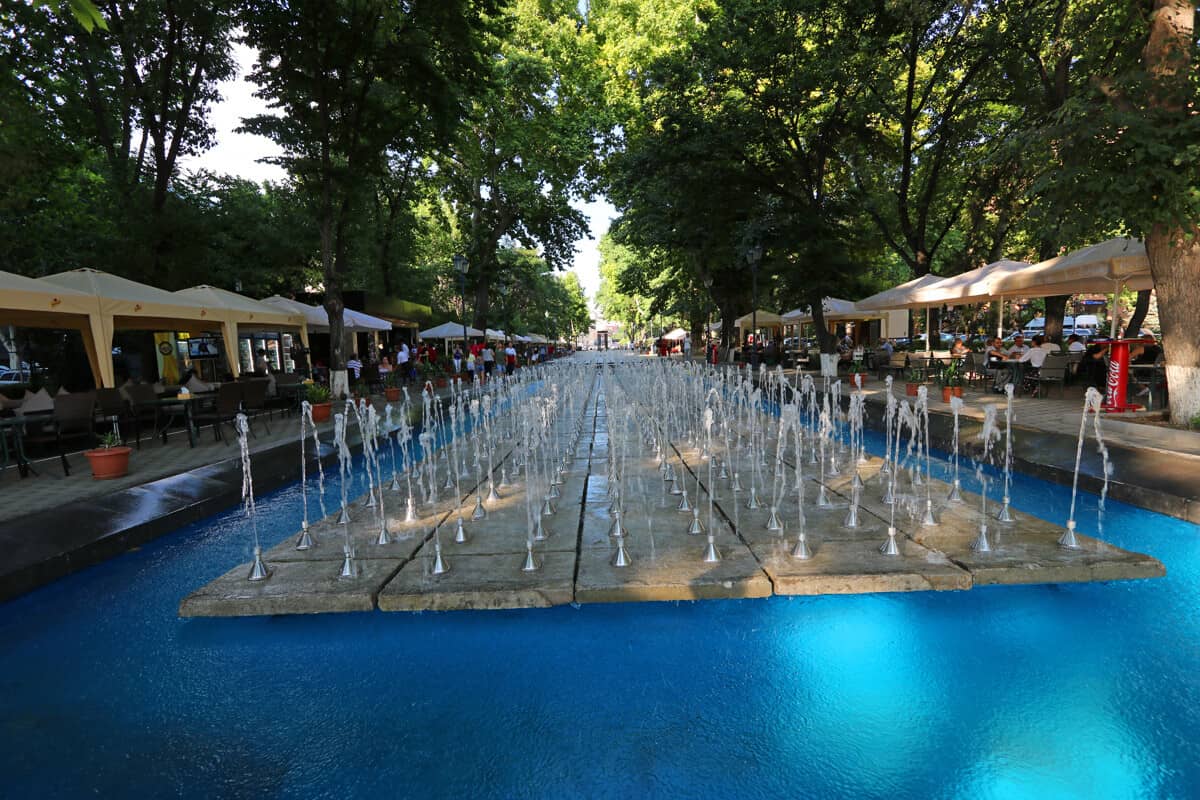 ---
---
If you had told me 5 years ago that we would ever go to Yerevan I would have thought "never". How would we end up in Armenia of all places? Funny how things go. Sure, it's great visiting places like Rome, Venice, Paris etc…but the beauty of travel is discovering places you've only heard of. Yerevan doesn't get many Western visitors, it's definitely off-the-beaten-path. But we enjoyed our time here and feel we learned about a piece of the world that few get to see.
Note: CNN just named it as one of "20 beautiful European cities with hardly any tourists".
A few tips, myths, and resources
Food. We had a lot of really good Armenian food in Yerevan. Trout (from Lake Sevan) is fantastic and the Armenians have some incredible vegetable dishes which seemed (to us) more reminiscent of Middle-Eastern food than of Georgian food. A couple of highly recommended places: Sherep restaurant just off Republic Square (they also own Lavash restaurant – but Sherep is better). Yerevan Tavern Riverside restaurant. Again, same owners but a nice, relaxed atmosphere outside the city center.
Armenian cognac (or brandy) is world famous. We drank lots of it, you can find it everywhere. Try to arrange for a tour at Ararat factory Museum if you can – we contacted them to make an appointment but never heard back…
Coffee Culture. I've heard people extolling Yerevan's coffee culture (just as I've heard people bragging about Tbilisi's coffee culture). Sorry they're off the mark here. Coffee is not that great and is expensive compared to many places we've been. Neither compare to the place we're returning to after Armenia…
Where to Stay. Upper end (but cheap by most standards): Golden Palace Hotel or Central Hotel (both very close to Republic Square). Great budget hotels: California Boutique Hotel or Republic Square Boutique Hotel.
Tours. I mentioned Arara Tours above. We partnered with them and participated in their 8 day Armenia & Georgia Classical Tour Package. It was the best way to see both countries outside the capital cities. I'll have more on the highlights outside of Yerevan in coming posts (the countryside is the reason most travellers come to Armenia).
Flying in. Yerevan's airport is Zvartnots International Airport (code EVN) and is located 15km from the city center.

Have you been to Yerevan? What did you think of it?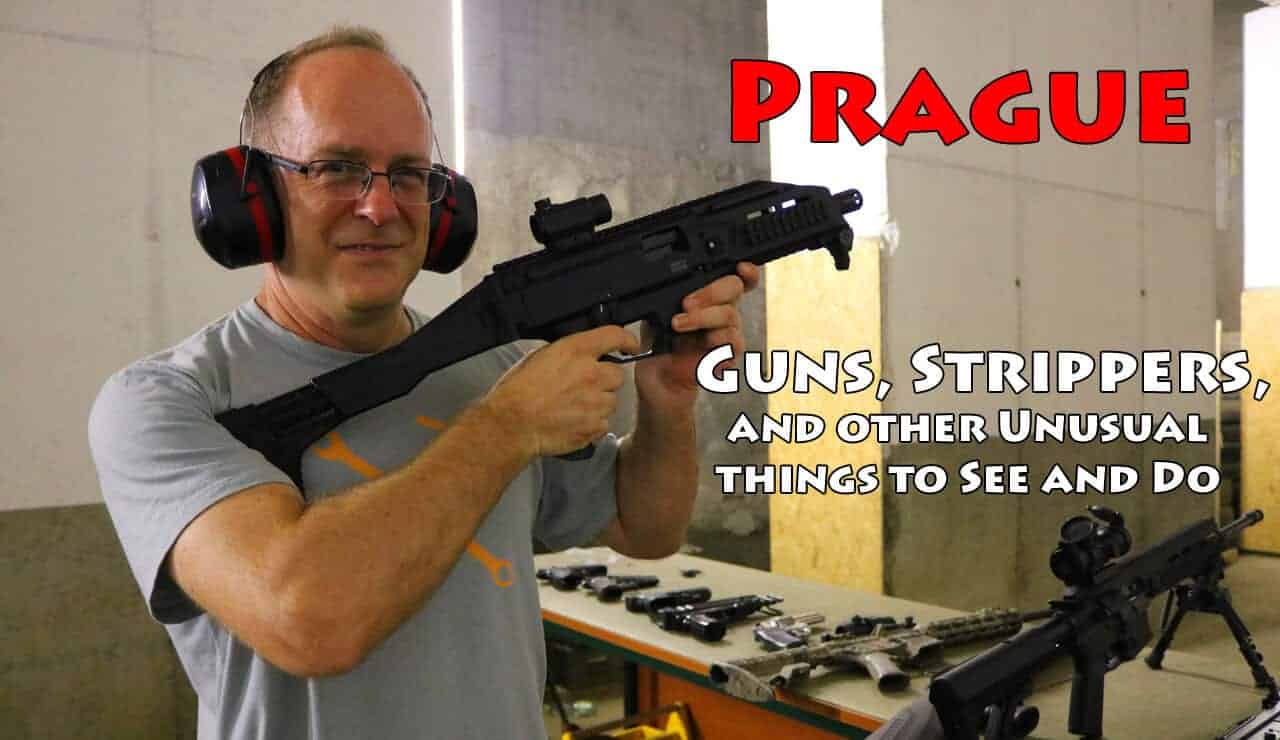 PS. Looking to book flights, hotels, tours, or rent a car? Have a look at our Travel Resources page.