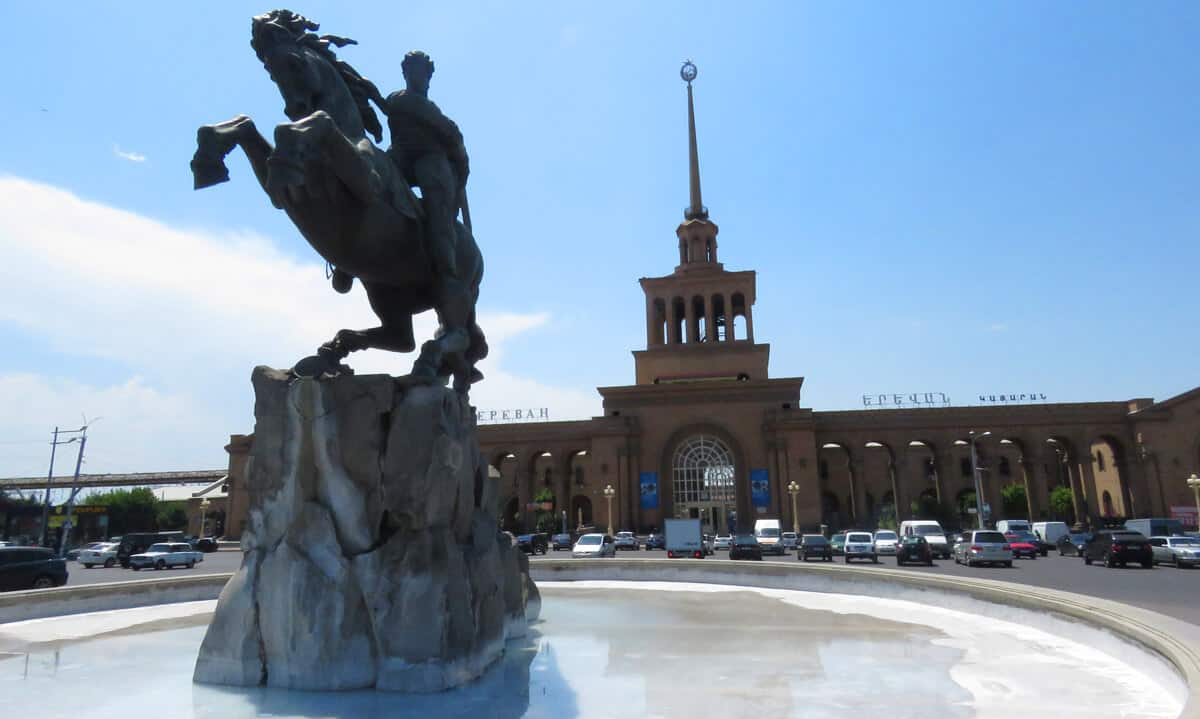 Tbilisi to Yerevan by train
How to get from Tblisi to Yerevan by train? We made the journey recently, buying tickets for a 1st class carriage ("1st class. How fancy!" you say? As you'll see, it really isn't). This post covers almost everything you need to know about travelling Tblisi to Yerevan (and vice versa) by train.
First of all, you might wonder: "why do it by train?" You can also take the plane: Georgian Airways has 3 flights/day along that route taking 30 minutes (flights start at about $130 US return). You can also take buses (including minibuses) which will take 5 to 6 hours (there's an excellent post on taking the bus here). Taking the train is the longest (10 ½ hrs) way to do it, the least convenient (it's an overnight train), and it isn't the cheapest option. But if you like train travel (like us) you may find it the most comfortable and hassle-free way to get from Tbilisi to Yerevan (I'll get back to that later in the post).
---
---
---
Schedule, Cost, and buying your ticket
Tbilisi to Yerevan
From October 2 to June 12 (low season) the train runs every 2nd night on odd days (we took the train on June 3rd) of the month, leaving Tbilisi at 8:20 pm and arriving in Yerevan at 6:55 am the next day.
From June 15 to September 30 (high season), the train runs every night, originating in Batumi, stopping in Tbilisi and leaving Tbilisi at 10:15 pm. It arrives in Yerevan at 7:50 am the next morning.
Yerevan to Tbilisi
From October 2 to June 12 (low season) the train runs every 2nd night on even days of the month, leaving Yerevan at 9:30 pm and arriving in Tbilisi at 7:50 am the next morning.
From June 15 to September 30 (high season), the train runs every night, leaving Yerevan at 3:30 pm and arriving in Tbilisi just after midnight. It then continues to Batumi.
---
---
Cost
1st Class (which is a 2 person compartment) – 115 Gel (approx. $40 USD)
2nd Class (a 4 person compartment) – 85 Gel (approx. $30 USD)
3rd Class (open plan, no compartment) – 66 Gel (approx. $23 USD)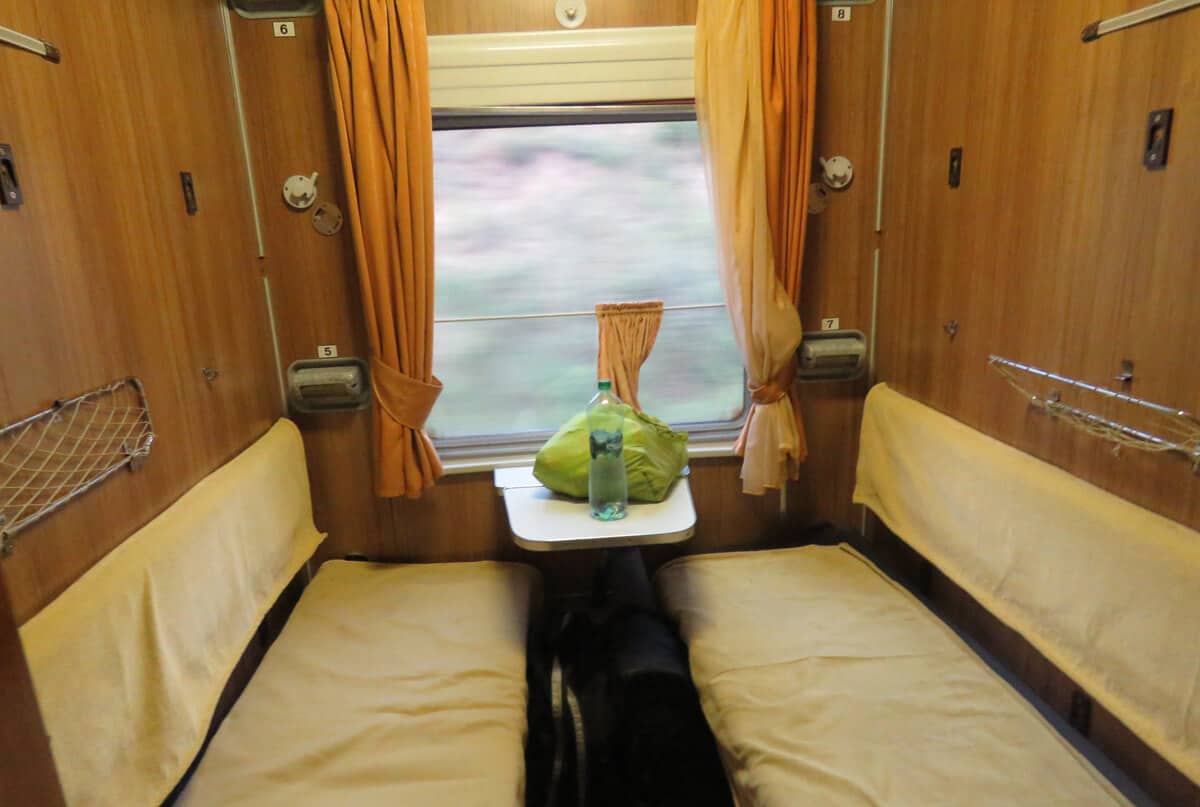 Buying your ticket
There is a way of buying your ticket on the Armenian South Caucasus Website. I wasn't able to negotiate my way around it however. Instead we went to the station a few days before and bought our tickets there (I recommend 3-5 days before). When you go to buy your ticket, bring your passport and cash to pay for your ticket.
---
---
VISA
Very important. Some countries require a Visa to get into Armenia. Americans don't, but as Canadians we did (I don't understand that. Same happened to us in Turkey). The best way is to get your visa is online. They require a photo so have a passport-type photo available which you can upload to the application. Other than that it is a simple process. We had our Visa in less than 24 hours but they advise allowing 3 days. It cost us $31 USD to get a Visa valid for 120 days.
Train Stations (and getting there)
In Tbilisi the trains arrive in Tbilisi Central Station which is a little confusing as it looks (and is) a shopping mall. When you enter the building, go up the escalators. That's where the train station is. You'll find the ticket counters right there when you get up to the 2nd floor. You can get to the train station by metro (station: Station Square 1). It's 3 metro stops from Liberty Square.
In Yerevan your experience will be totally different – the train station is a beautiful Soviet-era building (built in 1956). Take the time to walk around outside, there's a Statue out front of Sasuntsi Davit in the gardens. He's an Armenia folk hero from the Middle Ages. Just like in Tbilisi, the station is easily accessible by metro being 2 stations from Republic Square (get out at Sasuntsi Davit station).
Note: like everywhere, taxi drivers will try to screw you over when arriving at the train station. When we arrived in Yerevan the first taxi driver that approached us wanted 7,000 Drams (almost $15 US) to get us downtown. The "normal" price should be about 2,500 Drams, about $ 5 US.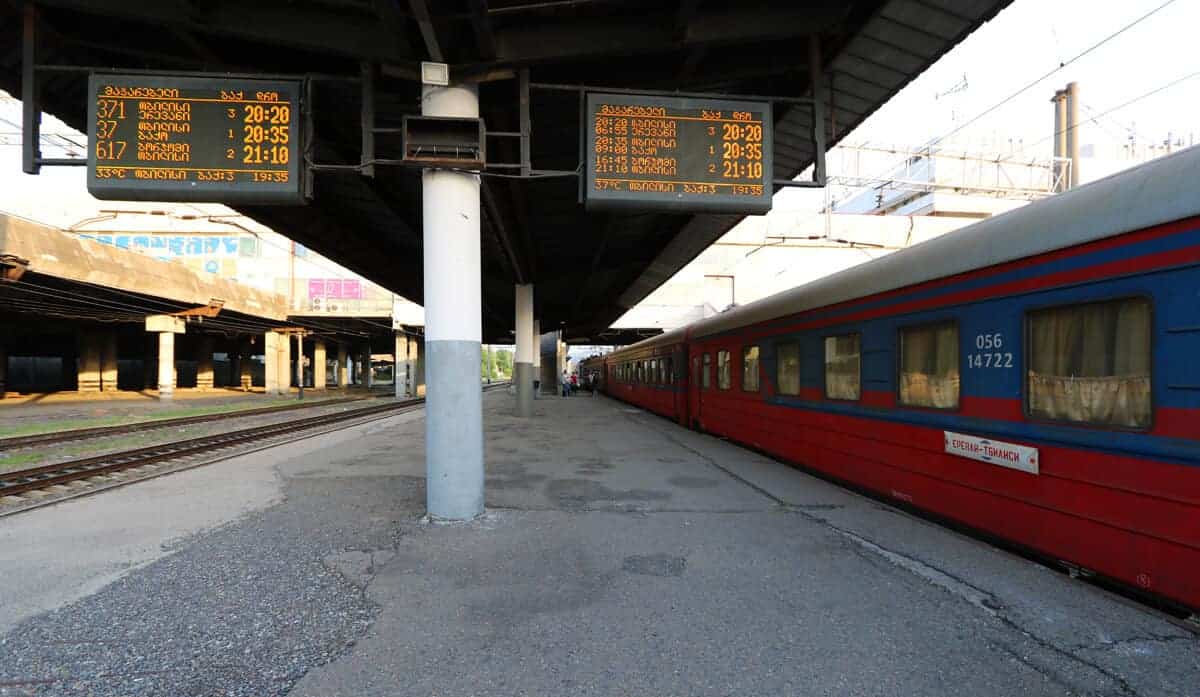 ---
---
What's the train like? Our experience
Taking the train in Georgia/Armenia is similar to any train journey you've taken in Eastern Europe. The standard isn't very high. Don't expect much.
We arrived at the station about 45 minutes early. The train to Yerevan leaves from Platform 3. The train was already there and a few employees were standing around outside. We were directed to the front of the train for 1st class. There a lady looked at our tickets and our passports and showed us to our compartment. It looked clean and there was enough room for our bags (we had 2 hand luggage-sized suitcases and 2 backpacks). But there is no AC on the train and the compartment was absolutely sweltering (it was 35C that day). Windows are sealed in the compartment. The only air you get is when the train moves and that's from a couple of windows in the corridor that do open. It was so hot in there that passengers, initially rushing to their compartments, came back out and waited outside until the very last minute before departure.
There is no wifi and no power sockets except for a couple in the corridor. When the train started moving the attendant came by with a package containing linens for the beds. There were pillows in a compartment up top but they were smelly (we didn't use them).
There is no dining car on the train so bring your own food and drink. In each carriage there is a western-style toilet which gets progressively dirtier as the voyage progresses.
But the worst was the heat and lack of air. It got a bit cooler as it got dark. But really it was uncomfortable throughout and everyone kept their compartments open for that little air that was coming in through the corridor windows.
As I mentioned above, this was first class.
---
---
Timing:
8:20 pm. Departure
10:15 pm. Georgian immigration (they come on board, you don't have to do anything but show them your passport). The whole process took an hour.
11:15 pm. We started up again.
11:45 pm. Armenian immigration. Again, immigration came on board and go through your passport and Visa (if required). People who didn't have a Visa got off the train to get one in the station. Update: you now need to get an evisa in advance which might take a few days.
12: 45 am. We started up again. From here we weren't interrupted anymore and lights we turned off in the corridor. There were a lot of stops at small stations along the way.
6:50 am. Arrival in Yerevan.
Note: if you've spent time in Azerbaijan you'll face a lot of questions entering Armenia (the two countries don't get along). They'll ask you when you were there, why, where you stayed…I've even heard that they might call the hotel where you claim to have stayed. Prepare all your paperwork in advance.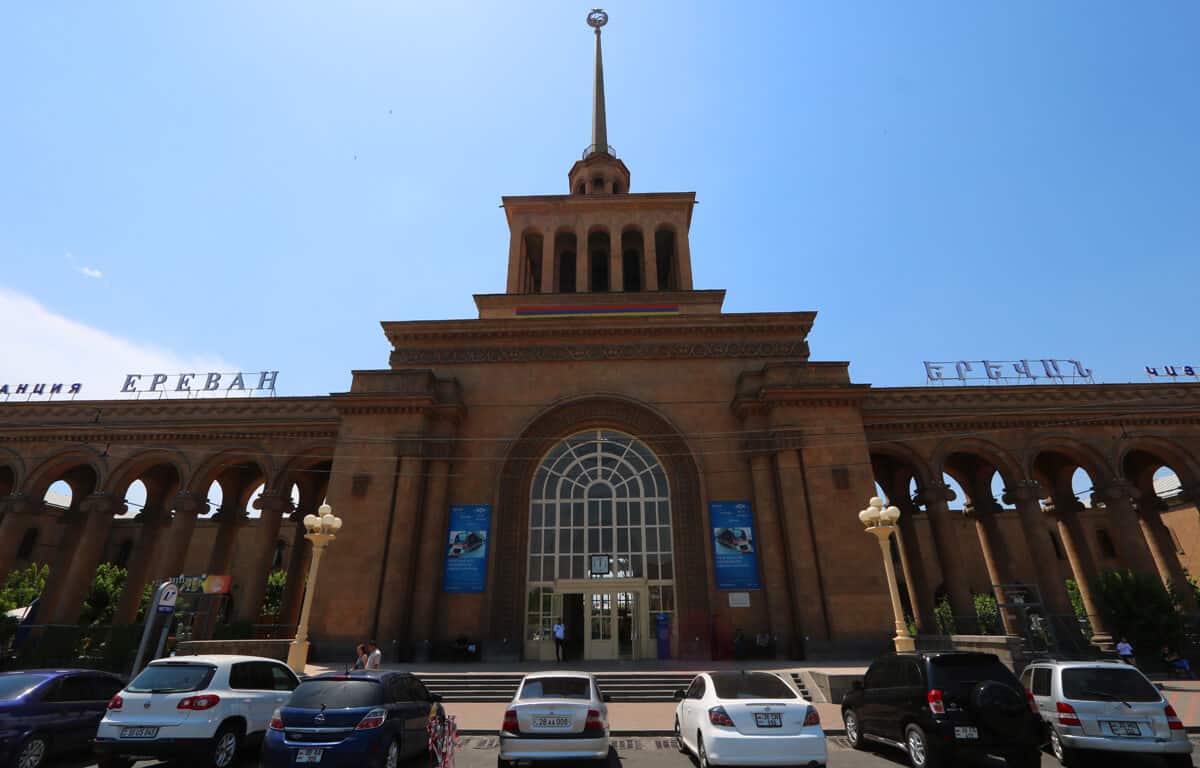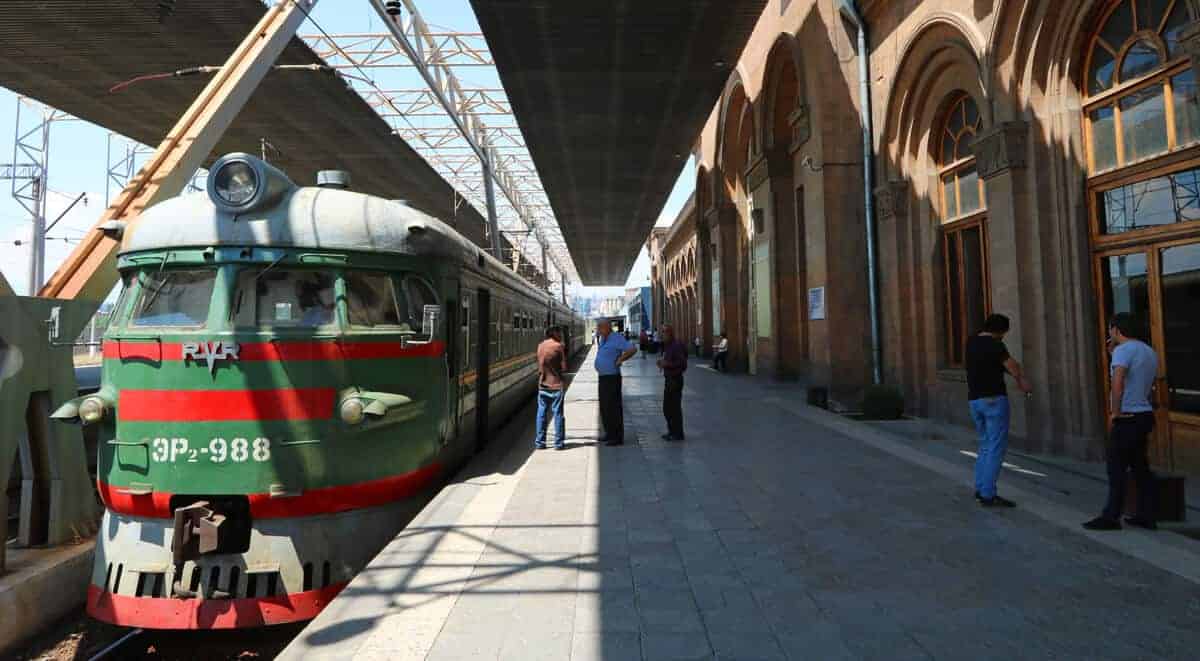 ---
---
So was taking the train between Tbilisi and Yerevan worth it?
Lissette who will always opt for train travel, will tell you "no". It was entirely because of the heat which made the trip very uncomfortable. We sweated throughout and were a sticky mess by the time we arrived in Yerevan the next morning. It was a very long, uncomfortable ride.
The other thing: the morning views of Mt. Ararat as you approach Yerevan are impressive. And the views on the route are also supposed to be impressive – unfortunately since this is a night train you won't experience any of those highlights.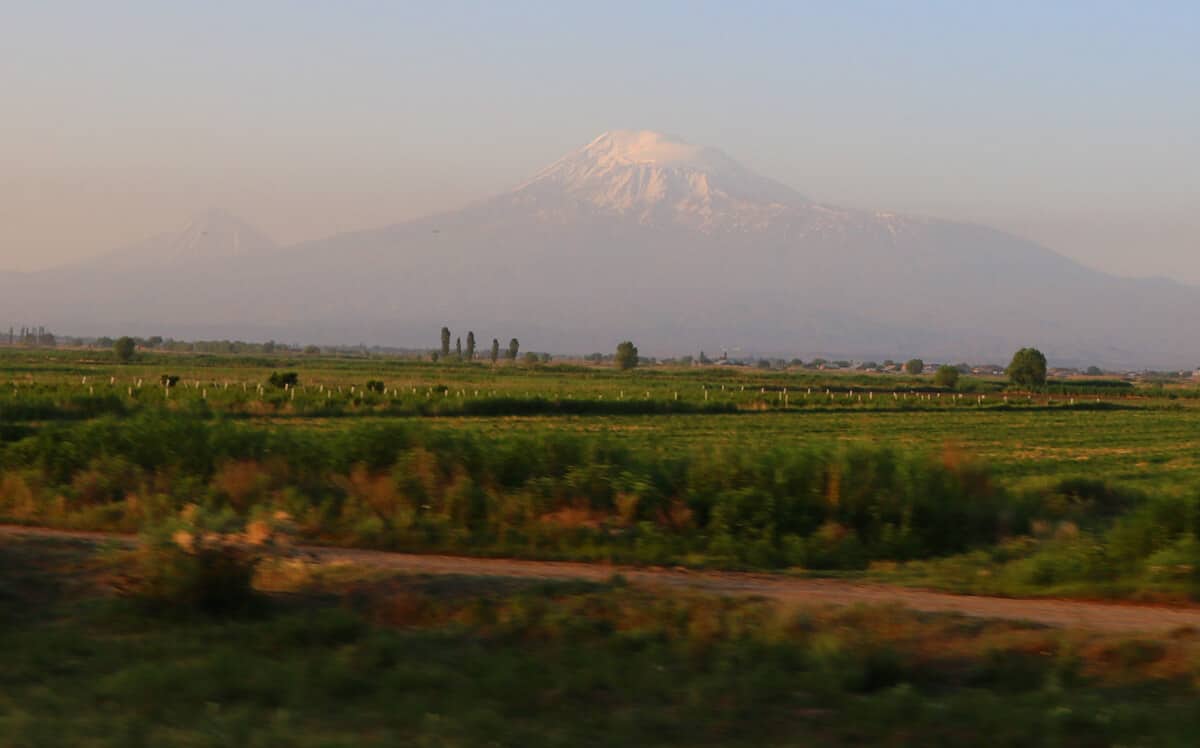 In hindsight I think it would have been a lot easier flying. And unless you're really determined to take the train, we would recommend flying or taking the bus. That's our opinion.
Have you taken the train between Tbilisi and Yerevan?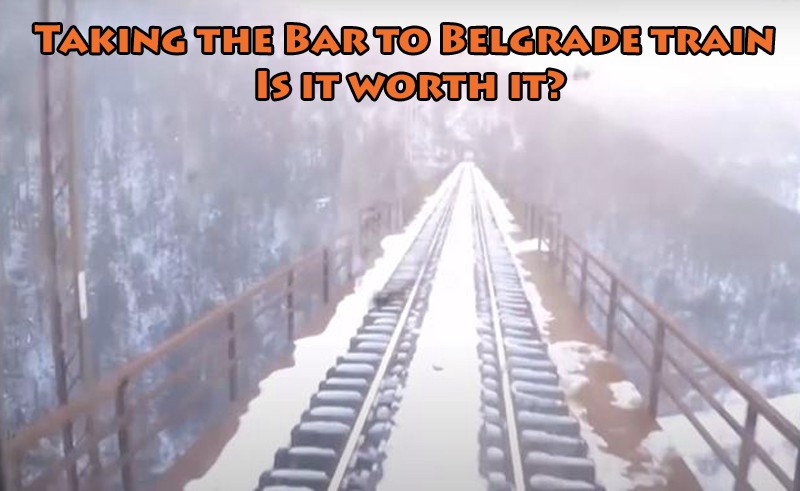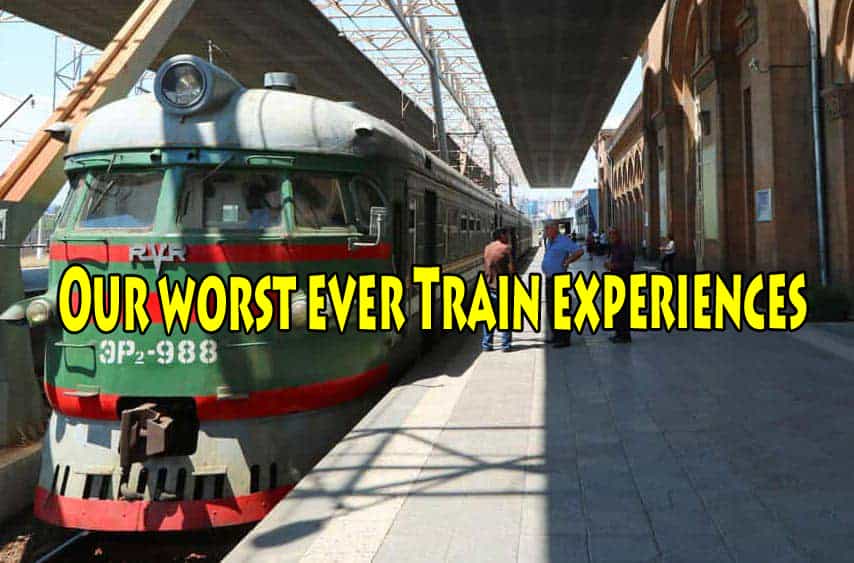 PS. Looking to book flights, hotels, tours, or rent a car? Have a look at our Travel Resources page.