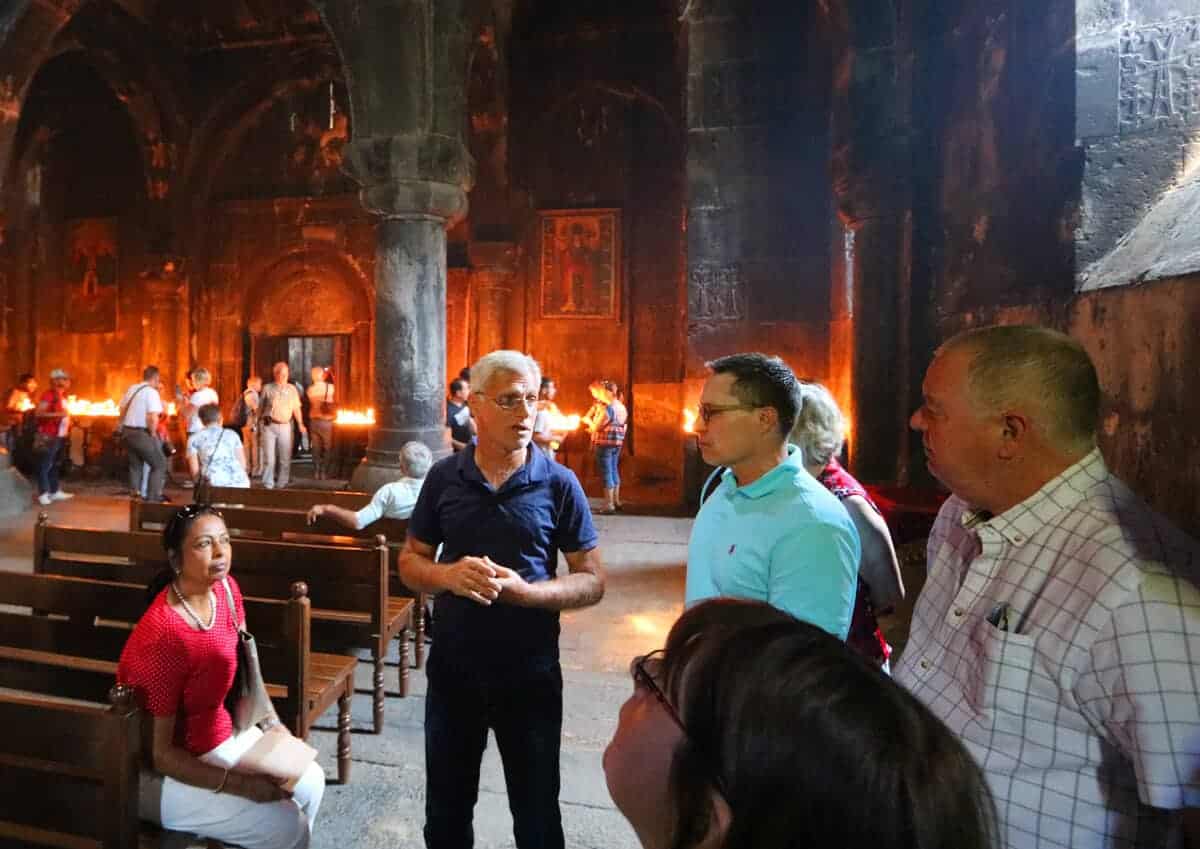 Group Tours vs Independent Travel.
Before our recent trip to Georgia and Armenia we'd always travelled independently. In Georgia and Armenia we tried something new: taking part in an 8 day intensive tour of both countries. The groups that we joined were in the 50 – 65 age range, the participants mostly from the UK, Australia and South Africa. In our first group (in Georgia) we were with 5 other people. In the second group (in Armenia) there were 9 other people.
It was interesting. There were aspects of group travel that were great. There were others that we didn't like so much.
Here are the pros and cons of group tours vs independent travel. And some thoughts.
Pros of Group Tours
See more in less time. Every morning at around 9 am we would pile into the minibus. There would usually be 4-5 stops in a day at different highlights (most far from each other), usually with a lunch break in between. We would usually finish our tour every day around 5 pm (on average). If you have 3 days in a country there's no better way to see as much of it. We saw lots.
Somebody else organizes it. That means no stress, no worry, no hassle. As the person between us who organizes everything it was like a holiday for me. I would usually fall asleep in the van, waking up when we got to our next destination. That was nice.
---
---
Everything is explained by a guide. I usually research things and tell Lissette what I've read when we visit a site. But on a tour you have an experience guide who will tell you everything you need to know. That's great.
Safety. The guide will save you getting hassled or getting screwed on prices. In some places it's reason enough to have a guide. Morocco (which I recently wrote about) would be a good place to discover on a group tour. India is another.
Cost. It can actually be cheaper travelling as a group instead of travelling independently. The tour that we took part in cost 850 Euro per person, including 8 nights accommodation and all the touring. If the average person were to come to Georgia/Armenia and book their own hotel and rent a car (which they would have to do to see all the sites outside the capital) it would probably cost about the same if not more.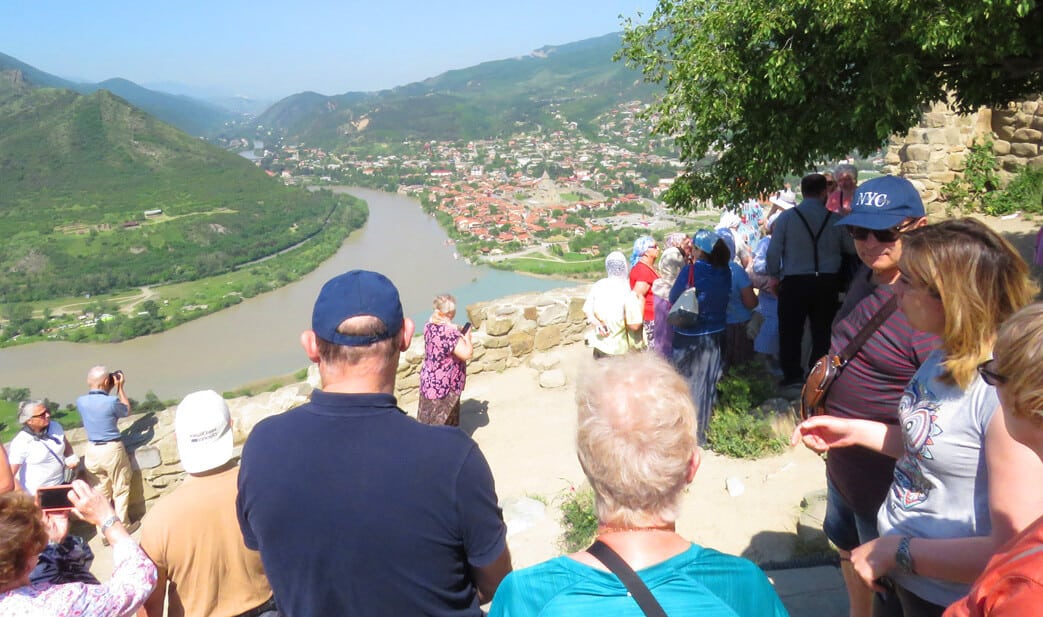 ---
---
Cons of a Group Tour
Feeling restricted. You have to follow a schedule and stick with the group. Sometimes you just want to wander off and take photos. Or sometimes you just want to get away from people. You can't. Or sometimes, like during one day of touring in Georgia, our guide brought us to a few places where as much time was allotted to the tourist site as to the souvenir shops around it. That didn't make me happy: we had 20 minutes to rush through the site only to spent equal time wandering through tourist shops? The problem is that some people on the tour might have requested to do some souvenir shopping so you're stuck doing what the majority want.
Guide. A tour will only be as good as the guide. If you have a bad guide you won't get much out of your tour. In our case we had an excellent guide on the Armenian portion of the tour. He was one of the best guides we've had anywhere. On the Georgia portion of the tour the guide was just average. It makes a big difference in your appreciation of the tour…and of the country you're visiting.
---
---
The other participants. I said above that a tour will only be as good as the guide. That's only half of it. The other half are the people you're on tour with – they can either make it a really great and enjoyable tour or a sucky experience where you're stuck with people that you can't stand. On the Armenia portion we had an ok group. It was a larger group and we didn't really feel that there was an overall connection within the group. There were, however, a few individuals that we personally connected with that made it interesting. On the Georgia part of the tour we had a smaller group which I think helped – there was a really fun spirit within the group. We actually felt sad saying goodbye after 3 days with them.
I would say to anyone thinking of travelling as part of a tour to ask about the average age of fellow participants: being in our early 50's now I don't think we would have been very happy being part of a group with a whole bunch of twenty-somethings…Having said that you never know what the people will be like or if you get along.
Scheduling. On a group tour you're going on tour no matter what. It can be pretty exhausting. A few of the days on our itinerary were long, starting around at 9:00 am and finishing around 8 pm. Then you're up early the next day getting in that minivan again…I'm not used to travelling this way and one day brought it up to the people on tour: "don't you people find this exhausting?". They looked at me like I was crazy. All the participants were "tour travellers": that's how they travel.
Note: for people reading this who don't know how we usually travel I wrote this on how we "slow travel". I recently had someone in Georgia, on describing how we travelled, come up with a different description: "Ah, you're lazy travellers!" said she. We had to laugh because I guess there's some truth to it.
All I'm saying is that "tour travellers" travel very differently then what we do and at a very different pace. If you're an independent traveller used to travelling at your own speed and being flexible with your itinerary then you might find travelling as part of a tour very different…
---
---
The above were the pros and cons that we saw/felt. I'm sure people may have other points to add.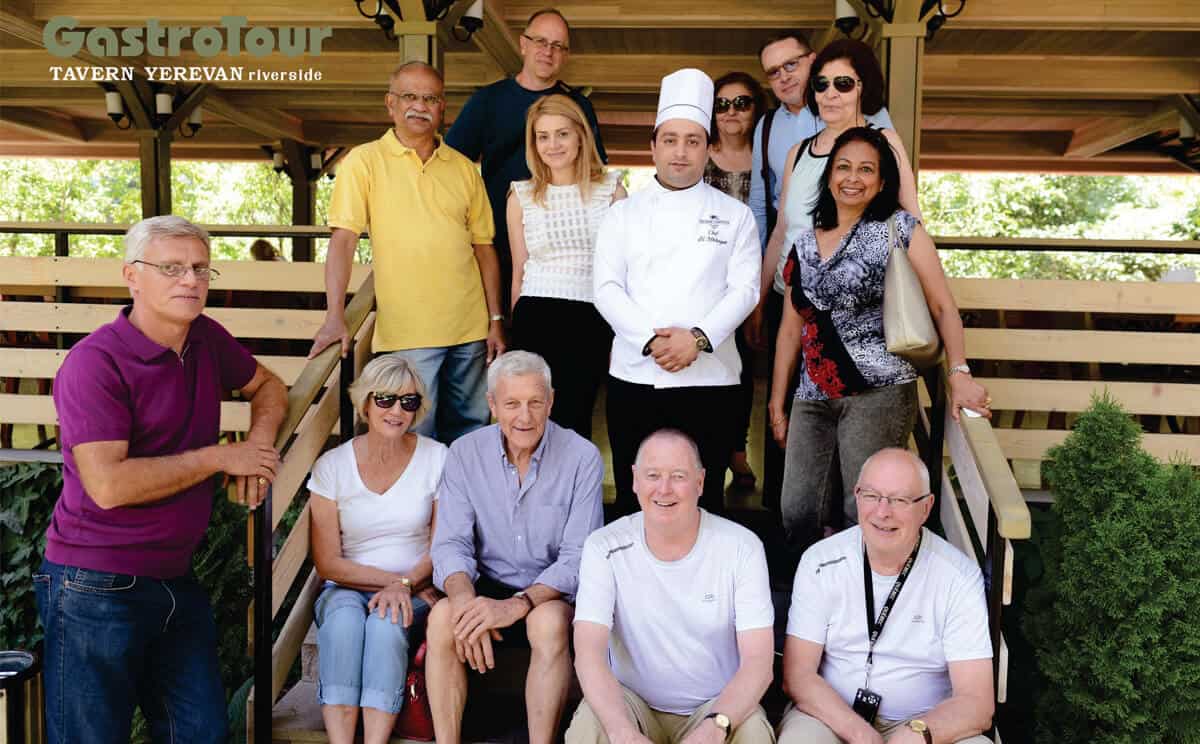 Thoughts

I'm going to have a few people pissed at me for saying this, but one of the thoughts I sometimes had during our tour was "are these people actually travelling??".*
* Of course they are, but let me just put this out there…
When we were with our group in Georgia I would sometimes shake my head at the things people would ask of the guide. "Sisi, could you please arrange a taxi for me to go to the restaurant?". "Sisi, can you book a restaurant reservation for me?". "Sisi, could you accompany me to go shopping for ____?". "Sisi, could you arrange to stop somewhere where I can exchange money?". I felt sorry for Sisi who became more of a personal assistant than a tour guide to some of the people on the tour.
Most of these people had travelled to tons of countries (some more than we've been) yet in many ways I didn't find them very travel-savvy. When I mentioned to a few of them that they should use an ATM to get cash (instead of exchanging their Pounds or Euros at an exchange dealer) they would look at me like I was talking crazy. I mean, who carries around a huge pile of foreign currency with them? And why can't they ask reception at the hotel to call them a taxi or to book a restaurant reservation?
Maybe that's another con of travelling in a tour group: you get too insulated from the details and logistics of travel (that you would otherwise have to deal with if travelling independently). It doesn't mean all "tour travellers" are like this: some of the people we met did travel independently and didn't just do tours.
Anyway, just a thought…
---
---
Would we travel as part of a Tour Group again?
Yes. We would do it if: a) we didn't have much time somewhere, b) if it was an "exotic" destination that we didn't feel comfortable with, c) or if it is a country which requires a lot of driving in the countryside (as was the case with both Georgia and Armenia). I don't enjoy driving in foreign places, I find it stressful.
Note: Stride Travel is #1 in the US when it comes to booking multi-day excursions and adventure travel, most of it aimed at the 50 – 75 age bracket. If it's something that interests you have a look at their many tours here.
I also think group tours are a good thing as we get older. I mentioned that we found being part of a tour a bit restrictive – but we're also younger and more energetic than most of the people that were in our tour. As we get older and have less mobility (or less patience for organizing things) I can see us doing more group travel.
I'd love to hear people's thoughts on all the above.
---
---

PS. Looking to book flights, hotels, tours, or rent a car? Have a look at our Travel Resources page.