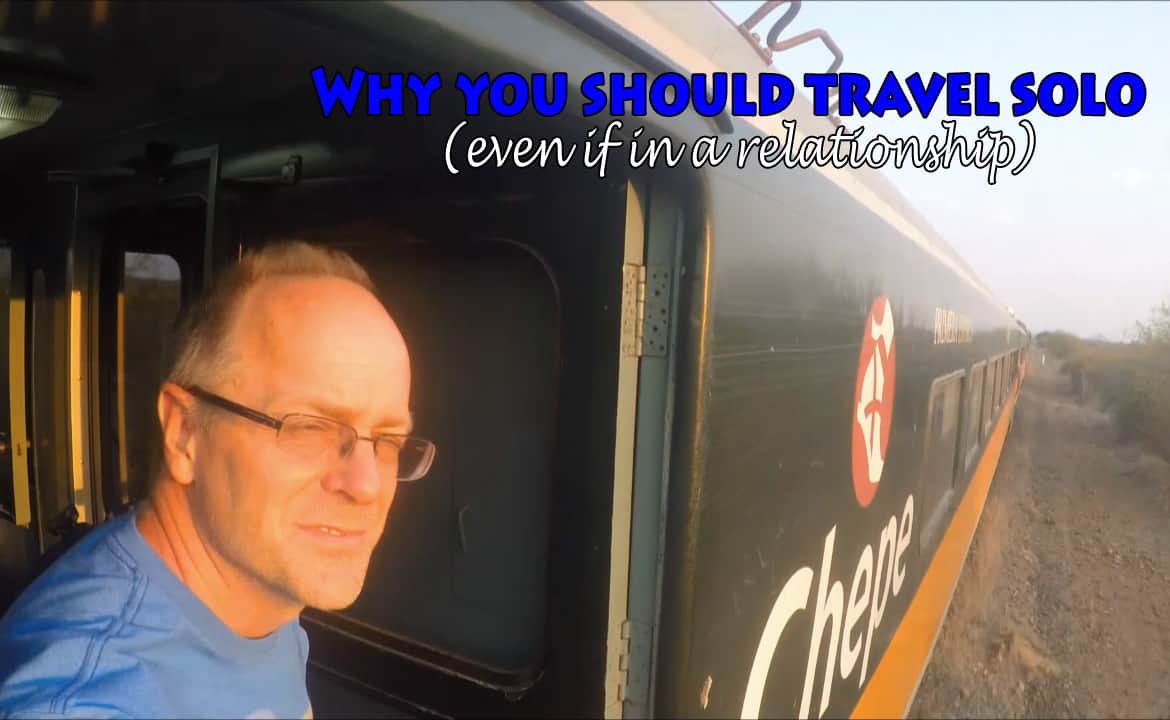 Why you should travel solo
I'm in Sarajevo as I write this after spending the last week visiting my mother in Budapest. The plan had been to go back to Split but Lissette had said to me "why don't you take a bit of time for yourself? Go somewhere!". *
I went on the internet and saw that Wizz Air (the Hungarian discount airline) had flights to Sarajevo. One way to Sarajevo ended up costing me $85 CAD (that's $66 US). I found an apartment on Airbnb that costs $20 CAD/night (that's $16 US). It was as easy as that. I'll be here 5 days, might even prolong my stay for a few days.
* funny enough, when you tell something like that to someone they suddenly open up. I told my Airbnb host in Sarajevo that my wife had encouraged me to go somewhere and he sighed, muttered "women", and started telling me about his wife and how they're taking a break apart. He invited me out drinking. I now have a drinking buddy in Sarajevo.
The host probably thinks Lissette and I have some "issues". Even people we know think it's strange that Lissette and I have this arrangement. I can see them looking at us funny when one of us tells them "I'm going away for a week, I need some time to myself". I can imagine the gossip.
Travelling solo is actually something we both want to do more of.
Years ago when we were both working it wouldn't have been imaginable to take solo trips. We had limited vacation time (4 weeks) and have always enjoyed each other's company. But for a bit more than 3 years now we've travelled full-time and have spent 24 hours out of every day together. I don't care how much you love each other: 24 hours together every day makes you sometimes sick of the other person. And there are only so many new and interesting things you can say to each other when you're always together. Sometimes we'll be sitting there, having dinner, and Lissette will turn to me and say "you know, I really want to punch you in the face". I get that. I really do.
So part of the reason for travelling solo is that you just need a break from seeing the other person's face.
But sometimes you need to travel solo for more than that.
.
---
---
.
Travelling as a couple makes you weak individually
I can see it with us. I organize and plan everything: transport, accommodation, things to see, how to get around. I'll even read up on some history and recount it as we're walking around. As a result Lissette is weak at that kind of stuff. She doesn't know how to make an Airbnb booking, can't read a map, and can't orient herself. It's no surprise. Last week in Budapest I was showing my mom around and I started to realize that she had no idea what neighborhood she was in. When I asked her why she said "because I trust you and I've just been following and concentrating on the sights". Well, same thing with Lissette.
But Lissette is great at stuff that I'm weak at, specifically social stuff. She can talk to people and make them smile. Every single photo of people on the blog are photos that Lissette has taken. Most people we've met have been because of her. She's the one people like. I'm the sidekick. People aren't so sure of me. Lissette says I can be 'intimidating'. It's that face thing again. So we've needed Lissette's charm to smooth out our travels just as much as we've needed my organizational skills. But it makes both of us weaker individually when we consistently rely on the other to manage the things that we're weaker at.
Obviously if you're travelling solo you have to do everything alone. So that's one reason people should travel solo at least once in a while. It makes you stronger and more confident – once you've travelled solo (and independently) you'll never travel the same way again.
The first 'real' solo trip I did was in the Dominican Republic in 2003. I went there with my backpack, stayed in hole-in-the-wall hotels, took the bus across the country, rented a motorcycle and discovered the Samana peninsula with it. I was 36 years old at the time (proving you don't have to start travelling solo in your teens). That trip forever changed the way I travel.

---
---
Do what the heck YOU want to do
People usually have different interests and will compromise when travelling. When you plan a solo adventure you do it with only your interests in mind.
This summer I did a trip that was on my mind for a while: taking the "El Chepe" train through Mexico's Copper Canyon. I was there a week, hopping on the train, stopping in different towns along the way, and doing some hiking. I had been a bit nervous about it, but for me to really get excited about a trip I have to be a little anxious about it: it has to be different and challenging. I still remember taking the long bus ride from Medan to Lake Toba in Sumatra or the first time I flew into Colombia. In both cases I had no idea what I was getting into. Those trips were a long time ago and I'm a better traveller now – but I still need to feel there's a challenge involved. Anyway, this year's El Chepe trip combined adventure, incredible scenery, and was a unique way of seeing Mexico. I even ended up meeting a lot of interesting people and spent a lot of time chatting. It was one of my best trips ever.
Lissette also did a trip by herself this summer. She was tired and stressed out from work and just needed her space. She decided to go to Vis (if you ask a Croatian what their favorite island is many will say Vis). She booked 2 weeks and spent it sleeping, walking around and discovering, and talking to locals. 10 days into her trip she wrote me and asked me to join her. I saw a relaxed Lissette that I hadn't seen in a long time. We spent the last 4 days seeing Vis together. Since then we've seen a whole bunch of other Croatian islands – but Vis is still her favorite.
So we both had great solo vacations doing exactly what we both wanted. Sometimes you just need that.
.
---
---
You're happier to see each other when you come back
I've been in Sarajevo 3 days as I write this and I'm missing Lissette and home. I've eaten badly (pasta, Ćevapi, chocolate and beer). I've slept in a couple of times to 11 in the morning (I need Lissette's early-morning cheerfulness to get out of bed). I'm looking forward to getting back and going to the gym and playing football with the Split Expats. It makes me realize that we have a good life in Split.
And that's the thing about being separate for a while – it's good to have your own space but you're happy to get back home to the one you love.
.
Plans
We have no idea what's going to happen in 2018 (still trying to figure out if we can stay another year in Croatia) but we will definitely fit in some personal solo trips during the year.
Me: I'd like to do a solo bike trip for up to a month, biking every day with stops along the way. Travelling light, with few plans. Still in the early stages of planning, but it might be a bike trip around the Adriatic coast covering Croatia, Italy and Montenegro. I'd like a "journey", following a map with a goal in mind.
Lissette: She's been interested in visiting Russia. She's curious about it. Unlike me, she'd prefer to do it with someone, a "buddy" trip. Another thing she'd like to see are the northern lights in Norway.
.
---
---
.
If you could – where would you go (or do) ?
If you could do the ultimate solo trip, what would it be? Give me some ideas!
Some things that have crossed my mind: hiking on the islands of Madeira or Corsica/ Seeing the Great Rift Valley in Tanzania / discovering castles in Scotland or Wales/ doing a road trip in Namibia/ doing a similar road trip in Northeastern South Africa. And also seeing Lesotho/ Finally visiting Vietnam/ Seeing the Bolivia Salt Flats / Doing a wine tour, maybe while seeing the countryside of Northern Argentina / Doing the Peak of the Balkans trail (Albania/Kosovo/Montenegro) / See the Grand Canyon and some of those national parks in Utah / The Trans-Siberian railway from Moscow to Vladivostok / See Victoria Falls one more time (but this I prefer to do with Lissette).
Are you in a relationship and still manage to travel Solo? Why do you do it?
What's your Ultimate Solo Trip?
---
---
Ps. If you find our blog helpful, please consider using our links to book your flights, hotels, tours, and car rentals. Have a look at our Travel Resources page.