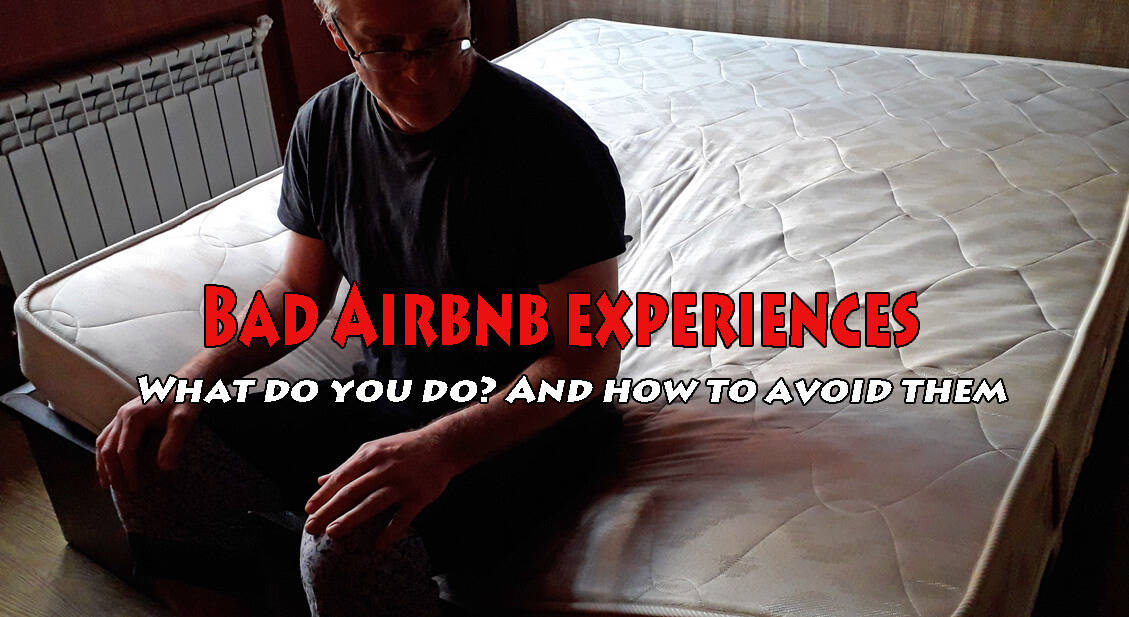 Updated December 1, 2022.

Bad Airbnb experiences. What do you do? And how to avoid them.
We're big fans of Airbnb. During our 6 years of full-time travel we averaged over 300 nights/year in Airbnb apartments. That's a lot of time spent in Airbnbs. During that time most of our experiences were good, some even excellent. But we also had a couple of really bad Airbnb experiences. I'll describe them below.
So what do you do? And how do you avoid bad Airbnb stays? We learned a few things through our bad experiences and it's changed some of our Airbnb practices.
Antalya, Turkey
Our first bad experience was in Antalya. We booked a 2 week stay in this place. It looked and sounded promising. 3 bedrooms! 2 baths! We met Dina and first impressions were good. The place was huge and all 3 bedrooms had their own bed and working tables. The kitchen was spacious with lots of counter space. "This is great" we thought.
The negatives started to reveal themselves one by one. In the kitchen, utensils and glasses were dirty. The shelves were dusty and the contents old and disorderly. Pots were dirty, handles were loose. When it got dark, the only lights in the apartment were harsh, white overhead lights. But the worst was when we got ready for bed and pealed back the covering bed sheet. Bedsheets and blankets were pinned together with safety pins. Large safety pins on each corner of every bed. One of them was loose. Imagine sliding into bed and getting stabbed by a huge safety pin. Sheets and pillow cases were brittle, almost cardboard-ish in quality. But the worse was when we discovered that every bed (all sofa beds) had large uncomfortable seams down the middle.
---
---
Note: the worst is when hosts go cheap on bedding. Other things can be bad, but nothing is going to ruin a stay more than sleeping uncomfortably.
Turning off the lights we realized that the curtains didn't block any outside light. Our street was on the main tram line, a brightly lit thoroughfare. It all streamed into the bedrooms.
Between the uncomfortable beds and the bright light streaming in we had 2 weeks of uncomfortable sleep.
The other issue was a front door lock that was difficult to open from the inside. It always required a lot of jiggling with the key and on one occasion I almost called Dina to get us out. Lissette stepped up and after a few minutes managed to open the lock. The door was clearly a fire hazard and from then on we only used the keychain when inside the apartment.
When our 2 weeks ended we debated on how to review Dina. She was a new Airbnb host, none of the faults of the apartment were egregious – they were mostly cleaning and maintenance issues. Overall the apartment could be fantastic. Dina also had a young daughter which I have to admit influenced us. We just felt that maybe she didn't know any better and we didn't want to be harsh.
We decided to focus on the positives in the public review. But in the private feedback I went into the detail on all the above, including being pretty direct about the bedding. "You should look at getting duvets, where you can slip the blanket between sheets. Using safety pins is dangerous". I wrote her 3 long paragraphs on things she can do to improve her apartment.
Hosts always appreciate private feedback. Sometimes they have cleaners and don't actually have a chance to verify an apartment before guests arrive. If you tell them that cleaning could be improved (for example), they'll be happy to know about it.
In Dina's case there didn't seem to be any appreciation for my private feedback. She's one of the few hosts that never bothered responding. I noticed however that she received a negative review shortly after we left, the reviewer touching on the same points that I had mentioned to her. So obviously she didn't take any of our advice.
Our experience would be much worse in Yerevan.
---
---
Yerevan, Armenia
We had booked this apartment for a month.
Due to a few complications with trains and visas, we arrived in Yerevan 4 days into our booking. It was 7 am when we showed up, exhausted after an 11 hour train ride from Tbilisi.
The host was David, a young guy in his 20's. The title of his Apartment is "NEW MODERN LUXURY Apartment in City Center!". Totally misleading. The building was a Soviet-era highrise. Gas meters lined the entrance of the building, a leaking pipe wrapped with decomposing insulation (which looked suspiciously like asbestos) took up much of the ground floor. The entire building smelled, a deep noxious smell. Lissette thought it was cat pee. I think it was something more toxic.
The apartment itself was dusty and musty. It smelled of cigarette. Even the shelves in wardrobes were covered in dust, some also had spider webs in the corners. There were no cleaning products of any kind, not even dishwashing soap. The kitchen didn't have even the most basic of necessities required of an Airbnb. Knives, forks and plates came from a children's party set – all were miniature in size. There were 2 pots and a frying pan with a broken handle. There were no other utensils except for the miniature ones, no colander for pasta. It was bare bones. Items listed in the description were missing. There was no oven, there was no dryer.
---
---
But that was nothing compared to the bedroom. Blankets smelled. They obviously had not been cleaned. The pillows smelled and when we took off the pillowcases we saw yellowish pillows. The mattress was old…and when we laid on it we realized that the whole bed was broken. The thing jiggled like a waterbed and you could feel all the springs pocking you in the ribs. It was more than the mattress – looking under the 2 mattresses we saw that they were resting on top of a broken board. The bed was unsleepable. And the "sofa bed" listed in the living room (since changed in the description) was no sofa bed. It was a regular couch that reeked of cigarette smoke.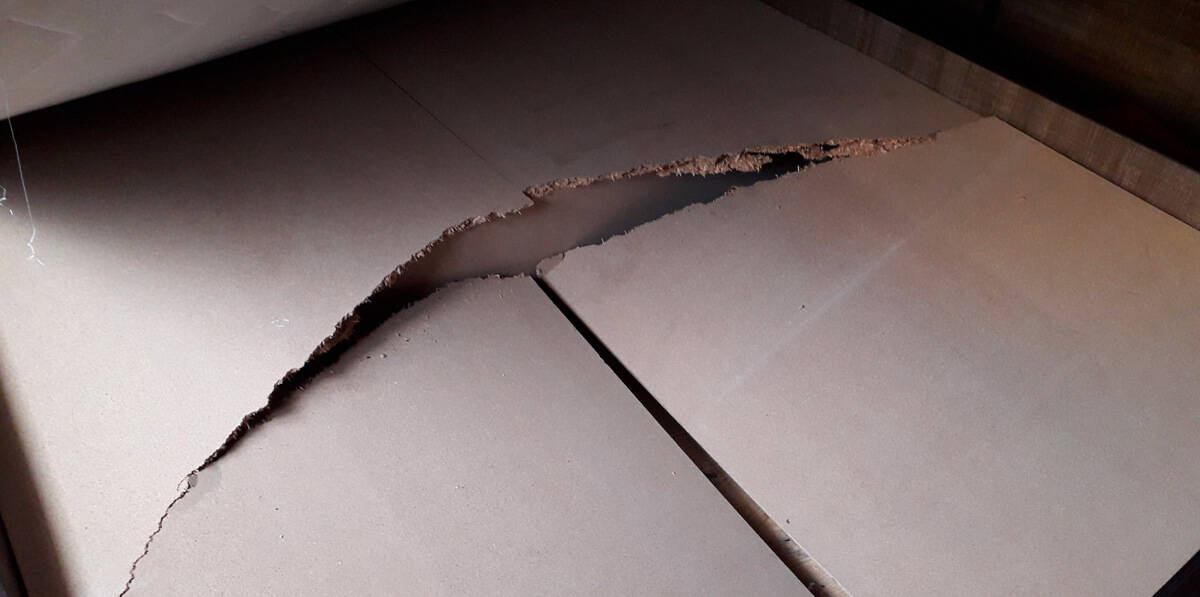 ---
---
We called David back to the apartment. Showed him the layer of dust, gave him the blankets and asked him to clean them, showed him the bed and told him it was unacceptable. I asked him where we were supposed to dry our clothes. There was no dryer, no clothes rack, nothing…
I also contacted Airbnb (further below in this post I'll give you their details. They do everything they can to avoid having to deal with you).
Making a long story short, the next day David came with some workmen and had a clothesline installed outside the window. The day after they came back and fixed the bed frame and threw out the broken mattress. We had tried sleeping on the broken bed for 3 nights and were exhausted by this point. Airbnb had communicated with us but except for saying all the right things, didn't offer any concrete options. We were told if the matter was not resolved they would conduct a mediation between us and the host "to resolve the matter". They sent me their Guest Refund Policy. 3 days later, with the bed (and a few minor items) taken care of Airbnb offered us a $100 Canadian credit for the inconvenience we had experienced.
We ended up staying in the apartment the whole month. With the fixes, it managed to be an "ok" apartment.
Lissette and I talked about the review we would leave David. We decided to be as factual as we could in our review, listing the Pros and the Cons (snapshot of our review here). But we had learned from our first experience with Dina – we didn't spare David in our review and told it exactly how it was.
---
---
Wondering how to contact Airbnb if you have issues?
If you have issues with an apartment make sure to contact Airbnb within the first 24 hours.
The best toll-free phone number for calling Airbnb Customer Service is 1-855-424-7262 (the average wait time is between 7 and 12 minutes).
Another number that works well in the USA for local callers is 1-415-800-5959
For UK callers, try 02033 181 111
The way Airbnb prefers to be contacted is via their messaging center, here: https://www.airbnb.com/help/contact_us
We've found contacting them through Twitter to be a good way: https://twitter.com/Airbnb
---
---
Questions raised from these bad Airbnb experiences
We're really questioning reviews posted on Airbnb. Prior to our stay there were 6 reviews on the Yerevan apartment, all 5 star (ie. perfect) reviews. Really, how could this be possible? Did nobody sleep on that bed? Did nobody notice all the discrepancies listed on the description? Is it that nobody ever wants to say a bad word? Or do hosts have friends who leave reviews?
Have a look at this article questioning if Airbnb edits or deletes bad reviews. Or this Business Insider article questioning whether there's a flaw in the Airbnb review process.
Our negative review on the Yerevan apartment is still there and we're keeping an eye on it. But we had our own experience with the above. Back in 2015, the only other truly negative review we've ever left was deleted when Airbnb contacted us to tell us there was an inaccuracy in our review. In our review we had mentioned that there was no wifi in the apartment despite the description saying there was. Airbnb argued that when we had booked there was no wifi listed in the amenities and that wifi had been added after we had left. As I told them, that would mean that they had installed wifi in the 1 day between when we left the apartment and the next day when I wrote the review. I didn't believe any of it. But it didn't matter – Airbnb deleted my comment and a shitty apartment (which I wrote about here) continued having perfect 5 star reviews (Airbnb deems any comment having an inaccuracy as misleading and will delete the entire comment). It really made me wonder…
I wonder if people reading this have had similar experiences? Or similar doubts about how few negative reviews ever appear on Airbnb?
---
---
Things learned from these bad Airbnb experiences
Look for Superhosts with a lot of reviews. Both apartments above were run by young people with about 5 reviews each. That's a small sample size. We've learned to no longer trust based on reviews alone.
Beware of hosts that come off as cheap. I mentioned that we arrived at the Yerevan apartment 4 days late. The original plan had been to arrive on the date of the booking but early in the morning. At that time David had mentioned that early check in would cost $10 extra. Considering we would be in his apartment a month I thought that was extremely cheap. It gave us a negative impression right off the bat. In our case the apartment was already booked – but if you're looking to book an apartment and have questions about early check in, late check out, pickup, or anything else pay attention to how the host answers.
Photos lie. Look at the amenities in the profile. It's happened a few times: you look at the photos in the profile and check off your list of "requirements". Always make sure to compare the photos to what is mentioned in the list of amenities in the profile. We learned this recently in Corfu when we realized that the washing machine pictured in the images wasn't functioning. Had we looked at the profile we would have realized that "washer" was not included in the amenities.
* note that amenities in descriptions can be inaccurate. I mentioned that the Yerevan apartment listed a dryer, an oven, and a sofa bed. All were inaccurate.
---
---
Read between the lines. I've listed a few bad Airbnb experiences above, but the reality is that 90% of our experiences have been either good (80%) or great (10%). I think the most important thing is to look at a lot of reviews (I mention Superhosts above with lots of reviews) and read between the lines of what people are saying. When people leave long, glowing reviews and show real affection for their host you just know that the host is exceptional. When I see reviews like that I jump to book that apartment. They're few and far between but we've met some fantastic Airbnb hosts through our travels who've made a destination special. Because, as we've learned, your accommodation experience will always affect how you end up feeling about a place.
Leave more honest reviews. This is the thing we really learned from the two experiences above. As I say, we've had mostly good to great experiences on Airbnb. Still, there's usually at least 1 or 2 little things wrong with an apartment that we've sometimes glossed over in the review, usually because a) everything else was good or b) we like the host and don't want to be negative. From now on, we'll leave PRO and CONS on a review as we did on David's while keeping the tone neutral. We'll be 100% brutally honest. Why be honest about reviews? 1) Because it actually helps potential guests who read reviews. 2) it helps hosts – because truly good hosts should be differentiated from mediocre hosts (stars no longer seem to count). But what we really learned from the two experiences above is that some hosts really don't care about your experience or your feedback. And if they don't care, we won't spare their feelings when it comes to reviewing them. 3) Because we're sick of reading wishy-washy reviews that don't help anybody. If people left honest reviews we, and others, would never stay in apartments like the above.
Our issues were relatively minor. Have a look here at some real Airbnb horror stories.
---
---
PS. Looking to book flights, hotels, tours, or rent a car? Have a look at our Travel Resources page.