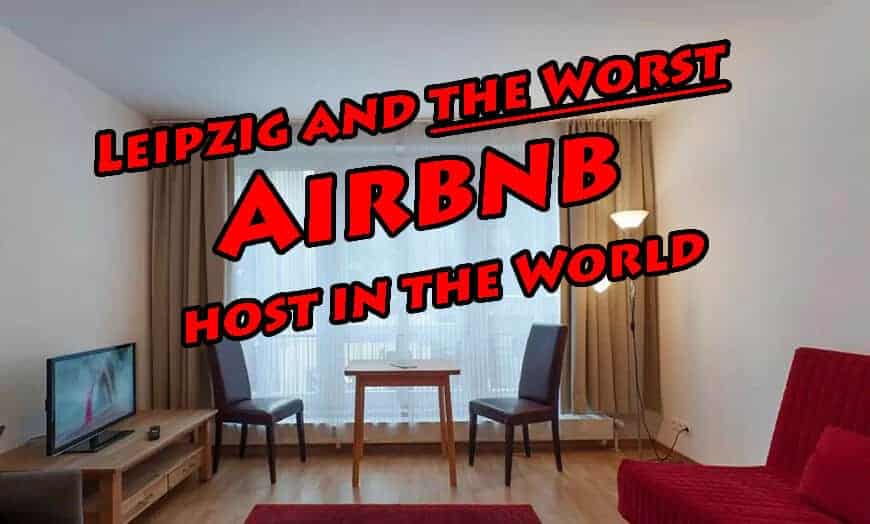 Leipzig and the Worst Airbnb host in the World
I'm on a 2 week trip of Germany with my mother as I write this.
She had a premonition that this stay wouldn't go well. She had booked Jochen's apartment back in May but just last week (the last week in September) he had written her to cancel, saying he had "overbooked" his Airbnb apartment. He had offered to substitute the booking with a hotel reservation. She had gotten upset, telling him that she had specifically booked his 2 bedroom apartment because she was travelling with her son. He had relented, but hadn't sounded happy about it.
That brought us to just a few days ago. I wrote Jochen a day before we were supposed to arrive at his apartment. Here's how that went.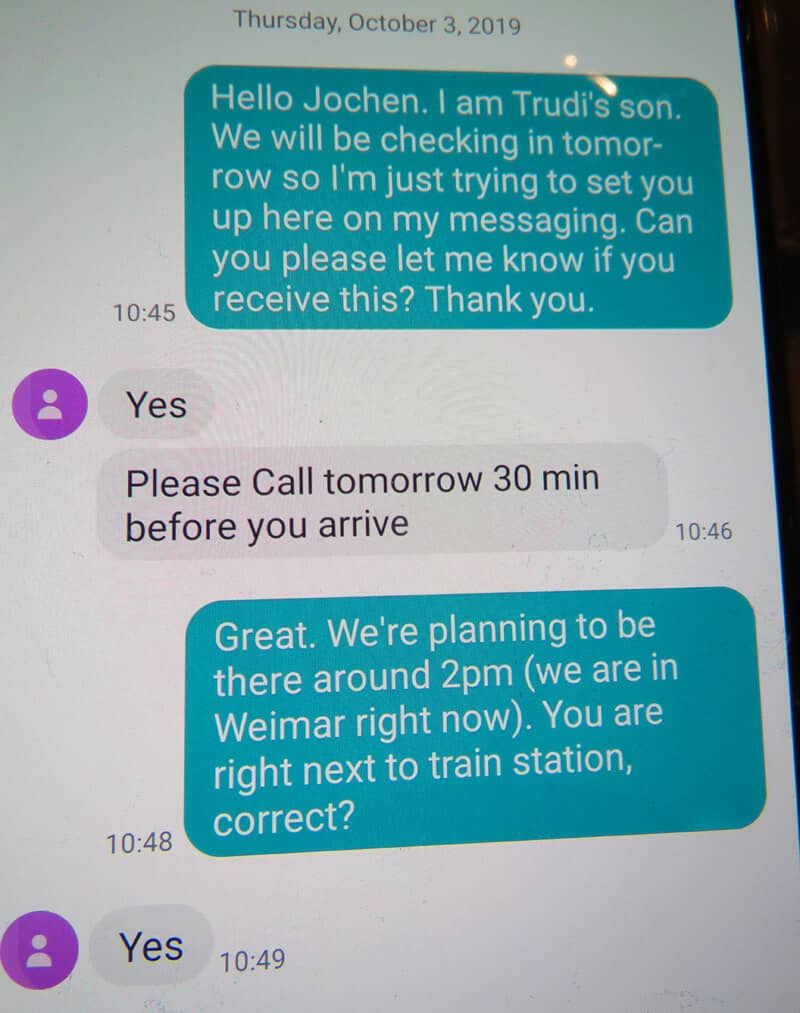 Not the friendliest guy. But no cause for concern yet.
---
---
The next day I write him while we're on the train, letting him know that we are on schedule and would arrive by 2 pm.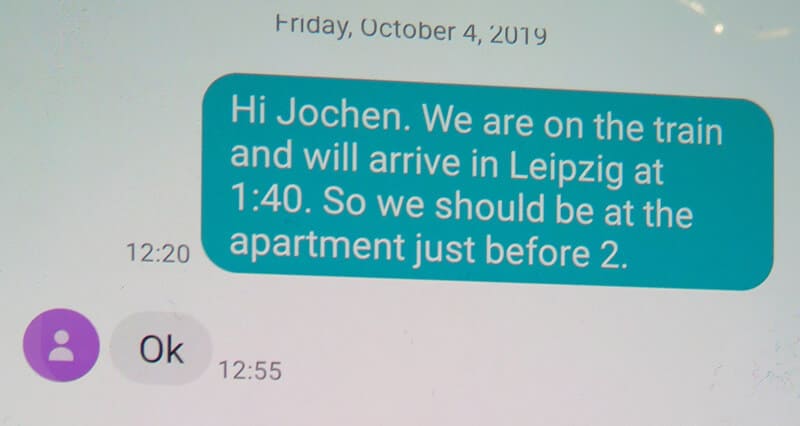 The apartment is close to the train station and we have no problems finding the building. We don't have an apartment number but figure that Jochen must be inside waiting for us. I text him.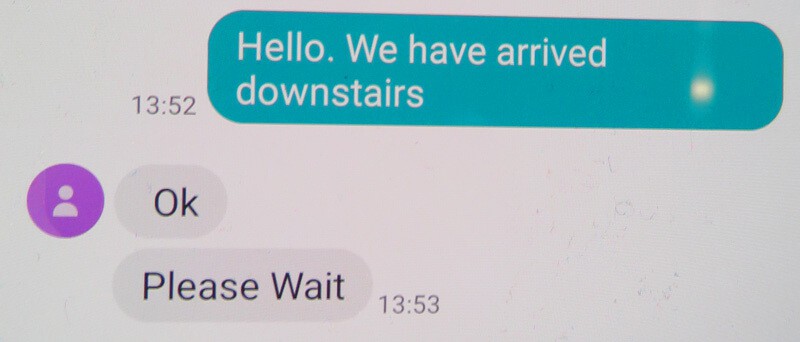 We wait. And we wait. We're outside the building. It's a cold miserable day. We wait some more. We had been waiting 30 minutes when I decided to write him again.
WTF?? I had told him twice exactly when we would arrive. To have to wait 30 minutes was unprofessional (and something I would never expect from a German). I have a long fuse but when I get angry I get really angry. And I was starting to feel that buzz between my ears…
---
---
5 minutes later a young man with a ponytail comes up to us and introduces himself. He's not Jochen, he's Jochen's friend. He says Jochen is in his car. He puts on a friendly act and is helping us bring the luggage up the stairs while yammering away in German (I don't speak German but my mom does).
We get inside the apartment and he quickly shows us around. It's actually quite a nice apartment – a bit cold (more like an aparthotel than an Airbnb apartment) but it's well laid out.
He then brings us to the kitchen and starts waving around a booklet. I'm not sure what he's talking about. It appears to be something about a tourist tax. My mom isn't happy and she's kind of ignoring him, I'm not sure exactly where the conversation was going.
Mr. Ponytail gives us the keys and leaves. I think everything is settled. We make ourselves some tea and unpack.
---
---
An hour later we go for a walk around Leipzig.
It's about then that I get this text from Jochen.
It strikes me as a threat. It also strikes me as bullshit because Jochen doesn't have copies of our passports. And if he didn't have copies of our passports, how could he register us as tourists to the city of Leipzig in the first place?* I also recalled some vague Airbnb instructions about never, ever paying a host cash outside of the Airbnb system.
* whenever Lissette and I are in Croatia we have to show our passports to our hosts. Croatia is very strict about registering and following up on tourists in their territory.
I write Jochen back.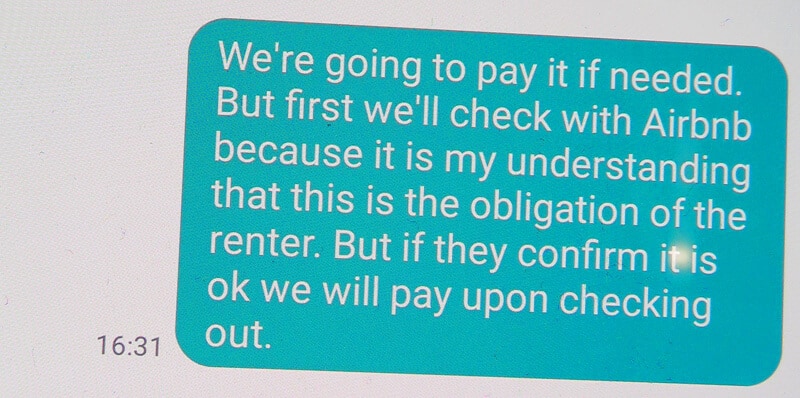 He almost immediately writes back. I can tell he's agitated.
I have to admit that the back and forth was putting me in a bad mood and ruining my day. I have no issue paying a tourist tax if required (and further reading at the room confirmed that Leipzig charges 3 Euros/day per tourist) but I was more and more convinced that Jochen didn't register his guests. I was willing to bet he pocketed all the money.
---
---
So the first thing I did when I got back to the apartment was write to Airbnb Help on Twitter. I've always found Twitter the easiest way to get in touch (they prefer though that you write them on Airbnb using this link: https://www.airbnb.com/help/contact_us)
Here's how that went.
After giving them a few more details, they gave me a helpful reply.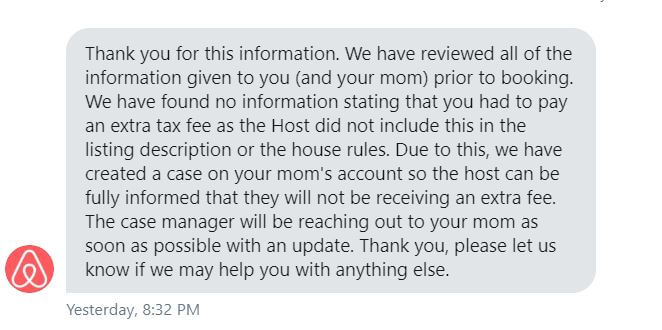 BINGO!
A couple of hours later the Airbnb case manager wrote my mom, confirmed all the details that I had communicated through Twitter, and said that she would contact the host to tell him the Airbnb rules about such payments. That was around 10:30ish…
It was about 45 minutes later that it happened…
---
---
The electricity went out.
The apartment was pitch black.
We thought it would maybe last 5 minutes. 10 tops. This is Germany after all. My mom went to bed. I stayed up, the computer still had juice and it was the only light. The more I thought of it the more it bothered me.
I was a little past 11:30 when I wrote Jochen.
I waited but didn't hear back. About an hour later I went off to bed. There was still no electricity. Across the street I could see lights…
***
I woke up from sleep around 4:30 am. The electricity was still not working and it was then that I was 100% sure that Jochen was the one responsible for the electricity. Different scenarios crossed my mind of what we would do the next day. But I was convinced that this was his way of evicting us.
I eventually fell back to sleep.
---
---
We were up at 9 am the next morning. No electricity. We decided to go to the cafe across the street: Coffee Fellows (very nice cafe and a great place to work and plug in your computer). We had to find something for that day (which is today as I write this). I didn't like the few options on Airbnb so I decided to look at hotels…I also decided to look at hotels in Dresden instead of Leipzig (more on that later). I found the perfect Aparthotel, the Aparthotels Münzgasse An der Frauenkirche. It's a 2-room hotel right next to the Fraunkirche church, one of Dresden's major sites. And for 110 Euro a night the price was right.
Then I wrote Airbnb.
We went back to the apartment, packed, and walked the 5 minutes to the train station.
At noon, we were on the train and speeding towards Dresden.
At was about 20 minutes later that I heard from Jochen. As you can see from my reply I wasn't interested in his stories.
---
---
We've heard back from our case manager at Airbnb several times today. As of right now we'll be getting back at least 1 out of the 3 nights we had booked in Leipzig. I'll update this post when we have a final outcome. I've previously been critical of Airbnb but they've been very good on this case.
Update: It took almost 2 weeks but we ended up being refunded the equivalent of 2 out of the 3 nights in Leipzig.
***
We spent the day exploring beautiful Dresden. It's a city I've seen before with Lissette and written about (10 Things to See and Do in Dresden, Germany). But my mom's never seen it. I'll be honest: we weren't impressed by Leipzig and our Airbnb experience was the push we needed to leave. An afternoon in Dresden and my mom's already blown away. Maybe our Leipzig incident was a blessing in disguise.
I'm exaggerating about Jochen being the worst Airbnb host in the world. There's been worse stories in the media. But who turns off someone's electricity when they've paid for the apartment? That's pretty bad…
Feel free to share any of your bad Airbnb stories!

---
---

PS. Looking to book flights, hotels, tours, or rent a car? Have a look at our Travel Resources page.