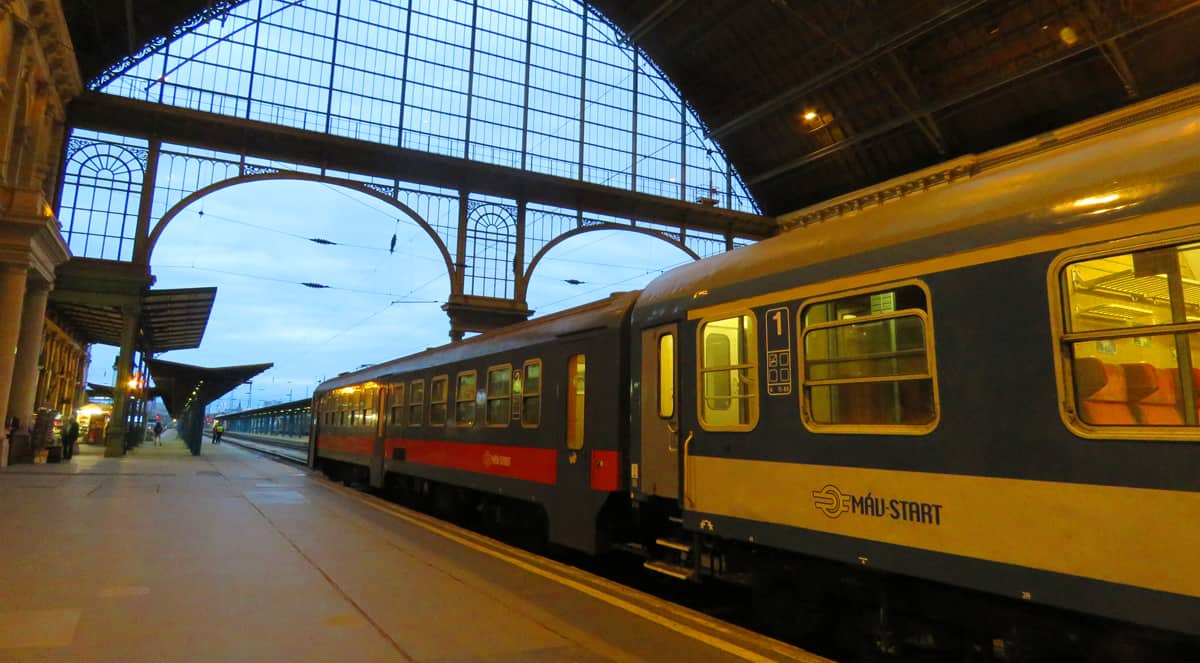 Budapest to Brasov on the Night Train
Lissette has always dreamed of the luxury and romance of the Orient Express. Since that doesn't operate anymore she got the next best thing: Budapest to Brasov on the night train 😉 . I was looking forward to it, there's something exciting about crossing East European borders at night on a train. It's the closest I'll ever feel to being Jason Bourne.
This post is for anyone thinking of doing the Budapest – Brasov – Bucharest route by train. We didn't know what to expect. It's actually quite simple as I will detail below.
---
---
There are several trains every day making the route from Budapest's Keleti station to Brasov (which continues on to Bucharest). Have a look at Seat 61 for info and complete schedules. But the most comfortable option is the night train with the sleeper carriage – it leaves Budapest every evening at 7:10 pm and arrives in Brasov the next morning at 9:30 am. I reserved a deluxe sleeper cabin which is a private cabin for two with bathroom, even a shower. The cost for two of us: 80,000 Forints (or approx $300 US). A splurge but the way we look at it still cheaper than a plane ride and overnight hotel stay. Recommendation: reserve ahead for a private sleeper cabin, they seem to go fast. Best done in person a few days in advance at Keleti train station in Budapest.
.
The photo at the top shows the train before the coupling with the engine and sleeper cabin. About 30 minutes before departure the engine and sleeper cabin come down the track and are attached to the rest of the train. It's then time to board. Each car has an attendant who'll check your ticket and help you lift your luggage up the stairs.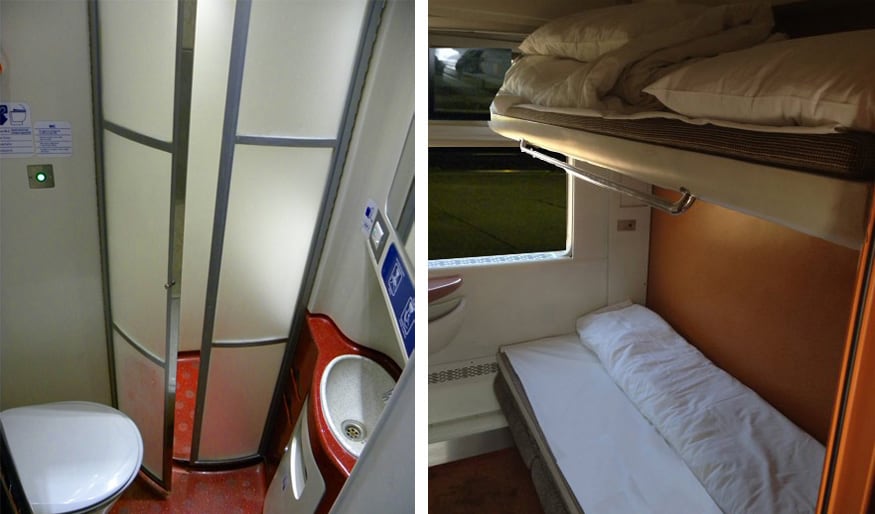 ---
---
The train was quiet. Unlike most trains where people are rushing on and fighting for seats, there were few passengers and the ambiance was subdued. At 7:10, seemingly without warning, the train lurched and starting out of the station. Goodbye Budapest.
.
.
The Restaurant Carriage on the Budapest to Brasov train
The restaurant was 3 carriages down from the Sleeper car. Tell the attendant that you're going to the restaurant and he'll lock up your cabin.
We expected a full restaurant carriage full of people. It was totally empty. Only at this point did we come to the realization that this was a Romanian train (see the flags below).
---
---
.
Passing Customs

on the Budapest to Brasov train
It takes 3 ½ to arrive at Hungarian customs. That made it around 10:40 pm. Hungarian border guards come on board the train and check and stamp your passport. It was a simple process and 15 minutes later the train was rolling again. Another 15 minutes later (ie. around 11:15 pm by then) we stopped at Romanian customs. There again, Romanian guards come on and check and stamp you passport. Very simple. By 11:30 we had cleared the border and were rolling through Romania.
.
Sleeping

on the Budapest to Brasov train
We put on our pyjamas and got in bed, Lissette the bottom bunk, me on the top. There's not much room on those bunks and if you're a roller I suggest sleeping on the lower bunk. I had about two inches to spare on the side and there is no barrier protecting you from falling the 6 feet to the floor.
There's something about the movement of the train and the clack-clack-clacking sounds of the rails that puts you to sleep. We woke up once somewhere in Romania where we heard a carriage being decoupled from the train. Then we continued on.
---
---
.
Morning
We woke up around 8:45 to dreary skies and views of green hills and farms split by dirt roads and wooden fences. Rural Romania looks like a place forgotten in time.
.
Arrival in Brasov
The attendant came knocking on our door at 9:05, announcing that we would be arriving in Brasov in about 10 minutes. We brought our luggage to the door of the car. Upon arriving, he helped us bring the luggage down.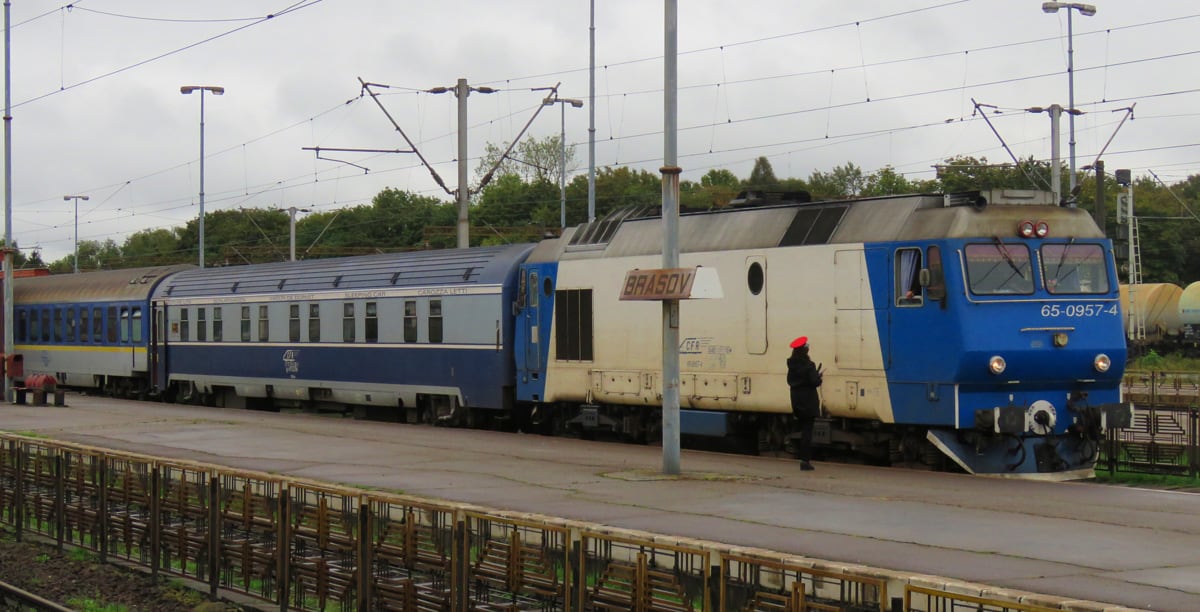 .
---
---
The Station in Brasov and how to get downtown.
There is an ATM at the train station. Note there are roughly 4 Leis to the USD (or 3 to the CAD).
Outside the station, on your right, you'll see a taxi stand. Have no doubts that they'll try to screw you over. The most reputable taxis in Brasov are Bratax and Martax and their offical rates during the day are 1.53 Lei/km. But even taxi drivers from these companies will be offering you a fixed fare. Tell them you want the meter on. Depending on where you're going it shouldn't cost you more than 10 – 15 Leis to get anywhere in the downtown area.
Amendment: After a 2nd trip through Brasov train station I can tell you that the taxi drivers there are a bunch of no-neck thugs that collude to overcharge anyone. After 3 weeks in Brasov, we now know better. After approaching them and getting quotes of 20 or 30 Lei, we ended up walking to the old town, a 30 minute walk. We weren't going to be screwed over, it was a matter of principal. If you've got baggage you may have no choice but to pay 20 to 30 Lei (just to give you an idea: we did the route from town to the train station and it cost 9 Lei).
So that's it. Taking the night train from Budapest to Brasov was a pleasant, easy, and relaxing experience. I'd recommend it to anyone coming to Romania by way of Budapest.
---
---
.
Ps. If you find our blog helpful, please consider using our links to book your flights, hotels, tours, and car rentals. Have a look at our Travel Resources page.