Getting to Ayutthaya, Thailand. Stories of Train rides and drunk Germans.
This day-trip out of Bangkok ended up being one of our most enjoyable days in Thailand. It also ended up as one of our most memorable travel stories.
Ayutthaya was the capital of the Kingdom of Siam between 1350 and 1767, when the city was sacked by the Burmese (after which the capital became Bangkok). It is approx 2 hours from Bangkok by train, an enjoyable ride on one of those old fashioned trains with wooden benches and open windows.
The best way around Ayutthaya (which looks compact on a map but in reality is very spread out) is to hire a tuk tuk driver for a few hours. Upon our arrival we had a few drivers who rushed up to us – I ignored the young guys and chose an older man with a peaceful face. It ended up being the right choice.
Over the course of about 4 hours we saw wats, fortresses, and many Buddha statues. I won't go into detail listing them all but we were very impressed by the grandeur of the monuments and the natural setting. It was a really wonderful day driving around Ayutthaya and I recommend this day trip to anyone.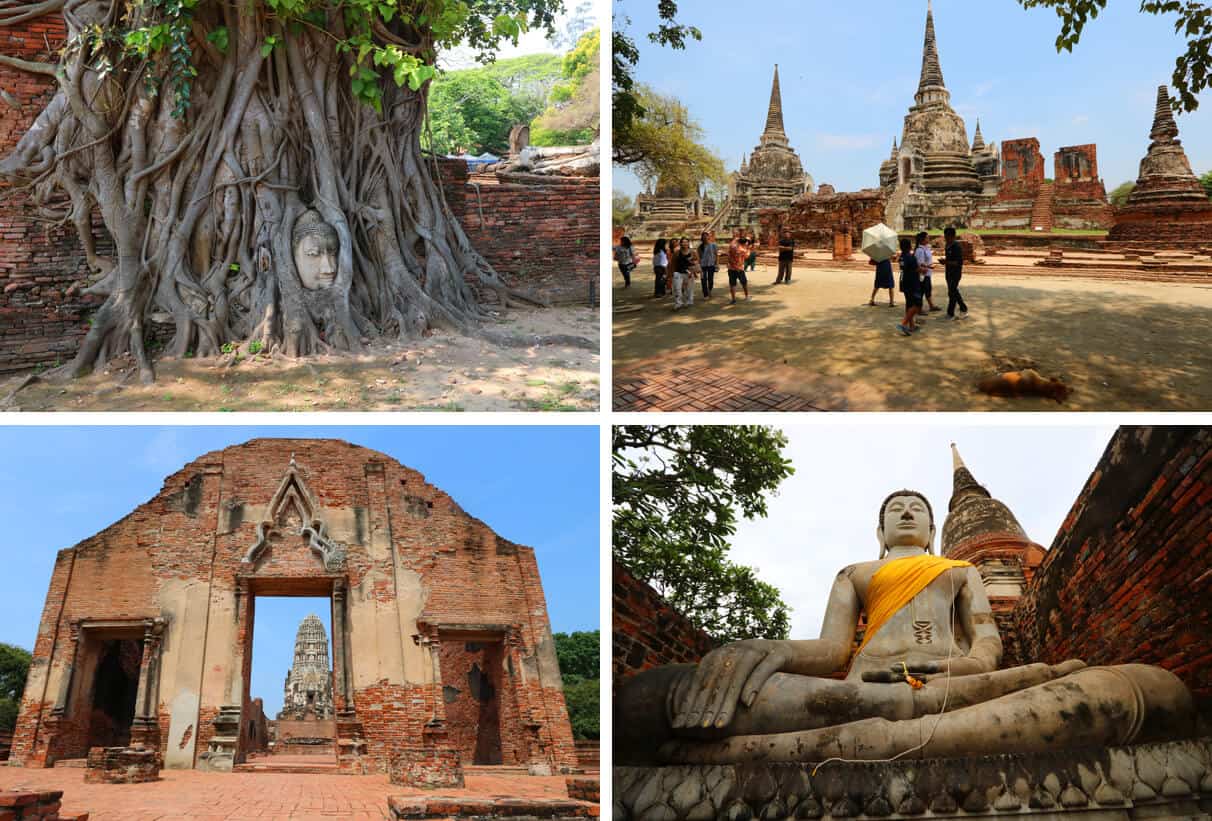 ---
---
But this post isn't really about Ayutthaya.
We had a funny story coming back on the train from Ayutthaya. We were sitting in the train, on a side bench, kind of sleepy after a long day in the sun. I noticed a white guy, mid-40s, blond and a bit red-faced (I immediately figured him for German) sitting on one of the train's benches next to an elderly Thai woman with a lot of shopping bags. He was talking to her animatedly, he may have been re-counting a story about fighting off a horde of monkeys. I'm guessing, but he sure seems excited. It was one of those things where you just say to yourself "Huh. I wonder what the relationship is between those two. They seem like the last people on earth who would be having a conversation". Every once in a while he would take out a flask from an inside pocket in his vest, and offer it to the lady (who would shake her head no) and take a swig.
At a certain point, the friendly white guy struck up a conversation with another Thai. During this brief diversion the Thai lady made her getaway. I saw her grab her bags and slip her way through to another carriage. The white guy turned around at a certain point to talk to her and realized that she was no longer there. It dawned on me that she hadn't even known this strange white man – she had been nodding and smiling out of politeness while looking for her escape.
---
---
Lissette; "Don't look over there. He's looking at us". I looked over and the guy caught my eye. He came over and shook hands "Hallo!", his breath smelling (not unpleasantly) like liquor. Within a few minutes we had learned that Hartmut was indeed German, he was a police officer in Stuttgart and had been travelling for 3 weeks through Vietnam, Laos, and Northern Thailand with some friends. He pulled out his flask and offered me a drink. I thought it would be impolite to say no and had a swig of what I think was Thai whiskey while feeling Lissette's eyes on me ("He's not going to drink that! No. I can't believe he just drank that"). Harmut gave me an affectionate slap on the back. He then began recounting some of his travel stories and took out some postcards from his bag which he showed us as we drank more whiskey. Encouraged by our interest, he got up and started pulling things out from a few larger bags he had; native hats from Northern Thailand, hand fans from China, and then one of those conical Vietnamese hats. He was standing there, in the middle of the train, pulling stuff out of his bags and putting funny looking hats on his head. While all this was going on, Lissette had struck up a conversation with a young Thai couple with a baby sitting next to us. Next thing I know she had the baby in her arms and the German guy was putting a hat on the baby's head and laughing. While all this was going on I suddenly looked around to realize that everyone in the train was staring at us; all these Thais (there must have been about 50 of them in our carriage) sitting down in their chairs and fixated on the show in from of them. Crazy white people. It struck me that this was a pretty funny scenario.
We were with Harmut and the friendly Thai family for about half an hour before pulling into Bangkok's train station. We said our goodbyes. It's one of the travel stories that's stayed with us. It might not be the funniest story, maybe you just had to be there. But it's one of those stories that reminds us how much we enjoy travelling and all the friendly and strange people you meet along the way.
---
---
Ever been to Ayutthaya? Any weird travel stories? Feel free to share 🙂