Phi Phi island Thailand – Paradise ruined
I almost wanted to cry when I saw what had become of Ko Phi Phi. When I first came here in 2001 all the hotels were bungalow-type operations on the strip of sand that made up Tonsai village. Coming in, you could barely make out the bungalows among the tall palm trees.The island was a lush paradise of palm trees, white sand, high cliffs and emerald water. There were no "paths", walking around meant walking through sand. It was the most beautiful place I had ever seen. I came back in 2002 with a girlfriend and it was still gorgeous, we snorkelled for a few days on Long beach and it was just magical.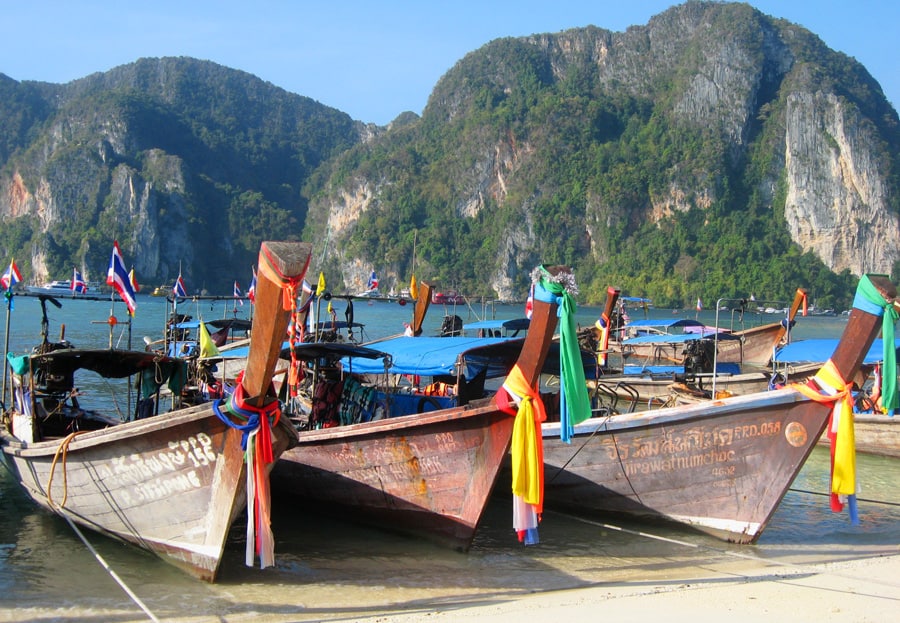 ---
---

The Tsunami hit Phi Phi hard in 2004.
So I didn't know what to expect when I came back in February of 2008. I was shocked. The palm trees are gone. The bungalows have been replaced by swanky 3 or 4 level concrete hotels and Tonsai village is now a mini-Phuket with massage parlors, bars, internet cafes, and tons of stores and restaurants. Backpackers have been replaced by young, package-tour travellers from Phuket. Tonsai village is PACKED. They even have a Muay Thai stadium. The scary thing is that only half of the isthmus connecting the two bays has been rebuilt, the rest of Tonsai is a barren landscape which the developers are only getting started on. Tonsai beach is no longer a beach between the new pier they are building – and it's a big one – and the hundreds of longtail boats parked on the sand. I walked around, my mouth gawking and I must have said "I can't believe it" about a hundred times. I felt like I was bleeding on the inside. I can understand that the tsunami would have wiped out the island – but instead of letting the vegetation grow back the developers further razed the place. There is no sand or trees left in the isthmus between the two coves. I caught a whiff of sewage close to the hotel, saw oil slicks from all the longtail boats and just thought of how they've ruined this place. Excuse my French, but it's a fucking crime what they've done. The people who died here must be turning in their graves at what has happened to the island. I spoke to a local and asked her what she thought of the changes. She said it was good for the economy but that they all miss how it used to be.
Most of these pictures are from Long Beach which resembles what Tonsai used to look like. This is the place I would stay if coming back to Phi Phi. It's quiet, has great views (that's Phi Phi Ley in the background), a beautiful beach, some small family owned restaurants, and great snorkling. But I honestly doubt that I would ever come here again.
---
---
.
Don't bother with the visit to neighboring Phi Phi Ley – it's become a zoo. In 2001 I hired a longtail and the two of us bounced our way to the island over rough waves. I saw 3 tourists on the island that day. In 2002 I remember thinking it was getting popular because there were about 10 other longtails in the bay at the same time. This is what Maya Bay looks like now…they've even closed the Viking Cave because of too many tourists.

---
---
Somehow, through it all, the Thais here are still friendly and smiling. I just felt disappointment and anger at the greed that has transformed this place. A rare piece of paradise has been ruined probably forever.

Addendum: I've gone back to some old video of Phi Phi. Sorry about the poor quality. You should however get an idea of what Phi Phi used to look and sound like.
This first one was shot in 2001. Can you hear the sounds of nature? Gorgeous.
I went again in 2002. You can already see that it's getting a bit busier than the previous year.
Have you been to Ko Phi Phi? What did you think of it?
---
---
Ps. If you find our blog helpful, please consider using our links to book your flights, hotels, tours, and car rentals. Have a look at our Travel Resources page.