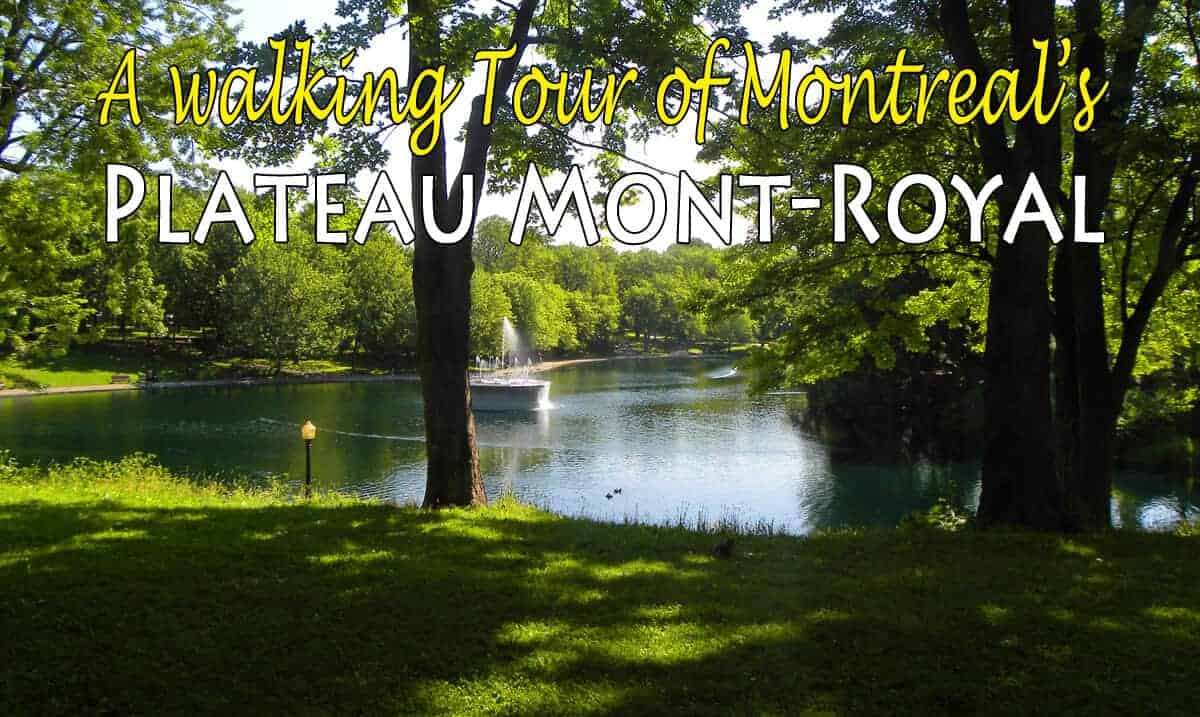 BBQboy's Walking tour of Montreal's Plateau Mont-Royal
Every guide to Montreal recommends a visit to the Plateau Mont-Royal. But I've yet to see anything detailed on what you should actually do or see. Having lived on the Plateau for the last 25 years, I've decided to make up my own detailed guide on the highlights of the area. Click on the map below for a full-sized copy and print it out. Follow it to see the best of what the Plateau Mont-Royal has to offer.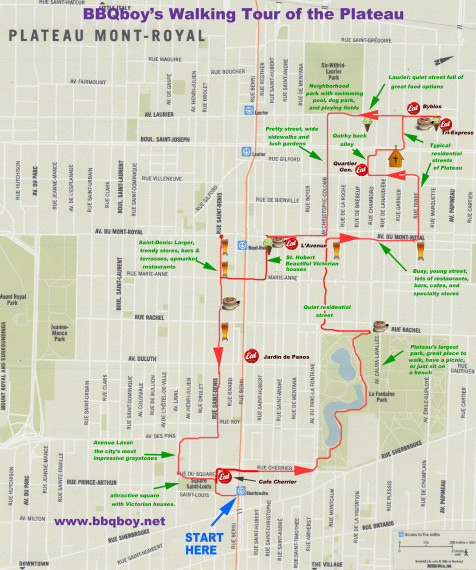 ---
---
The tour starts at Sherbrooke metro. When you come out of the metro you'll find yourself on Saint Denis street. Walk up one block and turn right on Cherrier (note: Café Cherrier is a great spot for breakfast or Brunch). Cherrier is a pretty street lined with trees and Victorian homes. The bicycle path also runs along it. Follow the street until you get to Parc Lafontaine, it won't take you more than 5 minutes.
---
---
Parc Lafontaine is one of the nicest parks in Montreal. Lots of trees, a man-made lake (where people skate in the winter), and benches where you can sit and watch people, dogs, or the ducks on the lake. A very popular place for picnics.
Walk through the park and cross the street at the other side, on the corner of Chambord and Rachel. There's a little café there which also contains the office of Velo Quebec. If you're a cyclist they'll give you all kinds of recommendations on bike tours in Montreal and Quebec. They even organize bike tours internationally.
If you're a cyclist I recommend this bike tour which covers many of Montreal's highlights including the Plateau.
Walk along Rachel until you get to Christophe Colomb. You'll see a fire station on the corner. Turn right and head up Christophe Colomb, one of the prettiest streets on the Plateau.
---
---
Continuing along Christophe Colomb, you'll get to Avenue du Mont-Royal. It's young and trendy and full of restaurants, bars, cafes, and boutique stores. You'll find a place where they sell only cupcakes, another where they have only macaroons. You can sit down at an outdoor terrasse and watch the beautiful people walk by in the summer. A lot of Montrealers come here on weekends just to stroll around and window shop.
A few recommendations on Avenue du Mont-Royal: Have brunch at L'Avenue (where there's always a line up), bagels at St. Viateur Bagel & Café (bagels with salmon and cream cheese is a favourite), or go to Premiere Moisson where you can get baguettes, breads, pastries and premade sandwiches. Visit La Maison du Rôti near Lorimier even if it's only to look – it's the most impressive meat shop in Montreal. Barracca is a great stop for drinks and tapas and Restaurant les Héritiers is a typical French BYOB (get your wine at the large SAQ on the corner of Mont Royal/Papineau)
---
---
Continue down Mont-Royal until you get to Fabre street and then turn left. Fabre is another residential street lined with large trees. You'll see three-story homes with winding staircases, and large balconies.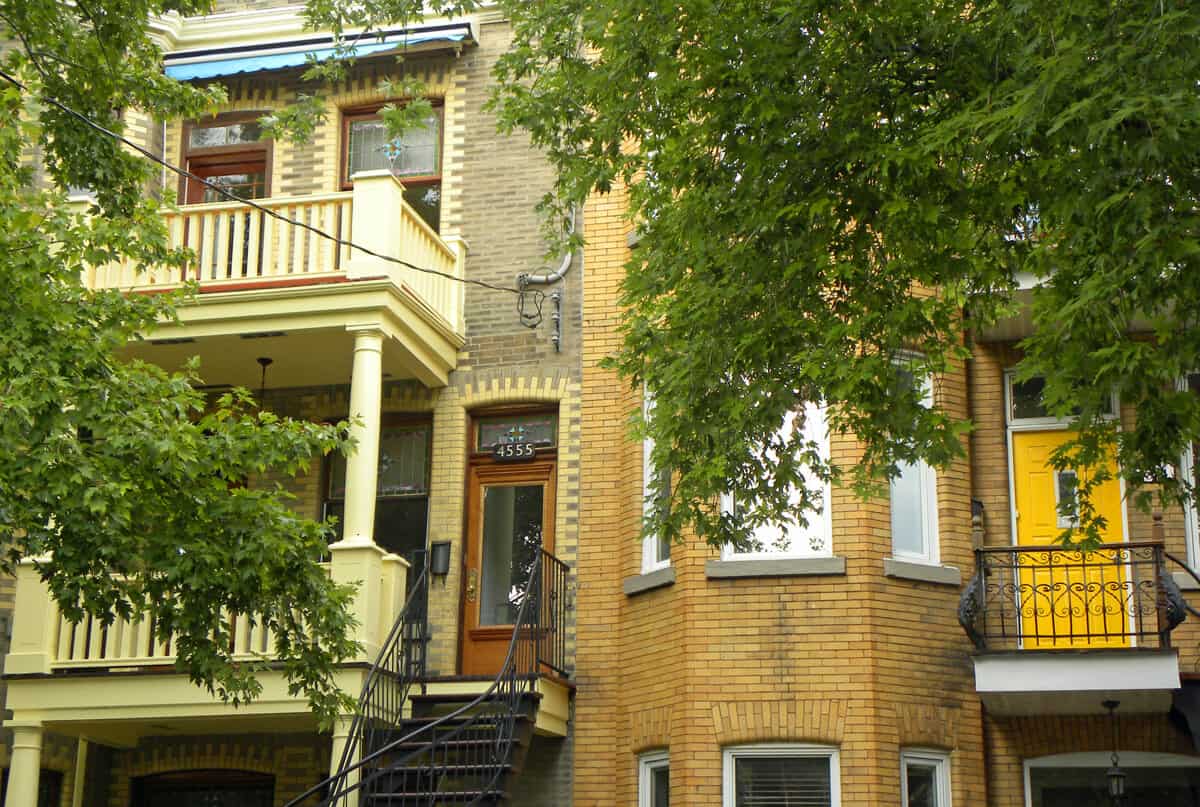 Turn left on Gilford, another quiet street. Gilford has some very good restaurants which you should consider going to if staying the night on the Plateau. Behind one of these, the Quartier General (pictured below) is Ruelle Modigliani (Modigliania alley) which is popular with organized walking tours. Check it out, it is one of Montreal's "green alleys" and has colourfully painted doors and a few installations created by neighborhood artists. One of Montreal's best BYOB restaurants is on Gilford (the Quartier General).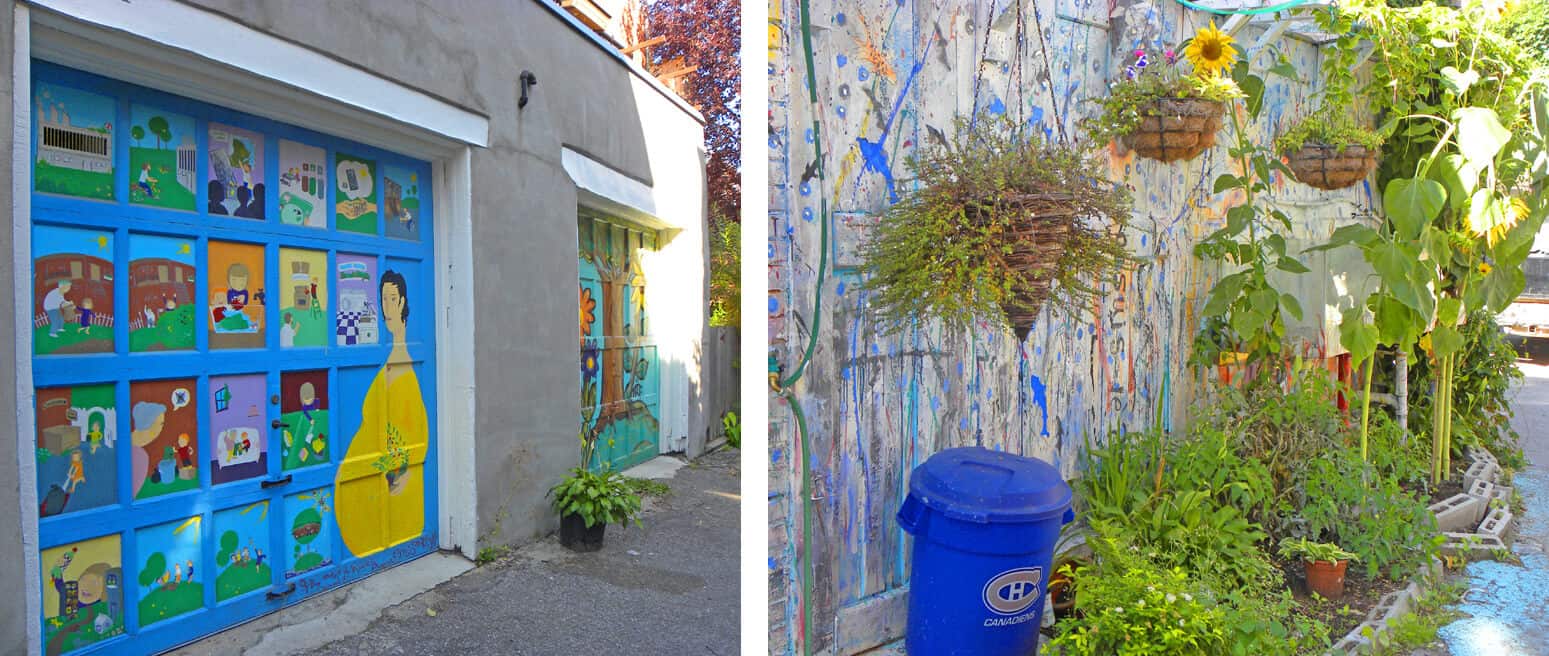 Passing through the alley, you'll end up on St.Joseph. Walk 2 blocks east, passing St. Stanislas church (below) built in the early 1900's. Cross the light at Garnier and walk up a block to Laurier Avenue.
---
---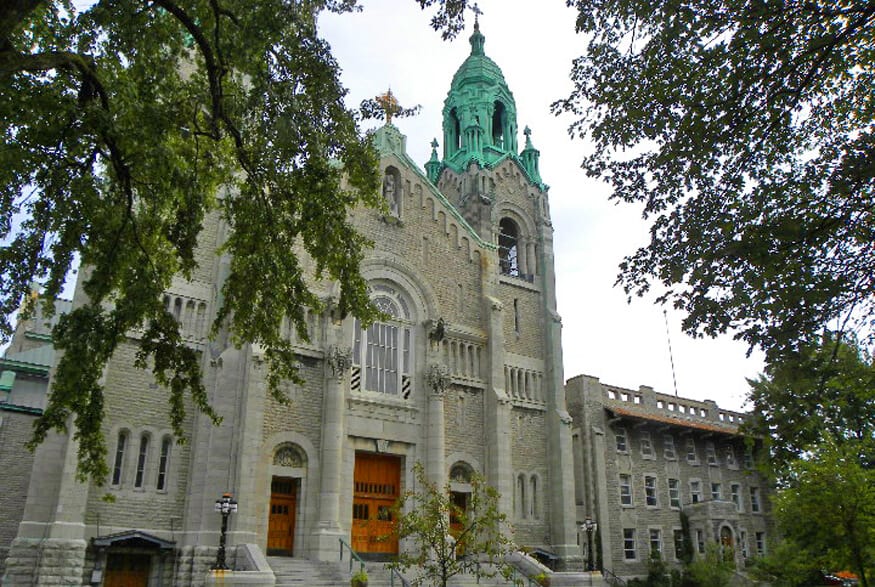 Laurier is in my opinion the most interesting street on the Plateau with some good restaurants like Byblos (inexpensive Iranian food, very popular) and Tri Express (excellent Sushi restaurant). It has a few cafes (like Montreal café) and some popular ice cream parlors. The 5 blocks between Fabre and Chambord are also one of the best places in Montreal for a self-made food tour: within these few blocks you'll find stores selling a large variety of cheese, meats, and breads (the best is Le Fromentier). There's also a new SAQ (ie. booze store) right on the corner of Chambord. If you feel like eating well and not spending too much money I suggest picking up a few things at the stores along this stretch, getting a bottle of wine, and having a picnic in nearby Parc Laurier (photos further below). You might as well be eating in Paris.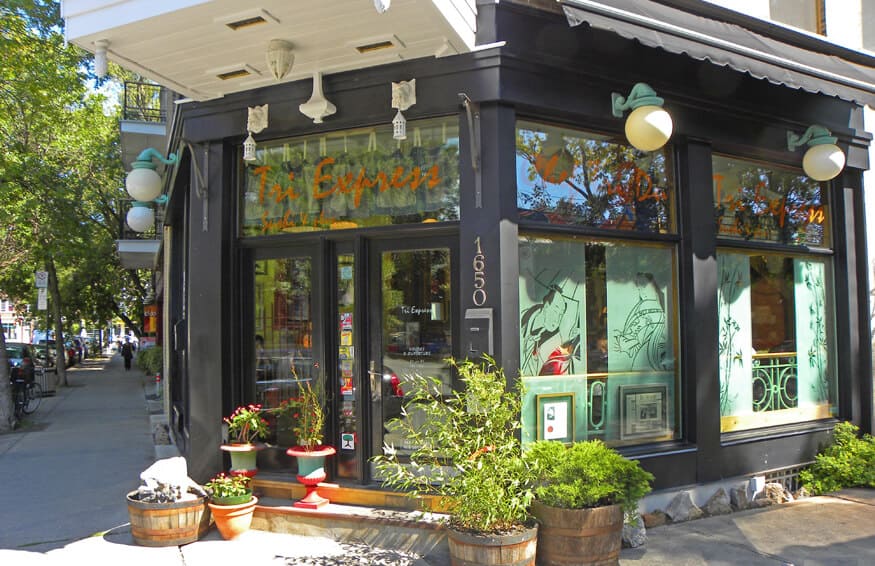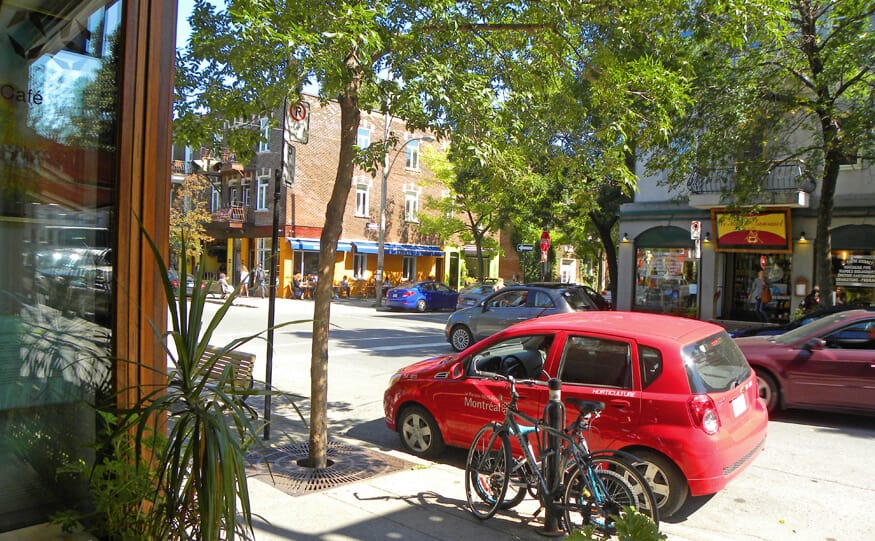 ---
---
Best Accommodation on the Plateau Mont-Royal?
Auberge de la Fontaine – luxury inn right on Parc Lafontaine. Excellent.
Hotel de l'ITHQ – 4 star hotel in the same building (right at Sherbrooke metro) as the institute of tourism of Quebec.
Armor Manoir Sherbrooke – charming old style hotel on Sherbrooke St. near Sherbrooke metro station.
---
---
Continuing west along Laurier you'll get to Laurier Park. This park is very popular in the summer and is full of families having picnics or going to the pool. There are a couple of baseball diamonds and a large dog park.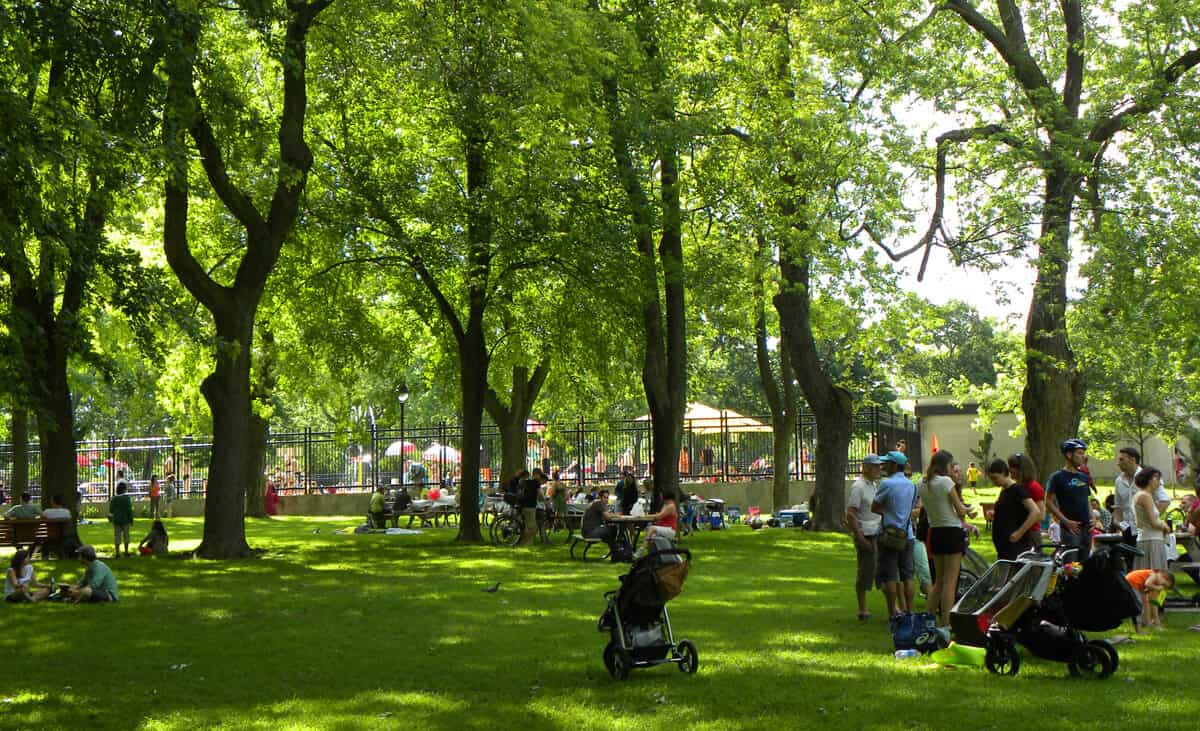 Coming out of the park, descend Christophe Colomb to Mont-Royal, turn right for a few blocks before getting to the intersection of St. Hubert. Turn left on St. Hubert.
St. Hubert is full of Victorian houses, most built in the late 1800's by well-off French Canadian families. Huge, stone houses with intricate staircases, large stained-glass windows, and green gardens characterize the street.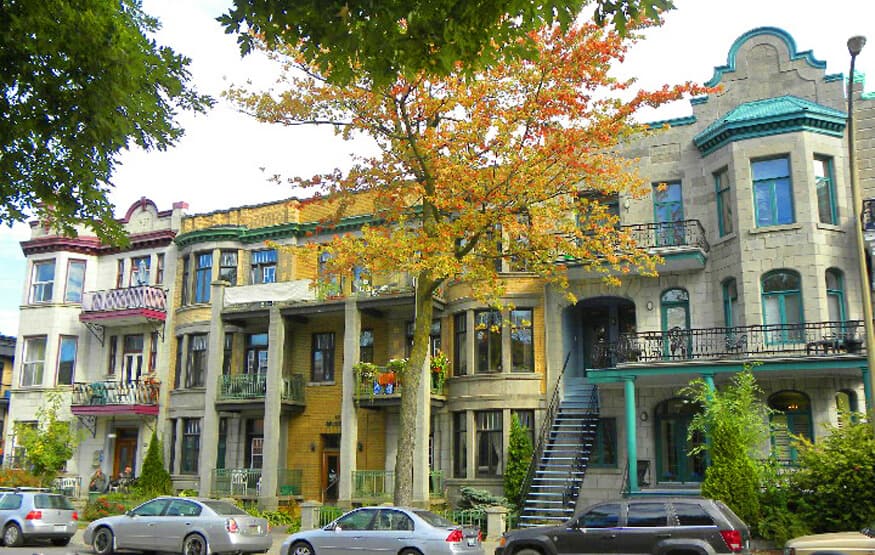 ---
---
A block down St. Hubert, turn right on Marie-Anne (another residential street) and continue to St. Denis. Turn left. St. Denis is very popular for its many restaurants, bars, and shops. There are many little boutiques as well as larger retail stores (the Gap, Mountain Equipment Co-Op, Zone etc). One of the great things to do on St.Denis is to go to one of its many outdoor cafes or bars and watch the world go by.
Continue all the way down St. Denis. You'll see Sherbrooke metro not far away. But before you go there, turn right on Avenue Des Pins and walk for 3 blocks (you'll pass the cool fort-looking Les Fusiliers which is an infantry regiment of the Canadian army). You'll come to Laval Avenue. Turn left and walk down Laval. It is a gorgeous street, housing some of the most impressive graystones in Montreal (it is Spanky's favorite steet in the city).
---
---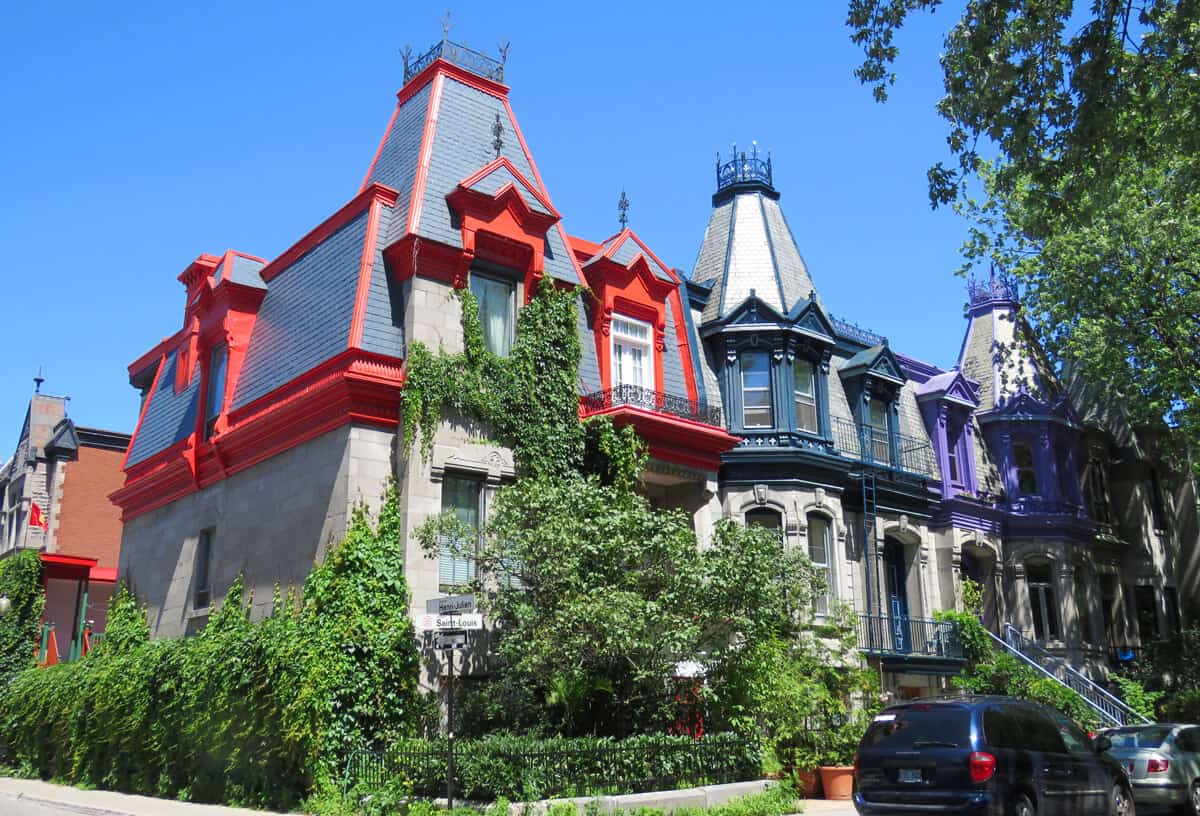 A long block will bring you to Square St-Louis. Turn left, you'll see some pretty building adjacent to the park.
Walking through the park will bring you right in front of Sherbrooke metro, where you started this tour. It is also the ending point. There are a few bars and restaurants along this stretch, including the previously mentioned Café Cherrier (a nice spot for a late afternoon drink on the terrasse). Hope you enjoyed the best of the Plateau!
Have you been to the Plateau Mont-Royal? What were your highlights?
Ps. If you find our blog helpful, please consider using our links to book your flights, hotels, tours, and car rentals. Have a look at our Travel Resources page.