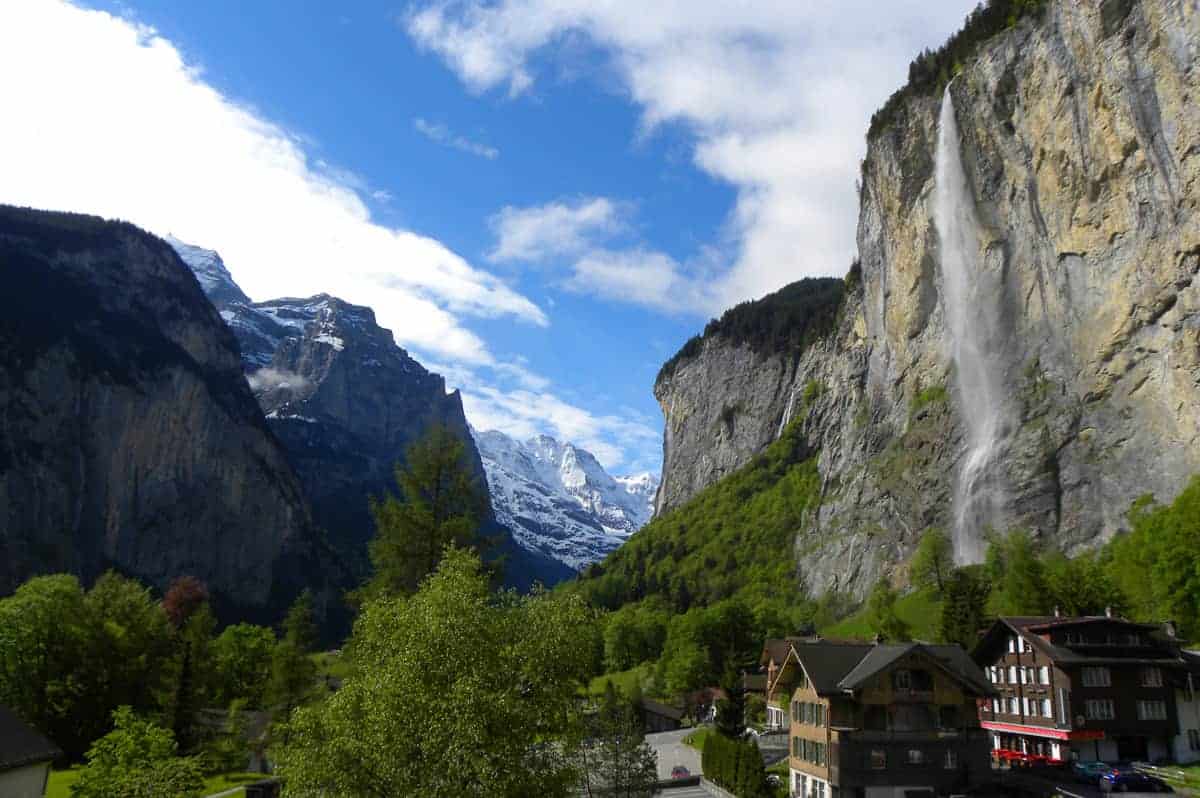 Hiking in and around Lauterbrunnen (Switzerland)
Lauterbrunnen is situated in the Berner Oberland, an area in Central Switzerland containing some of the country's highest peaks. Lauterbrunnen itself is in a valley full of cascading waterfalls. It is a gorgeous location with some great hikes in the immediate vicinity.
Accommodation
:
We stayed in
Hotel Staubbach.
Great hotel with the views you see above (it's worth paying a little extra for the valley view).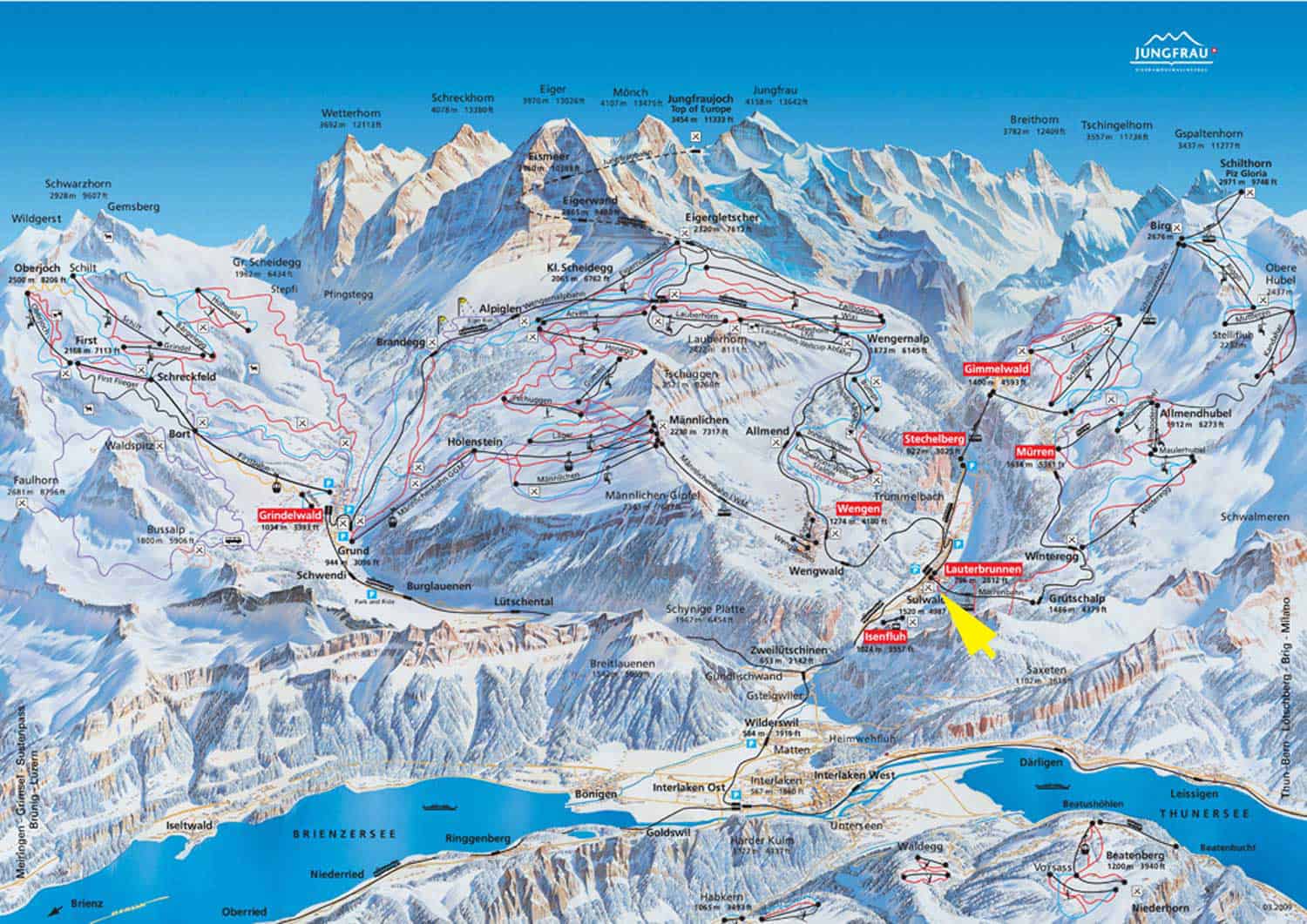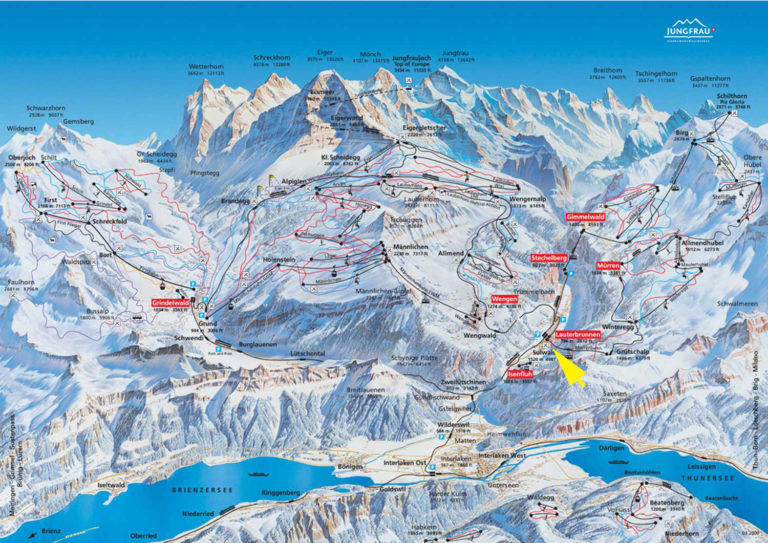 ---
---
Day 1 – Shilthorn hike
On our first full day we took a hike on the Schilthorn side of the valley. Schilthorn is famous for the James Bond movie "On her Majesty's Secret Service" which was shot here. We took the cable car from Lauterbrunnen (806 m) to Grutschalp. There the weather started getting increasingly cloudy. We nevertheless hiked to Murren (1650 m) and then on to Gimmelwald. It's a flat walk of 2 hours and is supposed to be really beautiful – but we we really didn't see anything with the clouds. It started to rain and we got cold. From Gimmelwald we took a cable car down to Stechelberg which is back down in the valley. From there it is an easy walk to Lauterbrunnen. On a clear day this is a magnificent hike.
This tour covers this route, with incredible views from locations used in the James Bond movie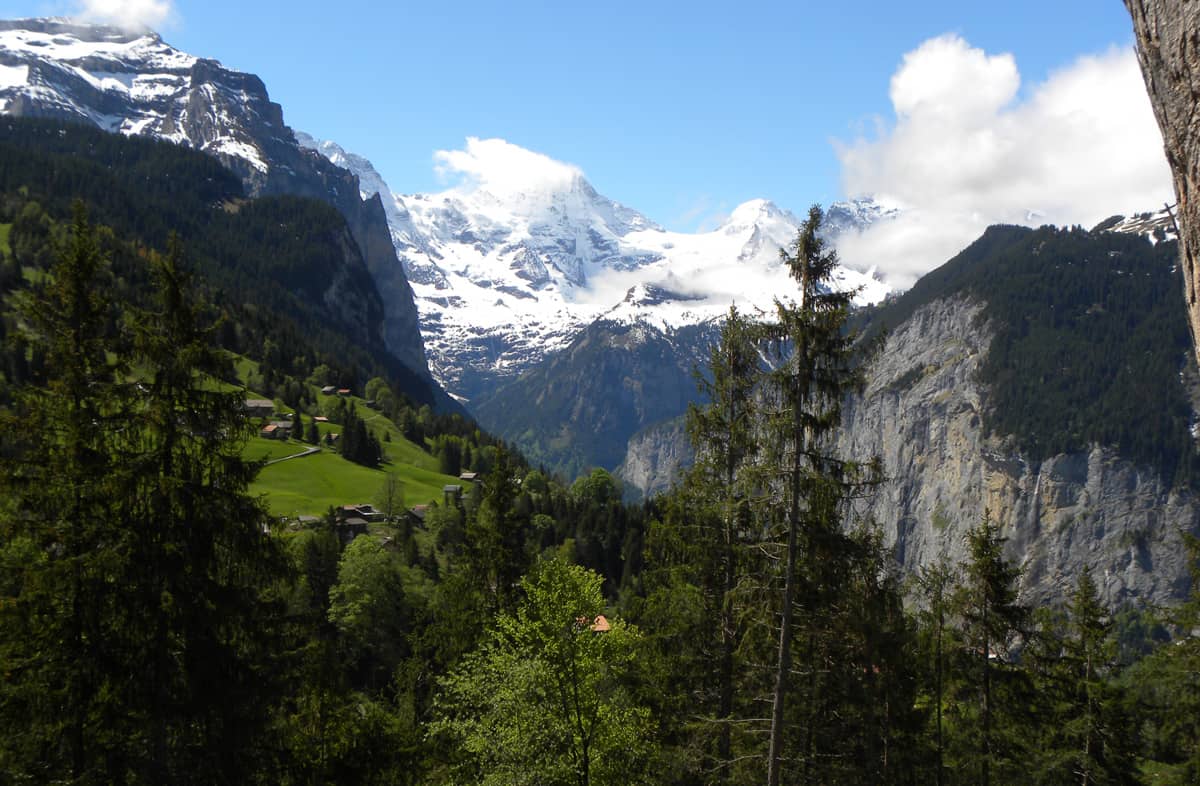 Day 2 – Jungfrau hike
The next day was clear and sunny and we went on the other side of the valley, first to Wengen (1350 m – very pretty small town with great views) and then further up (by train) to Kleine Schneidegg (2061 m) which was mostly covered by snow. There we saw the famous north face of the Eiger. From Kleine Schneidegg one can take the train further up to the top of Jungfrau to what is the highest train station in Europe (3454 m).
You can take this one day tour from Zurich and get to the highest train station in Europe. You'll see all of the views you see in this post. You can also do the same tour from Lucerne here.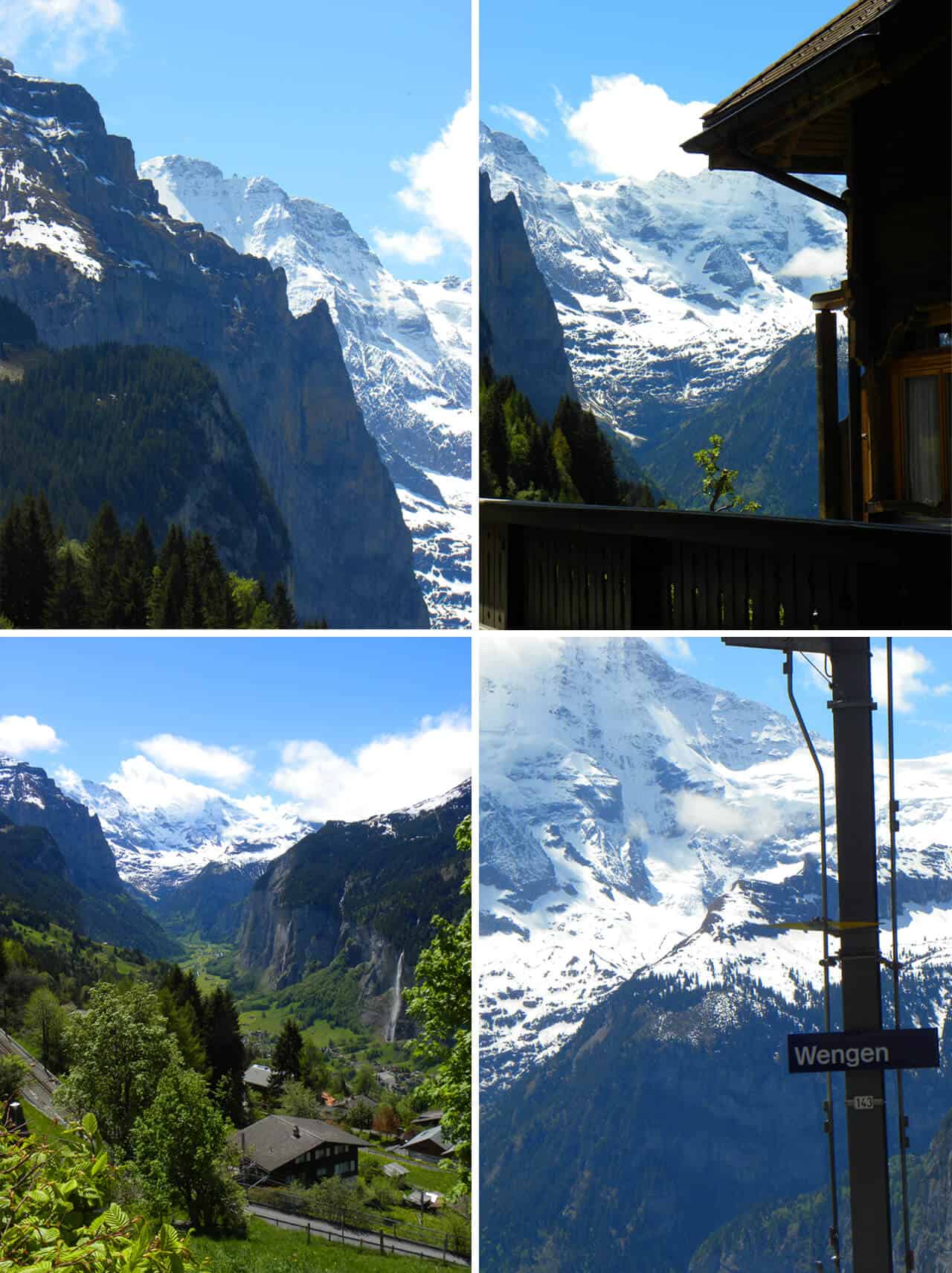 ---
---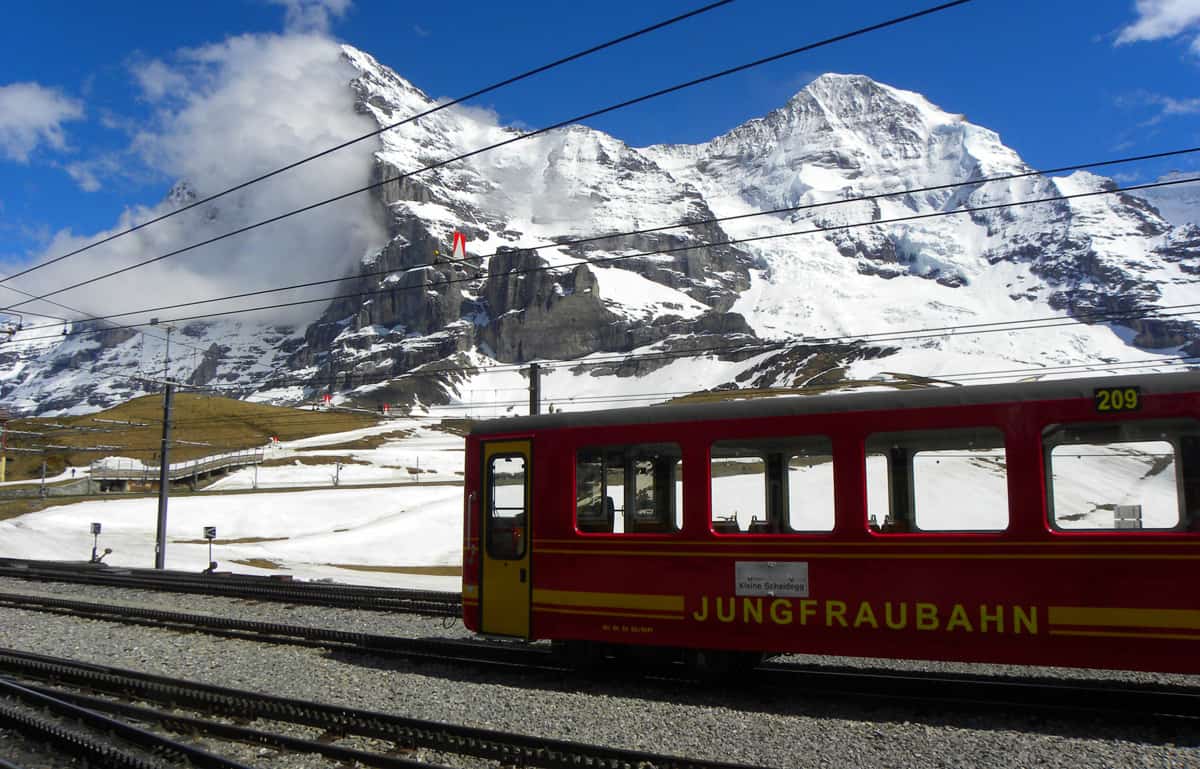 ---
---
Lauterbrunnen as a base
Lauterbrunnen is a great base, a pretty town with easy access to everything. You can walk the valley floor, passing farms along the way (the majority of locals are still farmers) looking up at the waterfalls (there are 72 in the valley) and the snow covered mountains in the background.
---
---
We spent 2 1/2 days here and we both agree we would be back to this area. It's one of the most beautiful places we've ever been.
Practical Information
– It's best to come after after mid-June (many of the trails were still snow-bound in late May).
– Getting there by train. Take the train to Interlaken Ost. From there, a small narrow-gauge train goes to Lauterbrunnen.
– Map. See my map up top. Click on it. You can enlarge it and print it for your use.
– Lauterbrunnen is very small. You can walk everywhere.
– Accommodation: Hotel Staubach as I mentioned up top. It's an old hotel but they do everything right. Free coffee/tea, a large tv room with books/movies/games, cheap wifi. It was home away from home. I know one of the owners is American and you can see the influence – all the little perks that we haven't seen anywhere else on our trip. Americans are the kings of that kind of stuff. The staff was incredibly friendly and helpful. It's worth paying a little extra for the valley view. We give this hotel 4 1/2 out of 5 which is the best rating I've given any hotel on this trip.
Have you been to the Berner Oberland?
---
---
Ps. If you find our blog helpful, please consider using our links to book your flights, hotels, tours, and car rentals. Have a look at our Travel Resources page.