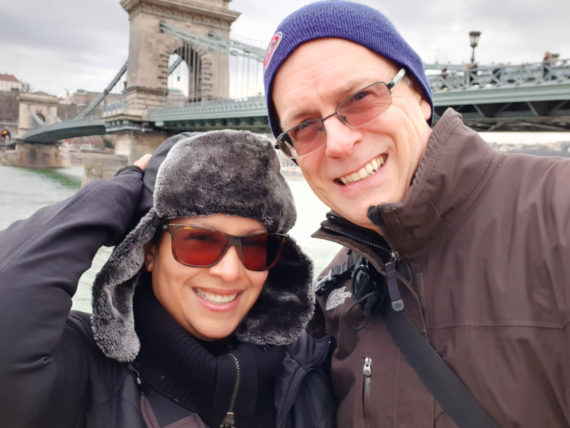 Is it Racist to ask someone where they're from?
It happened when talking to one of our new neighbors in Spain. Looking at Lissette, she said it: "You're American. But where are you really from?"
Lissette didn't take offence, explaining that her parents were Puerto Rican (Lissette is of Puerto Rican origin but has never been to Puerto Rico).
We've asked the same to other people at different times. We had a dinner party once in Montreal where one of Lissette's friends brought along a friend. Her friend said she was Parisian but there was something off about her accent and her skin tone was a bit more olive than the average French person's. So we asked: "Where are you from Miriam? You don't seem like a typical French person". She told us that she was actually from Iran. Ah ha! It actually led to an interesting conversation because we had never met someone from Iran.
Her friend later told us that Miriam doesn't usually like it when people ask her about her origins, that it's a sensitive subject with her. We could, on one hand, understand that because people from the Middle East tend to be lumped together and characterized unflatteringly. On the other hand, we find it odd when people deny their ethnicity or nationality. Another of Lissette's friends hated being referred to as "Asian" despite being 100% Asian. We nicknamed her "Jennifer the I'm not Asian".
---
---
But we also see it from the other perspective.
Once, when we lived in Montreal, we had gone to a wine tasting fair in Montreal's Congress Center. We were at a booth trying out wines when the lady serving the wine (about the same age as us) addressed Lissette: "Are you Colombian?"
Lissette (always quick witted and in the perfect English that the lady didn't expect): "No, I'm from the Superpower. I'm American".
In this case she hadn't liked the question. Lissette felt that the woman was trying to profile her and choosing "Colombian" was a little stab suggesting that Lissette wasn't much more than a mail order bride.
---
---
When we lived in Croatia our neighbor, an old lady named Marija, was more polished when asking about Lissette's ethnicity: "Where are you from?". Lissette explained that her parents were Puerto Rican. "Oh, thank god. You're Catholic. I thought maybe you were Muslim" exclaimed Marija in relief. In some places it's about color, in other places it's language, in other places it's religion.
It can be tiring and I've learned – being white and married to a non-white person – that there are a lot of assumptions and prejudices when it comes to race.
In Thailand we were at the reception of a hotel. Lissette wandered off into their business center and was brushed off by a young American woman when she said "Hi" to her. 2 minutes later I went into the same room and the woman started a conversation, apparently relieved to finally be able to talk to a white person. At that point – not knowing what had happened – I called over Lissette and introduced them, telling the woman that Lissette was also from the US. The silence was awkward: Lissette by that point had no interest in talking to the woman and the woman realized that she had been disrespectful in ignoring her. It's funny that the biggest divide we've encountered travelling is when meeting white Americans – Lissette has rarely ever had an awkward moment meeting Brits or Europeans but they've been a few situations meeting white Americans where there's been a cultural divide so wide you might as well be meeting an Eskimo in Alaska. As a Canadian I've never really understood it.
About assumptions – we had rented a house for 2 months in Cape Town (South Africa) and I was talking to the owner, a white man in his 60's who reminded me somewhat of Wilbur Smith. He was asking me how we could afford to travel the way we do and I pointed at Lissette "Lissette has a good job in Marketing and she's been able to continue working as we travel". He looked at her in surprise and newfound respect. Many people just assume that Lissette is just a tag-along wife but the truth is that she's a big reason we were able to finance our full-time travelling lifestyle over much of the last 6 years.
What I'm saying is that race and nationality can be a sensitive subject and a lot of people would rather not talk about it because of the assumptions and prejudices of other people.
---
---
So it Racist to ask someone where they're from?
Really, I think the answer depends on the situation, how the question is phrased, and the intent behind it. You can't just approach a "different"-looking person standing at the other side of the room demanding where they're from. You might get snarky the "I'm from my mother" response to that (Lissette's back up if she doesn't like the way somebody asks her the question).
Part of being a traveller is a curiosity of meeting people of different nationality and cultures. And 99% of the time people are happy to talk about themselves and their experiences. Asked the right way "where are you from?" is a great opening line. But I know some people don't like the question and take offence. See this Article in The Atlantic.
So, what do you think?
---
---