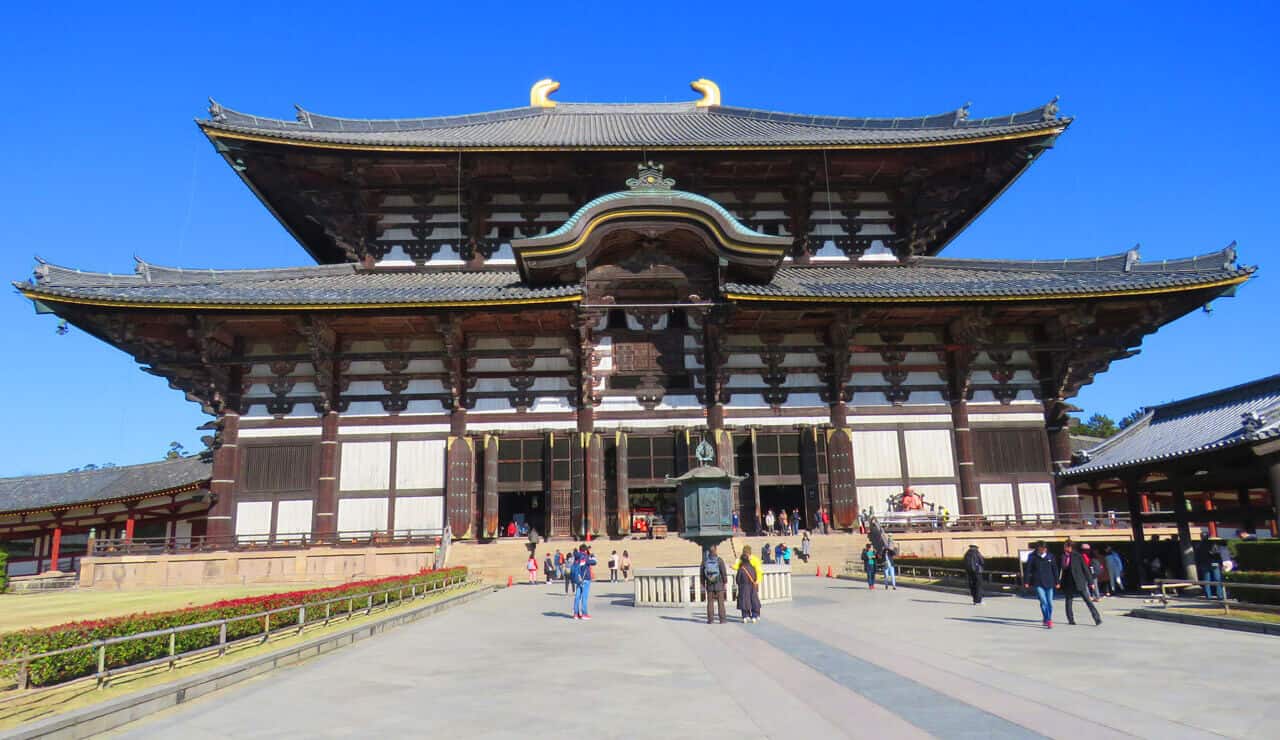 Why Nara was my favorite place in Japan
We spent 7 weeks in Japan and my favorite memories were of our 1 day in the town of Nara. Why? There are a few reasons: the most impressive temple we've seen in Japan (the Todaiji Temple), one of the most famous Shinto shrines (the Kasuga Taisha shrine) and lastly – tons and tons of deer wandering around everywhere. If you've never had a chance to get close to deer then you have to come to Nara. That alone makes Nara a very different kind of place.
I'll write more about the deer further below. Not everyone likes them.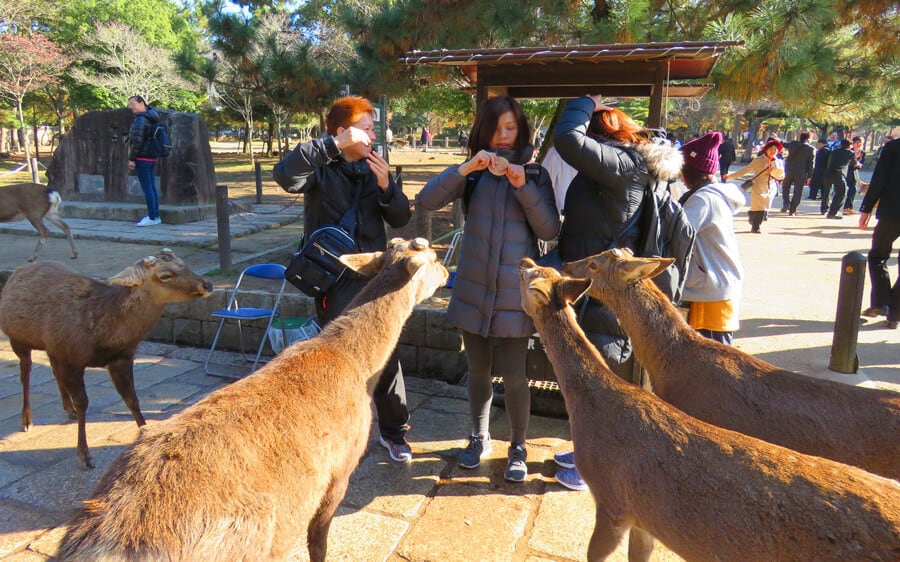 .Nara was the capital of Japan from 710 to 784 AD (referred to as the Nara Period). During this time Japan had flourishing ties with China. The Chinese Tang dynasty was the largest empire in the world and Japan was receptive to its highly developed culture. This culture influenced art as well as religion – during this period Nara became the center of Japanese Buddhism and lots of money was spent on Buddhist temples, images, and texts. More on Buddhism in Nara.
---
Note: In 2021 Japan introduced Visa requirements to visit the country. Click on the link for your Japan online visa application.
---
.


Reasons Why Nara was my Favorite Place in Japan
.
1. The Todaiji Temple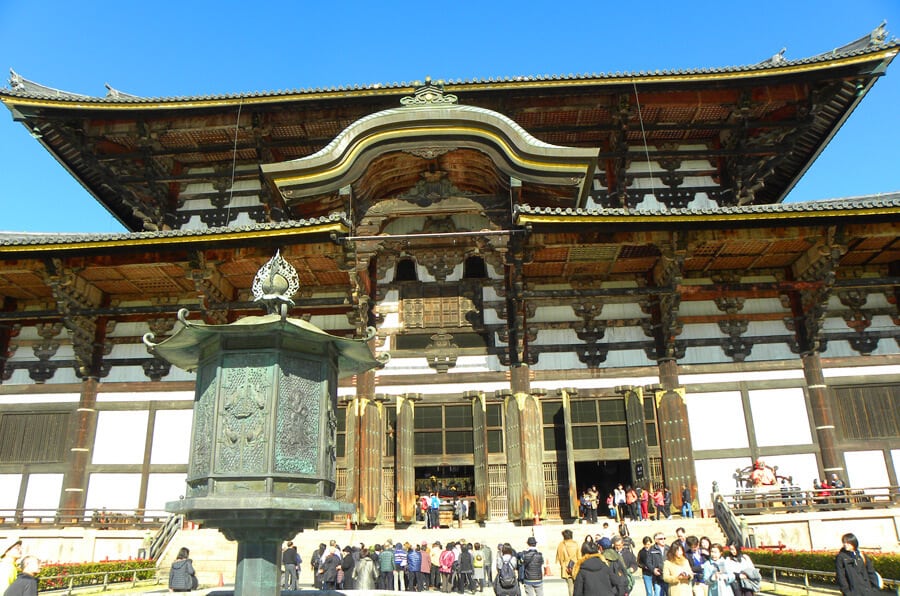 Of all the temples built in Nara, the Todaiji Temple is the most famous both for its size (they claim it's the largest wooden structure in the world*) and for the huge bronze statue of Buddha that's inside the temple. The statue, 15 meters tall, dates back to 752 AD and is the world's largest bronze image of the Buddha.
* over the last year, we've seen various claims to the "largest wooden structure in the World" including the Metropol Parasol in Sevilla and the Higashi Honganji temple in Kyoto. So I'm always a bit sceptical when I hear claims to be the "largest". Whether the largest or not, just know that the Todaiji Temple is huge.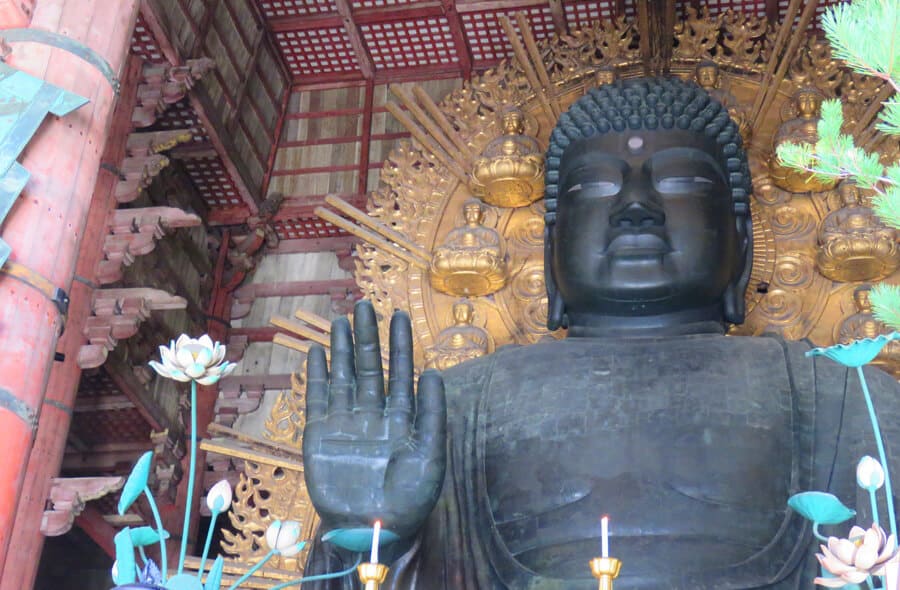 Most Japanese Buddhist temples are simple and clean in the interior, with wood and paper walls and doors and tatami mats on the floor. The outside of the temples are usually more impressive than the inside. The Todaiji Temple is different. In addition to the huge Buddha – which basically stands there near the middle of the huge hall – there are sculptures of two golden Bodisattva ("Enlightened Beings") that flank him on both sides. You'll also see sculptures of fierce-looking guardians. The scale of all these statues is really remarkable. It's why Todaiji ended up being the most impressive temple (in our opinion) that we would see in Japan.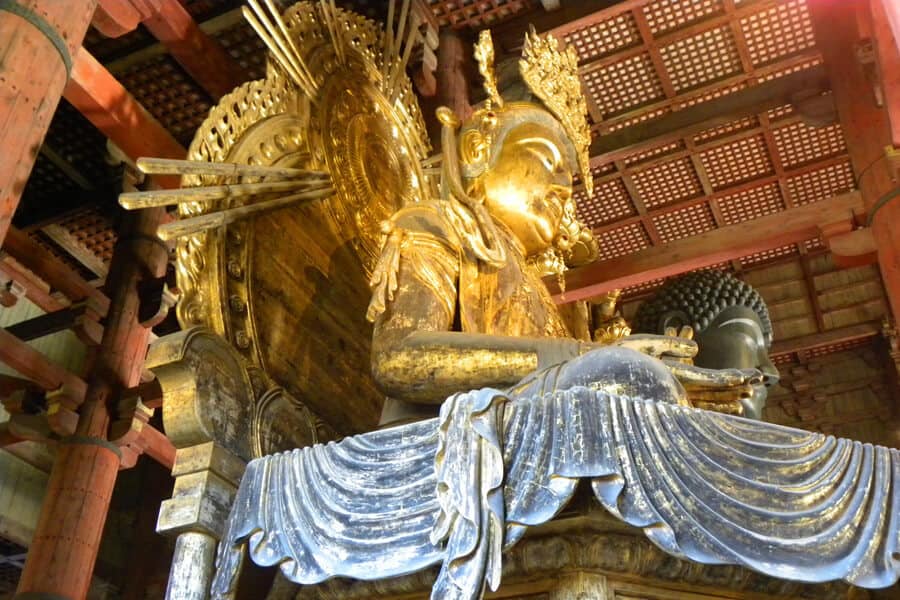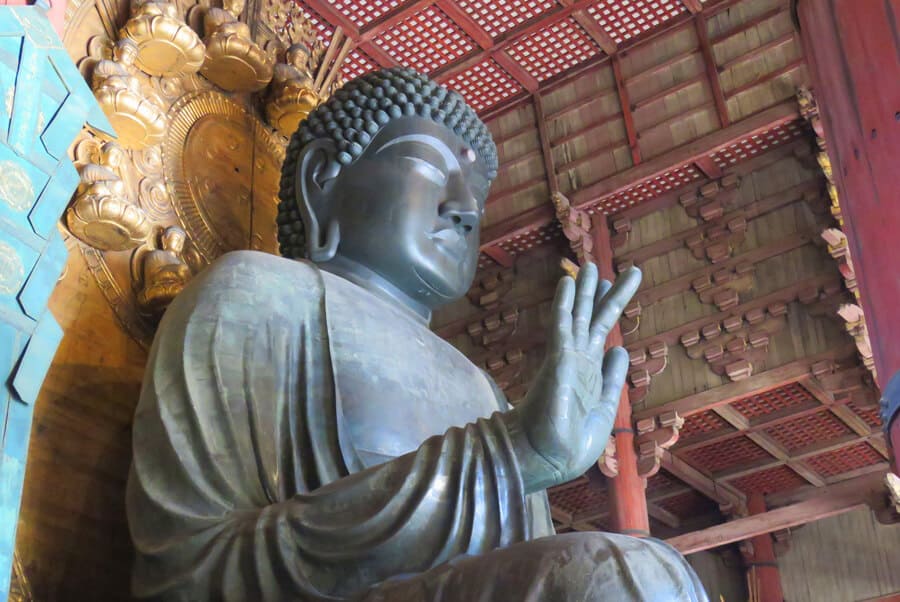 ---
2.The Kasuga Kaisha Shrine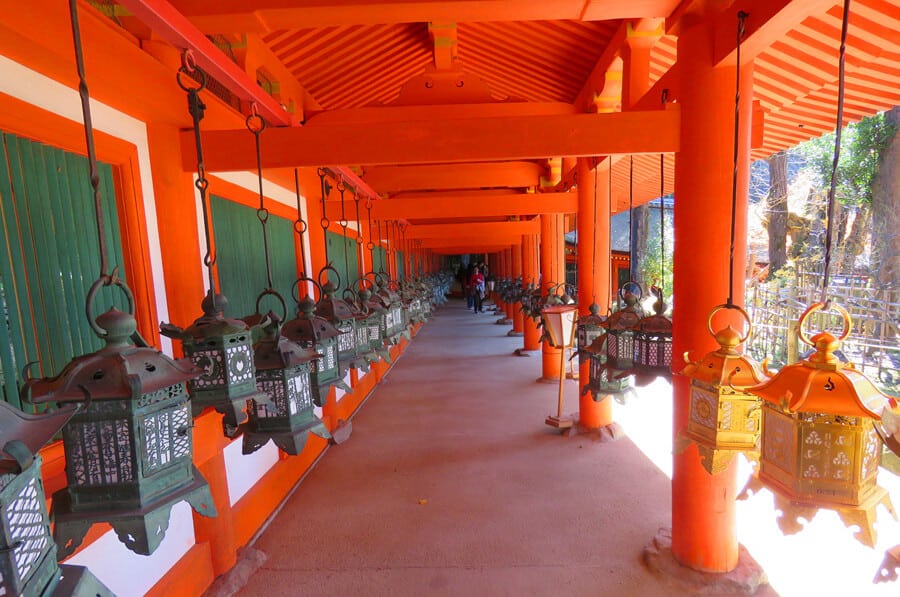 Kasuga Taisha is Naras's most celebrated shrine. It was originally completed in 768 AD as the shrine of one of Nara's most powerful family clans (the Fujiwara family). It is known for an incredible 3,000 odd stone and brass lanterns (donated by ordinary people as token of faith and thankfulness) which you'll see all over the shrine grounds.
A few photos: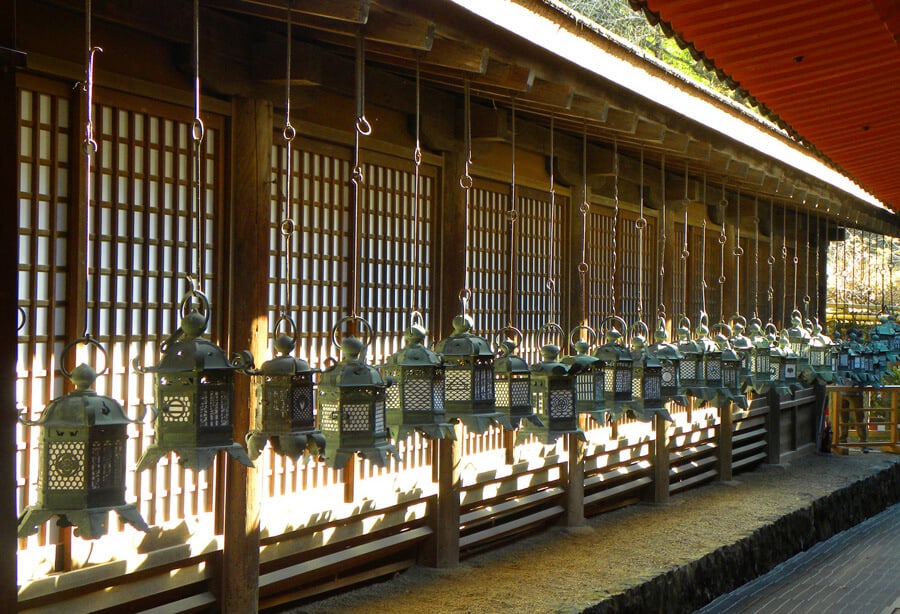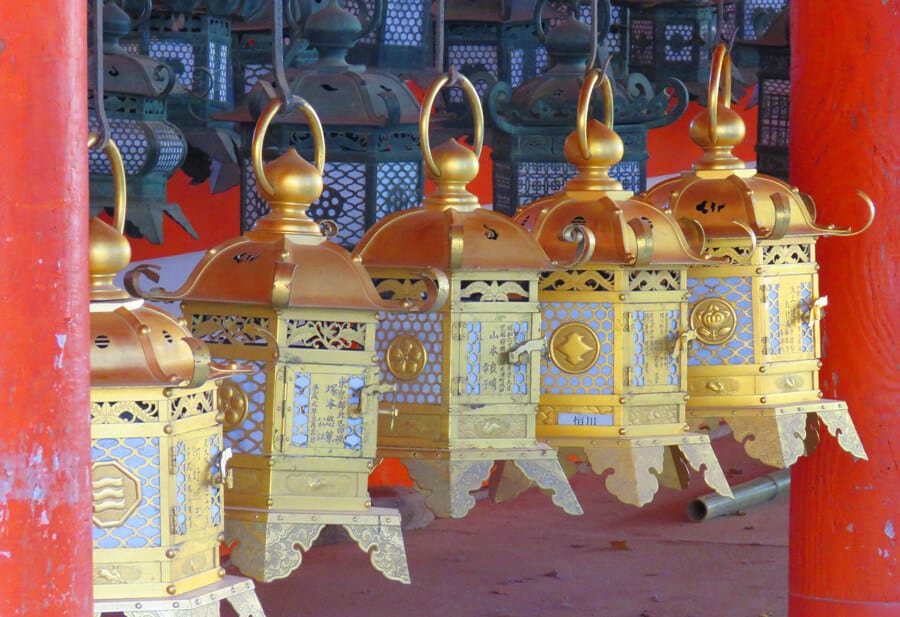 Besides some beautiful buildings and all the lanterns, we found the Kasuga Taisha Shrine very peaceful. It might not be as well-known as the Fushimi Inari-taisha shrine in Kyoto, but we enjoyed wandering the ground just as much. It ranks among the favorite shrines we saw in Japan.
---
---
3. Nara Park and The Deer
Almost all of the temples and shrines in Nara are located in Nara Park, a large public park established in the 1300's (it's one of the oldest parks in Japan). Most of the highlights are within easy walking distance of each other along trails in the forest. No cars, no ugly buildings – that makes Nara is a pleasant place to visit. The park is also full of deer which for many people is the main reason for coming here in the first place. The closest I've ever come to deer was seeing them while playing golf at Mont-Tremblant in Quebec. There they ran away when you got too close. In Nara they come up to you hoping they'll feed you biscuits, they'll even bob their heads up and down at you as if politely asking you for a cookie. I've never seen anything like it.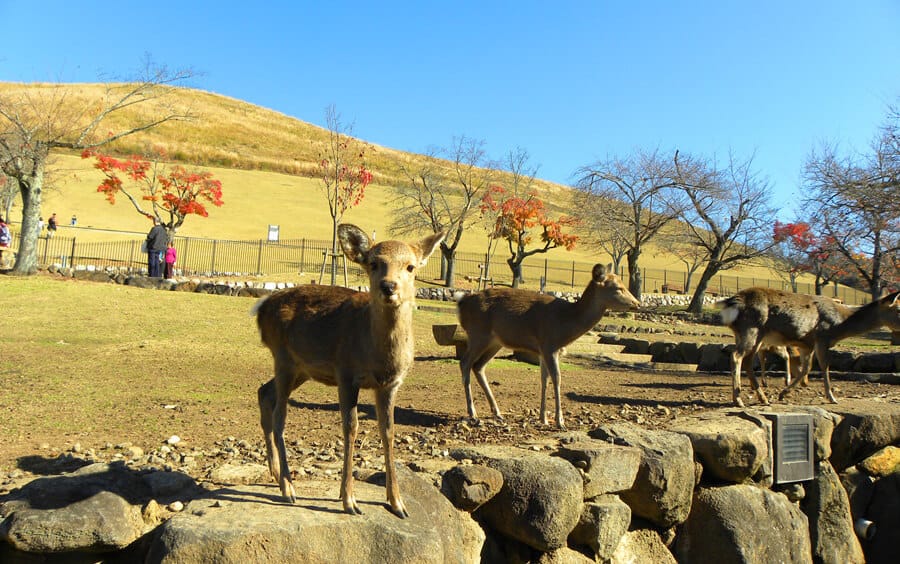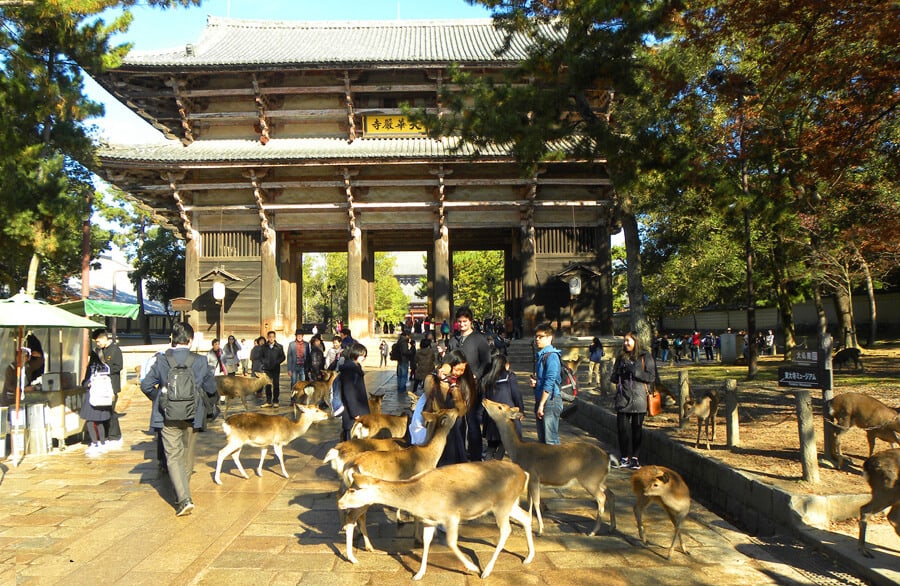 Why are there so many deer in Nara? They were considered sacred as "messengers of the gods" and allowed to prosper. Until 1637 killing a deer was a capital offense punishable by death. Today there are about 1,200 deer roaming freely around Nara.
.
I've mentioned that Nara is my favorite place in Japan – it wasn't Lissette's. That's because she was afraid of the deer. I was trying to tell her that the deer are completely harmless…then she saw these signs: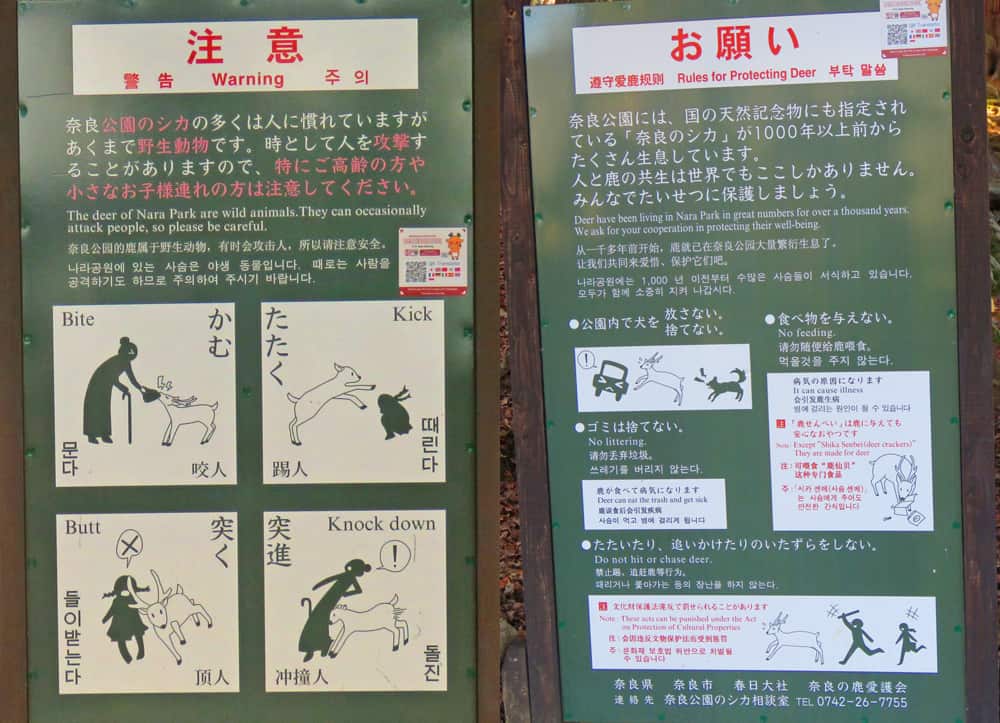 Lissette: "Bite, Kick, Butt, Knock down?! I'm going to punch you in the head if they come after me".
Lissette isn't much of a friend of nature, but seeing these signs of crazy rabid deer attacking people and getting in fights with dogs, cars and locals with bats spooked her. Maybe they should tone down the warnings a bit.
I don't think the deer are at all aggressive though and as usual, there are the usual bunch of dumbasses that provoke them by teasing them with food. That's when the trouble starts. If you don't act like a dumbass you have nothing to worry about. For me, seeing the deer up close was unique and an experience that made Nara a special place.
---
---
I've highlighted the top 3 reasons why Nara was my favorite place in Japan. Although the above were the highlights, there is more to see and just walking around Nara Park you'll see various temples and shrines worth stopping for. A few more photos.
.

.
Most visitors to Japan make it to Kyoto but don't always make it to Nara. Please do yourself a favour – if in Kyoto go see Nara. It only takes 45 minutes to get there by train. It is really worth a visit.
Practical Information
– Train. It took us 45 minutes from Kyoto to get to Nara's "Kintetsu Nara Station". From there you can walk to all the sites.
– Organized Tour. This 3.5 hr Tour will take you to the highlights while presenting a local's perspective.
– Hotels. The inexpensive Oak Hostel Nara is right across from the train station. Besides dorms, it also has private rooms that include your own bathroom. Perfect for a night in Nara (which we wish we had done). If you want to go higher end, Onyado Nono Nara Natural Hot Spring is a beautiful hotel with their own hot springs that you can relax in. Close to both train stations.
---
---
.
Ps. If you find our blog helpful, please consider using our links to book your flights, hotels, tours, and car rentals. Have a look at our Travel Resources page.