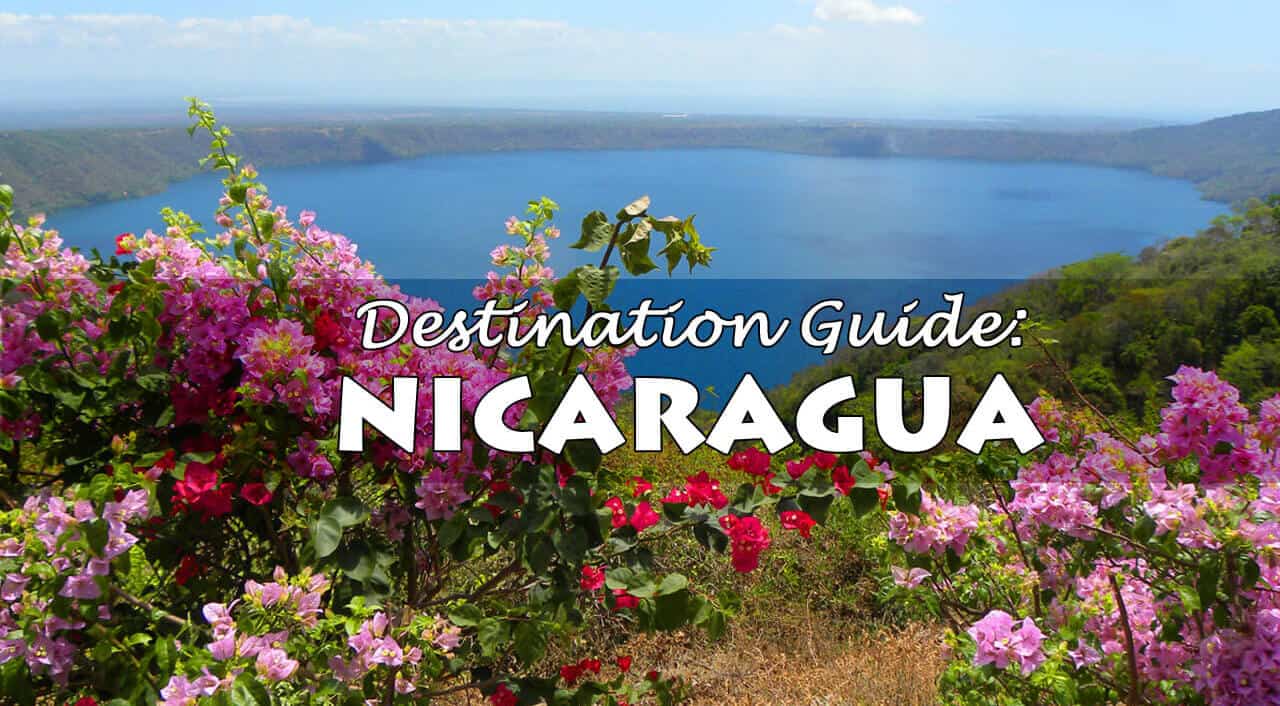 Nicaragua Travel Guide: Where to Go and What to See.
Nicaragua is known as "The country of Lakes and Volcanoes". Although largely shunned by travellers in the past due to political instability and civil wars, it is now becoming a trendy destination among backpackers and is an adventurous (and cheaper) alternative to neighboring Costa Rica. With active volcanoes (13 extending down the spine of the country in a straight line) and two major lakes, it is a geographically spectacular country. It also has some of the most interesting colonial highlights in Central America. Visit Nicaragua now before everyone else discovers it!

Top Places to see
Granada
The oldest city in Central America, Granada is an interesting and colourful city filled with 17th-century churches, colonial buildings (containing many hidden courtyards and fountains) and monuments. Top highlights in the town center – the Cathedral of Granada at the main square; the tower at Iglesia de La Merced; Antiquo Convento San Francisco; and the streets themselves containing pretty, pastel coloured houses. Just outside central Granada, don't miss the Fortaleza de la Polvora, a rather small medieval fort, and the nearby cemetery, containing picturesque mausoleums and scenic vistas.
Tours: I recommend you take this 3 hour walking tour of the city – inexpensive and you'll get to see all the highlights.
Other activities/sights while in the area: Take a boat trip through the Isletas(small islands) from Granada. A tour will cruise the lake and islands and include a stop at San Pablo fort. Nearby Mombacho volcano is also popular for hiking and ziplining.
Hotel recommendation: We stayed at the Hotel Con Corazonwhile in Granada and it was absolutely fabulous. The hotel is actually a foundation where all the profits are invested in local education projects. Besides being for a good cause, it is good value – very nice rooms, great breakfasts, super service, a nice swimming pool where you can enjoy a margarita at the end of the day. The bill came out to about $40/night. We really enjoyed our stay in Granada and relaxing around the hotel was one of the highlights.
Flights: whether going to Managua (the capital) or Granada, you'll be flying into Augusto Cesar Sandino International Airport (close to Managua). Airport Code: MGA.

---
---

Masaya and Masaya Volcano
Masaya has two markets , the Mercado Municipal and the Mercado de Artesanias, that are worth a visit. Every Thursday night at the Mercado de Artesanias is the "Night of Revelry" featuring folkloric dancing, local food and music. Nearby, you can drive up Masaya Volcano (which is active) and see the lava at the bottom of the crater. The lava flows are especially spectacular at night.
Tours: I recommend this 6 Hour tour(which also includes Laguna de Apoyo which I cover below).
Laguna de Apoyo
Lake Apoyo (at the very top of this post) is a 48-square km lake that lies within an old, dormant volcanic crater. There are beautiful views over the lake from the lookout near the town of Catarina. It is also a great place to swim, hike, or kayak.
---
León
After Granada, Leon has the best colonial architecture in Nicaragua. It is a friendly, laid-back university city that gets less tourists than Granada (but is popular with backpackers). Highlights: León Cathedral (the biggest cathedral in Central America), Iglesia de San Juan Bautista de Subtiava (one of the oldest colonial churches in León), Fundacion Ortiz (museum with a great collection of Latin American art), Centro de Arte Fundación Ortiz Gurdián (another art museum – known to be the best in Nicaragua).Visit the Recoleccion Cathedral and take the rooftop tour, the baroque theater, and enjoy the street markets and sidewalk cafes. Visit nearby Cerro Negro volcano (described further below).
Accommodation: Casa de Los Berrios (very simple but fantastic. Historic building right in center. Great value). Hotel Flor De Sarta (about as fancy as it gets in Leon. But still excellent value).
---
---
Isla Ometepe
A beautiful island containing two volcanoes (Concepcion and Maderas) in the middle of Lake Nicaragua. Hiking (you can hike both volcanoes), kayaking, organic farming (many foreigners come here to volunteer). There are some small, rustic fincas for backpackers. A perfect place in nature to chill out and relax.
Accommodation: We stayed at Totoco Ecolodge on the Maderas side of the island. It was phenomenal. The views towards Conception volcano were great in the day and spectacular at sunset. The sunsets at Totoco were one of the most impressive things I have ever seen in all my travels.
---
San Juan del Sur
This spot, not far from the Costa Rican border, is a cool little spot that is very popular with surfers and backpackers. Nice beaches, sea-turtle nesting and some really good waterfront seafood restaurants make this a great spot for chilling out.
Accommodation: Nuestra Casa or, for something fabulous on the beach, Villa Loma del Socorro.
---
Corn Islands
Off the Caribbean coast of Nicaragua (far from all the other attractions above), the Corn Islands are a gorgeous place for a vacation retreat. Most people come here to snorkel, scuba dive, to fish, and to relax. Small boats will take you between the different islands.
Accommodation: the White House on the Ocean. It is located on Big Corn Island less than 3km from the airport. The fabulous Yemaya Island Hideaway is on Little Corn Island, but the hotel has their own little boat that will get you to the big island (and airport). All kinds of activities. A Caribbean dream.
---
---
Activities for the adventurous
Volcano Board Down Cerro Negro – After an hour-long climb of moderate difficulty, you arrive at the top where you can board down the other side on a stand-up board (similar to a snowboard) or sitting down like on a sled. It's great, dirty, adrenaline-pumping fun. Tour here. Very much recommended.
Learn to surf – Nicaragua is a great place to learn how to surf due to year round waves and warm water. There are plenty of surf schools that offer tuition and equipment hire around the towns of Rivas and San Juan del Sur.
Kayaking – Either around Las Isletas (a chain of small islands on a lake near Granada) or in Lago de Apoyo. Kayaking tours give travelers a chance to experience some nature in a calm and relaxing setting.
Hike Concepcion Volcano – Although you can hike both Maderas and Concepcion on Isla Ometepe, Concepcion is the one to hike for extreme adventure. Not an easy hike, this is for the fit. Shale makes for a slippery climb – but you will be rewarded with an unparalleled view of the island, the lake, and the volcano's stony interior. Keep in mind Volcàn Concepción is an active volcano that nearly erupted in 1957.
Costs
Lodging: double room with private bathroom in a hotel can cost in the $20-$30 range. Staying in a family run hostel is even cheaper and can start around $10.
Food: Eating local food (corn, rice, beans, chicken, pork) is inexpensive; from $2 per meal at street stalls to about $5 per meal at a sit-down restaurant. Beer (Toña is the most popular) is $1/bottle while rum (Flor de Caña is the best) is excellent and inexpensive at about $5 a bottle.
Transportation: Inexpensive – an express minibus from Granada to Leon (for example) will cost as little as $2. Private transport (door to door service in an air-conditioned minivan), although comparatively more expensive, can cost as little as $20/person for a 2 hour trip. I was travelling in Nicaragua with my mother and we took private transport (using Oro Travel) between Managua-Granada-Isla Ometepe. No trip ever came out to more than $50 total.
---
---
Ps. If you find our blog helpful, please consider using our links to book your flights, hotels, tours, and car rentals. Have a look at our Travel Resources page.