.
Your Monthly Newsletter!


This is our first Newsletter since arriving in South Africa a little over 2 weeks ago. A lot has happened since then. Anyone else feel that the world is going to hell in a handbasket? In the past I would usually not write about politics on the blog but it feels that events have followed us around over the last few months. I'll address that on this newsletter. We'll also have the usual photos, weird little stories and a funny video – things that you won't see on the more structured posts residing on the blog portion of this site.
Above: Pretty Swiss girl who seemed happy to pose with Crazy Bastard (after Spanky asked her. She can make anybody do anything 🙂 )
***
.
In No Particular Order
.
People being uncoordinated
I mentioned Lissette's fall down the steps a little over a week ago on Signal Hill, here in Cape Town. For most people walking or going up a flight of stairs is not an issue. But sometimes it's nice to see that other people are just as uncoordinated as she is. I've watched this video about 10 times and still laugh every time I see it.
For plane geeks

We flew London – Cape Town on British Airways, a 747-400. I haven't flown on a 747 in over 20 years and it's still my favorite plane in the world. Want to see what a plane geek I am? Have a look at this post, it's one of my early ones. Nobody has ever commented which makes me feel like a loser. I guess I'm the biggest plane geek in the world….
We dreaded the flight because we were supposed to be sitting in the middle 2 seats of a 4 seat middle row. We ended up being incredibly lucky when a few people moved, leaving us with 2 seats on the aisle and an empty seat separating us from a friendly Canadian woman from Vancouver. Really lucky. And I have to say British Airways was fantastic: the food was good, service friendly, and they kept giving me those little bottles of wine…(Ps. for those who get suspicious – I don't get any benefits for the good review). An 11 hour flight but it couldn't have been better.
.
.
Pulling out your junk for a baboon
We were at Groot Constantia (South Africa's oldest wine estate) when we saw the sign warning us about baboons. Lissette freaked out. She mistook a dog for a baboon and by the time I turned around she was about 100 yards in the opposite direction. Marriage obviously doesn't mean standing by your man when there are baboons around.
So we had a wine tasting which started out as a formal affair. Until I asked our sommelier (above) about the baboon sign. He told us that baboons don't really show up close to the manor but do hang out on the hill in the vineyards. The scary thing about them, he told us, is how smart, strong, and vicious they can be. They've learned to open doors, can smell food in your bag from hundreds of yards away, and are incredibly strong. If an aggressive baboon comes up to you the best thing to do is drop any bag you may have and turn your pockets inside out to show you're not hiding anything. It's like being mugged.
But there is one thing you CAN do he says. And only a male can do it. We were intrigued. It seems that if a male pulls out his penis and literally marks his territory on the ground that the baboon will respect that and back off. Hmm. I can barely pee when I've got someone standing next to me at the urinal, you think I'll be able to whip out my junk, get set, and pee while a huge baboon is charging at me with fangs bared? Methinks not.
Anyway, one of those stories that sounds good in theory but really doesn't stand up in real life.
.
.
---
---
The Stories photos tell
We took 3 photos of our guide Manni on our recent tour of Bo Kaap (post here). When we got home we checked out the photos.
1) Happy photo. This is the one I used on the post. Everyone is happy and optimistic. All is good with the world.
.
The next two didn't make it on the blog.
2) Sad story. Now I'm depressed.
.
3) Now Manni just looks f*ing crazy and I wish i had never taken this tour.
.
.
South African Halloween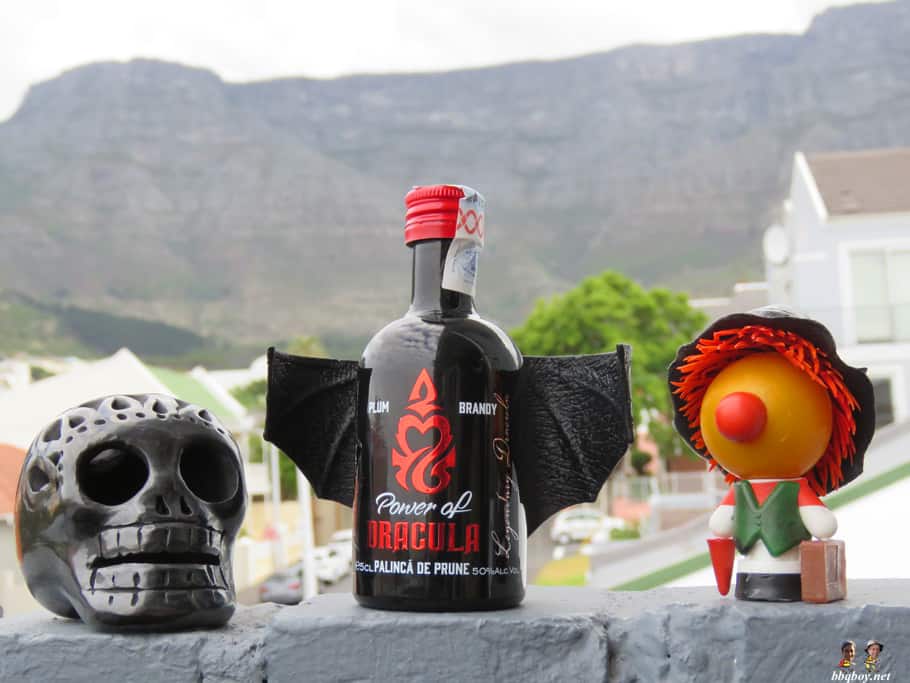 Crazy Bastard with new friends on Halloween. We picked up 'Dracula' at the airport when flying out of Bucharest. Love the fold-out wings. That's for Goran when we see him (Maybe. Lissette's been guarding him pretty tightly because I've been wanting to guzzle that palinka down). The skeleton is part of the decor in our Airbnb apartment in Cape Town.
Halloween seems like a pretty dead affair in Cape Town. We saw two kids in costumes yelling out "TRICK OR TREAT" across the street. They sounded a bit desperate. Sad really. But that was it.
.
.
.
Our Plans
We've got a lot coming up on the South Africa region over the next 5 months. Yes, 5 months. We'll be using Cape Town as our base until mi-January, visiting the Garden Route and Little Karoo over the Christmas holidays . We'll then be going to Zambia/Zimbabwe, visiting Victoria Falls before coming back into South Africa. Our new base at that point will be somewhere between Johannesburg and Pretoria and we plan on seeing both cities as well as some of the national parks to the north in Mpumalanga Province. So please come back to the blog in the next little while, we'll have lots of photos of this stunningly beautiful region.
.
.
Maybe it's time for a Selfie Stick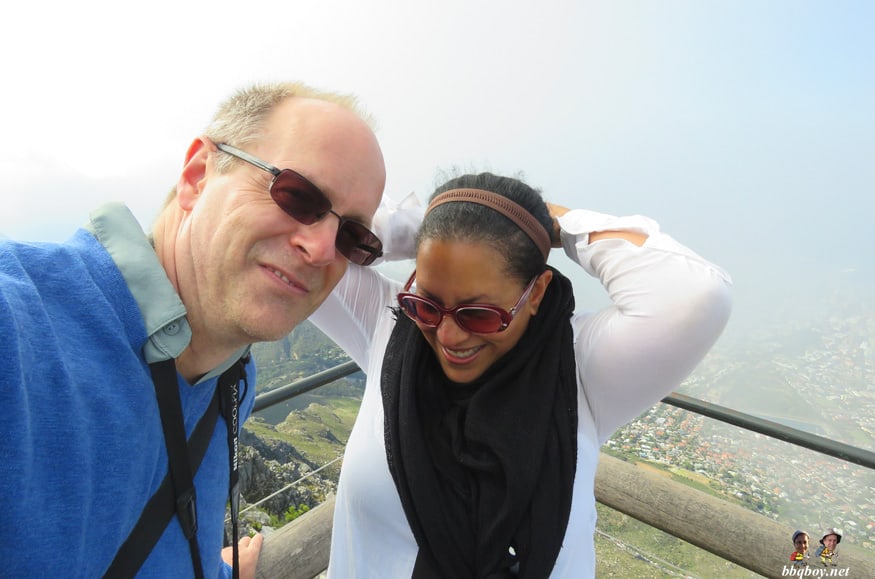 How not to take a selfie. Notice how my head looks about 3 sizes bigger than Lissette's? And how I got Lissette unprepared while also chopping off the background? Using a camera doesn't work well when doing selfies. And we have to take Selfies because that's what everyone does, right? (you should click on that link, the song's beat makes it great workout music. It also makes underhanded fun at the whole selfie craze).
Anyway, maybe it's time for a selfie stick.
.
.
---
---
Terrorists, Wilbur Smith, and the history (and future) of Fortress Europe
What kind of Europe will we be coming back to in the spring?
Over the last week there's been suicide bombings in Beirut, confirmation that a Russian plane was brought down by a bomb, and the Paris attacks. Anyone else feel that we've gone over the tipping point? I haven't seen the bloodlust that's sweeping the news since the days following 9/11. Suddenly Putin, or Vladimir as he is affectionately called, is everyone's favorite uncle. Obama is mocked and Merkel snickered at while Francois Hollande – who just last week was being described as the most unpopular French president on record (soft, like a 'marshmellow' the Guardian said) – is suddenly rallying Europe against IS.
But it's not just IS, you get the feeling that people are now turning – very quickly – against the Muslims in their midst and that political correctness and accommodation will be in very short supply going forward.
Wilbur Smith is my favorite writer of all time. There are very few people that I admire and that I would actually like to meet in person. Wilbur Smith is one of those few people. He's South African and actually lives right next to Groot Constantia where we went wine tasting just a week ago. The titles of a couple of his books: 'Time to Die', 'Wild Justice', 'Rage'. He's a man's man and I don't mean that in a gay way. But what I wanted to say about Mr. Smith – I had a look at his facebook page a few days ago and saw that someone had mentioned the Paris attacks. His response? "Our hearts are bleeding for those who are suffering, words can't express my hatred". No political correctness there, he's saying what many are only thinking.
The west will keep on bombing IS targets. Maybe they will actually put boots on the ground in the Middle East. History, from the Crusades on, indicates that this would be a mistake. But whatever happens in the Middle East, the most dramatic change will be in Europe.
Just a few months ago we were in Budapest and I wrote about the Migrant crisis and the hardline being taken by Prime Minister Victor Orban. He was having a fence built to stop migrants coming across the border from Serbia. Hungary was the media's whipping boy at the time and Merkel was everyone's favorite politician. CNN as usual led the way with the cheerleading. This was just 2 months ago. How perceptions have changed. In Hungary we went to Eger, famous for its castle. It was there in 1552 that the Hungarians repelled the siege of over 80,000 Ottoman Turks (Eger would later fall to the Turks and be under Ottoman rule for the next 100 years). After Hungary we moved on to Transylvania where we saw castles, fortresses, and fortified churches, all built by Franks to defend the southern borders of Christianity against the threat of the Muslim Ottomans.
There's no doubt in my mind that we are seeing the start of what will once again be 'fortress Europe'. 5 years from now Schengen will no longer be in existence. You think the French or Germans will leave their border security in the hands of the Italians or Greeks? No. Fences and guarded borders will be back. The majority of European governments will be represented by right-leaning parties opposed to immigration. Even now, a few months after the migrant crisis began, these parties are gaining in strength across Europe. My other prediction: there will be a major war in the Middle East. It might not include the West though; it will be principally a Shia – Sunni war.
All I know is that we will be back in the spring and that Europe may very well be a very different place. And that makes me sad and angry at the same time.
.
Want to read articles from the best newspapers and magazines in the world? This is where I get my news.
.
.
---
---
Pooping Dog
The above leaves everyone with a bad taste in their mouth so I'll finish on a lighter note.
A few months ago we were busy in Budapest, snapping photos all over the place. Just like further above, when you look at photos again sometimes you see things you didn't spot the first time:
Photo credit to Lissette 🙂 . She takes good photos of people and pooping dogs.
.
.
***
WANT TO HELP US OUT WHILE ALSO SAVING MONEY ON YOUR TRIPS?


.
We've become huge fans of Airbnb. Last year we stayed 196 days of the year in Airbnb apartments and use them for any stay over 2 nights. Want to save money? Sign up below by clicking on the image – you'll save $25 US on your first Airbnb booking.

We book all our hotel stays with Booking.com (because you get the lowest prices and don't have to pay upfront). Click on the image below the next time you travel – you get the lowest possible price.
***
.
That's it for this Newletter. Thanks for reading!
If you haven't subscribed yet and want to get our newsletters and posts sent to your email, just insert your email address below:
.
Older Newsletters
All our newsletters can be found right HERE.