Flying during the Coronavirus
July 9, 2020
Just a few days ago we flew Madrid – Paris – Montreal.
It was an interesting experience. And it wasn't just the flying.
The experience started a day earlier when we took the train from Leon to Madrid. I had booked an overnight stay at the Melia Barajas, a 4 star hotel located next to Madrid's Barajas Airport.
We took a taxi from the Chamartin train station. 20 minutes later we arrived at the hotel. The gate to the property was locked. The taxi driver rang the buzzer next to the door. And rang again. Finally a security guard came ambling out of the hotel. "We're closed" he announced. I told him we had a reservation. He just shrugged "We're closed".
Luckily for us, right across the street there was an Ibis hotel. It was open and we booked a room for the night. The hotel was deadly quiet and we wondered if we were the only guests. Having travelled most of the day we were hungry. The hotel restaurant was closed but there was a McDonalds across the street which was fortunately open. I went to pick something up. Even the McDonalds was dead. I saw one other customer (who came in for a pickup) and 5 bored employees.
It was all a bit surreal. Like the Twilight Zone.
We had an early morning flight and went to bed early.
Barajas Airport – Madrid
We checked out at 3:30 am and took the taxi to Barajas's Terminal 4 for our 6 am flight. Once there, we realized something was off. It was too quiet.
A security guard came over and told us that the terminal had been closed to everything but Air Europa flights. We had to go to Terminal 1 (despite my Air France itinerary telling us that departure was from Terminal 4).
So we had to find a taxi and accept the 20 Euro minimum fare to be driven 15 minutes to Terminal 1. Argg!
Terminal 1 was a lot busier, but that was in part because only a small part of the terminal was being used. While we were there, only 2 flights were checking in (Air France and a KLM flight to Amsterdam) and they had combined the check-in desks. There were 5 desks for the 2 flights. It took us 30 minutes to get up to the check in counters.
Similarly, after having gone through security, all passengers (for both flights) were shepherded into the same hall. It was standing room only as people waited for their flights.
For all the talk of social distancing, there was NO social distancing at Barajas. Everything was very badly organized, with a strategy it seems to cluster passengers in a small area.
Note: it goes without saying that masks were mandatory. You had to wear a mask. You were also instructed to maintain 1 meter separation but nobody was respecting that and nobody was there to enforce it.
Just before boarding, people had their temperatures tested by scanners. I didn't see anyone stopped from boarding.
---
Flying Madrid – Paris
Our Air France flight (an Airbus 320) from Madrid to Paris was filled to capacity. There was no empty middle seat. And while we were told that inflight service would be altered, we were still served beverages (water, orange juice, tea, coffee) which meant people took off their masks either during the whole time they were drinking or between sips.
It was an uneventful 1 hr, 35 minute flight and we arrived in Paris slightly before 8 am.
Charles de Gaulle – Paris
Unlike Barajas Airport in Madrid, Paris's Charles de Gaulle airport seemed to be operating as it always was. There were no closed off sections in the terminals we saw (we landed in Terminal 2F and walked to International Terminal 2E). We felt we had some room to breath. And unlike Barajas, Charles de Gaulle had fresh air and cooler temperatures. It makes a big difference when wearing a mask.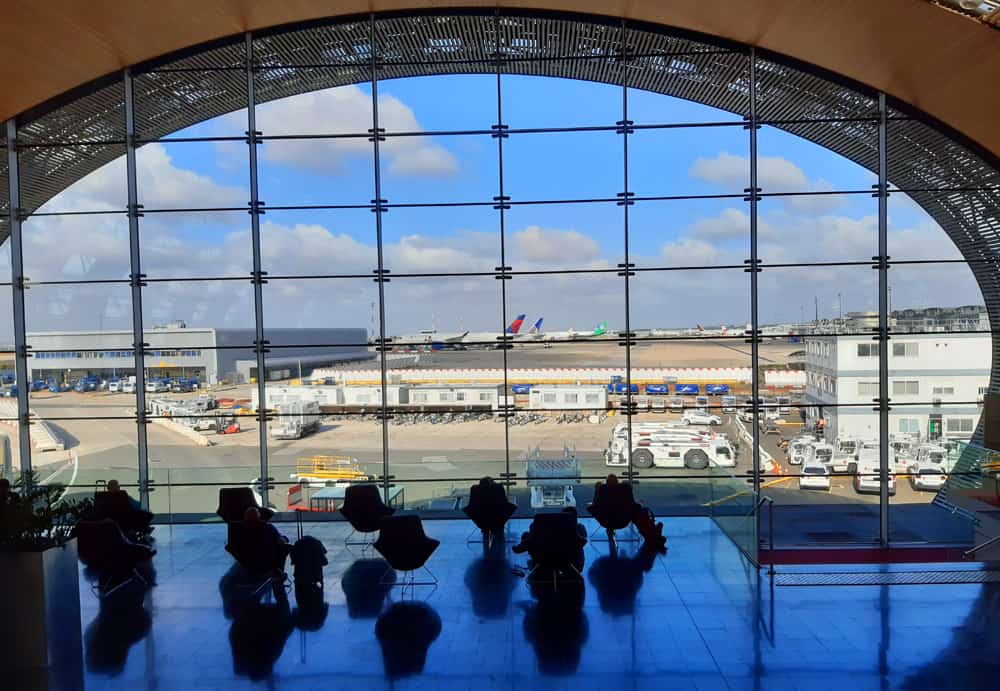 We killed over 7 hours in Charles de Gaulle waiting for our connecting flight to Montreal. Apart from every 2nd seat in the terminal being blocked from sitting (to keep distance between people) there really weren't any indications of the Virus. A few restaurants were full and spacing was tight. Stores in the terminal (2E has a lot of fancy stores like Chanel and Dior) were open. The terminal became quite busy and (as mandated) everyone wore masks. Maintenance in the terminal was not good: garbage bins overflowed and toilets weren't clean. You know personnel weren't wiping down surfaces or taking any other Covid-19 preventative measures.
Still, Charles de Gaulle was a much more comfortable experience than Madrid's Barajas airport.
---
---
Flying Paris – Montreal
Getting on the Paris – Montreal flight, we saw several passengers turned away at boarding. A lot of people don't know that there are serious restrictions on who can fly to Canada right now. If you're not a Canadian citizen or permanent resident you have to have a special reason (See this article on Who can Enter Canada).
Again, we had our temperatures scanned before boarding.
I mentioned in last week's post that there are much fewer flight options right now when flying internationally. Considering that, I expected this flight to be full. It was actually the opposite of that – I would say that about 35% of seats were occupied. There were full rows that had nobody in them (this was a Boeing 787-9 Dreamliner with a capacity of 300 people).

I've never been on a plane as empty as this one.
It meant the plane was very comfortable and we could stretch out.
On this flight we were served meals and the hostesses were generous with the champagne and wine. Again, we took off our masks while we did this. We felt comfortable doing that considering the few people on the plane.
---
Arriving in Montreal
On the plane they had given passengers a 1-page form. The most important thing is to note where you will be isolating during the mandatory 14 days of self-isolation.
When going through immigration, the officers will examine that form and give you a detailed briefing of the requirements of the 14 day self-isolation and will ask you how you have organized yourself. It's important, for example, to have groceries delivered to you and to not go out for any reason (and yes: I've heard that officers will come to your door and check that you are home). In our case we had pre-arranged to have both groceries sent to us (by Metro which has an excellent online ordering system) as well as wine (using the SAQ's also excellent system).
Because of all this extra detail, the immigration process took a bit longer than usual. But otherwise it went smoothly and with no issue.
We picked up our baggage and exited to a near vacant arrivals lounge. I've never seen the airport in Montreal this empty.
---
Summing up our Feelings about Flying during this time
These are special, weird times and we didn't really know what to expect. Our thoughts? Honestly, we didn't see many special Covid-19 measures and when we did they weren't enforced. That surprised us a bit. I think it's really up to individual people. Obviously, the most important thing is to wear a mask. We also had some gel with us that we would use to clean our hands every once in a while.
We're now in mandatory self-isolation. We'll let you know in about 2 weeks if the above safety measures were enough to keep us safe.
Apart from all the above, I personally was happy to have flown again. Our last flight was February 1st, the day we had arrived in Spain. We didn't expect to be in lockdown over 3 months and I was itching to get moving again. Having said that, the experience accentuated that things are not normal and won't be for a while.
---
---
Ps. If you find our blog helpful, please consider using our links to book your flights, hotels, tours, and car rentals. Have a look at our Travel Resources page.