Random Acts of Kindness when you travel
Twice over the last year I/we have been beneficiaries of extreme kindness and generosity while travelling.
Meeting Anand on our way to Georgetown, Penang
.
We were stuck and confused.
It all happened the day we were entering Malaysia from Thailand. We were doing the 'independent overland route': ie. taking a taxi from Hat Yai to the Thai side at Pedang Besar, going through Thai immigration, walking the 500 m or so into no-man's land to Malaysian immigration, then taking a Malaysian commuter train from the Malaysian side of Pedang Besar to Butterworth. All had gone smoothly except that we hadn't seen an ATM where we could withdraw Malaysian Riggits. I hadn't seen one at immigration and I hadn't seen one at the train station. Luckily they accepted Thai Bahts for the train trip to Butterworth. I asked the lady at the teller if there would be an ATM at the train station when we got to Butterworth. She said yes. I knew I'd need some Riggits to get from the train station to our hotel in Georgetown
So 2 hours later we arrived in Butterworth. There was no ATM. A station employee just shook his head when I asked him. I couldn't believe that in this large train station there was no ATM anywhere.
---
---
I was talking to Lissette, weighing our options, when Anand came up to us. "Where are you going?" he asked. We told him we were going across the strait to Georgetown. "You just follow me" he said.
When I told him our issue, the first thing he did was offer to GIVE me some Riggits. "No, no" I said, "we can't accept that". Instead we agreed to exchange some Bahts for Ringgits. I knew though that he was only accepting my Bahts so that I wouldn't be embarrassed. He would probably never use them.
We started talking. He was of Chinese origin and had been raised in Perlis state near the Thai border. He was in Penang for a few days after which he would go to Kuala Lumpur where he lived with his wife. He was 89 years old.
While talking, he led us to the free shuttle bus that would take us to the ferry terminal. He then bought ferry tickets for us, telling us to save the money we had exchanged.
.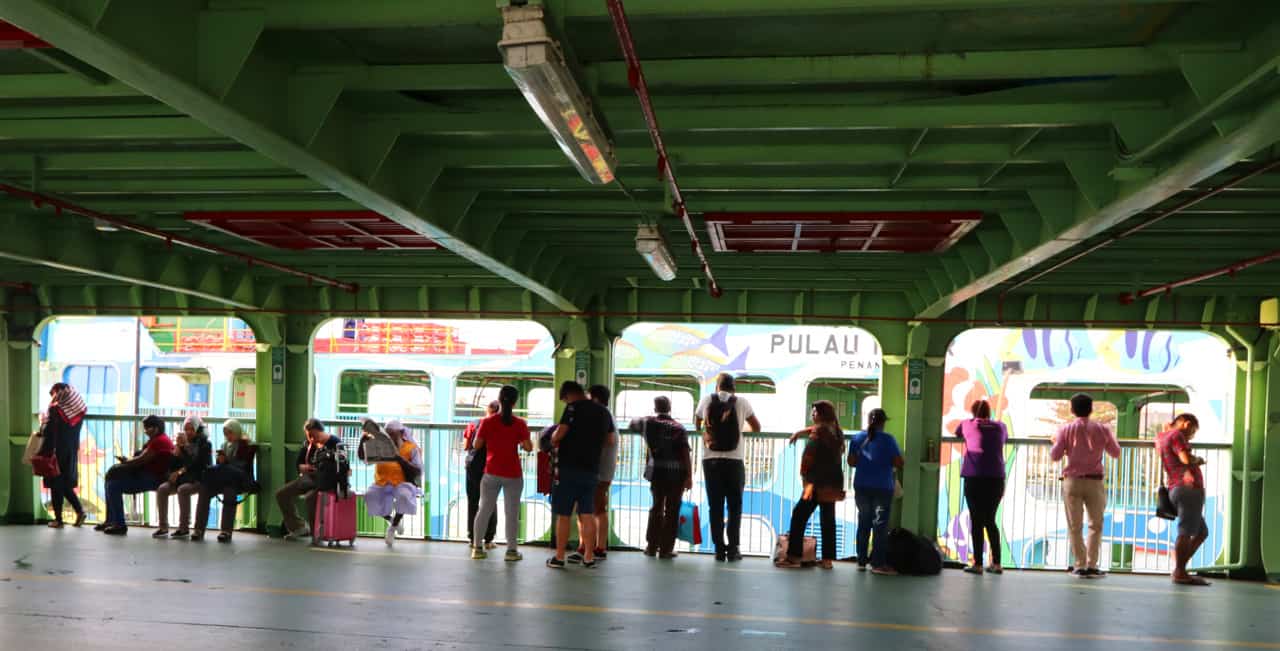 ---
---
Once off the ferry, he asked us what hotel we were staying in. It was the Chulia Mansion. "Come with me" he insisted.
Not knowing where the hotel was and not having a SIM card, we would usually have taken a taxi to get to the hotel. Anand was having none of that. "We'll take the bus".
He led us to the bus terminal situated next to the ferry and we boarded a bus (the 101 takes you right into downtown Georgetown).
10 minutes later we got out. He pointed out an ATM a few steps away and I went to get some cash while he and Lissette waited.
But he wasn't done with us yet. He then walked us to the hotel which was about 5 minutes away.
He shook hands with us as we checked in. "It was a pleasure meeting you and I hope you enjoy Malaysia". With that he left.
.
We'll never forget Anand and how he took care of us. Why did he do that? We exchanged emails and I sent him the above photographs. I never heard back from him though.
---
---
My other special experience was last November.
Ismet (and friend) in Sarajevo
.
I had been in Sarajevo for a week and it was my last day.
After a morning of sightseeing, I went for my usual Begova čorba (a special Bosnian chicken soup) at Pod Lipom restaurant. Bill Clinton had been to Pod Limpom, there's a picture of him on the wall.
It was while sitting there that the man at the next table started talking to me.
His name was Ismet. He had grown up in Sarajevo, fought in the war, and now spent 4 months of the year working in the United States as a truck driver. He talked about Bosnian food. We both ended up ordering a few local specialties. We had a couple of shots of rakia together. A friend, a man he had been waiting for, arrived. They had been childhood friends, had fought together in the war, and now he too worked in the USA.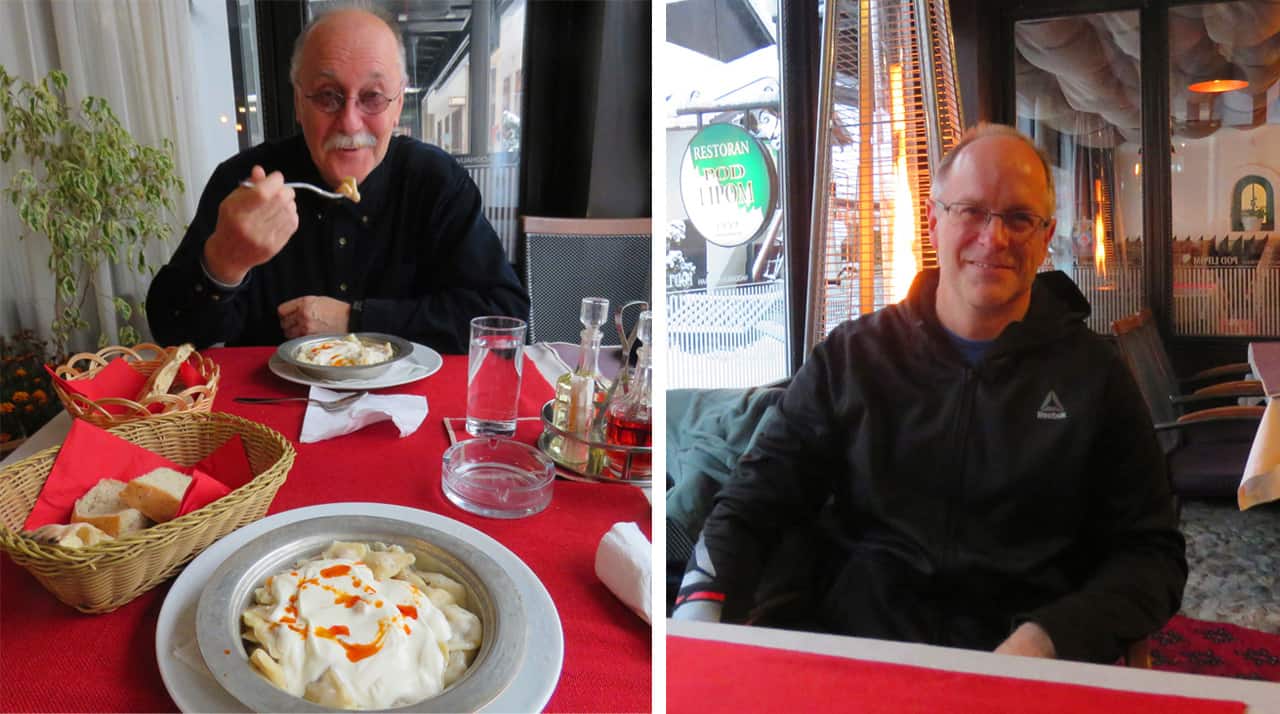 ---
---
.
After about an hour, Ismet invited me to accompany them to another restaurant (Cheers Kitchen on Muvekita). We had a bottle of wine and a pizza, followed by another bottle of wine. Outside, the sun had gone down. We had a Bosnian dish, a sort of pastry with cream and meat. We had another bottle of wine (I was introduced to some great Bosnian wines. Wow). Then we had yet another bottle of wine.
.
I spent 8 hours with Ismet and his friend talking about Bosnia, the war, and the future. It was after 11 pm when we decided to leave. When I pulled out my wallet they waved it away "No, no, you are our guest". When I insisted Ismet told me to instead to "pay it forward" ie. do the same for someone else in the future.
I haven't forgotten that and one day I'll meet someone in need and will do the same.
Just like Anand, I exchanged emails with Ismet but I've never heard from him.
All I can tell you is that it was the kind of experience that will leave you with a warm heart for any city. I'll always have this special memory of Sarajevo.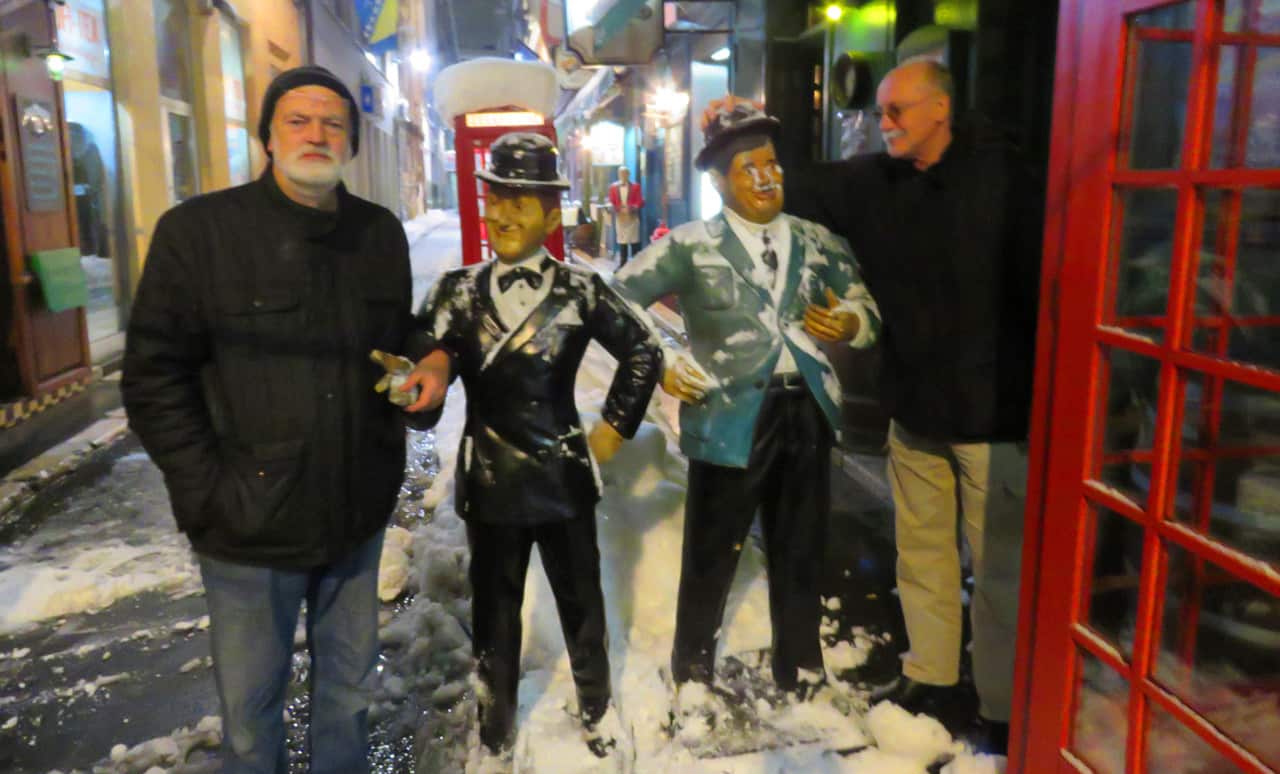 .
---
---
Almost forgot: The time I was saved by a mechanic in Lake Toba, Sumatra.

As I'm writing this post, we saw the video of the Malian immigrant saving the baby in Paris. As Lissette says "in a time where the world is coming increasingly insular and afraid of strangers, it's great to be reminded that people – from anywhere in the world – can have so much room for others in their hearts" (yeah, it sounds a bit corny…)
Have you ever been the recipient of Random acts of Kindness while Travelling?
Would love to hear it.

.Ps. If you find our blog helpful, please consider using our links to book your flights, hotels, tours, and car rentals. Have a look at our Travel Resources page.