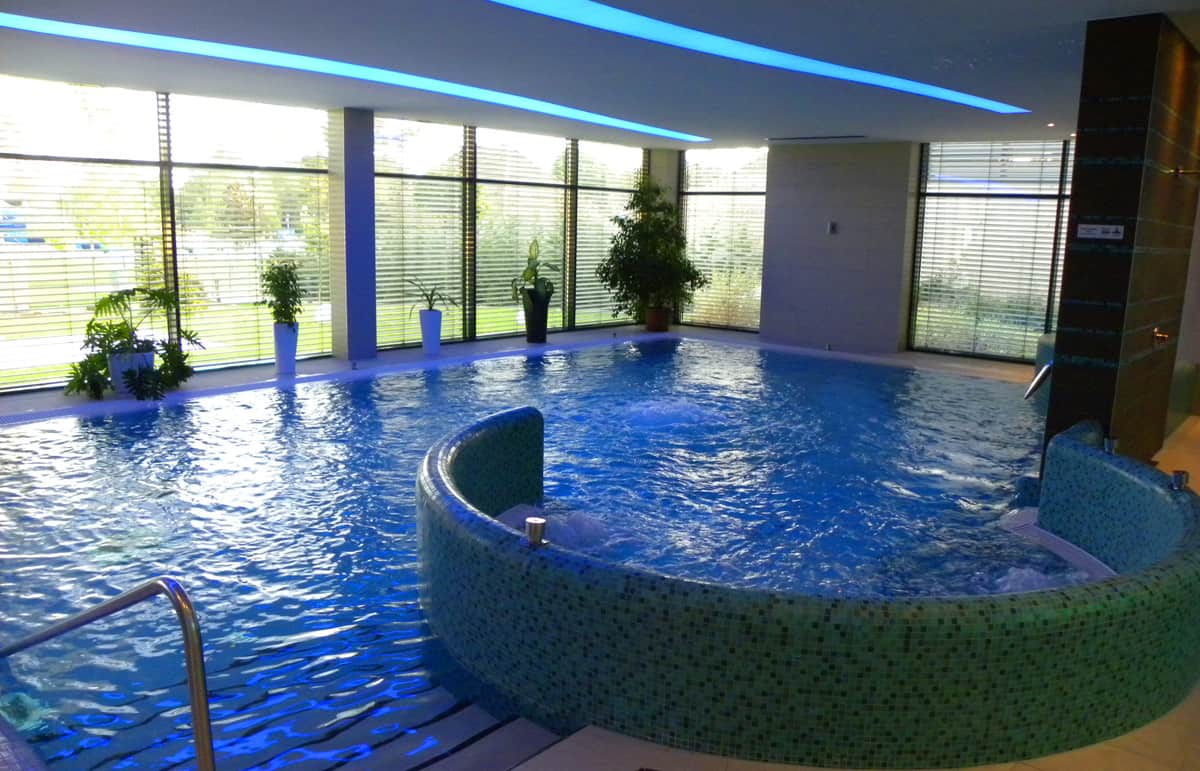 Review of the Imola Hotel Platán
We don't usually do hotel reviews on this website. In this case the hotel was as much the destination as the town of Eger itself. We wanted a spa vacation and that was what the Imola Platán offered. We chose it for several reasons: 1) Full Spa services including Thermal Baths, Saunas, and massage facilities, 2) Its own restaurant, 3) proximity to Eger's town center, 4) No kids allowed (we wanted tranquility), 5) great reviews on Trip Advisor (where it is currently rated the #1 hotel in Eger). It also turned out that they have a special 7 day offer which we found attractive. Did the hotel deliver on all these points? I'll explore that in this post.
* Note: We had zero compensation or freebies for this review. We didn't ask. So what you'll see below is 100% our opinion.
.

---
---
First impressions on the Hotel itself: clean, modern, very attractive. Friendly staff at the reception. We checked in, were told where the restaurant and the spa facilities were located, and went up to the room. We had a 'Premium' room, which is the most basic of the room options available. The room was very clean, large, with upmarket touches. We had a large balcony. All great.
.
Score for overall hotel appearance and room: 10 out of 10.
---
---
Spa Facilities: Every day during our week we spent a minimum of 2 hours in the hotel's Thermal Baths and Saunas. The hotel has 3 main baths in their wellness center as well as a Jacuzzi. Water temperatures range from 34C – 36C. Upstairs, a floor above, it has an outdoor pool on the patio with water temperatures of 40C. They were all wonderful. Very clean, large, uncrowded.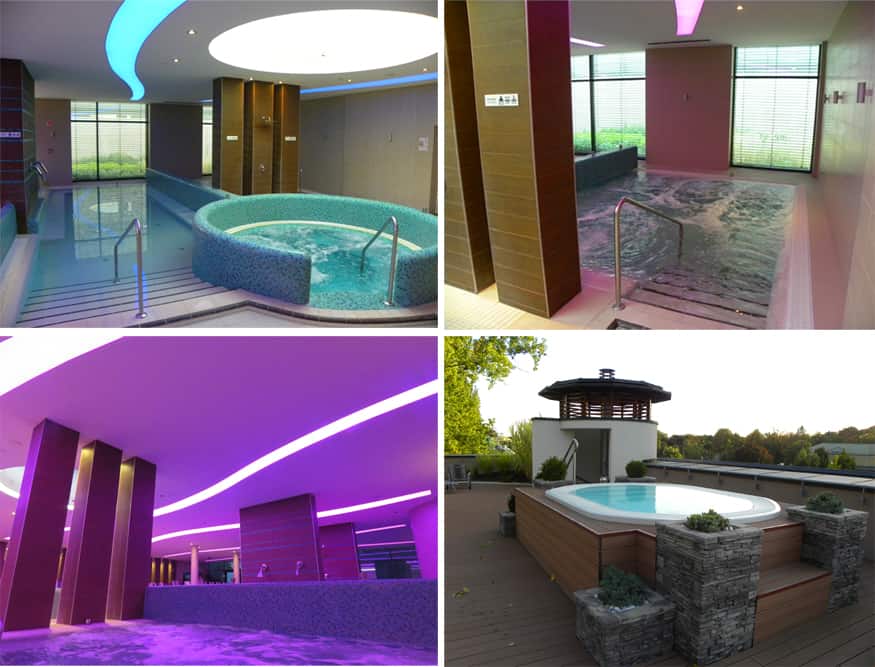 The hotel also has 4 saunas, most of the dry heat variety but also a steam sauna. All again excellent.
We never had any massages during our stay. A week there and not once were we given information on what was available. They talk about massages on their website but were never told anything, either by staff at reception or staff in the Wellness Center (did they have staff at the Wellness Center?? We still don't know). We would have been interested in massages and would have said yes with a little prompting.
.
Score for Spa facilities: 9 out of 10. Very good. You also get free access to Eger's large public pool and thermal baths (located right next door) with your stay at the hotel.
Score for service: I'll cover services globally further below. As far as services at the spa facilities they were weak as mentioned above. We never saw personnel (except for the occasional person coming to do checks on the pool). Even the juice bar in the Wellness Center was unmanned. Not once did we ever see someone working there.
---
---
Restaurant and food: Attractive restaurant, attentive staff. The hotel has an impressive menu listed on their website. Note however: when you book a package you do not choose your food à la carte. Instead you are given a package menu where you have 2 appetizer options, 2 main course options, a one dessert option. I wish the hotel would be clearer on that. In fact, except for lunch times (which are not included in the meal package) I never saw anybody ordering food à la carte because everyone books a room with the included meal plan.
This was an issue for us for several reasons. 1. Lissette does not eat meat and sometimes the two main courses only had meat. They usually did not have a fish substitute. So she would be given a plate of rice, potatoes and mixed vegetables. 2. When we booked the hotel we wanted to eat healthily and stick to proteins and vegetables. The package menu includes a lot of carbs. So we were disappointed on those levels.
Generally the food was tasty and on par with a slightly higher than average restaurant. But you won't be happy coming here if you have dietary concerns.
Wine: An excellent selection of Hungarian wines at competitive prices. Every night we ordered a bottle. Fantastic.
Service was variable depending on the waiter. Asking for food substitutes seemed like a bother to some. We sometimes felt rushed, especially if eating after 8pm.
Breakfast was a buffet: good selection for both meat eaters and non-meat eaters. Very good.
Score for food: 7 for me, 4 for Lissette. Average 5.5 out of 10.
Wine : 10 out of 10.
Service at restaurant : overall a 6 out of 10.
---
---
Location. Location was important to us because we came by bus (and left by train). Although not directly in the center, the hotel is a pleasant 10-15 minute walk to anywhere you need to go, including the town center.
Location Score: 8 out of 10.
Cost and Value: the base rate for our 7 nights Platan package, which included Spas as well as the meal plan (breakfast and dinner), along with the Premium room, came out to 182,000 Forint (that's $870 CAD or $650 US). That's good value. Our total bill, which included extras such a bottle of wine every night, lunch in the hotel (which we did 4 of 7 days), tips and the odd cappuccino, came out to $1,268 CAD (or $950 US). Compare that to $2,200 CAD that Lissette paid (going solo) to the ADLER THERMAE Spa in Tuscany back in 2010.
Value: 9 out of 10.

.
Overall Score: I give it an 8 out of 10, Lissette gives it a 7 because of the food situation.
Average total score: 7.5
---
How can the hotel improve? It has all the facilities to be a 5 star hotel but needs to work on the finer touches to be considered of that quality. Most of those things have to do with service. At reception: do a better job informing guests of available services, especially Spa services. Maybe give an orientation tour. We had to find everything on our own, even had to find out on our own that you are supposed to sign up for dinner. At the Wellness Center: 1) have someone who walks around informing guests of services, massages etc. If someone had asked us we would have signed up for massages. 2) Little touches, like pitchers of cold water or juice, would cost them almost nothing and be appreciated. It gets hot in the saunas 🙂 At the restaurant: more consideration of those with dietary concerns in planning the daily menu. More fish and vegetarian options. In the room: a little coffee machine would be greatly appreciated. These are all easy fixes.
Would we come back to this hotel? Yes, we very much enjoyed our time.
Would we recommend it? Yes, definitely.


.
---
---
Ps. If you find our blog helpful, please consider using our links to book your flights, hotels, tours, and car rentals. Have a look at our Travel Resources page.