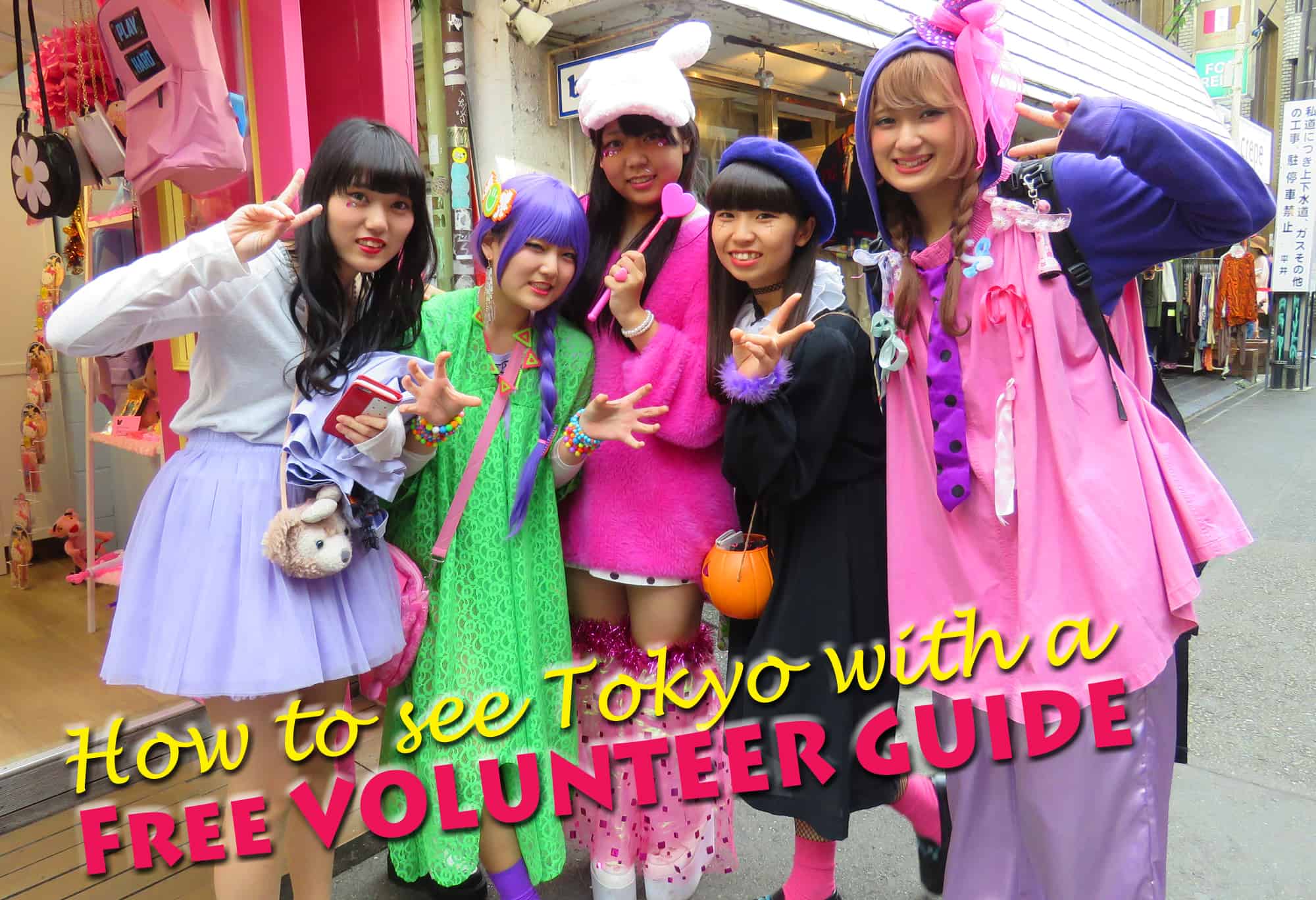 How to see Tokyo with a Free Volunteer Guide
Visiting a foreign city can be intimidating, especially one as huge as Tokyo. In our case, Tokyo was the first stop in what would be a 7 week stay In Japan. I'll admit I was nervous about the unknown: how to get around, where to do grocery shopping or eat (as a local), how to work the vending machines and crazy toilets that Japan is known for. I had a million questions. So when I heard that you can get a free volunteer tour guide I thought it would be a great introduction to Japan.
We were to spend 7 hours with our guide and are so thankful for the fantastic experience. I'll get to that. But first here are some things you need to know about Tokyo Free Guides as well as some tips on actually getting a guide (because of its popularity, only about 25% of applications are successful).
.

Applying for a Guide
Their website: Tokyo Free Guides (there is an application form on the top right of the page)
Applying: When applying you will have to pick a date and time for the volunteer service. You will also have to indicate your interests (what you want to see or what you hope to gain from your tour).
Your obligations: Although the service is free, you are responsible for all costs associated with transport, food, museums etc.
See all the terms and conditions on the site, they've explained the process in a very simple and orderly fashion.
---
---
.
Tips on getting your application for a guide accepted

.
– Apply as early as possible. We applied a month prior to coming. TFG allows you to apply up to 2 months in advance.
– Choose a Saturday or Sunday – your chances are better on weekends as there is a bigger pool of guides (TFG has approximately 500 guides in all).
– Your chances of getting a guide are best if choosing English or Japanese as your language option.
– Write out a precise and well-thought out itinerary wish list on Page 3 of the application (entitled "Details of Visit"). In ours, we explained that we would be in Japan for 7 weeks and that we wanted an introduction on getting day-to-day things done in Tokyo: shopping, taking the subway, going to a local restaurant, etc. I had also requested a visit to the Harajuku district because Lissette wanted to see the Harajuku girls. I knew from research that Sunday was the best day to visit this area. The rest of the itinerary I left up to the guide.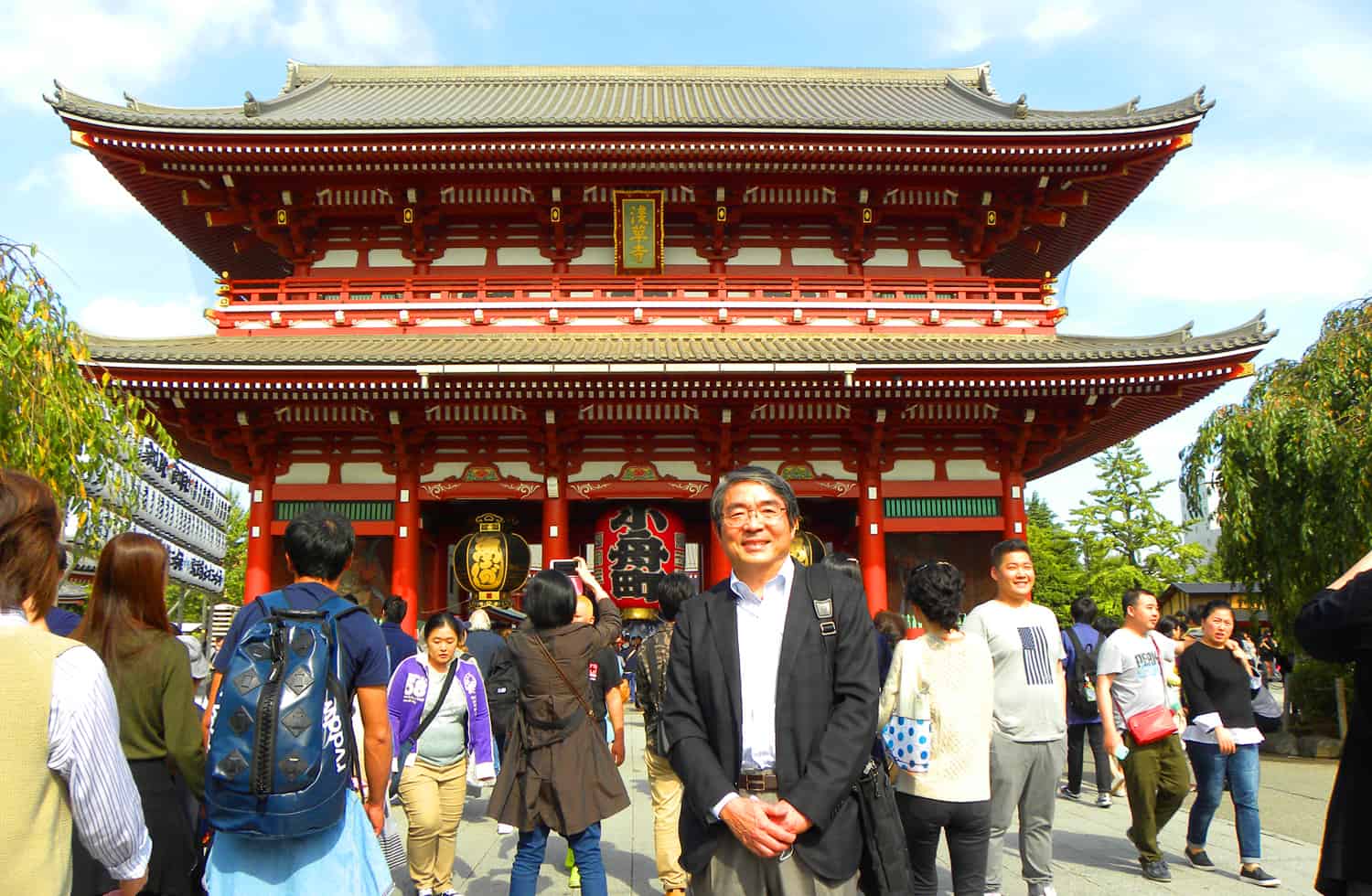 ---
---
After applying I waited. It took about 2 weeks until I received a reply from Tokyo Free Guides:
Dear Frank
Congratulations! A guide has been assigned to you as per your request. Please
confirm the details below.
[Date of your tour] October 23, 2016
[Your guide's name] Naohmi Sakurado
——————
You will soon be contacted by your guide via email. Please be sure to respond
to the email from your guide within two days.
Thank you for using TOKYO FREE GUIDE. We wish you an enjoyable trip.
.

Later that same day I received an email from "Nick"
Hello Mr. Frank
I am Naohmi "Nick" Sakurado, a senior male member of the Tokyo Free Guide serving both of you as a volunteer guide on Oct.23, 2016.
Let me introduce myself briefly.
I am a retired businessman worked for one of the major Japanese banks for 30 years.
Working as a banker, I had a chance to live in U.S.A for several years and my eldest daughter was born in California.
My family consists of a wife, two daughters, one dog and four cats!
My hobby is taking photographs, listening to Jazz and classical music and travelling in the foreign countries.
During my tenure at the bank, I visited more than ten foreign countries, including Canada [Toronto and Montreal] on business.
I would be grateful if you could give me some information on your trip such as your arrival date, places to visit other than Tokyo.
On Oct. 23, I am happy to take you to Harajyuku, a hot area for young people interested in fashion and pop culture
I could meet you at the lobby of The Gate Hotel at 10.am.
If you have any question or request, please feel free to ask me.
I look forward to hearing from you soon.
Nick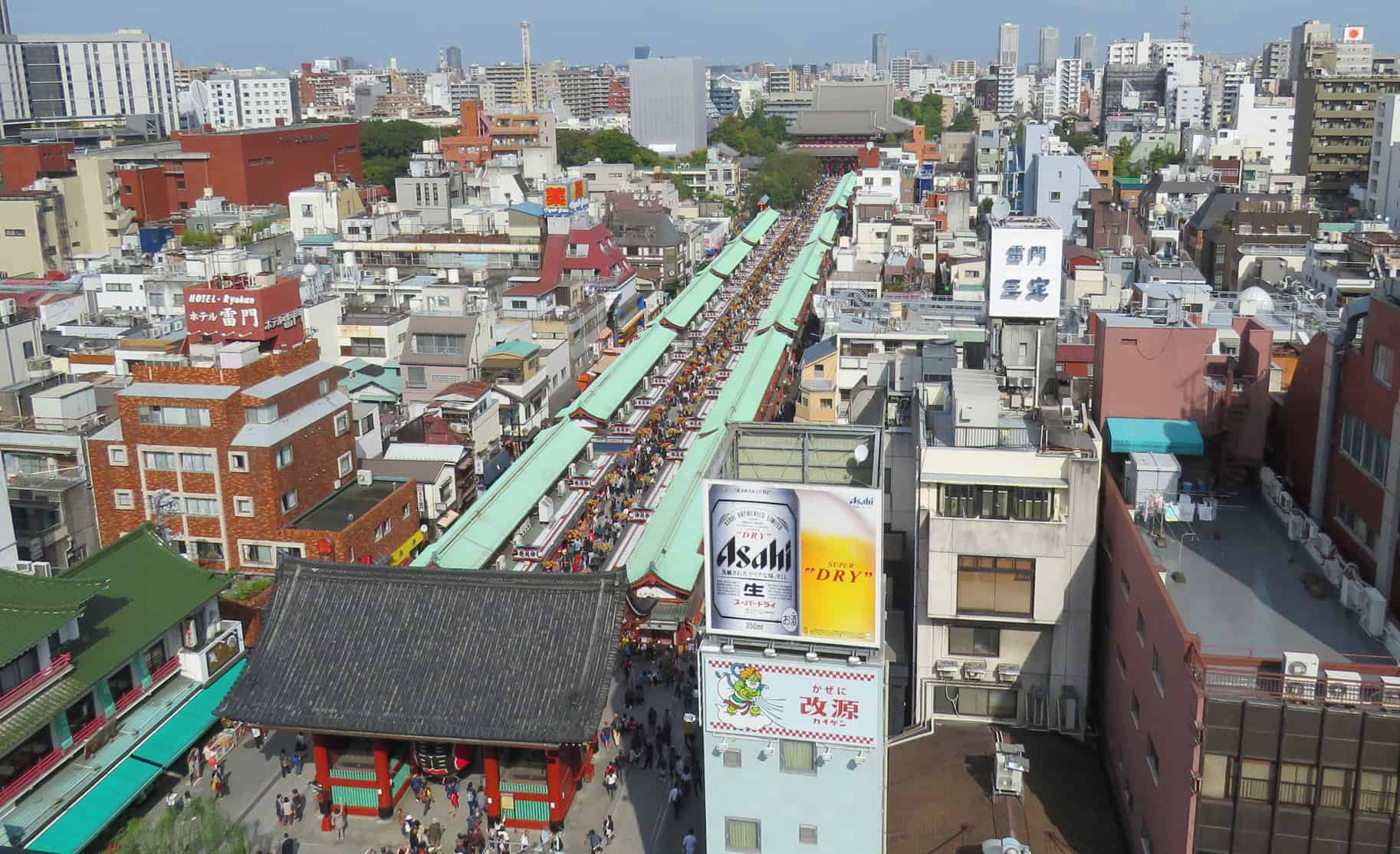 ---
---
.
Meeting Nick
We arrived in Tokyo on October 22nd. Early the next morning, Nick met us in the lobby of our hotel in the Asakusa district of the city. He was dressed in a business suit and we knew from the minute that we saw him that we would be in good hands. One of the first things he did was give us a rundown of our itinerary. It would include a tour of Asakusa, lunch at a local sushi restaurant, and subway ride across the city to the popular districts of Ginza, Harajuku, and Shibuya. He would also bring us to a local supermarket, introduce us to Bento boxes, as well as help us get an adaptor for our computer plug (a last minute request when we realized that one of our plugs had 3 prongs – Japanese outlets only have holes for 2 flat prongs).
.
.
Asakusa District
Asakusa is a historical district with notable sites such as the Sensoji Temple (Tokyo's oldest Buddhist temple) and the Tokyo Skytree (the tallest tower in the World). Unlike most other parts of the city that we would see it is older and quieter, with low rise buildings (comparatively speaking – this is Tokyo) and Edo-style wooden houses. It's the one place in the city where you can still get a traditional rickshaw ride. I'll be writing more about this district in an upcoming post.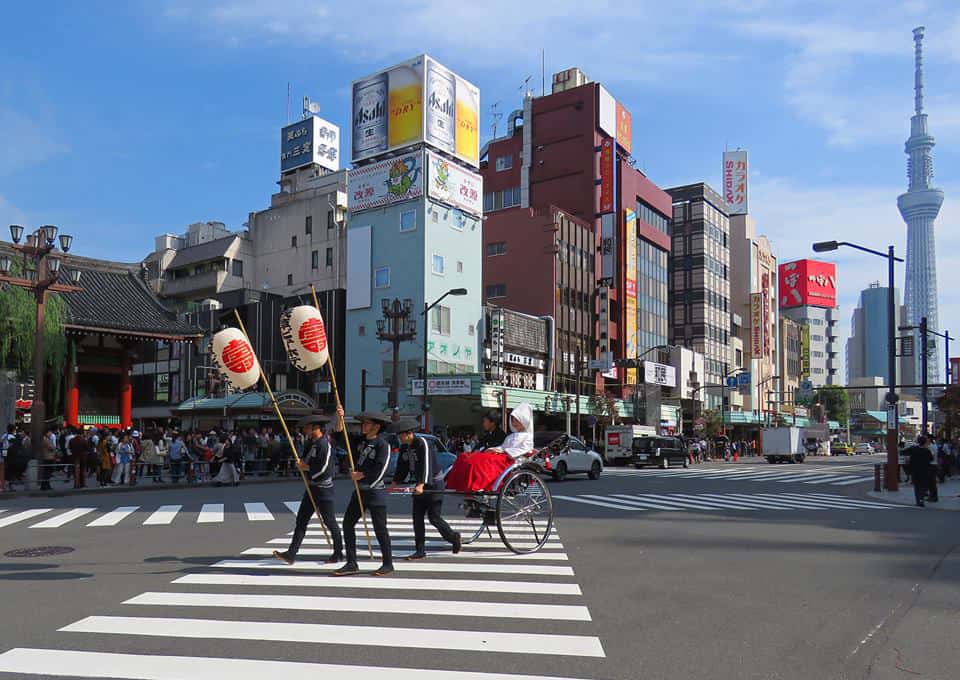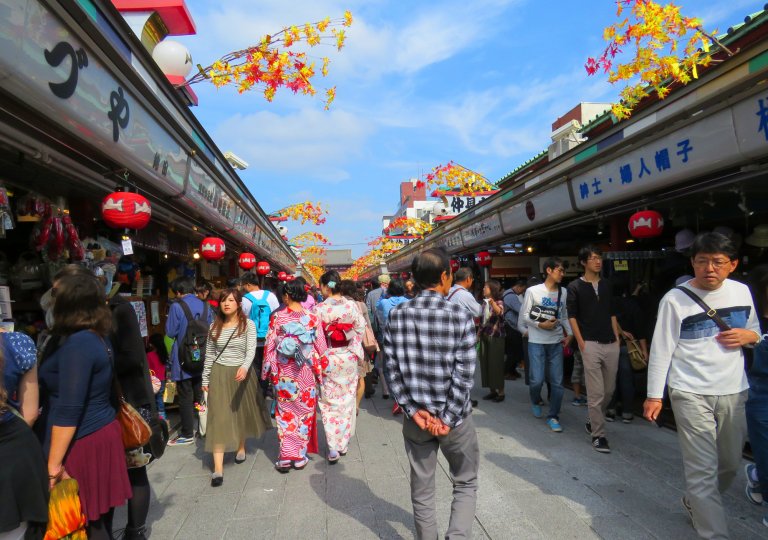 ---
---
---
---
The Tokyo Metro
After lunch, it was time to leave the Asakusa district to explore other parts of the city.
Have a look at the image below (click on it to see it in larger size). That's the Tokyo metro system, one of the busiest in the world with 179 stations and 13 lines. As Nick would show us, it is actually quite easy to navigate. There are always attendants to help you with ticketing, there is always an information counter should you need directions, there are washrooms, elevators (and escalators). There are signs in English everywhere. It is incredibly orderly despite the huge number of people using it every day (almost 10 million people/day). It is a metro system unlike any that we've ever taken. We would, a few days later, even manage to cross the city, from Asakusa to Shinjuku (changing lines in the process) with all our baggage (again, because of elevators). It is incredible.
.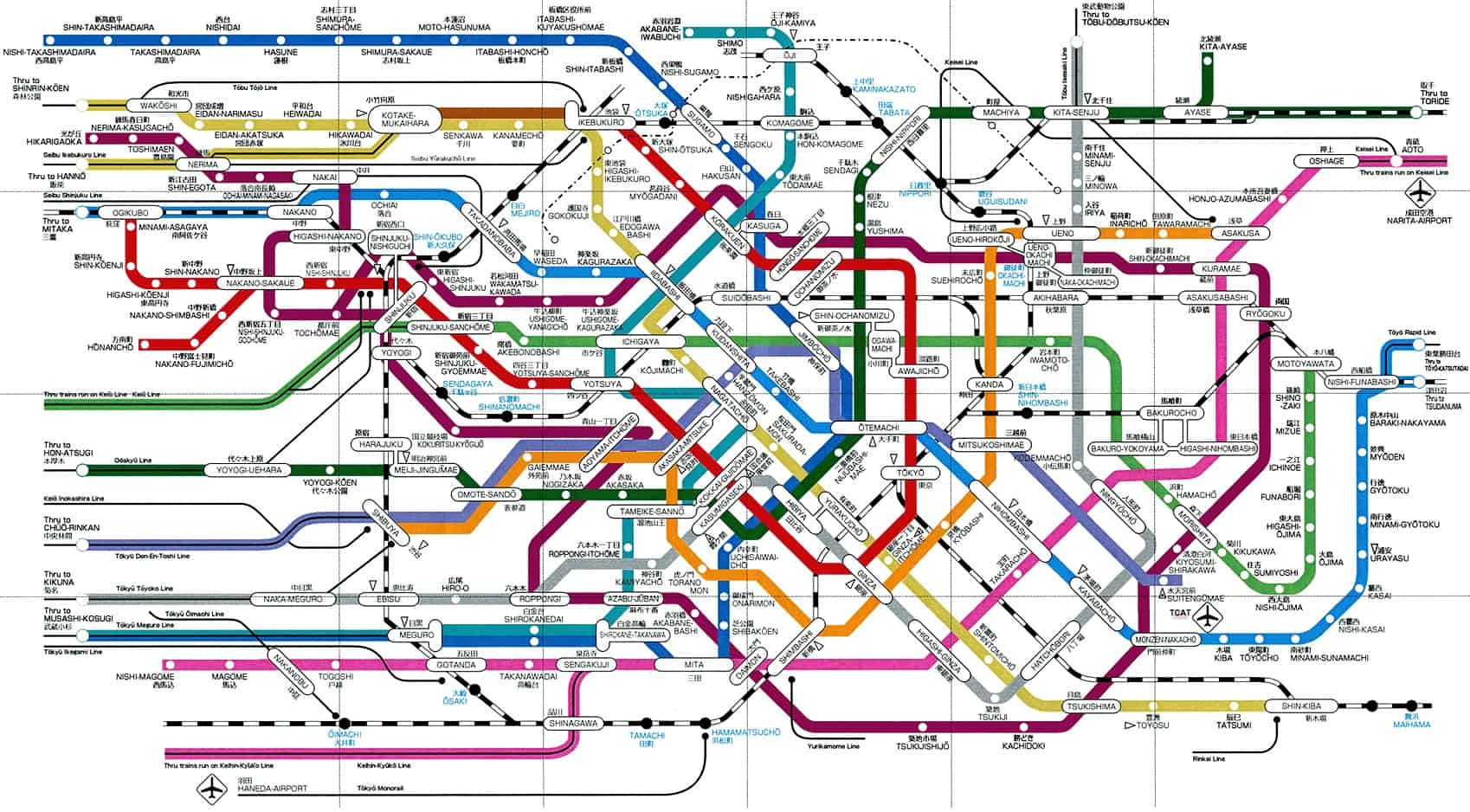 .
.


Ginza District
From Asakusa (top right corner of Metro map) we took the Ginza line (indicated in orange) to the Ginza district. This is a modern district of Tokyo, full of highrises containing high end department stores and boutiques. You'll find flagship stores for many of the leading fashion houses here: Chanel, Louis Vuiton, Gucci and Dior. You'll also see the flagship stores of Apple and Sony. Ginza is known as one of the most luxurious shopping districts in the world.
---
---
.
Harajuku District
After exploring Ginza we got back in the metro and got off at Omotesandō station (you can get an all day metro pass for 600 Yen). Omotesandō is a large boulevard (again, with all kinds of high end stores) that leads to Takeshita Street (don't worry if you do – there are public washrooms everywhere in Tokyo). It is famous for young, trendy stores where girls sometimes like to dress up in weird fashions. I'll be honest – this part of the tour disappointed a bit because there's really not much going on except for a whole bunch of stores selling cheap stuff and young people walking around in droves. And we didn't see many Harajuku girls – except for these girls that we were exceptionally lucky to spot.
---
---
.
Shibuya District
Shibuya, like Ginza, is another district full of highrises catered to shopping, dining and nightlife. What it is particularly known for however is the huge intersection right in front of Shibuya station's Hachiko exit where thousands of pedestrians cross under a multitude of huge neon lights and giant video screens. The intersection was used for a scene in "Lost in Translation". It is supposedly the world's busiest intersection.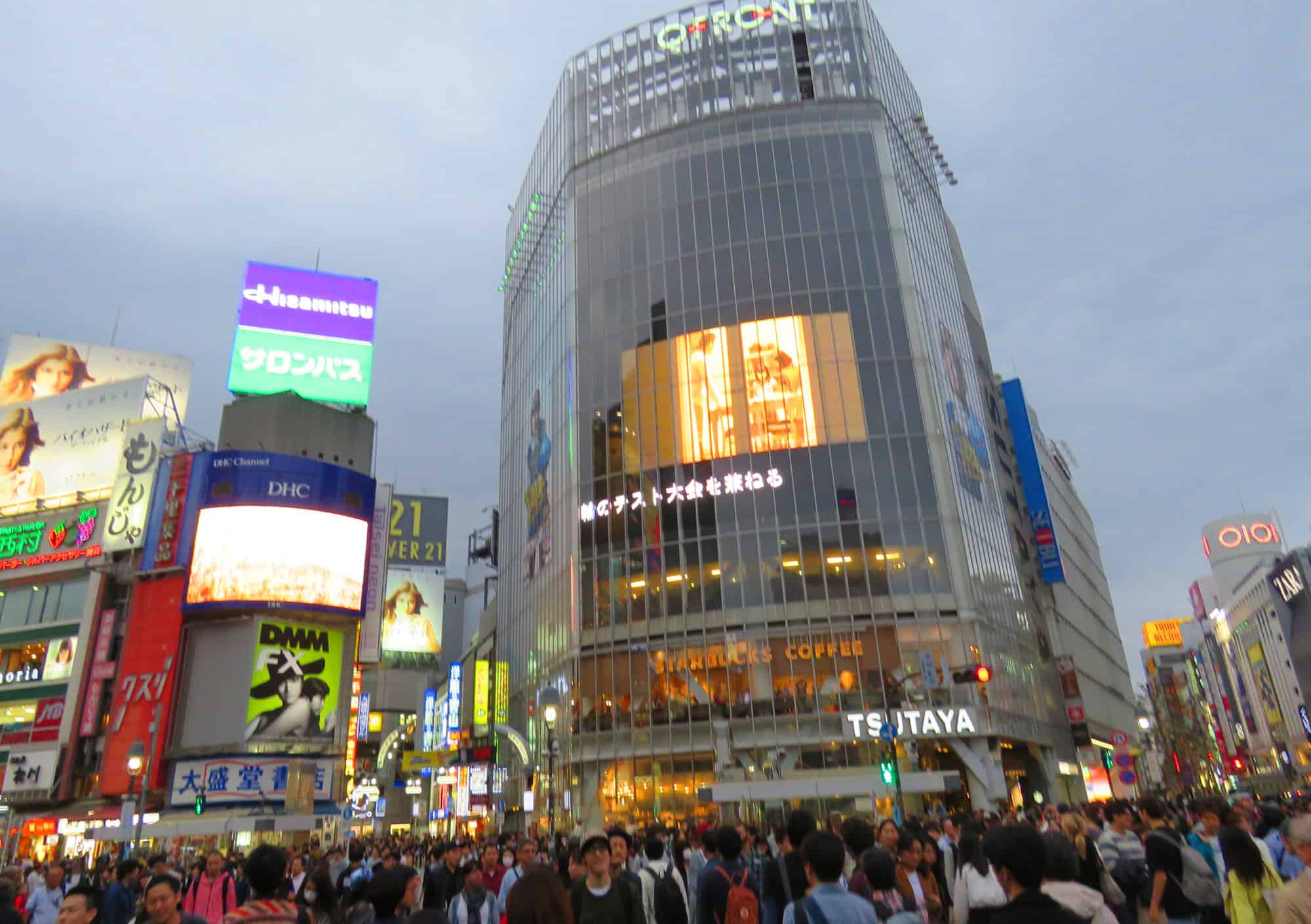 The Shibuya station is also well-known for its statue of Hachiko the dog. His story here.
.




.




How impressed are we?
I've covered the broad strokes of what we visited that day. But besides the actual tourist "sights", having Nick as company was invaluable. He showed us around on the subway, he took us through a supermarket and pointed out some of the basic staples used in Japanese cuisine, he helped us find an adaptor in a huge department store (we would never have managed to find it on our own). He guided us through an incredibly busy city, sticking his arm up in the air whenever we lost him through the crowds. But most importantly, he spent 7 hours with us, talking and exchanging ideas on Japanese and Western culture. We left him feeling that we knew someone in Tokyo and that the city was not that intimidating after all. A day with Nick and we felt that we had landed on our feet.
We were also left incredibly impressed by Tokyo Free Guide and the individuals like Nick who would give up their free time to show tourists around. We've never seen anything like this anywhere we've gone. And it hasn't only been in Tokyo – over the past week we've seen other Free volunteer guide services in the towns of Matsumoto and Kanazawa. It says a lot about the Japanese. I can't tell you just how impressed we are overall with their hospitality and helpfulness. They are incredible.
.
We wholeheartedly recommend Tokyo Free Guide.

.
Related links
Tokyo Free Guide: website
Tokyo Free Guide: facebook page

If you can't get a free tour, I recommend some of the tours below
---
---

Ps. If you find our blog helpful, please consider using our links to book your flights, hotels, tours, and car rentals. Have a look at our Travel Resources page.