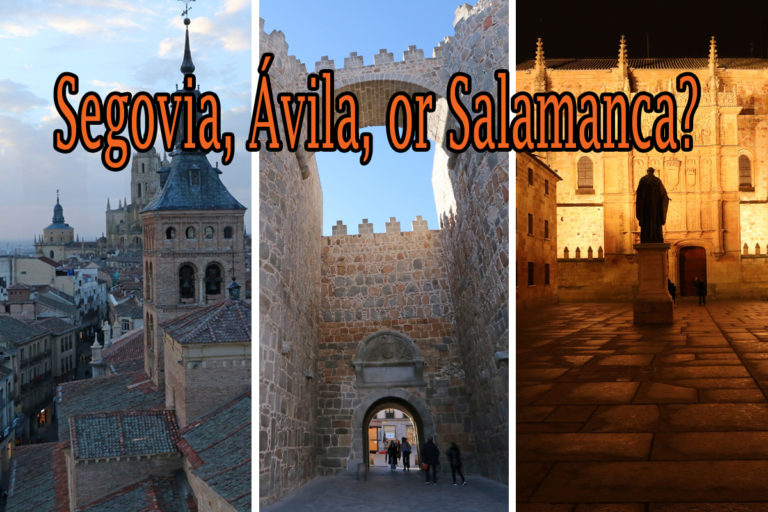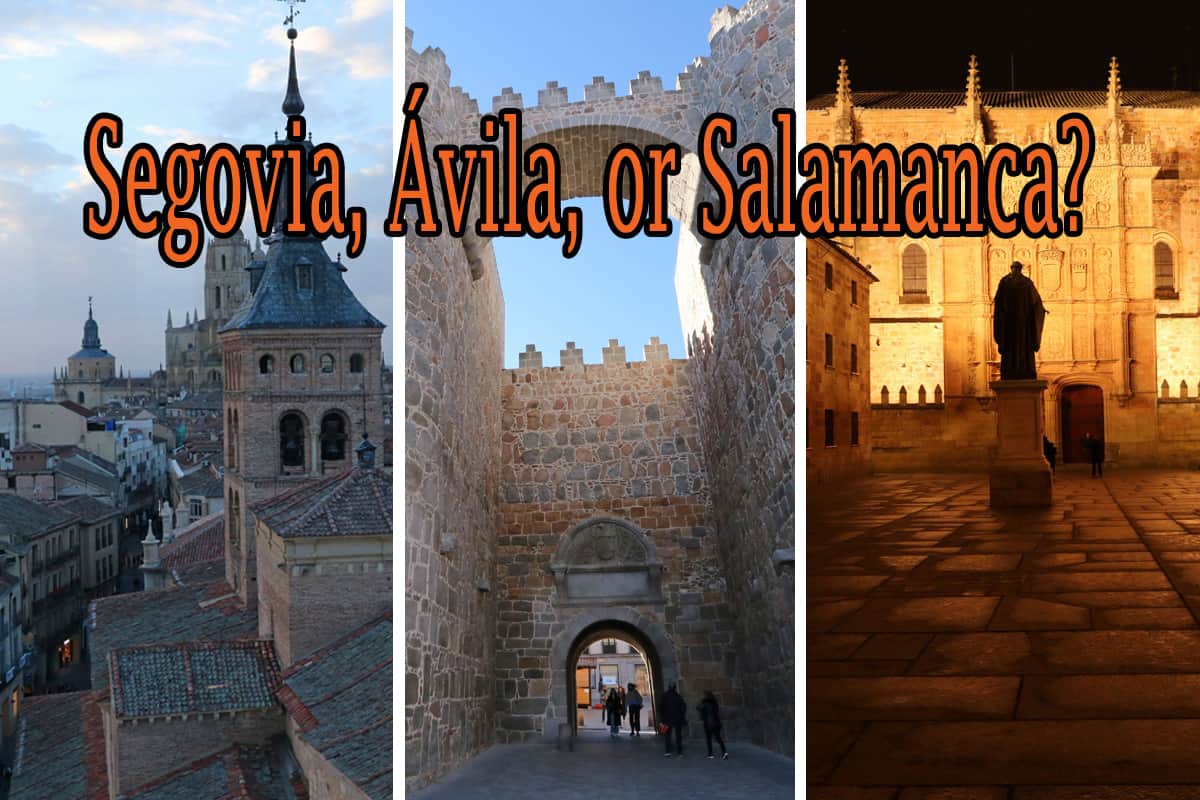 Segovia, Ávila and Salamanca are 3 of the most popular destinations in the vicinity of Madrid. Not only that, they're all UNESCO World Heritage Sites and should all be visited on a trip to Spain.
But which of these 3 cities should you prioritize? And can they be done as a daytrip from Madrid?
This post covers these questions.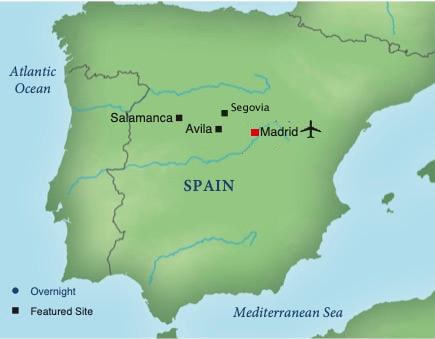 ---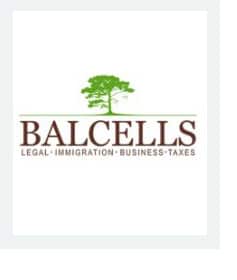 Thinking of moving to Spain? Marta at Balcells Group helped us get our Visas. She's an immigration expert and will help you with all your Visa needs. More detail here.
---
Segovia
Segovia is one of our favorite towns in Spain. It has 3 attractions that are world class: The Roman Aqueduct, the Alcázar (castle), and the Cathedral of Segovia. Besides these highlights, it is an incredibly beautiful and atmospheric town with its medieval walls, churches, museums and towers. Food-wise, Segovia is famous for its roasted suckling pig (cochinillo). Restaurante José María is the place to go but it gets jampacked with locals. Make sure to reserve.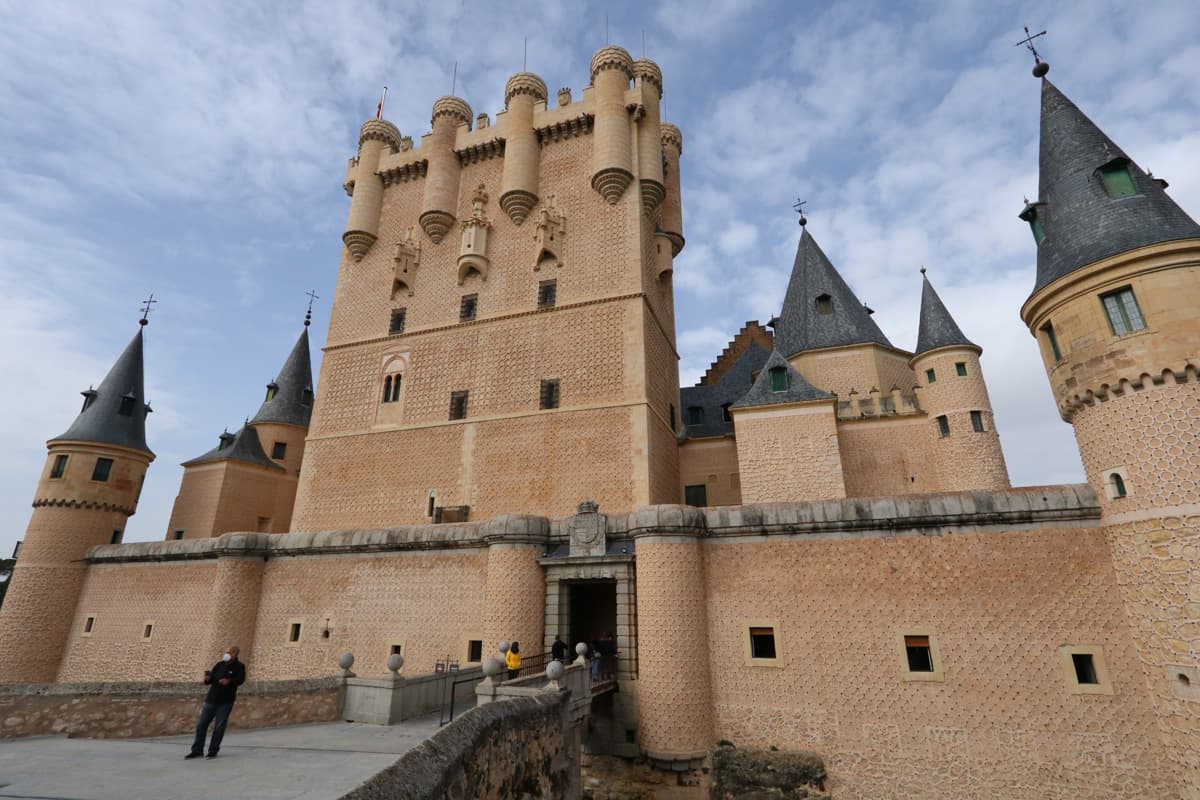 If we had to chose one of the 3 cities to visit Segovia tops the list. It can be seen in a daytrip from Madrid (it's 1 hour, 20 minutes by bus) but I think it warrants at least 1 night. I personally recommend 2 nights.
Where to Stay: the Infanta Isabel. Excellent hotel, good rates and perfect location on Plaza Mayor (across from the Cathedral).
---
---
Ávila
Ávila is another very popular destination and is easy to get to from Madrid (about 1 hr, 40 min from Madrid by train). It is a charming town dominated by the best preserved medieval walls in Spain. The other absolute 'must-see' attraction in Ávila is Ávila Cathedral which is Spain's oldest Gothic Cathedral (it's one of my favorite cathedrals in Spain).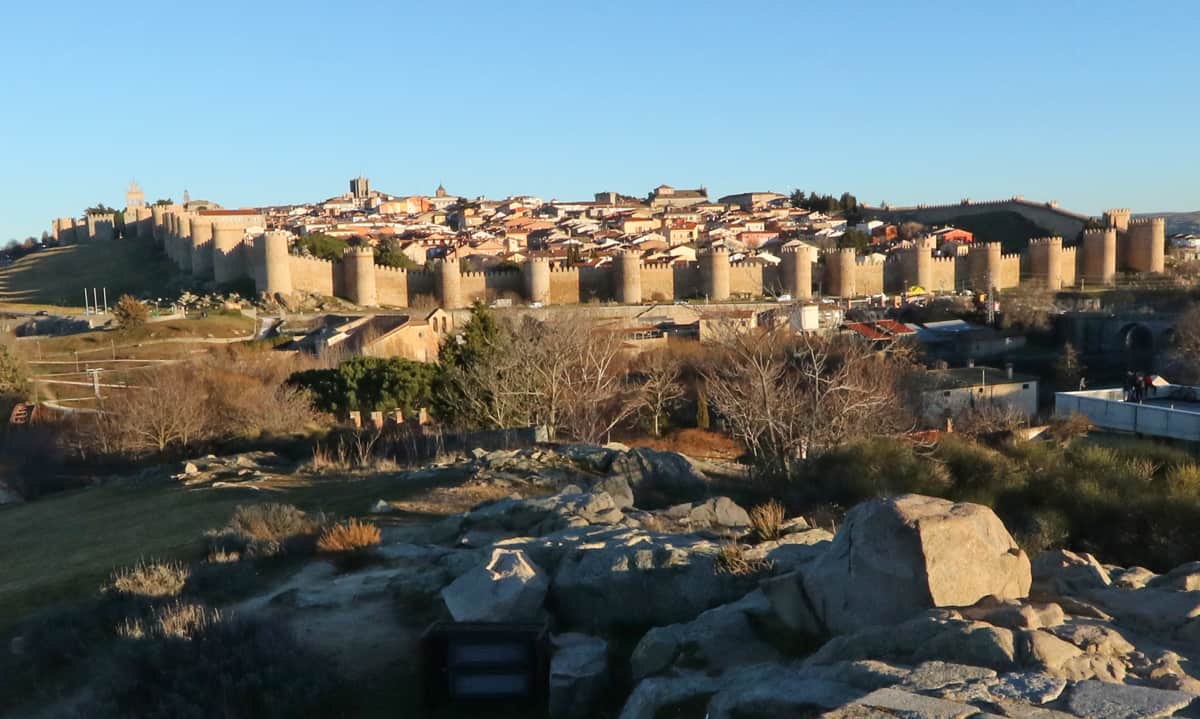 While you have to go to Ávila, it can be done on a daytrip (although staying 1 night is preferable). We stayed 2 nights and that might have been a bit long. In hindsight we would have visited Ávila on a daytrip from Segovia which is just an hour away.
Where to Stay: Hotel Palacio de Valderrabanos, located right next to the cathedral.
---
---
Salamanca
While Segovia and Ávila are towns (population around 55,000), Salamanca is a city (population approx. 150,000). It has more to see and much of it is quite spectacular. It is also further from Madrid (almost 3 hours by train) than either Segovia and Ávila. Both of these points make a daytrip out of the question.
Salamanca is yet another UNESCO site. Highlights: The New and Old Cathedrals (you get 2 cathedrals in Salamanca!), Plaza Mayor (one of the grandest plazas in Spain), the Convent of San Esteban, and the many buildings and plazas of Salamanca University (the 3rd oldest existing university in the world).
You should spend at least 2 nights in Salamanca in my opinion.
Where to Stay: We stayed 3 nights in this apartment. Very good location and value (2 bedrooms and 2 bathrooms with an equipped kitchen). If looking for something a bit nicer, I recommend Sercotel Puerta de la Catedral. It's perfectly located right in the heart of the old town.
---
---
Summarizing: Segovia, Ávila, or Salamanca?
Which of these 3 cities should you prioritize?
Segovia
Salamanca
Ávila
And can they be done as a daytrip from Madrid?
Ávila. Yes, you can see it all in a day.
Segovia. Yes, but there's more to see and it warrants more than a day (recommend staying at least 1 night)
Salamanca. Too far from Madrid for a daytrip and too many attractions to properly see them all in a day (recommend staying at least 2 nights).
---
---
Segovia, Avila, and Salamanca by public transport from Madrid
Madrid to Segovia approx. 30 min on high speed train from Chamartin to Segovia Guiomar (which is about 20 min by taxi outside Segovia). Suggest instead taking Avanza bus from Madrid Moncloa station to Segovia (1 hr, 20 min).
Madrid to Avila by train. Approx. 1 hr, 40 min from Principe Pio
Madrid to Salamanca approx. 2 hrs, 45 min hrs from Principe Pio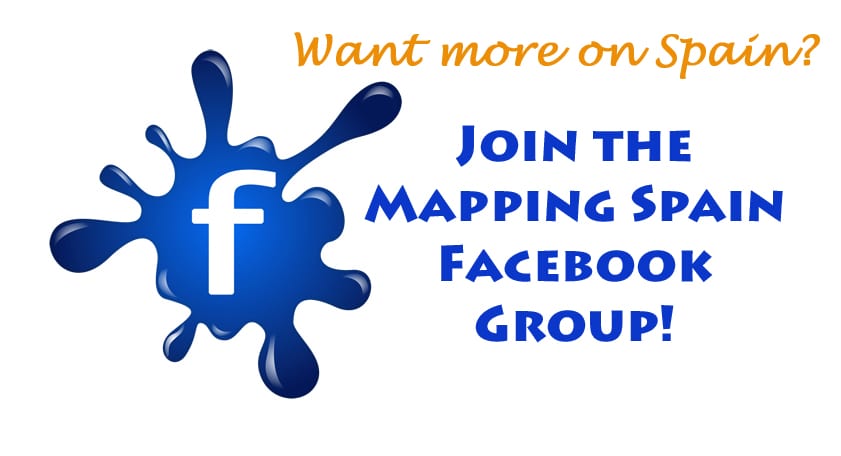 Ps. If you find our blog helpful, please consider using our links to book your flights, hotels, tours, and car rentals. Have a look at our Travel Resources page.