The best things to see and do in Nerja
For most people, Nerja is all about the beaches. But there's a lot more to Nerja: among other things, it has one of the most scenic viewpoints on the Costa del Sol, contains one of Spain's geological highlights, and has incredibly hiking in the nearby Sierras de Tejeda, Almijara and Alhama Natural Park. But there's even more.
Below I cover what I think are the top things to see and do in Nerja based on 2 ½ years of living there. I also cover some easy day trips to nearby destinations as well as recommendations for tapas bars, restaurants and accommodation.
I cover this post in 4 parts:
1. Highlights within the actual town of Nerja
2. Nature highlights just outside Nerja
3. Easy daytrips from Nerja
4. Practical recommendations (tapas, restaurants, accommodation, etc)
If you feel I've missed something, please leave me a comment at the bottom of this post.
The best things to see and do in Nerja
1. Highlights within the actual town of Nerja
The Balcón de Europa
It's the most famous highlight in town and most likely the first thing you see in Nerja. It's one of the most photographed spots in all of the Costa del Sol.
The "Balcón de Europa" is seaside promenade that culminates with a viewpoint (or "balcony") jutting out over the sea. From this spot you have fantastic views of the coastline, beaches (just below is Calahonda beach, one of Nerja's best known beaches) and the mountains of the Sierras de Tejeda, Almijara and Alhama Natural Park.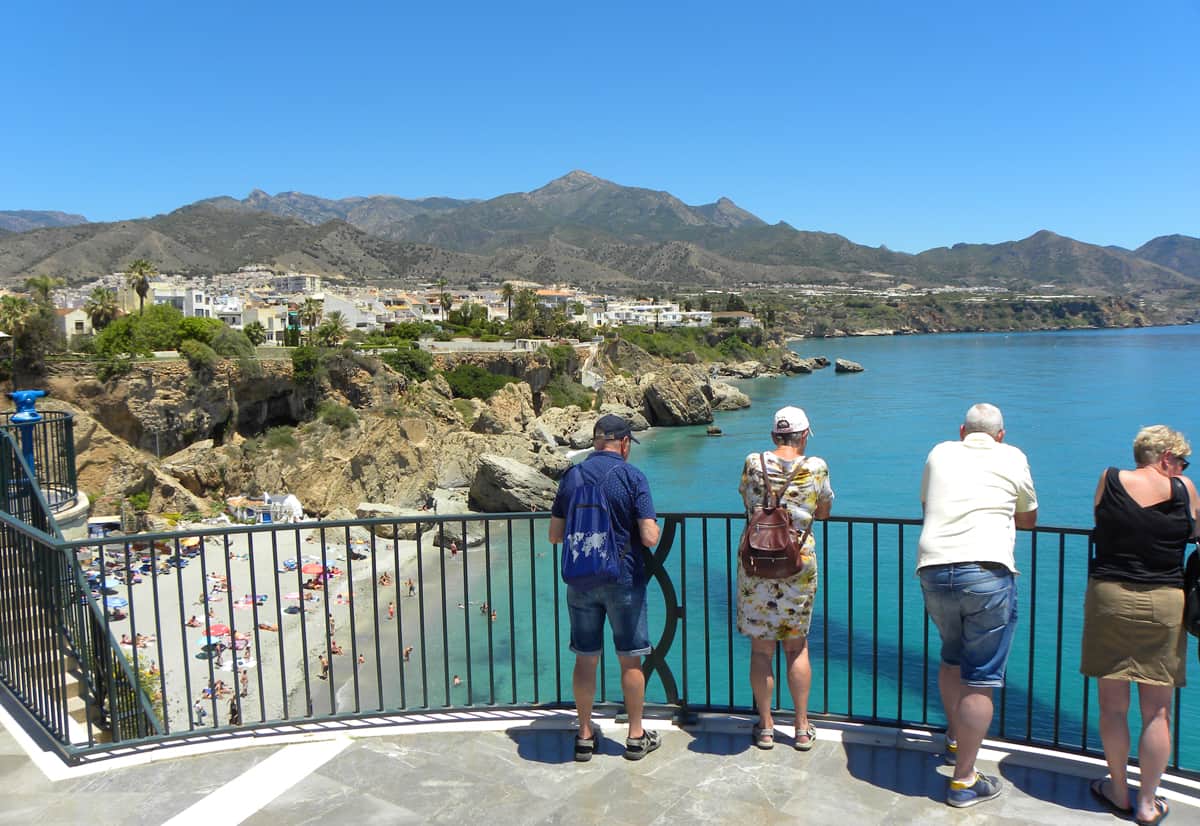 ---
---
Scenic walkways
Right next to the Balcón de Europa: go through the "Boquete de Calahonda" (next to the Moorish-style fountain) and walk down the steps. There are a few scenic walkways here. Just down the steps, a path to the left takes you behind Calahonda beach, giving you some pretty views of the beach and the Balcón. If you continue straight after coming down the stairs, you'll end up walking underneath the Balcón and getting some nice views of the Caletilla beach. Continue along, walk by the hotel, and go up the steps. There's another lookout here with some impressive views (El Salon beach on one side, the Balcón on the other).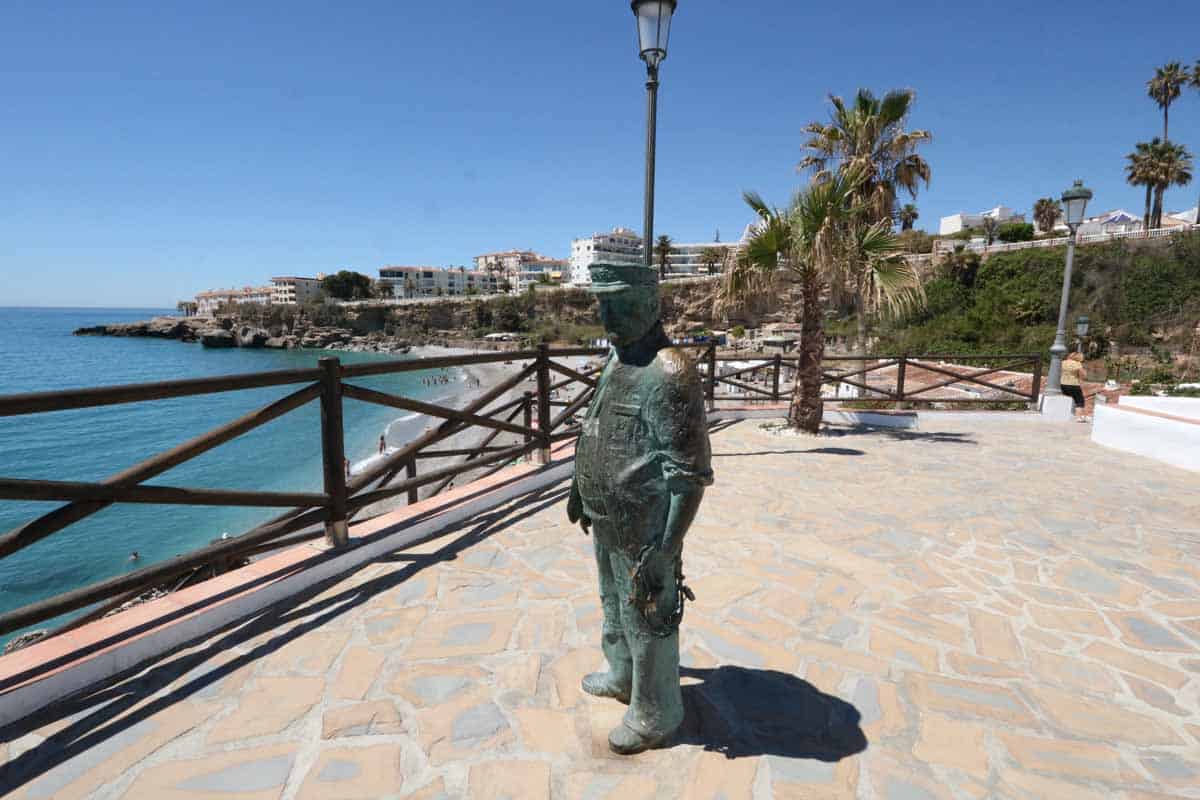 ---
---
Beaches
I have to mention beaches since it's the #1 reason people come to Nerja.
Burriana Beach is the most popular beach, a long and wide beach with lots of restaurants, bars and a section reserved for beach sports.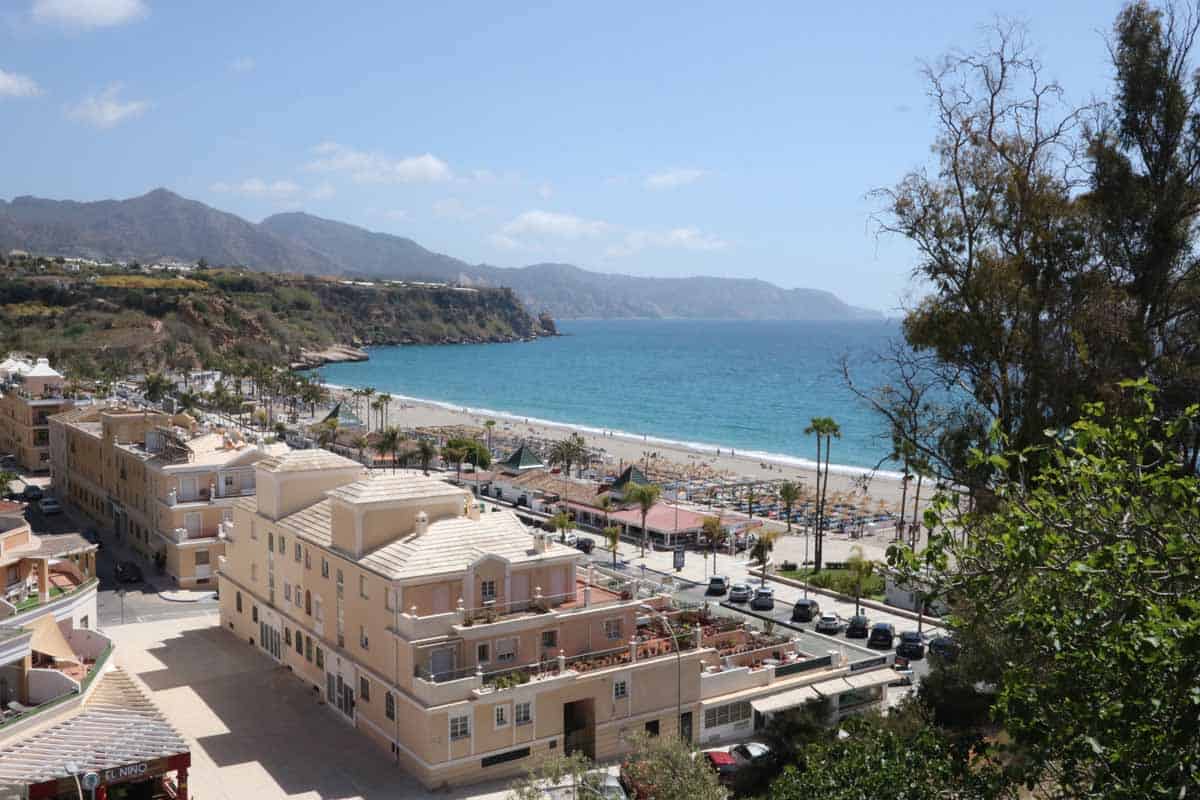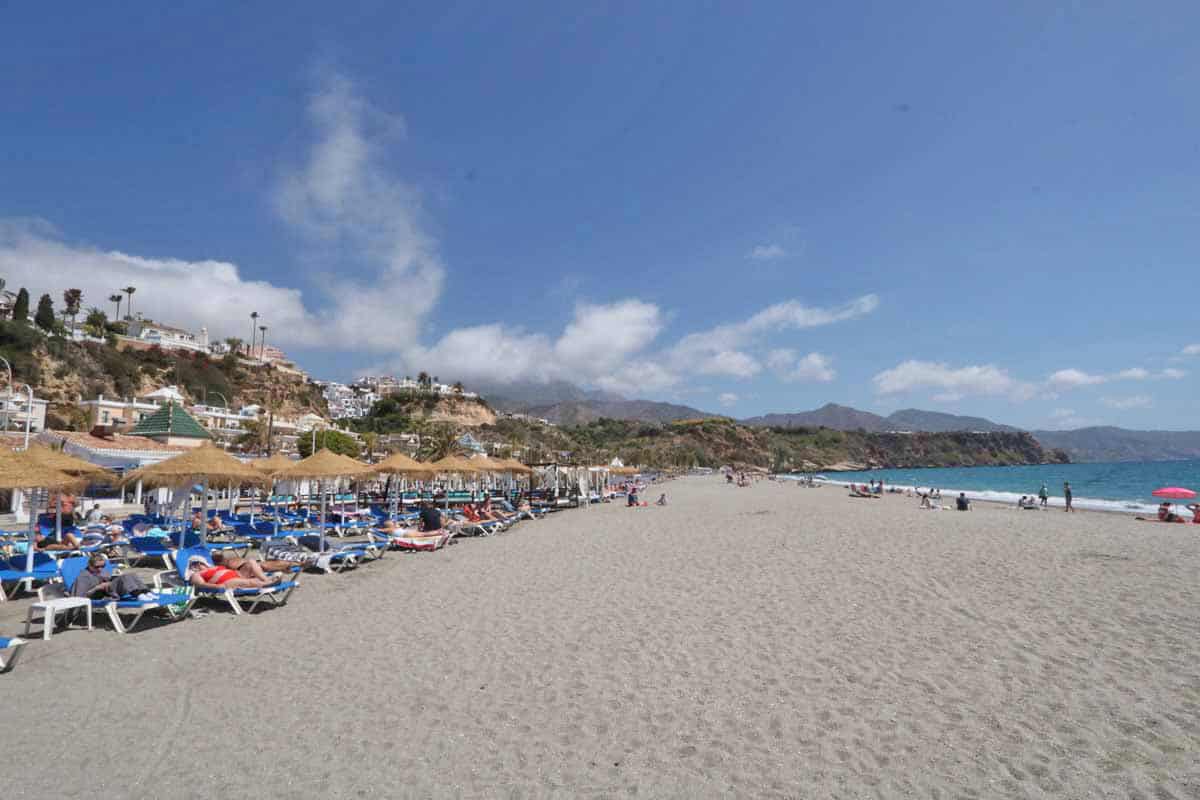 Calahonda beach is another favorite primarily because of its location in the shadows of the Balcón. It has bathrooms, showers and a snack stand.
A bit further west, Torrecilla beach competes with Burriana in terms of popularity. Like Burriana, it has received the "Q" award for tourist quality. It has bars, restaurants, showers, toilets…basically every facility you need. The boardwalk is wide and is a great place to walk and jog.
There are many other beaches, some just small beaches hidden in coves, that I wrote about in this post covering the beaches of Nerja.
---
---
The Museum of Nerja
We were surprised what a good museum this is. It's all about the town and its history but also has a section on the Nerja Caves, including a video that shows you parts of the caves that you don't have access to onsite. It's very interesting. You HAVE to see the Nerja Caves but if you can't for whatever reason, then you should check out the Museum of Nerja. More here on the Museum of Nerja.
Note: If you see the caves, the museum is free within 10 days of buying your ticket.
The above are what I consider "the highlights" in the center. There's more to see and explore:
Calle del Almirante Ferrándiz, Calle Gloria and Calle Pintada form a triangle and are the most popular streets in the center. You'll find lots of bars, restaurants and shops on these streets.
Walk down Calle Hernando de Carabeo, making your way to Mirador del Bendito. Along the way you'll see a series of viewpoints looking down at the various beaches below.
While you're on the walk above, continue to the Parador de Nerja. After the Balcón de Europa, it has what I think are the 2nd best views in Nerja (looking down over Burriana beach). A good place to come for a coffee and enjoy the vibe.
Back in the center, visit Iglesia El Salvador on the main square (Plaza de Balcón de Europa), wander to Plaza de Cavana and onto Calle el Barrio. If you want to get some Morrocan souvenirs, Calle Malaga has lots of Moroccan shops with leather products and textiles. Continue down to Parque Plaza de los Cangrejos (note: this is where you take the little tourist train to the Nerja caves). There is a popular strip of restaurants here and the park also leads you to Torrecilla beach.
---
---
2. Nature highlights just outside Nerja
Nerja Caves
A series of underground caverns that are incredibly impressive. The cave system actually extends over 4km but only about one-third is open to the public. The caves were inhabited by Neanderthals over 42,000 years ago and cave paintings were found although that section is closed off to the public (I mentioned the Nerja museum. They cover the Neanderthal cave paintings well which is why I recommended a visit).
The highlight of the caves is the Hall of the Cataclysm, an otherworldly column of stalagmites joining the roof and floor of the cave.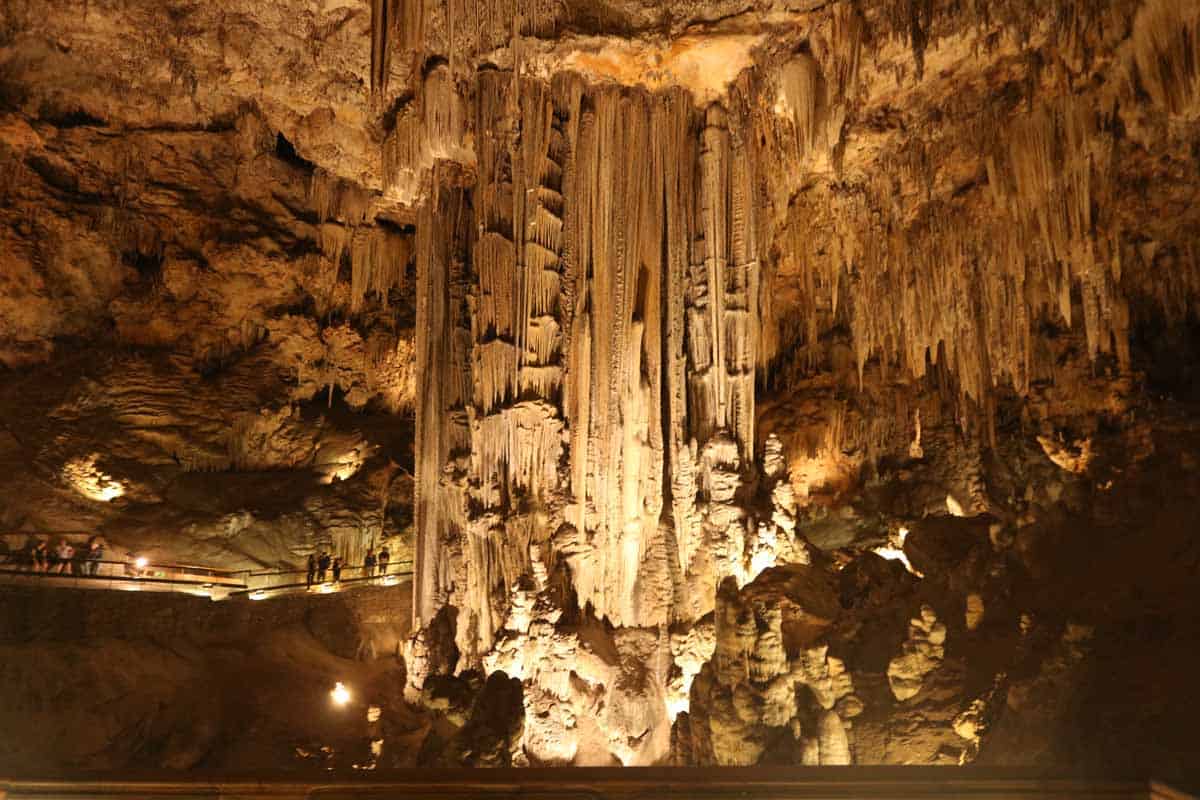 Getting there: a favorite for many is taking the tourist tram at Plaza de los Cangrejos. Otherwise you can walk there (45 minutes) or take the Alsa bus (15 minutes, 1.30 Euro one way)
More detail on the Nerja Caves. Note: Monday to Friday, you can get a free visit at 9:30 am. You have to get the ticket online 48 hours prior to the date and this offer applies only to members of the European union. Details here. Otherwise, buy your ticket online at the official website OR buy them at the tourist tram stop at Plaza de los Cangrejos.
---
---
Hiking in the Sierras de Tejeda, Almijara and Alhama Natural Park
One of my favorite things about Nerja was hiking in the mountains that lie just behind the town. The Sierras de Tejeda, Almijara and Alhama Natural Park are pristine and totally wild with no man-made structures.
The best way of doing a hike is with Jon Keo Walking Tours. He usually has one moderate hike a week and one hard hike. See his schedule here. He provides all the transport from downtown Nerja. There's usually about 15-20 people to a group, a hike can be 5 – 8 hours and will cost 30-40 Euros. It varies…but if you can organize yourself beforehand I really recommend it, he'll take you places you wouldn't find on your own and you'll meet friendly people.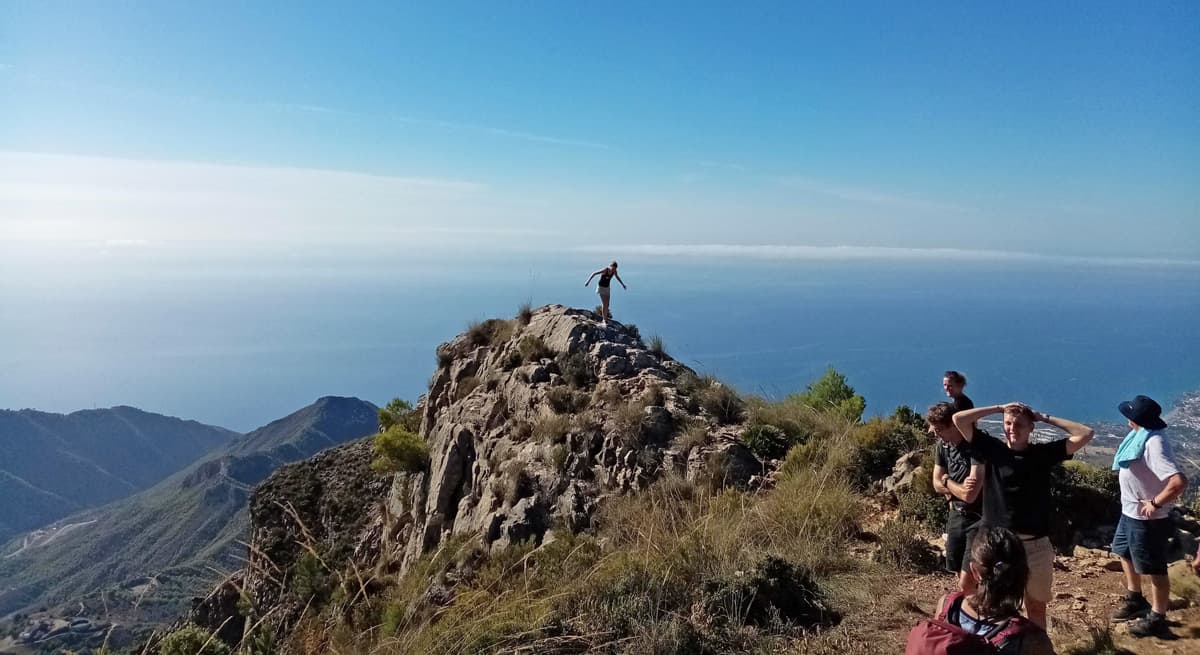 Popular is El Cielo, the highest peak visible from Nerja (you can't miss it if looking towards the mountains). My favorite is Almendron which is further back and not visible from the coast (more on Almendron here). Another, and easier hike, is El Fuerte which originates in nearby Frigiliana (a 10 minute bus ride away). More on El Fuerte here.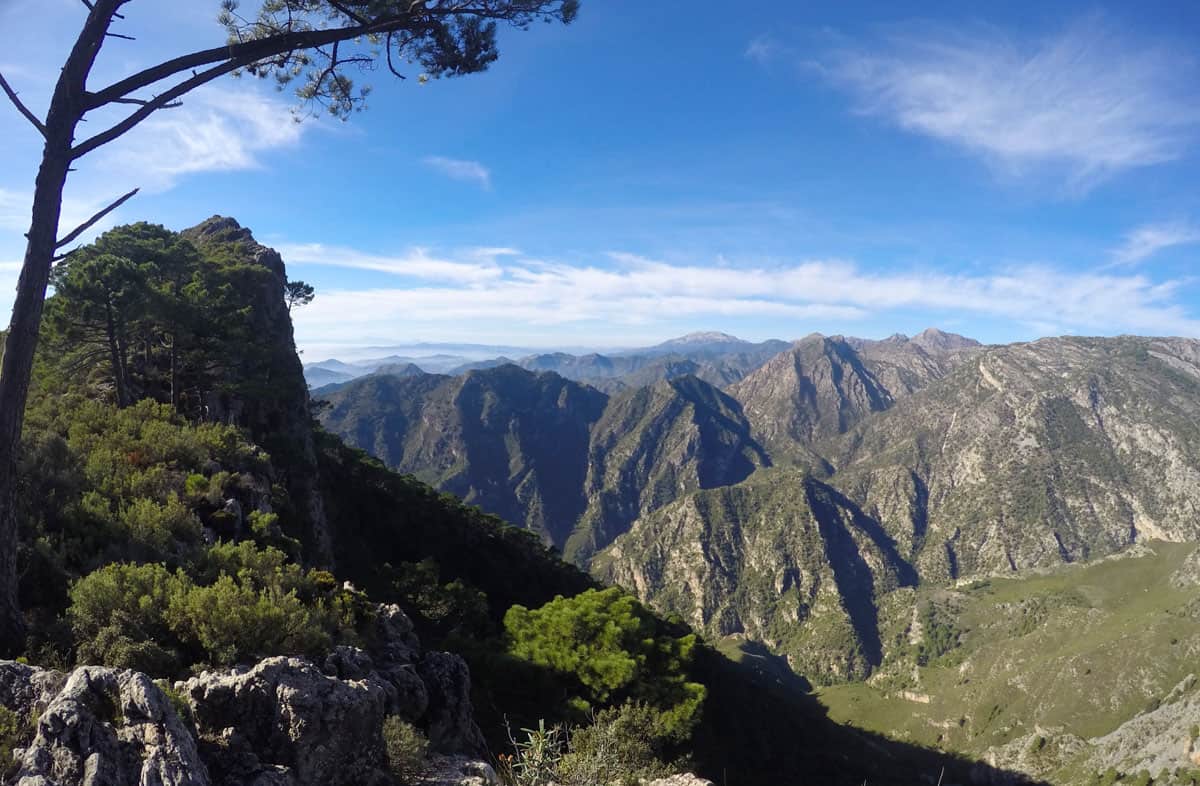 IF you can't take a tour with Jon, just know that both El Cielo and El Fuerte are pretty easy to do without getting lost. I have instructions in the posts I've linked above. But I never recommend going hiking alone, I've seen too many freaky twists of ankles or broken legs caused by just stepping the wrong way…
Either way, the geography is stupendous and if you're a hiker you have a lot of choices in Nerja.
Note: I'm going to mention the Chillar River walk (which takes you fom Nerja to Frigiliana) which was very popular before Covid. During the time we lived in Nerja I would always ask locals if authorities had reopened the river to hiking and was always told no. I'm attaching a post on hiking the Chillar here. If visiting Nerja, ask around if the hike is open. Maybe you'll have more luck than we did.
---
---
3. Easy daytrips from Nerja
1. Frigiliana
It is known as one of the prettiest white villages in Andalusia, a former Moorish town characterized by steep narrow streets, colourful flowerpots, beautiful views, an old fountain and pretty main church. It's a touristy town but a fun place to spend a few hours wandering around. It's also the easiest pace on this list to get to – a 10 minute bus ride from Nerja. Frigilana in detail.
2. Maro
A small village (or hamlet? I'm not sure of the proper terminology) right across from the Nerja Caves. Can be combined with a visit to the caves. No outstanding highlights but it is very pretty and worth a visit. Its beach is considered by many to be one of the most beautiful beaches on the Costa del Sol (note: the beach is a 20-minute walk from the village). Maro is 15-minute bus ride from Nerja or 40-minute walk. More on Maro here.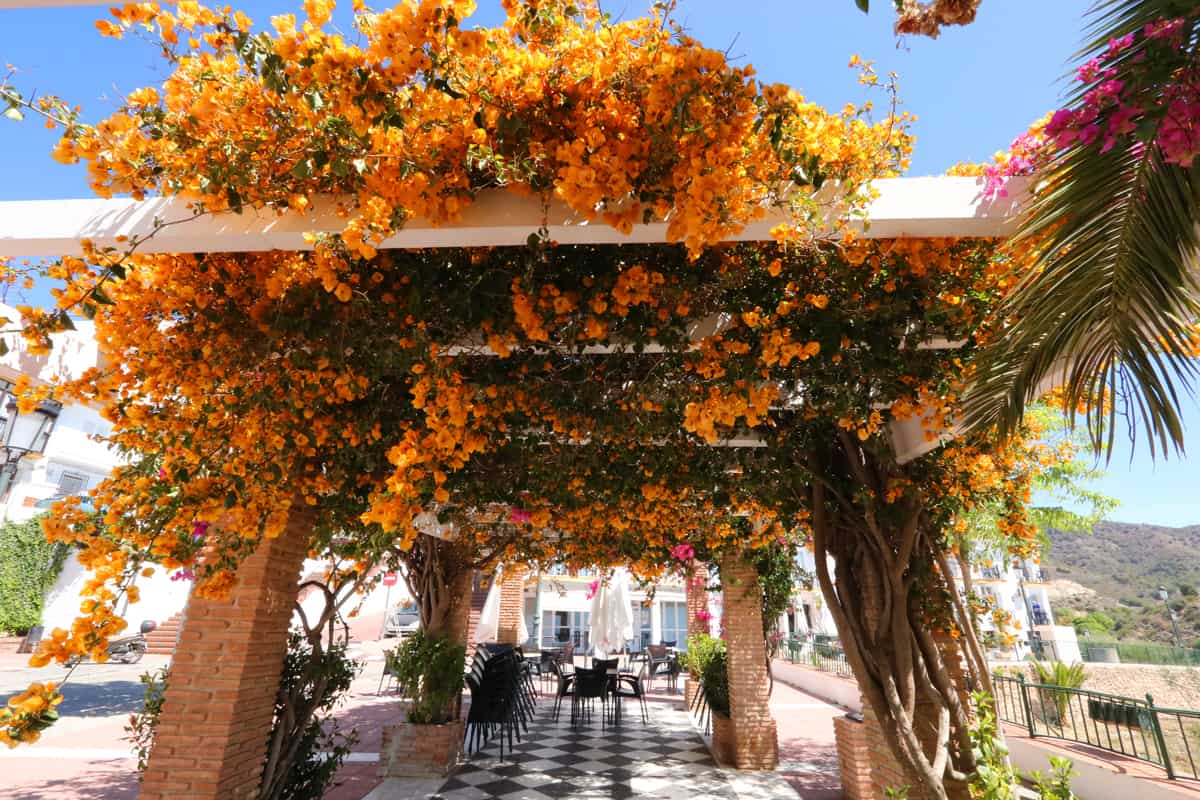 ---
---
3. Torrox Costa and Torrox Pueblo
Torrox Costa is a seaside town about 15 minutes (by bus) from Nerja. It has a very different vibe from Nerja though with a heavy German influence (it has the highest German population in Spain). It is aesthetically also very different from Nerja with a large walkable promenade skirting the town's beaches (in Nerja the beaches are generally in coves and you have to access them by going down. Torrox is flat). You can walk the beaches, drink/eat in the many restaurants, and enjoy the views from the Balcon Mirador. Torrox has a special, relaxed vibe that we always appreciated.
Torrox Costa is an easy 15-minute bus ride from Nerja or can be walked in about 45 minutes (you'll see a beautiful coastline along the way).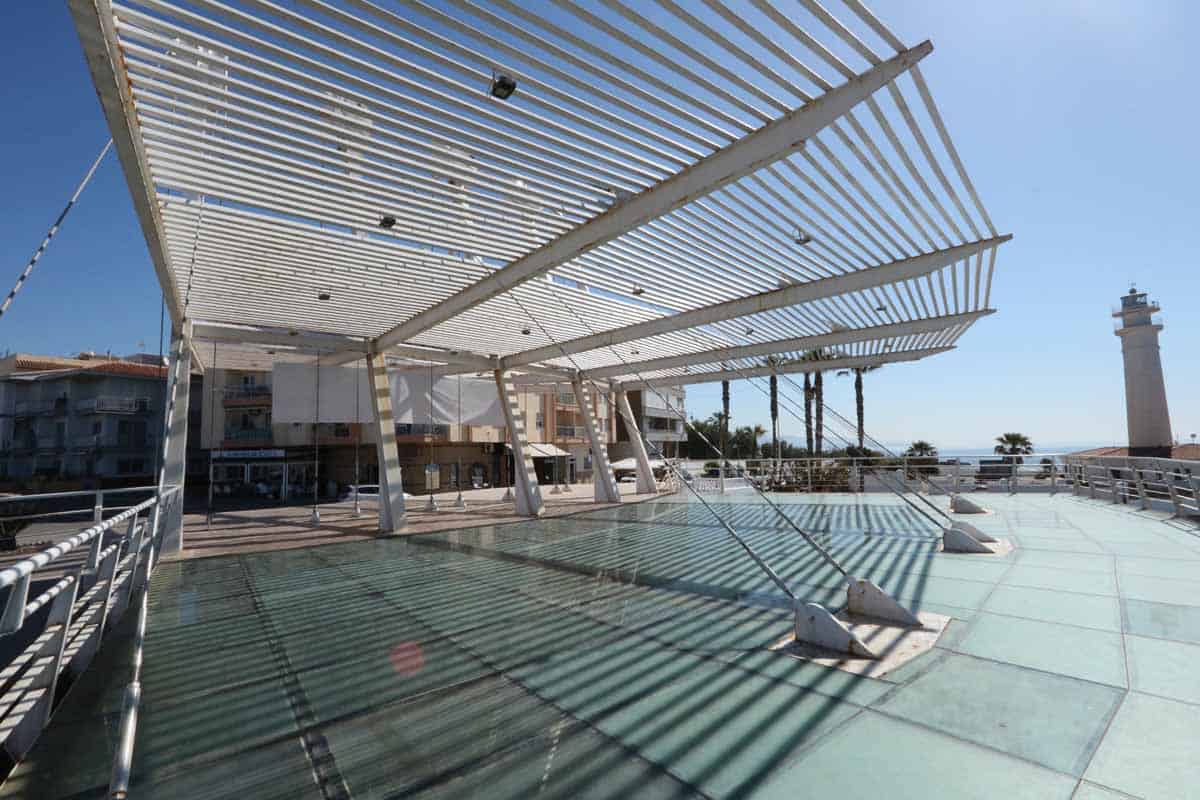 Torrox Pueblo. Approx 5 km inland from Torrox Costa is this pretty town in the foothills of the mountains. Typical white buildings with lots of flower installations, the highlight is the beautiful main square (Plaza de la Constitución) which is covered with umbrellas in the summer.
The downside of Torrox Pueblo is poor public transport links – you have to take a bus from Torrox Costa and buses seem to pass (on average), once an hour.
More in this post on both Torrox Costa and Torrox Pueblo.
4. Almuñécar
It is 30 minutes east (by bus) of Nerja – technically no longer on the Costa del Sol but on the Costa Tropical in Granada province.
We really like Almuñécar – it has a fortress overlooking the town, a rocky outcrop (Peñón del Santo) where you have fantastic views of the town and sea, there are Roman Aqueducts and a botanical garden. There's a large beach and the water has a turquoise color that you don't see in Nerja.
It's ranks high on our list as far as recommended day trips from Nerja.
---
---
5. Torre del Mar
The largest coastal town between Nerja and Malaga (situated smack dab between the two), Torre del Mar has one of the most beautiful beaches on the Costa del Sol. It has a 4 km promenade, a bike path, sports facilities…it's a very nicely organized seaside resort that is family friendly (more so than Nerja if I'm to be honest).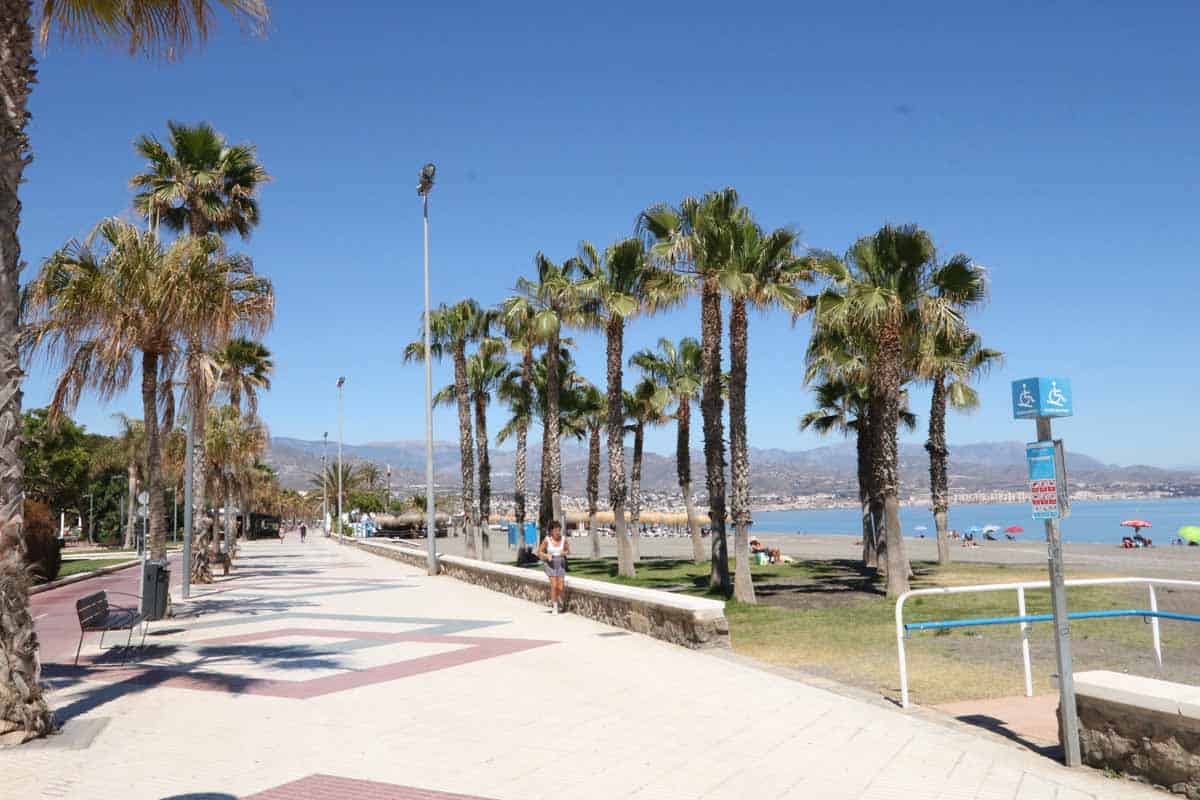 6. Vélez-Málaga
Vélez-Málaga is the largest city on the Costa del Sol east of Malaga and has easily the most interesting cultural/historical attractions in the Axarquía region. You'll find churches, museums (do you know that Cervantes – Spain's greatest writer – lived in Vélez-Málaga in 1594?) and the remains of a fortress looking over the city. There's a lot of history in Vélez-Málaga.
30 Photos that will make you want to visit Vélez-Málaga
---
---
4. Practical recommendations (tapas, restaurants, accommodation, etc)
Where to Stay in Nerja: Hotel Puerta del Mar, Hotel Balcón de Europa, the Parador de Nerja (the first two have central locations, the Parador is just outside the center in a gorgeous setting looking over Burriana beach)
Where to drink and eat in Nerja (a few recommendations):
Favorite tapas bars
Favorite restaurants
Favorite bars for a drink
Getting to Nerja: Alsa is the main bus company along this coastline. Their website. They average about 1 bus per hour between Malaga and Nerja (with stops usually in Torre del Mar and Torrox Costa, but sometimes direct)