We sometimes get emails from people asking us basic questions like "what is public transport like in Spain?" "How do I book the bus/train?", "How do I book a hotel and how much will it cost?".
We thought we'd cover all those basics here. We also thought we'd throw in some of our own tips and experiences, including how they can save money visiting attractions around the country. I also include an itinerary suggestion.
The first thing people should know about planning a trip through Spain is that they shouldn't worry. Spain is very developed and organized. It's easy.
---
Things Covered in this post
A. Getting Around between Cities/towns
– Trains
– Buses
B. My Itinerary suggestion (and how to do it using Public Transport)
C. Intercity Public Transport
– Buses and Metro
– Taxi
– Uber
D. Accommodation
– Prices
– Recommendations
E. Attractions (and how to save money!)
F. Food (and how we save money when we travel)
---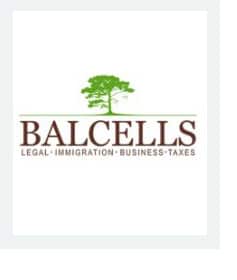 Thinking of moving to Spain? Marta at Balcells Group helped us get our Visas. She's an immigration expert and will help you with all your Visa needs. More detail here.
---
A.

Getting Around

Trains
The train system is run by Renfe, the Spanish state-owned operator. It's very good and at par with the train systems of most of Western Europe.
The train network in Spain: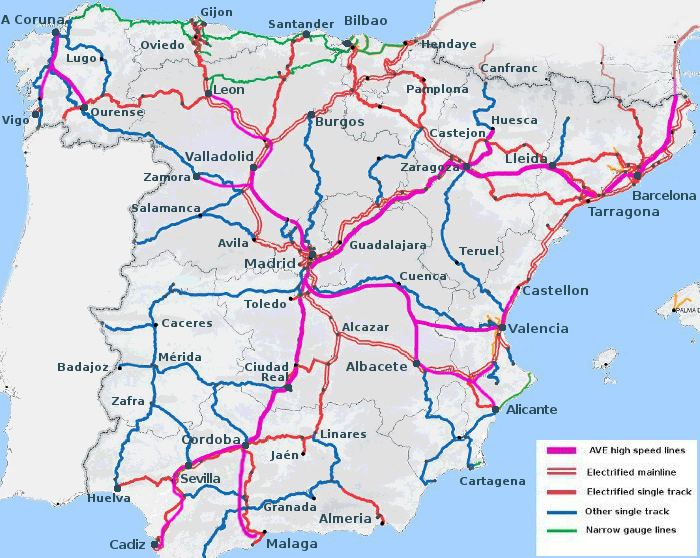 Note: The pink lines are the high-speed lines. They will connect many of Spain's most popular highlights and you'll get there in less total time than you would flying (ie. if you add all the extra time you end up waiting at the airport).
A few examples:
Malaga to Cordoba takes 1 hour and usually costs somewhere between 20 and 40 Euros one way (depending on what time of day you go)
Malaga to Seville takes 2 hours if taking the high-speed AVANT train (costs about 47 Euros one way) and 3 hours if taking the slower MD (Media-Distancia train). The MD train costs 25 Euros one way.
Malaga to Barcelona takes 6 to 7 hours on the high-speed AVE trains and takes 6 to 7 hours total (you have to switch train in Madrid so the connection determines the total time). Cost is about 90 Euros one way.
Madrid to Barcelona takes 2 ½ to 3 hours on the high speed AVLO or AV trains. Cost is also about 90 Euros one way.
Note: As we learned on this last trip, there's also a line that connects Salamanca to Barcelona with stops in Burgos and Zaragoza. It's not high speed but it's a direct line connecting 4 interesting/popular cities.
Buying a Train ticket: Go to the Renfe website. You can buy your ticket there (you get a reserved seat number) and download it to your phone (or computer). No need to print it – just show your electronic ticket on your phone.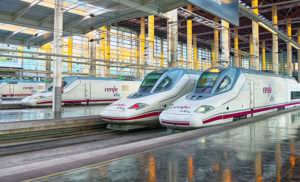 ---
---
Some useful Train Tips:
Madrid. There are 3 train stations in Madrid and when you book on the Renfe website make sure to chose the appropriate one. Don't do the "Madrid (Todas)" option as you might find yourself connecting through a station you didn't expect.

Madrid – Atocha train station is the largest station. On the south side of the city center, it connects to southern and eastern cities with high-speed lines. If you're coming/leaving for Malaga, Cordoba, Seville, Alicante, Valencia or Barcelona you'll be using Atocha station.
Madrid – Chamartín train station is the 2nd largest station and is located in the northern part of the city. It connects to northern destinations such as Santander, Gijon, A Coruña, León, Ávila, Segovia*, and Salamanca.
(*Note about Segovia: Guiomar train station is 20 minutes from downtown Segovia by taxi. I recommend taking the Avanza bus from Madrid instead).
Principe Pio train station is a smaller station to the northwest of the city center (near Plaza de Espana). It has a few (slower) lines. You can take the train to Ávila and Salamanca here (as an alternative to Chamartin station). But I like Principe Pio because it's downtown as opposed to Chamartin which is a 25 minute taxi ride from downtown.
Granada. We've travelled much of Spain by train. But Granada is off the main train lines. You're better off taking the Alsa bus if coming/going from cities such as Malaga or Cordoba (much cheaper).
Toledo. If coming from the south you might expect to be able to stop in Toledo. Unfortunately you can't. You have to go up to Madrid (Atocha station) and take another train south as Toledo is on another line. Fortunately it's only 30 minutes from Madrid-Atocha to Toledo.
---
---
Buses
The most inexpensive way to get around Spain is by bus. If you have a bit more time on your hands and saving money is a priority, then you should stick to buses.
2 bus companies cover most of Spain and they are the only two bus companies we've used:
Alsa is the largest bus company, it's actually like Flixbus in that it includes a bunch of different companies under the Alsa umbrella.
Just as with the train, you can buy your tickets online (it gives you a reserved seat number) and save it on your phone. Then just show your electronic ticket to the driver. Very easy.
Avanza is the 2nd largest bus company. Again, buy your ticket online just as with Alsa.
Our experience is that Alsa covers Southern Spain best and Avanza covers Northern Spain. Anyway, between these two bus lines you have most of Spain covered.
---
---
B.

Itinerary suggestion
My suggested Itinerary for the 1st time visitor to Spain (using Public Transport).
Using Malaga as the starting point, Barcelona as ending point.
2 days in Malaga
Take Alsa bus to Granada (1 ½ hrs). Spend 3 days
Take Also bus to Seville (3 hours). Spend 4 days
Take train to Cordoba (1 hour). Spend 2 days.
Take train to Madrid, switch train to Toledo (total 2 ½ hrs plus connection time at Atocha station). Spend 2 days in Toledo.
Take train to Madrid (30 min). Spend 2 days in Madrid.
Take Avanza bus to Segovia (1 ½ hrs). Spend 3 days in Segovia including a daytrip to Ávila (an hour away with Avanza bus).
Take train from Segovia to Salamanca (take 11 bus to Guiomar bus station. That takes 20 minutes. Then take train 1 ¼ hrs to Salamanca). Spend 2 days in Salamanca.
Take train to Burgos (2 ¼ hr). Spend 2 days in Burgos.
Take train to Zaragoza (4 hours). Spend 1 full day, 2 nights in Zaragoza.
Take train to Barcelona (2 hours). Spend 3 days in Barcelona.
The above itinerary is 26 days and includes many of the tourist favorites in Spain. I also chose the destinations according to the train lines – although there are other places I would have liked to include (like Valencia, Santiago de Compostela, Bilboa, San Sebastian…) they're a detour if getting around the country on public transport. The above allows you to see most of the highlights of Spain in the most efficient manner.
Note: The above can be trimmed down and tailored to places on your wish list. My personal favorite places in Spain: Granada, Seville, Cordoba, Toledo, Segovia. I think these cities are essentials. Malaga, Madrid and Barcelona* can be entry/exit points and you should have at least 1 full day in each (more if museums are something that interest you).
*I personally don't like Barcelona. But it's at the top of most people's list which is why I have it in the itinerary.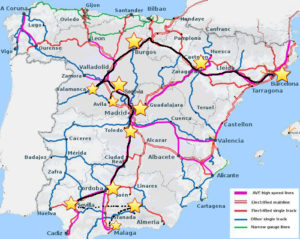 ---
---
C.

Intercity Public Transport
Buses and metro
I suggest avoiding taxis (more below). Luckily intercity public transport in Spain is very good.
In most cases train and bus stations are centrally located and you can walk to your hotel if travelling light. In some cases (Toledo, Burgos, Zaragoza, Segovia and Barcelona come to mind) we would take a city bus to get downtown. In Spain there's always a city bus and it usually comes every 20 minutes or so. I would suggest always searching on the internet the best way downtown when you reach a destination.
Similarly, in Madrid and Barcelona you have metro systems that whisk you from train stations to your downtown hotel. They are super-efficient and relatively inexpensive. Again, look up where you are arriving and figure out where you have to go/which metro lines to use.
Always have a bit of cash/change with you for buses.
Taxis
I still can't figure out taxis in Spain. I just know that we're always feeling ripped off. A couple of notes though:
Taxis have a supplement to the flag rate (the starting rate) when leaving airports and some train stations. It can be just a few Euros but can can go up to 15 or 20 Euros. We found out at Barajas airport (Madrid) during Covid times. They switched terminals for our flight and we had to take a taxi from one terminal to another and had 15 Euros tacked on to the fare. In Barcelona they have a 20 Euro supplement! It's another reason to plan ahead for public transportation when arriving at your destination.
Rates go up in the evening (usually after 8 pm) and on Sunday and public holidays.
They'll charge for bags you put in the trunk, usually 1 euro a bag. So even if you have a light backpack, keep it on your lap instead of dumping it in the trunk with your suitcase.
Rates seem to vary greatly between cities. Barcelona is known as the most expensive. Granada was quite inexpensive.
Honestly, I learn something different every time I take a taxi in Spain.
Uber
Uber is great in Madrid. We took it from Puerta del Sol to Principe Pio train station and the 15-minute ride cost 10 Euros. The crazy thing is that it was in a taxi.
Barcelona has it and there's a bit of it in Granada. But other than Madrid I'm told Uber is sporadic in Spain.
---
---
D.

Accommodation
On our month-long trip we used both Booking.com and Airbnb for accommodation. Our general rule is that we book a hotel if we're somewhere for a night or two. If it's 3 nights or more, we book an apartment.
Note: While Airbnb is usually the best for apartments, Booking.com also has apartments on its site and we increasingly book through them. We just find it easier.
Typical price? During our month-long trip in February we paid an average of 75 Euros/night. Most cities (both on Booking.com and Airbnb) were in the 55 – 65 Euro range but Madrid (95 Euros/night) and Barcelona (81 Euros/night) brought up the average.
Note 1: we stayed in mostly 3-star hotels. Nothing fancy.
Note 2: the above prices were in February. But looking at some of the hotels we stayed at now, we see that most are in the same price range today. Prices in the larger and more popular cities and towns have gone up though (Barcelona, Madrid, Toledo).
A few places we can recommend that stood out:
In Toledo: Barrio Rey
In Segovia: Infanta Isabel by Recordis Hotels
In Madrid: This Airbnb apartment
In Zaragoza: Catalonia El Pilar Hotel
In Barcelona: Room Mate Emma
---
---
E.

Attractions (and savings!)
In Spain you often have special days and/or hours where you get discounts or free visits. The thing is that they are never publicized so you'd never know. My tip: always ask the concierge at the hotel or someone at the tourist office if certain attractions have free times.
For example:
The Cathedral Primada in Toledo (one of Spain's top Cathedrals) is FREE from 8 am to 9:30 AM. Usual cost is 10 Euros/person.
The Mezquita in Cordoba is free from 8:30 to 9:30 (usual price 11 Euros).
El Prado Museum in Madrid is free the last 2 hours of every day (usual price 15 Euros).
Burgos Cathedral (another of Spain's top cathedrals) is free Tuesday afternoons between 4:30 pm and 6:30 pm in the summer (and 4:30 pm to 6 pm in the winter).
In Seville, most of the highlights have free times. I did a whole post on that here (on our Spain-only blog, Mapping Spain).
---
---
F.

Food
I find restaurants in Spain expensive to be honest. An average starter can be about 8-10 Euros, a main course 15-20 Euros. That adds up fast, especially on a month-long trip. We rarely eat out in restaurants when travelling.
What we usually do: we pick up food at a supermarket. Our favorite is Mercadona (they have them in almost every Spanish town/city) where they usually have a prepared food section. We usually end up making ourselves sandwiches and salads and always buy a bottle of wine. All good and inexpensive in Spain. If we can't find a Mercadona, we look around for a specialty fruteria where they might have nice breads and cheeses.
Special recommendation if in Barcelona: I mentioned we stayed in Room Mate Emma. Just down the street is Frutas Dylan. Also, just across from that is a Doner Kebab place. Also very good value.
I hope the above helps. If you have any additional tips/information please comment. It helps other people reading this. Thank you!