The latest on Covid in Spain – and on life on standby

February 28, 2021
News came out last week that Spain had 9,387 Covid deaths in February – the highest number of deaths since April of 2020. In many ways life remains on standby: there's a curfew from 10 pm to 6 am, non-essential stores have to close at 6 pm, and there are restrictions on non-essential travel between different autonomous regions and provinces.
Don't shoot me if I've made a mistake in the hours I cite above – the rules seemingly change every week. One new rule came into effect a couple of weeks ago: a new rule in Andalusia stating that no alcohol could be bought after 6 pm. I went to the local grocery store and asked the owner about that. "We don't agree with that rule. Don't worry, you can buy all the alcohol you want" he said while showing off his wine rack in the same manner those models on The Price Is Right show off a new car. Thank god.
There are no tourists: the only travellers allowed are from the EU or from countries that share a reciprocal agreement with Spain. And in all cases you need a negative CPR test within 72 hours prior to arrival in Spain.
I had hoped to have gotten some hikes in by now but even the hiking group that I had my mind set on joining is closed down.
So life is on standby and I'm hearing restrictions may only be lifted in May.
---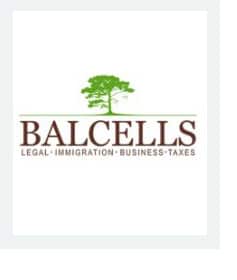 Thinking of moving to Spain? Marta at Balcells Group helped us get our Visas. She's an immigration expert and will help you with all your Visa needs. More detail here.
---
Happy to be in Spain
This time has really made us reflect however on how happy we are to be in Spain. Locals tell us that it's been a cold winter but most days in January and February we've had temperatures in the high teens. We had one spell a few weeks ago where we had highs of 25C (that's 77 Fahrenheit) for a few days. It's almost always sunny and we've spent a lot of time in our garden. In the next few weeks we intend to go to a garden center and buy a shitload of plants, earth and pots. We've got a huge yard and we plan on doing a lot of gardening. We totally agree with mask laws but we also both hate wearing them outdoors (sick of sweaty faces and foggy glasses) – having a large outdoor space of our own is great. It was a priority when we were looking for an apartment and we're glad we paid a little more for the extra space.
But besides the apartment, life in Spain is easy. I'll admit – it's a bit hard adjusting to "normal life" after travelling full-time for 6 years. We got used to being active and always being stimulated by something new. I've always wondered "what do you do after a life of full-time travel?" (that was a post title that's bounced around in my head for years). Now we've basically been forced to stop. But again, we're really happy to be in Spain. People are friendly, helpful and communication is easy. Speaking Spanish is a huge advantage and we feel at home here.
"Who cares?"
It's something we've said a lot lately.
Like yesterday. "We should go to the hardware store". But by the time we finished breakfast we kind of looked at each other.
"Who cares?"
We can do it tomorrow or next week. Who cares? It's not like our schedule is full of different activities that we have to plan around. And does it really matter if we pick up that screw gun this week or next? (I'll have more on the need for a screw gun soon)
Again, maybe we're having a hard time adjusting to "normal life". Or maybe it's just hard getting motivated to do anything during this period.
I'm wondering: anyone else feeling a bit like this??
---
---
Keeping busy
You see our spin bike up top. I've been doing a lot of spinning and working down the alcohol belly. I now pass the "fluff test" ("fluff test" – when you have a bit of a belly you might take off your shirt and notice you've got lint stuck in your belly button hole. I no longer have lint in my belly button hole).
I've also been keeping busy with our new Spanish blog and it's starting to pay off. I have a new series entitled "Ask an Expat" where I've interviewed Expats living in different parts of Spain. It's been interesting hearing people's stories and their experiences living in various places around the country. The series has done well and accounts for most of the traffic on the blog.
New Theme on this Bbqboy
Over the next week (or two) you'll notice a new look on this blog. I haven't had a choice – WordPress updated their editor and the current theme (or "look" for those of you who are not tech savvy) is outdated. I've got some plugins keeping it functional but it's been a temporary patch.
So I'm going to take a bit of time off this blog until I get the new look up (maybe a week or two). Once up, I'll have a great post that I've been working hard on. If you're looking to see Spain and do it in style you'll love it.
---
---
Odds and ends on stuff
The Screw gun I mention up top. Our walls are cement layered with plaster (like most Spanish walls). Initially, to hang up photos and paintings we tried to put in screws or nails. Plaster would start crumbling and we couldn't get anything into the layer of cement beyond the plaster. So we went to the hardware store and bought hooks with adhesive backs. That was fine until we got a few humid days and suddenly paintings started falling off the wall in the middle of the night. So we bought cement and refixed the adhesive hooks to the wall with that. That was fine. Then, over the last few days, the hooks again fell off the wall – – this time with a ring of plaster stuck to the back of them. So we've been woken up a bunch of times to paintings falling and glass breaking. Now we've got some broken frames and patches in the walls where plaster used to be. I'm fed up. So we have to get a screw gun and get some big ass screws in the cement wall. It seems to be the only way to keep paintings on the wall in Spain.
Bugs in Andalusia. Spring is coming in Spain and that means bugs. We've done some reading because we were wondering whether to get some screens for the windows. Some of the bugs we can expect: cockroaches (including some that can fly) and Spiders (including the Spanish Black Widow). But the most dangerous? It's a caterpillar. Thankfully they don't fly.
My Spanish Drivers License. I've mentioned previously that getting a Spanish driver's license is my goal this year. A good article on that here. For now though I've decided to wait until I get the vaccine.
How will Covid change travel? A good video here by the economist (the first 2 minutes are a bit boring, applying to digital nomads, but the rest is interesting).
So that's our update. Like everyone else we feel like our life is on standby at the moment. How about you?