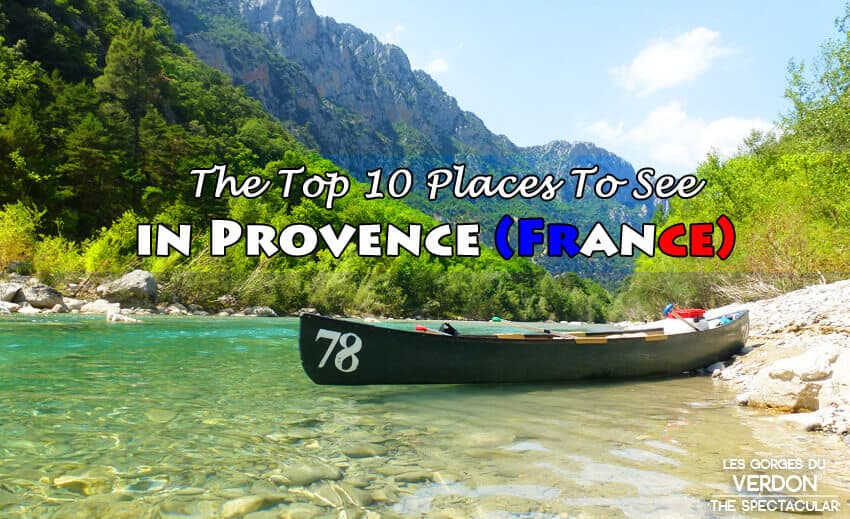 Travel Guide to the Top 10 Places To See in Provence
France is a big country, with lots of fantastic things to see. I used to live in this wonderland called La Provence, a region situated in southeastern France. It counts 300 sunny days a year, owing to the wind called the "mistral".
Boasting so many great sights, sounds and tastes, deciding what to do and what to see during a trip there is not an easy task. Turquoise Mediterranean waters, deep purple lavender, bright sunflowers on the road, hidden lakes with vibrant colors, art festivals, ochre quarries… I've prepared you a list of my top 10 in Provence.
Map of the Region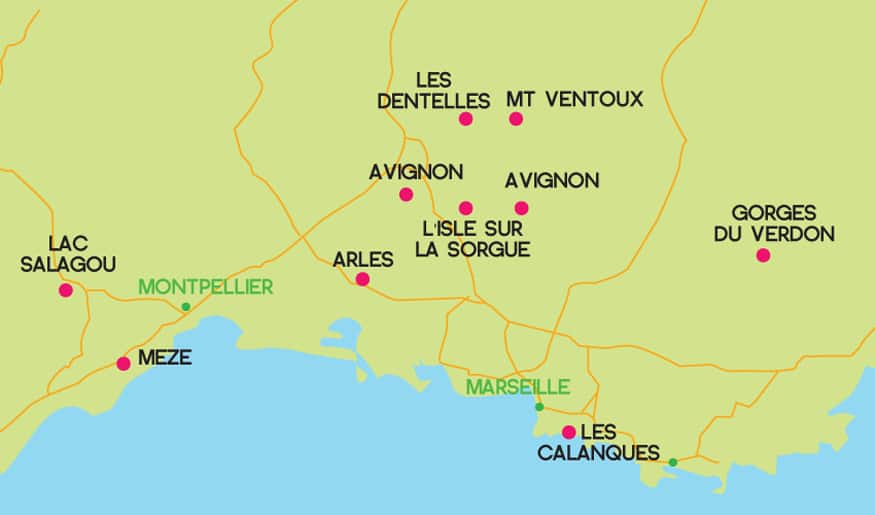 ---
---
MY TOP 10 PLACES TO SEE – PROVENCE
There are some places in this part of France that are so beautiful they make for a pinch-me-is–this-real kind of experience that you will not soon forget.
Lac du Salagou, Hérault
The Lac du Salagouis a very large lake, situated near Montpellier. It's well known for the vivid colours of the lake and its surroundings, and very popular for various water sports, walking and cycling.
For a quiet sunbath, walk around a bit until you find your own piece of 'private beach' – and enjoy the serenity.
.


Arles, Bouches-du-Rhône
You'll rarely find a place where art and general creativity are so alive. Once, the roman city attracted the likes of Edith Piaf, Jean Cocteau, Pablo Picasso and Jean-Paul Sartre. We can still feel their artistic influence its narrow streets.
Every year in September, a photography festival helds in the city. It's called Les Rencontres d'Arles. The city and its surroundings are suddently covered with great photographs : in public squares, in churches, in the train station… Art is everywhere.
.
Les Calanques de Cassis, Bouches-du-Rhône
The village of Cassis is tucked into a curve of coast. Right next to that, twenty calanques are gouged into the shoreline. What we call in France a calanques are inlets ranging from shallow indentations to jagged, deep-water canyons.
After 45 minutes of a beautiful hike, you get to the first beach. White sand, incredible shades of turquoise blue, vertiginous cliffs… If this is not paradise, it looks like it. Then you can carry on to the last beach, and after two hours hiking, you'll get to the real paradise. A tiny beach that makes you feel you're a the end of the world.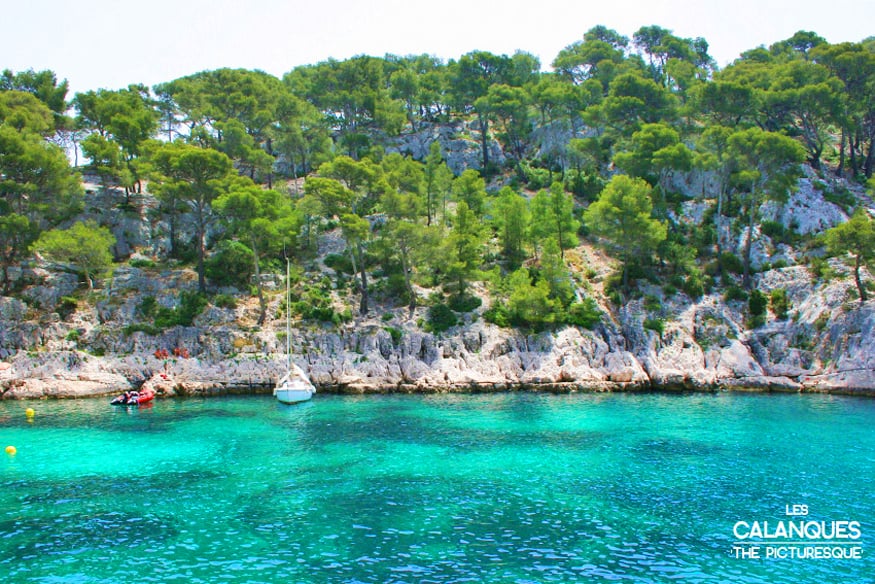 ---
---
.
Roussillon, Vaucluse
Situated in the heart of one of the biggest ochre deposits in the world, Roussillon is famous for its magnificent red cliffs and ochre quarries. It's one of the most beautiful villages in France.
If indeed, the village is lovely, the most memorable feature of Roussillon is the ochre mines hidden below. The range of colours in the white-orange-pink-red rocks is extraordinary. It creates a fascinating 'out of his world' experience, as it's a small extent, placed in the middle of Provence.
Recommended Hotel in Roussillon: La Maison des Ocres
.
Les Gorges du Verdon, Var & Alpes-de-Haute-Provence
The Gorges du Verdon are compact, wild and beautiful. It's the deepest canyon in Europe.
The landscape is magnificent. You can enjoy the view from the long drive following the canyon, but you have to get down by the water to really feel the beauty. The area presents many opportunities to enjoy the view, from hiking paths of all levels to nautical or air sports. The kayak ride I took there was by far the best ever. Rowing a bit, you can access to remote corners, secret spots, and feel really privileged being alone in a piece of heaven.
Recommended Hotel in Moustiers-Sainte-Marie (the best base to see Les Gorges du Verdun): Les Lauriers
.
.
Les Dentelles de Montmirail, Vaucluse
The Dentelles can be seen from far off in the region, with their very distictive jagged outline emerging dramatically from the vineyards of the Cotes du Rhone. The range provides some of the most dramatic scenery to be found in France.
The entire region is well known for its hiking, moutain bike riding and rock climbing opportunities. In one day, you can hike in the forest, climb a sheer cliff that dominates the horizon for miles around, have a picnic in the vineyards, then go canyoning the waterfalls. It's an amazing playground for adventurers here – one of my favorites, actually.
---
---
.
Meze, Hérault
Situated on the étang de Thau, Meze is, with his neighbor Bouzigues, the oyster capital of the area. Almost a third of its inhabitants depend on the fishing industry for their livelihood. It's a real fishing village, with its authentic atmosphere and beautiful colors.
It's the perfect place to relax, to enjoy la belle vie, wandering along the quays, transported by the magic of this place and by the gentle sound of water lapping on the boat hulls. Plus, the surrounding restaurants offer delicious sophisticated seafood!
.
Le Mont Ventoux, Vaucluse
Le Mont Ventoux is well known as a step in the Tour De France. It's a fantastic challenge for all cyclists – which requires you to be in superb physical shape. Besides that, it offers many hiking paths for all levels.
Moreover, the view is gorgeous. There's a restaurant on top where you can enjoy it with a nice hot chocolate. And if you want to jump… It's a stunning spot for paragliders !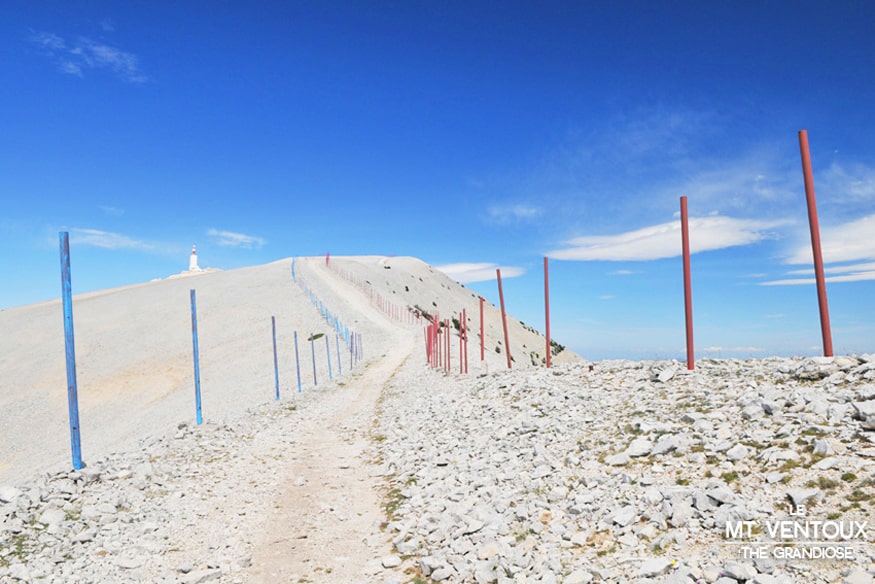 .
L'Isle sur la Sorgue, Vaucluse
Very, very, very romantic. The Sorgue river flows through the middle of town with its tiny flower-dotted bridges. There's a restaurant placed on a bridge, so you are over the river, and, above you, trees and lanterns. It is simply gorgeous.
People are friendly and relaxed here, nobody is in a hurry, no stress, as if time had stopped…
---
---
Avignon, Vaucluse
Ringed by incredibly preserved 800-years-old stone ramparts, Avignon is full of wonders. There's the majestic 14th century Palais des Papes, and of course, the famouse Pont d'Avignon. The old part of the city is picturesque, with typical streets like la Rue des Teinturiers with its paddle wheels on the Sorgue canal which flows through the city, and numerous little streets paved with cobblestones.
The best time to visit is in July, to enjoy the Avignon Festival, one of the most important contemporary performing arts events in the world. Its divided in two parts : the festival on, with shows in theatres, and the festival off, where performances take place in the street. The atmosphere is unique, really – it's a must.
Recommended Hotel in Avignon: Hôtel Central
.
Organized Tours
If you're on a rushed schedule, an organized tour might be the most relaxed way to sample some of the best of Provence.
This 5 hour tour from Avignon

will take you to Rousillion and other villages in Luberon
From Nice, you can take a full-day wine tour through Provence. Great fun.
From Avignon, this half-day tour is a mix of Roman history and wine tasting.

This full-day tour

from Avignon takes you to many of the region's highlights, including a visit to Arles (and some wine tasting)
Lodging
One of the greatest qualities of France is its wildly diverse range of lodging options. As the Provence is a tourist region, you'd better book your room before to avoid the stress.
Camping – Camping is very common in this region, as it's very sunny, you can pretty much live outside. It's also a good way to meet the locals: at the end of the day, you'll see everybody drinking Pastis and playing pétanque. It's very friendly !
A pitch for two people will cost around €15 per night : Camping France
Gites de France – The French version of the bed and breakfast. Self-catering gîtes allow visitors to rent an apartment, villa or house: gites-de-france
Logis hôtel – Inexpensive hotels. You won't find them everywhere, it's often in smaller cities and villages. Check online before your trip: logis hotels
Farm – Various accommodations ranging from no-electricity camping to stays at a farmhouse bed and breakfast: bienvenue-a-la-ferme
Rent a house – People from the Tourist Center should be able to help you find a place, or you can book online on location-vacances-provence or homeaway. If you speak a bit of French, you can also check on leboncoin.
Prices for a two-person apartment range from around €250 to €500 per week, with six-person apartments for around €500 to €1,000 per week. But it really depends of the village where you want to stay, the season and the duration of your visit.
Where to base yourself. 3 good bases is the area would be Montpellier in the West, Aix-en-Provence in the East, or if you want to be right in the middle Avignon. A few hotel recommendations:
Montpellier: Palais des Rois d'Aragon
Aix-en-Provence: Le Concorde
Avignon: Hôtel Central
---
---
.
Food
France is well know as one of the best destinations for lovers of fine cuisine. And Provence is very special. With emphasis on sun-ripened vegetables, seafood, fresh herbs and a liberal helping of olive oil in every dish, traditional Provencal cuisine blends intense flavors and simple ingredients. You will love it.
As the South of France is an ideal picnic ground, don't hesitate to hit the region's produce market and to taste Provence's wonders with a splendid view.
You'll find delicious cheese and wine of course, but not only. Olive oil, salade niçoise, pissaladière, ratatouille, bouillabaisse, tapenade, nougat, calissons d'Aix, aïoli, tarte tropézienne, goat cheese, pisto soup, caviar d'aubergine… You could stay for a month and still savor different specialties every day.
.
Transportation
The best way to navigate through Provence is with a car. You'll be able to enjoy the region by yourself, to stop everywhere you want. It's the key to freedom! There are plenty of options, the cheapest is to book your car in advance and to pick it up at the airport. Try Holidayautos, hertz or easycar.
If you want to share the costs, you can try carpooling: covoiturage.
The public transport is not so good in the countryside, except from city to city and into the cities, like in Marseille or Montpellier. Train tickets can be reserved in advance from the station, at an SNCF boutique or online on voyages-sncf.
If you need any information, ask in the Office du tourisme, they are very helpful.
How to get there
There are 3 airports serving Provence: Nice Côte d'Azur, Marseille Provence and Toulon-Hyères.
.
Ps. If you find our blog helpful, please consider using our links to book your flights, hotels, tours, and car rentals. Have a look at our Travel Resources page.
---
---