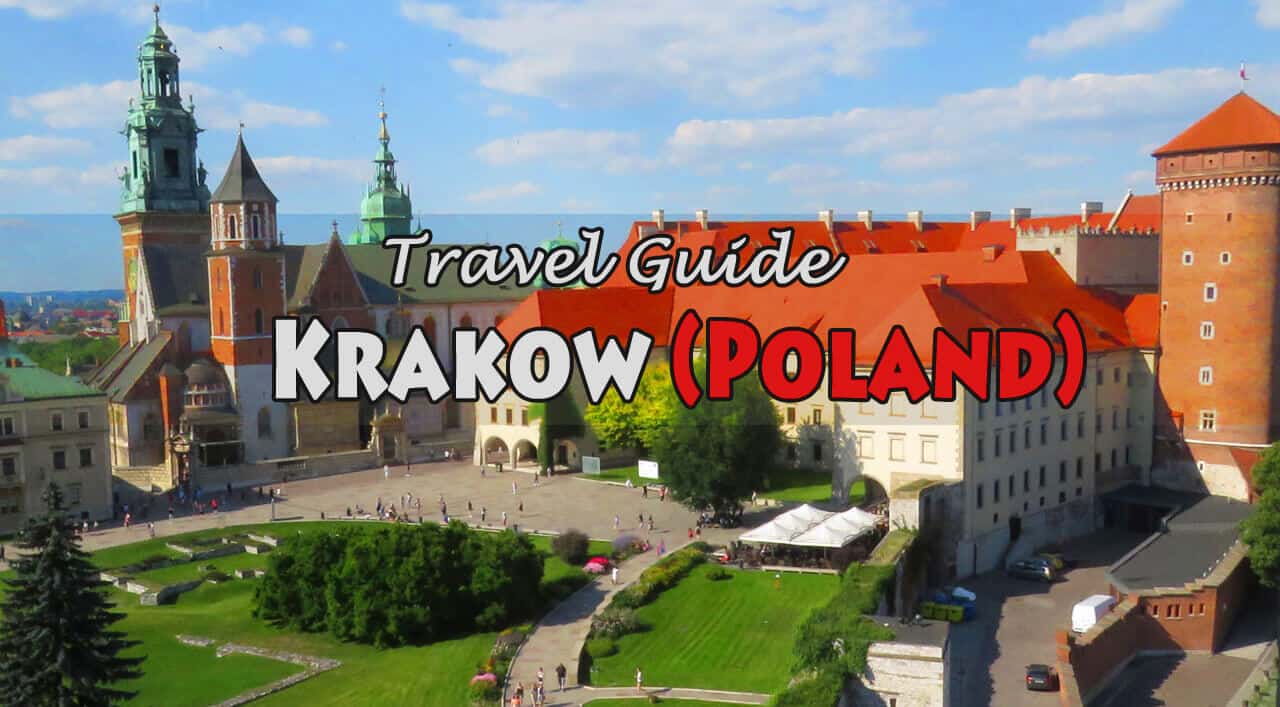 Travel Guide to the UNESCO city of Krakow (Poland)
Krakow is a UNESCO World Heritage site and Poland's highlight destination. This Guide covers all that you should see and do in this historic city and provides some tips and logistical information.
.
Places to See and Things to Do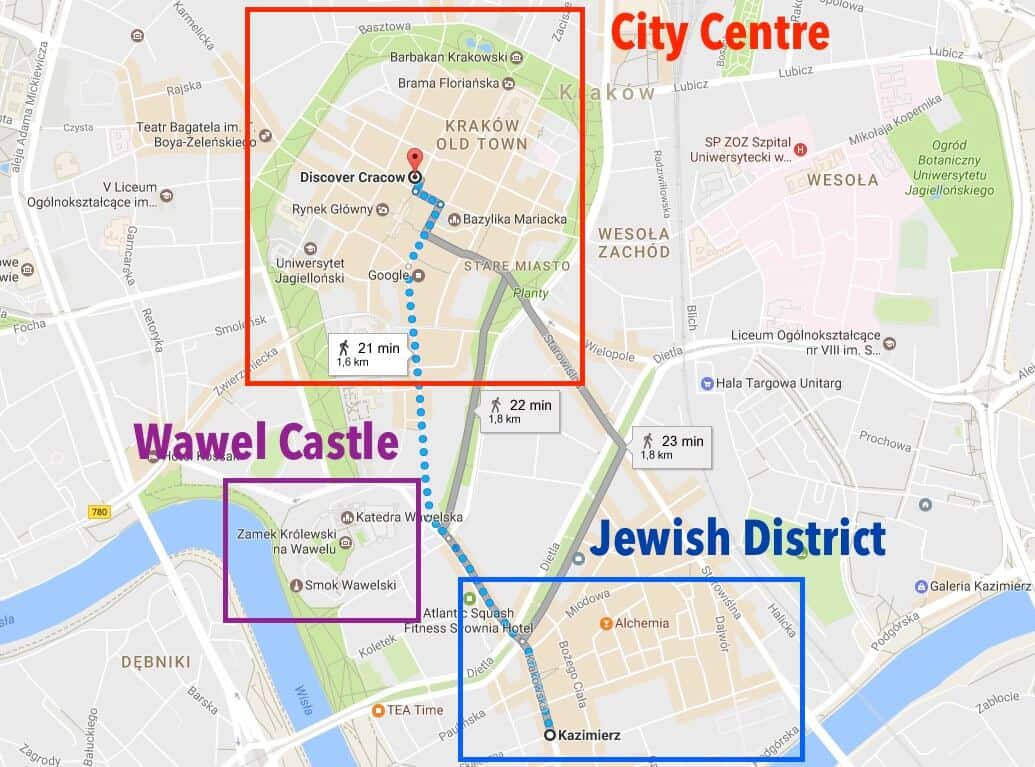 ---
---

The Historic Centre of Krakow
This is both a Unesco World Heritage Site and the historical and cultural center of Poland. The old town (or Stare Miasto), as it is called, is covered with historic landmarks: it has Europe's largest market square (the 'Main Square' or Rynek Główny in Polish), many outstanding churches (St. Mary's Basilica, the Church of St. Adalbert, the Church of St. Barbara, the church of St. Francis, the Dominican church and monastery, Saint Peter and Paul church…and more), a Town Hall Tower, as well as many noble residences, row houses, monuments and museums. The historic center is encircled by a green zone called Planty Park where, in the past, a defensive wall complete with 46 towers and 7 entrances protected the city. The Barbican, a round fortress sitting outside the northern gate of the city, has to be visited.
St. Mary's Basilica. This imposing church with twin towers is the focal point of the Main Square and has long been an icon of the city. Visit inside to see its beautiful alter piece. With pivoting panels, it was carved in the late 1400s by Veit Stoss and is considered one of the most impressive medieval woodcarvings in existence. Very impressive church.
Note: Visitors have to pay to enter St. Mary's. It's the only church you have to pay to enter in Krakow. Price 10 zloty. If you want to take photos you have to pay a fee of 5 zl, they'll give you a sticker. Entrance for visitors is the side entrance.
Tip: You can visit the church for free if entering from the square-side entrance. This entrance is supposedly only for people entering to pray and you're not supposed to take photographs. When we were there everyone was taking photos. You'll be a bit far from the altar but you can basically see the Basilica for free if coming through that entrance.
A must is a visit to the Rynek Underground permanent exhibition. The museum's main exhibit is "In the footsteps of Krakow's European Identity." As you walk through the museum that lies underneath the market square, you will be transported back in time through the history of Krakow. You'll learn how the city accumulated it's wealth (salt, mined at the Wieliczka Salt Mine) and understand how Krakow was at the center of European trade routes. Towards the end of the exhibit are a few rooms showing video. Don't skip these as they are very well done and informative (if you go to the gift shop you can actually buy the whole video. We did).
Tip: pre-buy your ticket if coming in summer. We had to wait 2 days to get in the next available slot (it's not a tour but they limit the amount of people at any one time).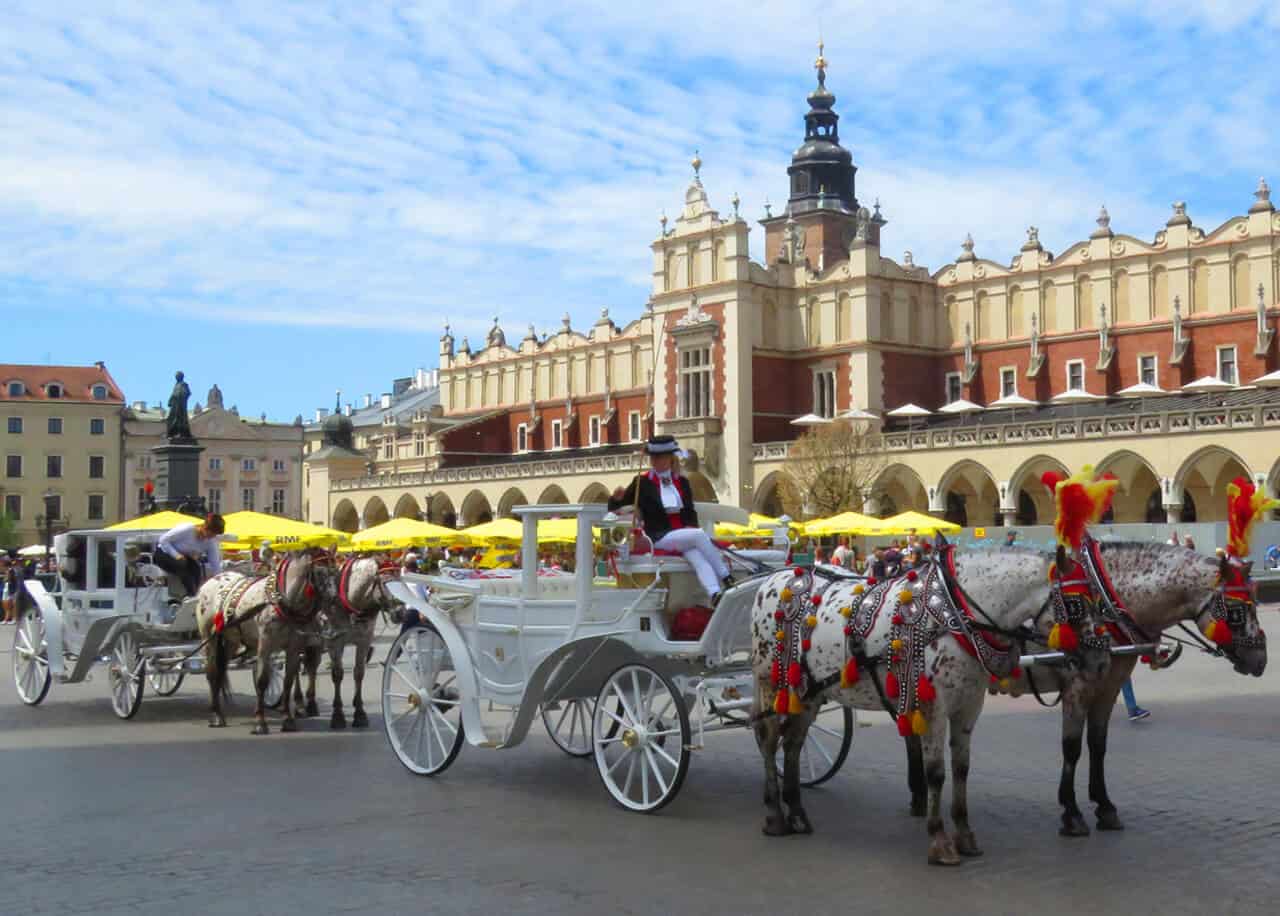 ---
---
The Jewish District (Kazimerez)
Many Jews around Europe fled to Krakow's Jewish, or Kazimerez, district during WWII. The district became a safe haven until March 1941 when German soldiers forced all Jews living here to resettle in a ghetto. The majority of them eventually died in the nearby concentration camp of Auschwitz (covered further below)
Today the district has transformed. While there are synagogues, cemeteries and Holocaust monuments memorializing the victims of the Krakow ghetto, it is also a very fashionable and hip district. The southern end of the district contains a few of Krakow's highlight churches – the Corpus Christi Basilica, the Paulite Church on the Rock (officially named Church of St Michael Archangel and St Stanislaw the Bishop and Martyr), and the Church of St. Catherine and Margaret are all worth a visit.

---
---
Wawel Castle
Wawel has long been a place of great significance to the Polish people. It was a site of fortifications in the 9th century, a residence for the first historical ruler of Poland (Mieszko I) in the 10th century, as well as a principal center for Polish Christianity. Until 1611 it was the formal seat of the Polish monarchy. The fortress-like Wawel complex visually dominates the city and is home to Wawel Castle and Wawel Cathedral, two must-see highlights for the visitor to Krakow.
Wawel Cathedral contains 18 chapels full of religious art. The most notable of these is the Kaplica Zygmuntowska (Sigismund Chapel), considered to be the finest Renaissance chapel north of the Alps. Dominating the nave of the cathedral is the mausoleum of St. Stanislav, Poland's patron saint.
Unfortunately you are not allowed to take photos in the Cathedral.
Another attraction of the cathedral is a climb to the Sigismund Tower, reached through the sacristy and a wooden staircase. The tower holds the famous Sigismund Bell (Zygmunt Bell), commissioned in 1520 by King Sigismund the Old. The great bell is one-third heavier and 350 years older than Big Ben in London. It is tolled only on solemn state and church occasions.
Within the grounds of the castle, you can also climb the Sandomierska Tower for good views of the castle on one side (see the header at the top of this page) and the Vistula river on the other side.
Dragon's Den. The limestone formation of Wawel Hill is not the solid piece of rock it appears to be, but rather is filled with caves and crawl spaces. Legend has it that the chambers beneath Wawel were once home to Smok Wawelski, or the Wawel Dragon. You can walk into the Thieves' Tower from the castle and walk down into the dark area that was allegedly home to the dragon, coming out along the river where there is a fire-breathing statue of the dragon (kids seem to like it)
---
---
Other Things to See and Do
– take a river cruise, preferably in the early evening. Lots of cruising options below the castle.
– Walk/Bike. both sides of the river have walking/bicycle paths. You can walk/cycle along the river for nice views.
– Mounds. Krakow has mysterious mounds dating back to pagan times. Same say they date back to the 2nd century BC. The Krakus mound is the most popular of these although I think it is more historically interesting than visually interesting. Another mound, though man made, is the Kościuszko Mound which really is worth a visit. It was built in the 1820's in commemoration of the Polish national leader Tadeusz Kościuszko then, in the 1850s, the Austrians built a citadel around the mound. Today there's an interesting museum in there.
– Nowa Huta, a suburb of Krakow, can be reached on a 40 minute tram ride. It was built in the 1950's under Communist rule and is one of two Socialist Realist Cities ever built. Nowa Huta is honestly more interesting viewed from an overhead view than being there and actually walking the streets. But if you're curious in that kind of thing it's worth a visit. There's also a Communist Museum (the PRL Museum) which is most interesting for it's documentation on how Jews were expelled in the 1960s. But the most interesting thing for us was the Zdzisław Beksiński Gallery at the nearby Nowa Huta Cultural Center. Very dark.
– The Stained Glass Museum is close to the city center and is worth a visit. Not just a museum, it's an operational business that has been producing stained glass windows for churches and businesses for over 100 years. You can take a workshop where you actually make your own piece of stained glass to bring home (we did and it was a highlight)
– Across the street from the Stained Glass Museum is the National Museum which displays artwork and artifacts from Poland and across Europe. Good to visit on a rainy day.
---
---
Outside Krakow

Auschwitz
This former concentration camp has become a symbol of the Holocaust. It is only a short drive from Krakow. It is a good idea to plan a trip and guided tour before visiting, as it has become increasingly more crowded with visitors.
Auschwitz I was first constructed to hold Polish political prisoners, who began to arrive in May 1940. The first extermination of prisoners took place in September 1941, and Auschwitz II–Birkenau went on to become a major site of the Nazi "Final Solution to the Jewish question". From early 1942 until late 1944, transport trains delivered Jews to the camp's gas chambers from all over German-occupied Europe. At least 1.1 million prisoners died at Auschwitz, around 90 percent of them Jewish. Approximately 1 in 6 Jews killed in the Holocaust died at the camp.Others deported to Auschwitz included Romani and Sinti minorities, Soviet prisoners of war, Jehovah's Witnesses, homosexuals, and tens of thousands of people of diverse nationalities. Many of those not killed in the gas chambers died of starvation, forced labor, infectious diseases, individual executions, and medical experiments.
Visiting Auschwitz can be an emotional, disturbing and exhausting experience.
Note: Book ahead in summer. I recommend this tour.
---
---
Wieliczka Salt Mine
This mine, which started up in the 13th century, is 14 km from Krakow. It is this salt mine that lead the Krakow's wealth at the time.
The mine has a labyrinth of tunnels, about 300km distributed over nine levels, the deepest being 327m underground. A section of the mine, some 22 chambers connected by galleries, from 64m to 135m below ground, is open to the public by guided tour. It includes the Chapel of St Kinga, a church measuring 54m by 18m, and 12m high. Every single element here, from chandeliers to altarpieces, is made of salt. It took over 30 years (1895) for one man and then his brother to complete this underground temple, and about 20,000 tonnes of rock salt had to be removed. Other highlights are the salt lake in the Erazm Barącz Chamber, whose water contains 320g of salt per litre, and the 36m-high Stanisław Staszic Chamber.
There are lots of steps and temperatures within the caves are cool. In high season there are tours every 30 minutes which last 2 hours. Highly recommended. Note: Book ahead. We were in Krakow in July and tried booking a few days in advance. But it was completely sold out and we ended up leaving Krakow without seeing it. Big mistake.
.
.
Recommended Tours
---
---
Accommodation
The average hotel room in Krakow is in the $80-$100/night USD price range. A few recommendations: Hotel Europejski (old style charm, luxury rooms, great location next to town gate), Grand Ascot Hotel (very modern, clean, stylish, great location next to old town), Hotel Wit Stwosz (right in the old town, beautiful modern room in historic building).
If staying a bit longer you might prefer renting an apartment. Here are some options: Central Old Town Budget Apartment, Apartament Studio 4colours, Apartamenty Taja.
What to Eat
Traditional Polish cuisine is mostly meat based and will remind most visitors of Czech/Slovak and German cuisine. Cabbage and potatoes are traditional staple vegetables. There are a lot of good Polish restaurants in the old town (see below).
You'll also find a large selection of international cuisine including sushi, Indian, French and Italian cuisine.
Have a look at this local food blog for some fantastic recommendations in Krakow.
A few special recommendations from the blog above: Taste of India for the best Indian food we've had anywhere. Wodka Cafe Bar has really good Vodka and you can do a Vodka tasting. The House of Beer has a nice variety of Polish (and international beers) that you'll probably never sample anywhere else. Alchemia od Kuchni for a nice lunch with vegetarian options in Kamimierz.
Tip: if coming in the summer you should reserve. We showed up at a few restaurants and were turned away.
---
---
Flying to Krakow
Kraków John Paul II International Airport is the main international airport near Kraków, located in the village of Balice, 11 km west of the city centre, in southern Poland. It is the second busiest airport of the country in terms of the volume of passengers served annually.
How to Get Around
Trams/Buses: Krakow has a very extensive transport system throughout the city that is fairly cheap. You can purchase anything from a one way ticket (2.80 zloty, ie less than $1 USD) to a 72 hour pass. Install the JAKDOJADE app on your phone – just enter the starting and ending points of your trip and the app will tell you what tram or bus to take. Easy. You can buy your tickets at newsstands or on most (but not all) buses and trams.
Uber works in Krakow and is cheaper than a taxi.
Taxis: Taxis are also plentiful and easy to find. Taxi drivers may not speak English so write down the address of where you are going, or ask your hotel for assistance.
Walking: Central Krakow is not big and you can visit most of the sights easily on foot.
.
---
---
Ps. If you find our blog helpful, please consider using our links to book your flights, hotels, tours, and car rentals. Have a look at our Travel Resources page.