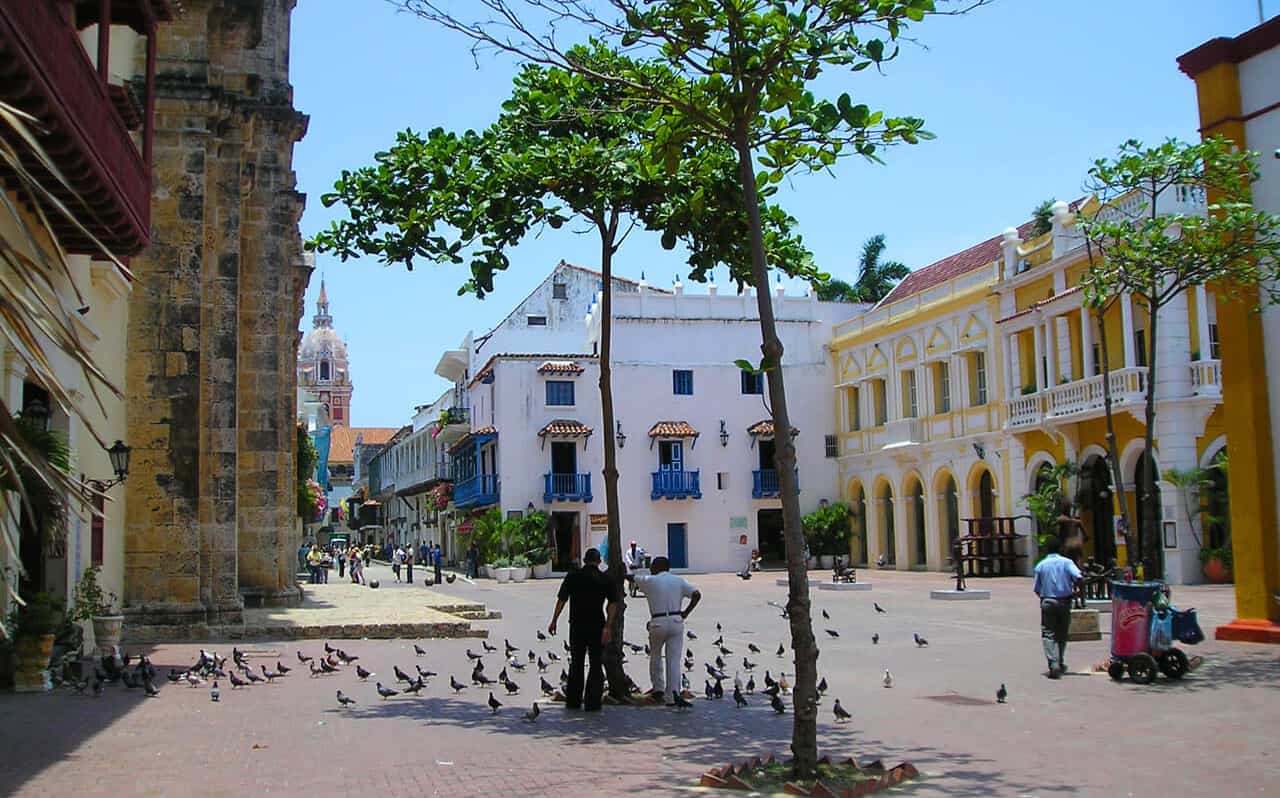 What's Cartagena (Colombia) like?
Most of my friends thought I was crazy when I told them that I was going to Colombia. I ended up loving Colombia so much on that first trip (in 2005) that I decided to go back a few years later with Lissette.
The highlight for me, Cartagena, is still the most impressive colonial city that I've seen anywhere. The old walled quarter, surrounded by fortress walls, is full of churches, plazas, and wonderful courtyards hidden behind old, wooden doors. There's great architecture everywhere. Lots of nice little cafes, shaded parks with fountains to sit in, and great restaurants hidden in impressive colonial buildings. It is a very romantic city. Outside the walled city is the fort of Castillo San Felipe de Barajas and the Santa Cruz monastery on La Popa hill (the highest point in the city). There is a spit of land called Bocagrande which is lined by beaches and modern high-rises. This is where most tourists stay (I recommend against this – pay a bit more and stay in the colonial city). Out in the harbor are 2 fortresses protecting the mouth of the harbor from attack. There's lots to see (I have some links to them at the bottom of this post).
.
Inside the walled city of Cartagena
It's my favorite part of the city and the thing to do is to just walk around. There's something beautiful around every corner. Walk the walls, particularly at sunset. Have a meal in Plaza Santo Domingo at night when the restaurants set up tables all around the square. Visit the churches (Cathedral Santa Catalina de Alejandría, Sanctuary of San Pedro Claver) and busy Plaza de los Coches which is next to the main gate to the Old city (named Torre del Reloj). Plaza de los Coches is a good place to get a horse-drawn carriage ride if you prefer that to walking.
---
---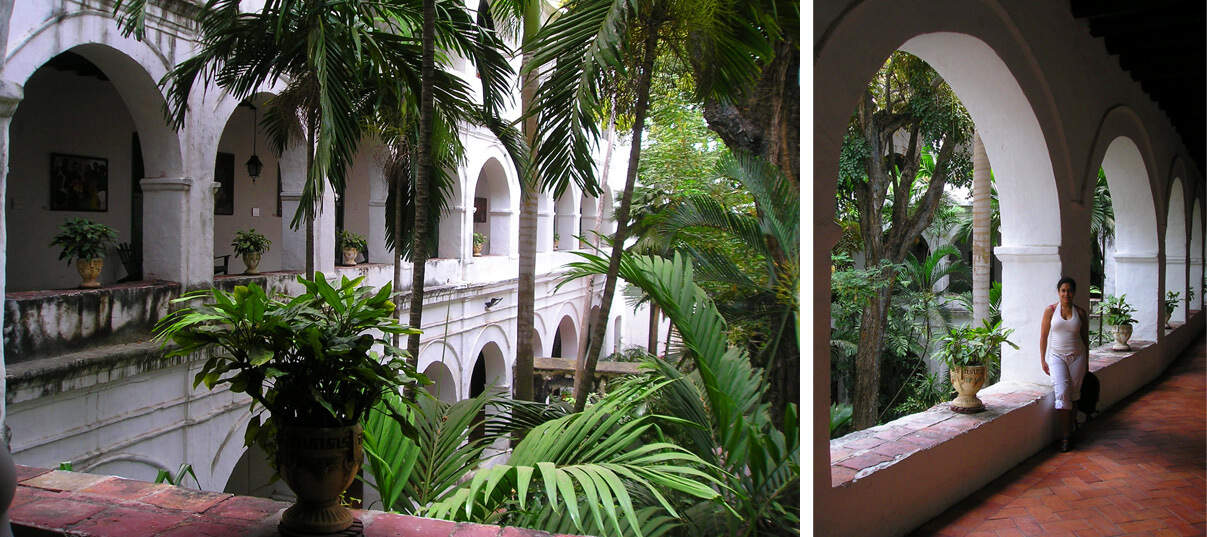 ---
---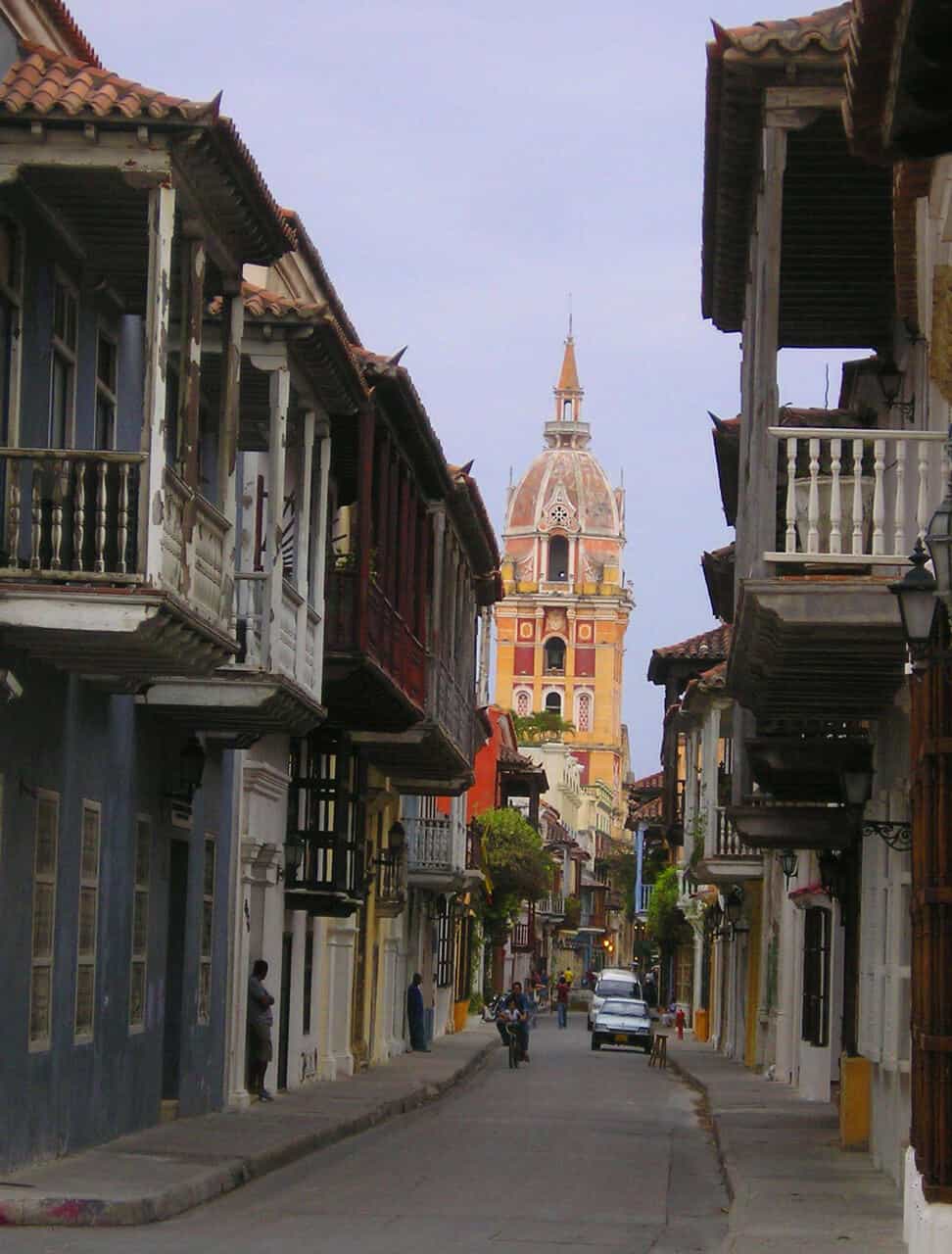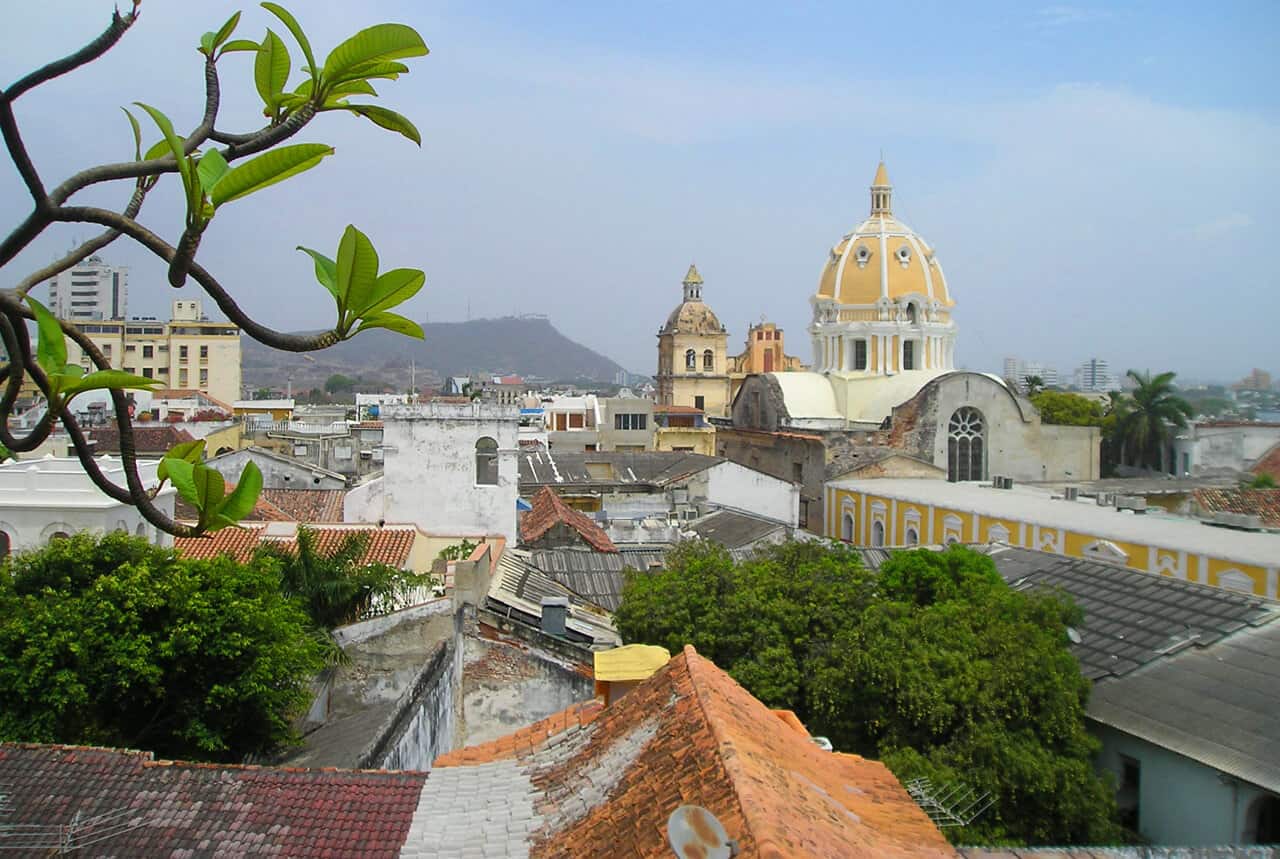 ---
---
ATTRACTIONS OUTSIDE THE OLD CITY




Castillo San Felipe de Barajas
One of the highlights of Cartagena, situated a 10 minute walk outside the Old City, is Castillo San Felipe de Barajas.
The fortress was built in 1536 and is known as the most formidable defensive complex of Spanish military architecture found anywhere. It has massive walls, turrets, cannons, and a network of tunnels connecting the different parts of the fortress. When I was here on my first trip two soldiers came up to me. They asked me where I came from and if it was my first time in Colombia. I thought they were going to shake me down for money. But they were very nice and before I knew it they offered me a tour of the tunnels. I said ok. You'll see a photo of the two machine gun – toting soldiers that I took while in the tunnels. They were just friendly and bored. Their buddies showed up and I bought them all cokes. It was the first of many encounters I was to have with soldiers in Colombia.
Santa Cruz monestary on La Popa hill
This is the best place to go for views of Cartagena. You'll see Bocagrande, the old city, and the shanty towns of Cartagena on the opposite side of the hill.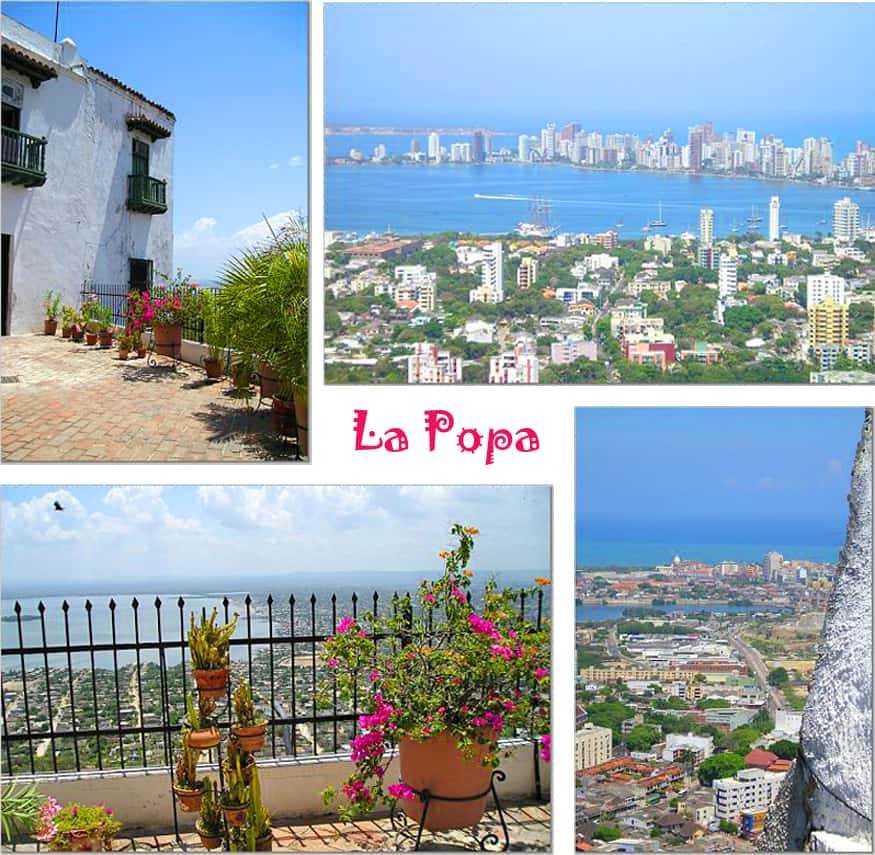 ---
---
It is also worth taking a boat tour of the harbour. Make sure it includes stops at Fuerte de San Fernando and Bateria de San Jose – these two forts protected the city from attack in the 1700's.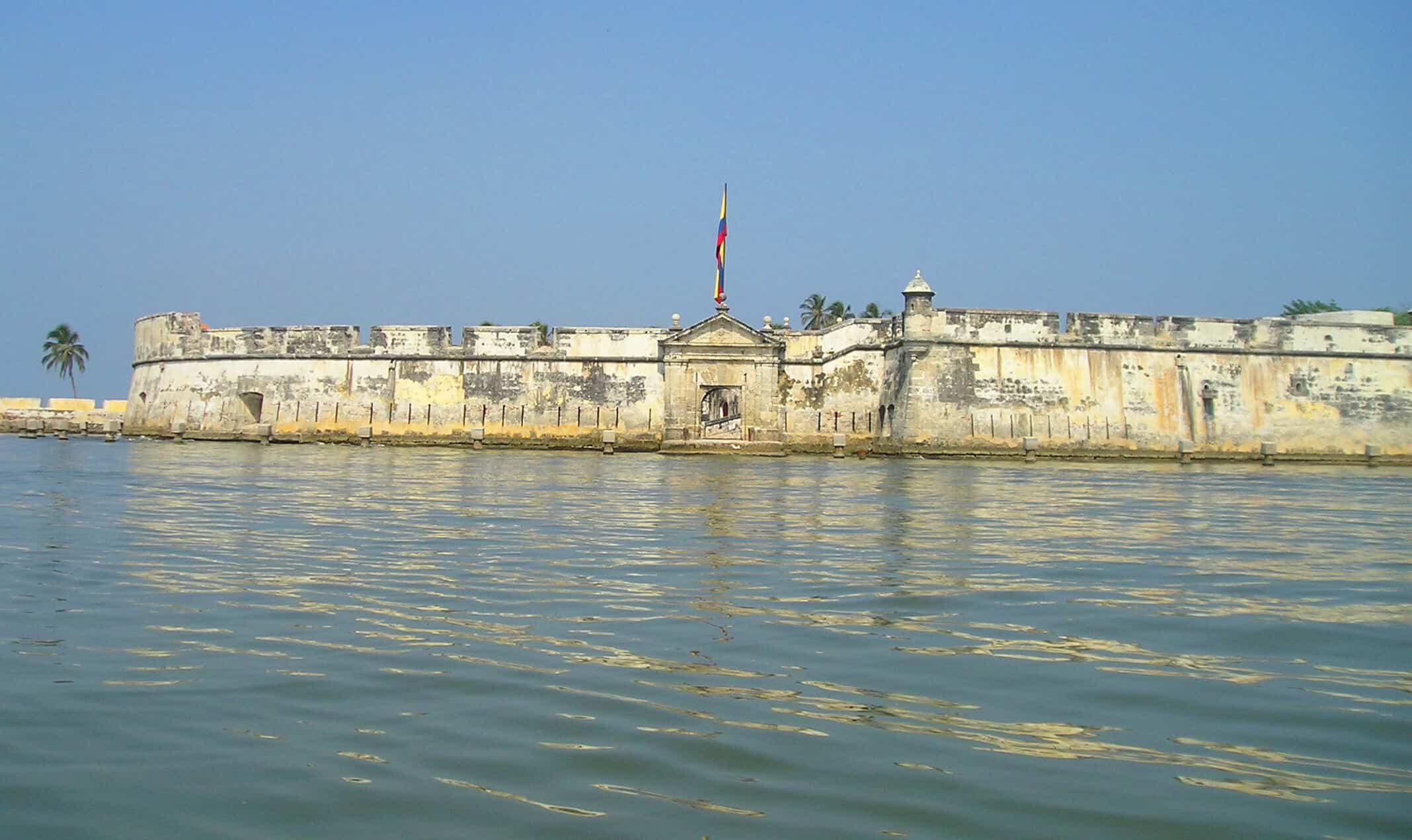 .
Bocagrande, the spit of land going out into the harbor, has modern hotels and restaurants, beaches, as well as lots of nightlife. As I've stated above, many tourists stay here – but it doesn't have the character of the Old City.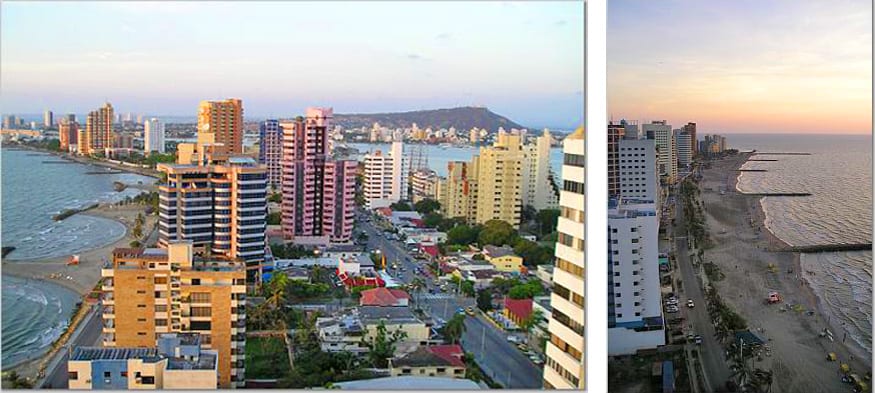 ---
---
.
Practical Information
Accommodation. Stay in the Old City! (and not in Bocagrande where many tourists stay). It's beautiful, romantic and full of character. Both times in Cartagena I've stayed at Casa India Catalina. Really nice, perfectly located, good value. Even nicer is the nearby Hotel Boutique Casa Córdoba Estrella.
Tour. Recommended is the 4 hour City Tour. A combination of driving and walking, you'll see all the highlights of the city.
Flying in. Cartagena's airport is Rafael Núñez International Airport (code: CTG) located 11.5 km from the city.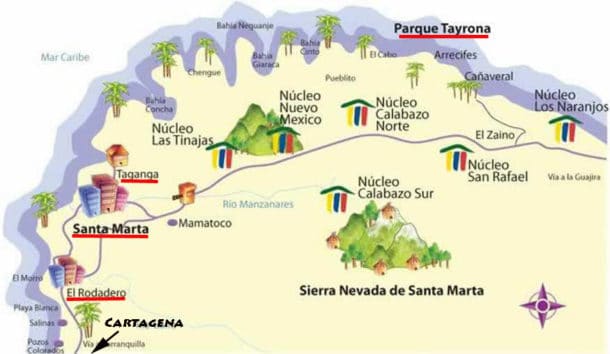 Ps. If you find our blog helpful, please consider using our links to book your flights, hotels, tours, and car rentals. Have a look at our Travel Resources page.