When we decided that we wanted to go through the Non-lucrative Visa process and live in Spain, it was because we had a long-term goal.
The long-term goal was getting Permanent Residency in Spain. Why did we want to do that? We wanted a base in Europe, a place we could call home for the rest of our lives. Canada is a great country – but being retired, why would we want to live there with its 6 months of winter and its expensive cost of living?
But there are many other reasons why Permanent Residency in Spain made sense.
In this post I do a Q&A with an immigration specialist. Marta tells us all about the rights and privileges you get being a Permanent Resident in Spain.
---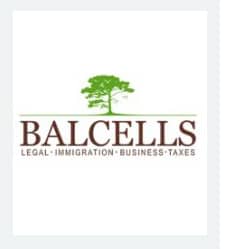 Thinking of moving to Spain? Marta at Balcells Group helped us get our Visas. She's an immigration expert and will help you with all your Visa needs. More detail here.
---
Hi Marta! The first thing I wanted to ask you: what are the qualifications to apply for Permanent Residency in Spain?
Hi Frank. The most important thing is that you have legally lived in Spain for 5 years with valid residency and TIE Card. This is the rule for anyone who obtained temporary residency in Spain through the Non-lucrative Visa process. Other than that, the requirements are easy: you have to show your residency card, proof of residence and health insurance. After applying you'll go for fingerprints and then receive your Permanent Residency Card which is good for 5 years (but easy to renew when those 5 years are up).
*Important: During your 5 years of temporary residency, you shouldn't have left Spain more than 10 months in the last 5 years or spent more than 6 months abroad at once.
---
---
What are the benefits of getting Permanent Residency that you don't get with Temporary Residency?
Once you get Permanent Residency you'll have many of the same rights as Spanish citizens:
1. You'll be able to work in Spain and/or start a business in Spain.
2. You will be able to get health care from the state, you will no longer need private health insurance.
Note: you can have access to Spanish Public Healthcare after 1 year of temporary residency in Spain under the Convenio Especial social security scheme (depending on where you live in Spain). The major advantage of Convenio Especial is that – unlike private insurance – you cannot be rejected for pre-existing conditions (you do however have to pay to have access to public health care through Convenio especial. More here).
Note: We have our Spanish private insurance with Adeslas, the largest private health provider in Spain. See here if you want to book your insurance policy.
3. You have freedom of movement anywhere within the Schengen zone with no visa requirements (you are allowed 90 days in other countries of the Schengen within a 180 day period).
4. You can live outside of Spain and have Tax residency outside of Spain (but make sure to read the notes I've detailed below). The rule is that you should not be out of the Spain more than 12 months continuously and consecutively. So if you are spending a lot of time outside Spain it is advisable that you come back once a year and get your passport stamped1. In addition, by being out of Spain more than 183 days in a calendar year, you will not have to file taxes in Spain (unless your main source of income is located in Spain OR your spouse or children are tax residents of Spain)2.
Note 1: As proven by a Schengen stamp. So technically you should not be out of the Schengen zone more than 12 months continuously.
Note 2: Everyone's situation is different. You should always consult a tax specialist to advise you on your particular case.
Note 3: With Permanent Residency, you cannot be out of Spain for more than 12 months continuously, nor more than 30 months (adding all the exits of less time) total during the 5 years. Also note that you will require a padrón to renew your Permanent Residency at the end of 5 years.
5. With Permanent Residency you can bring your parents to live in Spain. With Temporary Residence you can only bring your children and spouse…but with permanent residency you can apply for the re-unification of parents who are more than 65 years old.
6. If you decide to leave Spain for another EU country, you can apply for EU Permanent Residency with many of the same pre-conditions that allowed you to get Permanent Residency in Spain (explained in detail further below).
---
---
What is the process for renewing your Permanent Residency when the first 5 years are up?
This process is even easier than obtaining your initial Permanent Residency permit. The reason is that you are not renewing your legal status as a foreigner in Spain, you are just renewing the card itself. Even if, for example, you don't renew your card, you are still considered a legal resident of Spain. The only thing is that you'll have to pay a penalty fee if you don't renew in time.
---
---
Can Permanent Residency ever be revoked by the government?
Yes, the permanent residency can be revoked in certain cases:
In case the holder passes 12 months out of Spain consecutively.
When the holder has to be expelled from the country for any reason.
When obtaining a long-term visa in another EU country.
What is the different between Permanent Residency and Citizenship?
You can apply for Permanent Residency after 5 years in Spain, you can only apply for Citizenship after 10 years. When you apply for citizenships you (in theory) have to revoke any other citizenships. Citizenship also gives you the right to vote as well as gives you access to more social services than permanent residency.
---
---
What is the difference between Permanent residency in Spain VS EU Permanent Residency?
Some people decide at some point that they want to leave Spain and live/work somewhere else in Europe.
People in that situation should apply for EU Permanent Residency. The advantage to this (over Permanent Residency in Spain) is that if you go to another country (France for example) it will be much easier to become a legal resident there. What people should know however is that the requirements are stricter: you need proof of sufficient funds and to be fully covered by health insurance.
Note: if you're a non-EU citizen who has lived 5 years in Spain as a temporary resident or are a permanent resident of Spain, you can apply for EU Permanent Residency. So your time working towards permanent residency in Spain hasn't been lost because you require the same pre-conditions to apply for EU permanent residency.
Thank you Marta!