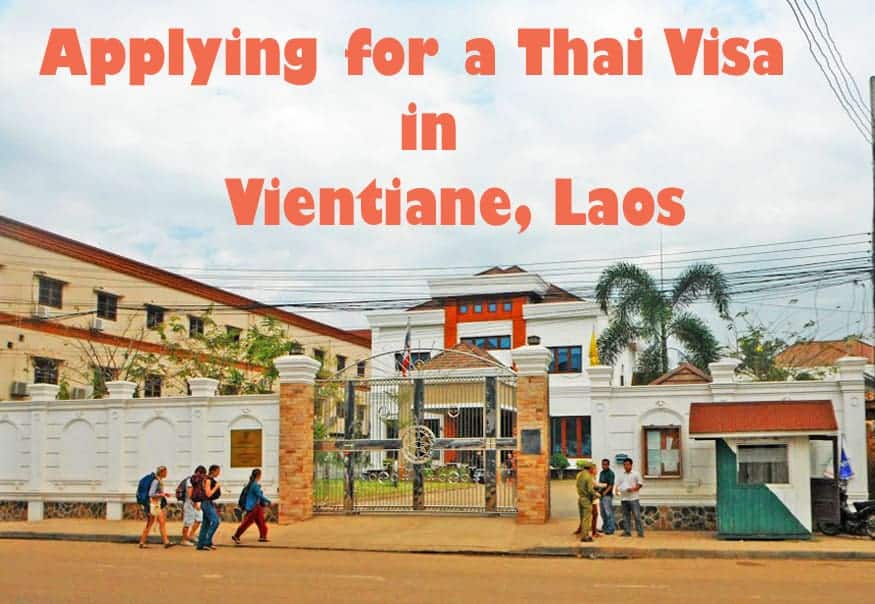 Above: Thai consulate in Vientiane on a very quiet day (photo credit panoramio.com)
This is not a detailed post explaining how Thai Visas work. I still get a headache trying to get my head around the rules. It is about what you can expect stepping into the Thai consulate in Vientiane, the amount of people you'll encounter, and the process you'll be 'led' through. It's not a day in the park and you should come prepared. It was a whole lot different than the very organized process we went through obtaining our first Thai Visa in Prague 4 months ago.
.
Firstly, the Thai consulate in Vientiane is not at the same place as the Thai Embassy. If you click Thai Consulate in Vientiane, Google will come up with a map showing the embassy (on Avenue Kaysone Phomvihane). The Consulate, where you have to go for the Visa, is located No.15 Ban Ponesinuan, Bourichane Road. The best thing to do to get there is to take a taxi or tuk tuk, it's an about 15 minute drive from Central Vientiane. Our hotel listed the cost as $7 US to get there one-way. We paid $15 US for the tuk tuk driver to take us there, wait the approximate 3 hours it took on the first day, and then drive us back. But you don't have to pre-arrange the return; you'll see lots of tuk tuk drivers around the consulate waiting to pick up any visitors who come out.
Website of the Royal Thai Embassy in Vientiane
You'll need two days to get your Thai Visa. The 1st day to apply, the 2nd day to pick it up.
Applications take place between 8:30 – 11:30am. When you arrive you may be shocked by the number of foreigners there. We were told that the busiest days are Monday and Tuesday where there can be as many as 600 to 700 people getting their visas processed. On our day there were less than that but it was still an incredible number of people.
Try to get to the consulate before 8:30. Get there as early as you can. Prior to coming into the grounds of the consulate, you'll see men outside offering application forms for the visa. Ignore them, they charge 100 Baht for the form. You can get one inside the consulate for free. Or you can print it out beforehand (see here for the form) and fill it out before you arrive. This is the best option.
Once inside the consulate grounds you have to join the long queue. It will eventually lead to a table where two men will be working. They'll give you an application form (if you don't have one) as well as a number (looks like a slip you get at the bank. Don't lose it!). They'll also check that you have proper documentation; a passport with at least 6 months remaining before expiry, two (2) photos, and a photocopy of your passport. You should also make copies of your current/expiring Thai Visa (if applicable) as well as your Lao Visa. They're not mentioned anywhere as required documents but on the day we went we were told they were required.
If you don't have the photos and/or photocopies, you will be directed to the 2nd floor of the consulate. There a man will take your photos and print them out for you. They also have a photocopier and the same man will make the photocopies. Make sure you have money in bahts. And prepare yourself for disorganization. As I say in the paragraph above, better to organize those copies beforehand so you don't have to use these services here.
So you have the application form filled out, your two photos attached, and all the photocopies I mention? Coming back downstairs you get in one of the lines for Visa Application. I've read some blogs where they say that applications are handled by your number. There was no such organization on this day. Just get in line. There were 3 lines and it didn't take too long, maybe 20 minutes. The man behind the glass will make sure your application form looks good, will staple your photocopies, and will keep all these documents along with your passport. Think you're finished and you can leave? The worst part is coming up.
You have to pay for your Visa (in our case 1000 baht for a single entry visa valid for 60 days). But you don't pay the man who you just gave the application to – he will direct you to the other building for payment.
You enter the other building and you see a few hundred people milling around or seated.  The idea is that they call your number, you pay for your visa, they give you a receipt and you leave. But expect to wait for a long time before that happens and be ready for a lot of jostling; the problem here is that 1) there is only one counter that collects the money, 2) you can't hear when your number is called (the lady behind the counter speaks into a microphone but it is barely intelligible). The screens above the counter don't work or are not used and serve only as decoration. So visa applicants end up getting closer and closer until it is basically just a crowd milling around the counter.
Great! They've called your number, you got through the crowd milling around the counter, and have paid. The lady has given you a receipt. Keep this receipt, it is what you will show the next day to pick up your visa. You can now leave!
The above took us about 3 hours.
Below: Crowds milling around counter area.
—-
Pickup for Visas happen the following day between 1:30 and 3:30pm.
Again, try to show up early. They actually open the gates up around 1pm.
Important: when you come through the gates a man will give you a piece of paper with a number on it.
You then walk back into that big room where you paid for the application the preceding day.
Again, don't expect this to be organized and do expect the usual milling around the one counter where you'll be given back your passport/Visa.
Pickup will be by the number given you when you walked in the gate. The lady behind the glass will start with numbers 1-20, 21-40, 41-60 etc. The problem is that as she's serving the first lot everyone else is getting closer and closer. There are no lines. And she won't have finished with the first bunch of people before calling the next…so you might have number 15 and still be 'in line' (I use that loosely) when she calls out 21-40 and those people start jostling in. It's a mess and we saw a few disagreements and almost a fistfight.
It took us about 90 minutes by the time we walked out with our passports. Within each passport was our new Thai Visa.
—-
So there you have it. Not a fun experience and something that could be made a lot easier with a bit of organization.
Note: We thought we could 'extend' our Thai Visas in Vientiane and were unsure of the paperwork. In actual fact, what we went through was a whole new Visa application granting us 60 days for 1000 Baht. You can extend a current visa in Thailand by showing up at a local immigration office; extending costs 1900 Baht and you only get 30 days. If we had less than 30 days remaining in our stay in Thailand this would be something we could have considered.
.
So our tips for anyone going to Vientiane for a Thai Visa? 1) Come prepared with your paperwork, 2) Be prepared mentally that the process is time-consuming. The plus side is that you might meet some interesting fellow travellers (we met a very nice girl from Bhutan) and you'll have to stay at least one night in Vientiane – a relaxing city with some great cuisine. It was for us a pleasant surprise.
.
The above was our experience. Any feedback on other people's experiences would be greatly appreciated both for ourselves and other readers of this blog.
.
——————————————————————————————————————————————————————————————-
If you haven't subscribed yet and want to get our posts and newsletters sent to your email, just insert your email address below: