When people think of Tokyo, visions of Shinjuku come to mind.
Shinjuku is modern Tokyo: the home of tall skyscrapers in West Shinjuku, the neon lights of Kabukichō (the city's red light district in East Shinjuku), and Shinjuku Station, the busiest train station in the world. Crowded day and night with office workers, tourists, and the service workers that cater to them, the area is (with a few exceptions) bustling and chaotic.
After 4 days in the quiet Asakusa area, we wanted to sample some of the craziness of Shinjuku. Here are some photos, a few highlights, and some observations on this area.
.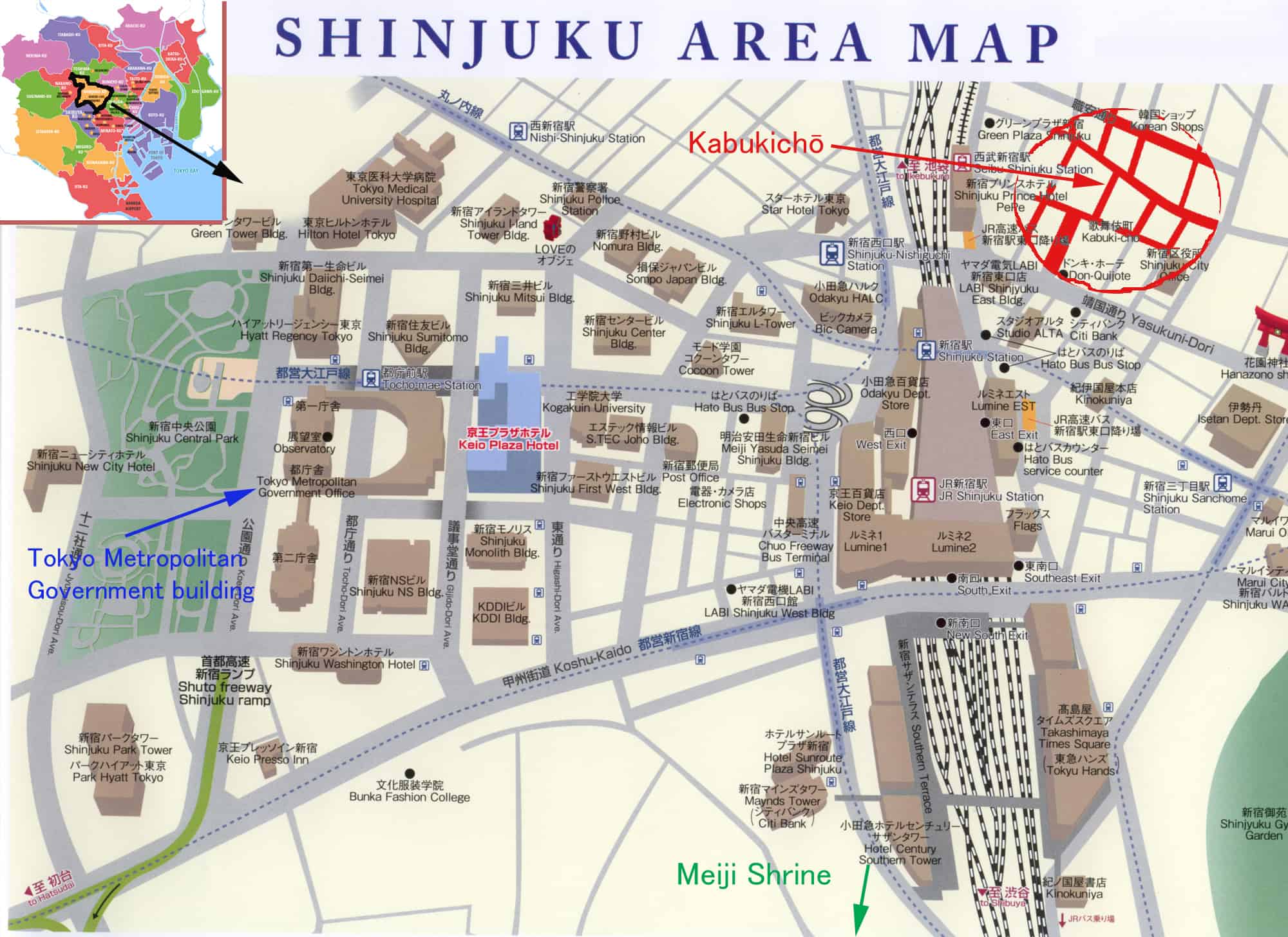 .
Kabukichō (Tokyo's red light district)

I think anyone visiting Tokyo has to visit Kabukichō at least once, if anything just to be assaulted by the dizzying neon lights and the energy of the crowds. But I'll be honest: if you're looking for a little naughty nightlife and you're a foreigner, you won't find Kabukichō a very friendly place. Kabukichō caters to local Japanese: you won't see English signs and the touts – who you'll see approaching locals – will ignore you as a foreigner. If you've been to Bangkok or any other red light district in the world you might find this really puzzling. I had my 50th birthday while in Tokyo and we were thinking that it would be fun to have a few drinks in a strip club (Yup, I've got the coolest wife in the world). That never happened. The best piece of advice I would have to anyone wanting to see more than just the outside of these establishments is to make a Japanese friend and have him take you there.
I found this very interesting article on Kabukichō.
So "Hot or Not?" For us Kabukichō was "Not". Still a fun place to walk around and take in all the lights.
Above: Looking up "Godzilla Road".
Above/Below: Still have no idea what goes on inside these establishments…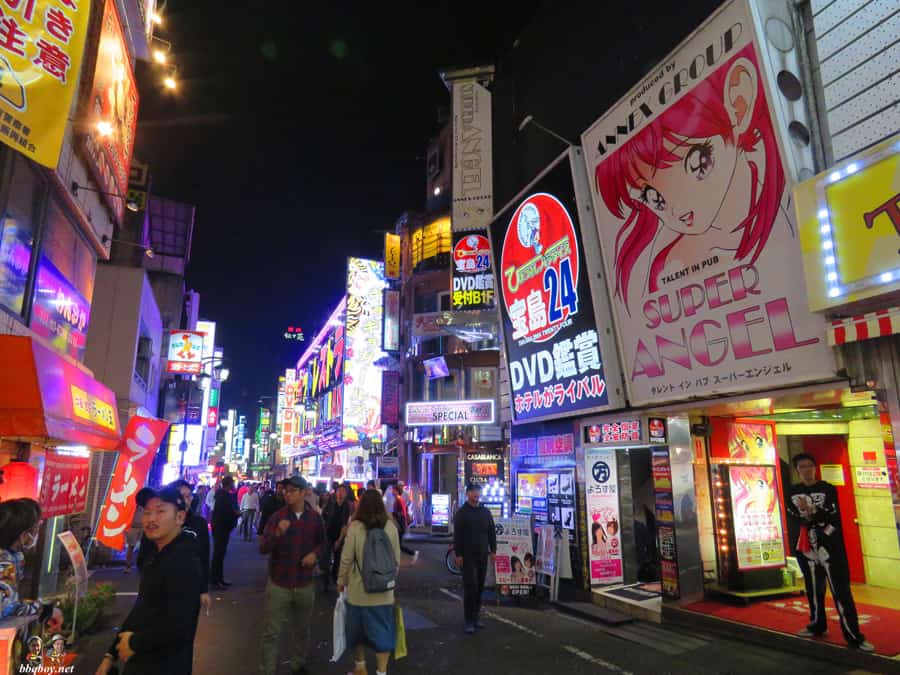 Above: the Robot Restaurant, the most popular show for foreigners visiting Kabukichō.
.
.
——————————————————————————————————————————————————————————————-
Related : The Craziest Show we've ever seen – Tokyo's Robot Restaurant
——————————————————————————————————————————————————————————————-
.
West Shinjuku
Above: The Keio Plaza hotel (where we stayed) and the Tokyo Metropolitan Government Building.
A short walk away, West Shinjuku is totally different. Here you'll find skyscrapers that include government buildings, shopping centers, and some of Tokyo's premier hotels. The main streets are wide and lined with trees, it's a nice area to walk around in the evening when the daytime hordes of office workers have gone home. One of the highlights is the Tokyo Metropolitan Government Building which has observation decks (free!) on both towers. It's a great spot to come for views.
Below: views of the Metropolitan Government Building. If you look in the background you'll see Mount Fuji in the distance.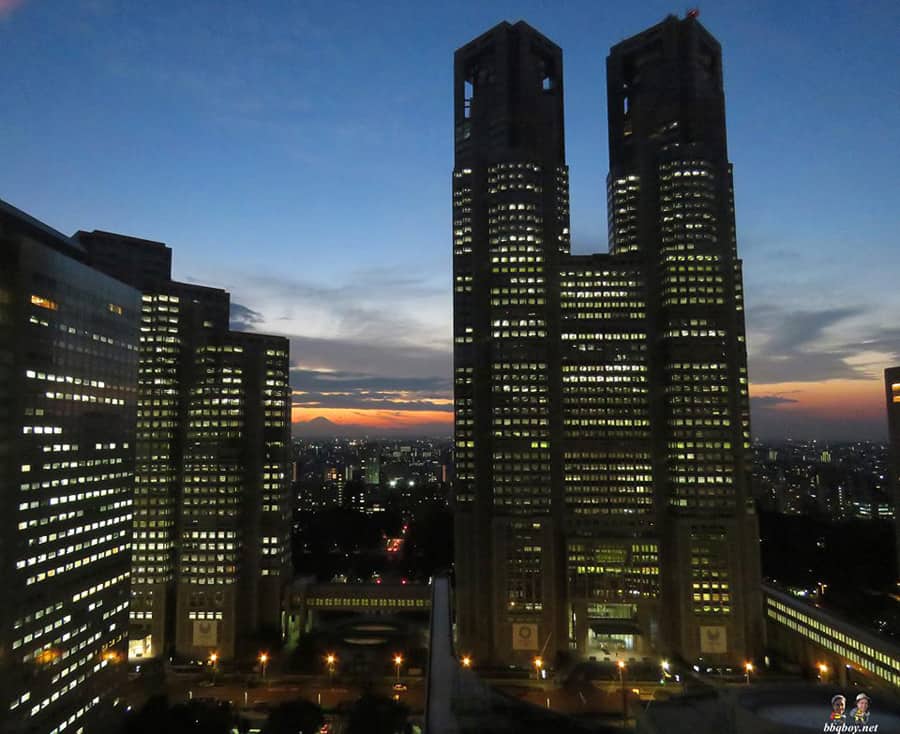 .
Below: views of some of West Shinjuku's highrises.
.
Meiji Shrine
Although not technically in Shinjuku (it's in neighboring Shibuya ward), the Meiji shrine is an easy walk ( it took us about 20 minutes from the hotel). Besides being an attraction in itself, the shrine is located in a forested area and makes a nice break in nature. It's like Tokyo's version of New York's Central Park.
The shrine is dedicated to the spirits of the late Emperor Meiji (the first emperor of modern Japan) and his wife, Empress Shoken. It is one of Japan's most popular shrines and many people come here for various festivals and ceremonies. It is also popular for weddings. We were here in November and got to see young girls and boys celebrating Shichi-Go-San, a traditional rite of passage for three and seven-year-old girls and five-year-old boys (held annually to celebrate the growth and well-being of young children).
Below: images from the shrine, along with girls wearing colourful kimonos for Shichi-Go-San.
The above are the must see sites in the Shinjuku area. If you have more time, you should also go visit the Shinjuku Goen National Garden and the Samurai Museum.
.
Have you been to Shinjuku? Did you go to Kabukichō? If so what do you think?
————————–
Related: Prague, where we ended up celebrating my 5oth.
——————————————————————————————————————————————————————————————-
If you haven't subscribed yet and want to get our posts and newsletters sent to your email, just insert your email address below: