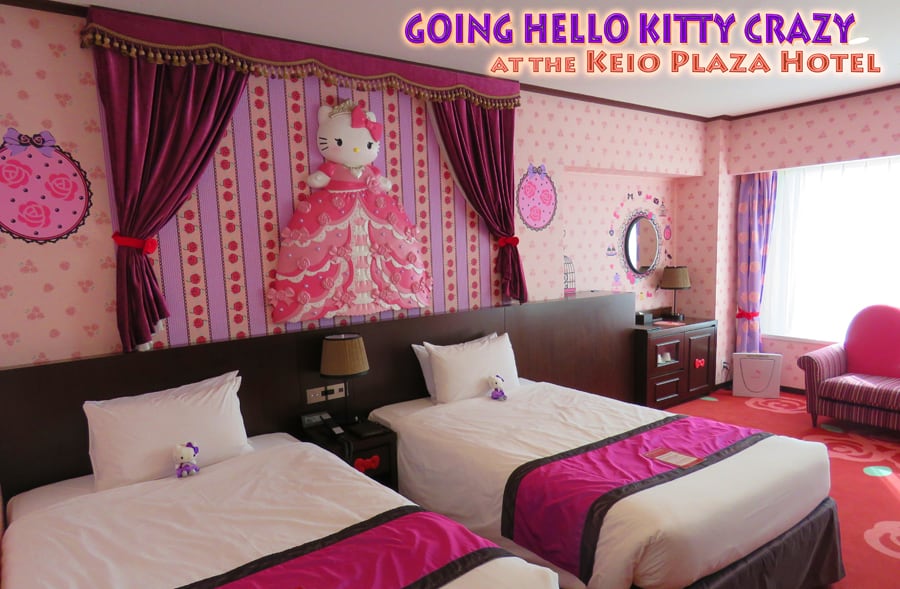 Hello Kitty at the Keio Plaza Hotel (Tokyo)
I had kept it as a surprise for 2 months. We were at the Premier check in counter of the Keio Plaza Hotel when Lissette spotted a familiar image on the room cards that were handed to us. "HELLO KITTY!!!" she exclaimed, her face suddenly red in excitement. She did a skip and a hop. I don't know if I've ever seen her as happy.
We had a list of "things Japanese" that we wanted to do in Japan: karaoke, a ninja training class, dressing like a geisha, visiting a Maid café, going to the Robot Restaurant. Staying in a room designed and furnished after Hello Kitty was the icing on the cake, it is one of those Japanese experiences that has to be experienced in Japan. And the only place to do that is at the Keio Plaza Hotel in Tokyo.
I'll admit that I don't understand the whole Hello Kitty phenomena. But for most girls (and women, judging by Spanky's reaction), Hello Kitty personifies everything cute. Not just cute, but classy and sophisticated. And although not a Hello Kitty fan, I couldn't help being mesmerized by the décor and attention to detail in our Hello Kitty room. It was like a really bad sugar rush – at some point you just have to give in to it and embrace the craziness. That's what I did. Spanky on the other hand was oohing and aahing over every little Hello Kitty detail. She was in love.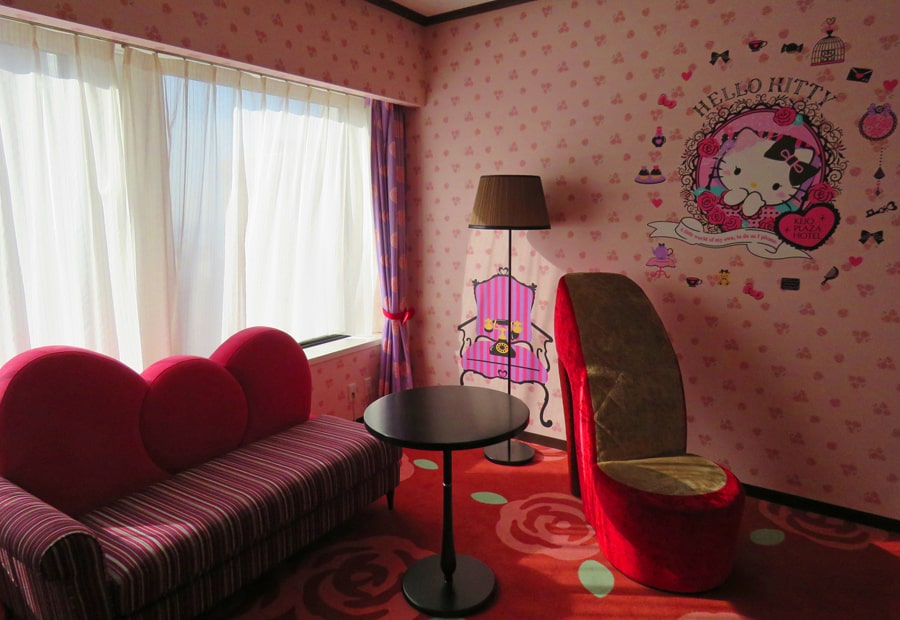 ---
---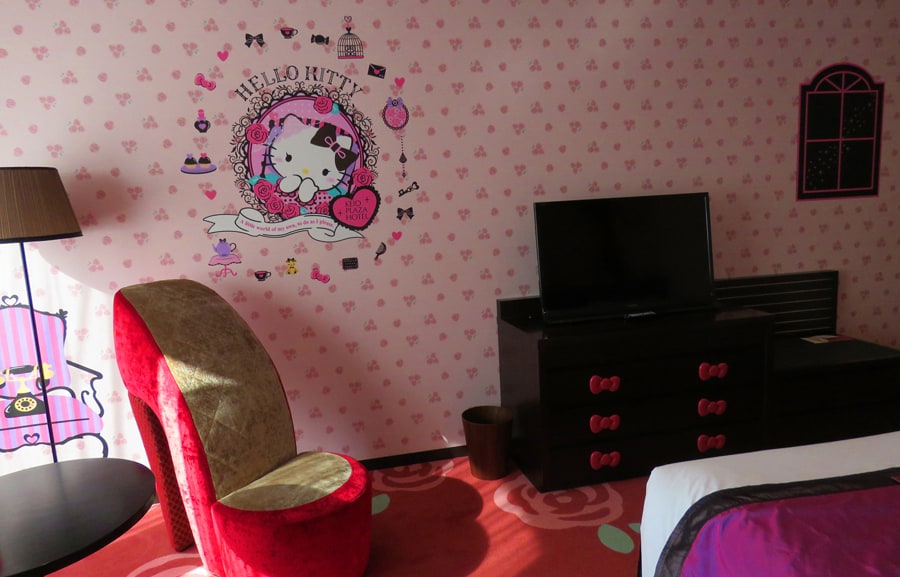 .

.
---
---
If you think the above isn't enough, The Keio Plaza has two types of Hello Kitty rooms. The one in which we stayed is the Princess Kitty room. The other is called Kitty Town and is even crazier.
.
The hotel was kind enough to give us a tour of a Kitty Town room (below).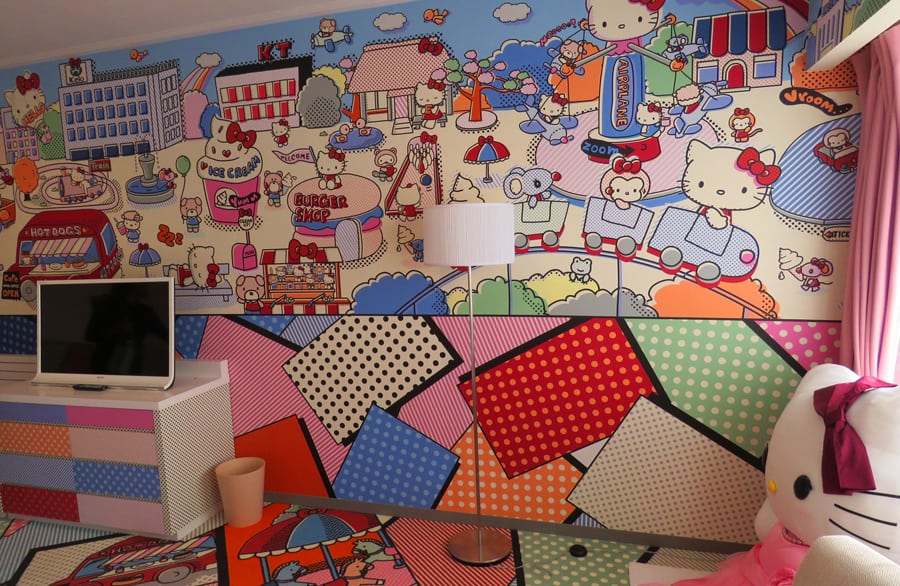 ---
---
.
Price
I'm not going to lie to you: the Hello Kitty rooms are a luxury experience and they don't come cheap at 50,000 Yen (including breakfast) per night. But for that price you're treated like a king and queen Princess Kitty: you check in at the VIP Premier counter, you have access to the Luxe Lounge on the 34th floor (we'd come up here for mid-afternoon snacks and coffee), you also have a choice of breakfast at 3 restaurants in the hotel (if you don't want to be served breakfast in bed). You also get a whole bunch of Hello Kitty souvenirs to take home (a couple of dolls, a pen set, slippers, etc).
Everything you need to know about the Hello Kitty rooms
.
The Keio Plaza is a 5 star hotel – beautiful, classy and centrally located in Shinjuku. It was actually Japan's first high rise hotel and has hosted many personalities including Muhammed Ali who was in Tokyo in 1976 to fight Antonio Inoki, one of Japan's most famous professional wrestlers (below). Ali was my favorite boxer of all time and I enjoyed seeing some of his photos posted in the lobby.
.
On a side note: During our stay, the hotel invited us to participate in a Tea Ceremony. The preparation and service of green tea is an art in Japan and taking part in the ceremony gives you many insights on Japanese culture. We were a bit nervous taking part because we had previously done it in a Japanese teahouse in Prague and the whole ceremony had taken over two hours. It wasn't anything like that here. We were served tea and cakes and our host, Michiko, was informative and funny. And it only took 30 minutes. If you stay at the Keio Plaza you should sign up for this demonstration. More here.
.




.


Summing up our Keio Plaza stay
We had a great time and met some fantastic people who have left us with lasting impressions of Japan. Special thanks to Sunaho and Keiko.
Any negatives? The Hello Kitty breakfast was served cold (coffee, soup, eggs). Maybe Hello Kitty doesn't like to get burned when she spills her breakfast. Anyway, breakfast in the downstairs restaurants was excellent and we would recommend that instead.
Why stay here? Great location (I've previously written about its central location in Shinjuku and the proximity to Shinjuku station and the entertainment district of Kabukichō), good food, superior service…and the only place in Tokyo with Hello Kitty rooms. Seriously, Japan is the home of Hello Kitty and if you're in Tokyo once in your lifetime the Keio Plaza is the place to live the Hello Kitty experience.
.
Interested in staying at the Keio Plaza Hotel?


Book here
Related: The Craziest show we've ever seen – Tokyo's Robot Restaurant
Ps. If you find our blog helpful, please consider using our links to book your flights, hotels, tours, and car rentals. Have a look at our Travel Resources page...